Your 1-Day Detox Meal Plan
Your mind's telling you "Yes! Spring is coming!" But your body—your body's telling you, "No! I am not ready!"
The first winter day you get a taste of spring weather is like the first time a kid gets to go to Disney World: it brings warm feelings of joy and tons of excitement. But once you get two days in a row—and then a week—it starts to set in that it's going to be sundress and shorts weather. And that's when you realize you haven't quite shed your winter weight yet.
The good news is this: You don't have to fret about coming out from beneath your loose-fitting sweaters and oversized knits just yet. You have plenty of time to lose your blanket of belly fat and tone up before bikini season, and we've come up with the perfect meal plan that will help your body switch from crockpot-stew mode to Bahamas-ready. Each meal and snack listed below is made with easy-to-find and delicious ingredients, so you can start looking and feeling your best for the new season ASAP. And while you're shopping for the foods in this 1-day meal plan, why not stock up on some of these 35 Foods To Get You Bikini Ready, too!
Breakfast
Avocado Toast Topped with Smoked Salmon and Tomato
Ready to refresh your digestive system? A study in The Journal of Agricultural Food Chemistry found that avocados are the most beneficial fruit when it comes to mitigating the liver-damaging effects of galactosamine, a liver toxin. We like to top our avocado toast with a couple slices of smoked salmon for an added anti-inflammatory effect. Salmon is full of EPA and DHA: two omega-3 fatty acids which attack excess inflammation through the increase in adiponectin—a hormone that enhances your muscles' ability to use carbs for energy, boosts metabolism, and burns fat.
HOW TO MAKE IT: Mash up ¼ of an avocado and toast a slice of 100% whole grain bread (we like Ezekiel 4:9 by Food for Life). Spread mashed avocado on bread, top with two slices of tomato, and lay on 3 ounces of smoked salmon.
NUTRITION: 260 calories, 10 g fat (0 g saturated fat), 985 mg sodium, 23 g carbs (6 g fiber, 0 g sugar), 24 g protein
Morning Snack
Leaf Relief Smoothie
You're about to feel a whole lot better with the push of a button—a blender button, that is. This smoothie combines the detoxifying powers of three different foods: bananas, spinach, and pineapple. Bananas are one of best natural sources of potassium: a mineral which can reduce water retention and deflate your bloated belly. Pineapple contains bromelain: an enzyme that aids in the digestion of proteins as well as decreases inflammation. And, finally, spinach is full of belly-flattening fiber and is known to be an appetite suppressant: a Swedish study found that when 19 overweight women drank a mixture with 5 grams of spinach extract each morning, they reported fewer food cravings thanks to the elevated levels of GLP-1: a physiological regulator of appetite and food intake.
HOW TO MAKE IT: Blend together on high ½ frozen banana, ½ cup blackberries, ½ cup pineapple, handful of spinach, 1 cup unsweetened almond milk, and 1 scoop plant based protein powder
NUTRITION: 220 calories, 5 g fat (0 g saturated fat), 80 mg sodium, 19 g carbs (8 g fiber, 7 g sugar), 28 g protein
Lunch
Red Leaf Lettuce Salad with Fennel, Beets, Grapefruit, Radish, Slivered Almonds & Feta
Red leaf lettuce can be found year-round, but it's seasonally a spring food, which makes it the perfect base for this detox salad. We're pairing it with fennel—a liquorice-like root veggie which is known for its ability to support a healthy digestive system by increasing digestive juices and helping with the elimination of toxins through stool—anti-inflammatory beets, crisp radish, and tart grapefruit: a citrus fruit with fat-zapping phytochemicals. It's all topped off with fresh goat's milk feta cheese, one of the lowest-calorie cheeses you can find. An added benefit: According a study published in the Journal of Dairy Science, goat milk has more bioavailable iron than cow's milk, a good thing for those looking to detox as iron helps to support your liver's ability to break down toxins.6254a4d1642c605c54bf1cab17d50f1e
HOW TO MAKE IT: To 2 cups of red leaf lettuce, add segments of ½ grapefruit, 1 roasted beet, ¼ cup sliced fennel, 1 sliced radish, 2 tablespoons slivered almonds, and 1 oz feta cheese. Top with 2 teaspoons of olive oil, 1 teaspoon white wine vinegar, and freshly cracked black pepper and salt.
NUTRITION: 313 calories, 22 g fat (5 g saturated fat), 537 mg sodium, 21 g carbs (6 g fiber, 9.4 g sugar), 9 g protein
Afternoon Snack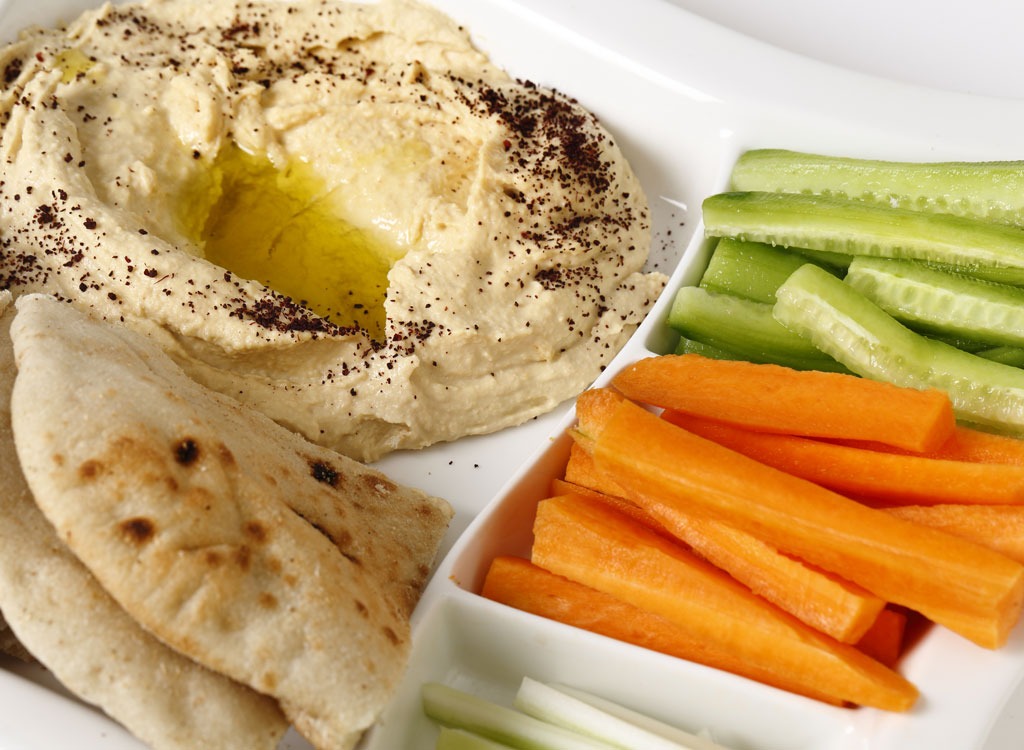 Hummus and Carrots
With its base of satiating, fiber-rich chickpeas, hummus is one of the best things you can dip a carrot into. This savory duo is also jam-packed with belly-filling water, vitamin A, and magnesium: a mineral that helps boost lipolysis, a process by which your body releases fat from its stores. Just make sure you pick up a low-sodium hummus brand like Cedar's so you can avoid the post-snack belly bloat. We like to top it off with an extra teaspoon of EVOO since the unrefined oil is teeming with anti-inflammatory compounds like oleocanthal, which prevents the production of pro-inflammatory enzymes.
HOW TO MAKE IT: Pack up 15 baby carrots with ¼ cup (2 oz) hummus drizzled with a teaspoon of extra virgin olive oil.
NUTRITION: 220 calories, 10 g fat (1 g saturated fat), 233 mg sodium, 27 g carbs (10 g fiber, 10 g sugar), 6 g protein
Dinner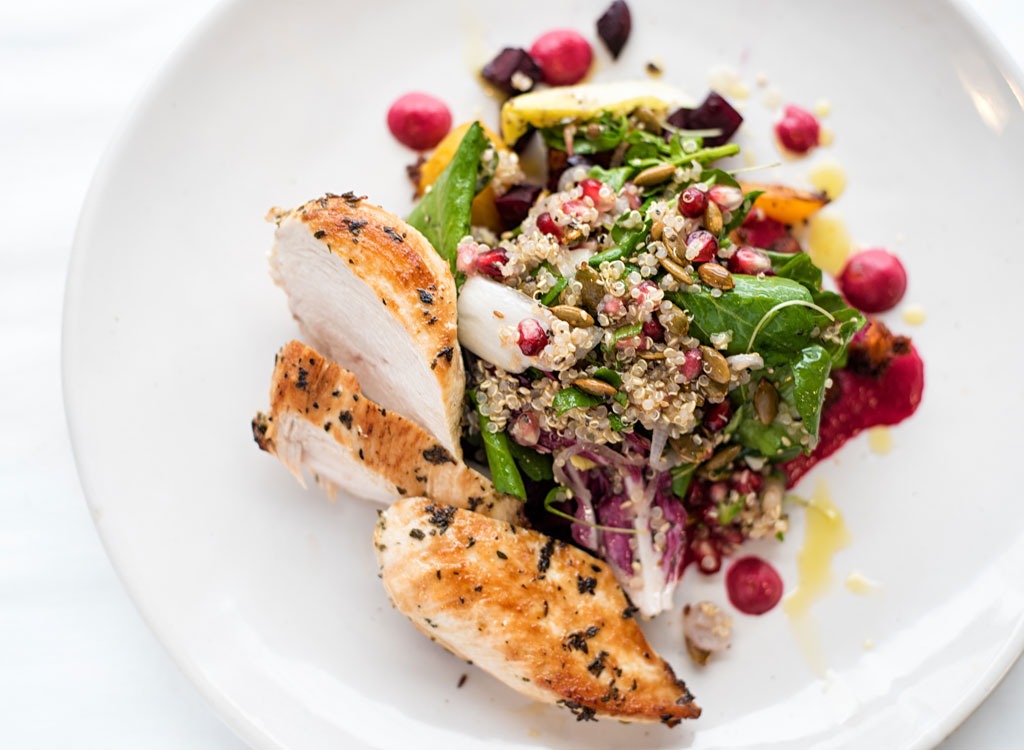 Lemony Herb-Marinated Grilled Chicken with Roasted Asparagus, Carrots, and Beets, topped with Quinoa, Sunflower Seed, and Pomegranate Salad
One of the easiest dinners: chicken and roasted veggies. We've done a detox-inspired take on our veggies by choosing beets—a root veggie that contains antioxidants that help repair and regenerate cells in the liver, the body's primary detox center—vitamin-A-rich carrots, and detoxifying asparagus: the spears are natural diuretics, which will help flush the excess toxins from your system, and a study in the Journal of Food Science discovered that the amino acids and minerals found in asparagus may protect liver cells against toxins.
We're pairing it with a lemon-Dijon-marinated grilled chicken (mustard is full of capsaicin and allyl isothiocyanates, two phytochemicals known to boost your metabolism) and a side of quinoa. Not only is quinoa high in fiber, but a study published in the journal Food Chemistry also found that the ancient grain has the highest levels of betaine: an amino acid that revs your metabolism and shuts down genes that encourage fat storage.
HOW TO MAKE IT (makes 4 servings): Marinade 1 pound of chicken breast or tenders with 1 tablespoon mustard, the juice from 1 lemon, a teaspoon of olive oil, salt and pepper, and fresh thyme, rosemary, and oregano for 20 minutes. Toss 1 cup of each vegetable with 3 tablespoons extra virgin olive oil, salt, and pepper, and roast in a 425 degree oven for 30 minutes. Grill each piece of chicken until it reaches an internal temperature of 165 degrees, or about 12 minutes. Make 4 servings of quinoa according to package instructions. When cooked, combine quinoa with sunflower seeds, pomegranate seeds, and a touch of lemon juice and teaspoon of olive oil. Serve ¼ cup each of roasted asparagus, beets, and carrots, 1 tablespoon sunflower seeds and ½ cup quinoa.
NUTRITION: 511 calories, 24 g fat (3 g saturated fat), 392 mg sodium, 32 g carbs (8 g fiber, 9 g sugar), 43 g protein
Dessert
Siggi's Icelandic Yogurt with Pomegranate Seeds, Oat Granola, and Drizzled with Honey
Ready to mend your microbiome? Maintaining a healthy gut microbiome (the population of beneficial bacteria that live in your belly) is essential not only to properly break down the foods you're eating, but also to increase nutrient absorption and eliminate toxins; thus, when your gut flora is out of whack, serious problems can ensue. Yogurt is teeming with gut-healing probiotics, and is much medicine as it is an after-dinner treat. We like the low-sugar, high-protein Siggi's before bed. Yogurt, honey, and oats are all full of the sleep-inducing hormone tryptophan, and the carbs from the granola will help the tryptophan-rich foods get absorbed by the brain. Top with pomegranate seeds to further boost your dessert's detoxifying properties: Pomegranates are full of three kinds of antioxidant polyphenols, including tannins, anthocyanins and ellagic acid, which all help fight and prevent oxidative damage to your body caused by free radicals.
HOW TO MAKE IT: Pop the top off siggi's 4% Vanilla Icelandic-Style Skyr, top with ½ teaspoon honey, 2 tablespoons granola (we like Purely Elizabeth Ancient Grain Organic Granola Cereal), and 2 tablespoons pomegranate seeds.
NUTRITION: 217 calories, 7 g fat (5 g saturated fat), 95 mg sodium, 23 g carbs (1 g fiber, 16 g sugar), 13 g protein
Total Nutrition for the Day: 1,741 calories, 78 g fat (14 g saturated fat), 2,322 mg sodium, 145 g carbs (39 g fiber, 51 g sugar), 123 g protein
Olivia Tarantino
Olivia Tarantino is the Managing Editor of Eat This, Not That!, specializing in nutrition, health, and food product coverage.
Read more about Olivia