One Secret Reason You Need to Walk More Starting Now, Says Science
Here's how walking actually makes you a better, more open, and more thoughtful talker.
At ETNT Mind+Body, we can never quite say it loudly enough: In today's hyper-competitive fitness culture, where workouts such as CrossFit, spinning classes, and rapid-fire HIIT sessions are all the rage—where far too many people think that you need to punish your body in a pool of sweat in order for you to be considered "fit" or healthy—the simple act of exercise walking remains the most underrated and underappreciated forms of fitness there is.
As we've noted in the past, ramping up the intensity of your walks results in a great, fat-burning, weight-loss workout. It helps not only your bones, joints, muscles, and heart, but it also helps aid in your recovery. (Bonus: If you walk in the early-AM, it can help your sleep.) It can be your primary workout or a helpful side dish. If you still don't believe us, know that some of the top trainers all secretly swear by walking.
"When I'm not working with clients or doing my own strength training regimen at the gym, you'll usually find me at park in Los Angeles, where I'm walking and listening to podcasts," Tim Liu, C.S.C.S., our resident fitness guru, wrote recently. "I'm not alone."
He's not. "Walking is the most underrated, corrective, mind-body, fat-burning exercise available to humans," Dana Santas, a certified strength and conditioning specialist and professional sports coach, recently revealed to CNN. "I walk every single day."
But you may know that walking is great for your mind and body, there's yet another amazing benefit you can reap from walking that you may not have known about. Curious to know what it is? Read on for one secret reason you should walk more that you had no idea was a thing. And if you love to walk, make sure you know about The Secret Cult Walking Shoe That Walkers Everywhere Are Totally Obsessed With.
You'll Be a Better Communicator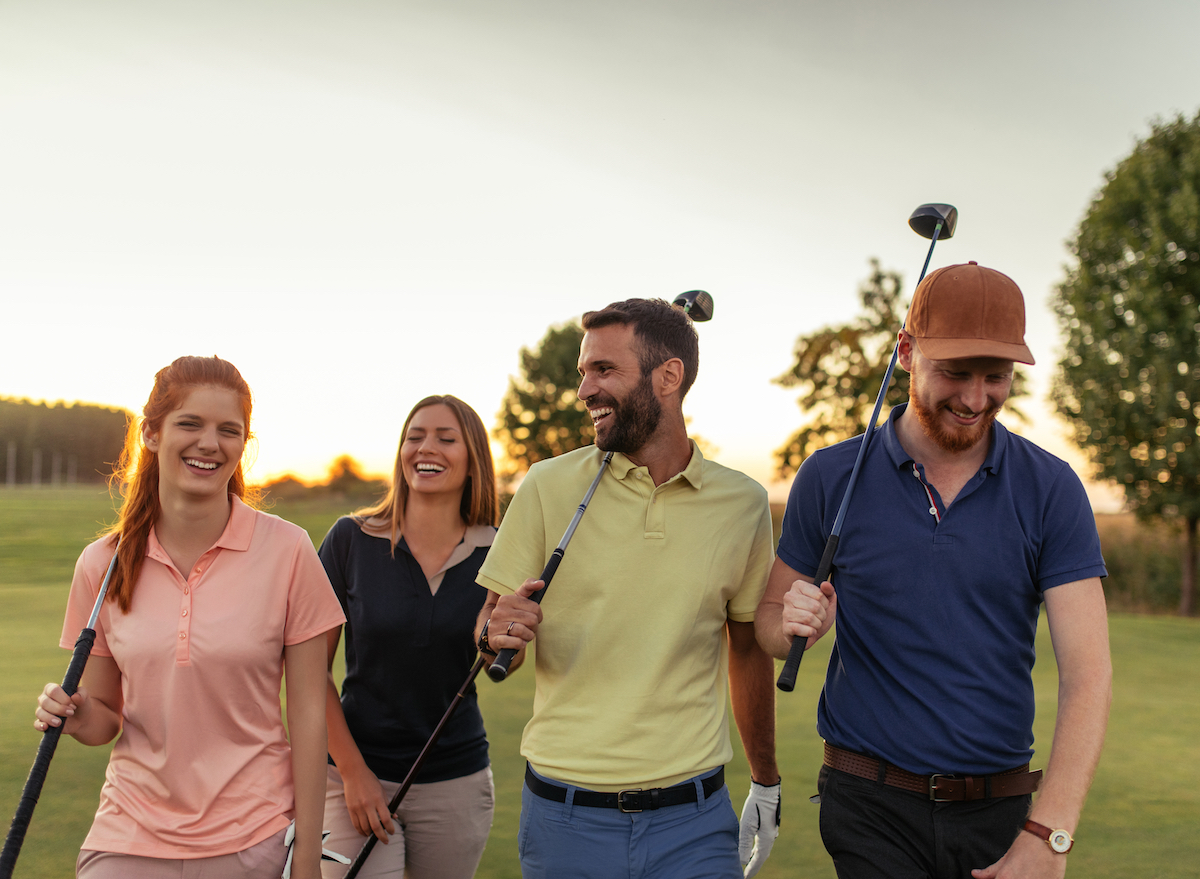 If you're a fan of The West Wing, you're all too familiar with the "walk and talk" as a reliable setting for interesting conversation. Well, all of the latest science suggests that this isn't just a narrative tactic—walking is actually great for talking. Now, while you may not magically start speaking in rapid-fire, perfect sentences like Aaron Sorkin's characters do, science has shown that walking will enhance your communication skills.
"Scores of studies show that this simple form of movement has a wealth of wide-ranging benefits, including better physical and mental health, increased mindfulness and enhanced communication skills," writes CNN in the aforementioned article.
According to Andrew Tate, MD, a neuroscientist, if you take a walking meeting with a colleague, walking will result in more blood flow to your brain that "helps you express ideas more fluently and helps you communicate with coworkers." And for some great walking tips, see these Secret Tricks for Walking for Exercise, According to Walking Experts.
Walking Enhances Your Openness and Makes You More Extraverted
"Our sensory systems work at their best when they're moving about the world," Shane O'Mara, D.Phil, author of In Praise of Walking, explained to The Guardian. O'Mara cites a 2018 study published in the Journal of Research in Personality that tracked the personality development and physical activity among people over the course of 20 years.6254a4d1642c605c54bf1cab17d50f1e
Ultimately, the study found that those who were less active—and walked less—experienced declines in openness, extraversion, and agreeableness as time wore on. In effect, they became less skilled, and more closed-off communicators. "These findings provide evidence that a physically inactive lifestyle is associated with long-term detrimental personality trajectories," concludes the study. For further proof on the health benefits of walking more, see What Walking for Just 20 Minutes Does to Your Body, According to Science.
It Helps Solidify Your Closest Relationships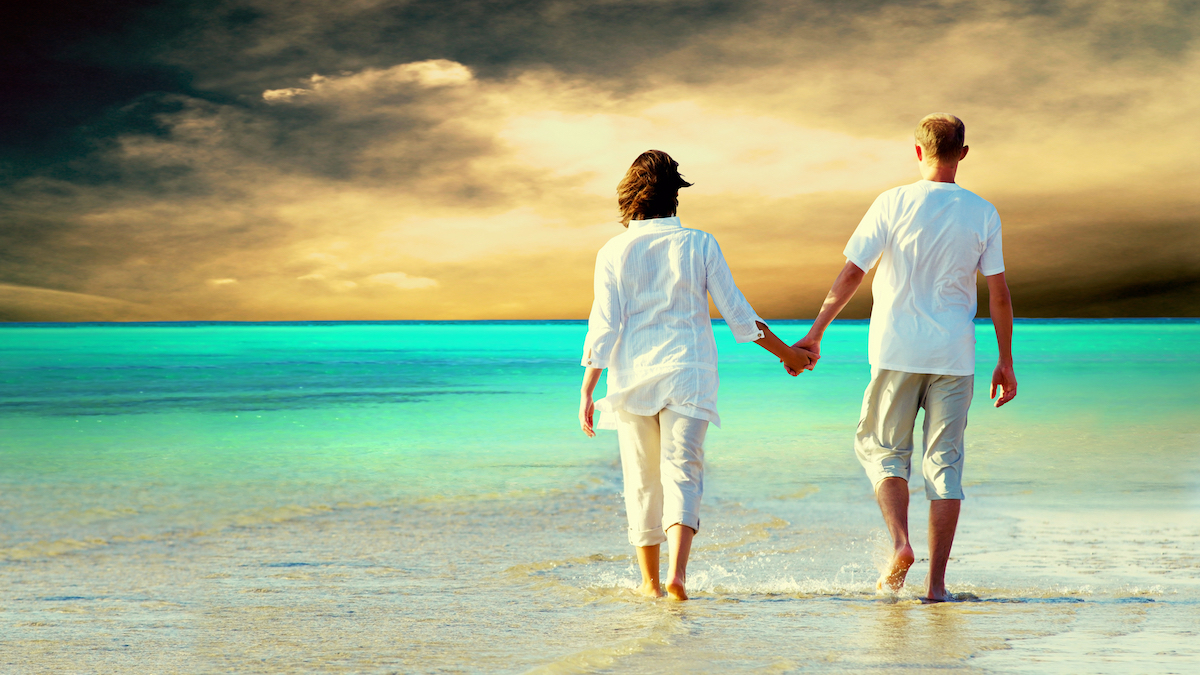 According to Santas, walking's communication-building side effects can help solidify your strongest relationships. "One man told me walking saved his marriage," she noted. Apparently, when their marriage hit a rocky patch, his wife joined him while walking. "They started communicating in ways they hadn't before, and it brought them back together," she said.
You'll Also Be More Creative
It's a cliché to say that "the best ideas come to you when you're walking." But, suffice it to say, the available science says that's accurate. "When walking alone, the mind and brain can synch and help create some great ideas while thinking outside," Marvin Nixon, MS, NBC-HWC, once explained to us. "Walking while paying attention to our surroundings and paying attention to how our body walks is a mindfulness practice that can be just as useful for our mind as an eyes-closed meditation."
One study conducted by researchers at Austria's University of Graz and published in the journal Scientific Reports found that walking is directly linked to enhanced creativity. And for some great ways to take your walking to a higher level, make sure you're aware of the The Secret Trick for Walking for Exercise, According to Health Experts at Harvard University.
William Mayle
William Mayle is a UK-based writer who specializes in science, health, fitness, and other lifestyle topics.
Read more about William