I Tried Every Steak at Outback Steakhouse & There Was One Clear Winner
The Aussie-inspired chain prides itself on boldly seasoning all its steaks, but which beefy cut tastes best?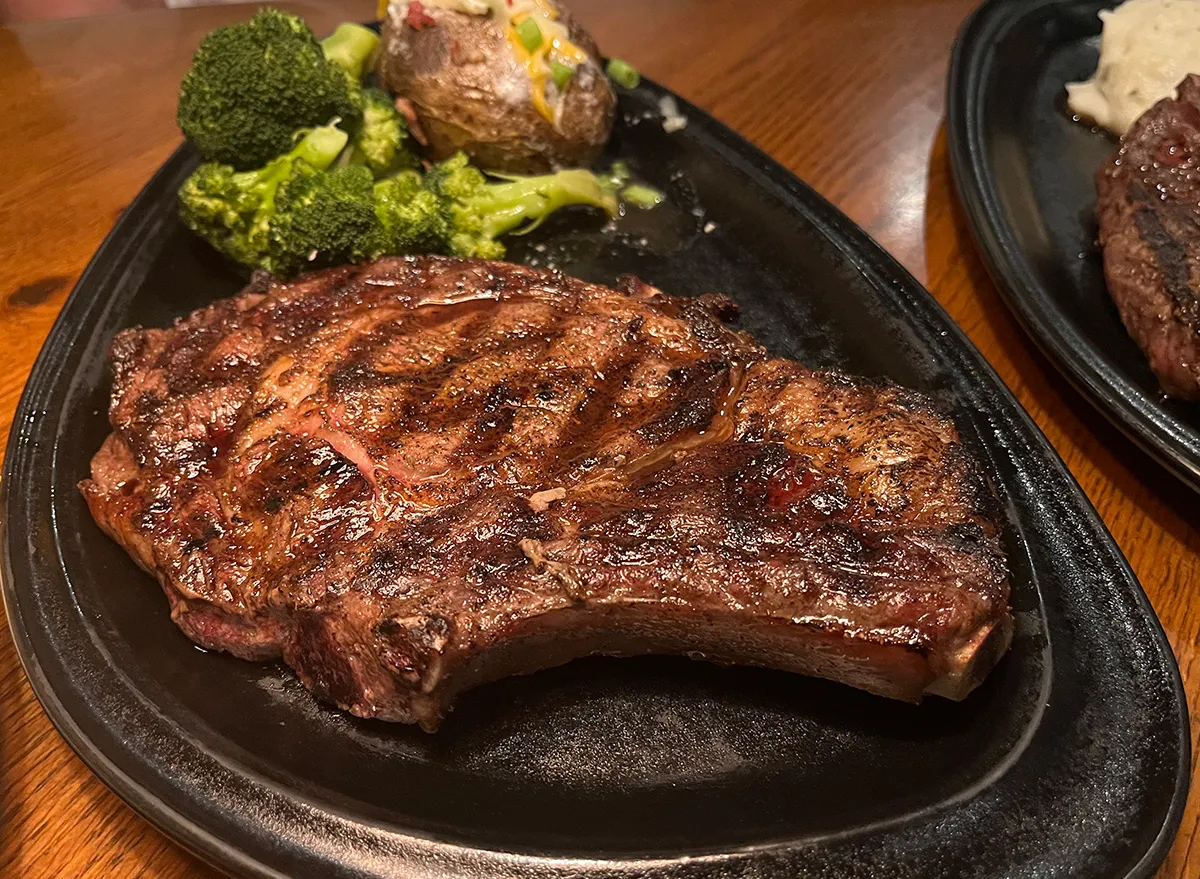 The product recommendations in this post are recommendations by the writer and/or expert(s) interviewed and do not contain affiliate links. Meaning: If you use these links to buy something, we will not earn a commission.
If you're like me and grew up quoting the 1986 comedy Crocodile Dundee, then Outback Steakhouse was probably the theme restaurant of your childhood dreams. Did you really care that this so-called Aussie-inspired steakhouse was actually founded by some blokes in Florida who had never even visited the Land Down Under? No, of course not. Back then, cultural appropriation wasn't the same faux pas that it is today, and besides, all the kangaroo iconography was just part of the fun.
You really only cared about two things, both as American as it gets: meat and potatoes. Oh, sure, Outback is famous for other things, too, starting with its signature honey wheat bread, served with soft whipped butter and a big honking steak knife. (Somewhere, the actor Paul Hogan is calling out, "That's not a knife!") And who could forget its trademark, deep-fried 1,620-calorie gut bomb Bloomin' Onion?
But, beyond the kitschy decor and a few distinctive menu items, Outback is a pretty simple steak and spud spot, and a fairly successful one at that. Corporate parent Bloomin' Brands counts 566 company-owned locations and another 127 franchised restaurants across the United States, in addition to over 300 internationally, according to its latest annual report.
Until recently, I had not dined at an Outback in well over a decade, and upon returning, it's somewhat comforting to see how little has changed at the 35-year-old casual restaurant chain: the house salad still features more cheese than lettuce, and the various potato sides are as satisfyingly starchy as ever. But, how are the steaks?
The menu at my local Outback in Brooklyn, N.Y., offers seven different cuts of beef, and the prime rib comes in two different styles, adding up to eight total options. Over the course of three visits, I ordered every single one of them, all cooked to medium rare, because I am neither a sadist nor a savage. Here's how they compared, ranked in descending order from my least favorite to the absolute best cut.
Victoria's Barrel-Cut Filet Mignon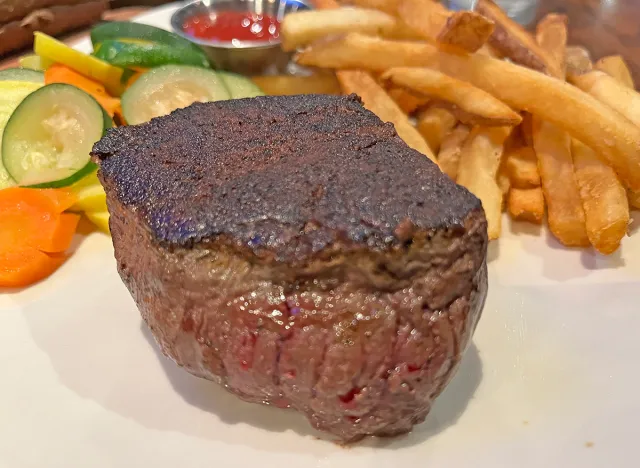 Per 8-ounce serving
: 530 calories, 29 g fat (14 g saturated fat), 540 mg sodium, 1 g carbs (0 fiber, 0 g sugar), 62 g protein
Perhaps no type of steak is simultaneously more beloved across mainstream America and more loathed among die-hard meat enthusiasts than the delicate, tender filet. It's the first steak listed on Outback's menu, and also one of the restaurant's signature items, as indicated by the cutesy boomerang logo next to its name. It's available in two sizes: six and eight ounces. My eight-ounce filet cost $30.99 and weighed about 6.5 ounces after cooking, according to my digital scale.
The Look: Nicely charred up top but visibly still bloody in the middle, it's a visually appealing and substantially sized hunk of beef, measuring at least two inches thick. Inside, it's perfectly reddish pink and super juicy.
The Taste: Given the filet's milquetoast reputation, I had fairly low expectations for this cut. But while its mouthwatering appearance raised my hopes, the flavor was even more bland than I expected. The filet is supposed to feature Outback's "boldest, signature seasoning," but the cook must have skipped that step with mine. Of all the steaks I tried, it's the only one that made me reach for the salt shaker. Not great, mate!
Per 16-ounce serving
: 1810 calories,162 g fat (65 g saturated fat), 1550 mg sodium, 107 g carbs (1 fiber, 3 g sugar), 77 g protein
Prime rib gets its own subcategory on the steakhouse chain's menu, with two featured slow-roasted options, each available in 12- and 16-ounce servings: the classic version and the Outback-style version, which comes flavored with the chain's proprietary seasoning blend of 17 undisclosed herbs and spices. The 16-ounce Outback-style cut cost $30.99 and weighed 14.65 ounces after cooking, according to my scale.6254a4d1642c605c54bf1cab17d50f1e
The Look: Like no prime rib I've ever seen before! This succulent cut traditionally arrives in a light pink color with a darker crust around its edges. The Outback-style cut came darkened all over and, frankly, looked like a different type of steak altogether.
The Taste: While the filet suffered from under-seasoning, this unusual spin on prime rib had the exact opposite problem. Outback aims for precision with its seasoning methods: "Our special blend of spices are rained down on the steak from 6 inches above for a nice even coating to deliver a bold, juicy bite every time," declares the website. But, in this case, that rain must have turned into a downpour. The salty, peppery, garlicky flavors were overwhelming. A friend dining with me likened it to a "spicy tuna" sushi roll, wondering aloud what sort of meat-quality issues all those spices might be covering up.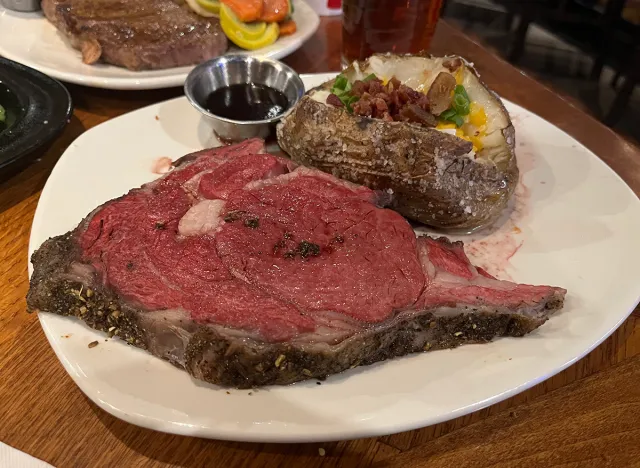 Per 12-ounce serving
: 1440 calories, 98 g fat (41 g saturated fat), 920 mg sodium, 3 g carbs (0 fiber, 0 g sugar), 57 g protein
Prime rib is often my go-to order when I'm uncertain about a particular restaurant's strengths in the kitchen. That's because it's simply prepared and slowly cooked, meaning it's usually harder to mess up. The classic prime rib at Outback only helps to prove my point, especially compared to the chain's own heavy-handed take on the standard. The 12-ounce cut cost $26.99 and hardly lost any weight during cooking, measuring 11.8 ounces at the table, according to my scale.
The Look: More like a typical prime rib. The meat arrived in a striking ruby-red color with a visibly herb-coated crust. Not as pink in the center as I like to see, but far from blackened like the house version.
The Taste: Though rather peppery around the edges, the steak is tender, juicy, and barely seasoned in the middle, allowing the natural beefy flavor to shine through. If you're looking for a more basic bite at this bold flavor-obsessed steakhouse, the classic is a good option.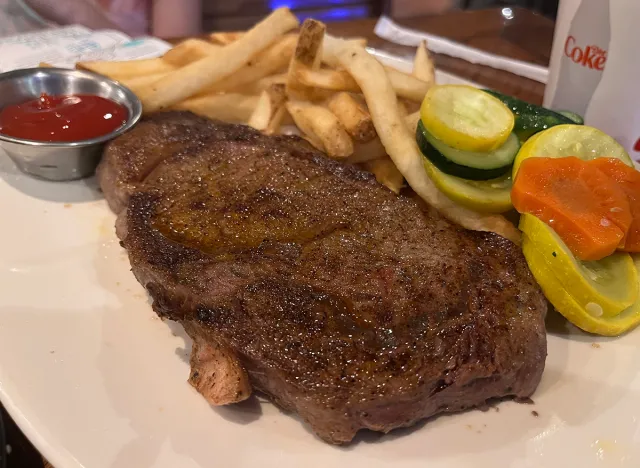 Per 12-ounce serving
: 900 calories, 72 g fat (32 g saturated fat), 610 mg sodium, 1 g carbs (0 fiber, 0 g sugar), 58 g protein
The meat from a cow's upper rib section is highly prized for its abundant marbling, tenderness, and rich flavor. Outback offers two different cuts from this section, each prepared a little differently: the boneless ribeye, available in 12- and 15-ounce servings, comes generously seasoned and seared on a flat-top griddle, while the 18-ounce bone-in rib steak is char-grilled. The 12-ounce ribeye cost $26.99 and arrived at about 10.3 ounces after searing, according to my scale.
The Look: This slender slab of beef came lightly charred and noticeably fatty around the edges. It also seemed a little thinner than some of the other steaks, about three-quarters of an inch thick.
The Taste: Just as tender as you'd expect with a ribeye, the steak is also well-seasoned throughout. In fact, it tastes a lot more onion-y than other cuts, despite purportedly having the same exact spice mix. The slimmer cut perhaps lends itself to more even absorption of the various flavors. Whatever the reason, it leaves a noticeable aftertaste, much more so than other steaks.
Outback Center-Cut Sirloin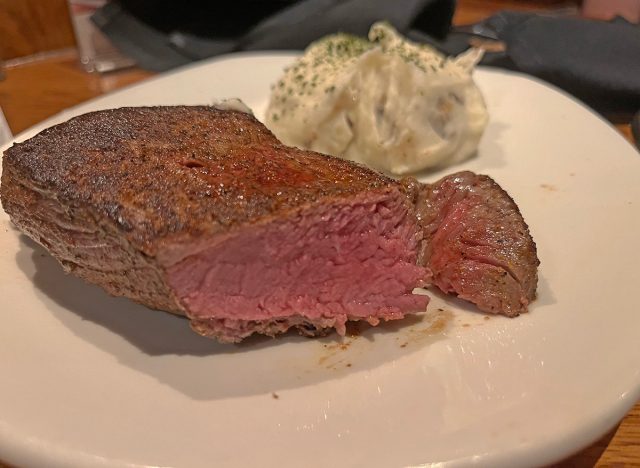 Per 8-ounce serving
: 450 calories, 23 g fat (11 g saturated fat), 710 mg sodium, 1 g carbs (0 fiber, 0 g sugar), 60 g protein
The sirloin is certainly not as fashionable or well-marbled as the ribeye, but when cooked properly, this leaner cut still packs a lot of flavor and is usually much more affordable. Outback's center-cut sirloin comes in six-, eight-, and 11-ounce servings. My eight-ounce order cost $18.99—the lowest price of all the steaks I tried—and weighed 6.55 ounces after searing, according to my scale.
The Look: About twice as thick as the ribeye but less visibly charred than the filet, the sirloin arrived with a  luscious pink interior. (My amateurish smartphone photo simply doesn't do it justice.)
The Taste: Though super peppery on first bite—"too spicy," in fact, for the youngsters in my group—the sirloin surprisingly proved to be my favorite among all of Outback's flattop-seared cuts. Its thickness seemed to keep Outback's heavy seasoning to the periphery while maintaining the natural juicy, beefiness in the center. The low price point and high enjoyment level make it perhaps the wisest choice on the menu, albeit not the absolute tastiest of all.
Per 16-ounce serving
: 1090 calories, 83 g fat (37 g saturated fat), 840 mg sodium, 0 g carbs (0 fiber, 0 g sugar), 84 g protein
The New York strip is my favorite slab of beef to cook at home, but it's usually the boneless variety. Outback treats all of its bone-in steaks differently than the rest. They're char-grilled, not seared on a flattop, which is a difference you can taste. And if there's a golden rule to follow when pondering your various choices at this particular chain, it's this: go for one with a bone. The 16-ounce bone-in strip cost $29.99 and weighed about 14.5-ounces at the table, per my scale.
The Look: The alternate cooking method is evident with all the crisscrossed grill marks, and the slim bone is clearly defined along the top and left side of the steak. Though it's not nearly as thick as the cuts I get from the grocery store—about an inch and a quarter deep—it's still enticingly pink inside.
The Taste: The strip is nicely seasoned, with lightly salty and garlic-y notes, and you can clearly taste the char from the grill. The whole thing is rich and delicious. Even the fatty bits are pleasantly melty. The only real knock on this strip is that it's the smallest bone-in steak available. A server later explained to me that all the char-grilled steaks get a lighter blast of seasoning than the seared cuts, which is yet another reason to choose one of these bone-in varieties.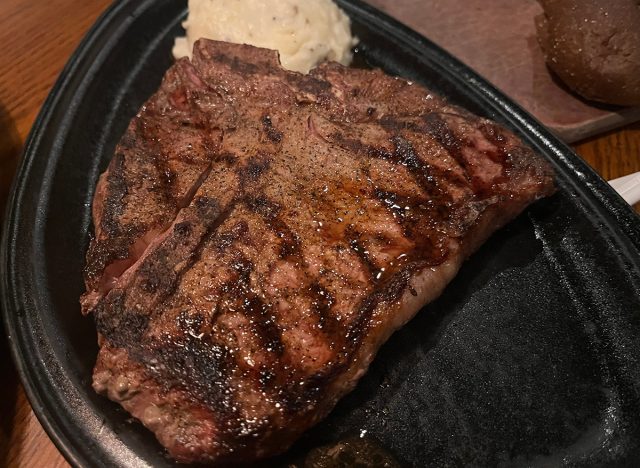 Per 22-ounce serving
: 660 calories, 34 g fat (12 g saturated fat), 1200 mg sodium, 1 g carbs (0 0 fiber, 0 g sugar), 83 g protein
The porterhouse is a popular choice at many steakhouses because it combines two favorite cuts into one: the filet and strip. At 22 ounces, Outback's porterhouse is the biggest steak on the entire menu—so big, in fact, that my digital food scale quickly succumbed under the weight of all the meat. The device began malfunctioning immediately upon the steak's placement, wildly and erratically reporting various figures, making a true measurement impossible. Nonetheless, this hulking steak cost me $36.99, the highest price of any steak I tried.
The Look: As enormous as advertised, with substantial grill marks across its entire surface. The strip side far outweighs the filet side with a visible T-shaped bone in between. It's about the same thickness as the strip, with an equally luscious-looking pink center inside.
The Taste: Much like the standalone strip, the porterhouse is reasonably seasoned, allowing you to also enjoy the flavors of the actual meat and the smoky grill, too. The textural differences between the cloud-soft filet and the more substantial bite of the strip add an interesting element to the experience. Curiously, the filet side also seemed to soak up a little more of the seasoning. If you're looking for a little variety on a single plate, the porterhouse is your move, but there is also a more consistent option available.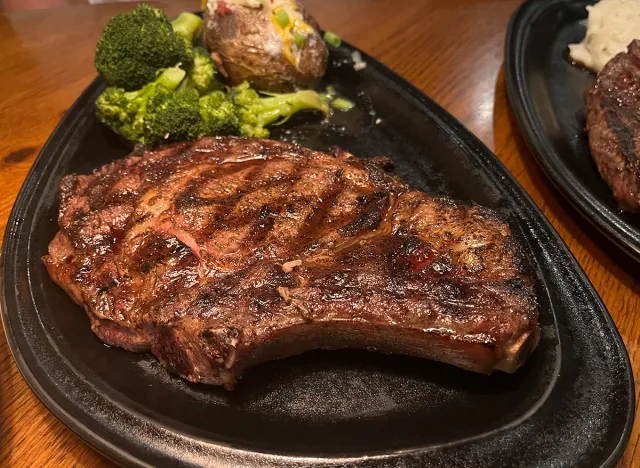 Per 18-ounce serving
: 910 calories, 69 g fat (28 g saturated fat), 3110 mg sodium, 3 g carbs (0 g fiber, 1 g sugar), 66 g protein
The bone-in ribeye is prominently featured on the cover of Outback's menu, so naturally, it's "the one that everyone wants," a server told me. As superficial as that sounds, it's also the right call. The restaurant's signature 18-ounce steak costs $31.99 and is probably worth every penny.
The Look: Curvy and gorgeous, the bony steak is streaked with grill marks and shimmering fat. Albeit not as thick as the porterhouse or strip, its beautifully pink interior more than compensates.
The Taste: This fatty steak is simply the juiciest, most tender, and most meltingly delicious of the group. In fact, it's hard to find the right words to accurately describe what sets it apart. When my friend dug in for his first bite and began chewing, he just pointed the tip of his knife at the bone-in ribeye and began nodding his head in approval. It has all the qualities that I liked about the other steaks and none of the ones that I didn't.
If you know a thing or two about Outback or steak in general, then it's probably the most obvious choice, but that doesn't make it any less right. It's a bloody good steak, and if you already knew that, well, then good on ya, mate!