Prime Rib With Italian Herb Sauce Recipe
It's an impressive dish, but really, just needs a quick rubdown and a few pulses from the food processor.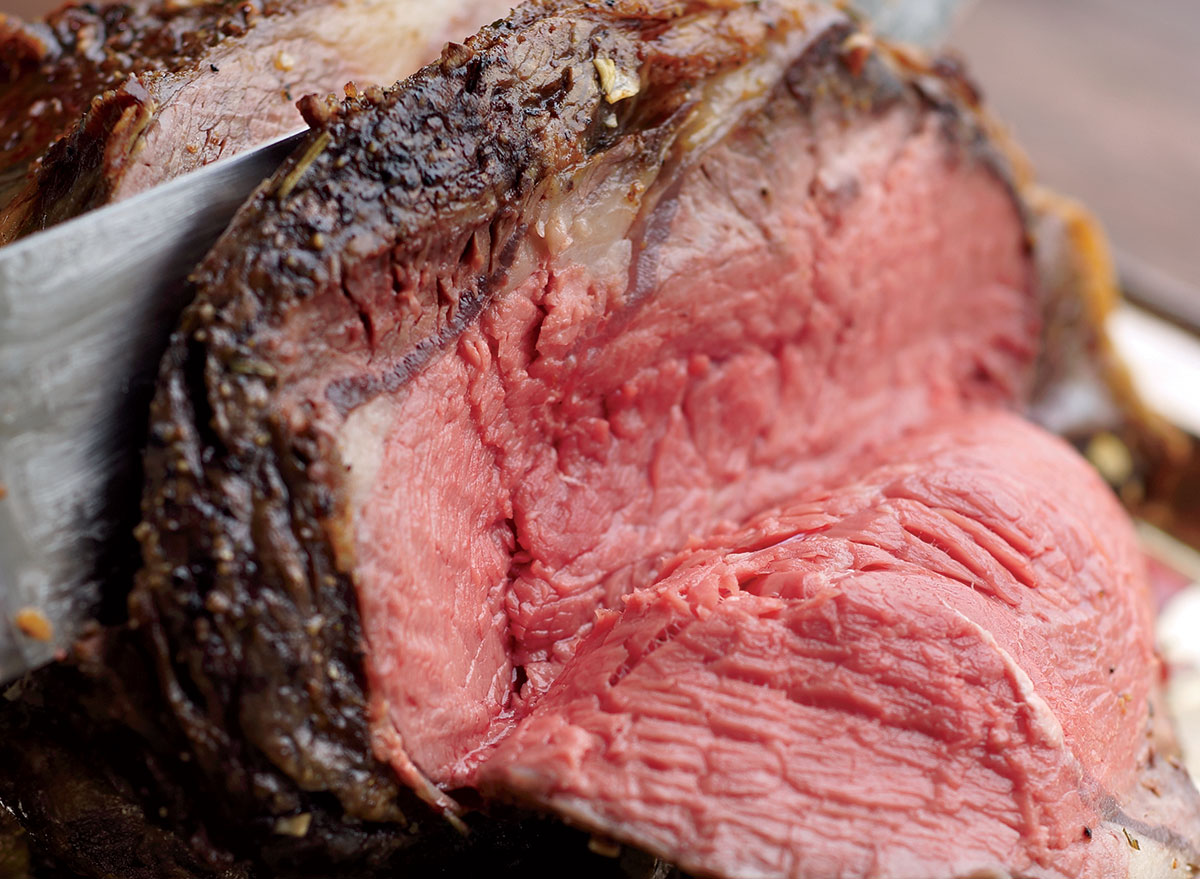 Consider this prime rib recipe your ace in the hole for the holiday season. It's an impressive dish that feels incredibly fancy, but requires nothing more than a quick rubdown and a few pulses from the food processor. With the herb-based sauce replacing horseradish cream, this roast outsizzles any prime rib you'd find at a buffet carving table.
Nutrition: 450 calories, 29 g fat (10 g saturated), 670 mg sodium
Serves 8
You'll Need
For the PRIME RIB:
1 Tbsp chopped fresh rosemary
3 cloves garlic, minced
1 Tbsp olive oil
1 prime rib roast (3lb), trimmed of surface fat
Salt and black pepper to taste6254a4d1642c605c54bf1cab17d50f1e
For the SALSA VERDE:
2 cups chopped fresh flat-leaf parsley
1⁄4 cup fresh mint leaves
1 Tbsp Dijon mustard
2 Tbsp capers
2 or 3 anchovies (optional)
Juice of 1 lemon
2 Tbsp red wine vinegar
1⁄4 cup olive oil
How to Make It
Preheat the oven to 450°F. Mix the rosemary, garlic, and olive oil. Season the roast all over with salt and pepper, then rub with the rosemary mixture. (For deeper flavor, do this at least 2 hours before cooking.)
Place the roast in a large roasting pan or baking dish and bake for 20 minutes.
Turn the heat down to 350°F and continue cooking until an instant-read thermometer inserted into the center of the roast reads 135°F, 30 to 45 minutes more.
Remove from the oven and allow to rest at least 10 minutes before carving.
While the beef rests, combine the parsley, mint, mustard, capers, anchovies (if using), lemon juice, and vinegar in a food processor.
Pulse a few times to begin the chopping, then keep it running while you slowly add the olive oil until the mixture looks just like pesto.
Serve slices of prime rib with the sauce drizzled over the top.
Eat This Tip
Calorie Cutting
Prime rib comes from the same cut of beef used to make rib eye, which tends to be fattier than other popular cuts of beef. Even with a light hand, it's bound to carry close to half a day's saturated fat per serving. Cut that number in half by roasting up a whole tenderloin instead. Sold at most supermarkets (and more inexpensively at clubs like Costco and Sam's Club), beef tenderloins make for easy, but impressive special dinner dishes. Just cut the cooking time down to 25 to 30 minutes total.
Love this recipe? Subscribe to our Eat This, Not That! magazine for even more at-home cooking and healthy eating ideas.