5 Big Changes You'll See at Steakhouses This Year
Find out where the big players, like Texas Roadhouse and Fogo De Chao, have planned for the rest of 2023.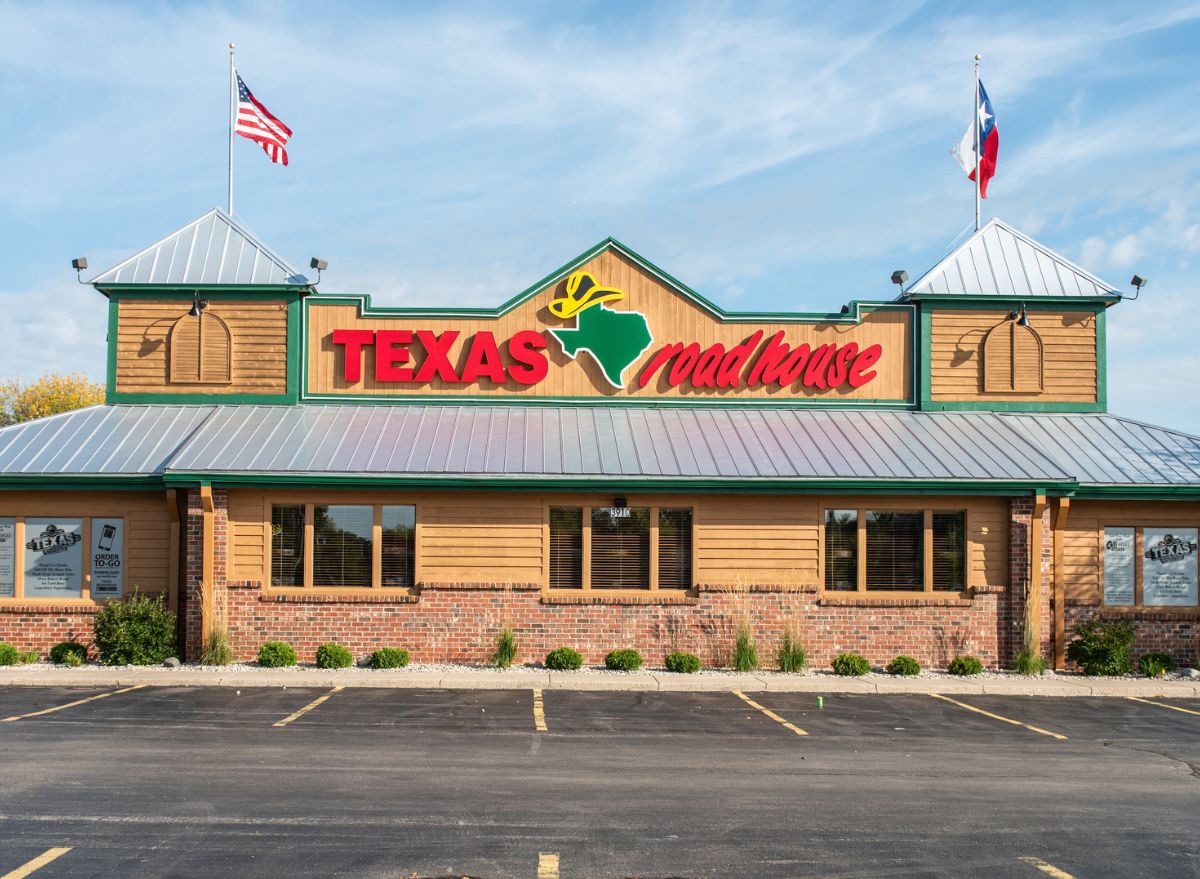 It's a time of transition for the greater restaurant industry. Many brands are still trying to find their footing post-pandemic and make financial sense of the astounding inflation we've all seen over the past year or so. Last year, however, turned out quite well for steakhouses. In pursuit of more food for their money, customers returned to steakhouse dining rooms in droves.
Texas Roadhouse, for example, reached $4 billion in sales for the first time ever in 2022. LongHorn Steakhouse, similarly, enjoyed a significant year-over-year increase in domestic sales as well ($1.8 billion in 2021, 2.3 billion in 2022). Fast forward a bit, and 2023 has already proven to be an especially eventful year for the steakhouse scene.
Earlier this month the steakhouse industry was rocked by the announcement of Ruth's Chris Steak House's pending sale to Darden Restaurants. Coming in at a cool $715 million, the acquisition is primed to change the steakhouse landscape as we know it. Besides owning the mega-successful Olive Garden Italian chain, Darden is already the parent company of fellow steakhouse chains LongHorn and The Capital Grille.
The inflation issue, meanwhile, is far from over. After raising prices in 2022, Bloomin' Brands (Outback, Fleming's) CEO David Deno recently told the Tampa Bay Times his company is going to do everything it can to maintain stable menu prices this year.
Texas Roadhouse, on the other hand, just announced a menu-wide price increase of 2.2%. "We believe this level of pricing sets us up to achieve a solid year of sales and profit growth, while furthering our industry-leading value. As many of you know, this approach has consistently rewarded our guests and shareholders over the past 30 years," CEO Jerry Morgan said during an earnings call earlier this year.
What else does 2023 have in store for steakhouse chains and patrons? Let's take a look at five big changes you'll see at steakhouses soon.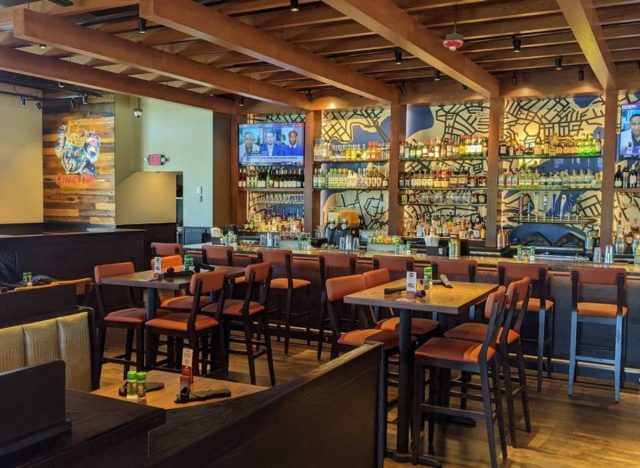 Already one of the most recognizable names in the steakhouse game, Outback is in the midst of a transformative 2023. First announced last year, the chain is currently implementing an ambitious "Next Gen" redesign of its restaurants. New units will be smaller yet more space efficient, offer the latest in restaurant technology, and even feature dedicated takeout and curbside pickup areas.
"We intend to remodel over 100 locations this year at the beginning of a multi-year effort to touch a large percentage of our business," CEO David Deno recently explained to NRN. "We know keeping our assets looking at their best, along with our ongoing relocation program, is a key element to growing traffic. All this is about bringing in restaurant traffic back to pre-pandemic levels."
One of the first Next Gen Outback units to open is in Charlotte, N. C. Per The Charlotte Observer, while the restaurant is noticeably smaller, the new 5,000-square-foot design features an open floor plan, improved kitchen space, and just as much seating (187 people) as Outback's older, 6,000-square-foot locations.
"The smaller size also allows us to bring restaurants to areas where larger units may not have been possible," Outback President Brett Patterson told the outlet.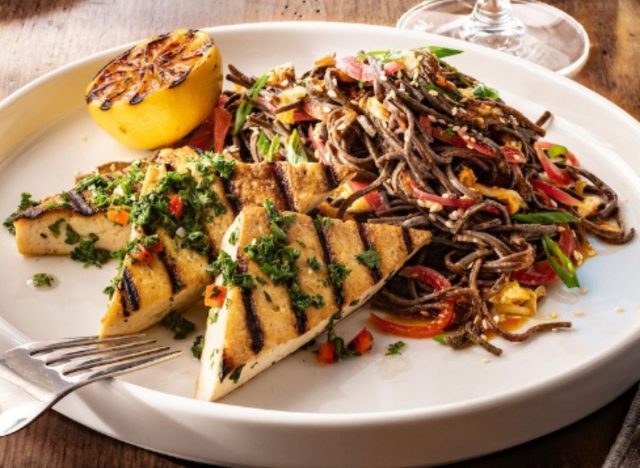 Ordering a vegan dinner at a steakhouse sounds a bit like ordering a cheeseburger at a seafood restaurant, but up-and-coming fine-dining brand Fogo de Chão is all about breaking down boundaries. The 74-unit chain specializes in churrasco, or the mouthwatering Brazilian art of roasting high-quality cuts of meat over an open flame, but if you ask CEO Barry McGowan, the brand is so much more than a steakhouse.
"We're just Fogo de Chão. We're not a churrascaria. We're not a steakhouse. We don't have to be prototypical," he told us in a recent interview. "Our demographic is 87% Millennial and Gen Z. We are a whole different occasion than a fine-dining steakhouse. We're just unique in the space."
While Fogo de Chão has long featured vegetarian and pescetarian dining options, like the Cauliflower steak, the chain announced the addition of two new vegan entrees earlier this year.
Patrons following a plant-based diet can try the Seared Tofu with Miso Black Bean Pasta, made up of Chimichurri-marinated tofu placed on top of protein-dense black bean pasta sautéed with green onion, Napa cabbage, pickled onions, and a carrot ginger-miso dressing. Not in the mood for pasta? The Roasted Power Vegetable Bowl featuring roasted eggplant, marinated mushrooms, roasted zucchini, asparagus, and baby peppers served alongside chimichurri spinach rice is also available. Both dishes are vegan and gluten-free.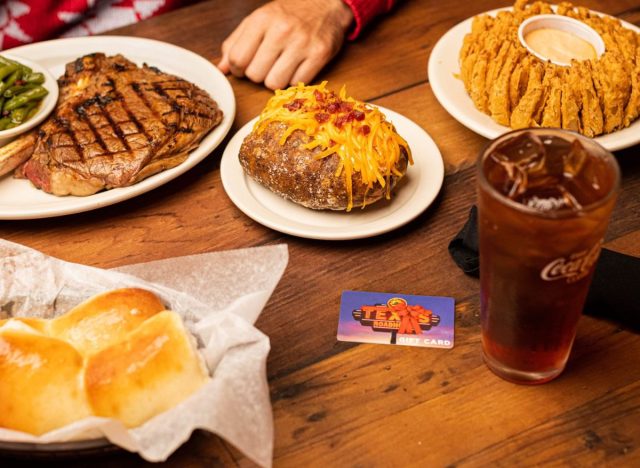 Eateries and food-based businesses of all kinds are embracing technology nowadays to smooth out and speed up the customer experience, and steakhouses are leading the way in many respects.
Texas Roadhouse is currently rolling out "Roadhouse Pay," a convenient pay-at-the-table system, across all of its locations. As of February 2023, Roadhouse Pay was already live across over 600 restaurants. Moreover, Texas Roadhouse is also testing out mobile handheld ordering tablets and conducting a soft launch of a new kitchen display system, dubbed its "Digital Kitchen."
First implemented at locations in Minnesota and Texas, the new Digital Kitchen features screens at each kitchen prep station. That means no more paper ticket orders. A new Texas Roadhouse location that just opened in the Kansas City, Mo. area features a digital kitchen, and according to CEO Jerry Morgan, the chain is "probably committed" to installing the new kitchen system in 30 restaurants this year.
"This will be a big year for us when it comes to opening new stores with a Digital Kitchen and even converting some existing stores," he said on an earnings call. "So definitely going to be leaning on some technology to help us get faster and, really, we want to complement our service with technology."
Meanwhile, a couple of months before being acquired by Darden, Ruth's Chris Steak House noted during its Q4 2022 earnings call the development of an exciting new proprietary demand forecasting platform that's been integrated with the chain's labor management system. The end goal? More efficient schedules. According to Cheryl Henry, Ruth's Hospitality Group CEO, the system has already resulted in a 10% improvement in hours per entrée.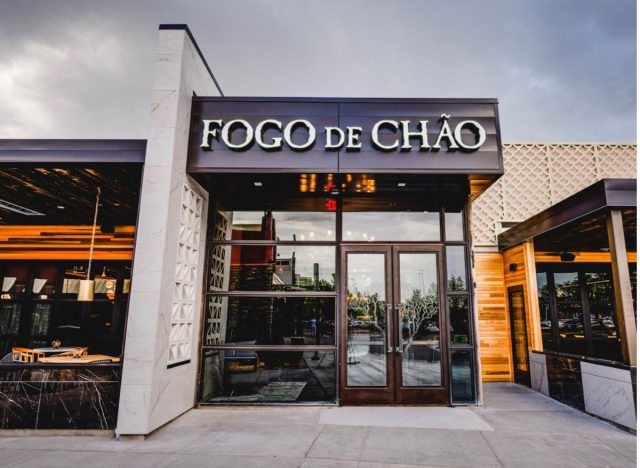 Expansion is what makes any chain restaurant a success, and plenty of steakhouse chains are set to branch out in major ways this year. Currently sitting at around 700 locations, Texas Roadhouse is aiming for 900 restaurants in the not-so-distant future. To that end, about 25-30 new units are slated to open in 2023 alone.6254a4d1642c605c54bf1cab17d50f1e
Outback plans on opening 75-100 of its Next Gen restaurants in the years to come, and Fogo de Chao has another 10 locations set to open this year. While the Brazilian chain only boasts a somewhat modest 58 domestic locations right now, CEO Barry McGowan believes there's potential for many, many more. "We know long term we can have 600 restaurants in America," he noted.
Darden Restaurants, meanwhile, recently noted that Q4 of this year will see a number in the "mid-teens" of new LongHorn Steakhouse restaurants opening their doors.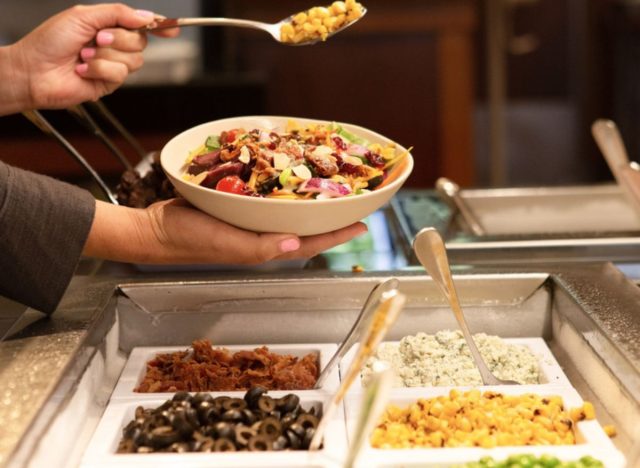 The very first Sizzler opened in 1958 (at the time called the Sizzler Family Steak House), and the chain has been a pillar of casual dining ever since. Serving as an inspiration to countless newer brands, Sizzler has enjoyed periods of great success, boasting over 700 locations at one point in the 1990s. That said, having dealt with multiple bankruptcies, the company is also no stranger to adversity. Today, there are roughly 70 domestic Sizzler locations.
Looking to reinvigorate its brand positioning across all areas, Sizzler has announced a fresh new restaurant redesign that modernizes the chain all while embracing its impressive history. Sporting sleek digital displays, recycled wood paneling, and tile flooring, new locations will also feature a warm, inviting fireplace located near the front counter. One classic Sizzler feature that isn't changing, however, is the all-you-can-eat salad bar.
"It's really the centerpiece of our restaurant," Robert Clark, chief growth officer for Sizzler USA, told Fast Company. Redesigned salad bars will feature more open space above the bar, complemented by hanging planters and food-spotlighting lamps, as well as new surfaces and glass on sneeze guards, and sharp white surfaces to contrast a black holding area for the various pots of food.
The first redesigned Sizzler just opened a few months ago in Corona, California. More are set to open this year, and, if all goes according to plan, every Sizzler will be undergoing remodeling by next spring.
John Anderer
John Anderer is a writer who specializes in science, health, and lifestyle topics.
Read more about John