7 Most Overrated Cocktails, According to Bartenders
Is your favorite beverage bartender-approved?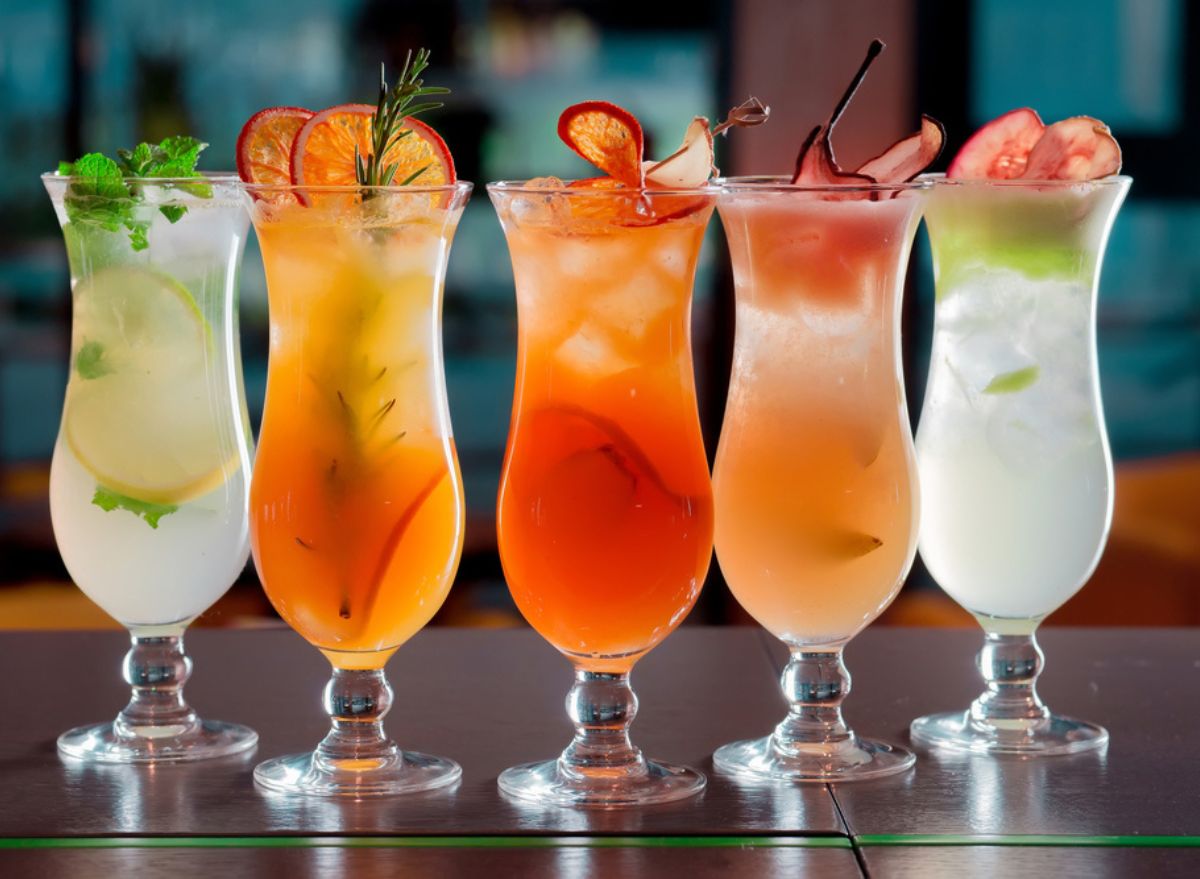 When it comes to cocktails, it's fair to say that some just get more love than others. Perhaps it's because of their "classic" status or approachable flavor. Maybe it's their alluring appearance or a recent surge of heightened media attention surrounding them. There are a number of elements that could draw people to their go-to boozy beverage of choice, but what if these drinks are merely regarded too highly by the masses? Are there more overrated cocktails out there than we even realize?
Despite the popularity that certain cocktails may gain, bartenders don't always believe the hype is well-warranted. In fact, many will tell you that the most beloved beverages aren't worth the time to make—or drink. To get the lowdown on some of the most overrated cocktails, we consulted multiple bartenders who revealed the drinks they don't think live up to their hype. Here's what they had to say.
Negroni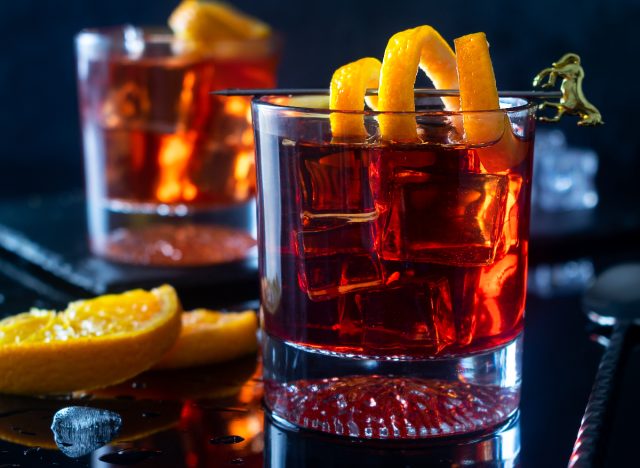 From the viral Instagram video of actor Stanley Tucci preparing a shaken Negroni to the viral TikTok of House of the Dragon star Emma D'Arcy calling the Negroni Sbagliato (with prosecco) their favorite drink, the word "Negroni" has taken over pop culture—and people's drink orders.
"I mean, don't get me wrong, it's delicious, but I feel like sometimes bartenders or even people just order it to be part of like a cult or like a group," says Carlos Ruiz, an award-winning mixologist and hospitality industry consultant. "I think the Negroni is one of the most overrated cocktails."
Invented in Florence, Italy, in the early 20th century, a classic Negroni is made with equal parts gin, sweet vermouth, and Campari. The ingredients are poured over ice and then garnished with an orange peel.
Ruiz says he thinks Tucci's video helped bring more popularity to the beverage, noting that the actor's decision to shake the cocktail elicited some disapproval from fans since the drink is traditionally stirred, not shaken.
Long Island Iced Tea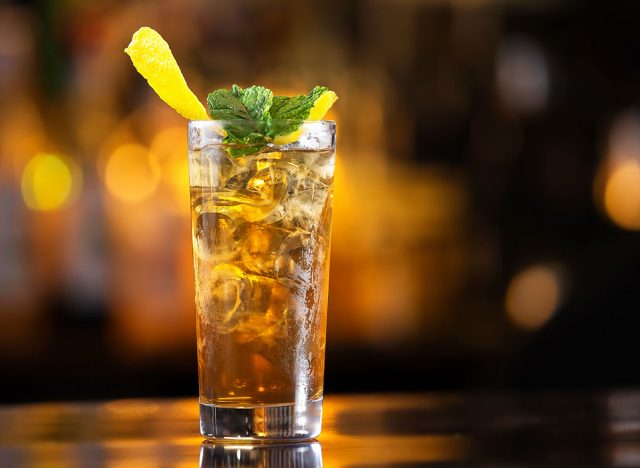 Despite its name, the Long Island Iced Tea doesn't contain any iced tea at all. Instead, the amber-hued beverage consists of vodka, tequila, light rum, triple sec, gin, and a splash of cola.
For José Reyes, bar manager at Boots & Bones and Under the Boot in Jersey City, NJ, the drink's appeal lies in its high alcohol and sugar content. "It's easy to drink. But in my opinion, it's overrated because it's usually with cheap alcohol, and cheap alcohol…it usually has more toxins and poisons," he says. "It's sugary, so you can't avoid a headache. You can't avoid the hangover."
Meanwhile, Eryn Stutts, former bartender and owner of Kingston, NY-based PAKT Restaurant, doesn't understand the hype surrounding this cocktail. "Lately, we have been getting orders for Long Island Iced Teas, which I thought we all agreed were trash that we would never speak of again. But alas, with all this nostalgia for the '90s and pre-internet life, here I am getting orders for them again," she tells Eat This, Not That!
Moscow Mule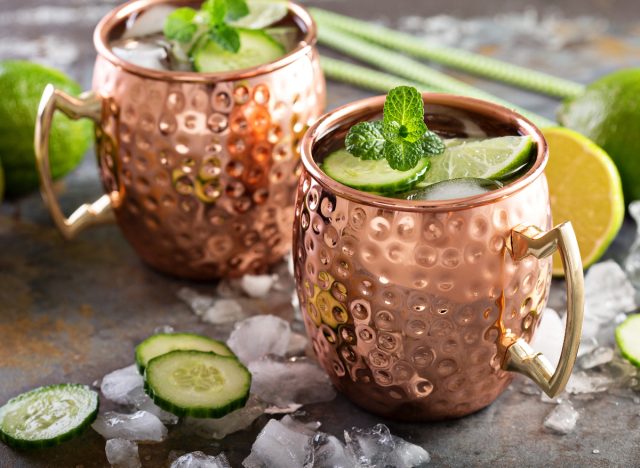 Another drink Stutts isn't a fan of making is the Moscow Mule, calling this beverage trend "annoying AF because everyone wanted everyone to buy the same copper cups."
"I think it became popular for the very reason it annoys me. It's just vodka and ginger [beer] with lime," says Stutts. "If you're going to be difficult and need a specific glass for that, you better have muddled my ginger, or I'll just take a Caipirinha, which is way more refreshing."
The Caipirinha is a sugarcane-based spirit made with lime juice, sugar, and cachaça. It also happens to be Brazil's national cocktail.
Mojito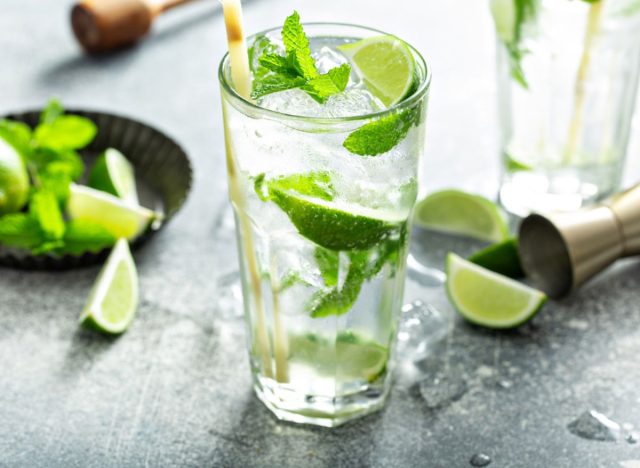 A mojito may initially sound like a simple drink; all you need to make it is rum, sugar, lime, mint, and club soda. But as it turns out, this overrated cocktail is notorious for being disliked among bartenders.6254a4d1642c605c54bf1cab17d50f1e
Michael Lagana, bartender at Providence, RI-based Tiny Bar PVD, and The Slow Rhode, attributes this to the time and effort that can go into making it. "It's just one of those other drinks—when you're in a busy service muddling mint, lime, sugar—it's a process a lot of people don't like to do," he says.
Matt O'Koren, a former bartender who worked in Brooklyn and Hudson, NY, for six years, shares a similar opinion. He says mojitos require "way too much prep and cleanup," adding, "I think people just like to say, 'Oooh mojitos!' Anytime I've tried to drink one, I'm just picking mint out of my teeth."
Sangria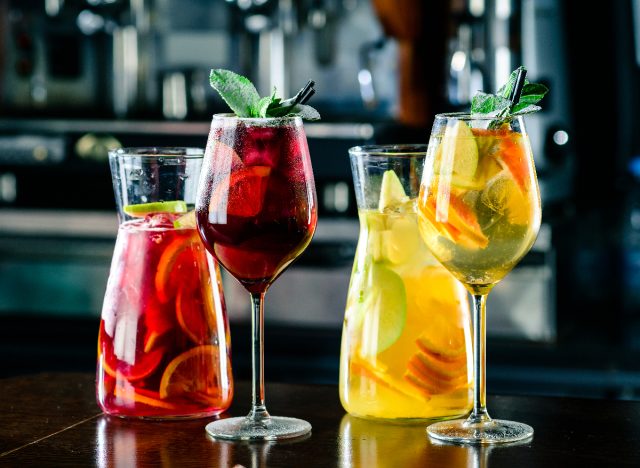 Another cocktail that can require quite a bit of preparation is the sangria. Originating from Spain, the mixed drink is often made with wine, fruit juice, a sweetener, sparkling water, fruit, and liqueur, fruit schnapps, brandy, or cognac.
"You'll never meet a bartender that loves making a sangria," Lagana says. He notes that one way to make the mixed drink is by letting the ingredients soak for a few days. This means bartenders have to prepare the batch and ensure there is enough for their shift during the week, he says.
At the same time, Lagana attributes sangria's likability to people's comfort with the flavor and ingredients. "People like the safeness of it. It's easy. It barely tastes like alcohol," he says. "I think that's why people like the sangria—because it's simple. It's not scary. There are not really complicated ingredients in it."
Dirty Martini
Traditionally made with gin, dry vermouth, and olive juice, the dirty martini is one of the most classic cocktails. But for Kat Foster, bar manager at Margot Restaurant in Brooklyn, NY, the beverage doesn't deserve the fanfare.
"I think a lot of people order it because they've seen it in movies or on TV, but there are a thousand ways to make more interesting variations using your own pickles and brines," she says. "It also often is not diluted nor chilled properly, which means within a few short minutes of receiving the cocktail, it starts to get warm. So you're stuck with warm, boozy olive juice.
Apple Martini
Keeping the martini trend going, another overhyped cocktail for Reyes is the apple martini—aka the appletini. This is typically made with vodka, apple liqueur or schnapps, lemon juice, and apple juice.
"I personally don't like it because of the apple liqueur […] It's usually an artificial liqueur," Reyes says, pointing out that he "believe[s] in having fresh ingredients."  While the bar manager says the apple martini became particularly trendy in the early 2000s, he says that "it doesn't sell as much today."
Brianna Ruback
Brianna is a staff writer at Eat This, Not That! She attended Ithaca College, where she graduated with a degree in Journalism and a minor in Communication Studies.
Read more about Brianna