The 10 Unhealthiest Cocktails on the Planet
It may be 5 o'clock somewhere—but with these unhealthy cocktails, it's never a good time to overdo it.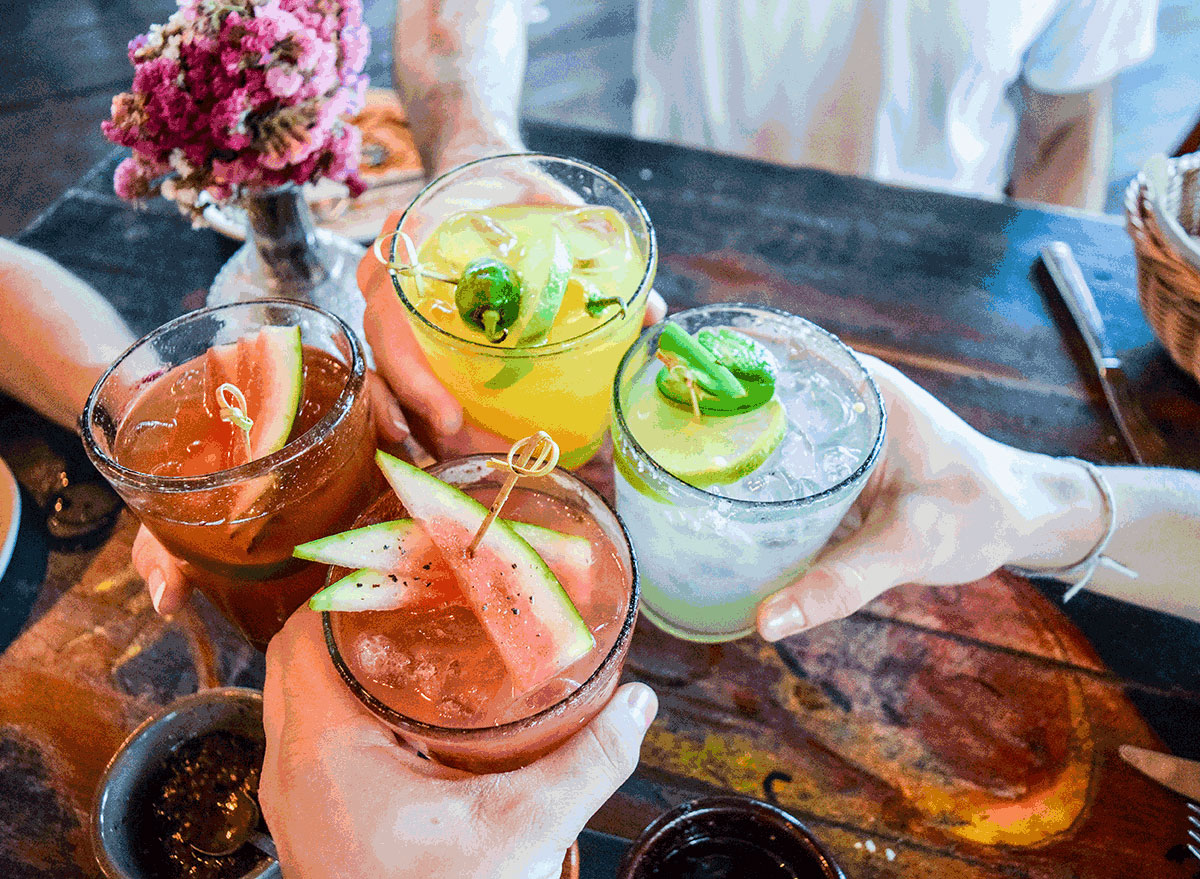 In a perfect world, none of us would be tempted by the tasty and relaxing allure of alcohol. It's not only potentially addictive but it's also associated with many short- and long-term health risks ranging from weight gain to liver disease.
But even former President Franklin D. Roosevelt recognized the occasional need for a debaucherous liquid escape, famously declaring that "what America needs now is a drink" amid the repeal of Prohibition in 1933. Perhaps "need" is too strong of a word, but there's no shame in wanting to unwind with a stiff, cold cocktail—as long as they are consumed responsibly and in healthy moderation. However, those who are not fans of beer, wine, or hard seltzers may find themselves reaching for mixed drinks, many of which are sweetened with loads of added sugars, like high-fructose corn syrup or other high-calorie sweeteners. For those Happy Hour cocktail purists, it's all too easy to wind up ordering one of the unhealthiest cocktails on the planet.
Even if you don't order the fanciest cocktail on the menu, most mixed drinks tend to contain exorbitant amounts of less-than-healthy ingredients while also lacking any substantial nutritional value. (Unfortunately, eating your maraschino cherry or olive garnish does not qualify as a full serving of fruit or vegetables.) You'd be amazed by how many calories and grams of sugar can get jammed into a tiny 8-ounce cocktail glass!
Because some cocktails are more unhealthy than others, we've rounded up a list of some of the unhealthiest cocktails you can get. If you're concerned about gaining excess weight and/or managing your blood sugar levels, steer clear of these sugary sweet unhealthy cocktails—and to learn more about popular cocktails of yesteryear, be sure to also check out 31 Old-Fashioned Cocktails Everyone Should Order at Least Once.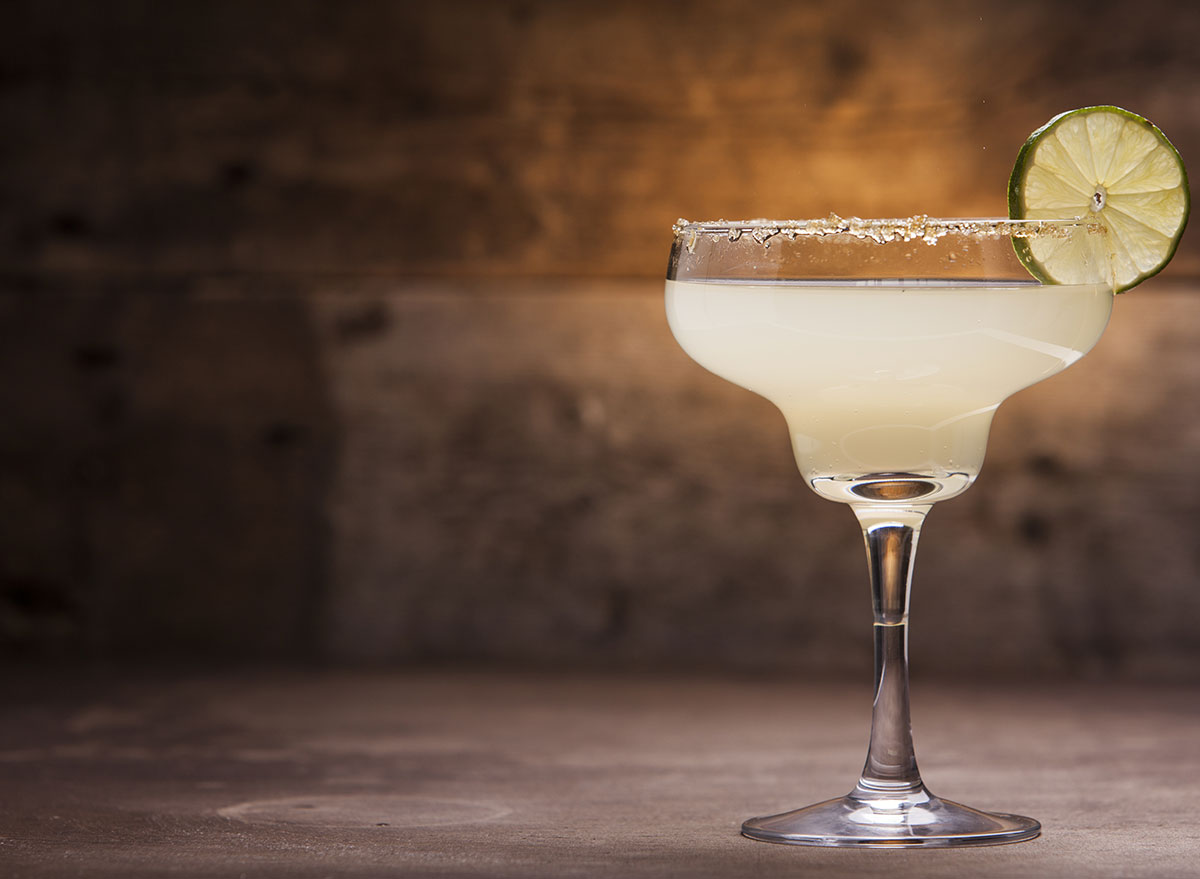 Per 8 ounces: 274 calories and 36.1 grams of sugar
Before you consider getting "wasted away again in Margaritaville" and start "searching for your lost shaker of salt" know that this classic combo of tequila, orange liqueur, lime juice, and syrup can account for over 70% of your daily intake of sugar when trying to adhere to a 2,000 calorie a day diet. This doesn't even take into account how the combination of sodium and tequila can increase your heart rate and potentially elevate your blood pressure if ordering this unhealthy cocktail with a salted rim.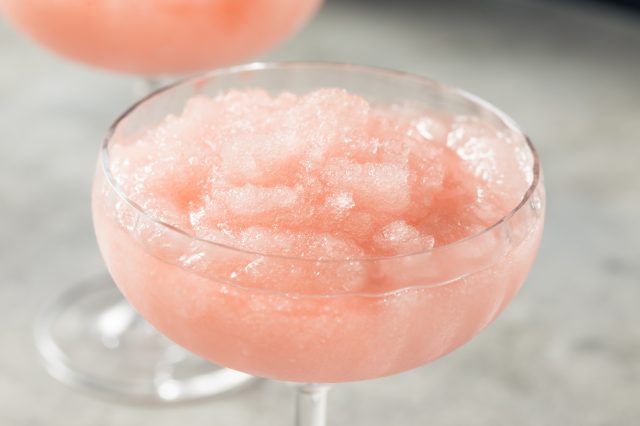 Per 8 ounces: 416 calories and 57.6 grams of sugar
As much as you may want to "frosé all day," this is essentially asking to pack the pounds away. With nearly 58 grams of sugar per 8 fl oz, this frozen rosé cocktail eclipses the recommended daily amount of sugar you should consume each day, with a daily value of 115.2%. Keep in mind that although 8 ounces is generally the size of a typical bar cocktail, frosé is sometimes served in larger daiquiri-esque glasses, making it even more difficult to be mindful of your portion control. Instead of going for this cockail, opt for a simple glass of rosé wine. In addition to being a bit more budget-friendly, it also contains a fraction of the calorie and sugar content.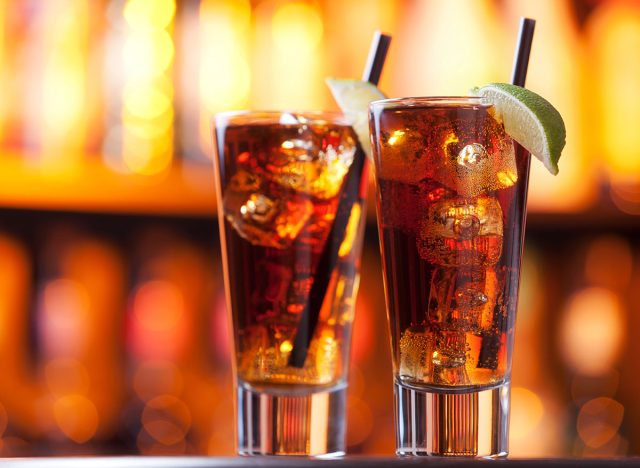 Per 8 ounces: 241 calories, 19 grams sugar6254a4d1642c605c54bf1cab17d50f1e
Long Island iced teas are notorious "everything but the kitchen sink" cocktails, often combining gin, white rum, silver tequila, vodka, triple sec, simple syrup, fresh lemon juice, and a splash of cola. In addition to being a shortcut to a long night that you may or may not remember the next day, the high sugar content of this unhealthy cocktail will only pile on your physical woes with more adverse impacts on your overall health.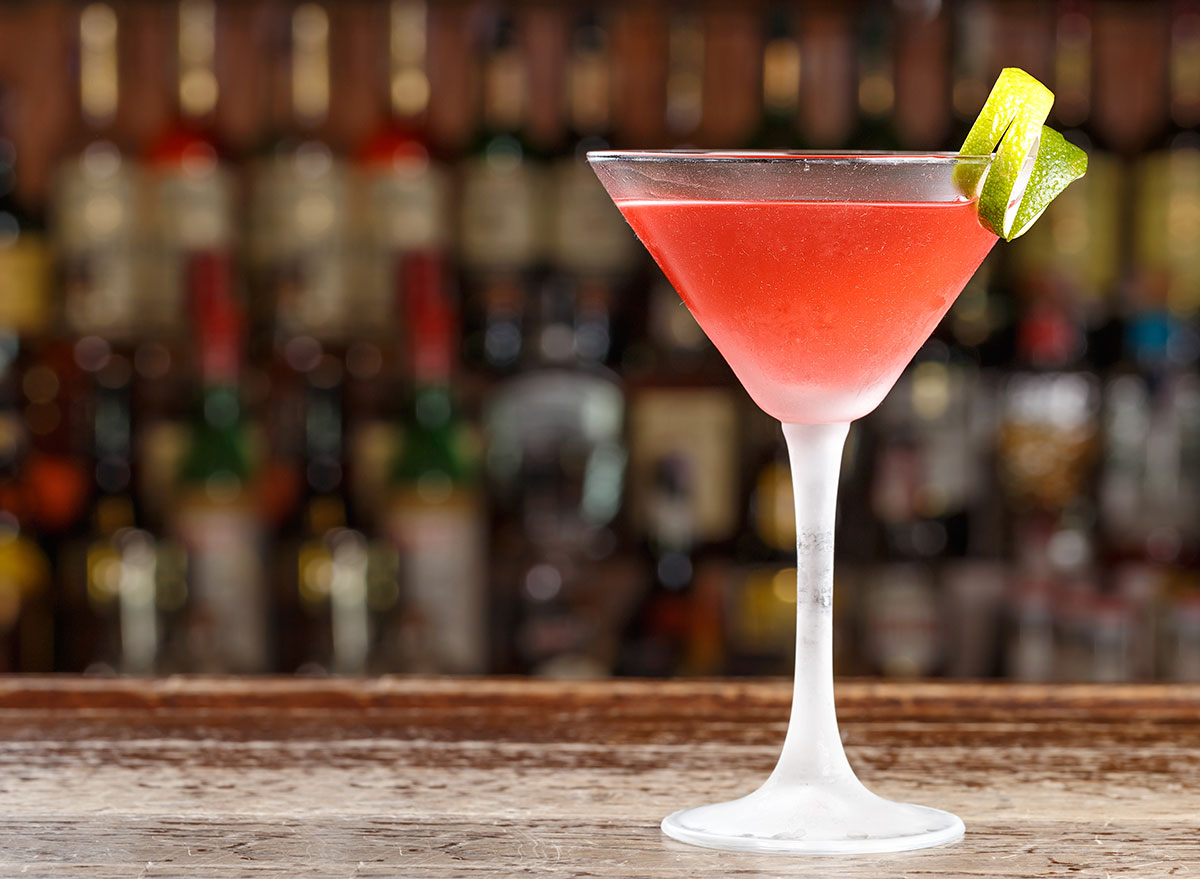 Per 8 ounces: 456 calories and 12.32 grams of sugar 
It's one thing to ask Sex and the City and/or Just Like That viewers to suspend their disbelief as Carrie Bradshaw trots through the streets of Manhattan in Manolos like they're a pair of running shoes and not get so much as a blister to speak of. However, it's quite another to expect us to buy that these women were able to throw back Cosmos like water, and yet still be able to squeeze into a Prada size 2. At 456 calories, one 8-ounce Cosmopolitan can be higher in calories than some breakfast sandwiches at McDonald's. If in the mood to feel some city chic vibes while sipping on a cocktail, opt for a classic vodka martini to cut back on the calorie count.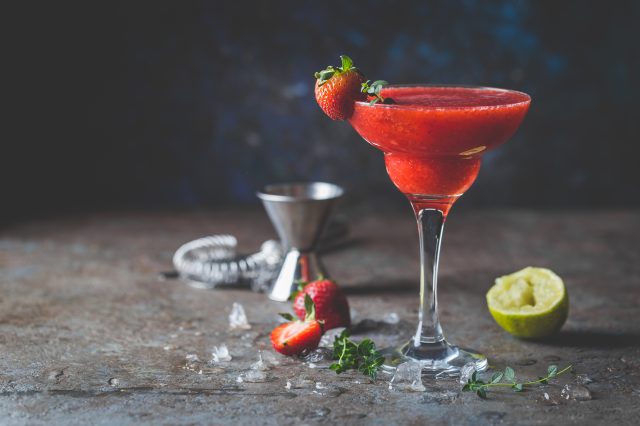 Per 8 ounces: 286 calories and 39.7 grams of sugar 
Though deliciously refreshing, daiquiris are perhaps one of the unhealthiest cocktails you can order courtesy of their excessive sugar content. Despite only having three primary ingredients—rum, lime juice, and syrup—this cocktail clocks in with nearly 40 grams of sugar.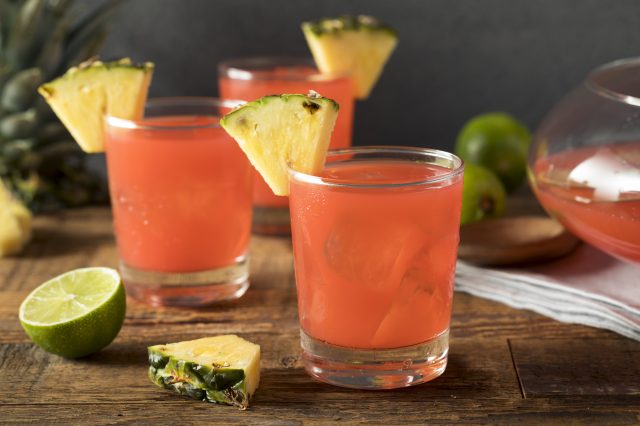 Per 8 ounces: 231 calories and 18 grams of sugar 
Don't let the fresh pineapple wedge garnish fool you. Though sweet and tasty, traditional Jamaican rum punch is a strong, calorie-dense cocktail that typically includes a mix of pineapple, orange, and lime juices plus grenadine, maraschino cherries, and an overproof rum triple-threat consisting of dark, light, and flavored rums.
Per 8 ounces: 372 calories and 31.12 grams of sugar
A classic whiskey sour includes whiskey, lemon juice, sugar, and sometimes a dollop of egg white. However, many bars and restaurants serve this cocktail using a premixed ingredient rather than shaking it up fresh. As the USDA points out, some varieties of a whiskey sour—especially those that are premixed or use premixed ingredients—can contain over 30 grams of sugar per 8-ounce serving.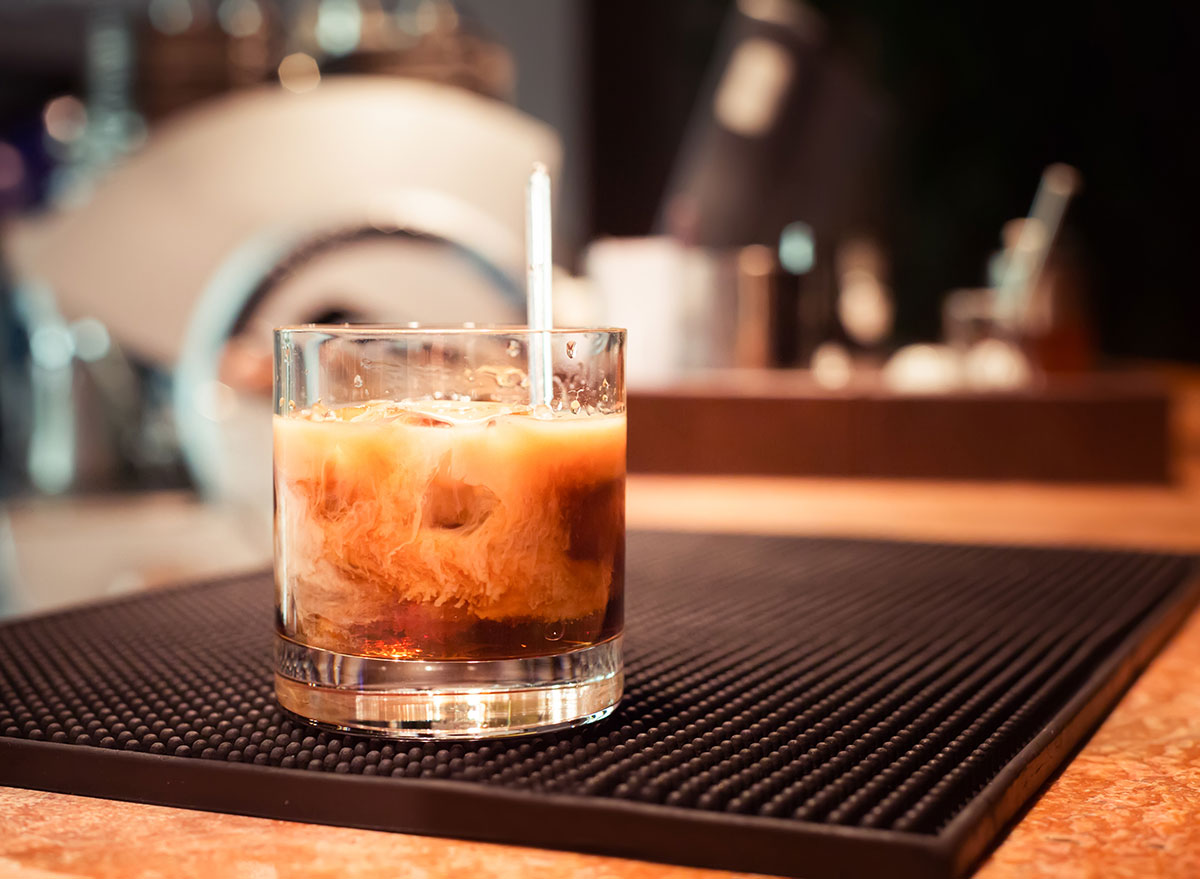 Per 8 ounces: 396 calories and 21.5 grams of sugar 
Made with vodka, Kahlúa, and also heavy cream, this cocktail accounts for 47% of your recommended daily sugar intake. Also, there are plenty of other delicious and more filling uses of 400 calories, including some fast food ice creams out there that are half the calorie count of this unhealthy cocktail.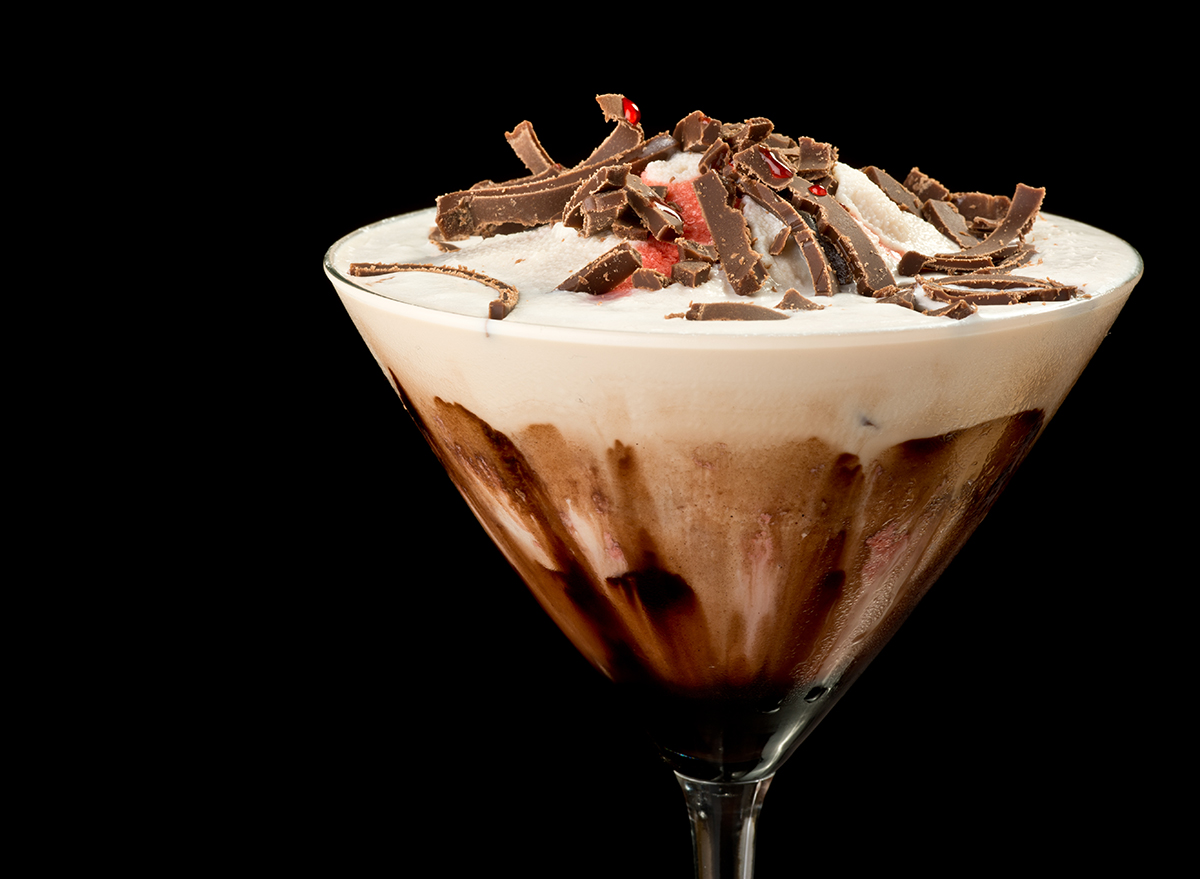 Per 8 ounces: 384 calories and 23.8 grams of sugar
Mudslides are essentially dessert in a cup. Consisting of vodka, Kahlúa, Irish cream liqueur, and heavy cream, one martini-sized glass of a mudslide reportedly contains roughly the same amount of sugar as a milk chocolate Hershey's bar—and that's not counting the additional garnishes and additional chocolate syrup drizzle that typically tops this unhealthy cocktail. If you're concerned about weight loss, you better believe that, similar to the prolific lyrics of Fleetwood Mac, a decadent mudslide will "bring you down."
Per 8 ounces: 340 calories and 39.6 grams of sugar
"If you like piña coladas," but are watching your sugar intake, I have bad news: Unfortunately, the overall combination of ingredients—which includes pineapple juice as well as white and dark rum—lends itself to being a highly sugar-saturated beverage choice, clocking in at nearly 40 grams of sugar per 8-ounce serving.