Why Haven't You Tried Bone Broth Soup Yet?
The collagen-rich broth is now the base of a new line of soups from Pacific Foods.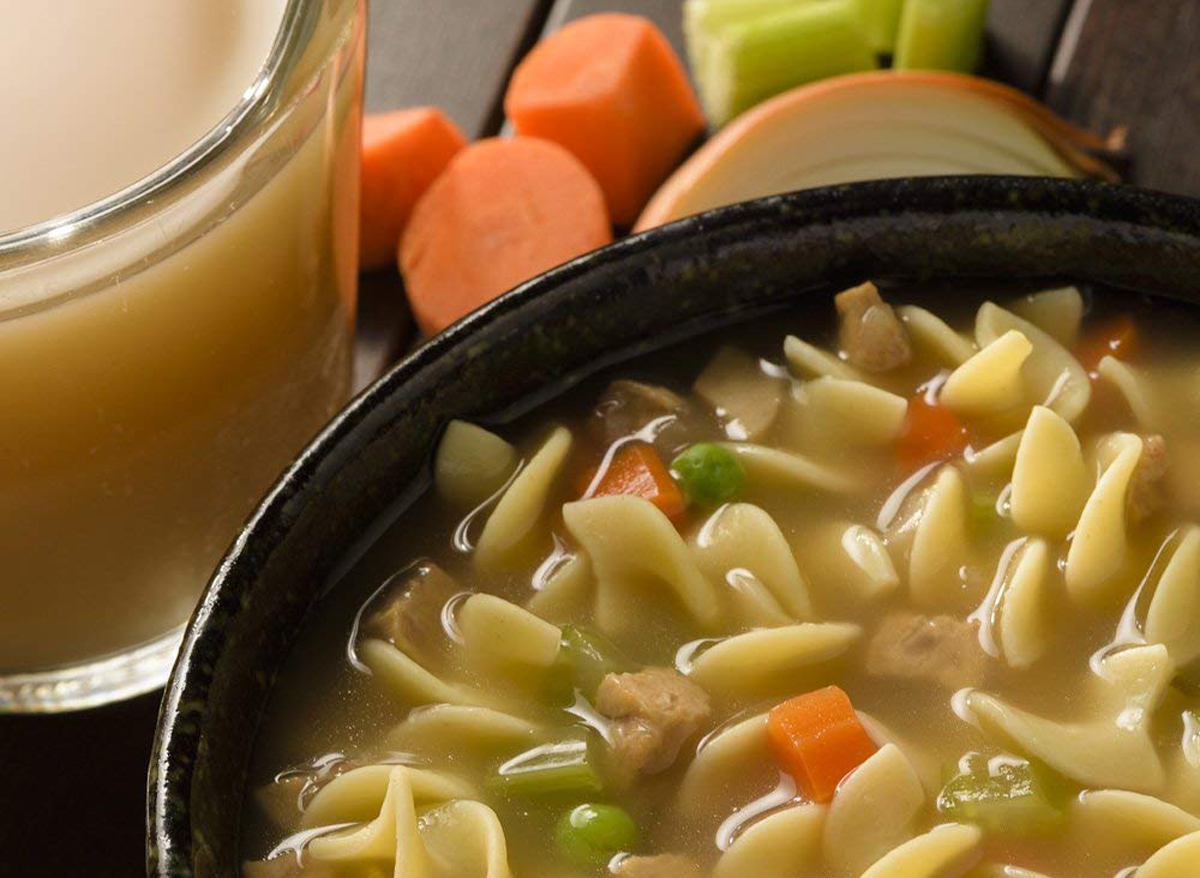 Bone broth has received some major buzz lately and it's certainly for good reason. Dietitian Katey Davidson, MSc, RD, explains that this special stock contains a good amount of calcium, magnesium, phosphorus, amino acids, and many other nutrients.
Davidson also suggests that one of the best components of bone broth is its rich collagen content, which can be beneficial to our joint and skin health. "Collagen is made up of different amino acids and is considered one of the most abundant proteins in humans," she says. Consuming collagen is also beneficial for our joints, she adds, especially since it makes up a large portion of them.
With this in mind, it's worth mentioning that big soup brands like Pacific Foods are definitely getting in on the bone broth action, as the brand has recently released an organic bone broth soup line that features spins on old-time classics such as Pacific Foods Organic Chicken Noodle Soup With Chicken Bone Broth.
And unlike some cans of chicken noodle soup which are jam-packed with unpronounceable ingredients and tons of sodium, Pacific Foods keeps things simple with organic ingredients and a relatively reasonable sodium content (430 mg). So how does Pacific Foods keep up with chicken noodle soup from competitors like Progresso? We asked Davidson to weigh in on that question below.
Pacific Organic Chicken Noodle Soup With Chicken Bone Broth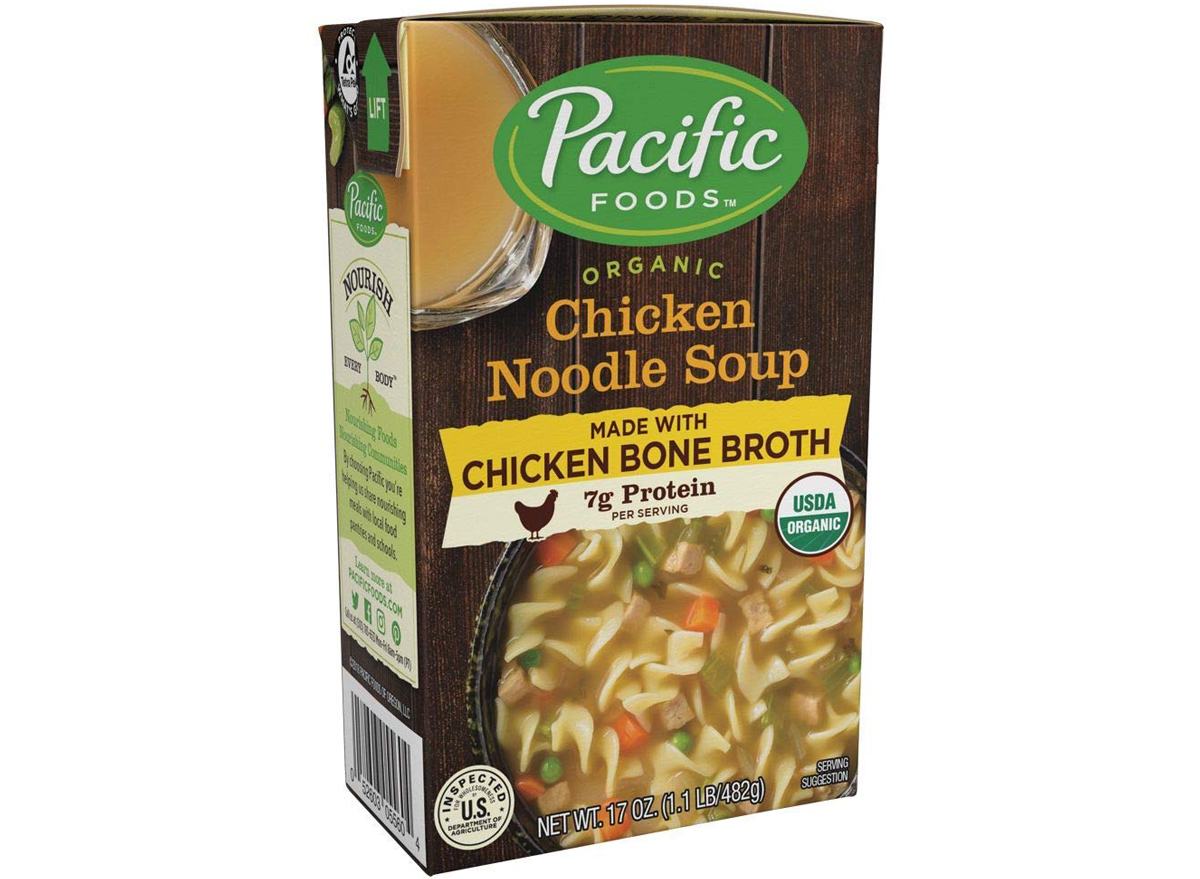 6254a4d1642c605c54bf1cab17d50f1e
1 cup serving
: 100 calories, 1.5 g fat (0 g saturated fat), 430 mg sodium, 13 g carbs (2 g fiber, 2 g sugar), 7 g protein
When compared to the Progresso Traditional Chicken Noodle soup, Davidson suggests that the two products do not differ much nutritionally. However, she notes that this Pacific Foods soup contains less sodium than the Progresso version. In addition, she says that there is slightly more iron, calcium, and vitamin A in the Pacific Foods soup, which can likely be attributed to the bone broth as well as the fresh vegetables.
Progresso Traditional Chicken Noodle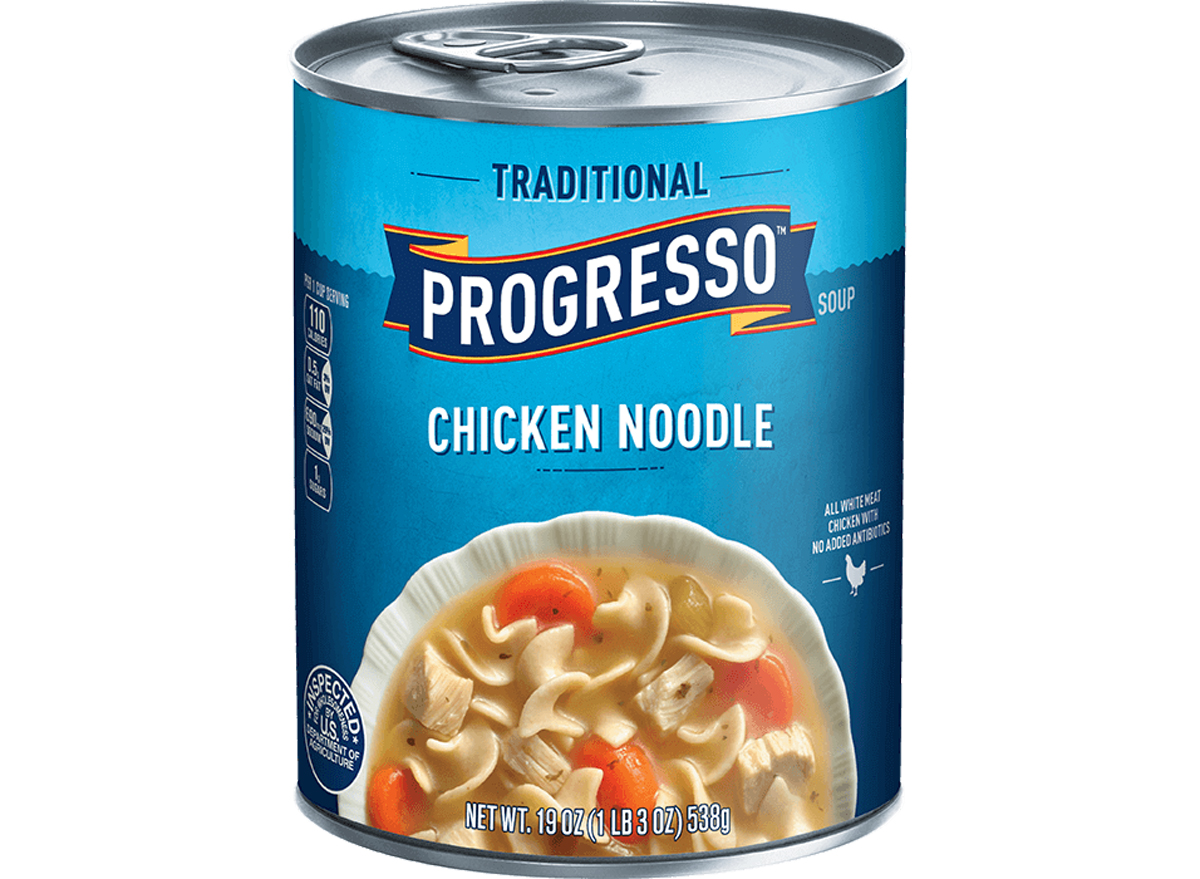 1 cup serving
: 110 calories, 2.5 g fat (0.5 g saturated fat), 690 mg sodium, 14 g carbs (1 g fiber, 1 g sugar), 7 g protein
While Davidson explains that this Progresso soup uses chicken stock, she notes that this is essentially bone broth. This is why the protein content is identical in both soups, she says, along with the fact that they both use chicken meat as well.
In conclusion, when it comes to these two products, Davidson tells us that they don't differ much because chicken stock is still bone broth, technically. "If you were to compare this soup to a vegetable stock, then you would notice more of a difference," she says.
That being said, Pacific Foods new line of bone broth soups are still a lower-sodium alternative that contains skin-nourishing collagen! (This bone broth-based soup has 280 milligrams less sodium than Pacific Foods' Original Chicken Noodle Soup.)
If chicken noodle soup isn't your thing, Pacific Foods also offers Curry Chickpea (8 grams protein), Hearty Italian Vegetable (9 grams protein), and two 10 grams protein per seving soups: White Bean Kale & Millet and Caribbean Black Bean.
Buy a 12-pack of Pacific Foods Organic Bone Broth Chicken Noodle Soup: $4.74 each, Amazon