The Best & Worst Store-Bought Broth & Stock Brands—Ranked!
Oftentimes these pantry staples are hiding mounds of sodium and sketchy ingredients. We separate the bad from the good.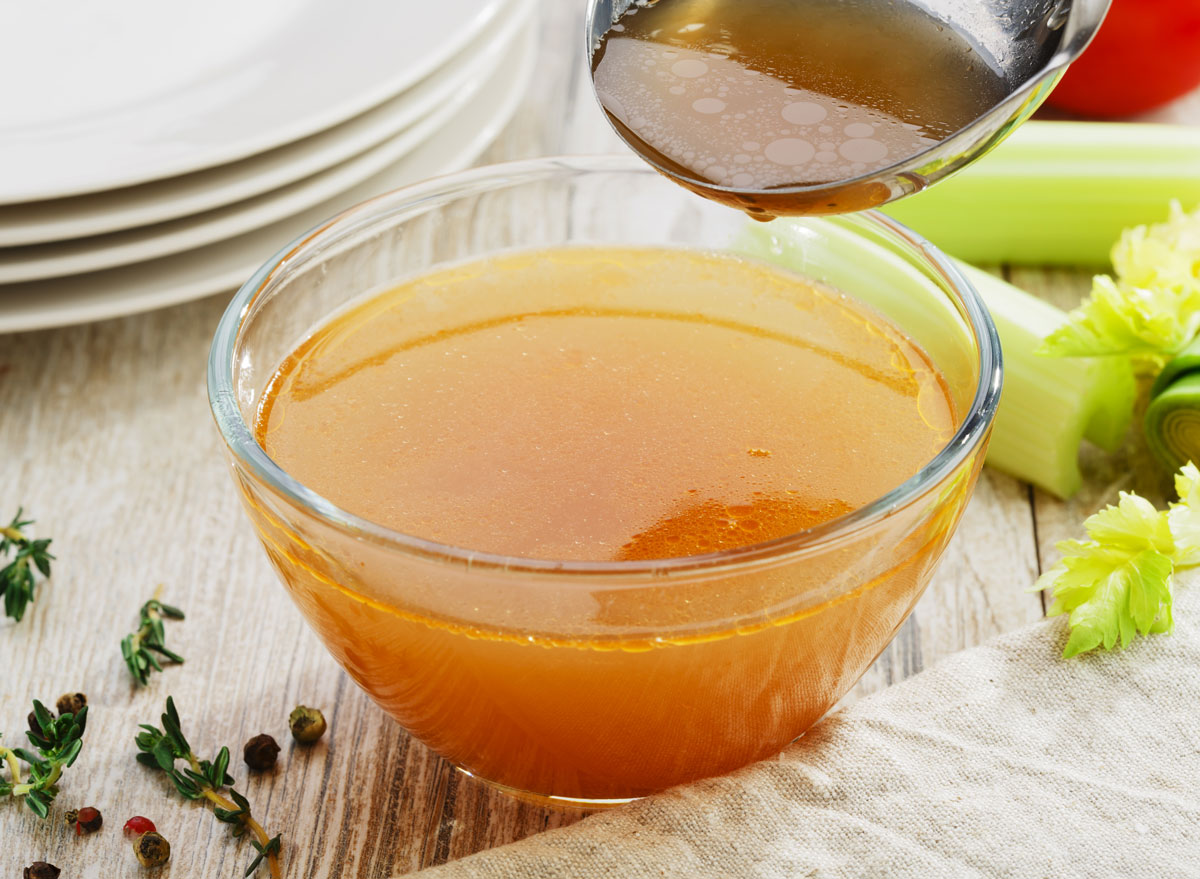 This post contains affiliate links. If you use these links to buy something, we may earn a commission.
Broth and stock have always been pantry staples, but that doesn't mean they should be overlooked when it comes to upgrading your diet. Oftentimes, store-bought stocks and broths are loaded with sodium and are secretly hiding sketchy ingredients. If you're looking to overhaul your diet and pantry, you should start with the best healthy stocks and broths—and we have just the picks for you.
First, what's the difference between stock and broth?
While broth and stock are super similar, they're technically not the same thing.
Stock is made when you typically simmer bones, some root veggies (typically onion, carrot, and celery), and some herbs with water. Sometimes, the bones are roasted first to make a stock with more flavor depth and the mixture is simmered for several hours. There's no seasoning added beyond that because in the kitchen you'd use stock for anything from soups to sauces in tons of recipes. Stocks are used to build other recipes and if you're starting off with a highly seasoned stock, you can do fewer things with it.
Broth is like stock but is cooked way less and is usually seasoned. It's used in the same way, but it's less rich and can also be sipped on its own (that's why bone broth is so popular).
If you want to get down to the nitty-gritty, stock technically provides more nutrients like vitamins, minerals, and collagen, which are all released from the bones when stock is cooked. But in general, stock and broth are pretty close in nutrition at their nutrition baseline. The big difference comes from the quality of ingredients and sodium content.
Making broth or stock at home is a great way to avoid food waste, but there are lots of store-bought options available. Read on for tips on picking the best stock and to see our top choices for grabbing one off the shelves. Plus, if you don't feel like making soup, here are The Best & Worst Chicken Soups on the Shelves—Ranked!
How to pick the best broth or stock:
Organic vs. conventional: One of the biggest differentiation in the broth or stock aisle is organic vs conventional. It's up to you to decide if you're looking for a product that provides organic produce and animal product. This could be a big difference in price.
Added sugar: While this only appears in one of the brands listed, always check the ingredients list to see what lies beneath.
Quality of meat/animal bones used: Since a broth or stock is simmering animal product for at least a few hours, that means whatever is in the bones/meat is intensified to what you sip. A cheap broth or stock will rely on sometimes less than stellar animal protein farming methods so choose wisely.
Mind the sodium: Like many packaged products, sodium levels can really hit the high notes in broths and stocks. Be cautious since one cup can creep towards 1000 mg with some brands!
Sign up for our newsletter for more healthy eating tips and product reviews.
Campbells Condensed Chicken Broth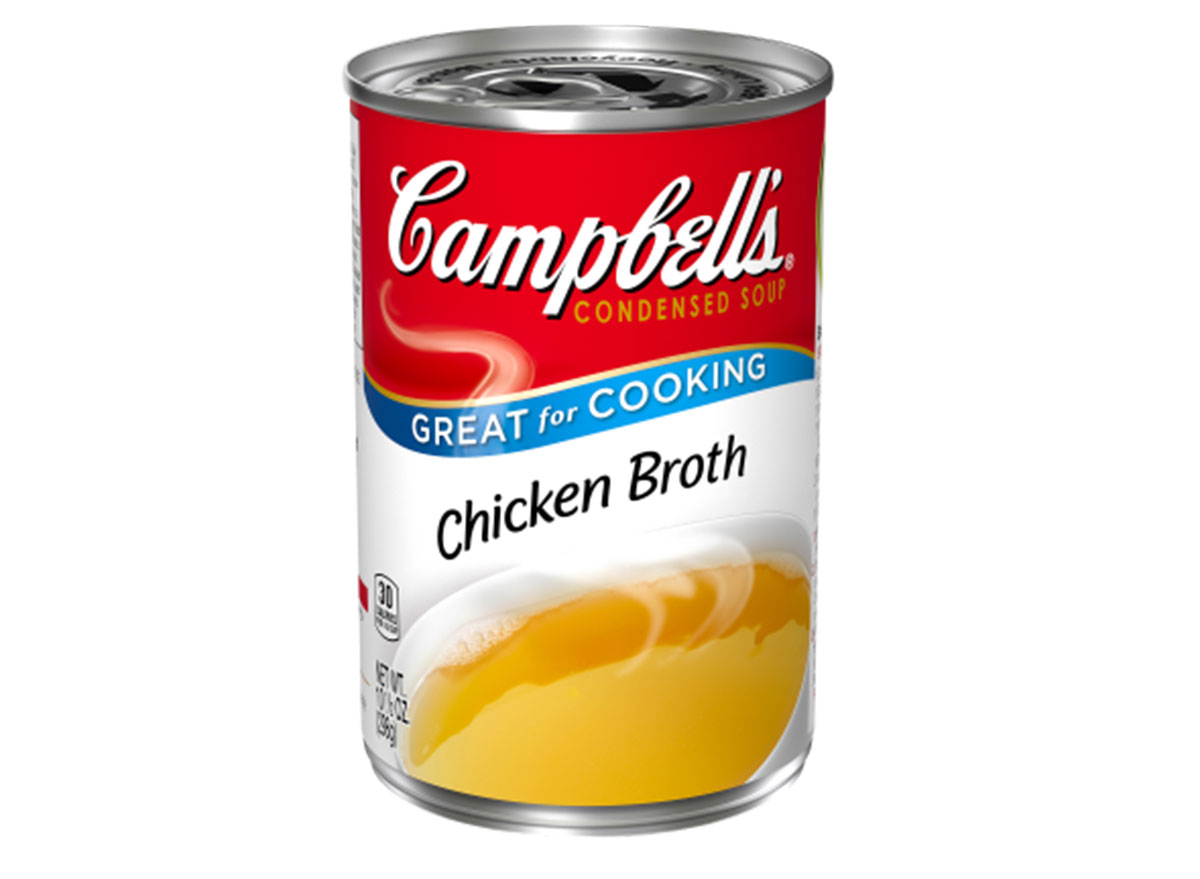 Per 1/2 cup, 30 calories, 3 g fat, 1 g saturated fat, 750 mg sodium, 0 g carbs, 1 g protein
This classic pantry staple isn't what you think it is. For half a cup, there's a whopping 750 milligrams of sodium and only 1 gram of protein. This is basically ocean water a chicken swam in. The ingredients include corn oil and hydrolyzed soy protein. For quadruple the quantity, you can get a fraction of the sodium and a much better protein count with better ingredients.
Kitchen Basics Original Chicken Stock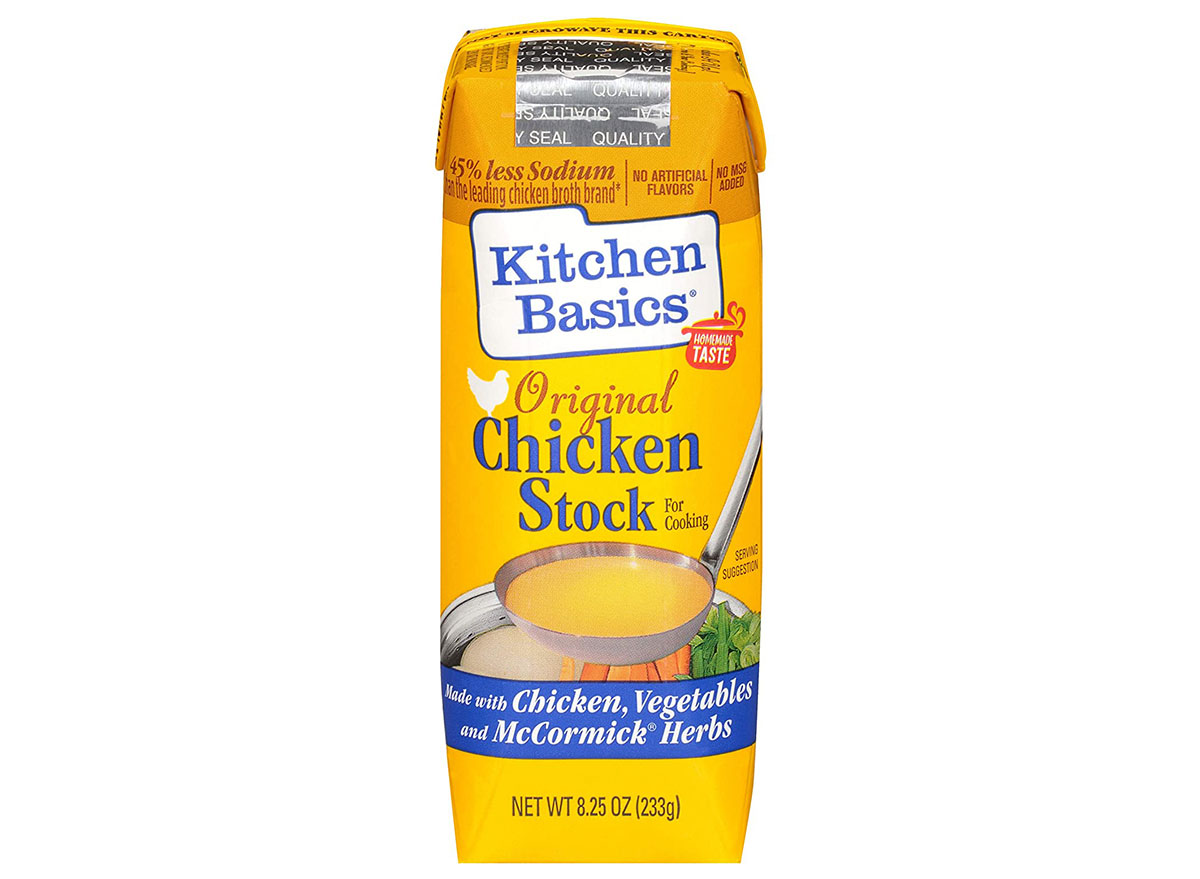 Per 8.25 oz
: 30 calories, 0.5 g fat, 0 g sat fat, 420 mg sodium, <2 g carbs, <1 g sugar, 5 g protein
Certified "heart-healthy" by the American Heart Association, this chicken stock is only 30 calories per 8.25 ounces. But when it comes to ingredient quality, "natural chicken flavor" as the second ingredient raises some questions. According to the Environmental Working Group, "A review reports that artificial and natural flavorings are unspecified mixtures of as many as 100 flavoring substances and solvents, emulsifiers, and preservatives." Defined, natural chicken flavor is a yeast extract blend that uses chicken fat and other natural flavors. This blend also includes honey, although it contains a negligible less than 1 gram of sugar per serving. You're better off with any of the clean picks above. And for more heart-healthy options, we have these 14 Best Low-Sodium Canned Soups for Heart Health, Approved by Dietitians.
Rachael Ray Stock in a Box Chicken Flavored Stock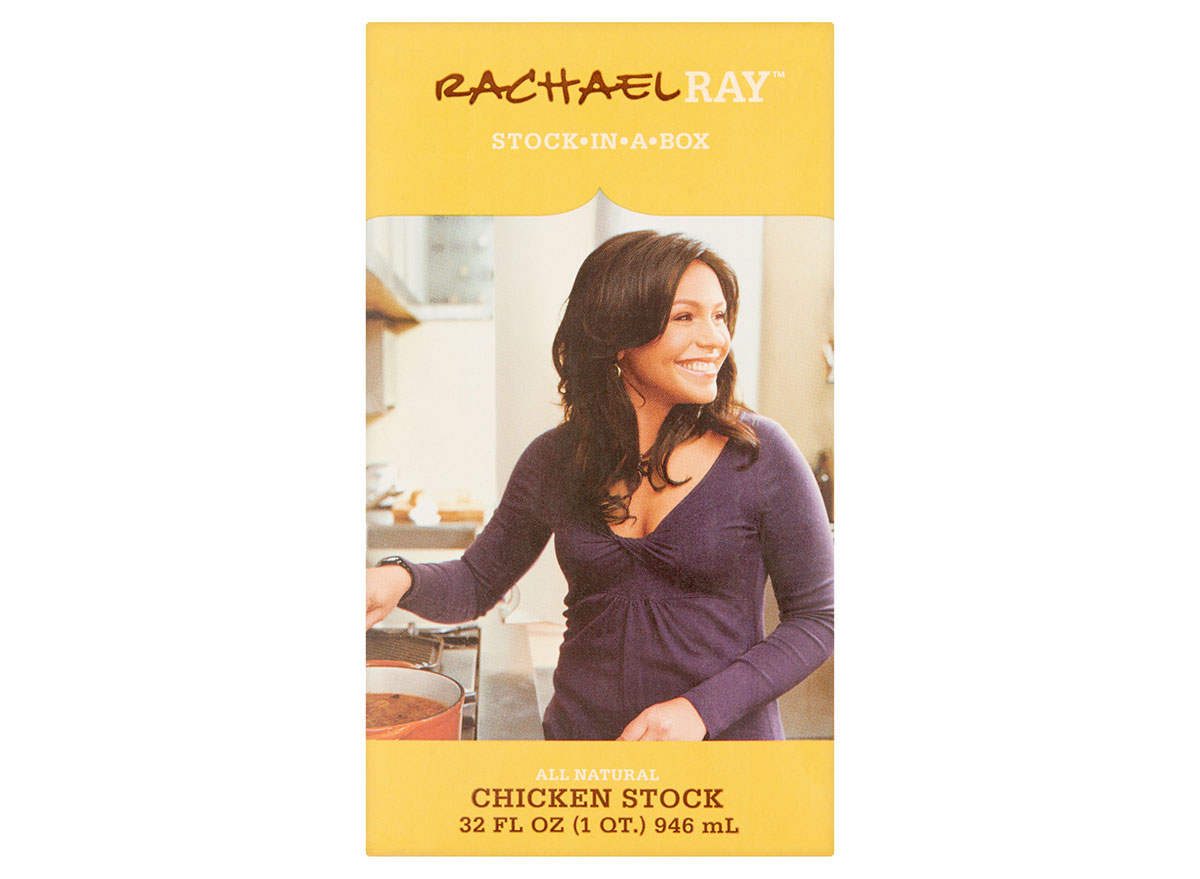 Per 1 cup, 10 calories, 0 g fat, 480 mg sodium, 1 g carbs, 0 g sugar, 2 g protein
Let's talk about wording. You'll note that this stock is "chicken flavored"…not chicken stock. The ingredients are water first, then "chicken stock base" which means this might not be the quality you're looking for. The nutrition facts are nothing to write home about. It's 10 calories for 1 cup and a sodium count that has it squarely in the middle of the pack (480 mg) with 2 grams of protein to round it out.
Imagine Organic Chicken Broth
Per 1 cup, 20 calories, 1 g fat, 740 mg sodium, 2 g carbs, 1 g sugar, 1 g protein
If organic is important to you, you'll be able to find Imagine everywhere. The problem is in the nutrition facts panel. For one cup it's 740 milligrams of belly-bloating sodium (making it one of the highest-sodium foods on this list) and only 1 gram of protein.
 Market Pantry
Per 1 cup
: 5 calories, 0 g carbs, 860 mg sodium, 1 g protein
Don't let the tidy Target branding fool you. Like many products in the Market Pantry line, this product just doesn't stack up to other options. For one cup of broth you'll get smacked with 860 mg of sodium and only 1 gram of protein. Don't forget the ingredient list which includes caramel coloring. Say "no thanks" to this and the other 17 Worst Foods to Buy at Target.
College Inn Beef Bone Broth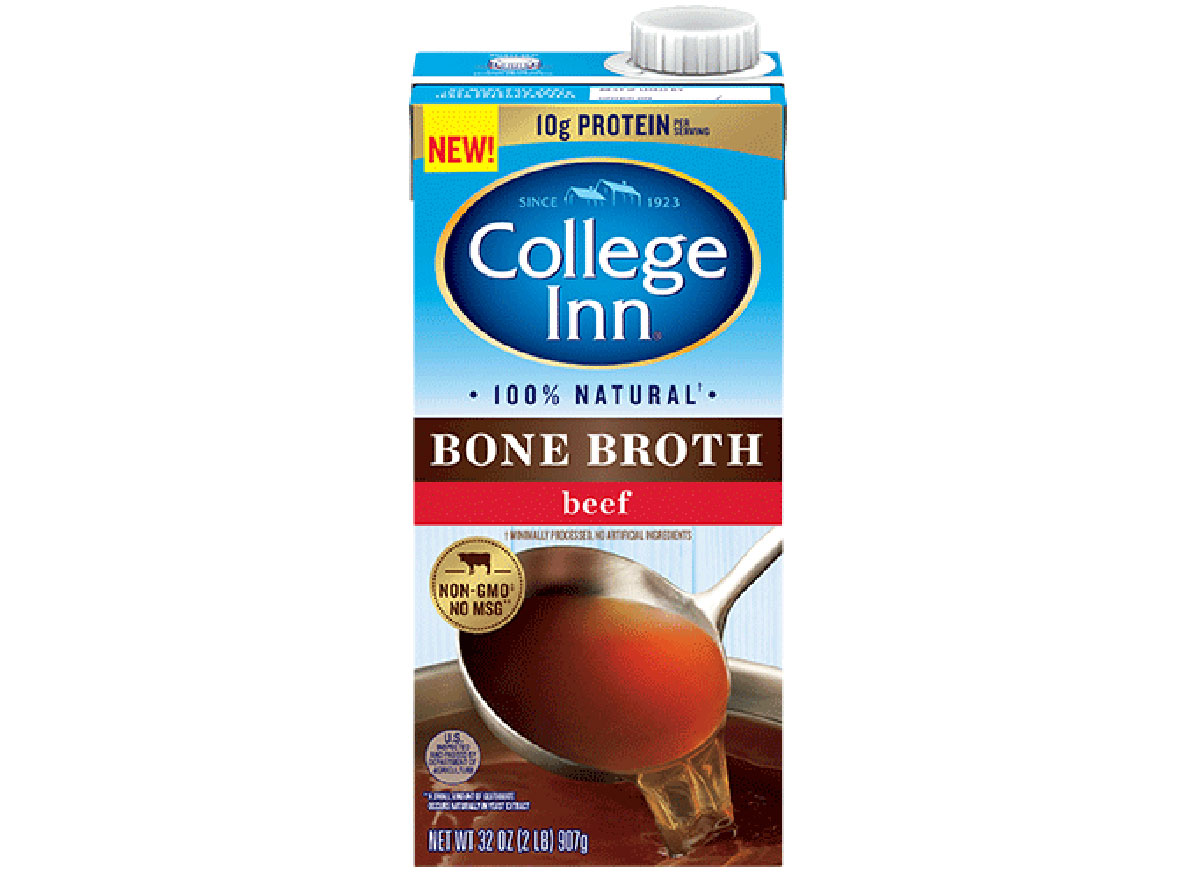 Per 1 cup, 45 calories, 0 g fat, 570 mg sodium, 1 g carbs, 1 g sugar, 10 g protein
While College Inn's bone broth provides a good amount of protein (10 grams per cup) it's a little higher on the sodium front than other options at 570 milligrams. It's not a bad pick, but be cautious of their marketing which highlights the fact that their vegetables are farm grown…but where else would they be grown?
RELATED: 21 Lies We Tell Ourselves About Our Health
Swanson Chicken Bone Broth
6254a4d1642c605c54bf1cab17d50f1e
Per 1 cup, 35 calories, 0 g fat, 350 mg sodium, <1 g carbs, <1 g sugar, 8 g protein
While there are tons of stocks and broths in the Swanson portfolio, the Chicken Bone Broth is the best pick of the line. With substantially more protein than other varieties from Swanson, you'll get 8 grams of protein and 35 calories with a reasonable 350 milligrams sodium per cup. Interestingly, you'll find tomato paste in the ingredients list (likely to add umami flavor).
Pacific Foods Organic Chicken Bone Broth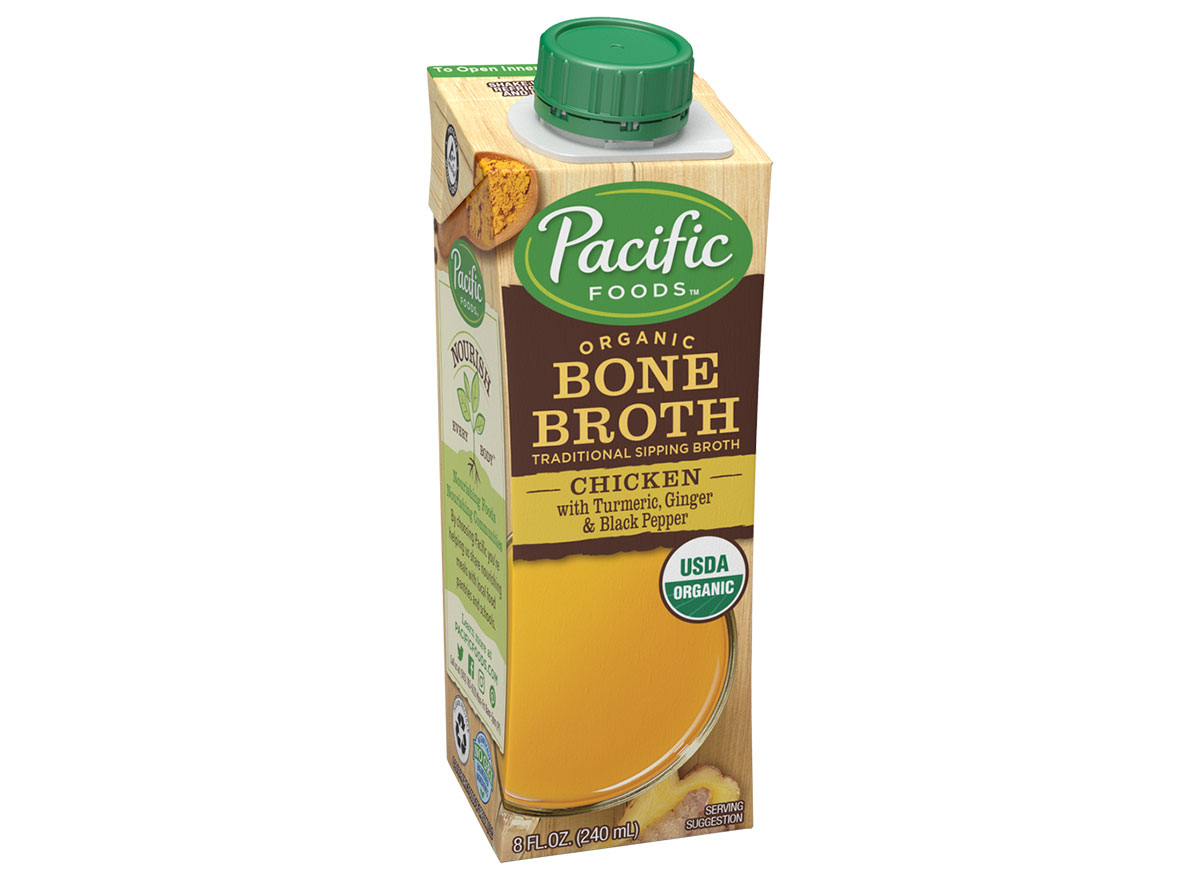 Per 8 oz
: 45 calories, 0.5 g fat, 400 mg sodium, 1 g carbs, 9g protein
Pacific Foods has always been a solid pantry choice ethically since every product in their line is sourced and developed with attention to the environment. (Over 85 percent of their company waste is recycled or repurposed.) With a wide range of stocks and broths, you'll be excited to find flavors like chicken with turmeric, ginger, and black pepper, or even lemongrass. Want to use it in small amounts or as a drink? Opt for the single-serving package with features the same slow simmered organic, free-range chicken bones.
Osso Good Organic Chicken Bone Broth
Per 16 oz
: 80 calories, 1 g fat, 0 g saturated fat, 30 mg sodium, 2 g carbs, 1 g sugar, 0 g added sugar, 15 g protein
Using organic chicken and organic veggies with filtered water, this no-added-salt broth is a solid, high-protein option for those looking to lose weight or follow a Whole30 diet. Take a closer look at the nutrition and ingredients, and you'll see that Osso is something to love. For a 2-cup serving and only 30 milligrams of sodium, you'll also get 15 grams of protein. The touch of apple cider vinegar in this recipe provides balance to the rich, hearty flavors, making this a superb addition to your diet.
Bare Bones
Per 16 oz
: 80 calories, 0 g fat, 540 mg sodium, 0 g carbs, 20 g protein
Prepare to be blown away by the protein content of this product. Made from 100 percent organic, pasture-raised chicken, organic produce, and "superfoods" (turmeric, ginger, apple cider vinegar, and grass-fed gelatin) you're getting 20 grams of protein in a 16-ounce serving. And with 540 milligrams of sodium for that quantity of liquid, it's a pretty good pick for nutrition.
Read more:
45+ Best Soups and Chilis to Make With Costco Rotisserie Chicken
The 20 Worst Soup Ingredients for Weight Loss
31 Best Healthy Instant Pot Soup Recipes for Weight Loss