5 Pastas Made With the Highest Quality Ingredients
Here are some tips on choosing the healthiest pastas.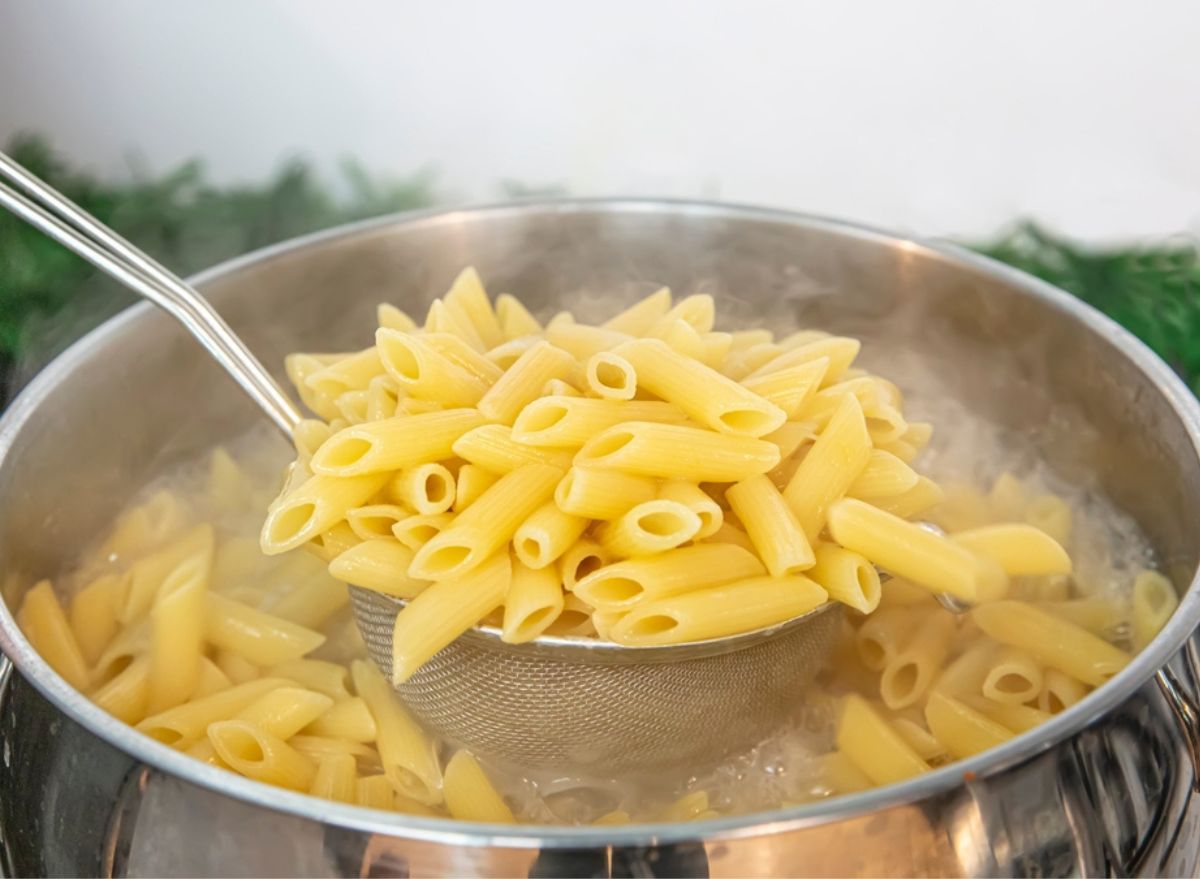 This post contains affiliate links. If you use these links to buy something, we may earn a commission.
Unfortunately, pasta gets a pretty bad reputation for being heavy and unhealthy. The nutritional value of many boxes is almost nonexistent due to excess preservatives and/or low-quality or refined grains, regardless of the noodle shape. That's not to say there aren't good quality pasta options out there, in fact, you may just need to learn more about what to look for to find the highest quality pastas on the shelves.
How to choose the most nutritious pasta
"Look for bonus add-ins such as 'veggies or beans' that contribute extra protein, fiber, and antioxidants," explains Lisa Moskovitz, RD, CDN, CEO of the NY Nutrition Group. Carbs are nothing to be afraid of, but you can get so much more out of pasta night if you pick up noodles that offer a well-rounded array of nutritional benefits.
You also want to find a box of pasta that is solely made up of simple and minimal ingredients, according to Amy Shapiro MS, RD, founder and director of Real Nutrition. The ingredients list should not include "gums or emulsifiers, which you often find in alternative pastas." If a pasta brand is using organic or unrefined components (wheat, grains, plant-based), for the most part, you're going to be much better off.
And a pro tip if you're trying to go low-carb, Shapiro suggests, "ensure higher fiber from 'non-added fiber sources,' [only] natural sources instead of added inulin."
With that in mind, here are five top-tier choices for pastas that are made with the highest quality ingredients. Plus, don't miss 9 Coffee Brands That Use the Highest Quality Ingredients.
Lidia's Pasta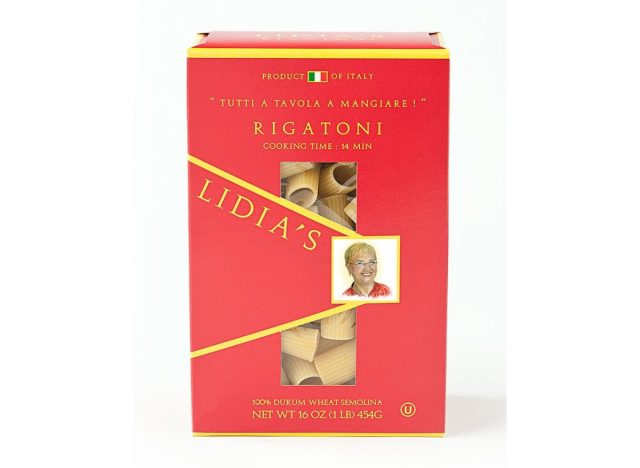 Straight from Italy, Lidia's pasta is made with all-natural and simple ingredients. Not only are these noodles GMO-free and created from 100% durum wheat flower, but the production process also excludes the use of any additives and fillers. Another aspect of this brand focuses on is the protein content. Lidia Bastianich, best-selling cookbook author, restaurateur, and co-owner of the Italian marketplace Eataly told Eat This, Not That! in a previous interview that the high-protein semolina flour lends "at least 17 percent protein [and] this is how the pasta that's eaten in Italy is made."
Cappello's Almond Flour Spaghetti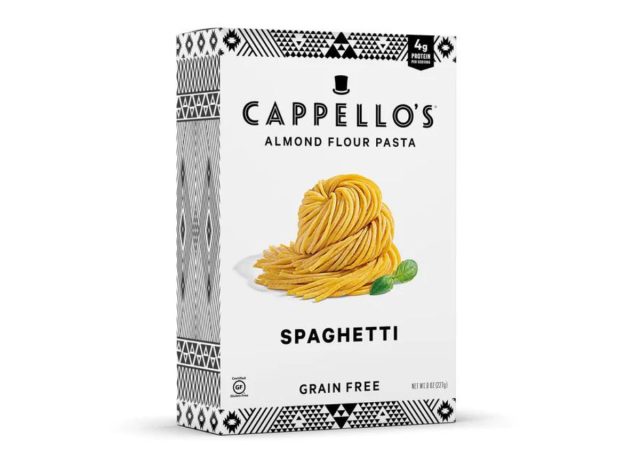 Cappello makes a unique and relatively healthy option for pasta noodles that are grain-free. Made from almond flour and held together by tapioca flour and other plant-based ingredients, you can get a nutrient-dense meal using this pasta. The almond flour component in these noodles carries many vitamins and allows this box to be a great gluten-free option.6254a4d1642c605c54bf1cab17d50f1e
Jovial Organic Whole Wheat Einkorn Pasta
If you're ever looking for an easy pick when it comes to a box of pasta, this one is it. There are tons of whole wheat brands on the market, but Jovial's Whole Wheat Einkorn Pasta is certified organic and made from Einkorn—an ancient form of wheat—which has 15% less starch than commercial wheat, Nutritious Life reports. At the base, these noodles include high-quality wheat, plus, they're full of antioxidants and minerals, such as zinc, manganese, magnesium, and iron.
Banza Chickpea Pasta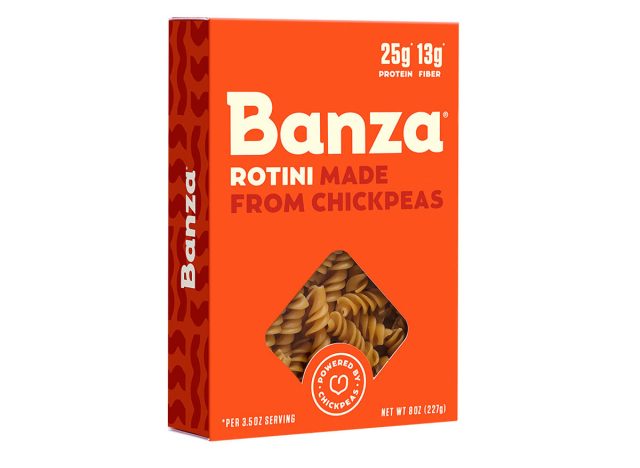 A chickpea-based meal is one that is high in protein, full of fiber, and healthy amino acids (lysine for example). Well-known for using chickpeas as the star of the show, Banza pasta uses only a few high-quality and all-natural ingredients: Chickpeas, pea Ssarch, and tapioca. And, according to Women's Health Magazine, the certified gluten-free and Non-GMO Project verified noodles still taste as close as it gets to conventional white pasta.
Trader Joe's Organic Brown Rice Pasta Fusilli
Calling all Trader Joe's lovers—you must try this healthy, high-quality bag of pasta. The twisty noodles are made up of just three ingredients: organic brown rice, organic quinoa flour, and water. There are countless benefits to consuming both brown rice and quinoa, but this pasta also provides a considerable amount of dietary fiber.
Jordan Summers-Marcouillier
Jordan Summers-Marcouillier was born and raised in San Jose, California and now works as a writer in New York, NY.
Read more about Jordan