Your Peeps Easter Candy May Contain a Carcinogenic Dye, Report Warns
An advocacy group is calling on the Peeps manufacturer to stop using a controversial dye.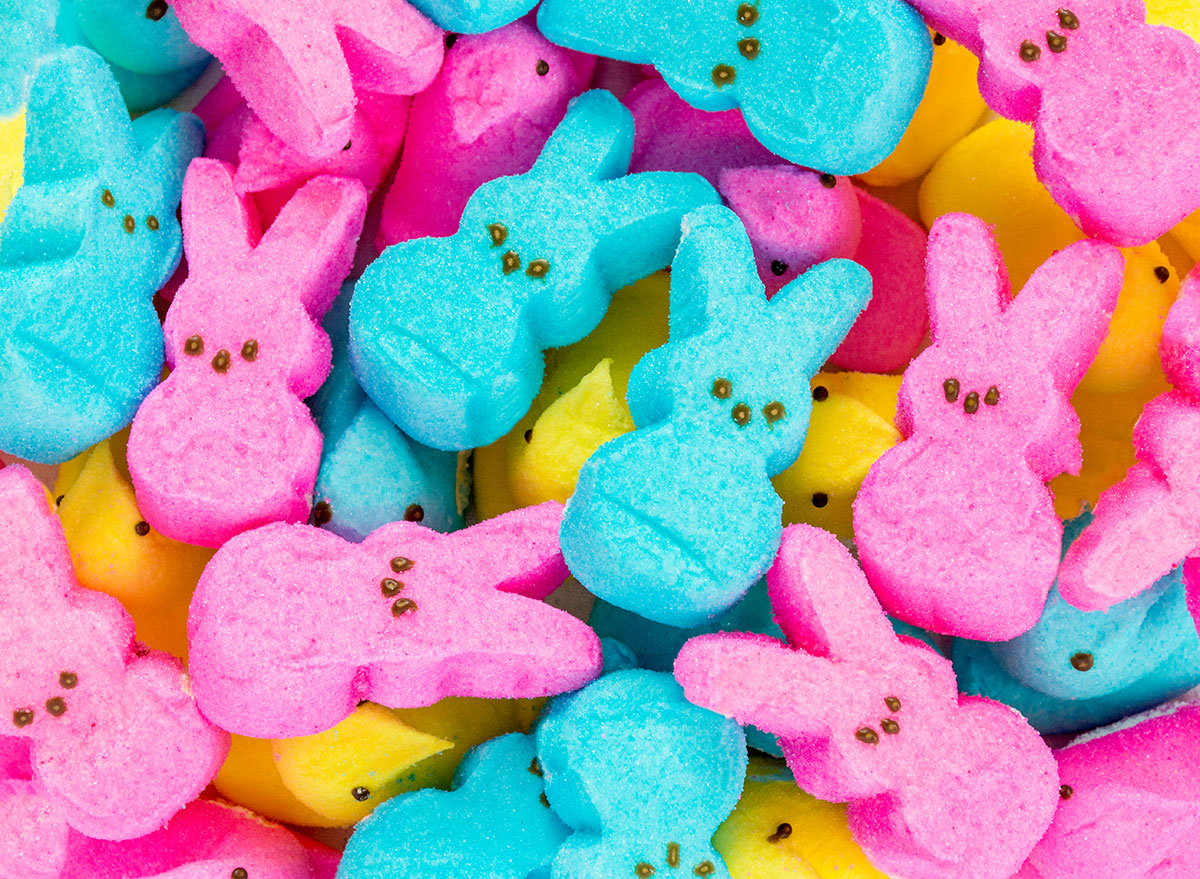 Among the many traditions associated with Easter, one of the most beloved is stuffing baskets full of festive treats—and inevitably consuming copious amounts of chocolate bunnies and Cadbury Creme Eggs. But with the holiday now mere days away, a consumer advocacy group is calling out one of the most popular Easter candies for a particularly alarming reason: it may contain a cancer-causing ingredient.
Certain types of Peeps, the famous marshmallow treats formed into the shape of bunnies and chicks, are made with known carcinogen Red Dye No. 3, according to Consumer Reports. It's important to note that the Food and Drug Administration (FDA) does currently permit the use of the dye in food and ingested drugs, but studies have shown that in very high doses, the dye can cause cancer in animals.
RELATED: The Best Easter Food in Every State6254a4d1642c605c54bf1cab17d50f1e
When the FDA decided to ban the use of Red Dye 3 in cosmetics and external drugs in 1990, it said that the actual risk of getting cancer from the dye was very small, according to The New York Times. Still, Consumer Reports is pushing for producers and food companies to avoid any risks when it comes to the health of consumers. The advocacy group called out Peeps manufacturer Just Born Quality Confections this week, encouraging it to move away from using Red Dye 3.
"Parents should know that the purple and pink colored Peeps they may be putting in their kids' Easter basket are made with an ingredient that is a known carcinogen," Michael Hansen, senior staff scientist for Consumer Reports, said in a statement. "Just Born Quality Confections should stop making its iconic marshmallow treats with this dangerous food chemical since other less risky alternatives are readily available."
According to Consumer Reports, Just Born Quality Confections uses Red Dye 3 in a range of Peeps and other products. These include Peeps Pink Marshmallow Chicks, Peeps Pink Marshmallow Bunnies, Peeps Lavender Marshmallow Chicks, Peeps Lavender Marshmallow Bunnies, Hot Tamales candy, and Peeps Hot Tamales Marshmallow Chicks.
The group said that it already called on the manufacturer to stop using the dye earlier this year, but it hasn't responded or announced any plans to change its manufacturing process. Now, Consumer Reports is trying to send the message again through a petition that has already received more than 16,000 signatures.
In a statement responding to Consumer Reports, Just Born noted that Red Dye 3 is currently approved by the FDA for use in candy.
"We manufacture all our candies in compliance with FDA regulations, sourcing our ingredients and packaging exclusively from reputable suppliers who adhere to high quality and safety standards. We also provide consumers with information on our packaging and our websites to help them make informed choices about our products," the statement said. "Our product development team is continually exploring opportunities to provide expanded options for our consumers, including colors derived from natural sources that can deliver the same visual impact and stability as their certified counterparts."
Even if a child ends up consuming a couple of Peeps this Easter, parents won't necessarily need to ring the alarm bells, according to Lauren Manaker, MS, RDN, LD, CLEC, a registered dietitian, author of The First Time Mom's Pregnancy Cookbook and Fueling Male Fertility, and member of our Medical Expert Board.
"While it is true that ingesting Red Dye No. 3 isn't necessarily supporting our health, ingesting a small amount on an occasional basis is unlikely to cause harm," Manaker said. "I don't recommend that people go out of their way to include this dye in their diet the same way I proactively tell people to eat fruits and vegetables, but I also don't freak out if a child has one sweet treat during a holiday that contains this dye."
Manaker noted that there is evidence suggesting that consuming the dye can lead to negative health outcomes, but without stronger data, nobody can definitively say it's unsafe for humans to ingest.
"Of course, if people want to be extra-cautious or they don't want to go the moderation route, they can lean on candies that are free from artificial colors," she added.
Manaker said that one great candy option free from artificial colors is UNREAL Milk Chocolate Gems, which are colored with vegetable extract. The FDA requires manufacturers to list the red dye as an ingredient on food labels, so customers interested in avoiding it completely should make sure to check the packaging on food products.
Zoe Strozewski
Zoe Strozewski is a News Writer for Eat This, Not That! A Chicago native who now lives in New Jersey, she graduated from Kean University in 2020 with a bachelor's degree in journalism.
Read more about Zoe