12 Plant-Based Proteins You Need In Your Pantry Now
Spruce up your meals and your health with these slimming, produce-based supermarket staples.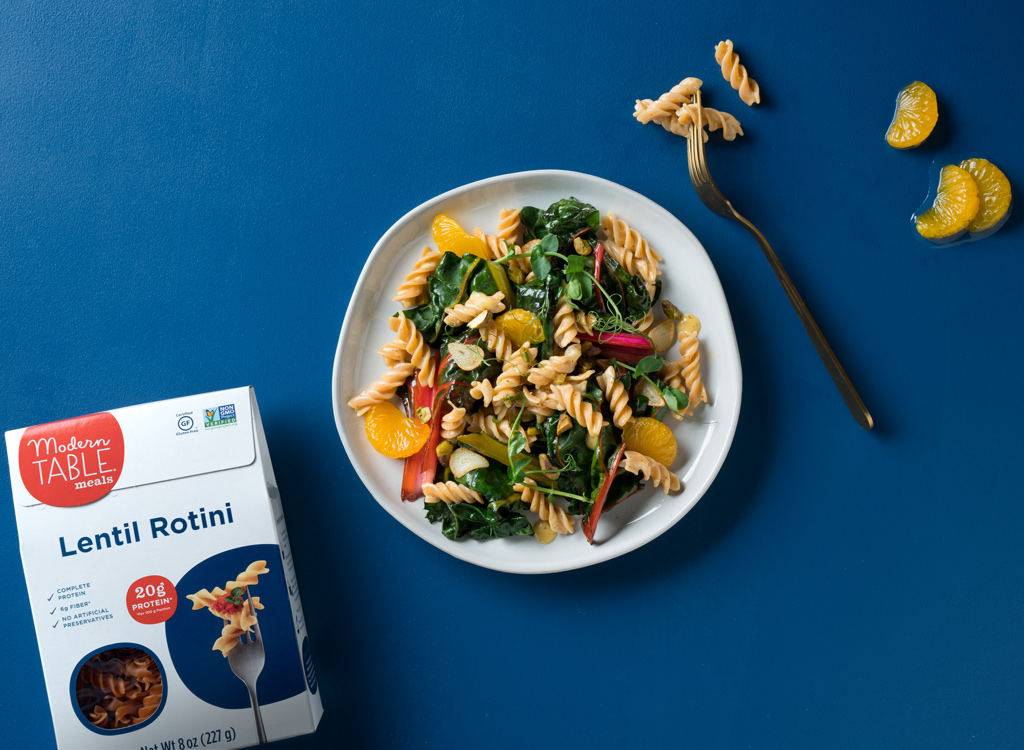 While the classic char-grilled hamburger remains a die-hard staple among the average American diet, plant-based proteins are significantly skyrocketing in popularity. In fact, an impressive 39 percent of Americans are trying to incorporate more plant-based foods into their meal plans.
Whether you're being more cognizant of animal welfare or actively working to lower your cholesterol levels after a borderline blood test, including more wholesome veggies and grains into your entrees can do wonders for your body by nourishing you with vital vitamins and minerals. Plus, a recent study in the Journal of the American Heart Association found that replacing one to two servings of animal proteins with plant proteins daily—soy, nuts, and legumes especially—can reduce the primary cholesterol markers by about 5 percent. Another study linked the consumption of plant proteins to preventing chronic degenerative diseases.
If you're looking to boost your health and pack on more lean muscle mass, be sure to toss these plant-based grocery picks into your cart during your next supermarket run. Each Eat This!-approved item packs in at least six grams of protein per serving. Couple these eats with 50 Ways to Lose the Last 10 Pounds to achieve your best body yet.
Modern Table Meals Lentil Rotini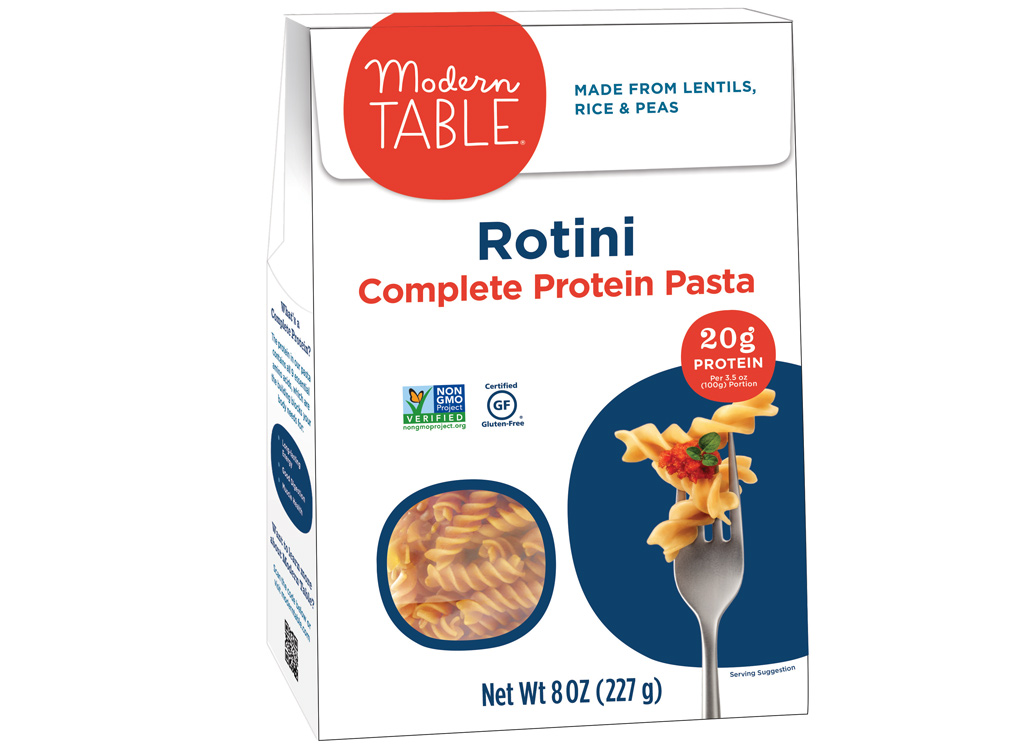 Per 1-cup serving
: 360 calories, 0 g fat, 5 mg sodium, 68 g carbs (6 g fiber, 1 g sugar), 20 g protein
Consider these lentil-based noodles your new go-to when whipping up a quick pasta primavera or rotini with red sauce. The corkscrew carbs boast six more grams of protein per serving than your blue box does, deeming it the ideal side dish or foundation to any meal. Plus, the pasta is a complete protein (with all nine essential amino acids for energy and muscle maintaining) thanks to the blend of red lentil flour, rice, and pea protein.
$21.99 per 6-pack ($3.66 per pack) on Amazon
Modern Table Meals Mac & Cheese, Classic Cheddar
Per 1 cup prepared
: 460 calories, 14 g fat (8 g saturated fat, 0.5 g trans fat), 630 mg sodium, 67 g carbs (4 g fiber, 7 g sugar), 18 g protein
You've looked forward to those mac and cheese dinners as a kid, but now as an adult, you're seeking to give the comforting classic a nutrition upgrade. After all, cheesy, buttery pasta isn't an ideal meal when you're looking to get lean—until now. Modern Table revolutionizes the heavenly dish by using gluten-free elbows in lieu of wheat-based pasta for added protein. One serving—prepared as recommended—packs a whopping 17 grams of protein and cooks in less than 15 minutes for a meal as quick as it is delectable.
$28.45 per 6-pack ($4.74 per pack) on
Amazon
Better Body Foods Organic Quinoa
PER ¼ cup
: 160 calories, 2.5 g fat (0 g saturated fat), 0 mg sodium, 28 g carbs (3 g fiber, 0 g sugar), 6 g protein
The curdled ancient grain is one of our go-to plant proteins because it contains a respectable six grams of the macro as well as all nine essential amino acids, which means you can nosh on it all on its own. If you prefer to jazz up your quinoa, opt for finely chopping scallions, celery, and red bell pepper and then tossing it together with a drizzle of olive oil, lemon, and salt; serve cold.
$6.94 per 1.5-lb pack on
Amazon
Manitoba Organic Harvest Hemp Hearts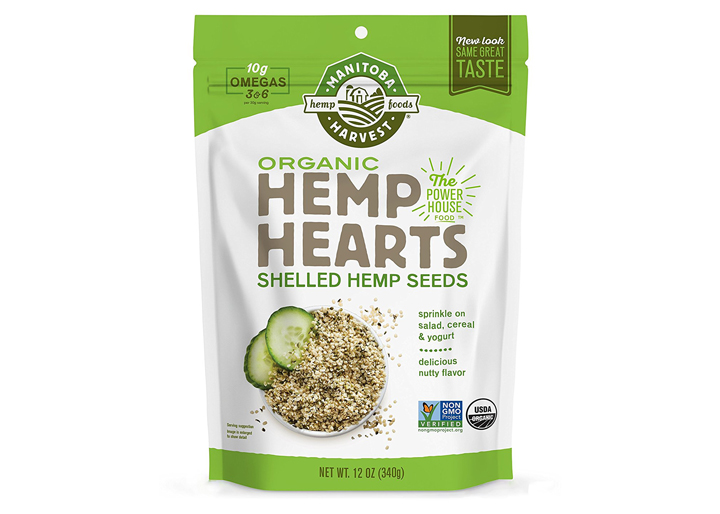 PER 3 TBSP
: 170 calories, 13 g fat (1.5 g saturated fat), 0 mg sodium, 3 g carbs (3 g fiber, 1 g sugar), 10 g protein
Hemp hearts are a wonderful source of plant-based protein to help you build and maintain lean muscle. One three-tablespoon serving packs an impressive 10 grams of omega-3s and omega-6s and zero net carbs. Add the nutty seeds to oatmeal, leafy green salads, and fruit-based smoothies to bump up the protein count.
$12.20 per 12-oz pack on
Amazon
MaraNatha Organic Creamy Peanut Butter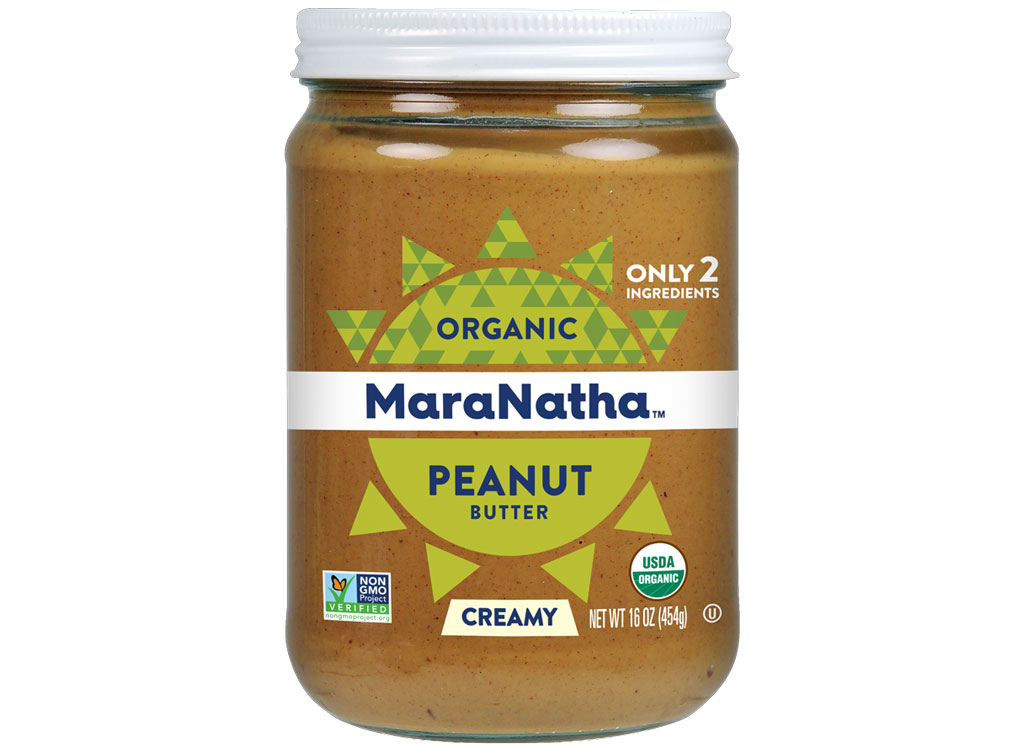 Per 2 tbsp
: 180 calories, 15 g fat (2 g saturated fat, 0 g trans fat), 60 mg sodium, 6 g carbs (2 g fiber, 1 g sugar), 8 g protein
With just two clean ingredients—organic dry-roasted peanuts and sea salt—our love for peanut butter has never been so fervent. MaraNatha roasts its peanuts in small batches and then blends them using a proprietary grinding process, which results in a velvety spread that's crowned king in our exclusive peanut butter taste test.
$9.84 per 2-pack ($4.92 each) on
Amazon
House Foods Organic Extra Firm Tofu
per 3 oz
: 70 calories, 3.5 g fat (0 g saturated fat), 10 mg sodium, 2 g carbs (2 g fiber, 0 g sugar), 8 g protein
Looking to endow your stir-fry with something other than your usual sliced beef or chicken breast? Try House Foods' organic tofu, which has eight grams of satiating plant protein and two grams of belly-filling fiber. We especially like sautéing the tofu with creamy coconut milk, soy sauce, Sriracha, and garam masala spice (such as Pereg's) for an easy Indian-inspired dinner.
Field Roast Vegetarian Sausages, Smoked Apple Sage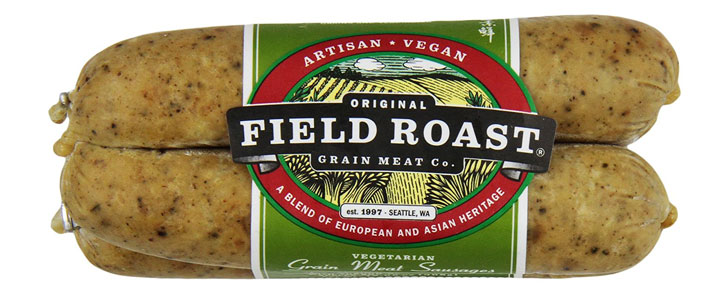 per sausage
: 220 calories, 7 g fat (0.5 g saturated fat), 490 mg sodium, 16 g carbs (0 g fiber, 5 g sugar), 25 g protein
If you recently transitioned from an omnivore to a full-fledged vegetarian, you're in luck! Field Roast's savory-sweet links will squelch your sausage cravings without undoing your plant-based diet. The artisan hotdogs are filled with familiar ingredients including ginger, apples, and Yukon Gold potatoes. Toss them into a bowl with mixed greens, grilled veggies, or Modern Table pasta for a well-balanced meal.
Organic Sunshine Quarter Pound Original Veggie Burger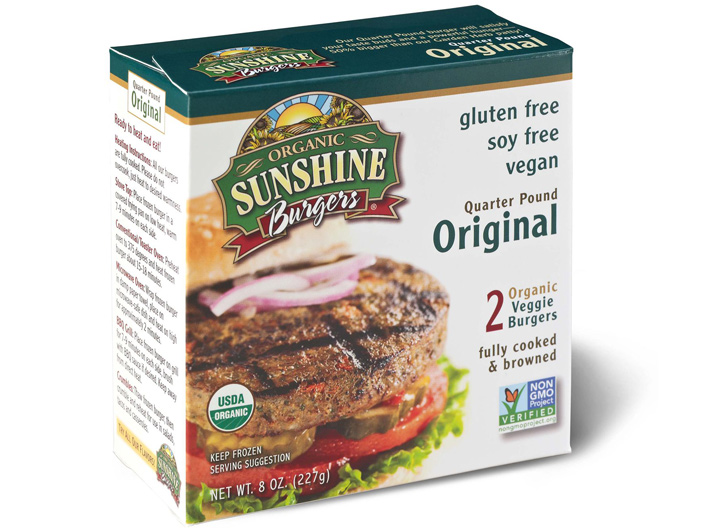 360 calories, 21 g fat (2 g saturated fat), 300 mg sodium, 32 g carbs (6 g fiber, 3 g sugar), 12 g protein
Made with just five meat-free ingredients—organic cooked brown rice, organic ground raw sunflower seeds, organic carrots, organic spices, and sea salt—this veggie burger boasts 12 grams of protein. Its hearty texture pairs well with a salad or a light soup.
Blue Diamond Whole Natural Almonds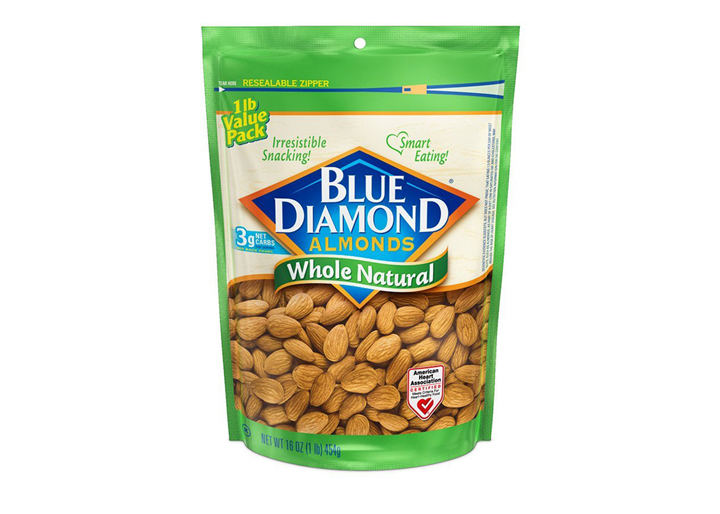 PER 1 OZ
: 250 calories, 22 g fat (1.5 g saturated fat), 0 mg sodium, 8 g carbs (5 g fiber, 2 g sugar), 9 g protein
Snacking on the go has never been easier when you've got a bag of Blue Diamond almonds. The subtly sweet nut has nine grams of the waistline-cinching macro per ounce and is loaded with the amino acid L-arginine, which has been shown to boost athletes' exercise performance. Before you lace up your running shoes, pop a few almonds for an energizing pre-workout.
Dr. Praeger's All American Veggie Burger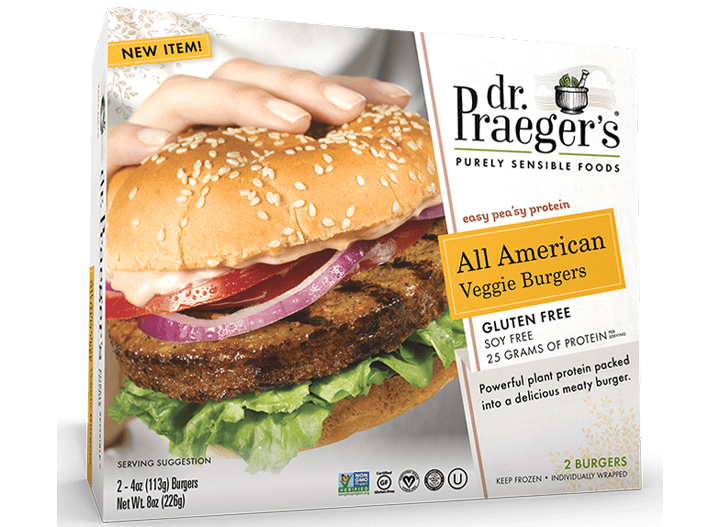 6254a4d1642c605c54bf1cab17d50f1e
290 calories, 15 g fat (1.5 g saturated fat), 460 mg sodium, 13 g carbs (8 g fiber, 1 g sugar), 25 g protein
This veggie patty is filled with veggie goodness, including black beans, carrots, sweet potato, and butternut squash. The bulk of its protein content comes from peas. Enjoy the burger with two slices of sprouted whole-grain toast and top with a low-sodium Sriracha, like True Made Foods' Veracha, for a kick of heat and elevated flavor.
Bob's Red Mill Whole Brown Flaxseed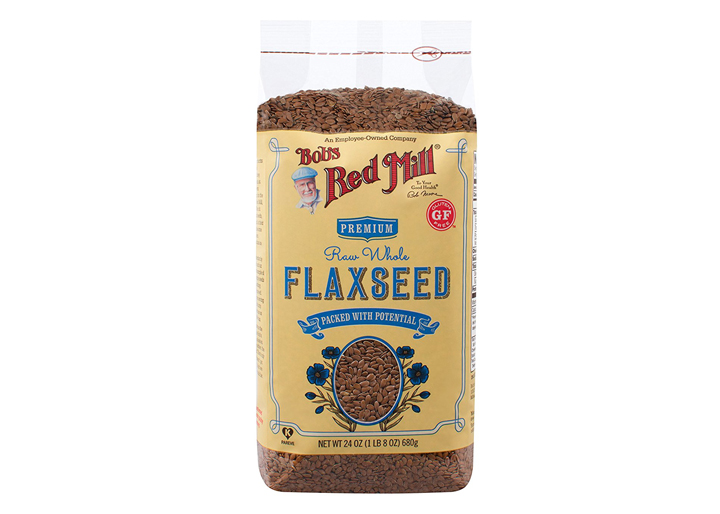 PER 3 TBSP
: 170 calories, 11 g fat (1 g saturated fat), 10 mg sodium, 10 g carbs (8 g fiber, 0 g sugar), 6 g protein
These tiny but mighty seeds are the richest source of lignans, which are polyphenols that act as antioxidants. Buy whole seeds and grind them before each use so they're easier to digest. This process will also help your body absorb the seeds' nutrients. Since flax has an undetectable flavor, sprinkle them into layered parfaits, homemade waffle batter, and snackable protein balls.
$23.99 per 4-pack ($5.99 each) on
Amazon
Aloha Chocolate Protein Powder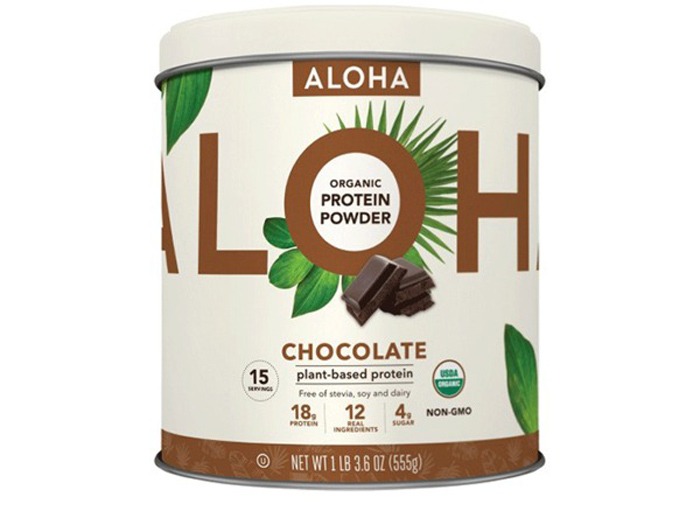 PER 2 scoops
: 150 calories, 4.5 g fat (1.5 g saturated fat), 190 mg sodium, 10 g carbs (3 g fiber, 4 g sugar), 18 g protein
Build a better protein shake by scooping Aloha's low-sugar protein powder into your smoothie. Whether you need a post-workout smoothie or a portable breakfast, make Aloha your go-to powder. It has 18 grams of protein per two scoops, boasts a complete amino acid profile, and has 200 milligrams of heart-nourishing omega-3s. Not sure where to start? Try incorporating it into some of these 23 Best Protein Shake Recipes for Weight Loss.
April Benshosan
April is a born-and-raised Brooklynite who has a passion for all things health, wellness, and tastebud-related.
Read more about April