15 Costco Foods That Make Meal Prep Easy
Spoiler alert: You can find seriously impressive deals on these staple items.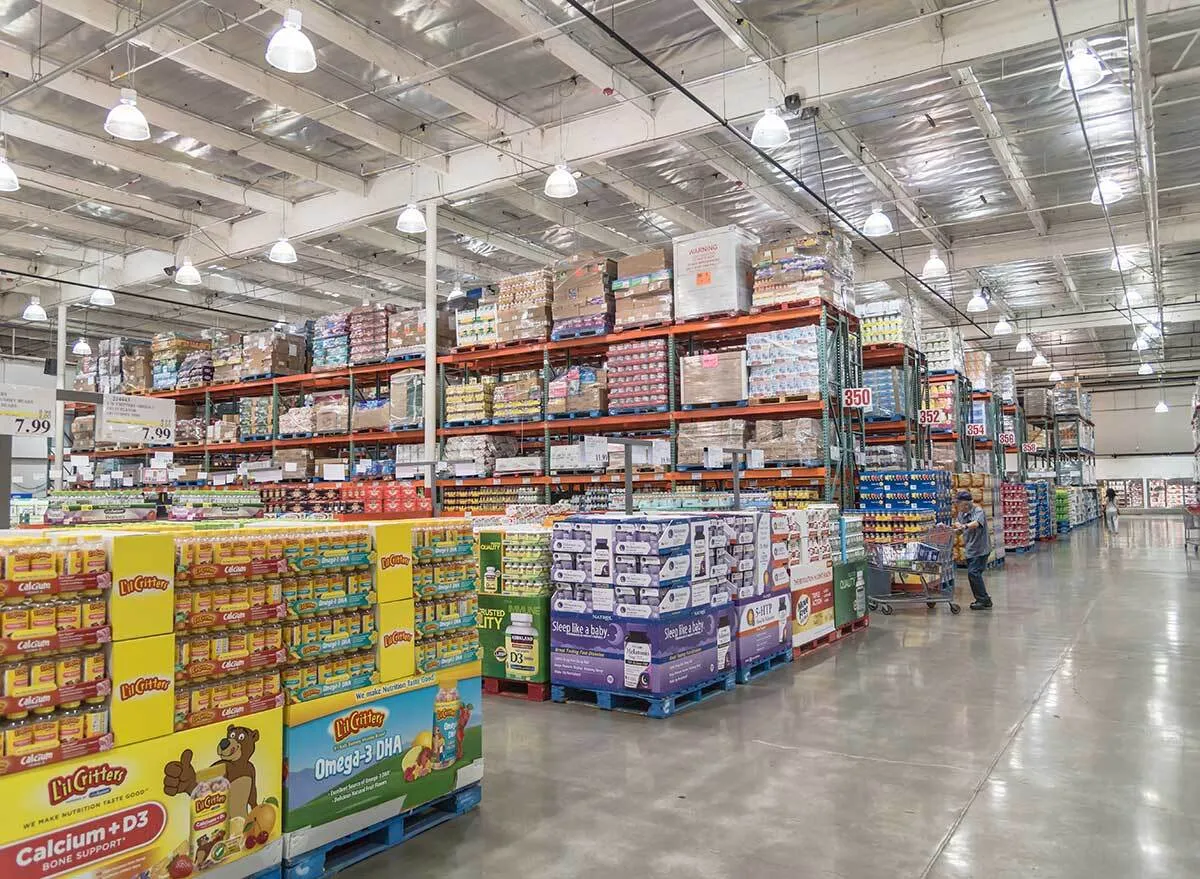 Costco is well established as one of the forefront membership-based wholesale clubs, and the company is known for its affordable prices on big bulk buys. When you think of Costco, you may initially think of warehouse items and home supplies that you can find in mass quantities, but the food section is not one you'll want to stroll past.
Meal prepping can seem daunting at first, with batch cooking meaning batch shopping for larger quantities of foods to cook all at once. However, with a store like Costco, you can get more bang for your buck and make meals upon meals in advance, so you won't have to cook dinner every single night when you get home from a long day. Doesn't that sound good?
To help you get started meal prepping the easy way, we asked expert meal-preppers to chime in and let us know what their go-to purchases at Costco are. You may just be surprised to see the scope of foods you can buy from the superstore. And for more on the warehouse club, don't miss these 17 Secrets You Never Knew About Costco.
"Costco's basil hummus is as delicious as it is versatile. I use it to make a big pot of whole-wheat pasta or dabbed on top of a big piece of fresh salmon. Pesto can be expensive from the fresh herbs [and] the pine nuts, and I love that they provide a really solid option for a low price."
—Megan Casper, MS, RDN, CDN, founder of food blog Nourished Bite
And while you're at the warehouse, don't miss these 15 Desserts You Can Buy at Costco.
"Organic ground turkey is a staple in my freezer. It comes refrigerated, and I usually cut one off to use that day and freeze the other one-pound packages. I use ground turkey in just about everything, from a hearty bean and turkey chili to a spinach and turkey lasagna. Ground turkey goes a long way."
—Karen Berg, MS, RD, CDN at The Cancer Institute at St. Francis Hospital
"The Della Quick-Cooking Brown Rice is a huge time saver when prepping meals. Unlike regular brown rice—which typically cooks in 45 minutes—this rice cooks in about 20 minutes. This rice is able to cook so quickly because the bran is scratched and partially removed during the milling process so that water can penetrate the grain more quickly. This rice freezes well for meal prep and is excellent with vegetable stir-fry and curry dishes. Buying it in bulk at Costco saves money and this rice stores well if kept in a cool, dry place."
—Summer Yule, MS, RDN
"I go to Costco every single week to get this chicken (I buy at least two at a time) because not only are they the best buy for under $5, but the seasoning they use and the taste can't be beaten. Rotisserie chickens can be eaten on their own, or I usually use them in a variety of dishes [such as] soups, salads, stir-frys, and side dishes."
—Peggy Solomon, host of  A Real Kitchn and founder of the YouTube channel's corresponding food blog
"I love the shredded cabbage salads, both the Asian salad and the one with Brussels sprouts and cranberries. I add extra veggies like cucumbers and grape or cherry tomatoes with a protein like grilled chicken strips, salmon, or tuna. The result is an enormous salad that lasts for dinners and lunches because the cabbage and veggies don't get soggy like leafy green salads. Divide into <ason jars for easy serving."
—Lauren Harris-Pincus, MS, RDN, founder of Nutrition Starring YOU and author of The Protein-Packed Breakfast Club
And if you love the warehouse, good news: Costco May Soon Be Opening Up a New Location Near You.
"Costco brand almond butter is such a great buy for your hard-earned dollar and can be used in so many ways. From simply spreading it on bread to using it in smoothies, dipping sauces, or in dessert recipes, it is a healthy alternative to other spreadable kinds of butter out there. I can get almost 30 oz for less than $20—this is such an amazing deal!"
—Solomon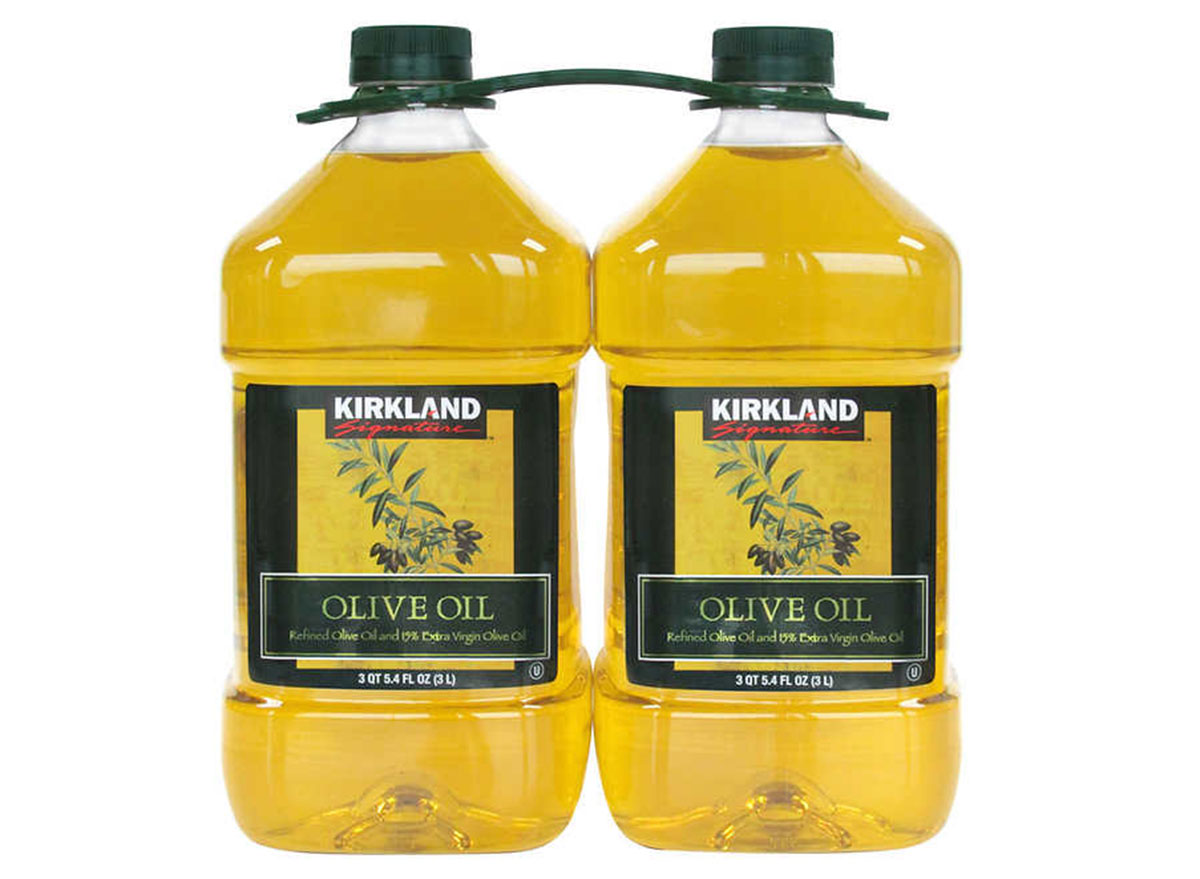 "Whether it's olive or vegetable oil, you'll always need more. Buying regular-sized bottles at your local grocery store is going to cost you a lot more than buying oil in bulk at Costco. Whether you're making a quick stir-fry or baking something to last you through the week, you can't have too much oil."
—Caleb Backe, health & wellness expert for Maple Holistics
"I like to stock up on canned tomato from Costco because they have really delicious organic Roma tomatoes that can be used as a base for tons of sauces and soups. Homemade soup is the ultimate food for meal-preppers. Soup is surprisingly easy and cheap to make. Plus, it can stay in the freezer for a few months."
—Samuel Matthews, health and wellness expert for Glacier Wellness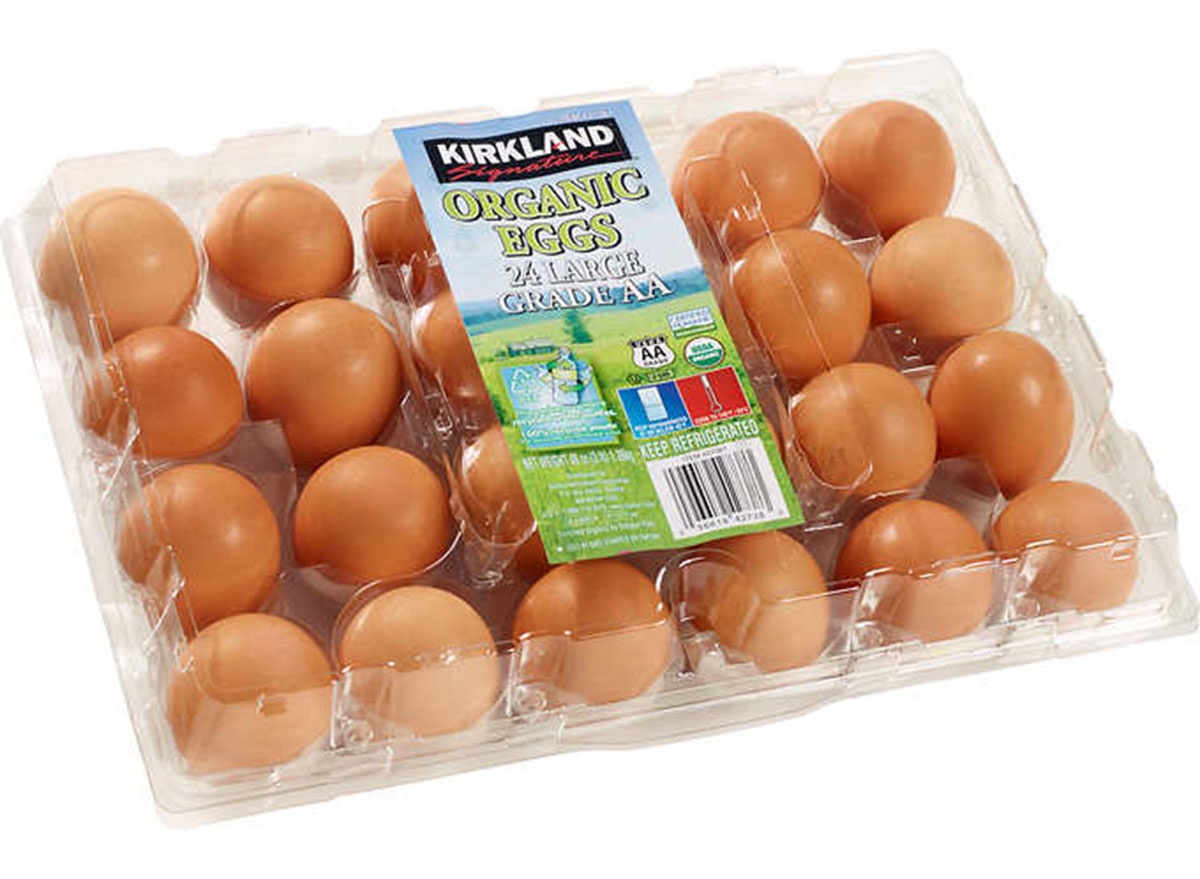 "The organic eggs are much cheaper at Costco than my local supermarkets in New York. For $7.99, you get two dozen organic eggs. In the local supermarket, a dozen organic eggs are easily over $5. I'm feeding a family of five, so just making scrambled eggs, we go through eight eggs most mornings."
—Berg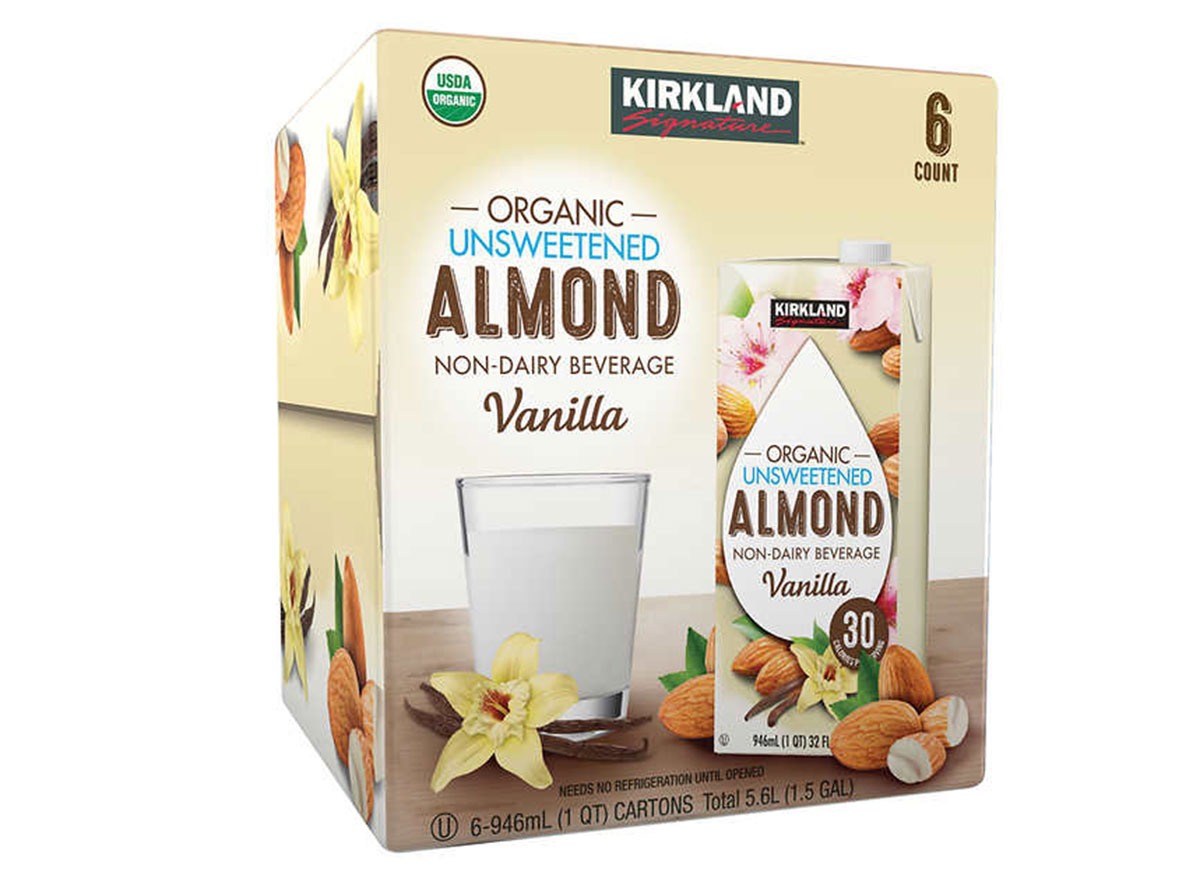 "The number one item I buy at Costco is Kirkland Almond Milk—it's 100% organic and a great alternative to dairy milk. You can get six 32 oz. [containers] for under $10."
—Calvin McDuffie, health and wellness coach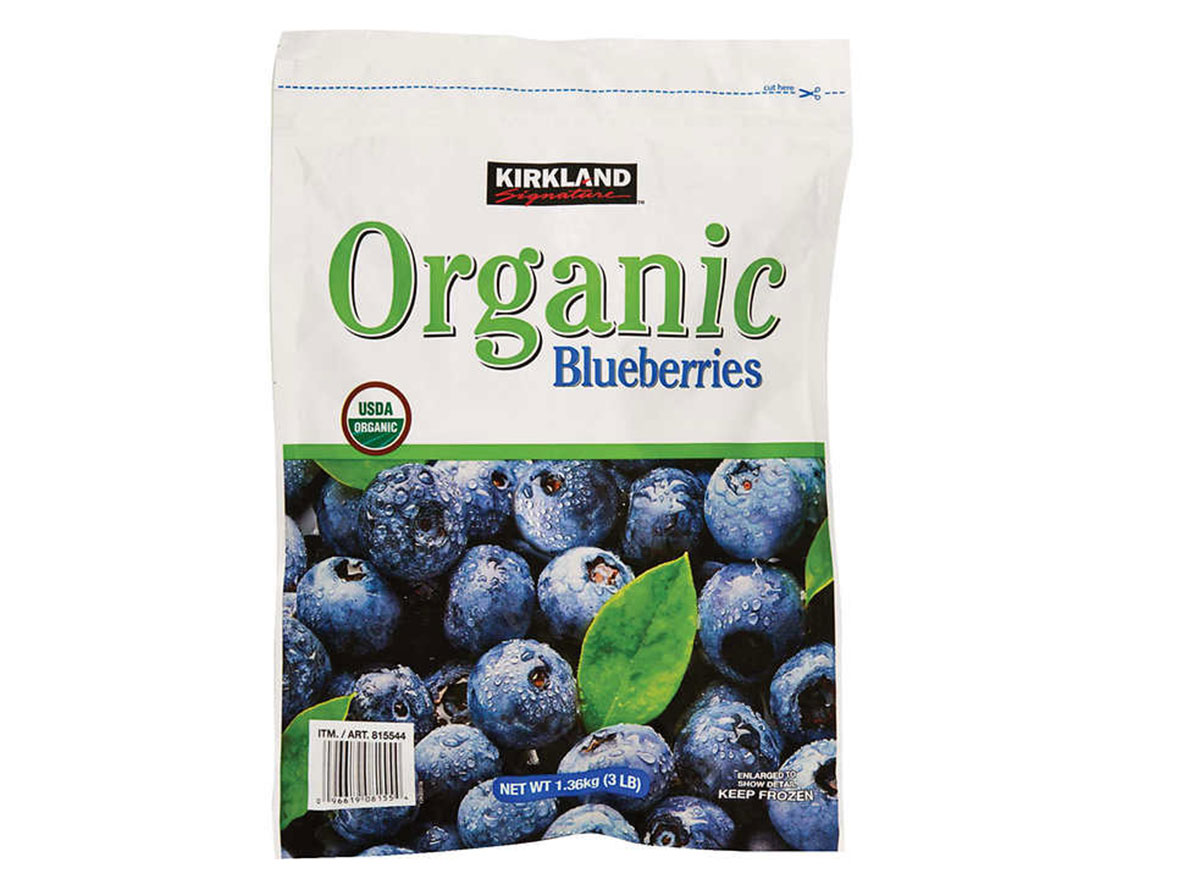 "Organic frozen berries are great to have on hand for smoothies year-round. Although most supermarkets offer berries throughout the year, they are certainly not seasonal in the northeast this time of year. Frozen fruits and vegetables are usually picked at their ripest [form] and then frozen immediately, so they often times have more nutrients than if you bought that product fresh when it wasn't in season."
—Berg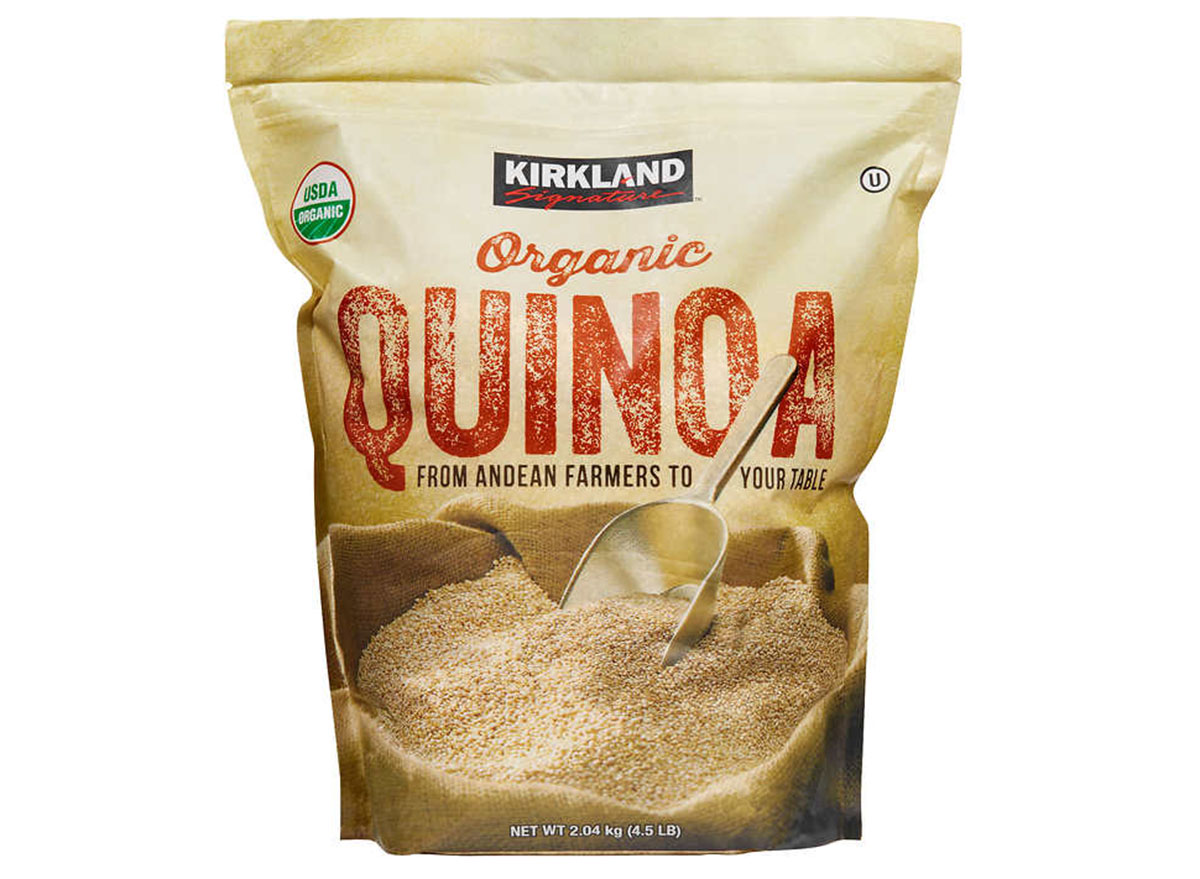 "Costco also sells large bags of quinoa. Quinoa is another whole grain option that cooks in 15-20 minutes, and it is naturally gluten-free. Quinoa is a little higher in protein than rice, and it is also a great accompaniment to stir-fry and curry dishes. Costco has the lowest price per pound on quinoa that I have seen anywhere locally. It also freezes well."
—Yule
Northwest wild Alaskan sockeye salmon
"The Northwest wild Alaskan sockeye salmon is awesome if you are on a diet because it is loaded with healthy fats and omega-3s. The greatest part is where it's sourced. These are wild-caught Alaskan salmon and come from a prime environment. You have to be careful and really read where your salmon is caught; farm-raised can be more dangerous than healthy."6254a4d1642c605c54bf1cab17d50f1e
—McDuffie
Rotisserie chicken noodle soup
"I've been buying the freshly prepared rotisserie chicken soup and adding homemade matzo balls to create a cauldron-sized pot to feed my family for several days. It tastes just like homemade soup with large chunks of chicken, noodles, and veggies, and everyone loves it."
—Harris-Pincus
"Costco sells large bags of frozen mixed vegetables that are plain (no sauce) and can be used in a myriad of dishes. They are inexpensive and are a huge time saver since no chopping is involved. Aside from using them in a stir-fry, they are also great in soups, stews, and chilis. Prepping a big batch of soup on the weekend is an easy way to get a healthy, hot meal that is ready to go on busy weekdays."
—Yule
Now that you know what to look for at Costco, don't miss these 15 Costco Hacks That Take Full Advantage Of Their Deals.