Coronavirus Helped Me Eat Dinner from "New York's Most Exclusive Restaurant"
An unexpected side effect of the pandemic: an exclusive restaurant offering takeout.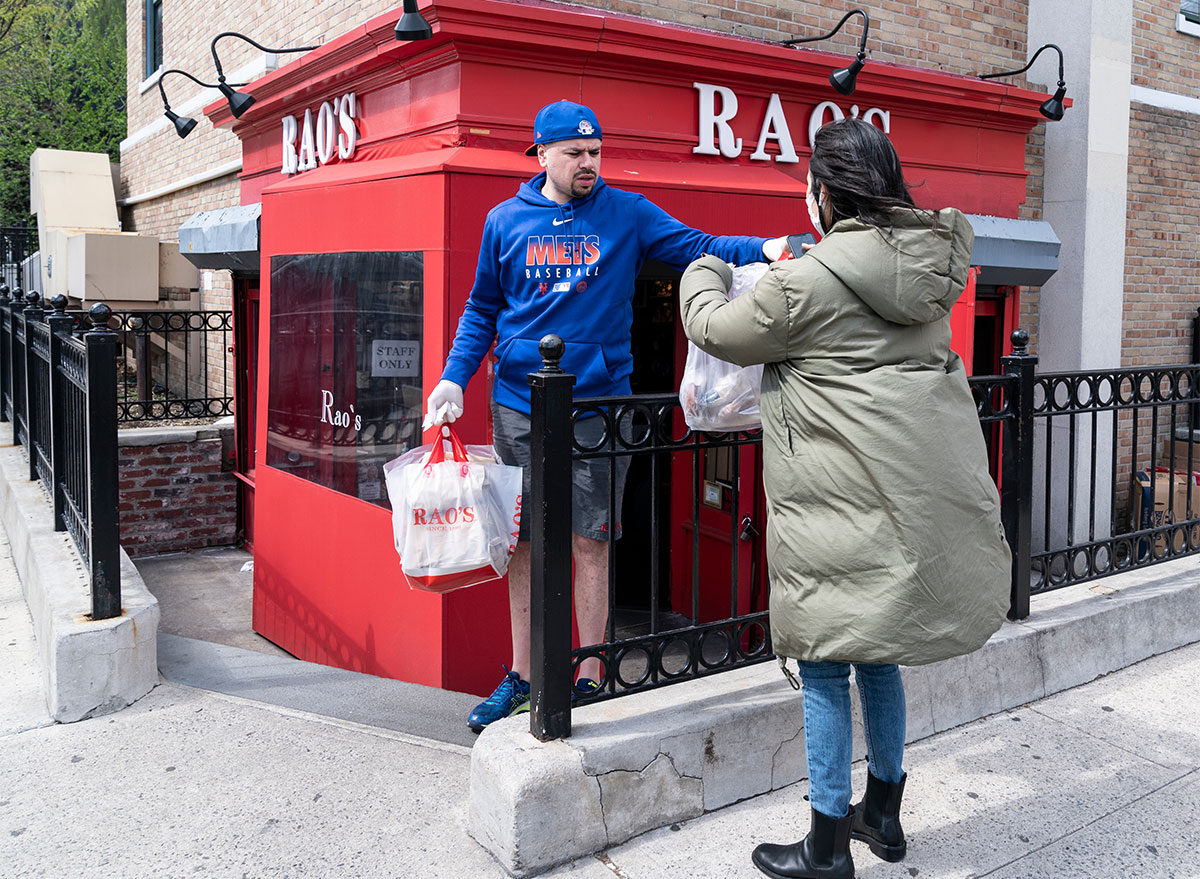 I'll start with the obvious: Quarantine hasn't been easy. As the coronavirus pandemic continues to ravage the country and the world, the effects are felt from doctors and medical workers to the millions of people filing for unemployment across the United States.
In the wake of a public health and economic crisis, it feels a bit silly to talk about restaurants, when places are not operating as they typically would, resulting in the loss of jobs for so many people. That being said, however you're feeling during the pandemic is valid—and for many of us, those feelings include sadness. Sadness about canceled weddings and trips, about not being able to see loved ones, about what's essentially been an end to life as we knew it. And if food has been a source of comfort to you during these trying times, you're not alone.
When everything is shut down and everyone is at home, food is the one constant from how things were before. We can't go to restaurants, but we can still try our hand at new dinner recipes at home. And if we are lucky enough to be employed, we can support local businesses by purchasing takeout. Which brings me to a "local business" I never thought I'd frequent: Rao's, an Italian restaurant in Manhattan.
For more food news, sign up for our newsletter to get daily recipes and food news in your inbox.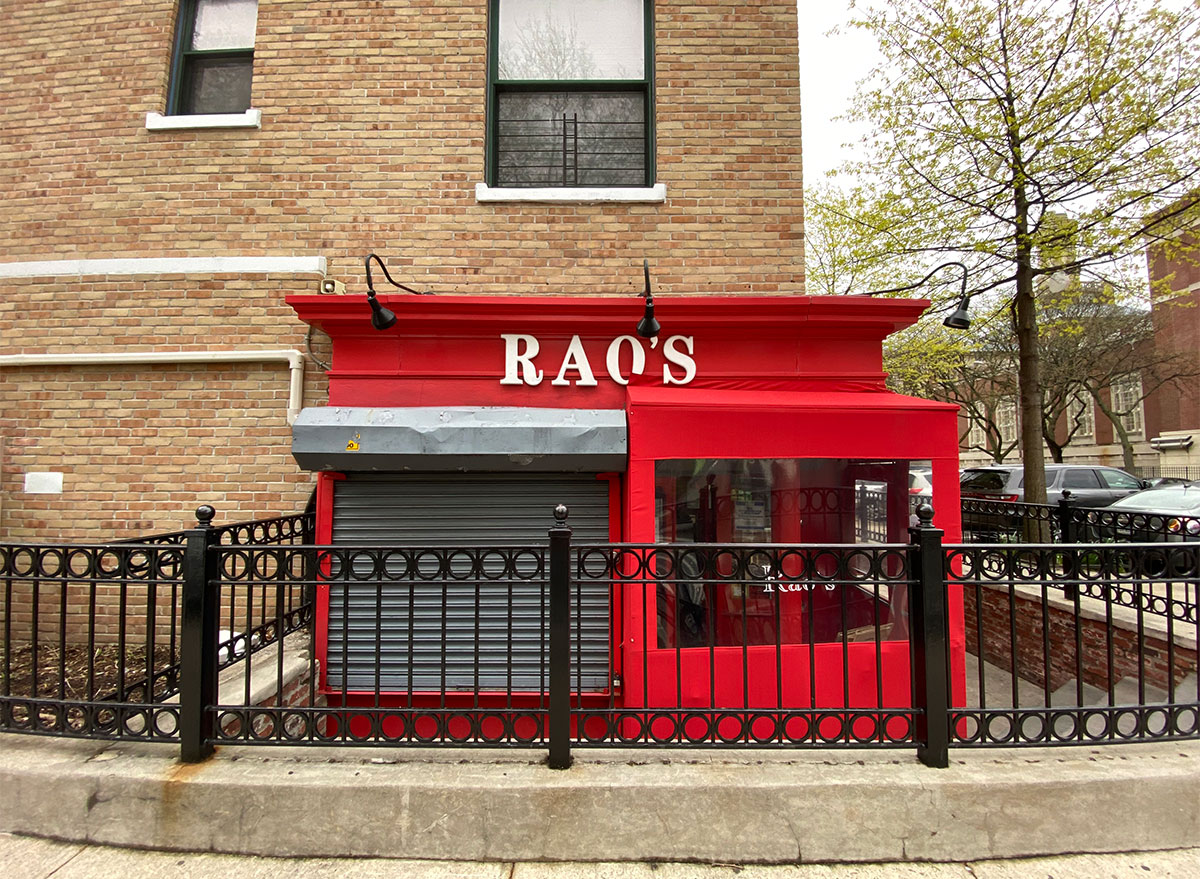 Rao's is an old-school Italian joint in East Harlem that dates all the way back to 1896, when the neighborhood was home to many Italian immigrants and their families. Today, Rao's is a full-on restaurant group, with locations in Los Angeles and Las Vegas (and you've probably seen their marinara sauce in the grocery store, too). But the original location is still easy to miss: It's more than a half-mile away from the closest subway station, and it isn't surrounded by other restaurants and stores.
Despite the low profile, though, Rao's remains one of the toughest restaurants to get a table in New York and in the United States. In 2016, Vanity Fair dubbed it "New York's Most Exclusive Restaurant," noting that the small location has just four tables and six booths. The restaurant notoriously doesn't take reservations—even Melissa McCarthy couldn't get into the East Harlem restaurant. So even though I live just a few blocks away, I never thought I'd have any way to eat Rao's food.
With the coronavirus, though, all of that changed. The legendary restaurant has closed its already-limited seating, as have all restaurants in New York City. Instead, Rao's has been offering a fixed dinner menu for takeout—and you don't have to know someone to get it.
On March 23, Rao's shared its first Instagram post, asking people to direct message the restaurant's account to join the waitlist for takeout dinner for two. About a week after I sent the restaurant the DM, I got a text message that I was off the waitlist and could pick up takeout from Rao's that afternoon.
There's no takeout menu for the pandemic special. $80 will get you penne marinara, lemon chicken, two meatballs, and a salad. I responded right away to let the restaurant know I was in and set my pickup time.
To be honest, I was slightly skeptical about the special, especially with such a steep price point. I'd eaten the Rao's Sunday Gravy at the Los Angeles location during a vacation there, and I wasn't blown away; the sausage and meatballs didn't have much flavor and paled in comparison to the ones my grandparents made when I was growing up. Pasta Sundays were an iconic part of my childhood experience, and the bland meatballs and sauce didn't do the memory justice.6254a4d1642c605c54bf1cab17d50f1e
But when I took my first bite of the meatballs from the original Rao's location, my eyes filled with tears. I'd bitten into a chunk of garlic in the meatball, exactly the way my grandmother would have made them. She passed away just before the quarantine started, and the meatball brought back so many memories of being gathered around her dining table when it was covered in giant "Lotsa Pasta" serving bowls.
Overall, the meal had little in common with the one I'd eaten in California. The huge meatballs were plenty flavorful, with a nice crisp on the outside. The marinara sauce was fresh and acidic. The pasta wasn't soggy, despite being takeout. And the lemon chicken had the perfect char; it was so juicy the meat fell off the bone.
For me, the meal was the perfect quarantine dinner. It was hearty and nostalgic, the ultimate comfort food for being stuck at home in a time of uncertainty. I doubt it's the best Italian in New York, and objectively, it isn't worth $80. But to remember my grandma (and to be able to say I've eaten Rao's), it was worth every penny.
Meghan De Maria
Meghan De Maria is a senior editor at
Eat This, Not That!
, specializing in food, product, and restaurant coverage.
Read more about Meghan