Trader Joe's Doesn't Want To Offer Online Shopping—Here's Why
The chain's execs revealed why customers shouldn't expect an e-commerce business any time soon.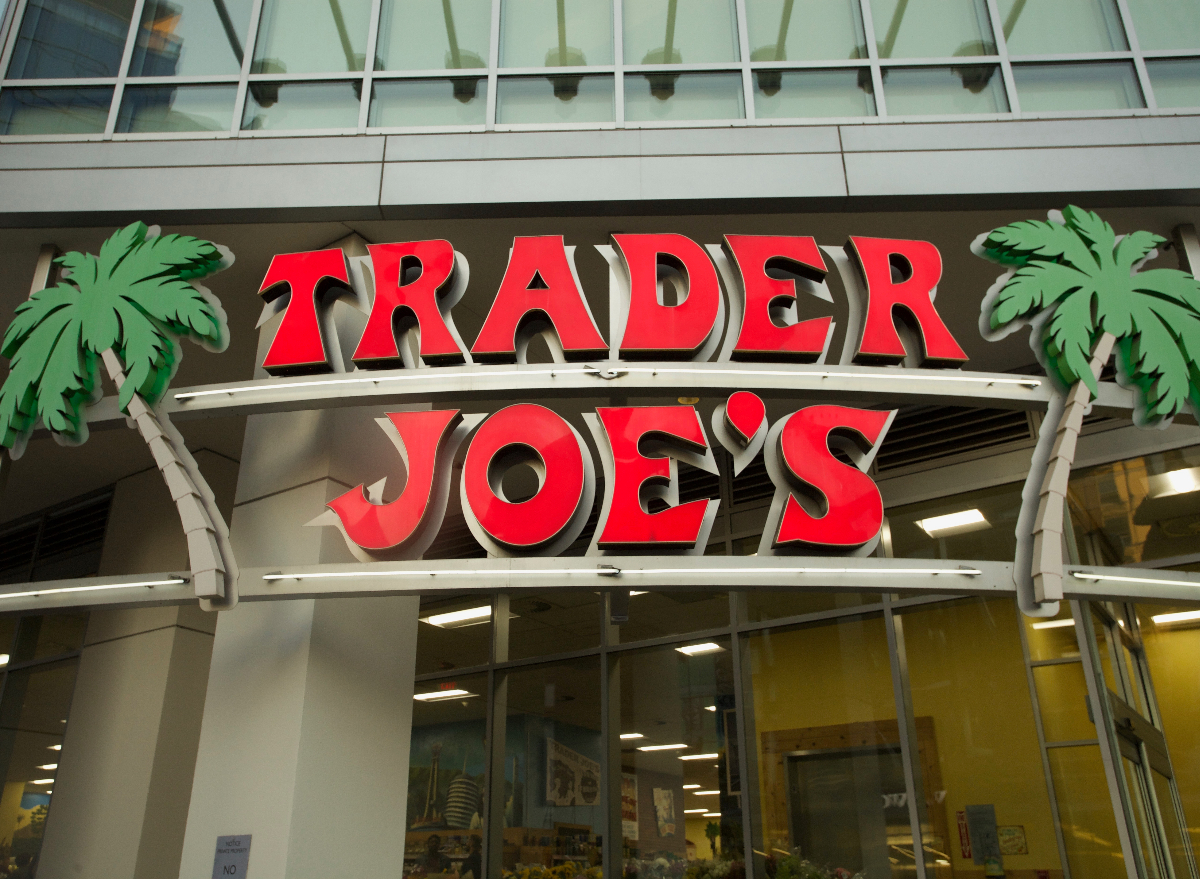 To say Trader Joe's is different from most grocery stores would be an understatement. Between its nautical theme, vibrant hand-draw signs, creative private-label products, and informative yet entertaining newsletter and podcast, the beloved retailer knows how to set itself apart, presenting itself more like a lifestyle brand and less like a plain old grocery store.
While ahead of the pack in many ways, there's one major area that Trader Joe's doesn't only fall behind, but completely takes itself out of the race: e-commerce. As it turns out, the chain makes its lack of online retail presence part of its strategy.
In the latest episode of the "Inside Trader Joe's" podcast, Tara Miller and Matt Sloan, both vice presidents of marketing at TJ's, discuss the company's business model, explaining why the cult-favorite supermarket chain doesn't offer online shopping, pickup, or delivery.
RELATED:  Trader Joe's Is Opening 3 New Stores—Here's Where the Grocery Chain Is Headed Next6254a4d1642c605c54bf1cab17d50f1e
One reason behind the company's decision to only have brick-and-mortar stores is, of course, the cost connected to running a major e-commerce operation. "Somewhere in the chain, there are costs involved with ordering things online, shipping things to your door, with trucks and warehouses that are dedicated to not servicing a store location, which services a lot of people, but servicing individual homes where products get delivered," said Miller.
Aside from this being a cost-effective move for Trader Joe's, this strategy also saves the company from having to impose higher prices on customers, Sloan pointed out.
Besides the added costs that come along with online shopping, Trader Joe's also likes to keep things in-store in order to keep up its offer of a unique shopping experience.
"That experience would not be the same if you were trying to order something from a website that just showed you the products you already know about," Miller said, adding that walking into a Trader Joe's store allows customers to encounter products they might not have seen before.
This discovery component to shopping at TJ's is what Sloan calls a "treasure hunt." Meanwhile, when shopping online, you're more likely to already be searching for specific products.
Although Trader Joe's brick-and-mortar stores are smaller than a typical grocery store—with locations ranging in size from 8,000 to 15,000 square feet—this doesn't detract from the business. In fact, the grocer's smaller footprint is intentional, noted Miller, as it allows the brand to form personal connections with its employees, customers, and products.
"There are always going to be costs associated with running a business, we prefer that those costs be people, we're familiar with our products, we're familiar with our neighborhoods, we're familiar with our customers," Miller says. "That small, more intimate setting really does set us apart from everyone else selling food."
Brianna Ruback
Brianna is a staff writer at Eat This, Not That! She attended Ithaca College, where she graduated with a degree in Journalism and a minor in Communication Studies.
Read more about Brianna