10 Restaurant Chains That Serve the Best BLT
The classic trifecta—bacon, lettuce, and tomato—is served up with style at these popular spots.
The product recommendations in this post are recommendations by the writer and/or expert(s) interviewed and do not contain affiliate links. Meaning: If you use these links to buy something, we will not earn a commission.
Bacon, lettuce, tomato: it may not sound like much, but together, these ingredients make a delicious sandwich. Salty bacon, crispy lettuce, and juicy tomato combine for a crunchy-yet-soft classic sandwich that's been on menu boards for decades. Die hard sandwich lovers likely count BLTs among the greatest American sandwiches of all time, and for good reason.
The humble BLT has a long history. According to Pop Sugar, the first printed mention of a sandwich consisting of the now-classic bacon, lettuce, tomato, and mayo combo was traced back to a 1903 article in Ladies Home Journal. Since then, the BLT has reached cult-classic status. It's a long-standing sandwich staple that steadily gained popularity throughout the '90s and early 2000s.
Of course, there are variations on the classic. Some restaurants opt for twists like avocado, turkey slices (that makes it a "club" sandwich, by the way), and even fried green tomatoes in the southern states. The possibilities are never-ending, which is part of what makes this comfort food such a winner.
It may appear hard to mess up a BLT—the ingredients and construction are uncomplicated—but high-quality, fresh ingredients separate the best from the rest. Here are 10 restaurant chains that serve the best classic BLTs. (No turkey in sight!)
Jersey Mike's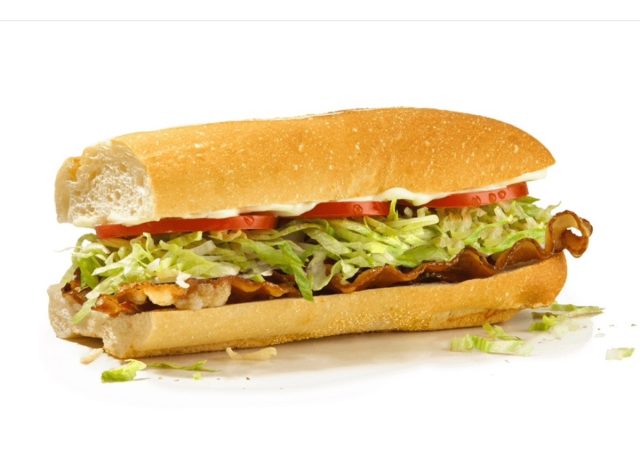 #1 BLT (Regular)
: 730 cal, 47 g fat (10 g saturated fat), 1573 mg sodium, 56 g carbs (4 g fiber, 6 g sugar), 25 g protein
Sometimes simple is best. Case in point: the #1 BLT sub from Jersey Mike's has been on the menu since the mid-'90s, and it's earned its spot at number one on the menu board. Served on freshly baked bread, the BLT features grilled applewood smoked bacon, shredded iceberg lettuce, and ripe tomatoes. An unpretentious sandwich, sure, but it's an undeniable mainstay. "I just love the BLT sub. Bacon [is] always perfect and it's crumbled and crunchy," one reviewer wrote on Tripadvisor. Pro tip: add extra bacon to fill out the sub, or, if you're not a BLT purist, try Mike's Way, a signature topping of onions, lettuce, tomato, red wine vinegar, olive oil, and spices.
Bob Evans
All-American BLT (1 order)
: 680 cal, 35 g fat (9 g saturated fat), 1740 mg sodium, 64 g carbs (2 g fiber, 12 g sugar), 27 g protein
Bob Evans' All American BLT is a faithful take on the classic. Too often, creative restaurateurs try to twist the BLT too far, and the result is a disappointing approximation of the real thing. That's not the case here: Bob Evans' BLT features four strips of center-cut hardwood-smoked bacon, romaine lettuce, tomato, and mayo. The bread, a griddled brioche, is the star of the show. "Honestly, the best BLT I ever had," one reviewer wrote on Tripadvisor. "Grilled to perfection, ample bacon, plus tomato and lettuce. Outstanding!!! Buttery goodness in every bite."
Jason's Deli
Bigger Better BLT (1 order)
: 640 cal, 36 g fat (8 g saturated fat), 960 mg sodium, 57 g carbs (10 g fiber, 9 g sugar), 27 g protein
If you're looking for a BLT that goes the extra mile but is still healthy, look to Jason's Deli. With more than 250 locations nationwide, Jason's has made moves to reduce unhealthy ingredients from its menu, including trans fats, MSG, high-fructose corn syrup, and artificial colors. That means you can feel good about trying out the Bigger Better BLT. Of course, there's the classic bacon-lettuce-tomato, but Jason's adds two nourishing ingredients with a fresh-cracked egg and avocado slices, all served on a multigrain wheat toast. The two bonus ingredients add a nice creaminess that reviewers like. "It's the best BLT I've ever had, bar none!" one Yelp reviewer wrote.
Urban Cookhouse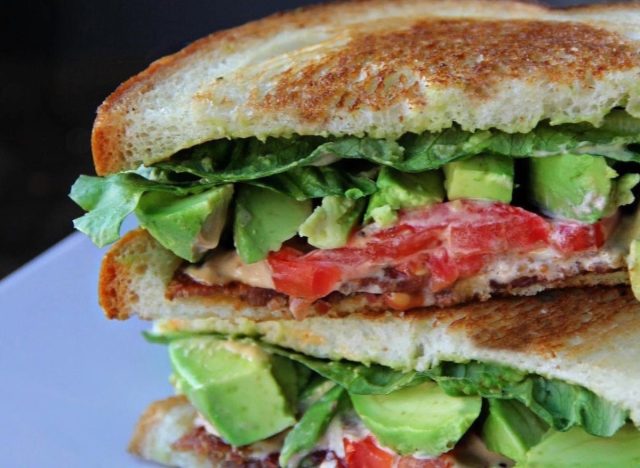 Nutrition information unavailable.
This offering from Urban Cookhouse stays loyal to the classic BLT ingredients, but adds some avocado for extra interest, hence the "BALT" name. With applewood bacon, lettuce, tomato, and avocado, sandwiched between toasted white bread slathered with aioli, the BALT from Urban Cookhouse is a must-try if you happen upon one of its 10 locations in the Southeast. There's an option to add turkey or ham to kick the BLT up a notch. "I ordered the BALT and it was so good! The turkey was pretty thick slices, I liked it," one reviewer wrote.
Perkins Restaurant & Bakery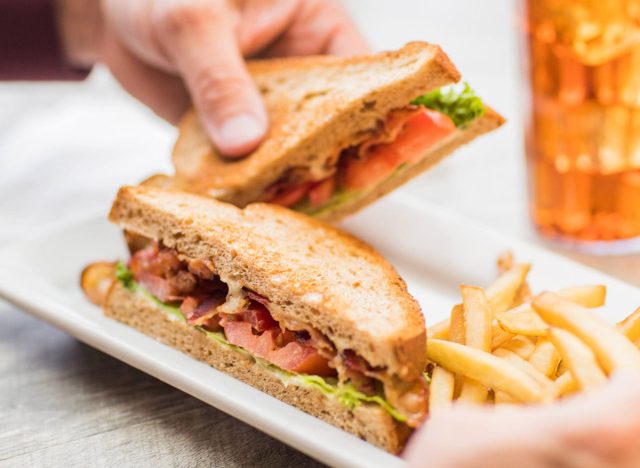 Big BLT (1 order)
: 420 cal, 40 g fat (9 g saturated fat), 920 mg sodium, 2 g carbs (0 g fiber, 2 g sugar), 12 g protein
Perkins is known for its traditional menu offerings and homestyle cooking, and the chain, located in more than 20 states, certainly isn't afraid to beef up a sandwich with lots of bacon. Perkins' Big Bacon BLT features five strips of smoked bacon, and the classic lettuce, tomato, and mayo combo. You can choose between white or whole wheat toast. "The cracked wheat bread was good, crispy bacon and very tasty," one Tripadvisor reviewer wrote of the classic. And, with only 420 calories, it's also a nutritionist-approved pick. "It is both the lowest calorie and sodium option available," Patricia Bannan, MS, RDN, and nutritionist previously told Eat This, Not That!
Denny's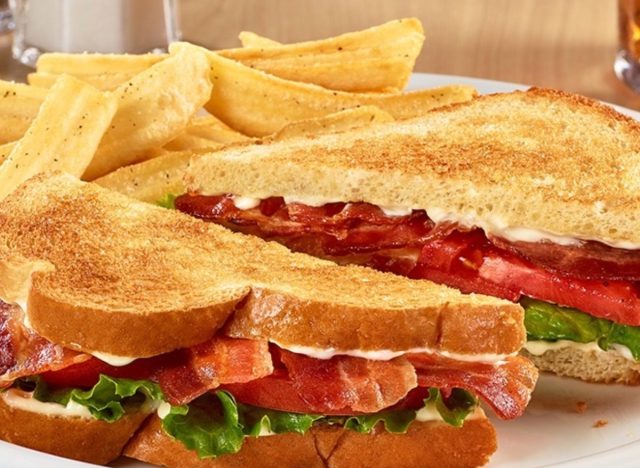 Nutrition information unavailable.6254a4d1642c605c54bf1cab17d50f1e
It's a classic roadside stop, so of course Denny's has this all-American sandwich on offer. Denny's classic BLT is served on toasted sourdough bread, featuring strips of beef bacon, crunchy lettuce, tomato, and mayo. It's a no fuss option, but you can get creative. One TikToker ordered the BLT alongside a Nashville Hot Chicken Melt and combined them to make a Nashville Chicken BLT that looks pretty freakin' good. "By combining these two menu items, all my favorite sandwiches are combined into one delicious bite, smokiness from the bacon, with spiciness from the chicken!" he wrote.
Publix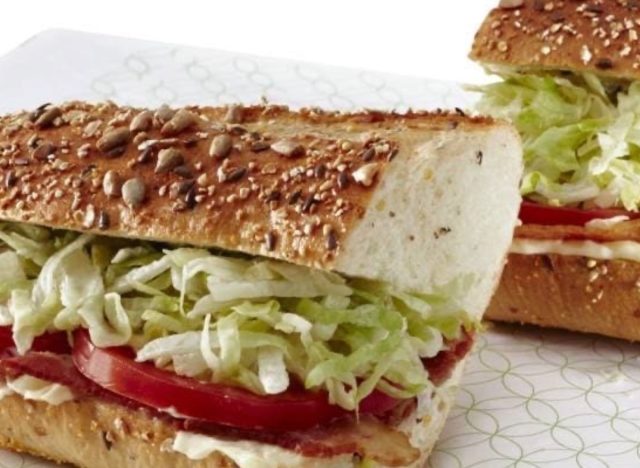 BLT Hot Sub (Whole, Sub Roll)
: 680 cal, 29 g fat (8.5 g saturated fat), 1560 mg sodium, 100 g carbs (6 g fiber, 12 g sugar), 33 g protein
Perhaps not a restaurant, per se, but Publix's deli counter is a big draw—this grocery chain is slinging some seriously good Pub Subs—and you would be remiss to skip it! Publix's version of the BLT features Boar's Head bacon, your choice of cheese, and the classic lettuce and tomatoes. It's the quality of ingredients that makes this BLT a real treat. Boar's Head meats are a hand-crafted, top-notch delicatessen meat, and you can taste the difference. The bread is fresh-baked, so choose your favorite. Then there's the mayo, which is made at Publix's corporate deli kitchen. "It was one of the best sandwiches I've had in a while," one reviewer wrote on Reddit.
Potbelly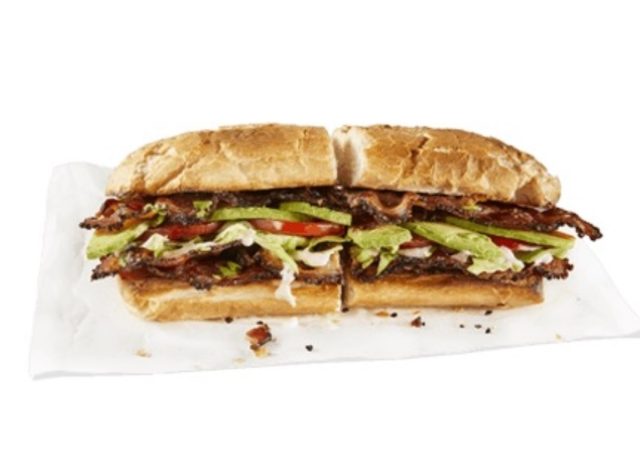 Nutrition information unavailable.
With over 400 locations, Chicago-based Potbelly is known for its submarine sandwiches and milkshakes. The chain is focused on slinging classic menu items, so of course, Potbelly has a version of the BLT. Its BLTA features all the classic ingredients—applewood smoked bacon, lettuce, tomato—plus fresh-sliced avocado. The bacon is savory and flavorful, while the avocado adds a creaminess factor that bulks up the sandwich a bit. "The avocado flavor gives it a refreshing aspect that makes it definitely a little bit different from your typical BLT," one YouTube reviewer said, noting that the bacon was good, if a little spicy. "All the sandwiches are fabulous, but the Potbelly's BLTA is heavenly," another reviewer wrote.
Jimmy John's
J.J.B.L.T. (8-inch French Bread)
: 590 cal, 32 g fat (8 g saturated fat), 1340 mg sodium, 47 g carbs (4 g fiber, 2 g sugar), 24 g protein
You don't have to shell out a lot of money for a good sandwich. The J.J.B.L.T. sits on Jimmy John's classic menu, and though the sandwich chain offers more premium options, one Tasting Table reviewer wrote that the humble J.J.B.L.T. remains Jimmy John's best offering: "It's actually quite refreshing to eat one of these, and that's exactly what a BLT should be." The J.J.B.L.T. has applewood smoked bacon, fresh-sliced lettuce, and tomato, and, to tie it all together, the perfect amount of moisture from Hellmann's mayo. Nothing fancy, but the amount of bacon stacked on this sub is worthy of appreciation.
Milio's Sandwiches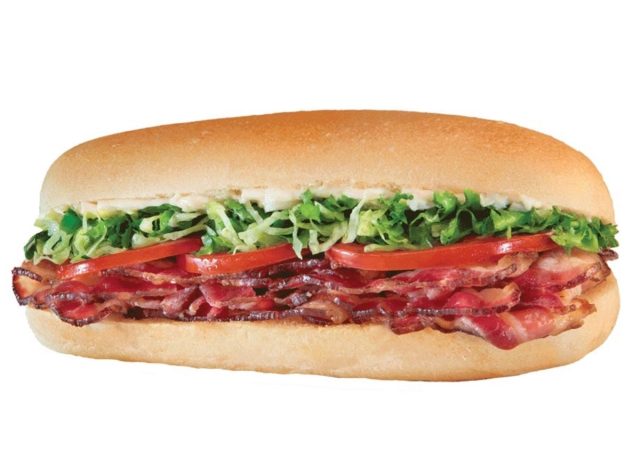 #7 BBLT (1 order)
: 670 cal, 40 g fat (9 g saturated fat), 1360 mg sodium, 56 g carbs (5 g fiber, 2 g sugar), 26 g protein
Bacon enthusiasts, rejoice! Milio's is a sandwich chain with 21 locations across Wisconsin, Minnesota, and Iowa, that has steadily won the hearts of sandwich lovers in the Midwest. Milio's BBLT features applewood smoked bacon, Hellmann's mayo, and the obligatory lettuce and tomatoes. "Good fresh sandwich fully loaded and well wrapped," one reviewer wrote of the BBLT. And while some sub spots may load up on toppings that overwhelm the bread, Milio's takes a different approach. "They respect the foundation and sanctity of subs by treating the bread as a delightful medium in which to deliver their perfectly ratio'd bread-sauce-crunchiness," one Yelp reviewer wrote.