The Best Spot to Get a BLT in Every State
If you're a fan of the beloved sandwich, this is the state-by-state guide for you.
Many would argue that a BLT is the best sandwich. Bacon, lettuce, and tomato is a simple but winning combination when done right. Plus, BLTs are at their best in the summertime, right after tomato harvest.
Like every other classic sandwich, there are plenty of twists you can add to this sandwich. You can add avocado, and a popular choice in many Southern states is to use fried green tomatoes. The possibilities are truly endless.
So we decided to look high and low in every state in America to find the best BLTs. Thanks to reviews, feedback from locals, and a look at award-winning BLTs, we put together a definitive list of the best BLT sandwiches you'll find across the United States. And for more, check out The Best Cheesesteak in Every State.
ALABAMA: Ashley Mac's in Birmingham
Ashley Mac's offers a specialty BLT with a mouthwatering twist: the Pimento Cheese BLT. If you're in the mood for a salad, try the Chopped Salad BLT, which is made from romaine lettuce, bacon, cherry tomatoes, green onions, and blue cheese dressing.
ALASKA: Mike's Alaskan Eatery in Homer
"The best BLT for me in years," raved one reviewer after eating the sandwich at Mike's Alaskan Eatery. Another tourist said she was "blown away by the amount of bacon you get" and "that everything was fresh and tasted wonderful."
ARIZONA: Matt's Big Breakfast in Phoenix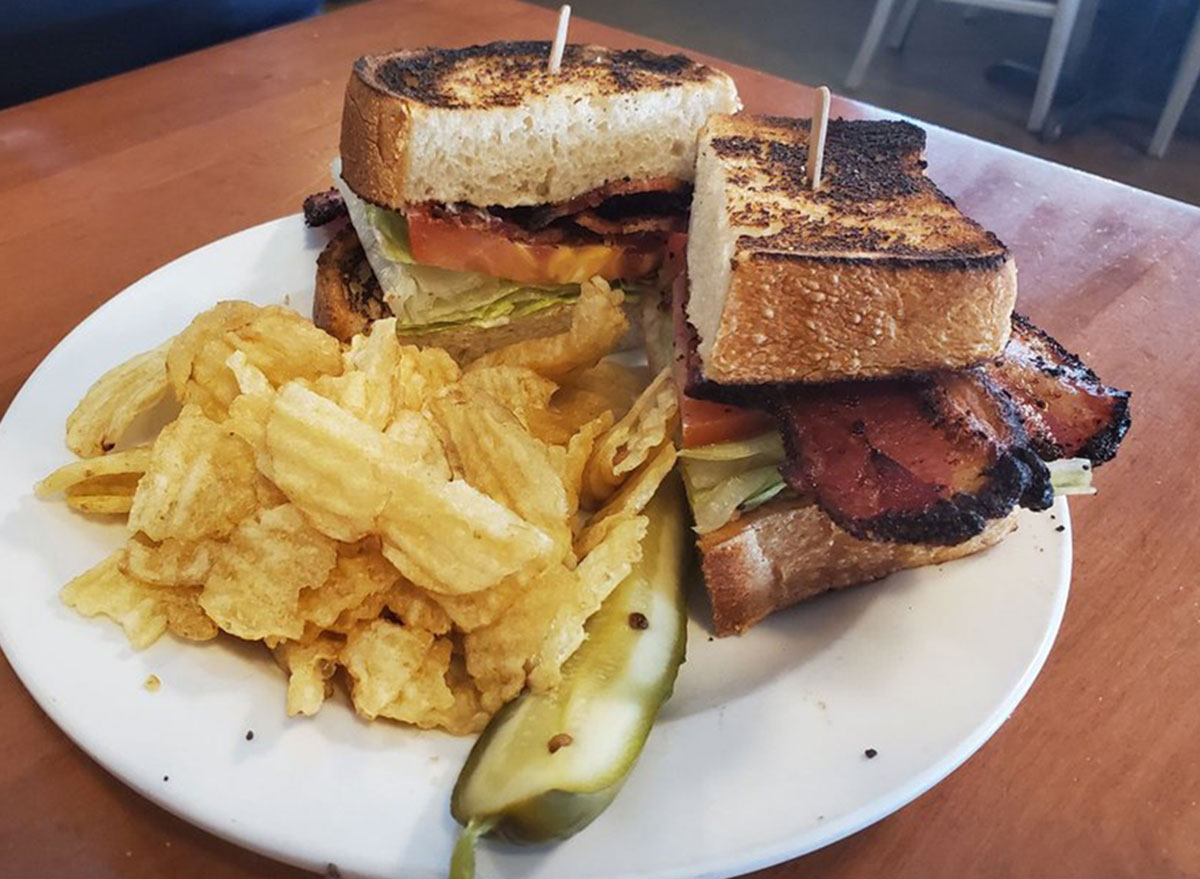 Matt's Big Breakfast is famous for (you guessed it!) its excellent breakfast fare. But it would be a shame to overlook the lunch menu. The BLT served up at Matt's is the tried and true classic version: thick toasted bread, crispy bacon, iceberg lettuce, and tomatoes. Reviewers describe it as "delicious" and note that the tomatoes in particular are exceptionally tasty.
ARKANSAS: Oscar's Cafe in Eureka Spring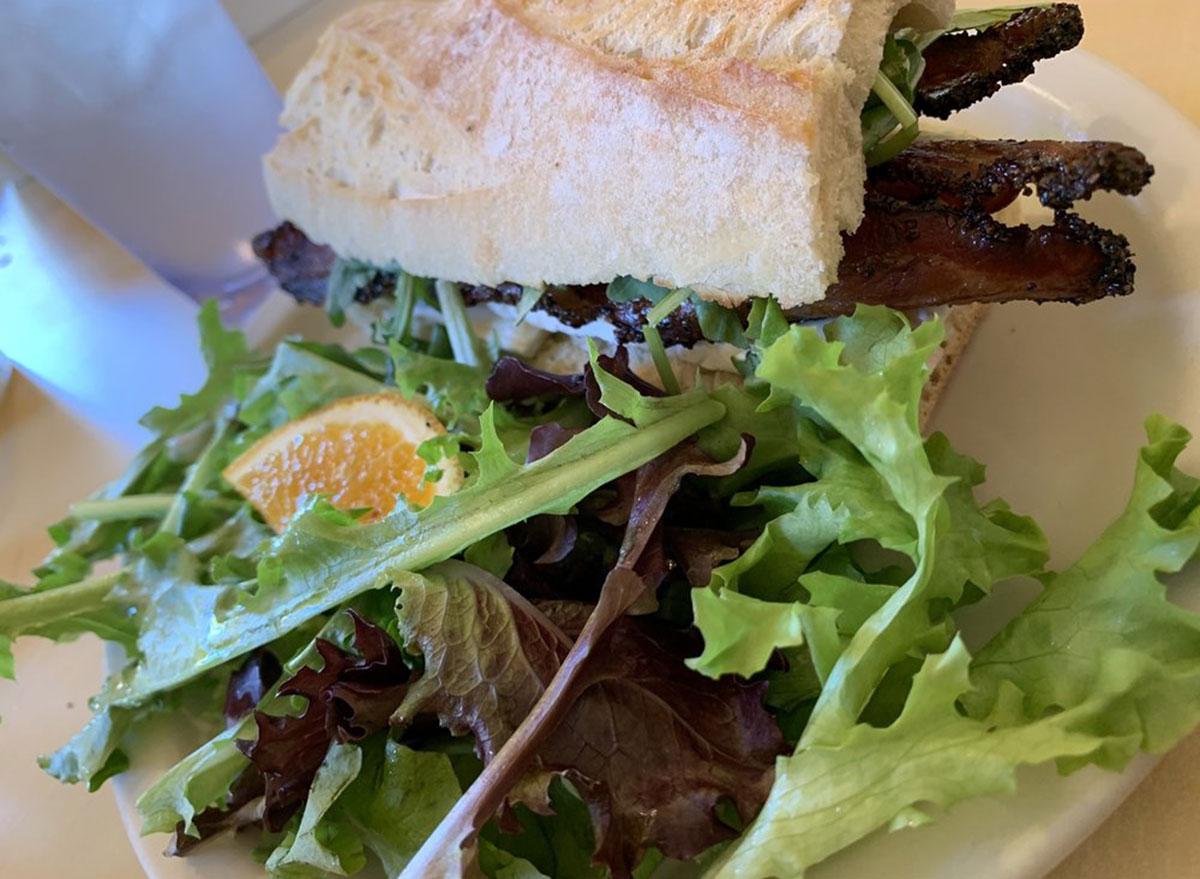 Both locals and tourist reviewers can't say enough good things about the "Brie LT" at Oscar's Cafe. Made with bacon, brie, and arugula, it's described as "absolutely delicious." People also noted that Oscar's has a "charming waitstaff," which makes the dining experience all the more pleasant.
CALIFORNIA: Wiches on Wilshire in Los Angeles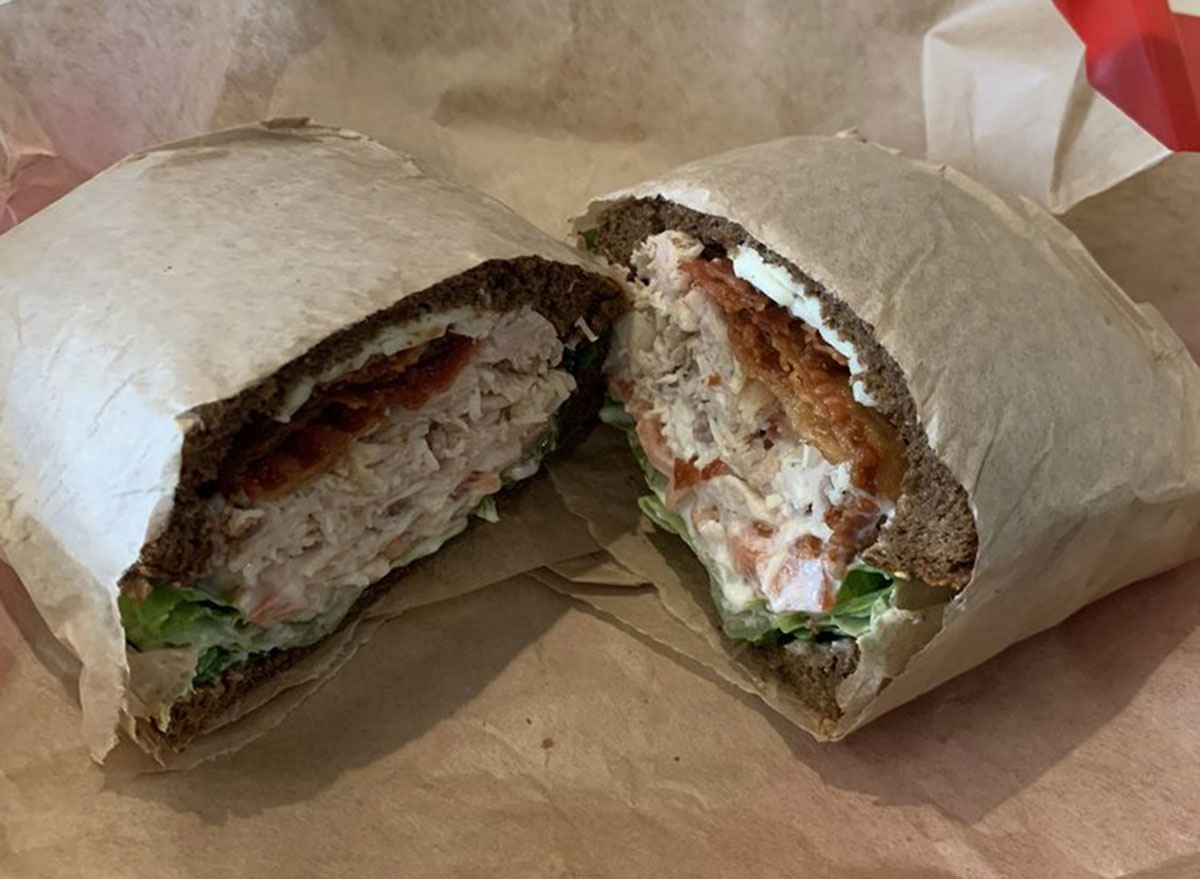 Wiches on Wilshire is a favorite among locals, and it offers three BLT options: the California BLT, the Chicken BLT, and the Pastrami BLT. They all sound mouthwatering, but the Chicken BLT, in particular, is a favorite among reviewers. It's made with bacon, Swiss cheese, tomato, red onion, romaine, ranch, mayo, and, of course, chicken. You can choose from a wide variety of bread options including rye, wraps, croissants, ciabatta, and a brioche bun.
Looking for more helpful tips? Your ultimate restaurant and supermarket survival guide is here!
COLORADO: Bacon Social House in Denver
It's no surprise that a place called Bacon Social House serves up a killer BLT. The sandwich includes bacon aioli and avocado, although of course, you can request to hold the avocado if you want a classic BLT.
CONNECTICUT: BLT Deli in Norwalk
A deli that specializes in BLTs? Be still, our hearts!
"I could have [eaten] two of these," one reviewer said of the classic BLT. Other offerings include a BLT Omelette, a BLT breakfast sandwich, a BLT salad, and a BLT cheeseburger.
DELAWARE: Legal Grounds Cafe in Wilmington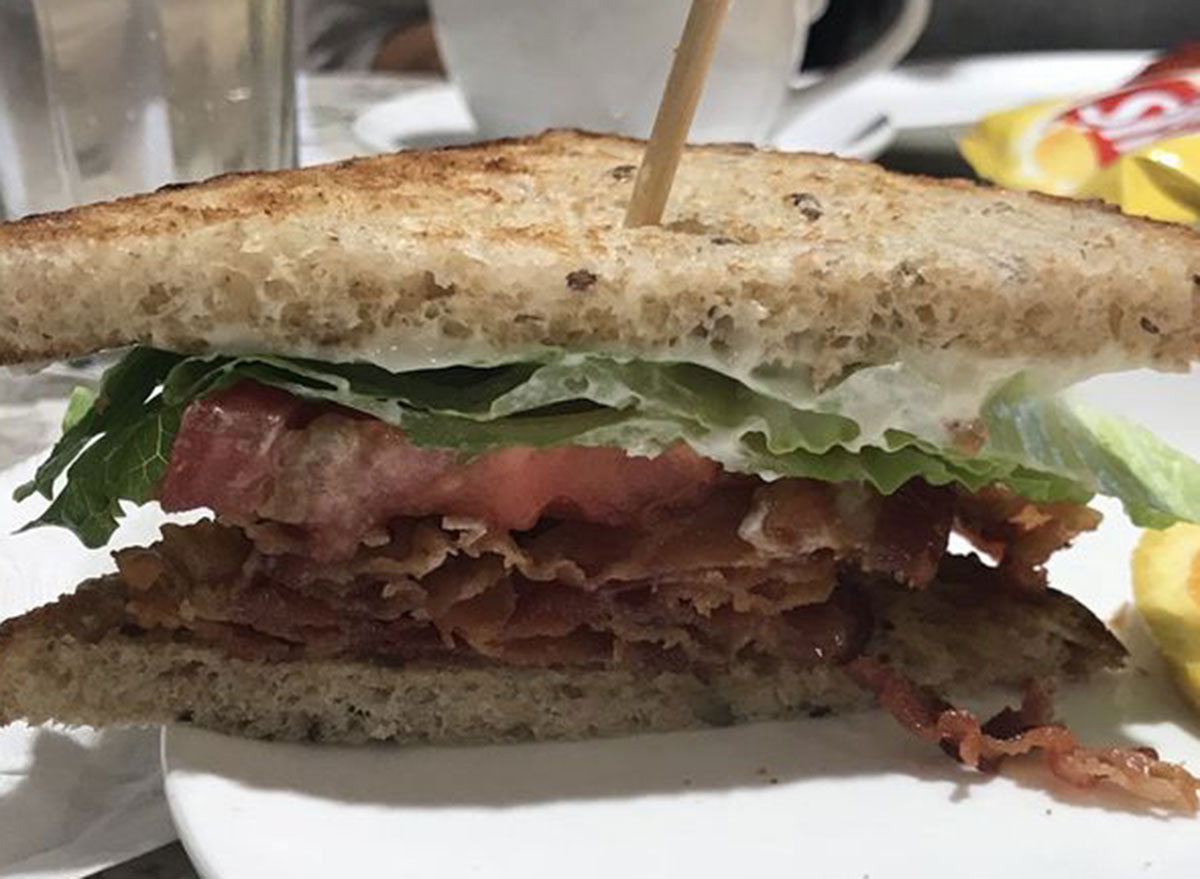 "I could live off the BLT," one reviewer raved. It certainly doesn't hurt that it's priced at $7! Legal Grounds Cafe has also been praised by customers for its charming atmosphere. Designer Kathleen Magner Rios told Delaware Online that her goal was to bring "a flavor of Europe and an Old World feel" to the cafe and, based on the slew of five-star reviews, Rios certainly succeeded.
FLORIDA: Doormet in Tampa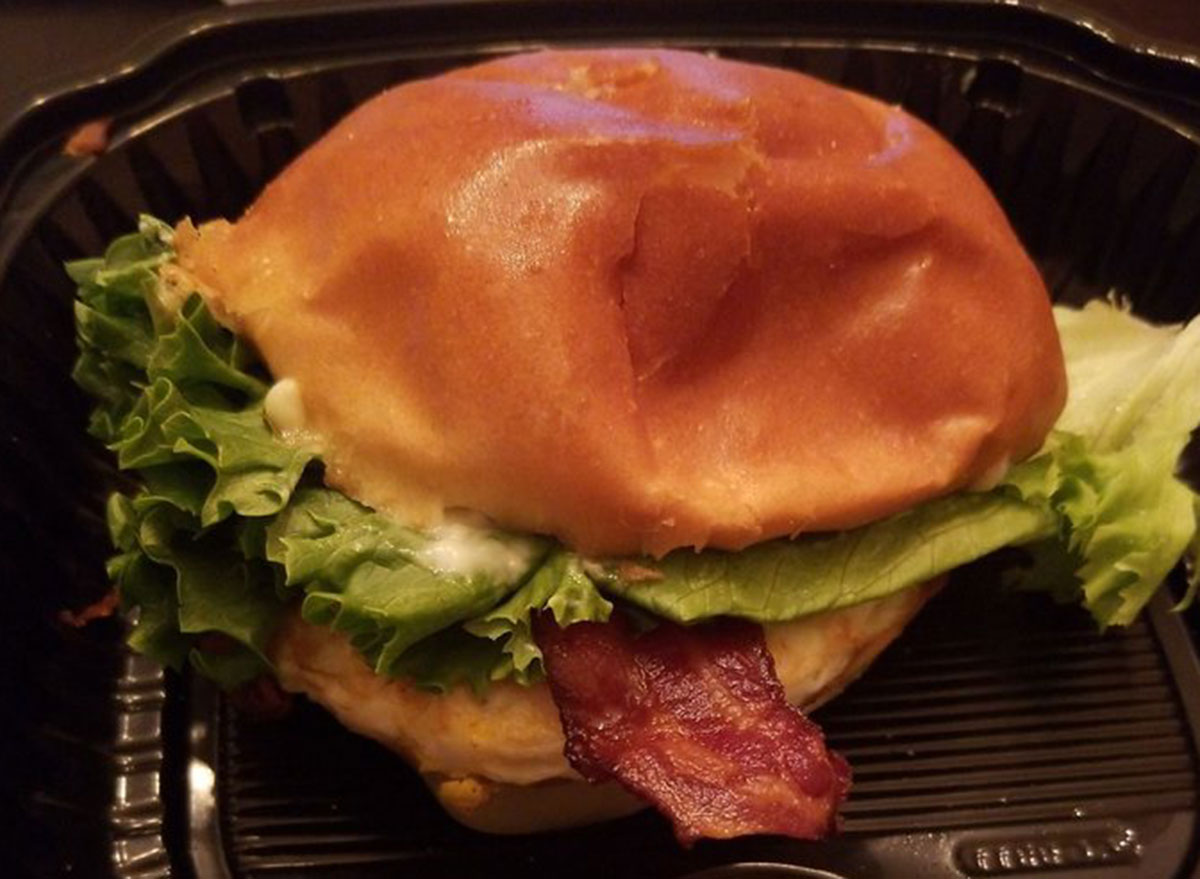 Made with premium cherrywood smoked bacon, Montrachet goat cheese, lettuce, local tomatoes, and local orange blossom honey, one reviewer declared that Doormet's version is "the best BLT in the world!" Another customer described the combination of flavors as "divine."
GEORGIA: Buttermilk Kitchen in Atlanta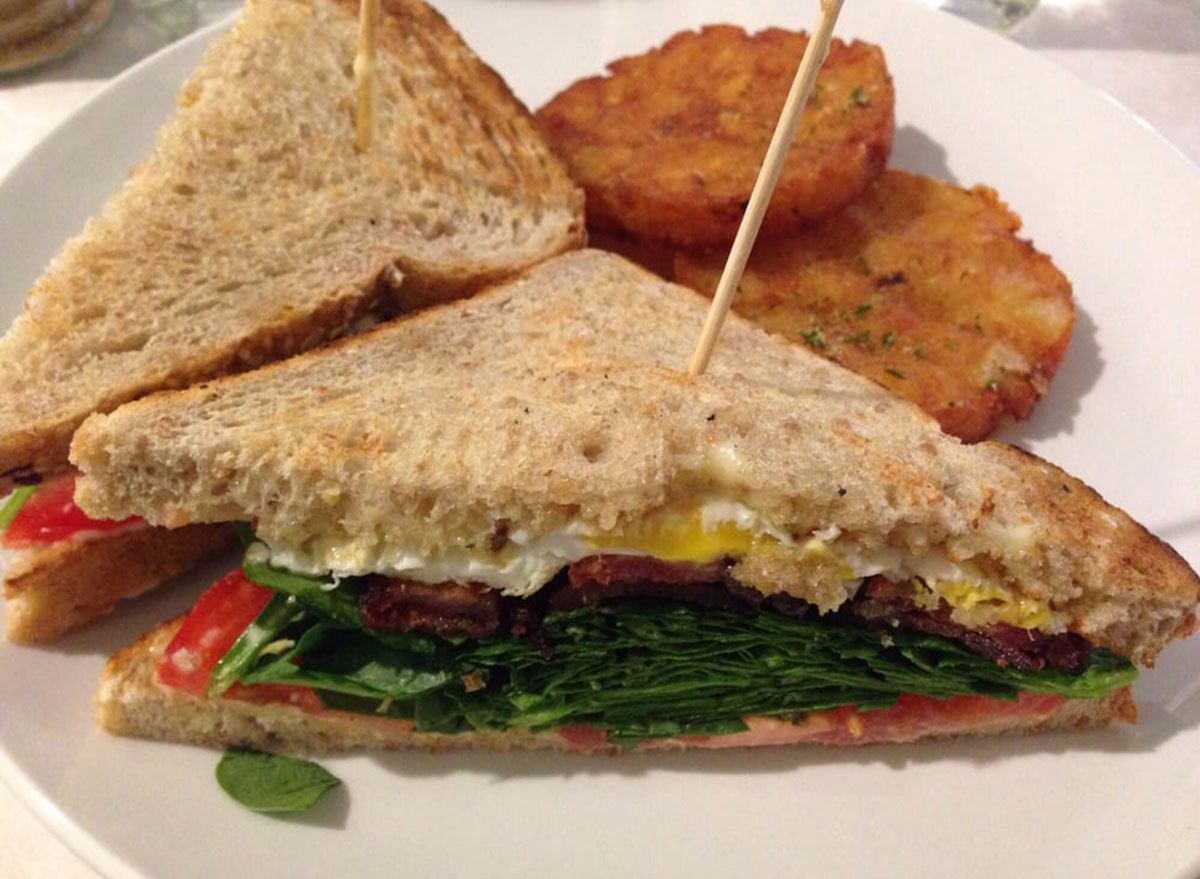 Serving up locally sourced Southern fare in a casual atmosphere, Buttermilk Kitchen is a local favorite in Atlanta. The Fried Egg BLT is one of the most popular items on the menu; reviewers recommend getting it with a side of rosemary hash browns.
HAWAII: EARL Kaimuki in Honolulu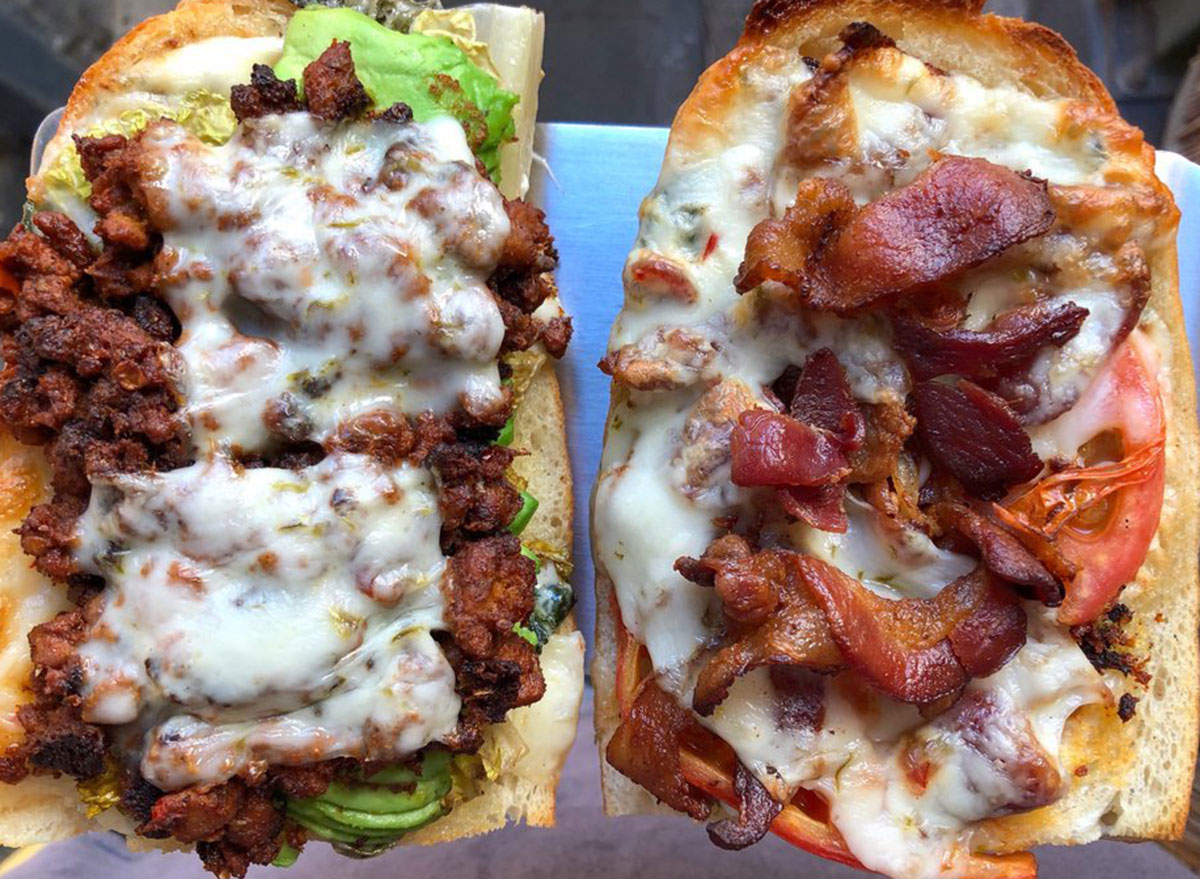 Locals describe EARL as a "staple" in Honolulu. Owner Justin Parvizimotlagh told KOHN2 News that his goal is to provide "comfort food" and that he's especially proud of the hand-crafted sandwiches. Among them is the Chorizo BLT, which is popular among locals.
IDAHO: Great Harvest Bakery and Cafe in Boise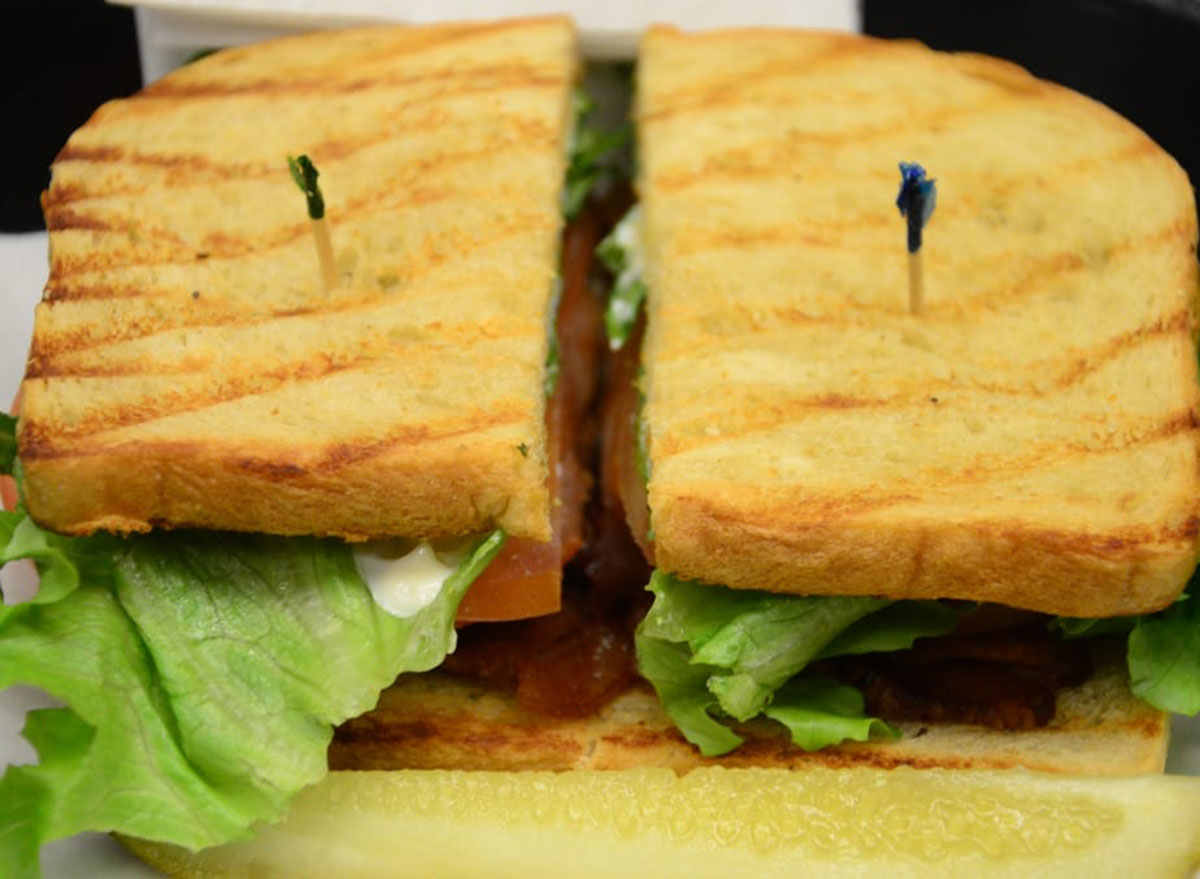 "THE best turkey BLT I've ever had in my life," wrote one reviewer. Others sang the praises of the fresh ingredients and top-notch bread used to make each and every sandwich option at this cafe.
ILLINOIS: Panes Bread Cafe in Chicago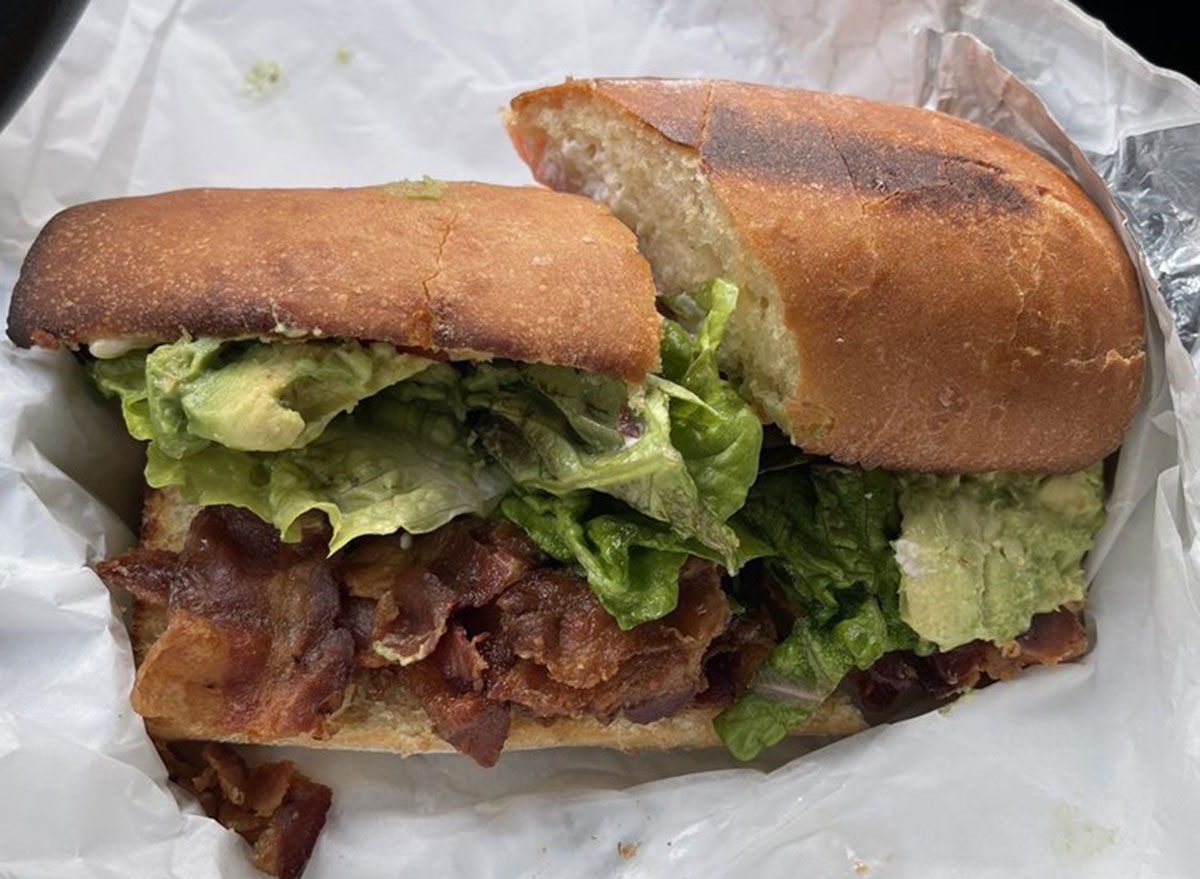 This small neighborhood cafe in the Lakeview neighborhood of Chicago is often overlooked. But locals say you're seriously missing out if you don't grab a sandwich at Panes. All the sandwiches are made on fresh-baked bread and one reviewer described the BLT as "to die for."6254a4d1642c605c54bf1cab17d50f1e
INDIANA: Cafe Patachou in Indianapolis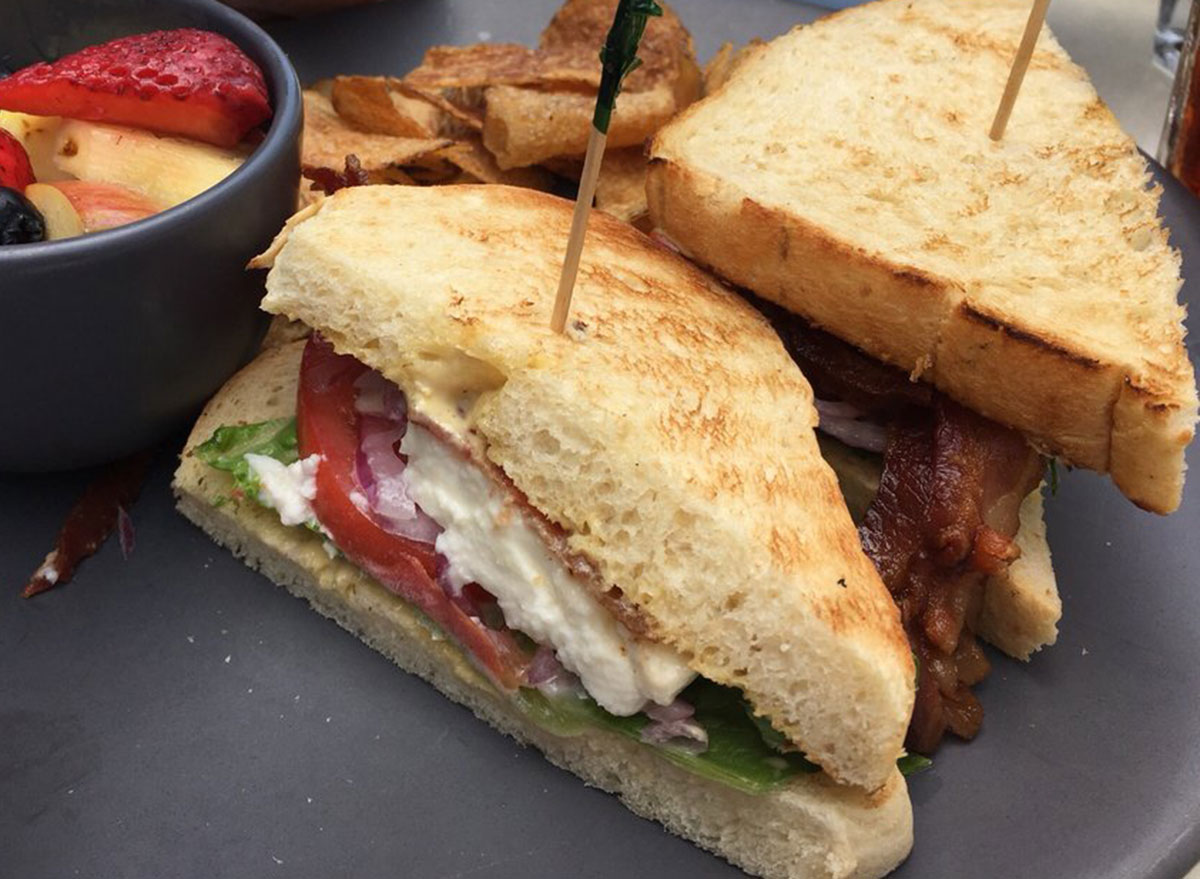 Cafe Patachou promises a "world-class breakfast and lunch experience that includes dishes prepared with premium ingredients from scratch and to-order." Among these dishes is the BLT, made on toasted bread with fresh mozzarella, red onions, and dijonnaise.
IOWA: El Bait Shop in Des Moines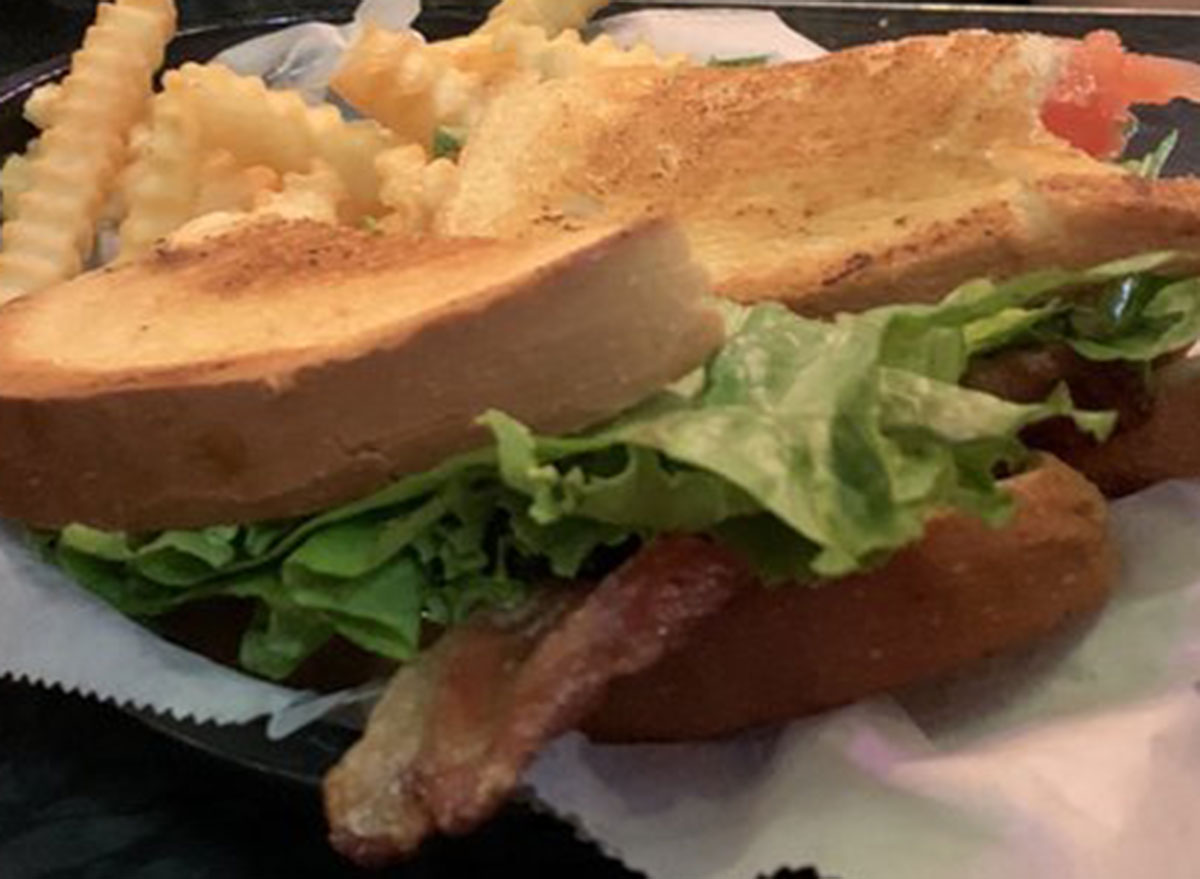 If you're looking for a simple, classic BLT, look no further than El Bait Shop. While you're there, check out the beer menu—the restaurant offers the largest craft beer selection west of the Mississippi. A cold beer and a BLT are a heavenly combination on a summer day.
KANSAS: The Peanut in Kansas City
This bar and grill is best known for its wings, but don't let that stop you from trying the BLT. It is iconic in Kansas City, after all. Multiple customers describe it as the best BLT they have ever tasted.
KENTUCKY: The Cafe in Louisville
"Not your mother's BLT!" reads the menu description for The Cafe's "Art Deco" sandwich. It's made with "the addition of zesty guacamole spread and red onion slices [and] served on artisan walnut wheat toast."
LOUISIANA: Boucherie in New Orleans
New Orleans is famous for its Po'boys, but be sure to make at least one visit to Boucherie. Chef Nathaniel Zimet makes a stellar BLT with house-cured Niman Ranch bacon and garlic aioli.
MAINE: Maine Diner in Wells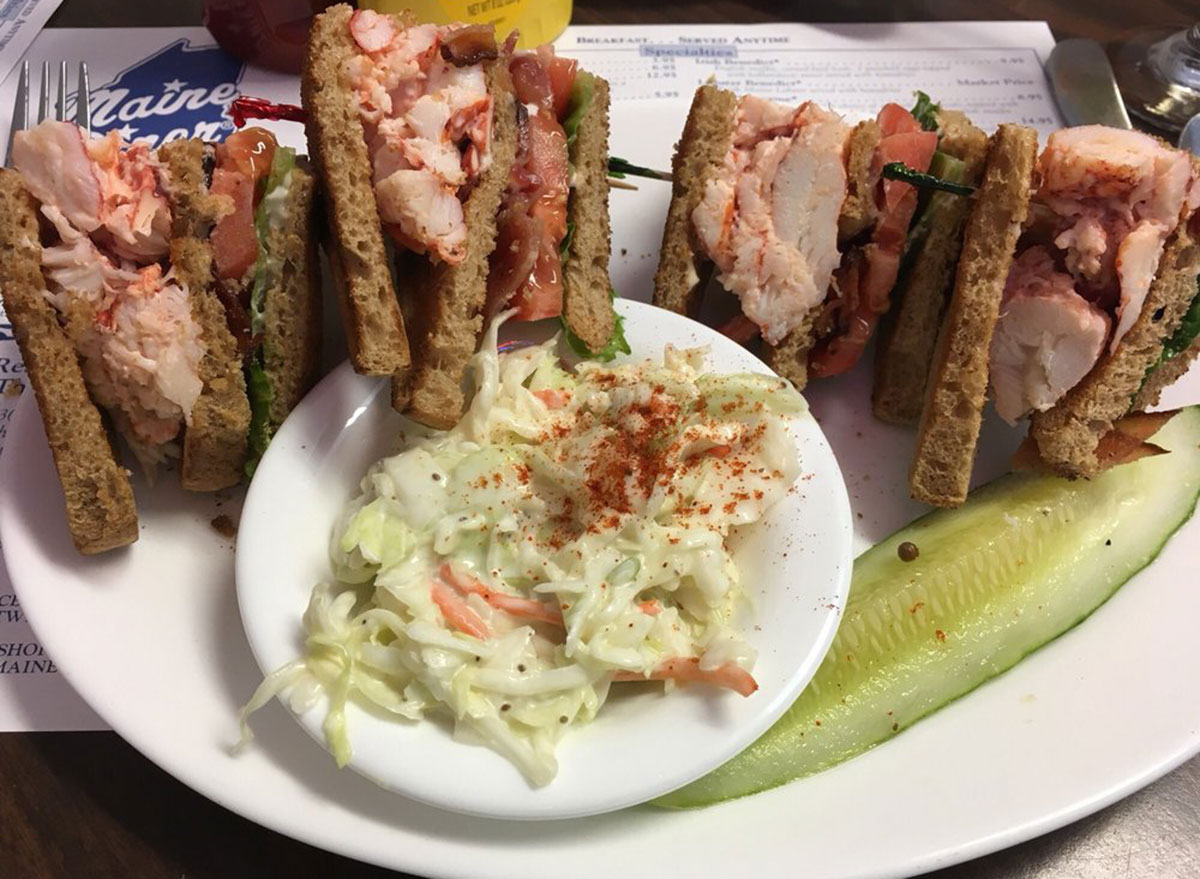 This no-frills diner has a menu filled with the foods Maine is known for. It's an unofficial rule that one must eat lobster when in Maine, so why not try Maine Diner's beloved Lobster BLT? You won't regret it.
MARYLAND: Chaps Pit Beef in Baltimore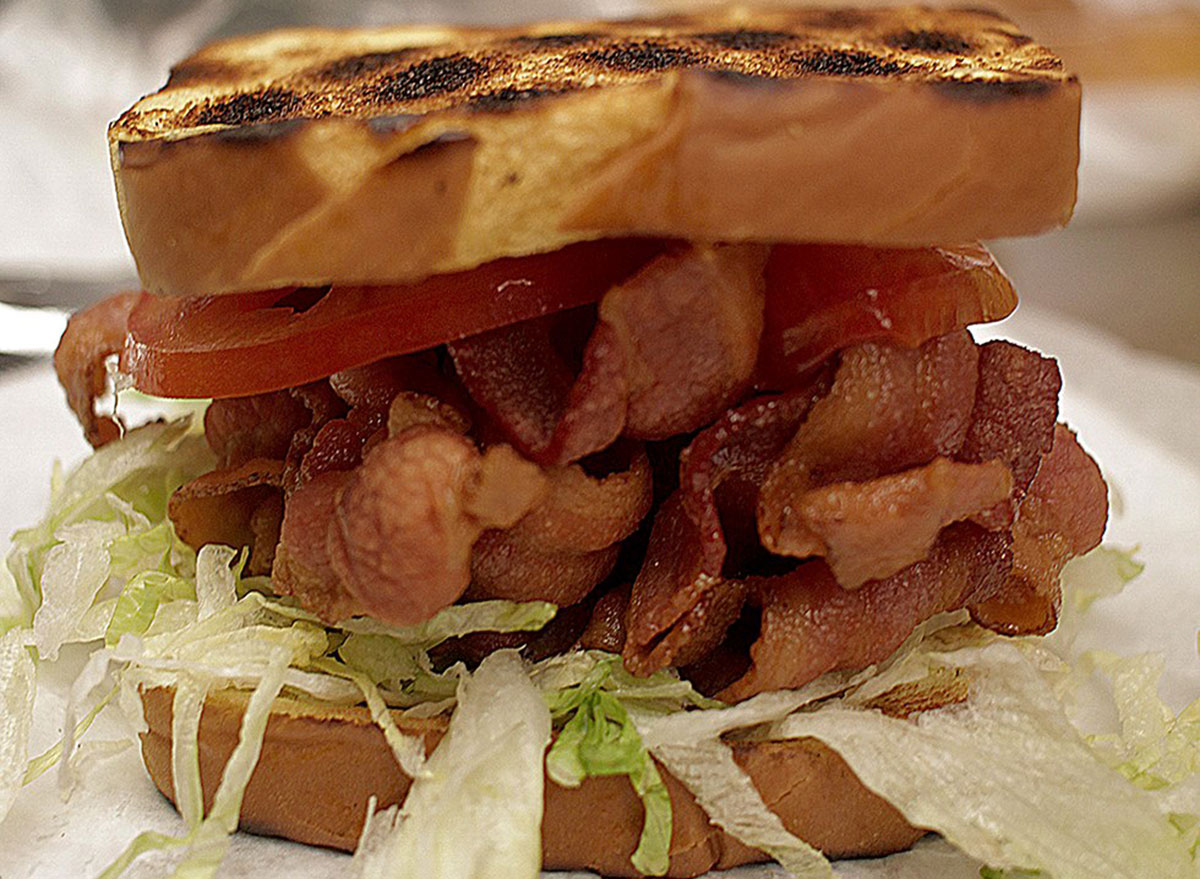 Chaps Pit Beef is a Baltimore staple that has been featured on the Food Network and in Anthony Bourdain's No Reservations. It's most famous for its beef sandwiches, but don't overlook the BLT. For just under $7, this is the classic, no-frills BLT that many people crave as the ultimate comfort food.
MASSACHUSETTS: Archie's New York Deli in Boston
The consensus amongst reviewers is that you can't go wrong at Archie's New York Deli. BLTs are available on bagels and as wraps, with one customer declaring it was the "best BLT wrap I ever had."
MICHIGAN: Tony's I75 Restaurant in Birch Run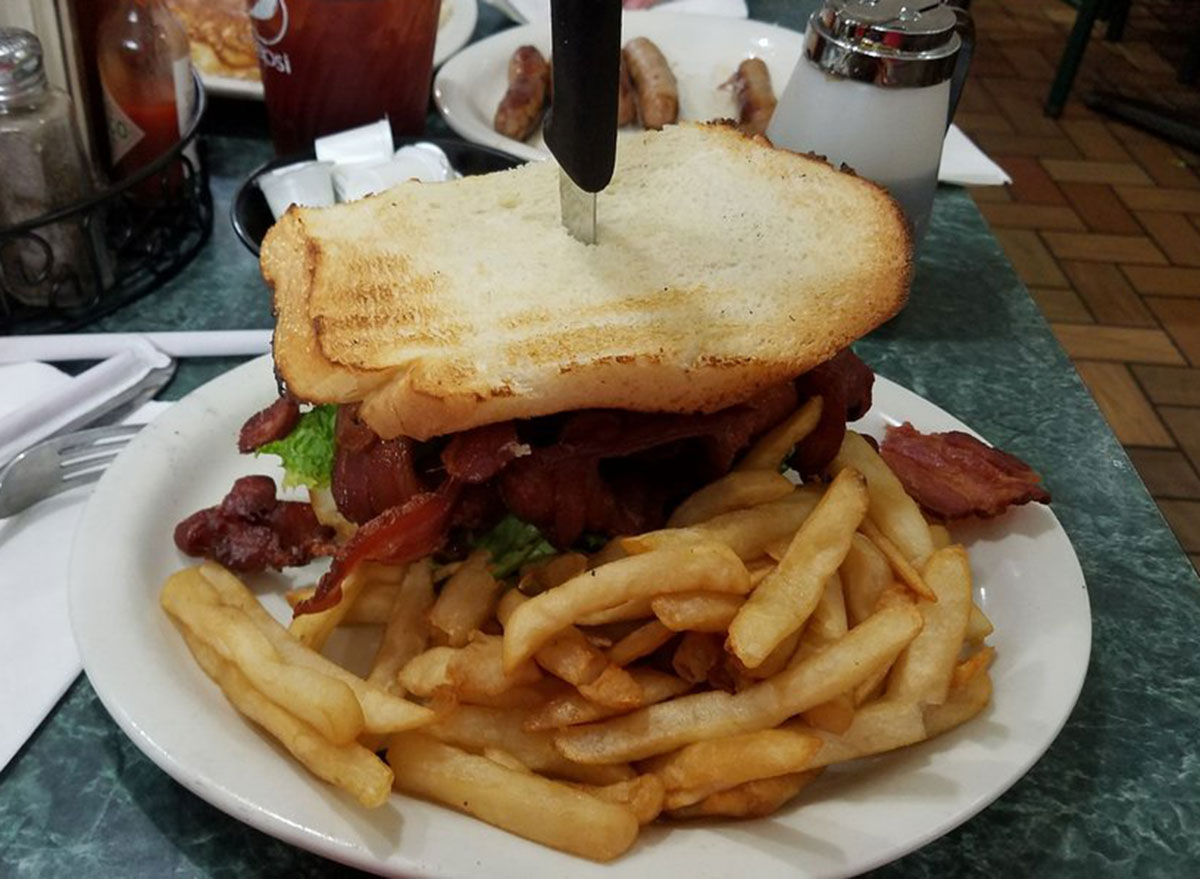 "Got Bacon?" is the slogan of Tony's I75 Restaurant. Spoiler alert: they do, and they use it to make the best BLT in the state. It's made with one pound of bacon (go big or go home, right?) and served on your choice of bread.
MINNESOTA: Colossal Cafe in St. Paul
Colossal Cafe prides itself on making the food from scratch. The BLT is a sight to behold, to say the least. Using the classic recipe, it would be an understatement to say that the thick cuts of both the tomatoes and the bacon are more than generous. On a chilly day, get a cup of soup on the side, and you're all set.
MISSISSIPPI: The Tomato Place in Vicksburg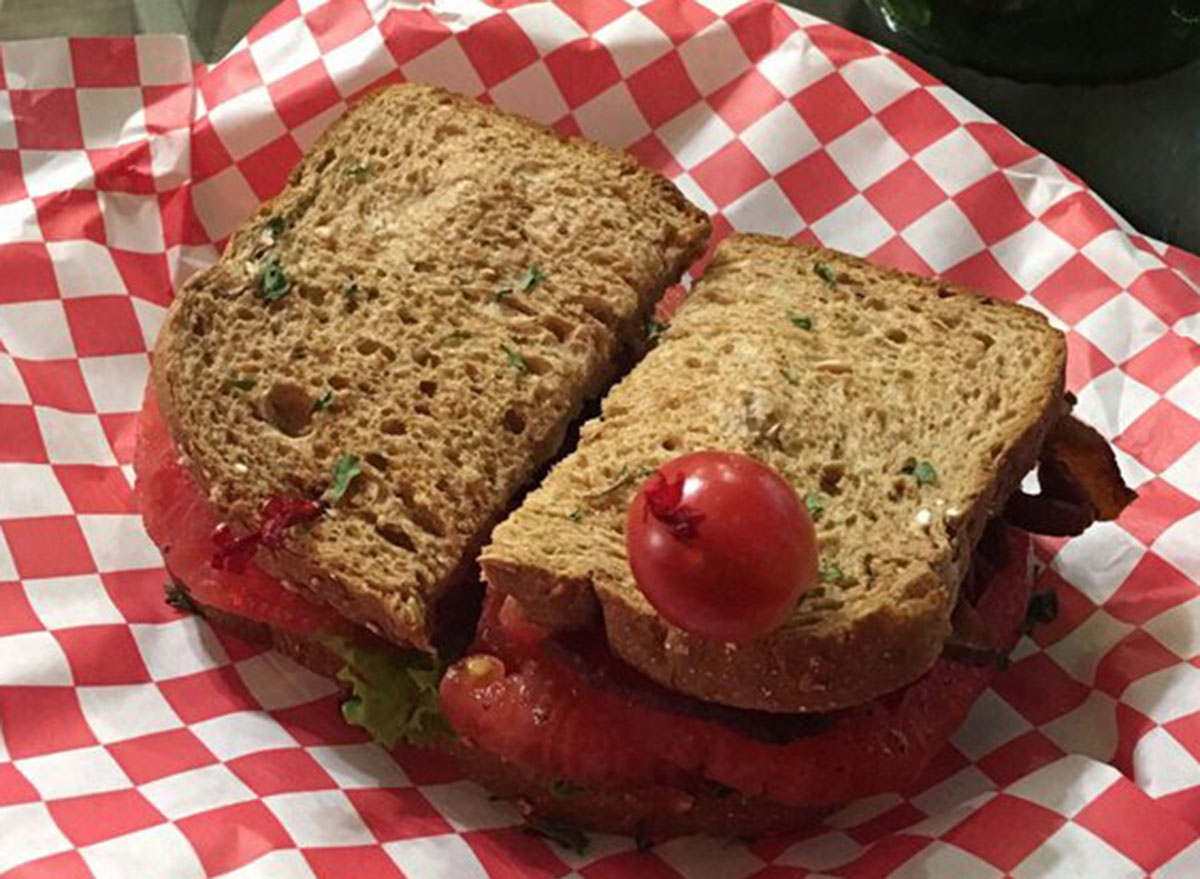 This quirky roadside eatery's signature specialty is the Fried Green Tomato BLT. There's also the BLT Po'Boy and the BLT Club Sandwich, and customers give rave reviews to every variety of BLT offered by The Tomato Place.
MISSOURI: Russell's on Macklind in St. Louis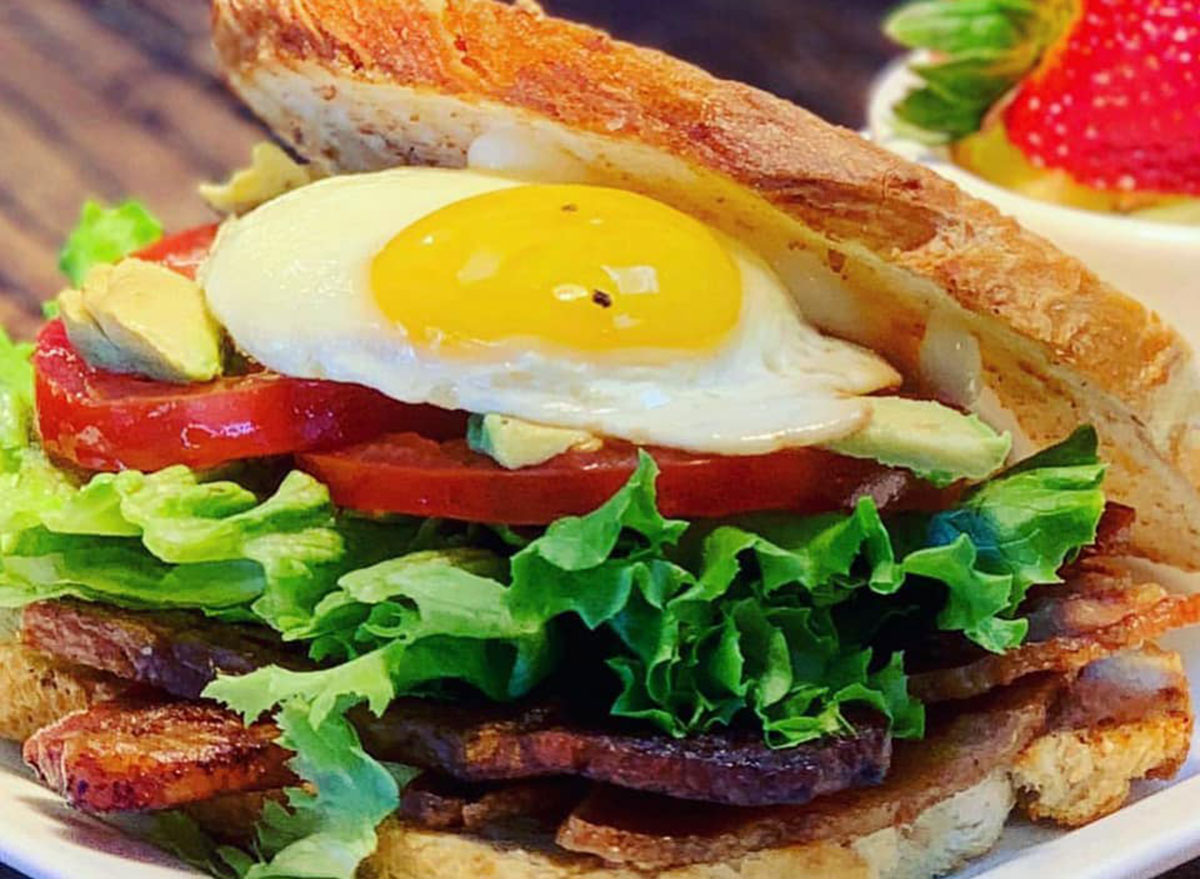 Russell's on Macklind takes the BLT very seriously. The bacon is cured and sliced in-house and caramelized with a light glaze of brown sugar. In addition to the classic BLT, the B.L.A.T.(E), made with a sunnyside-up egg, is a popular choice. Avocado fans will want to try the B.L.A.T., a classic BLT made with avocado.
MONTANA: Market on Front in Missoula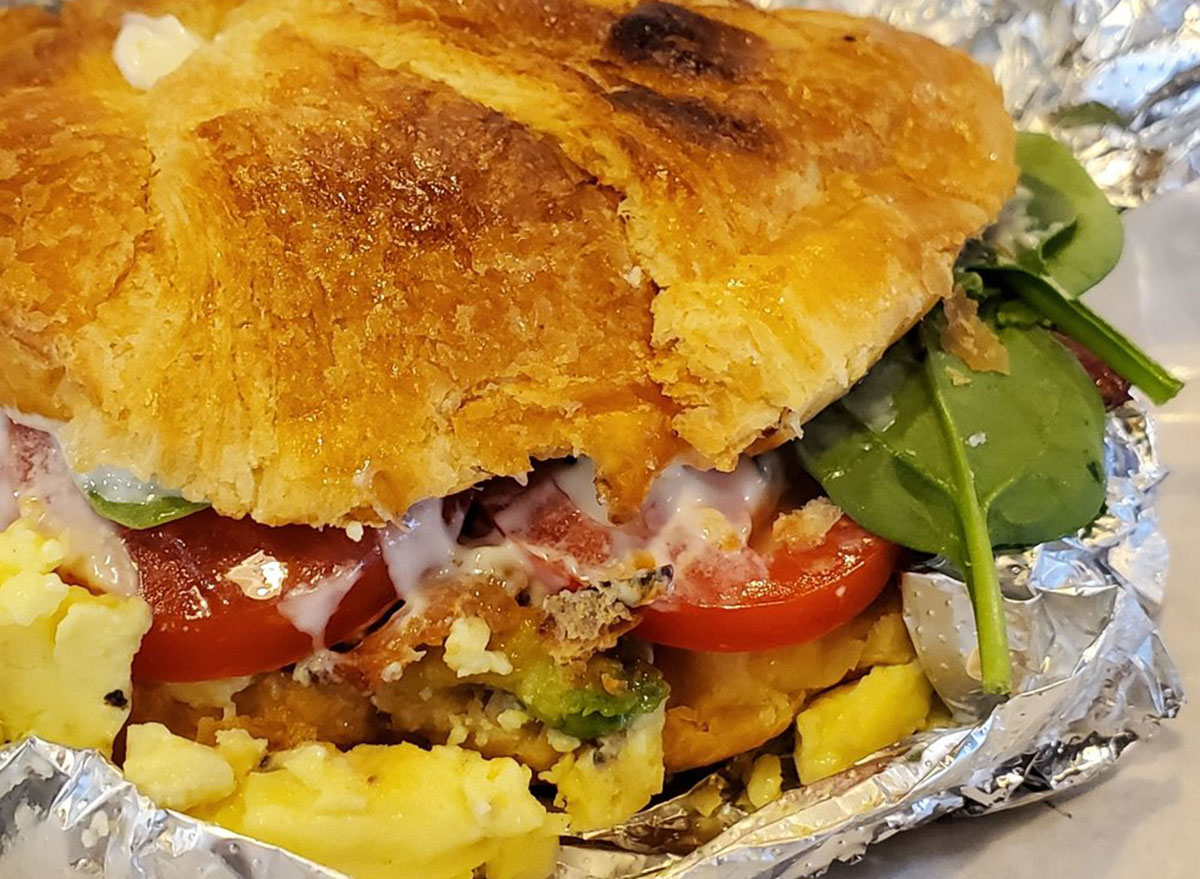 This urban market specializes in gourmet sandwiches, so it's no surprise you can get a mean BLT here. Market on Front's BLT is made with avocado, and vegans are in luck, too. There's also a vegan option that's made with—you guessed it—vegan bacon, Plant Perks Sriracha Cheddar, avocado, Roma tomatoes, spinach, and market-made veganaise.
NEBRASKA: Star Deli in Omaha
Star Deli doubles as an art gallery so you can enjoy the work of local artists as you eat your meal. Reviewers praise the deli for its sandwich selection and note that the BLT is a standout. "The sandwiches are always so good here. The BLT is especially great!" wrote one Ohama local.
NEVADA: The Goodwich Downtown in Las Vegas
When you're searching for a BLT in Sin City, look no further than The Goodwich. Like all the other sandwiches at this casual eatery, it's made from local ingredients. One bite of Goodwich's BLT and you're feasting on turkey and avocado that is served on a croissant. Yum!
NEW HAMPSHIRE: Squam Lake Marketplace in Holderness
This community staple offers a BLT that has been named the best in the state by New Hampshire Magazine. The sandwich is made the classic way: It's loaded up with local bacon and tomato served between hearty bread sliced.
NEW JERSEY: Cafe Peanut in Jersey City
Cafe Peanut describes itself as "a funky little place that is dedicated to quality." Customers love the fun, creative decor and, more importantly, the food.
"I had the turkey BLT and could taste the freshness of every ingredient," wrote one reviewer.
NEW MEXICO: 2 G's Bistro in Albuquerque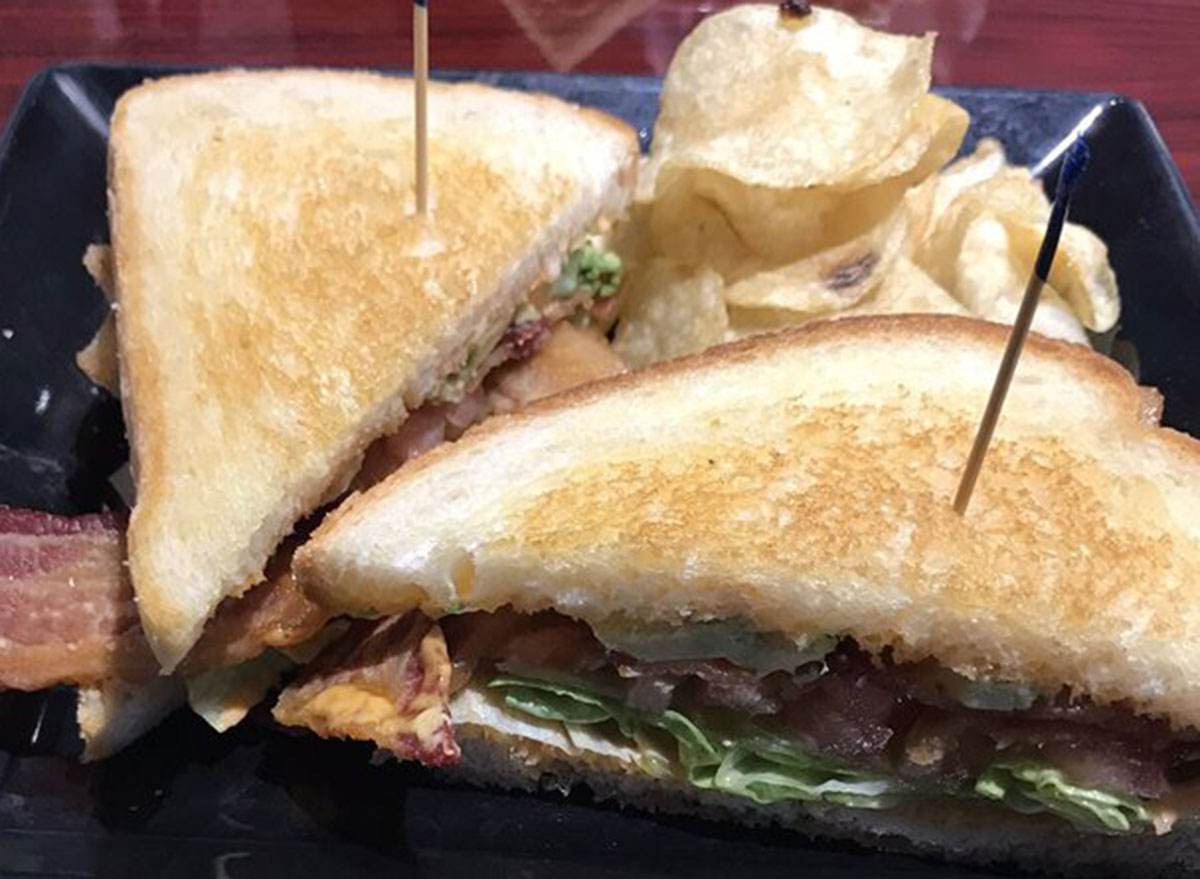 Both locals and tourists can't say enough good things about this "hidden gem" in Albuquerque. The consensus is that you can't go wrong with any sandwich at 2 G's, and the BLT (which you can get with or without avocado) is no exception.
NEW YORK: Sunny and Annie's Deli in New York City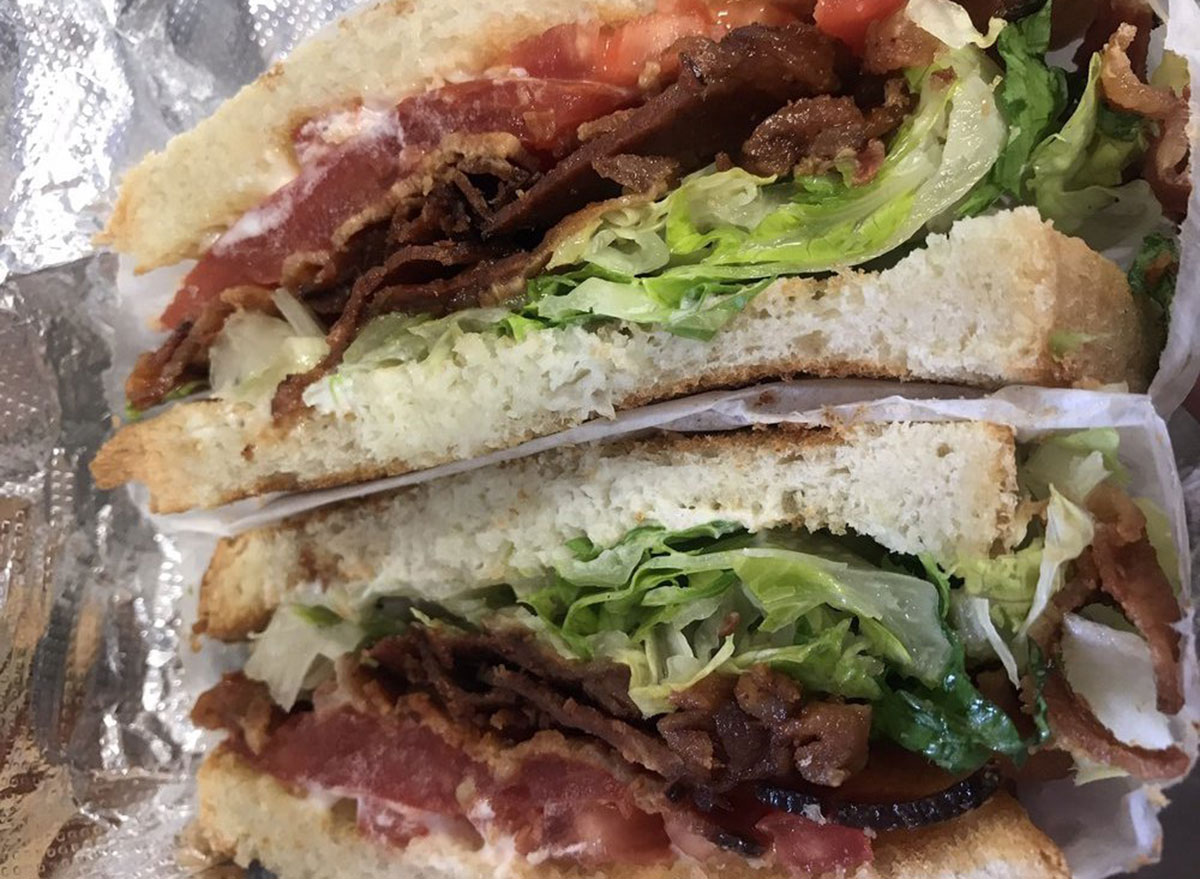 The best sandwiches in New York City can be found at bodegas like Sunny and Annie's Deli in the East Village. This deli, which is open 24 hours a day, has two BLT options. First, there's the "House Special BLT" wrap that contains sprouts, watercress, cheddar cheese, and avocado. But if you're looking for a good old-fashioned BLT, they have that, too—tomatoes, iceberg lettuce, and crispy bacon on toasted bread.
NORTH CAROLINA: Merritt's Grill in Chapel Hill
This hole-in-the-wall restaurant is best-known for its scrumptious BLT. Made on sourdough, it's piled with three helpings of bacon, crispy lettuce, and (of course) tomato.
"[I]t's literally the best thing since sliced bread," raved one reviewer, while another described it as "everything a delicious BLT should be… and more."
NORTH DAKOTA: Bonzer's Sandwich Pub in Grand Forks
When in North Dakota, head to Bonzer's Sandwich Pub for an affordable, delicious BLT. You can get the classic for $9, or the twist—a BLT with cheddar cheese on a croissant—for $10. A side of french onion soup truly completes the meal.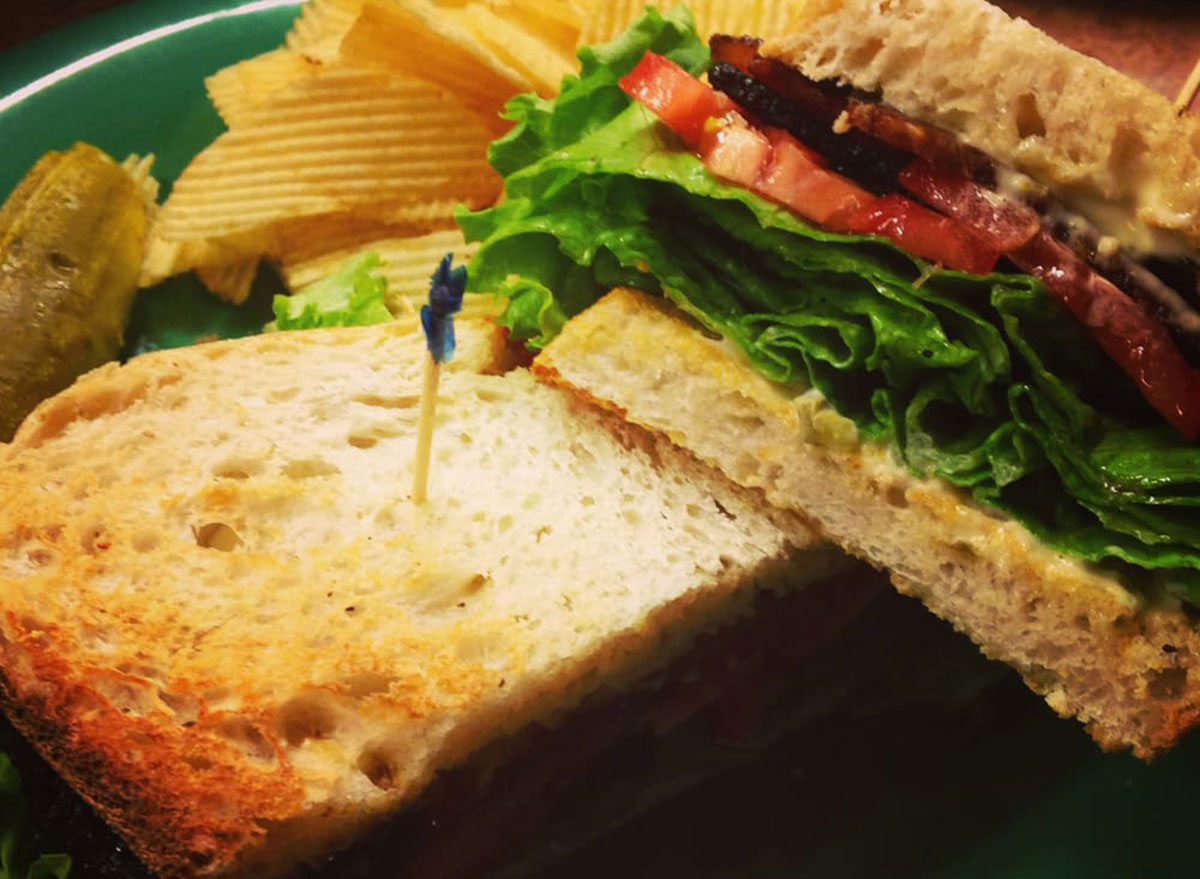 Grumpy's is a classic Toledo eatery that offers a delectable BLT with a spicy twist. The addition of jalapeño mayo makes this BLT a standout. Vegetarians will love the "ELT," which is made with eggplant instead of bacon. Based on the rave reviews, you definitely won't feel grumpy when you leave this eatery.
OKLAHOMA: Cheever's Cafe in Oklahoma City
This Oklahoma City cafe is best known for its amazing brunch, but you'll be seriously missing out if you don't stop by for lunch. Cheever's serves up a classic BLT with the addition of grilled corn aioli. You can also request to add smoked turkey, which one reviewer highly recommends, writing that it "belongs on the front cover of a food magazine."
OREGON: Meat Cheese Bread in Portland
This beloved Portland sandwich shop serves up delicious sandwiches on housemade bread. Reviewers describe the BLT as "delicious" and they also recommend trying the BLB, which is made from bacon, lettuce, and roasted beets. Yum!
PENNSYLVANIA: SANDWICH in Camp Hill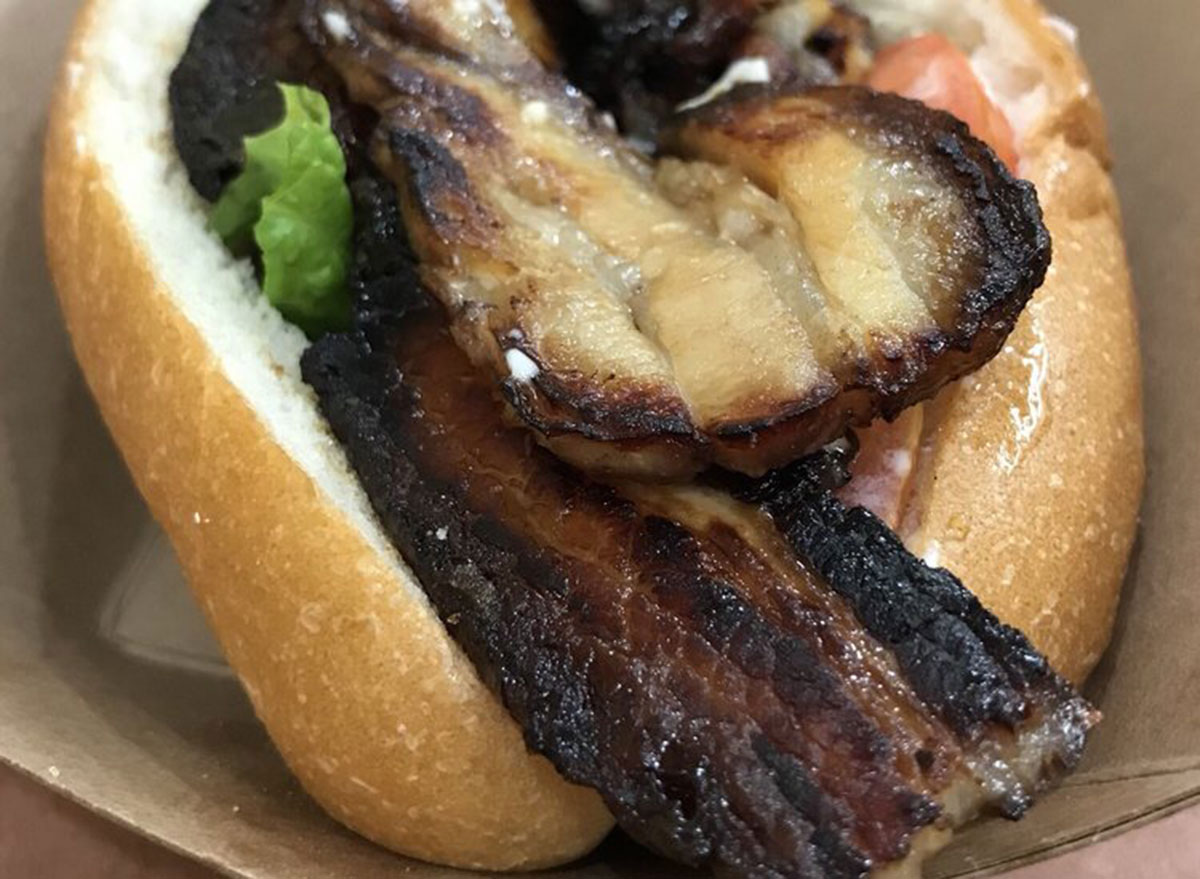 Specializing in gourmet sandwiches and subs, SANDWICH offers a number of BLT options. There's the Pork Belly BLT, the Chicken BLT, the Salmon BLT, and, of course, the classic. "The pork belly BLT changed my world," wrote one customer, while another promised that the Chicken BLT will "knock your socks off."
RHODE ISLAND: Ocean State Sandwich Company in Providence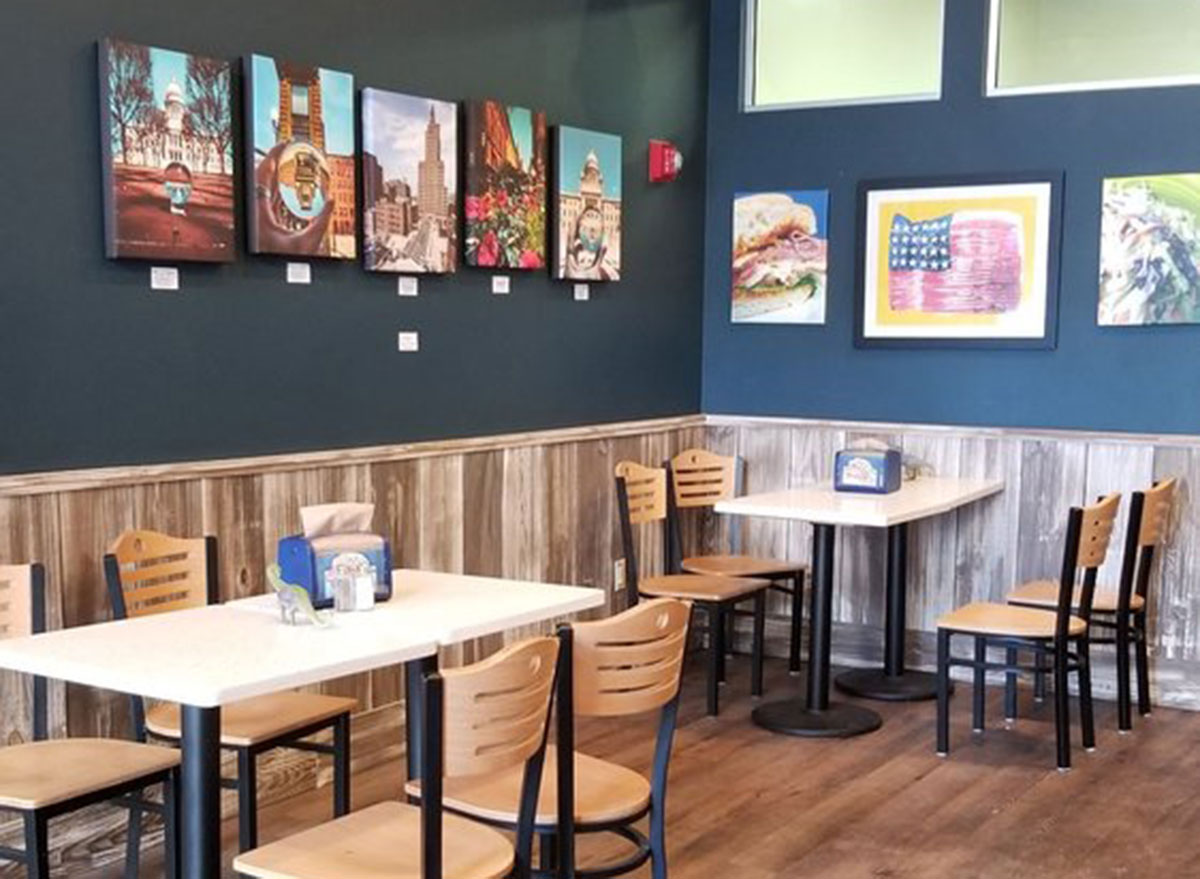 "When I want a sandwich, this is my go-to place," wrote a local reviewer. "[The] sandwiches are big and [the] prices are inexpensive."
You can't go wrong at Ocean State Sandwich Company, and this popular shop loves to whip up BLTs. If you're looking for the classic, order The Best BLT in Town—it lives up to its name. You can also order the BTLA (which comes with avocado), a BLT with turkey breast, and a BLT with turkey breast and avocado.
SOUTH CAROLINA: Ted's Butcherblock in Charleston
The BLT at Ted's Butcherblock has been named the very best BLT in the entire country by The Daily Meal. Customers concur, with one reviewer saying they "can't live without" Ted's Bacon of the Month BLT.
SOUTH DAKOTA: Lewie's Burgers and Brews in Lead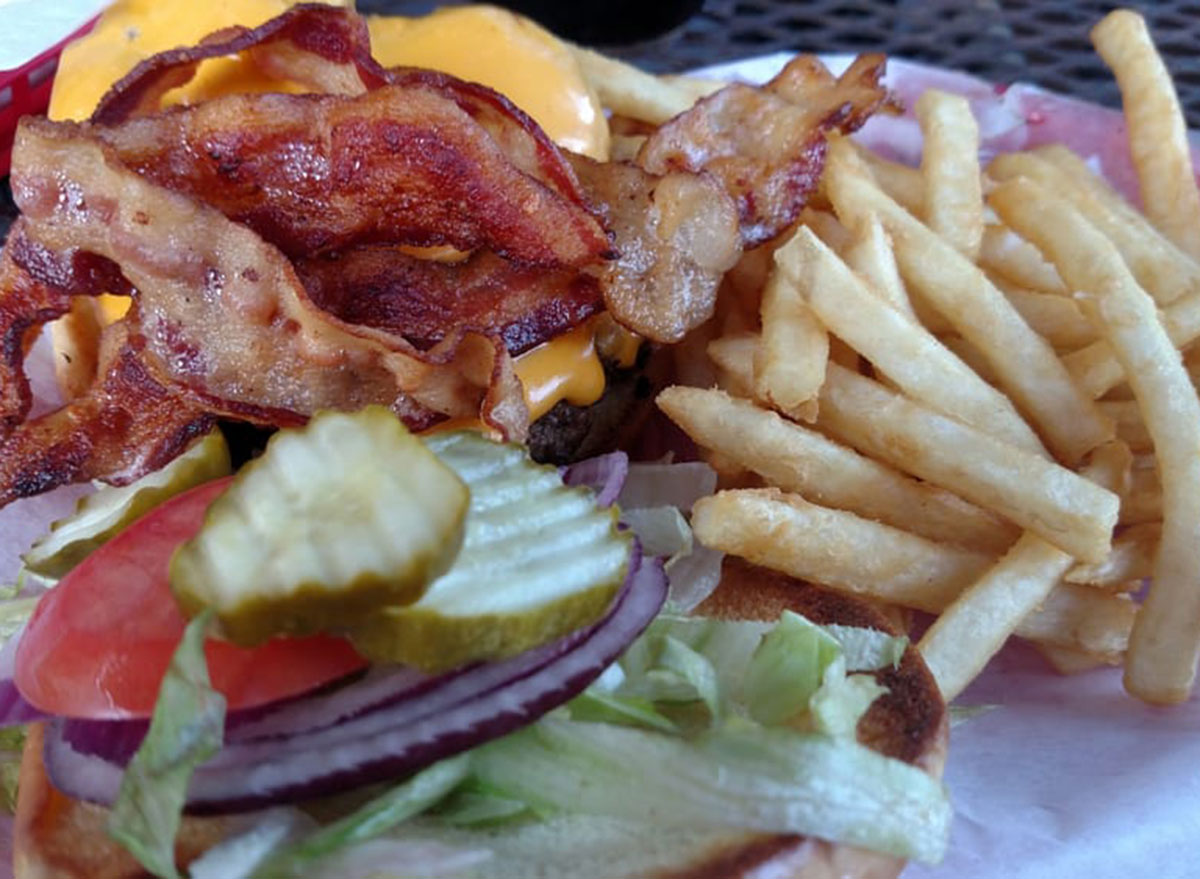 Lewie's may be best known for its burgers, but don't be afraid to branch out—specifically to the restaurant's classic BLT. Reviewers say it's an underrated item on the menu! Oh, and did we mention that this delicious sandwich costs a grand total of $5.25?
TENNESSEE: Puckett's Grocery & Restaurant in Nashville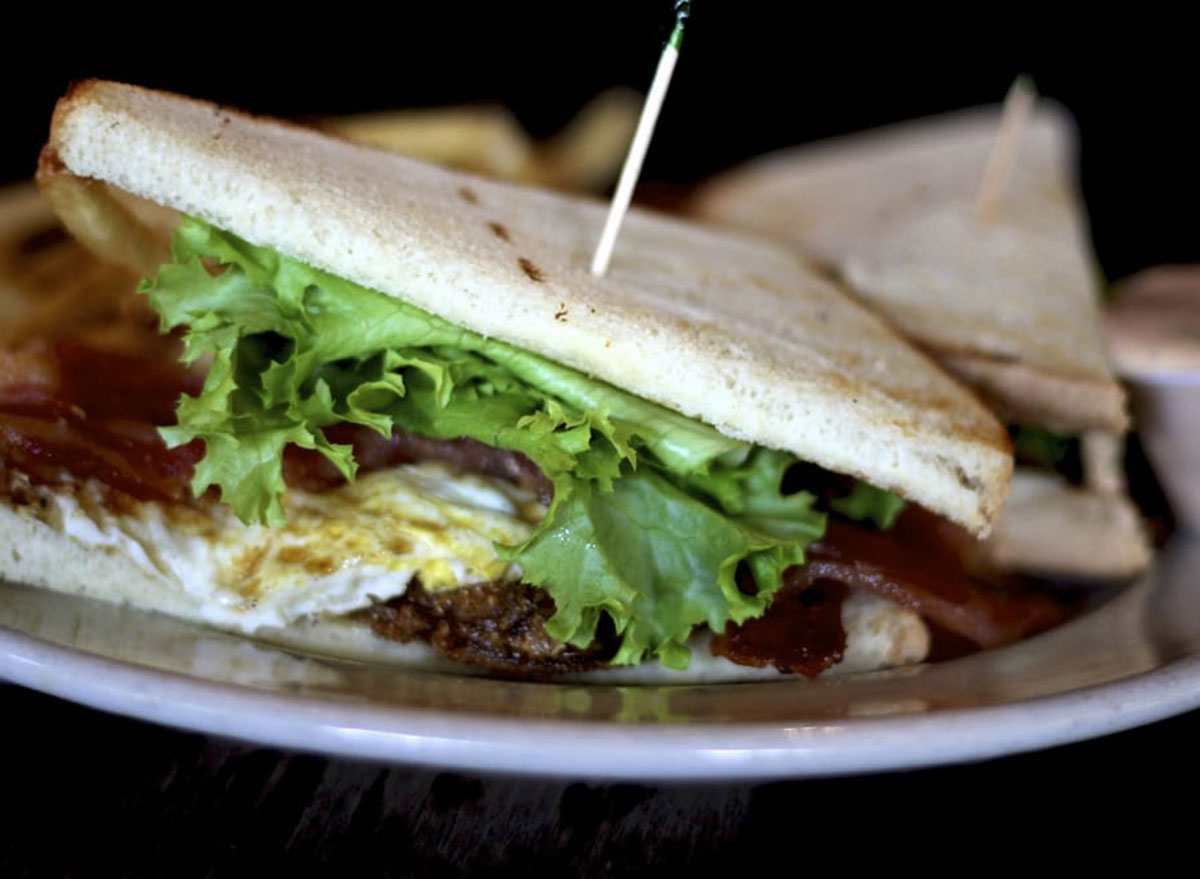 Nashville is the perfect place to try a fried green tomato BLT—and nowhere makes this specialty sandwich as well as Puckett's. Reviewers describe it as "incredible," "delectable," and "super tasty." The people have spoken!
TEXAS: Jack Allen's Kitchen Oak Hill in Austin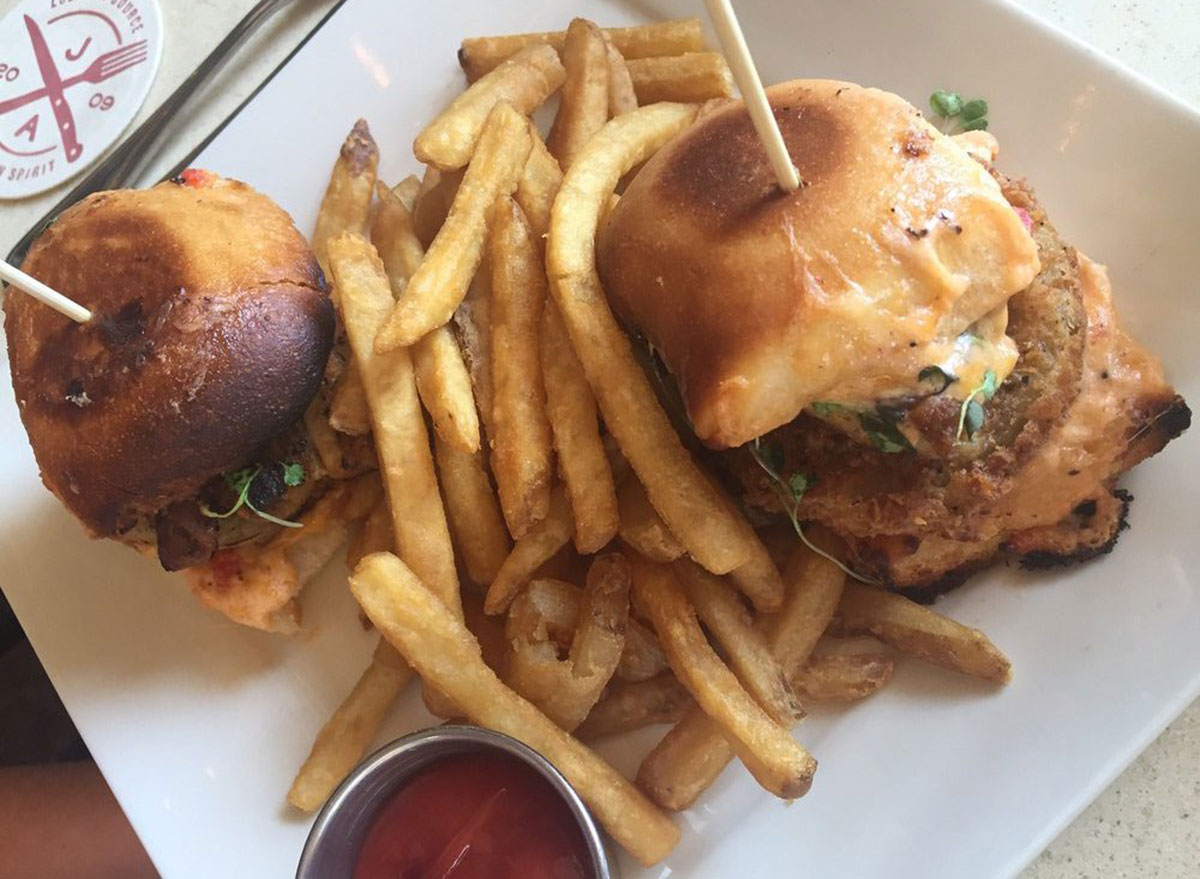 One of the most popular restaurants in Austin, Jack Allen's Kitchen has two tasty BLT options. One reviewer said they're "addicted to [the] BLT sliders" and several locals noted that they never tire of the Fried Green Tomato BLT.
UTAH: Grove Market and Deli in Salt Lake City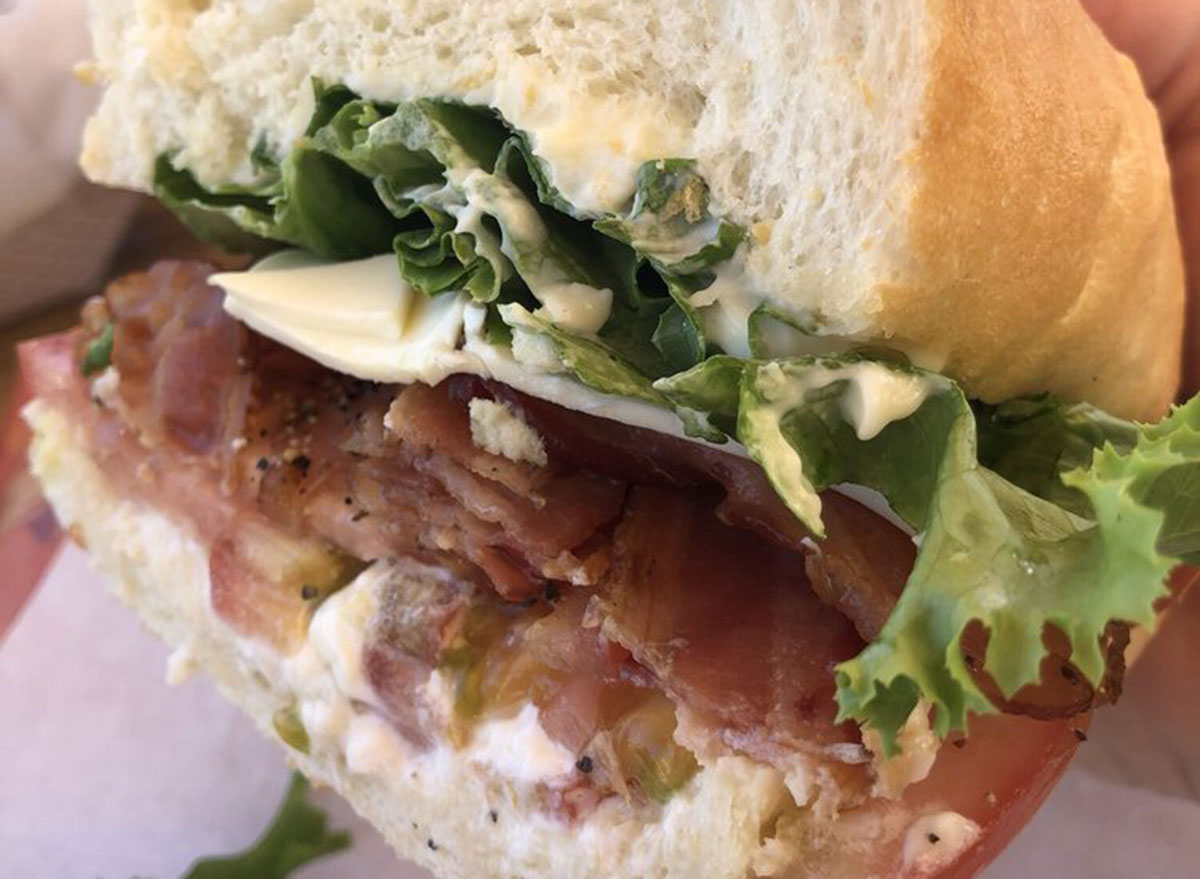 This Salt Lake City staple, which has been around since 1947, sticks with the tried and true classics like the BLT. Locals frequent Grove Market and describe their sandwiches as "inexpensive and delicious." What more could you ask for?
VERMONT: Leunig's Bistro in Burlington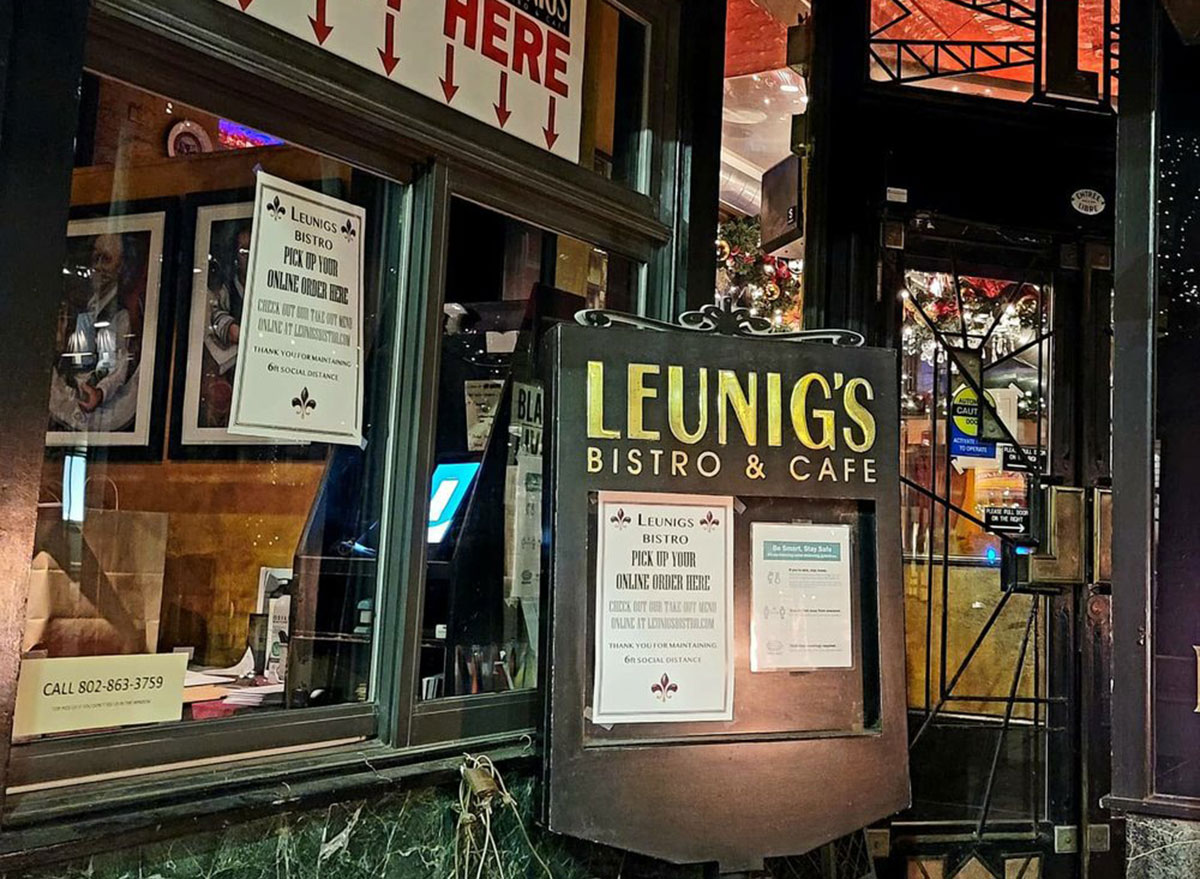 This popular upscale bistro is decorated in vintage glam style and prides itself on its atmosphere, so make sure to visit when you have time to sit down and enjoy a leisurely lunch.
Its twist on the BLT is both intriguing and mouthwatering. The Milanese Chicken & Pimento BLT is made from all-natural chicken breast, iceberg lettuce, North Country Applewood bacon, crispy pimento cheese, sliced tomatoes, green strawberry chow chow, and ranch aioli. And it's served up on toasted jalapeno cornbread. If you want to get really adventurous with your BLT, Leunig's Bistro is definitely where it's at.
VIRGINIA: Tad's Smokehouse & Deli in Virginia Beach
Located just steps away from the beach, this deli is known for its BLTs. The most popular is the classic option on sourdough. If you want to add any extra meat or fixings, just say the word and you can have the BLT of your dreams made for you.
WASHINGTON: Honeyhole Sandwiches in Seattle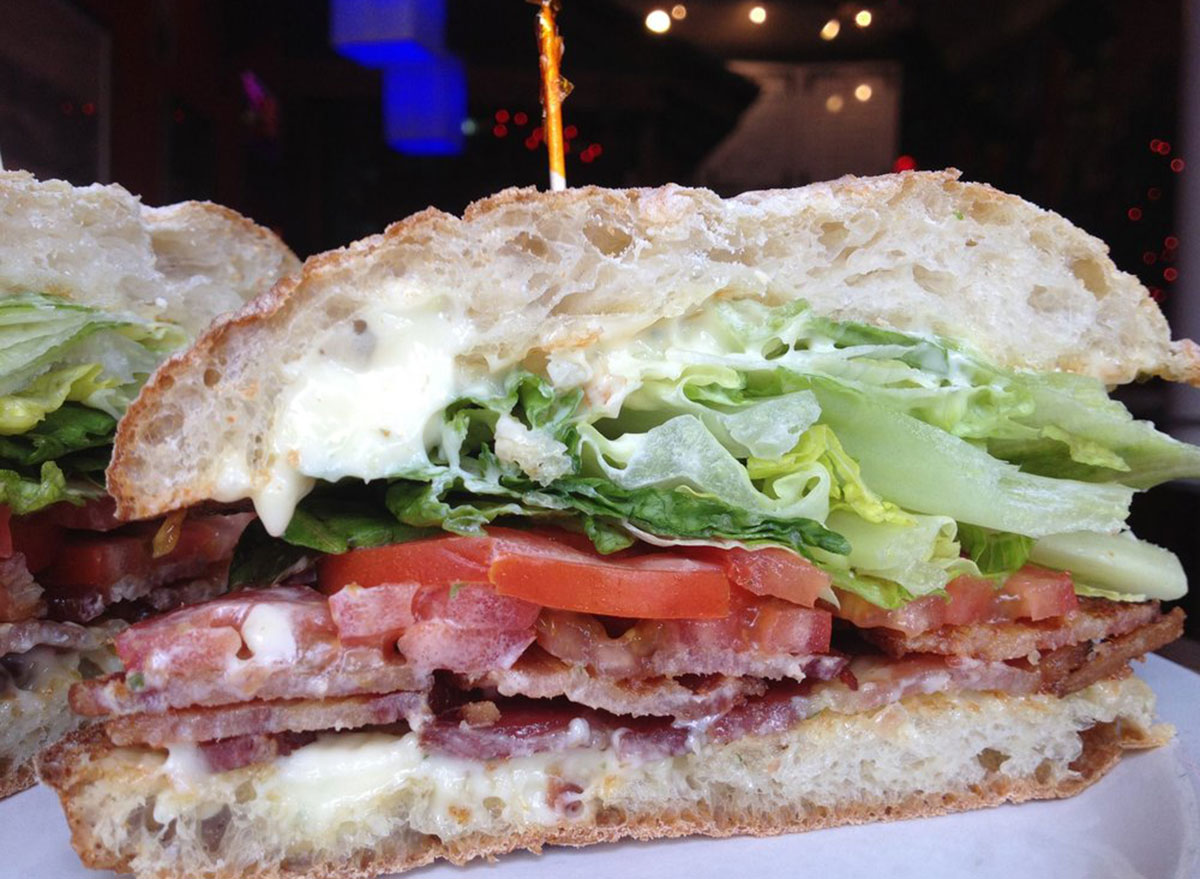 Honeyhole Sandwiches is widely regarded as the best sandwich shop in Washington state. The classic BLT is on the menu under the name "Built to Satisfy," but reviewers say the Veggie BLT actually steals the show.
"You wouldn't have guessed it wasn't real meat," wrote one customer, while another described it as "to die for." Even some meat eaters said they favor the vegetarian option.
WEST VIRGINIA: Stardust Cafe in Lewisburg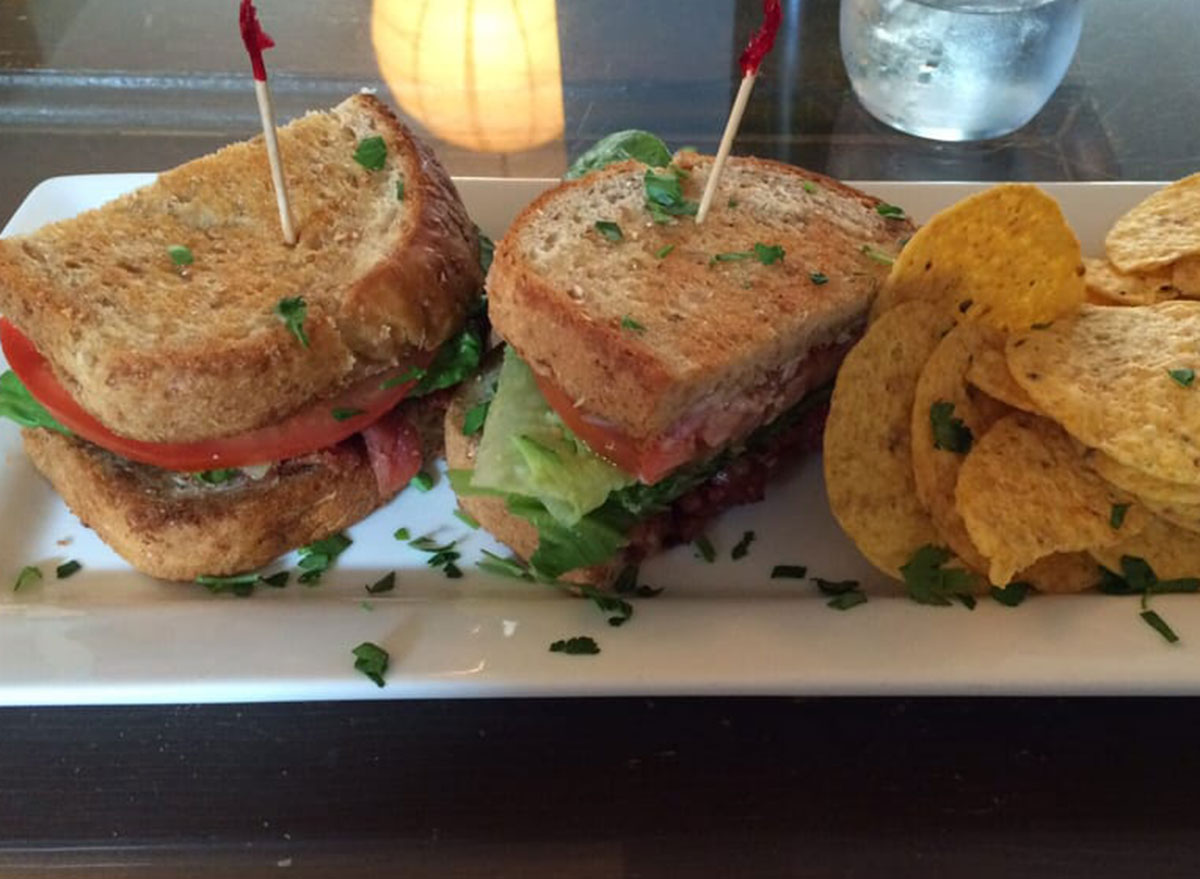 Stardust Cafe is another spot where you'll want to sit down and enjoy your BLT. The dining room is festive, fun, and designed to make you feel right at home. The Best Ever BLT is just $9, with the option of adding a fried local organic egg for $2. Reviewers describe it as "the best BLT" and credit the fresh, local ingredients for giving the sandwich such an amazing flavor.
WISCONSIN: Delta Diner in Mason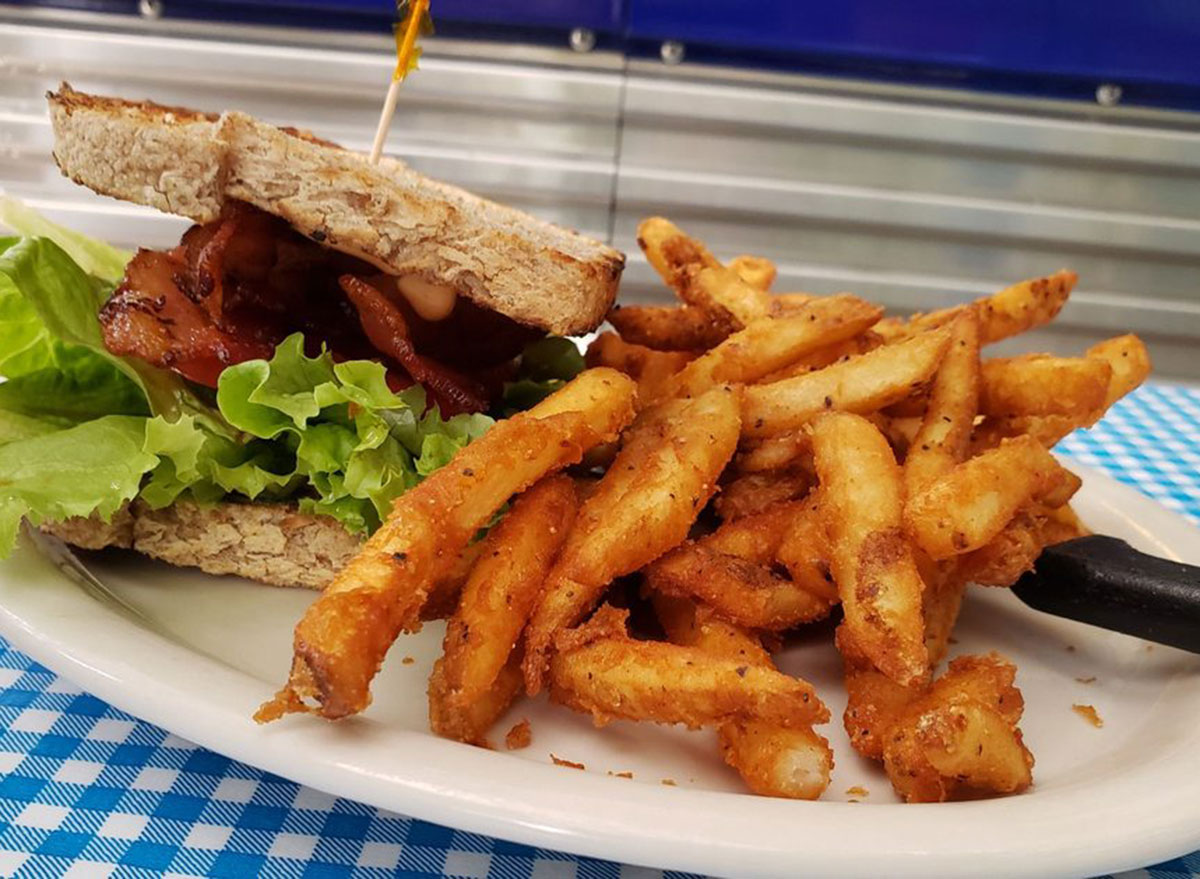 Featured on Diners, Drive-ins and Dives, Delta Diner attracts tourists in addition to locals. But regardless of where they're from, customers agree on one thing: the BLT is not to be missed.
WYOMING: The Breadboard in Riverton, Buffalo, Lander, and Cody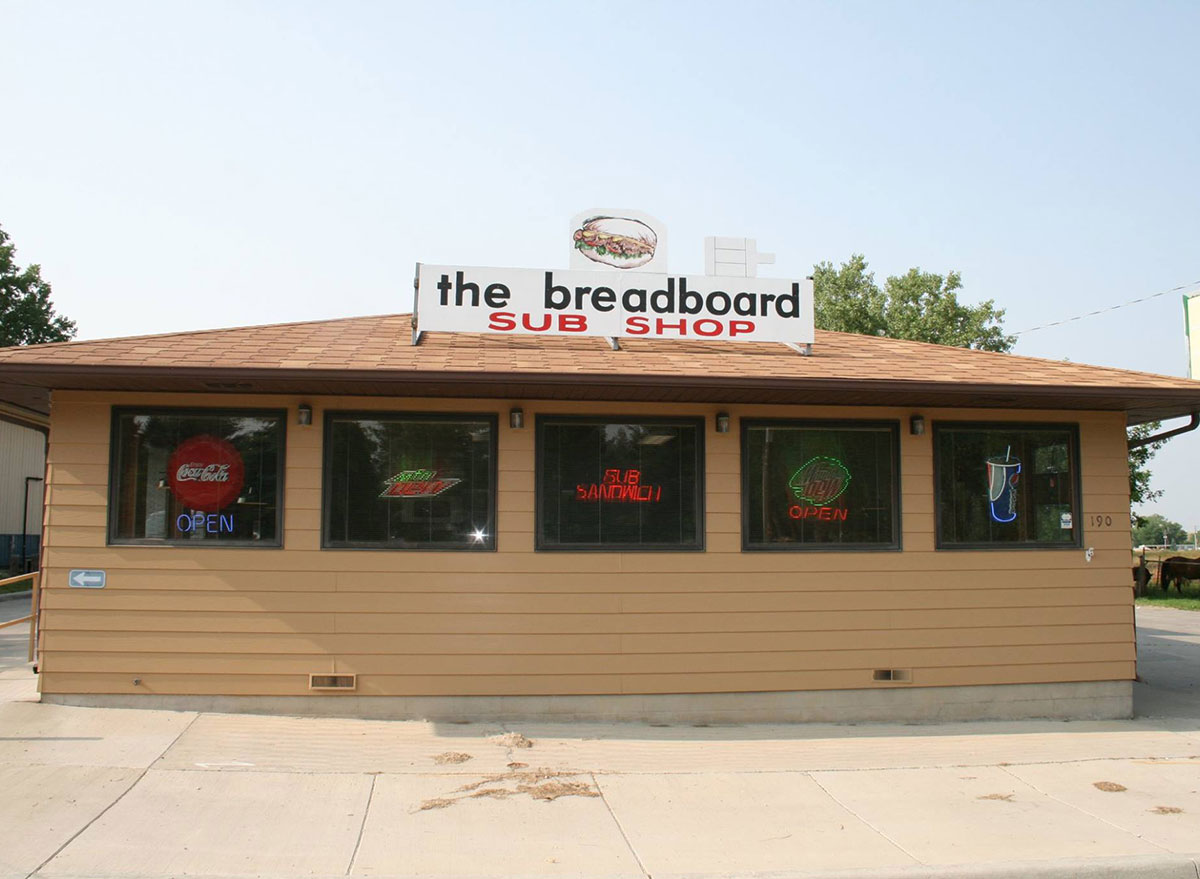 With multiple locations in Wyoming, locals agree that The Breadboard is home to the best sandwiches in the state—and a few tourists were so impressed that they described the sandwiches as "the best ever!" This restaurant keeps things simple and classic, so it's the perfect place to get a good old-fashioned BLT.
Caitlin Flynn
Caitlin Flynn is an award-winning writer and reporter who experienced early age corporate burnout in 2015 and traded New York City for the misty air and superior coffee of Seattle.
Read more about Caitlin