9 Restaurant Chains That Serve the Best Broccoli Cheddar Soup
Sink your spoon into one of the season's creamiest bowls of comfort at one of these popular chains.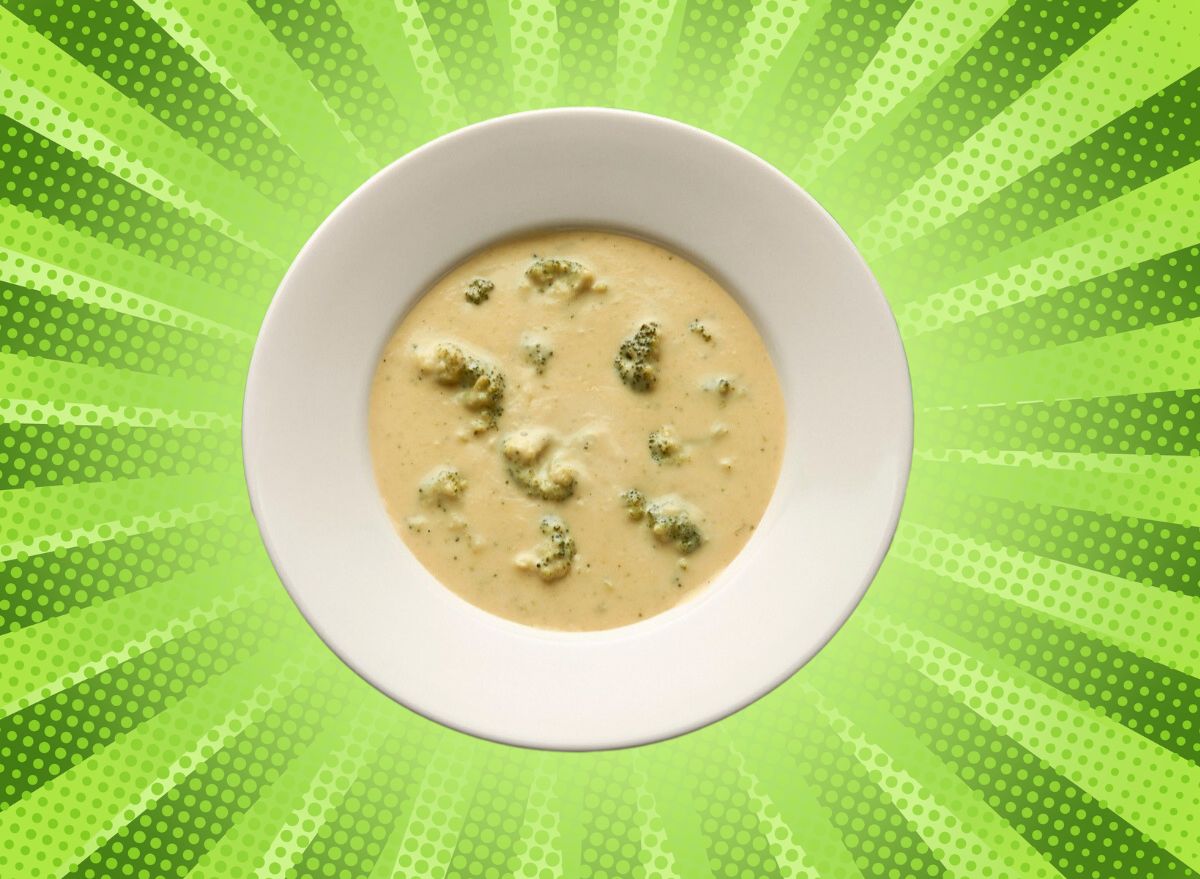 The product recommendations in this post are recommendations by the writer and/or expert(s) interviewed and do not contain affiliate links. Meaning: If you use these links to buy something, we will not earn a commission.
Sure, it's the season of the sticks. But, it's also the season of the soups. There's nothing quite like cozying up to a bowl or cup on a chilly day and instantly feeling warm and comforted. This soothing feeling, as well as the many different flavors and identities soup can take on, are what make the dish so highly sought-after this time of year.
Soup is also one of those meals that you can throw together at home fairly easily—and there are no shortage of recipes out there that will walk you through it. But, for those days when you don't feel like turning on the stove, there are also plenty of restaurants that serve up magic in a bowl for you to enjoy without the prep time or mess.
Grab a bowl of spicy chili at Outback Steakhouse, or chicken enchilada soup at Chili's. A savory crock of French onion can be found at Miller's Ale House or Mimi's Cafe. And, when you're feeling under the weather, you can head to eateries like Au Bon Pain or Noodles & Company for a cupful of nostalgic chicken and noodles.
But, where do you go to find a best-in-class broccoli and cheddar soup? It's a fan favorite, chock full of cream, cheese, tender broccoli, and sometimes carrots as well. It's certainly not the healthiest soup option out there. But, it warms the soul, and can also be very filling—especially when served in a fresh bread bowl or with a baguette on the side.
If your mouth is already watering, don't worry. It's time to grab a spoon and dive into the restaurant chains which are dishing out the tastiest versions of broccoli cheddar soup that will have you going back for a second serving.
Panera Bread
Per Serving (1 cup)
: 240 cal, 16 g fat (11 g saturated fat), 1060 mg sodium, 16 g carbs (1 g fiber, 6 g sugar), 8 g protein
The king of soups has plenty of spoonable options for customers to consider. And, while seasonal options such as Vegetarian Autumn Squash come and go, staples such as Bistro French Onion, Homestyle Chicken Noodle, and the idolized Broccoli Cheddar remain steadfast on the menu. Panera's version of the classic is like creamy liquid gold filled with thick pieces of chopped broccoli, shredded carrots, and select seasonings. A touch of Dijon mustard and pepper sauce are additionally included for extra flavor, and unfortunately for vegetarians, chicken base is also on the ingredient list. 
The soup has gained such popularity that not only has Panera transformed it into a Mac & Cheese, it also went so far as to turn it into a swimsuit collection—talk about cheesy!
You can find the coveted soup at one of over 2,000 Panera locations nationwide. It's even sold at retailers like Kroger in ready-to-heat plastic cups. 
Corner Bakery Cafe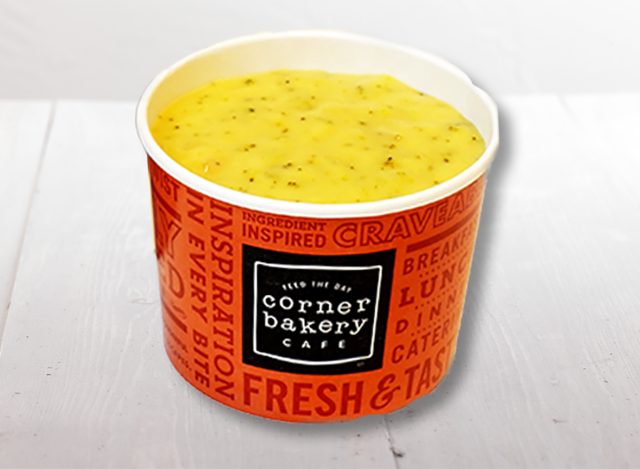 PER serving (1 CUP)
: 310 cal, 22 g fat (13 g saturated fat), 1550 mg sodium, 18 g carbs (1 g fiber, 5 g sugar), 11 g protein
Based on its name, this restaurant sounds like a quaint neighborhood mom-and-pop cafe. But, in reality, Corner Bakery actually boasts 105 locations nationwide, with the strongest presence in California, Texas, and Georgia. It serves fresh flavors from breakfast to dinner, and when it comes down to its soups, the Cheddar Broccoli is the star of the show. It's a tried-and-true blend of broccoli, heavy cream, and cheddar cheese, and it also happens to be vegetarian-friendly. 
After ordering a cupful in house, one customer on Tripadvisor wrote, "I enjoyed the soup so much that before my friend and I left, I had another cup." 
BJ's Brewhouse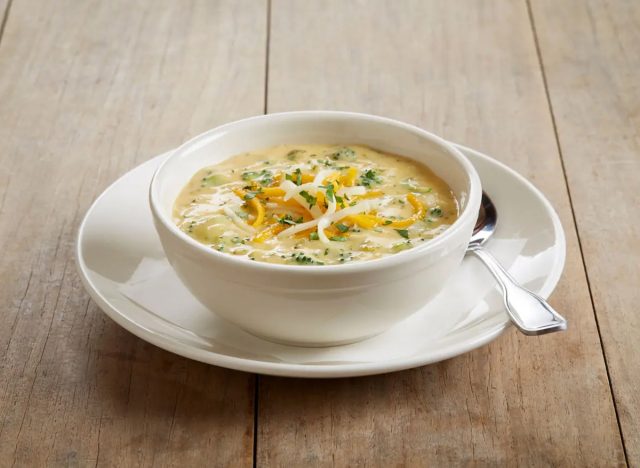 PER SERVING (1 CUP)
: 310 cal, 21 g fat (12 g saturated fat), 1195 mg sodium, 19 g carbs (1 g fiber, 4 g sugar), 12 g protein
BJ's menu is so large and diverse that it can actually be overwhelming. But, one order that will never steer you wrong is a hearty bowl of the restaurant's Broccoli Cheddar Soup, paired with the brew of your choice. The dish receives brownie points for being served with a sprinkling of both jack and cheddar cheese on top, as well as some parsley flakes to elevate its presentation. A bread bowl option is also available, giving the soup another automatic leg up.
In a review on TripAdvisor, one customer referred to the Broccoli Cheddar as "superb." And, in another, a fan posted a picture of the soup sitting in its iconic bread bowl with the caption, "The best cheddar & broccoli soup I've had in my life!"
McAlister's Deli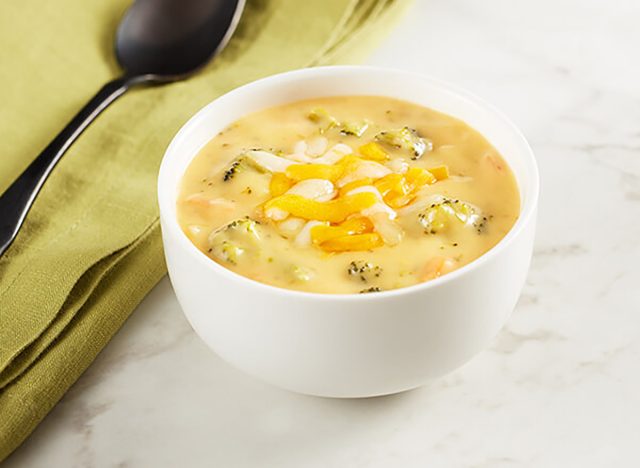 Per Serving (1 cup)
: 
290 cal, 19 g fat (10 g saturated fat), 1230 mg sodium, 23 g carbs (2 g fiber, 4 g sugar), 11 g protein
With over 500 locations across 28 states, McAlister's certainly makes a splash as one of America's largest fast-casual delis and sandwich shops. Its expansive menu covers classic sandwiches, wraps, fresh salads, loaded baked potatoes, and soups, including a Broccoli and Cheddar, which evidently rivals other top chains. After trying a cup for the first time, a food reviewer on TikTok announced it was "a pretty quick runner up or even better than Panera." The video also notes that the soup is both "thick" and "super cheesy," and one comment reads, "McAllister broccoli cheddar soup is always my go to!!!! So 🔥🔥" 
Available in either a cup or bowl, the soup has a rich chicken broth base with chunks of broccoli and both cheddar and Monterey jack cheeses mixed into it.
Zoup!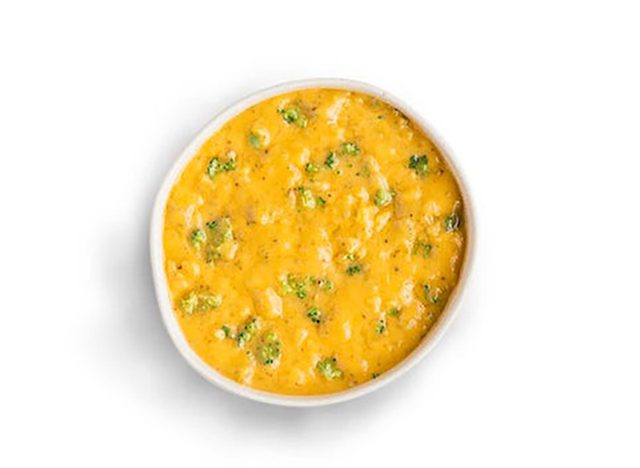 Per Serving (1 cup)
:
290 cal, 20 g fat (10 g saturated fat), 910 mg sodium, 15 g carbs (2 g fiber, 7 g sugar), 13 g protein
What better place to trust with a scrumptious soup than an eatery called Zoup!? Options are endless, including classics like French onion or classic tomato, more experimental choices like Jamaican Bay Gumbo and Lobster Bisque, and, of course, Broccoli Cheddar. Zoup's recipe for this familiar and nostalgic dish leans more towards the gourmet side, however, starting with a creamy vegetable soup and including garlic, celery, and onions in addition to broccoli, carrots, and mild cheddar cheese. It can be ordered in a cup, bowl, extra large bowl, or in a fresh-baked Bread Boule. 
"LOVE their soups, they really do taste homemade!" one reviewer on Tripadvisor wrote of Zoup. "I have tried several of their soups & liked them all especially the Broccoli Cheddar & Indian Lentil (spicy!)"
You can stop into one of Zoup's 56 U.S. locations, mostly in the Midwest, to try all of its soups out for yourself. You can even receive free samples!
Culver's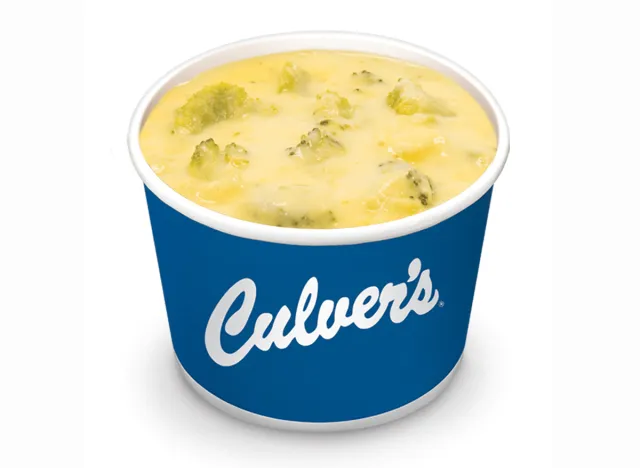 Per Serving (1 cup)
:
220 cal, 12 g fat (5.5 g saturated fat), 1160 mg sodium, 17 g carbs (1 g fiber, 9 g sugar), 10 g protein
Alongside your Butterburger and frozen custard shake, make sure to tack on a cup of broccoli cheese soup to your order the next time you're at Culver's. You won't regret it. It's a cream-based soup made with milk, butter, chicken fat, a blend of cheddar cheese, and tender broccoli florets. And, although it doesn't receive as much attention as the burger joint's Signature George's Chili, it's still quite beloved among the Culver's community.
On TikTok, one fan claims it is "the absolute best broccoli and cheddar soup" and pairs it with the chain's dunk-able thick-cut onion rings.
Quiznos
Per Serving (1 small cup)
:
120 cal, 8 g fat (5 g saturated fat), 760 mg sodium, 10 g carbs (1 g fiber, 3 g sugar), 4 g protein
If you haven't happened upon a Quiznos as of late, it likely has something to do with the chain's massive downsizing, which started around 2007 and resulted in the closing of over 4,000 storefronts. But, not to worry. There are about 150 locations still kicking here in the U.S., and they are all keeping with tradition by continuing to serve its beloved broccoli cheese soup—and, spoiler alert, it's as delicious as ever.
The soup is described as both creamy and cheesy, and includes broccoli and carrots. It's not quite "Mmmm…Toasty!" like Quiznos sub sandwiches but it is "Mmmm…Good!" In fact, it's so good that one user on Reddit started a thread to ask how to find it elsewhere beyond the restaurant. "Does anyone know where Quiznos gets their soup supplied from? My dad is crazy about the broccoli and cheddar one," the post reads. In the comments, fellow Quiznos customers threw out solutions or shared copycat recipes while others simply shared thoughts like "love that soup."
Jason's Deli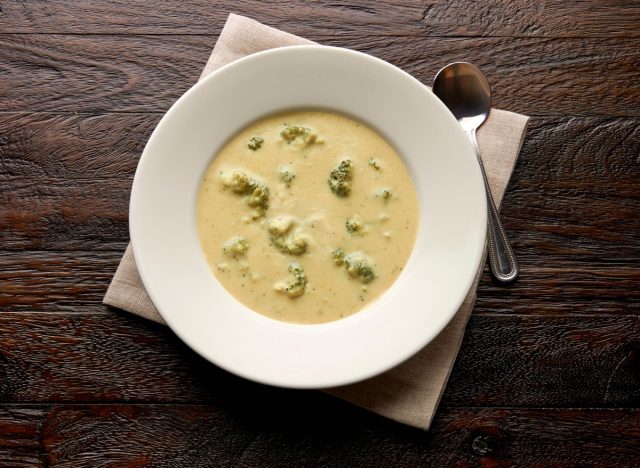 Per Serving (1 cup)
:
430 cal, 28 g fat (16 g saturated fat), 2180 mg sodium, 25 g carbs (3 g fiber, 7 g sugar), 18 g protein
Jason's is the ultimate deli with one of the largest medleys of salads, soups, rice and quinoa bowls, pastas, clubs, wraps, and paninis you've ever seen. You can also build your own sandwich with your choice of meat, bread, cheese, and spreads, and the restaurant even provides free ice cream to every dine-in guest—a sweet offering that everyone can enjoy. 
But, if it's possible, there's another item on the menu that customers might love even more than free dessert: the broccoli cheese soup. The secret sauce behind the soup is a combination of real melted cheese, sweet cream, whole fresh broccoli, and onions lightly sautéed in butter. And, fans cannot stop raving about it on social media. A comment on one of the chain's soup-inspired Facebook posts reads, "Broccoli and cheese. Good amount of broccoli, which I love." Yet another says, "The broccoli and cheese is the best. I won't eat anywhere else."
Potbelly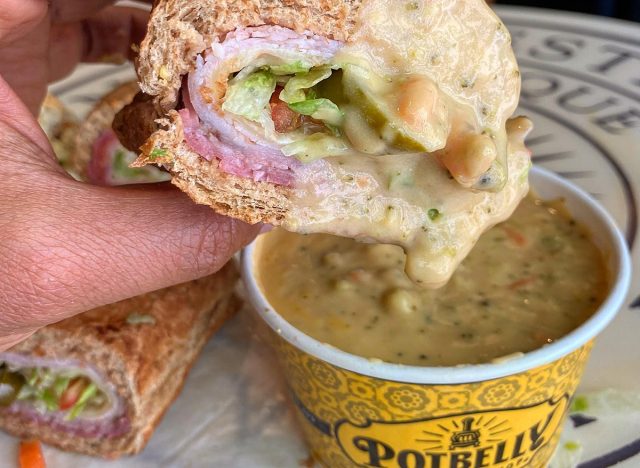 Per Serving (1 cup)
:
230 cal, 16 g fat (10 g saturated fat), 1000 mg sodium, 11 g carbs (1 g fiber, 3 g sugar), 8 g protein
Fill your belly with soup from Potbelly. Sure, the shop is best known for its toasty submarine sandwiches. But, a cup or bowl of broccoli cheddaris one of its most celebrated sides. The soup is often featured on the chain's Instagram page with a sandwich being dunked right into it. These videos and images receive nothing but positive feedback from hungry customers. On Twitter, the praise continues, with one fan stating, "I love Potbelly's broccoli and cheddar soup so much," and following it up with, "I've had it 4 times in the last 5 days."6254a4d1642c605c54bf1cab17d50f1e
The soup is made up of a creamy cheese broth with tender pieces of broccoli and carrots, both chopped very fine. Guests can also make it their own with recommended extras like crumbled bacon, cheese, onions, or even pot pie topping. Unfortunately, the soup is also served up with a sodium warning, taking up about 42% of your suggested daily intake. But, this broccoli cheddar soup is definitely worth its salt.