7 Restaurant Chains That Serve the Best Cake
From cheesecake to chocolate-loaded options, these restaurant chains have just the thing.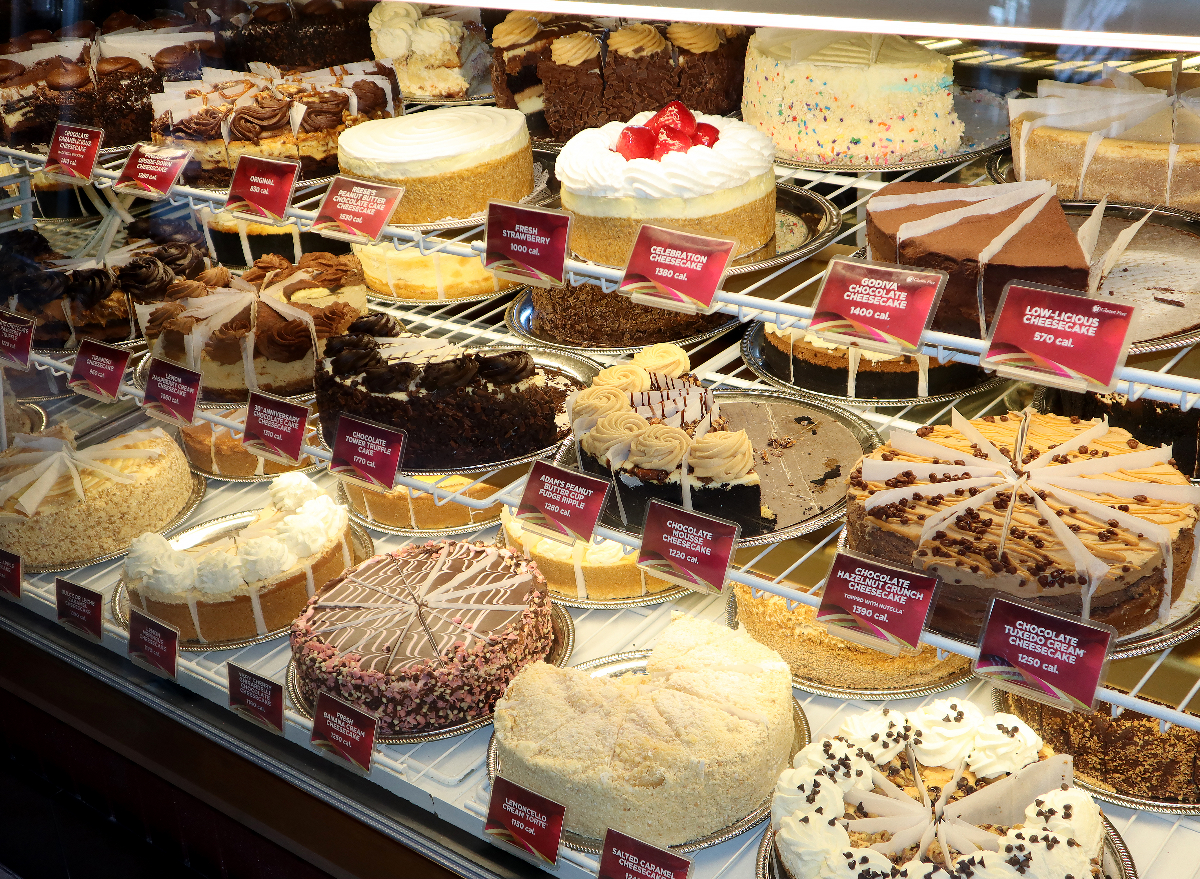 Outback is famous for its Bloomin' Onion. Chili's is known for its Baby Back Ribs. But among the well-known savory dishes at restaurant chains, you'll find several popular desserts that compel customers to indulge.
One key component of the most successful dessert menus is cake. Frequently associated with celebration, this classic confection can make any meal feel just a bit more special. Whether you're a chocolate lover or a cheesecake fanatic, there are multiple restaurant chains that can help you satisfy your sweet tooth by serving up some memorable desserts.
So next time a special occasion arises—or you're simply craving a decadent, moist sponge—consider swinging by one of these chains that offer the most enticing options.
The Cheesecake Factory
True to its name, this restaurant chain is known for its cheesecake. Its menu currently lists 33 varieties, ranging from options like Salted Caramel and Oreo Dream to fruity flavors like Mango Key Lime and Lemon Meringue.
According to The Cheesecake Factory, the Fresh Strawberry Cheesecake has been the most popular flavor for over 40 years. Like the Original, this dessert is made with a graham cracker crust and sour cream topping, but it incorporates additional sweetness by finishing the cake off with glazed fresh strawberries.
Chili's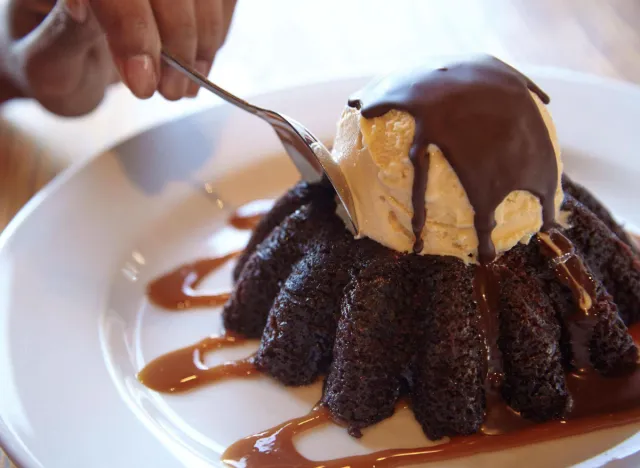 When someone mentions Chili's, so many images of finger-licking food come to mind. Perhaps it's a plate of sizzling fajitas, or their popular Baby Back Ribs. But if your mind drifts to sweets, you're likely envisioning the chain's most iconic dessert: the Molten Chocolate Cake. The decadent menu item features chocolate cake with a molten center, topped with vanilla ice cream in a chocolate shell.6254a4d1642c605c54bf1cab17d50f1e
Longhorn Steakhouse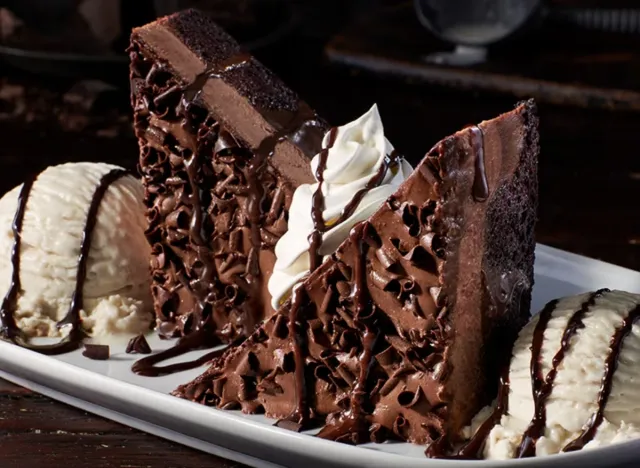 While Longhorn is best known for its steaks, the casual dining chain boasts a mouthwatering dessert menu with four different cakes. One of its most popular offerings is the Chocolate Stampede, which consists of a cake made with six different types of chocolate, paired with two scoops of vanilla bean ice cream, and drizzled with chocolate sauce.
Many fans rave about this chocolate-packed dessert and call it their favorite. One customer stated this is their birthday cake every year, calling the Chocolate Stampede "the best thing [they] ever tasted in the entire world."
Other cake options on the menu include the Strawberries & Cream Shortcake, Molten Lava Cake, and THE Cheesecake, which one Instagram user recently called "the ultimate cheesecake."
Outback Steakhouse
Another steakhouse with some tempting cake options is Australian-themed Outback. Over the last year, the restaurant chain introduced two new cakes. The most recent one was the Tim Tam Brownie Cake, which the chain unveiled in February. This is layered with chocolate brownie, peanut butter, and chocolate mousse and topped with caramel sauce and Tim Tam cookies. "It tastes like heaven," one person wrote on Instagram. "This was my birthday dinner dessert and it was absolutely fantastic," someone else wrote on Facebook.
Prior to this dessert launch, Outback introduced its Thunder & Lightning dessert in April 2022. This menu item pairs Outback's Chocolate Thunder from Down Under with its Butter Cake and fresh strawberries. Beyond these items, other desserts include Outback's Triple-Layer Carrot Cake and New York-Style Cheesecake.
Ruth's Chris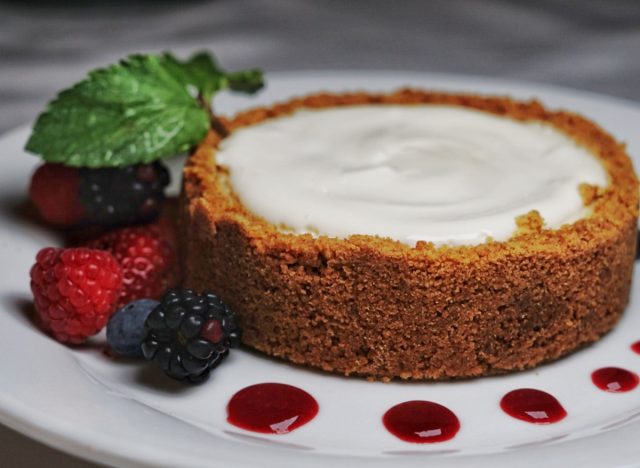 If you're looking for a more upscale dining experience, Ruth's Chris Steak House delivers. As noted on the restaurant chain's website, its handcrafted, house-prepared desserts "range from Louisiana French classics to indulgent new creations." Two of these options are the cheesecake, which is served with fresh berries and mint, and the Chocolate Sin Cake, which features a chocolate flourless cake with chocolate ganache and raspberry sauce.
Carrabba's Italian Grill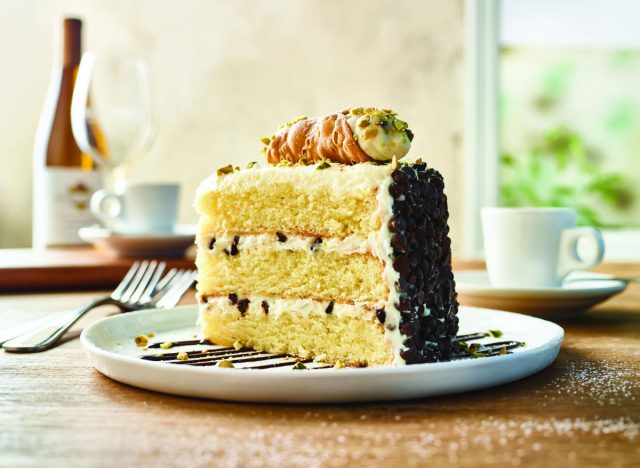 This Italian-American restaurant chain offers a variety of dessert options. Carrabba's dessert menu is home to both cheesecake and chocolate cakes. Their Strawberry Cheesecake consists of a creamy New York-style cheesecake topped with strawberry purée, while the popular Sogno di Cioccolata stars a fudge brownie with chocolate mousse, whipped cream, and homemade chocolate sauce.
Additionally, if you're a cannoli fan, Carrabba's transforms the classic Italian dessert into a cake by layering vanilla cake with cannoli filling, pistachios, and chocolate sauce. For some extra pizzazz, the cake is crusted in chocolate chips and topped with a cannoli.
Red Lobster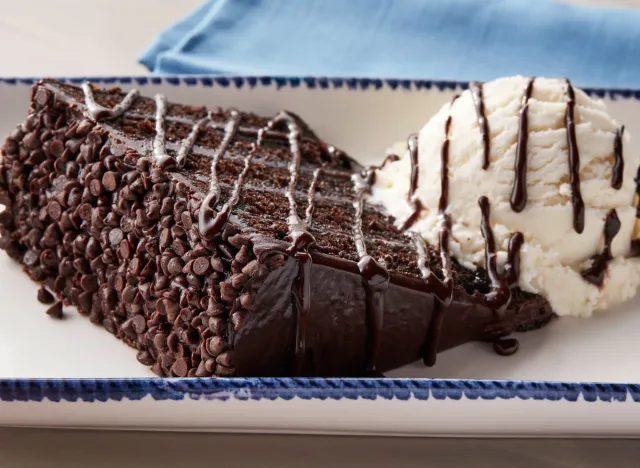 After you're done feasting on Cheddar Bay Biscuits, coconut shrimp, and lobster, you can round out your dining experience at Red Lobster with a choice of three cakes. For the chocolate fans, there's the Chocolate Wave, which is a chocolate layer cake served with vanilla ice cream and chocolate sauce.
Then, for the cheesecake enthusiasts, there are two choices. The first is the Vanilla Bean Cheesecake, which starts with a vanilla cookie crust layered with sweet Italian cream, vanilla bean-infused whipped cream, and white chocolate shavings. There's also the new Strawberry Cheesecake, which takes the elements of the Vanilla Bean Cheesecake and elevates it by adding a fresh strawberry topping and whipped cream.
Brianna Ruback
Brianna is a staff writer at Eat This, Not That! She attended Ithaca College, where she graduated with a degree in Journalism and a minor in Communication Studies.
Read more about Brianna