8 Chains That Serve the Best Chocolate Ice Cream
If you prefer chocolate over vanilla, here's where you need to go for a scoop.
When it comes to ice cream while people like all different flavors, nearly everyone has a favorite when it comes to choosing between the two big ones: vanilla and chocolate. When survey company YouGov.com asked 1,000 people about their favorite flavors vanilla won with 59% of the vote but over half (51%) liked chocolate as well. In terms of absolute favorite flavor, 11% chose vanilla and 10% went for chocolate. Interestingly, the favorite flavors varied regionally with people living in the Northeast professing a bigger love of chocolate.
Wherever you live, if you're a chocolate ice cream fan, you're in luck, because unless you live in a very remote part of the country, you're probably within a short drive of many places offering the sweet treat right now. Plus, all of the chains on this list offer just that: real ice cream.
While there's nothing wrong with soft-serve or frozen yogurt, these chains all serve a dessert that meets the FDA standards to be called ice cream or frozen custard. (In case you don't know, frozen custard is ice cream that includes egg yolks.)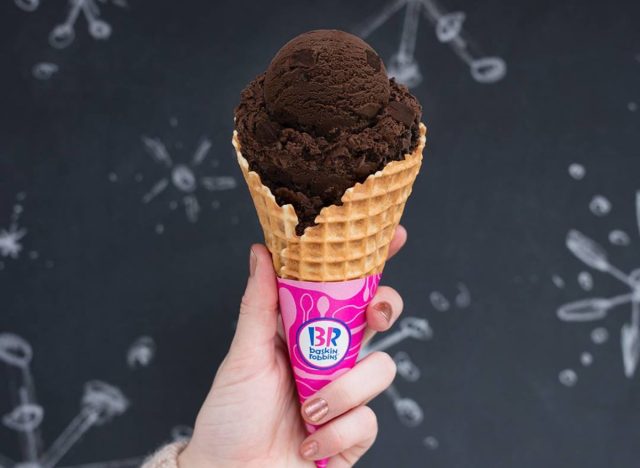 When Baskin Robbins first opened in the early 1950s, it was novel for an ice cream parlor to offer so many flavors, and 31 different flavors being available at the same time? That was truly a surprise. What wasn't a surprise was that chocolate was among the original lineup, per the LA Times.
In fact, there were multiple chocolate flavors offered, including Chocolate Fudge, Chocolate Mint, and Chocolate Almond.
Today, Baskin Robbins reports having churned out 1,400 different flavors over the years, and the ice cream menus at locations change regularly. But you can always find chocolate available.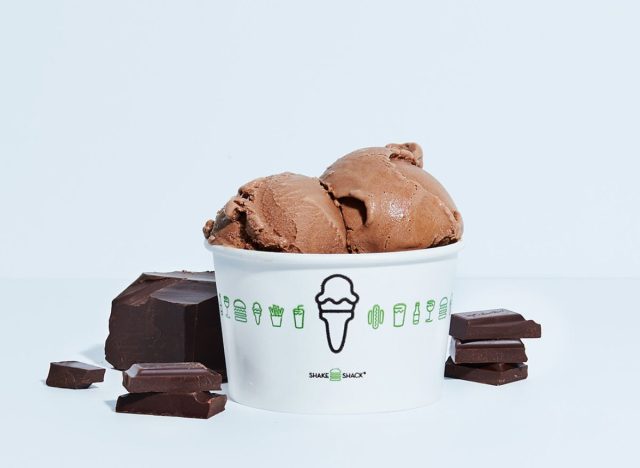 According to its website, Shake Shack offers frozen custard that is made in-house every day. The chain offers two flavors only: vanilla and chocolate. And according to Shake Shack fans, the latter is sublime. Especially when used in the chain's namesake milkshakes.
A food writer with Insider, who had the plum assignment of tasting every milkshake at Shake Shack, loved almost everything he tried, including the chocolate shake. His overall favorite was actually a blend of vanilla and chocolate ice cream, explaining: "The shake was the perfect mix of both flavors."
Also, note that at many Shake Shack locations, you can now get a non-dairy chocolate frozen custard so people who avoid lactose need not miss out.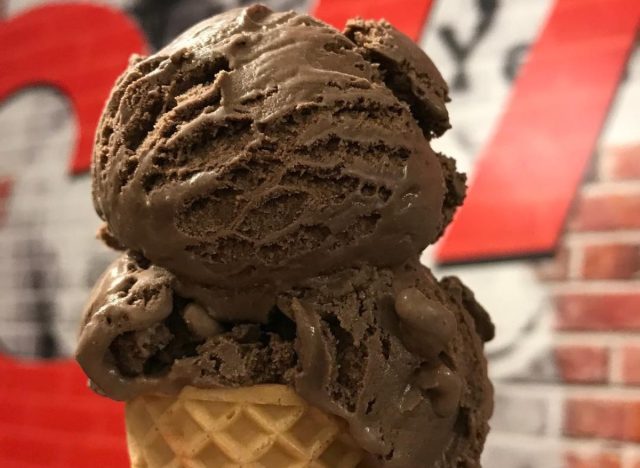 The first Friendly's opened up in Springfield, Mass. in the year 1935, and it wasn't the full-service restaurant you know today, it was simply an ice cream shop. But it only took five years for the founders to start offering food, as well, and soon the chain was expanding across the country as a hybrid diner/ice cream spot that would boast well over 500 locations.
Flash forward nearly nine decades and today there are only 119 Friendly's locations left, per ScrapeHero, but at those locations you can still get breakfast, lunch, and dinner—and a lot of great ice cream.
Among the many flavors Friendly's offers—there are 20 on the menu at last check—you can get not one but two different chocolate flavors, those being chocolate and Forbidden Chocolate which is a dark chocolate ice cream that's a bit less sweet than the classic.
Freddy's Frozen Custard & Steakburgers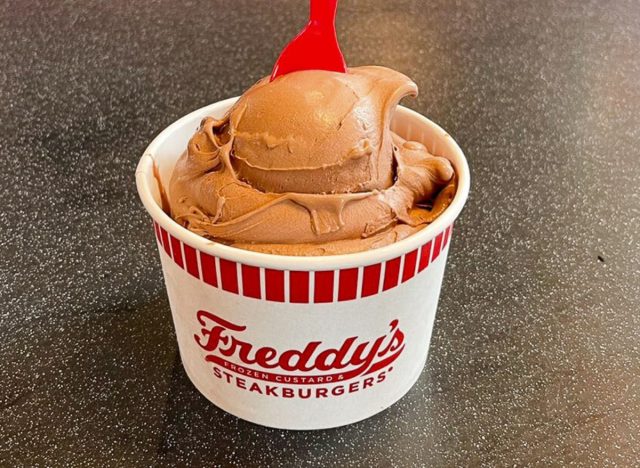 With a name like Freddy's Frozen Custard & Steakburgers, you'd expect Freddy's to offer at least two things, namely steak burgers and frozen custard. It delivers on serving perfect examples of both.
In terms of custard, Freddy's matches Shake Shack by offering only chocolate and vanilla. However, the creamy treat, which is churned in-house all day, can be mixed into concretes—which are like Dairy Queen's Blizzards—made into shakes or served as sundaes.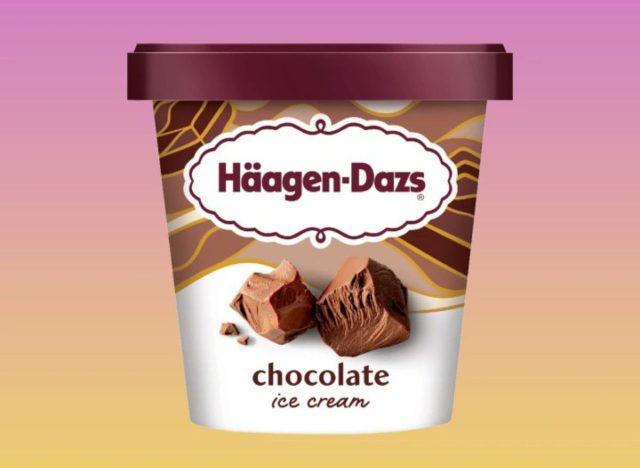 Haagen Dazs makes delicious super-premium ice cream whether you get it at the grocery store in a tub or get it scooped fresh at a shop. While the flavors served at the shops vary, if you're lucky enough to live near one you can choose from a few different kinds of chocolate ice cream.
Classic chocolate is made from just five simple ingredients that nearly everyone can pronounce: cream, milk, sugar, cocoa, and egg yolks. Double Belgian Chocolate Chip, Midnight Cookies & Cream, and Rocky Road also have a base of chocolate with some fun mix-ins. Plus, you can turn these flavors into fudge-or caramel-topped sundaes or fantastic shakes.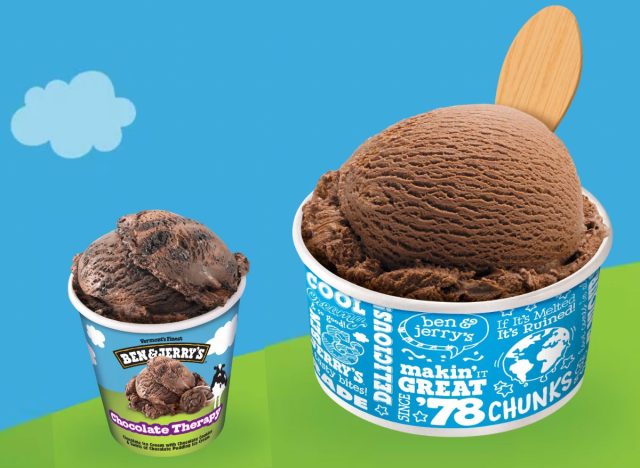 Like Baskin Robbins, Ben & Jerry's has introduced a lot of flavors over the years. Currently, Ben & Jerry's has nearly 100 flavors in rotation at present (not all are available at all locations, of course). If you're wondering if your favorite is still around you can find dozens of retired flavors in the "Flavor Graveyard" list.
One flavor that's never headed to the Flavor Graveyard is chocolate, and fans of the Vermont-based brand are thankful for that. But do yourself a favor, if you're a chocolate loved try Ben & Jerry's Chocolate Therapy. This chocolate overload is a mix of chocolate cookies and chocolate pudding in classic chocolate. Plus, don't miss favorites like New York Super Fudge Chunk or Phish Food. And, check back often because new flavors like Chocolatey Love-a-Fair, are released all the time.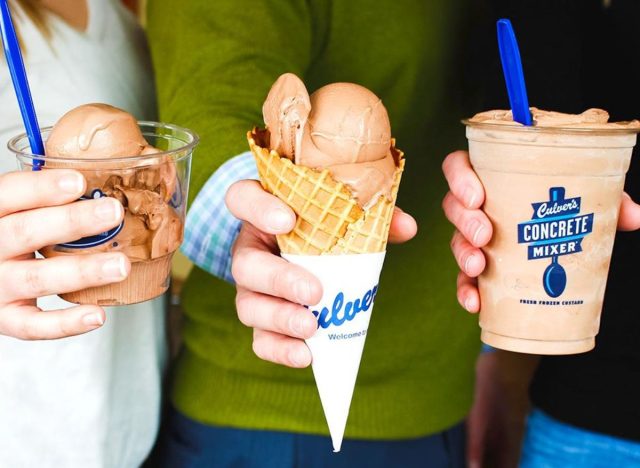 We've said it before and we'll say it again because we're unabashedly impressed with the breadth of the Culver's menu. Including amazing burgers, fries, and more the chain goes all out for its fresh, house-made custard. While there are only two flavors always on offer at Culver's— chocolate and vanilla— some locations also offer a Flavor of the Day, like Creamy Lemon Crumble or Salted Caramel Pecan Pie.6254a4d1642c605c54bf1cab17d50f1e
Can't find those? No problem, get the chocolate. Pro Tip: if you want a chocolate milkshake made with chocolate ice cream, ask for that—otherwise, per some employees sharing on Reddit—you'll get a vanilla shake made with chocolate syrup, and you'll miss out on the full experience!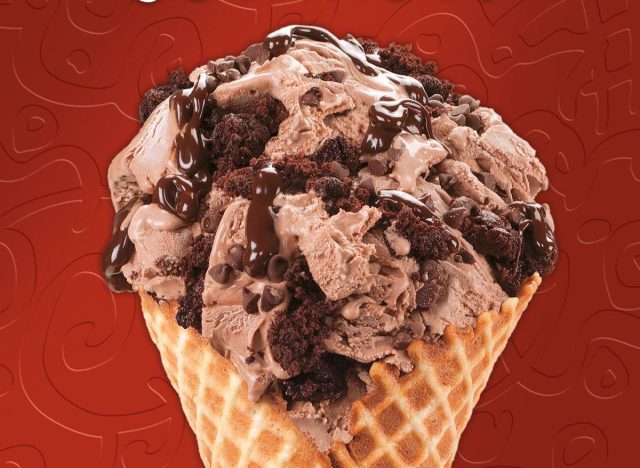 Cold Stone Creamery, which churns its ice cream fresh in every store, is famous for its mix-ins, which happen right before the customer's eyes on its famous cold stone. The chain's chocolate ice cream is a favorite as a base, but also note that you can get a dairy-free chocolate ice cream there made with almond milk.
If you do want to go for a mixed-in treat, create your own or try one of the fun-named creations that use the chain's chocolate like Life's Batter with Fudge Brownie, Peanut Butter Cup Perfection, or Chocolate Devotion.
Steven John
Steven John is a freelancer writer for
Eat This, Not That!
based just outside New York City.
Read more about Steven