6 Chains That Serve the Best Ice Cream Cakes
Why go à la mode when the cake can have ice cream layered inside?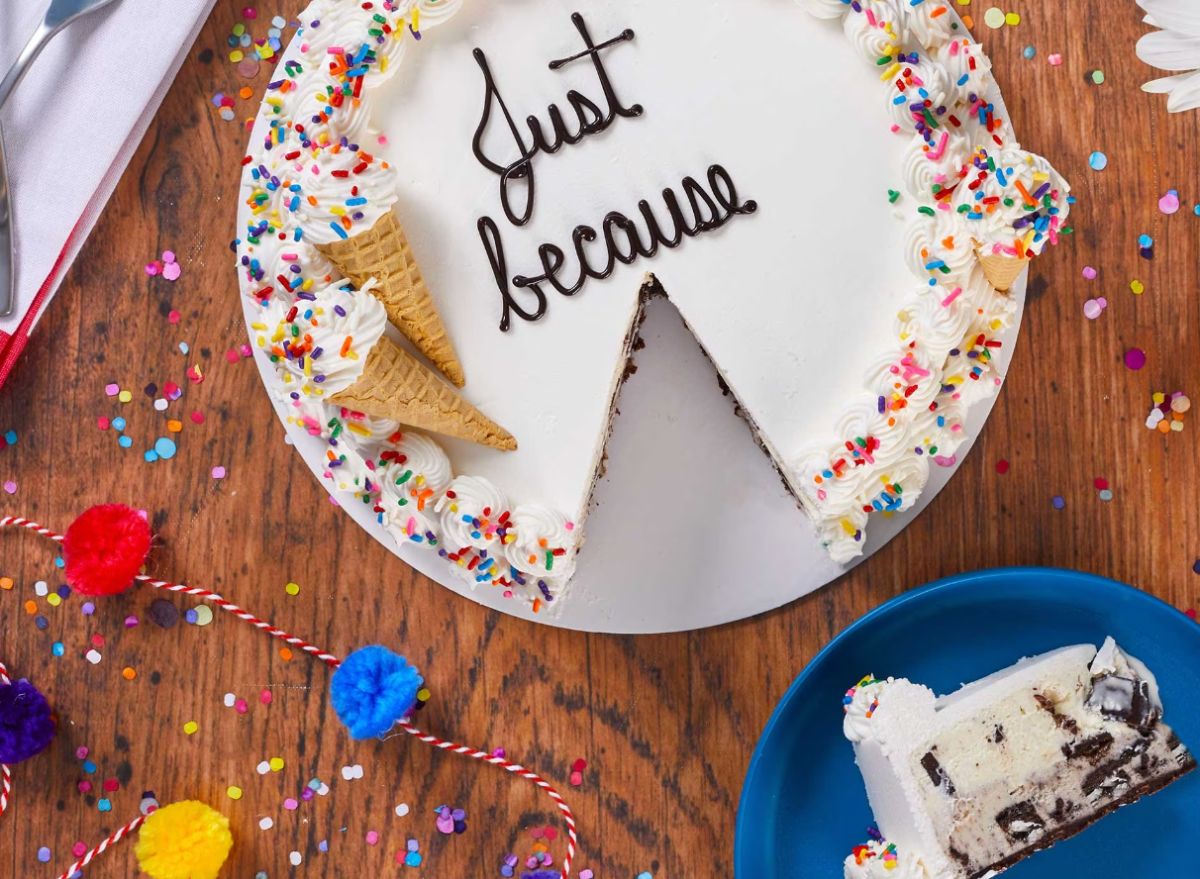 Today, ice cream cake is a ubiquitous part of birthday parties, summertime cookouts, and graduation celebrations. But the simple sweet treat, which delights kids and adults alike, has quite a past.
According to Tasting Table, the predecessor to the frozen cakes was an 18th-century English dessert called the trifle, which consisted of layered fruit, sponge cake, and custard. That custard was replaced with ice cream, sometime in Britain in the later years of the 19th century, according to Taste Atlas, and soon the beloved dessert had hopped the pond to America.
Today there are so many places offering ice cream cakes that it's hard to imagine they were ever a rarity. If you're in the mood for a dessert that merges two delightful desserts in every bite, then these are the seven best chains to consider when shopping for your next ice cream cake.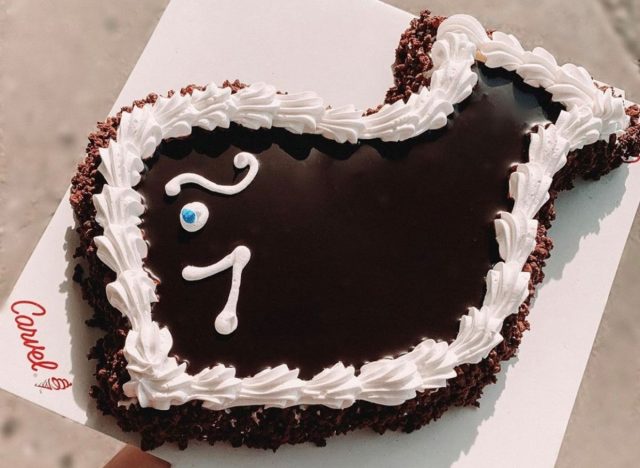 Carvel offers ice cream cakes for all sorts of occasions—from birthdays to holidays and everything in between. Its cakes can be customized and can even be created with edible photographs made using printed frosting.
Carvel's classic cakes are made with a base of chocolate ice cream, a layer of chocolate crunchies, and a layer of vanilla topped with frosting and various decorations. The chain also offers beloved favorites like Cookie Puss—a cake with a face made with cookie eyes and an ice cream cone nose—and Fudgie the Whale—a fudge-covered whale-shaped cake. You can also craft your own from scratch.
Note, too, that you don't necessarily have to visit a Carvel location to get an ice cream cake from the chain, as many grocery stores stock the company's cakes in their freezer aisles. The personalization will be on you, of course.
As of the spring of 2023, there were 317 Carvel locations in America, with the vast majority being in New York—home to 182. Go much beyond the East Coast and it's hard to find this ice cream shop, though there are units in Texas, New Mexico, and California, plus a few in the Midwest.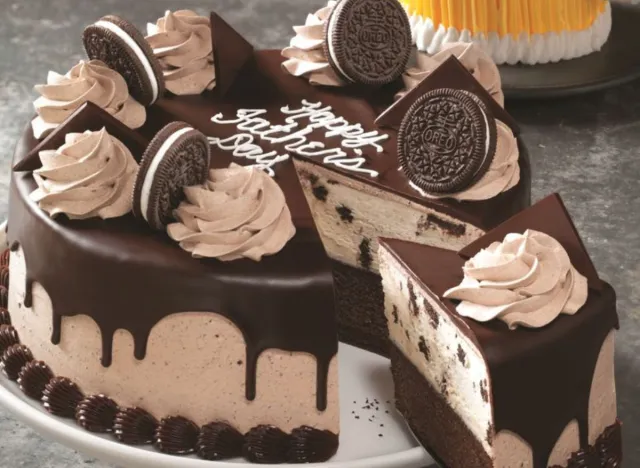 Baskin Robbins has been around since 1945, and the chain has offered its famous 31 flavors since the very earliest days. Today, with more than 2,400 locations in the United States alone (and even more than that beyond America's borders), most of us are in relative proximity to those many flavors, and to some truly excellent ice cream cakes from the chain.6254a4d1642c605c54bf1cab17d50f1e
Baskin Robbins offers dozens and dozens of different options for ice cream cakes and ice cream pies—at last check, there were 168 different variations available. These come in sheet cake styles, round cake shapes, and ornate, expertly crafted cakes as well—such as those styled to look like unicorns, sharks, grills, mugs of beer, and more.
Just note that you'll need to order specialty or customized ice cream cakes at least 48 hours before you pick them up, though the chain tends to have plenty of more basic ice cream cakes on hand.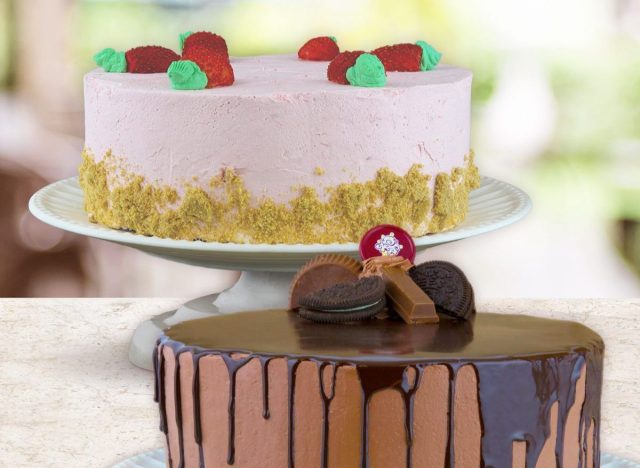 Cold Stone Creamery—known for its customizable treats mixed right in front of you—takes its ice cream cakes quite seriously. The chain doesn't just offer cakes, but pies, cupcakes, cookie sandwiches, and more—all made with the chain's legendary ice cream. Cold Stone cakes are notable too because they have a layer of actual cake between the layers of ice cream.
You can get a custom-made cake or try one of the chain's amazing creations with fun names. Cookie Batter Confetti has layers of red velvet cake and Cake Batter ice cream decorated with rainbow sprinkles and frosting. Cookie Dough Delirium features yellow cake layers with Sweet Cream ice cream topped with frosting, cookie dough, and chocolate shavings. The cakes also come in a wide variety of sizes, from the four-inch "Petite," which serves just two people, to a mighty 12-inch by 18-inch large rectangle sheet cake that can be sliced into 40 servings.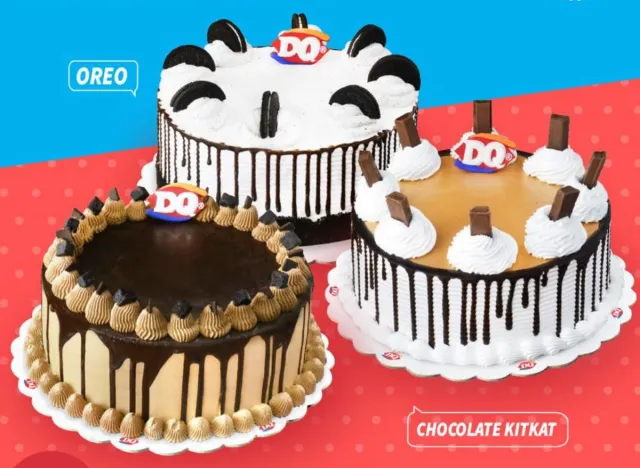 Dairy Queen may not be the first place you think of for burgers or chicken baskets, but when it comes to ice cream, this chain has the goods. It also has amazing cakes which feature the company's "world-famous" soft serve and a fudgy, crunchy chocolatey middle.
But the basic DQ Cake isn't the only kind you can get from the chain. There is also the DQ Blizzard Cake, which consists of your favorite Blizzard treat layered with either vanilla or chocolate soft serve and the signature crunchy center. Just like at Carvel, you can customize your cake or pick up one of the premade cakes at your nearest Dairy Queen location.
When it comes to ice cream cakes, Ben & Jerry's takes a note from Burger King's book, so to speak. As you know, Burger King's slogan was, for many years, "Have It Your Way," and Ben & Jerry's wants you to do just that with your custom ice cream cake.
The chain lets you choose your ice cream flavors, fillings, toppings, message, and more. You design the perfect ice cream cake for your event and your nearest shop will have it ready for pick-up on the big day.
This chain doesn't go as wild as others with the shapes or decorations— most are simply round—but with all those premium B&J flavors to choose from, you can't really lose.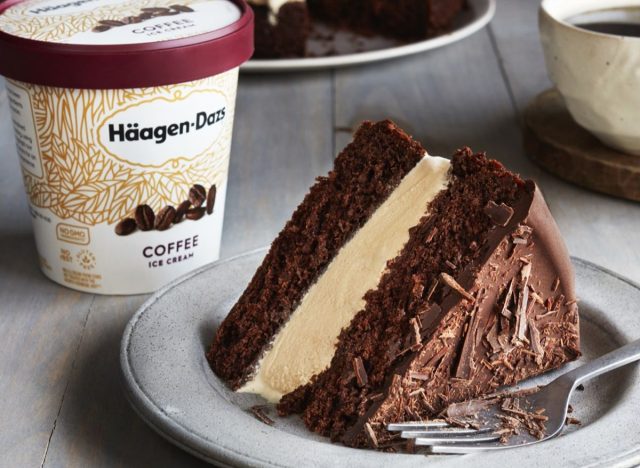 You can find pints of Häagen-Dazs in grocery store freezers all across America and all around the world, but there are also about 210 physical brick-and-mortar Häagen-Dazs  shops in the U.S.
If you are lucky enough to have one nearby, the cakes from Häagen-Dazs are divine. You can get variations like the Mocha Torte, made with your choice of ice cream, a mocha whipped cream, and chocolate coffee beans. Or, you can try the Caramel Drizzle Cake, which features a chocolate coating, caramel drizzle, and fudge swirls. Häagen-Dazs also has Confetti Cakes, Double Chocolate Curl cakes, and adorable Melted Cone Cakes. Or, you could contact the store and consult with a cake specialist to realize your custom edible creation.
Plus, most Häagen-Dazs ice cream cakes can be made with two kinds of ice cream, which doubles the deliciousness.
Steven John
Steven John is a freelancer writer for
Eat This, Not That!
based just outside New York City.
Read more about Steven