9 Chains That Serve the Best Chocolate Chip Cookies
Here's where you can get your hands on the classic comfort food.
The product recommendations in this post are recommendations by the writer and/or expert(s) interviewed and do not contain affiliate links. Meaning: If you use these links to buy something, we will not earn a commission.
Chocolate chip cookies are classic for a reason. When you need a pick-me-up, the beloved baked good is there to brighten your mood. When you're celebrating something special, the confection can make the moment feel even sweeter. No matter the occasion, it would be an understatement to say the humble chocolate chip cookie knows how to satisfy.
Some like them soft and chewy. Others prefer them thin and crispy. Regardless of your druthers, there are many places you can go to enjoy mouthwatering chocolate chip cookies in different varieties.
If you find yourself in need of the sweet treat, there's guaranteed to be a cookie spot for you. From specialty bakeries to fast-food giants, here are nine chains with some of the best chocolate chip cookies.
Note: All nutrition information is taken from the brands' websites or if unavailable, third-party sites such as MyFoodDiary, and MyFitnessPal.
Cookie Chains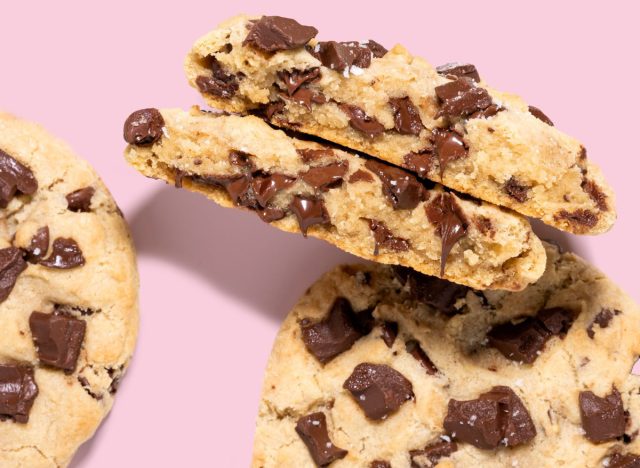 Per Milk Chocolate Chip Cookie
: 720 calories, 32 g fat (20 g saturated fat), 204 mg sodium, 96 g carbs (4 g fiber, 52 g sugar), 8 g protein
Known for its weekly rotating menu of cookies, Crumbl currently stands as the fastest-growing cookie company in the United States, boasting 878 locations across the country. Despite the chain frequently adding and updating its cookie options, its milk chocolate chip cookie has remained a mainstay. Well, until last month.
At the beginning of July, QSR Magazine reported that each week, Crumbl will alternate its milk chocolate chip cookie with its semi-sweet chocolate chunk cookie. Fans seemed to be thrilled when Crumbl announced this via Instagram a few days later. "Got this today and it's the BEST cookie y'all have ever made," one Instagram user wrote. "Semi sweet is superior to milk and you can never change my mind," another one commented.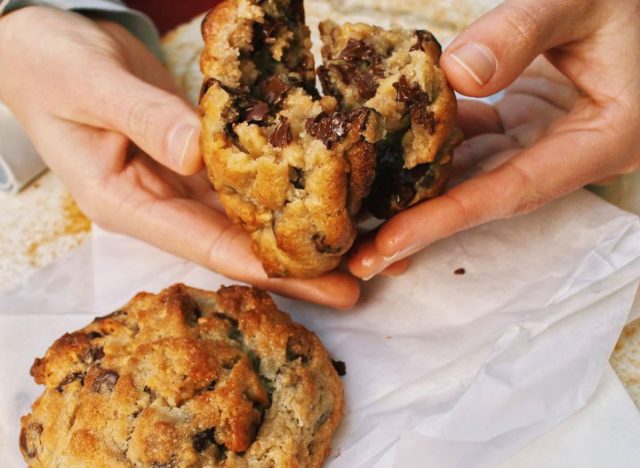 Per Chocolate Chip Walnut Cookie
: 563 calories, 30.5 g fat (15.5 g saturated fat), 203 mg sodium, 71 g carbs (3 g fiber, 41 g sugar), 7.4 g protein
Founded in 1995, this New York City-based bakery chain has been creating confections on-site each day and donating its leftovers to charity every night. Across its 13 locations, you'll find various spins on the classic chocolate chip cookie, such as caramel coconut chocolate chip, dark chocolate chocolate chip, and the famous chocolate chip walnut cookie that earned Levain its star power.
Frequently appearing on "best cookie" lists, the popular bakery has been known to draw long lines of customers. But if you're unable to wait or don't live nearby, Levain ships its iconic six-ounce cookies nationwide. The business notes on its website that the cookies are baked fresh and shipped same-day, "so cookies arrive delicious crispy and soft for immediate enjoyment, or you can warm them in the oven for that signature gooey center."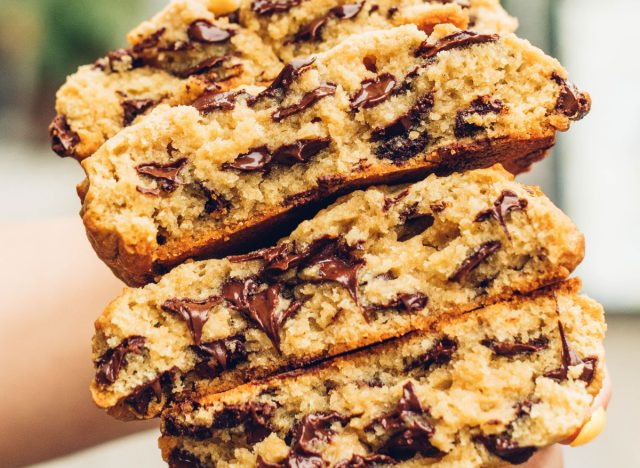 Per Chocolate Chip Cookie
: 680 calories, 36 g fat (20 g saturated fat), 240 mg sodium, 104 g carbs (0 g fiber, 56 g sugar), 8 g protein
This newer cookie chain got its start in New York City in 2017 and has since expanded to 19 locations across New York and New Jersey. Though slightly smaller in size than Levain, Chip City's cookies clock in at "nearly six ounces," and can also be shipped nationwide.
The chain's rotating menu includes both classic and milk chocolate chip varieties, which are both made with a brown sugar cookie. In addition to appearing in "top cookie" articles, Chip City has prompted Reddit discussions, where people have recommended the chain's chocolate chip cookies.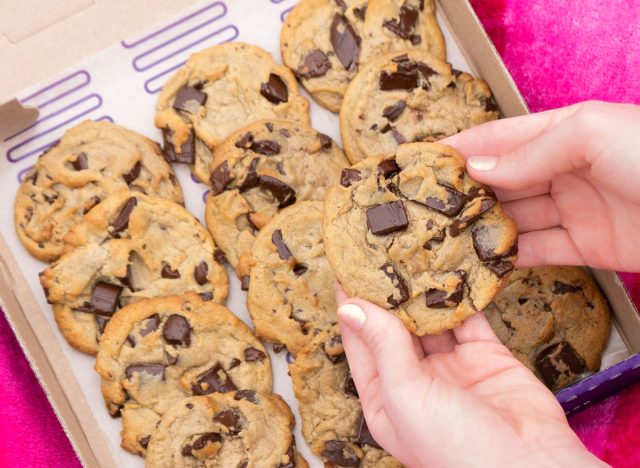 Per Chocolate Chunk Cookie
: 250 calories, 12 g fat (6 g saturated fat), 140 mg sodium, 35 g carbs (1 g fiber, 20 g sugar), 3 g protein
When the late-night cookie cravings hit, Insomnia Cookies is there to help. Most of the bakery chain's locations stay open until 3 a.m., so you can take comfort in knowing you can satisfy your sweet tooth no matter the hour. When looking at the menu, customers will see that Insomnia elevates the traditional chocolate chip cookie by using chocolate chunks instead of chips. For those with dietary restrictions, the bakery chain also offers vegan chocolate chunk and gluten-free chocolate chunk cookies.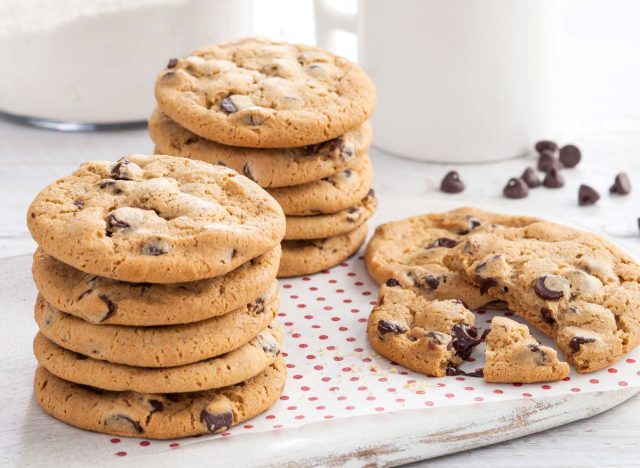 Per Semi-Sweet Chocolate Chip Cookie
: 210 calories, 10 g fat (5 g saturated fat), 170 mg sodium, 29 g carbs (1 g fiber, 19 g sugar), 2 g protein
Since opening its first store in Palo Alto, Calif., in 1977, Mrs. Fields has spread across the globe, selling its famous treats in 250 franchised locations across the world. Standing alongside classic options like cinnamon sugar and white chocolate macadamia nut are a few chocolate chip varieties, including semi-sweet chocolate chip, semi-sweet with walnuts, and milk chocolate chip. While this cookie may be simple, it's clearly a fan favorite, as there are copycat recipes shared across the internet for fans to get their Mrs. Fields fix.
Fast-Food Chains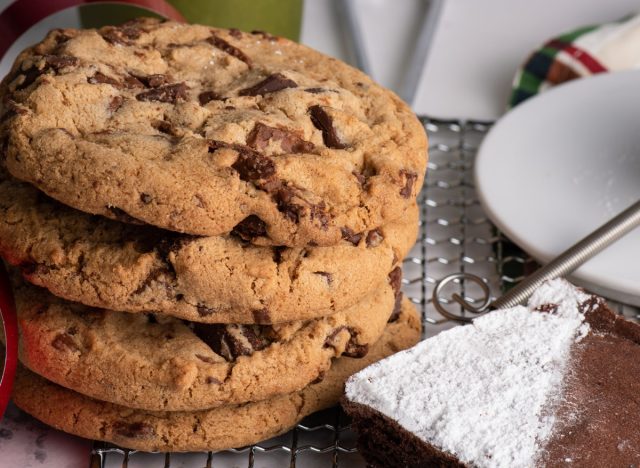 Per Chocolate Chipper Cookie
: 390 calories, 19 g fat (11 g saturated fat), 290 mg sodium, 52 g carbs (2 g fiber, 31 g sugar), 4 g protein
Panera is home to several menu items people try to replicate, one being the Chocolate Chipper Cookie. Described by the chain as a "traditional favorite," this popular dessert is made with both semi-sweet chocolate chunks and milk chocolate flakes.
"Something about each bite captures the essence of what I want out of a chocolate chip cookie, and the chocolate chunks are better than chips," one fan commented on Reddit.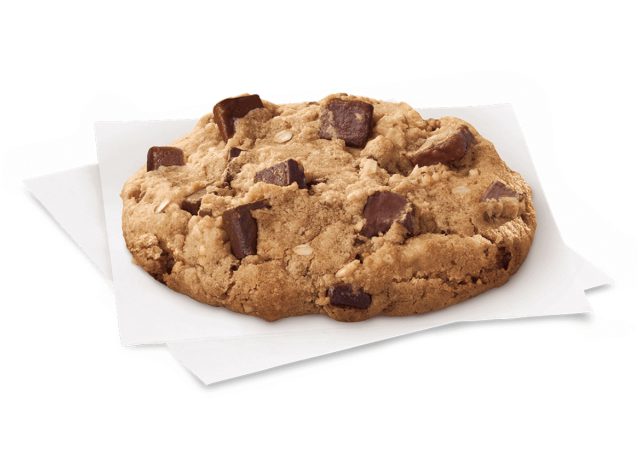 Per Chocolate Chunk Cookie
: 370 calories, 17 g fat (9 g saturated fat), 230 mg sodium, 49 g carbs (3 g fiber, 26 g sugar), 5 g protein
Chick-fil-A fans rave about more than just the chain's chicken sandwiches. The chocolate chunk cookies are also a popular item among customers. The baked good even came out on top in our 2021 fast-food dessert taste test. Available individually or in a six-pack, Chick-fil-A's Chocolate Chunk Cookies feature both semi-sweet dark and milk chocolate chunks, as well as oats.
Like Panera's Chocolate Chipper Cookie, this cookie has prompted people to try making the recipe in their own kitchen. One Reddit user who attempted to get more information about the cookie recently wrote, " I've been trying to bake my own, googling Chick-fil-A cookie copy cat recipes, and they're good, but not like Chick-fil-A."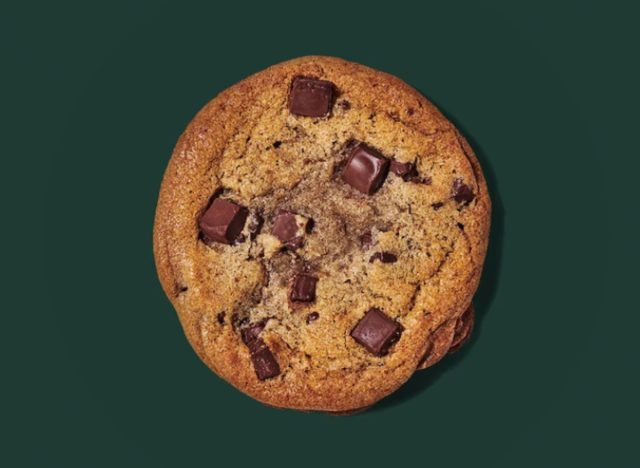 Per Chocolate Chunk Cookie
: 320 calories, 16 g fat (10 g saturated fat), 260 mg sodium, 42 g carbs (2 g fiber, 25 g sugar), 4 g protein
A baked good can be a welcome addition to a cup of coffee, and Starbucks' bakery case houses one of the classics. The chain's chocolate chip cookie has earned high marks in various taste tests and has also been the subject of much discussion online.6254a4d1642c605c54bf1cab17d50f1e
One Reddit user recently shared that while they've tried multiple "branded chocolate chip cookies," Starbucks still reigns supreme. "Like it's not even close. Warm, slightly warm, cold, it's literally a perfect cookie," the Redditor wrote. While the post elicited some mixed reviews, the cookie still has its fair share of enthusiasts, as seen in the numerous copycat recipes circulating the internet.
Miscellaneous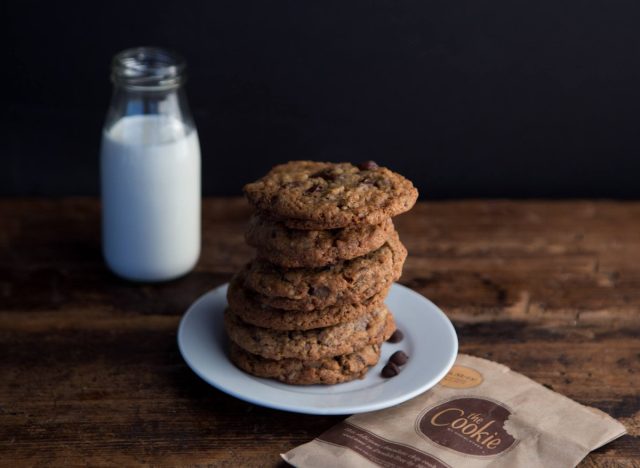 Per Chocolate Chip Cookie
: 310 calories, 18 g fat (8 g saturated fat), 200 mg sodium, 33 g carbs (2 g fiber, 22 g sugar), 4 g protein
Yes, this is a hotel chain. But more importantly, it's a hotel chain famous for greeting guests with warm chocolate chip cookies at check-in. While the cookie amenity was launched as a part of the hotel's nightly turn-down service in 1986, the cookies moved to the front desks in 1995, "illustrating and reiterating the brand's warm welcome," according to DoubleTree. About 30 million of these cookies are consumed every year, and in 2019, they became the first food baked in space.
While guests had to wait decades to learn what was in these cookies, in 2020, DoubleTree finally released the recipe, so people can now bring the hotel treat right to the comfort of their own homes.
Brianna Ruback
Brianna is a staff writer at Eat This, Not That! She attended Ithaca College, where she graduated with a degree in Journalism and a minor in Communication Studies.
Read more about Brianna