5 Best Cookie Chains In America
When grocery store cookies just won't cut it, grab a hot cookie from one of these chains.
If you're like most Americans, cookies rank high on your list of favorite desserts. According to data from growth marketing agency Boost, 95% of Americans eat at least one cookie every month, while one in five consumes more than three cookies every day! A 2022 survey conducted by OnePoll on behalf of cookie chain Crumbl even found that 61% of people think that a good cookie can turn a bad day around. That translates to lots of cookie cravings that need to be satisfied.
Of course, there's no shortage of cookie recipes on the internet or packaged cookies at grocery stores to satisfy a major cookie craving. But, if you don't have the energy (or baking skills) to make your own—and Chips Ahoy! just won't cut it—cookie chains like Crumbl or Insomnia Cookies offer options that are both convenient and more elevated.
While you'll find all the classics—like chocolate chip and oatmeal raisin—at these chains, some are setting themselves apart from the rest with higher-quality ingredients and innovative flavors.6254a4d1642c605c54bf1cab17d50f1e
From a nostalgic chain that has been in business for nearly 50 years to the brand behind what's considered the best cookie in New York City, here are the five best cookie chains in America right now.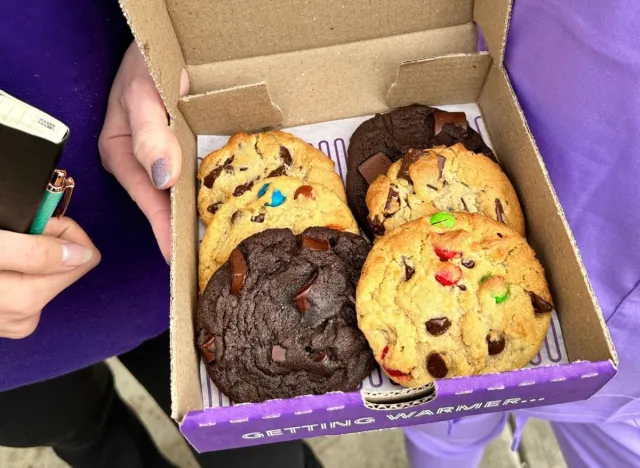 Insomnia Cookies has come a long way from its roots as an idea born in a college dorm room at the University of Pennsylvania in 2003. Founder Seth Berkowitz took his late-night cravings for a warm, sweet treat and turned it into a thriving business with more than 200 stores across the United States.
What makes the Insomnia experience special is that the cookies are served warm and you can order them as late as 3 a.m. on certain days of the week when other dessert chains are already closed. Customers are also enamored with the cookie flavors. The menu includes classics like Chocolate Chunk and Snickerdoodle, plus more unique options like Salted Caramel, which is baked with salty toffee bits, and S'mores, a chocolate cookie packed with toasted marshmallows, graham crackers, and chocolate chunks. Plus the chain offers a variety of filled cookies, vegan cookies, limited edition flavors, ice cream-topped cookies, brownies, and blondies.
Insomnia's already sizable footprint is set to get even bigger this year. The company, which has been a subsidiary of Krispy Kreme since 2018, announced in February that it was expanding outside of the United States for the first time with planned store openings in Canada and the United Kingdom in the summer of 2023. Insomnia is also planning to open dozens of new American locations this year, with the ultimate goal of "delivering warm, delicious cookies to 95% of U.S. households."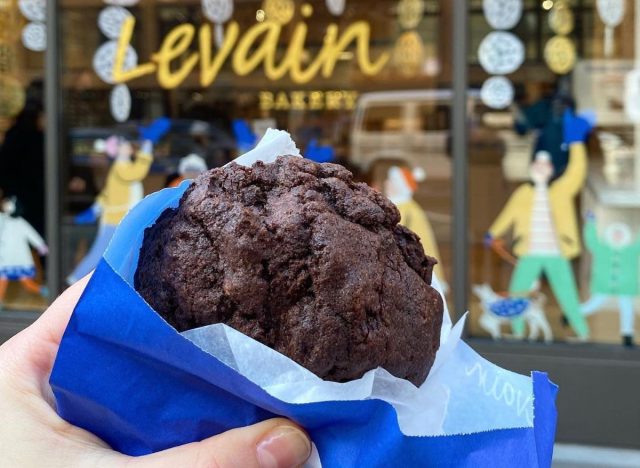 Cookies aren't the only tempting baked goods that you can find at Levain Bakery, but they are what made this chain famous. New York City-based Levain offers several different types of cookies including its iconic Chocolate Chip Walnut, Caramel Coconut Chocolate Chip, Dark Chocolate Peanut Cutter Chip, and Oatmeal Raisin.
But these cookies are separated from all others in that they are ginormous, weighing in at a whopping six ounces. They also have a unique texture that's crispy on the outside soft and chewy on the inside—and customers can't seem to get enough. Levain frequently tops lists of the best cookies in New York City and customers describe them as one of the best, if not the best, cookies they've ever eaten.
Though Levain got its start at a small, cozy shop on 74th Street in New York City in 1995, it couldn't stop there if it wanted to feed the growing masses of consumers vying to try one of the acclaimed cookies. The chain has expanded to more than a dozen bakeries across New York City and other major American cities, including Chicago, Los Angeles, Washington D.C., Boston, and Bethesda, Mass.
If you're not lucky enough to live within driving distance of one of these bakeries, Levain also ships freshly-baked cookies nationwide and sells frozen versions in grocery stores, so even the most far-flung customers have the chance to experience the famous treats.
Crumbl hasn't been around for that long compared to some of the other major American cookie chains, but it has already carved out a major fanbase. Since the very first Crumbl store opened in 2017 in Utah, the chain has exploded to more than 800 locations across the country, according to the Crumbl website.
The reason for this rapid growth and popularity? For starters, the company has a massive social media presence with more than 6.8 million TikTok followers and 3.8 million Instagram followers. The brand also offers a limited but exciting menu of just a handful of different big and bold cookies every week. Among mainstays like the Milk Chocolate Chip and Classic Pink Sugar cookies, are the rotating and "mystery" flavors that vary by the store.
If you walked into a Crumbl at the end of May, for example, you would have found limited edition cookie flavors like Cookie Butter Ice Cream, Confetti Cake, Peanut Butter Brownie, and Triple Berry Cobbler. That ever-changing menu gives people a reason to keep coming back to Crumbl time and time again. On any given week, you'll masses of TikTokers sharing videos reviewing the new flavors.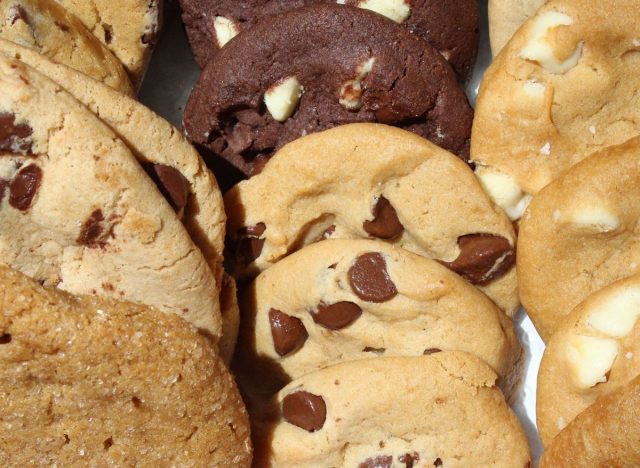 Though Mrs. Fields doesn't have the same modern edge as chains like Crumbl and Insomnia Cookies, it packs a huge punch of nostalgia. Since Debbi Fields opened her first store in Palo Alto, California in 1977, the Mrs. Fields name has become synonymous with the classic, comforting sweet treats.
Mrs. Fields ships cookie assortments nationwide tailored to all your celebration needs, but for those who need a sweet treat ASAP, it also operates more than 250 retail shops across the world. The menu at these shops isn't groundbreaking, but Mrs. Fields still manages to bring in plenty of customers by focusing on doing the classics well.  In the stores, you'll find all the fresh-baked classics like Milk Chocolate Chip, White Chocolate Macadamia, Oatmeal Raisin, and classic Peanut Butter cookies, plus a variety of mini cookies, called Nibblers, Mega Cookies, and frosted cookies.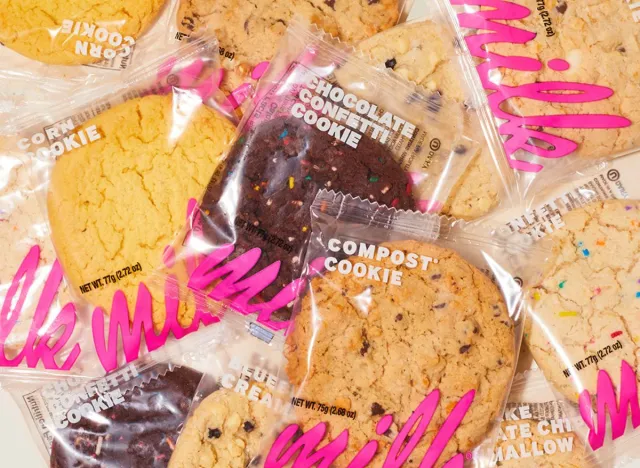 What do Corn, Compost, and Blueberry & Cream all have in common? They're three of the innovative cookie flavors that you can find at Milk Bar, the brainchild of James Beard award-winning pastry chef Christina Tosi.
You'll also find cakes, pies, and cake truffles at this bakery chain, but cookies are a major part of what makes Milk Bar so unique and popular. Tosi wasn't afraid to reach for uncommon ingredients when crafting these cookie recipes (think cornflakes, potato chips, and marshmallows). According to customers, those risks have definitely paid off.
Since Tosi opened the first Milk Bar location in New York City's East Village in 2008, the chain has expanded to roughly a dozen locations across New York City, Los Angeles, Washington D.C., Las Vegas, and Bellevue, Wa. Milk Bar also sells several of its sweet treats in grocery stores, including baked cookies, ready-to-bake cookie dough, and ice cream.
Zoe Strozewski
Zoe Strozewski is a News Writer for Eat This, Not That! A Chicago native who now lives in New Jersey, she graduated from Kean University in 2020 with a bachelor's degree in journalism.
Read more about Zoe