8 Fast-Food Chains That Serve the Best Shrimp
If you're a shrimp fan looking for a quick fix, these chains have got you covered. 
Seafood from a fast-food restaurant? It's not as wild of a concept as you might think. Lots of fast-food brands offer shrimp as part of their classic menu lineups, bringing a taste of the ocean to diners across the country. From crispy and succulent tacos to mouthwatering bowls and baskets, the range of shrimp dishes offered at the drive-thru is quite impressive.
It's not entirely clear which fast-food restaurant kicked off the trend, but shrimp lovers are grateful to have options nonetheless. Some, like Long John Silver's, offer shrimp all year round. Others, like Del Taco, keep you coming back for more with limited edition, seasonal dishes. 
Grab your car keys and keep the cocktail sauce at home—if you're a fan looking for a quick fix, these fast-food chains have got you covered. 
Popeyes
Popeyes wins over fast-food fans because it kicks up its seafood dishes with its classic Cajun flavors with. Their popcorn shrimp offering is perfectly seasoned and fried to golden perfection, mastering the art of a crispy exterior and tender interior. "I would rather scarf down boxes of the popcorn shrimp than eat the actual sandwiches or tenders," one Reddit user raved.
Customers can enjoy the meal on its own or eat it with Popeyes classic fried chicken pieces or the iconic chicken sandwich, creating their own fast-food surf 'n turf. Keep an eye out on the Popeyes app or your local chain, as the restaurant likes to bring back other dishes every so often—like the seasonal Shrimp Tackle Box and the Hushpuppy Shrimp meal.
Baja Fresh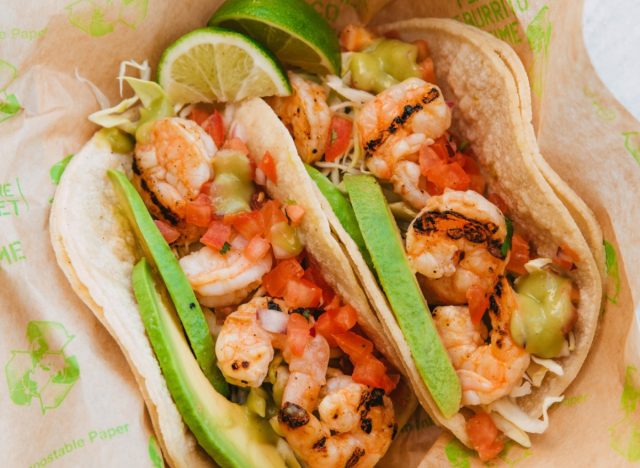 Those looking for lighter options can check out the Grilled Shrimp Tacos at Baja Fresh, which are topped with sliced avocado, shredded cabbage, freshly made pico de gallo, and avocado salsa. A soft corn tortilla rounds out the flavors, but feel free to add a drizzle of their creamy chipotle sauce for an extra layer of zing.6254a4d1642c605c54bf1cab17d50f1e
It's a flavorful and healthy option, at 180 calories and 7 grams fat. Baja Fresh's fire-grilled shrimp is also available as a protein choice for any of their other menu items, like their burritos, salads, and nachos.
Culver's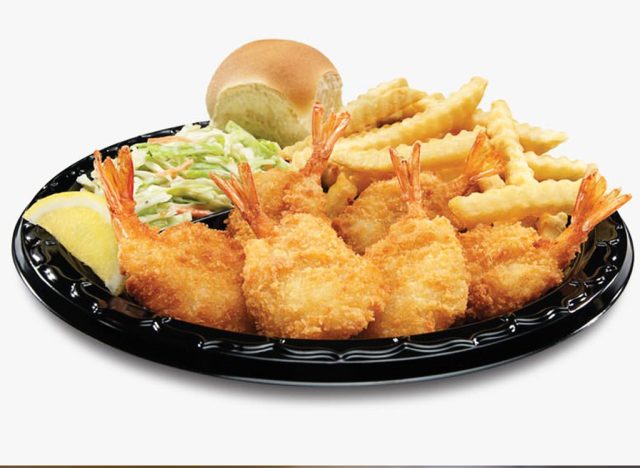 Sure, they are known for their burgers, but the Butterfly Jumbo Shrimp at Culver's is a delightful twist to traditional fast-food offerings. The shrimp are lightly breaded and fried to a crispy golden brown, providing a satisfying crunch with every bite, and come with Culver's special recipe cocktail sauce and a lemon wedge.
"Dip or dunk, we don't judge," the company posted on their Facebook page, to which one fan replied, "Culver's shrimp and sauce are calling me for lunch!" And yes, you can absolutely pair them with their renowned buttery Wisconsin cheese curds, or a fresh frozen custard for dessert.
White Castle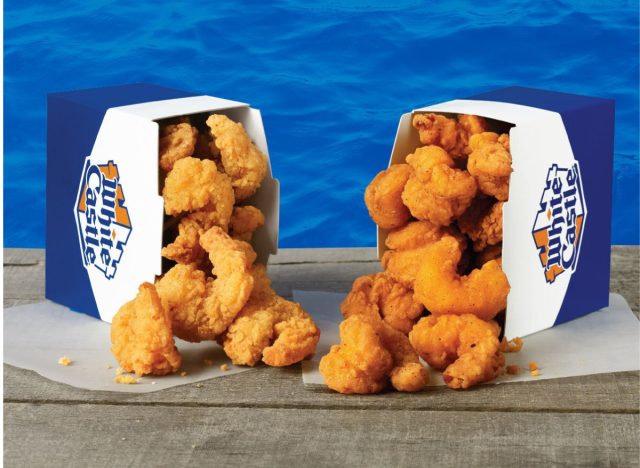 White Castle's Shrimp Nibblers come and go on their menu, most recently popping back up between February and April 2023. Diners go crazy for the bite-sized side dish, with tender and juicy shrimp coated in a savory batter. The perfectly fried shrimp are served in a convenient slider box, making them an ideal choice for those seeking a quick yet flavorful fix.
YouTuber Tommy Swan reviewed the Shrimp Nibblers himself, testing out the Sriracha spiced variety. "The spice hits you later on," he claims, additionally commenting that he "likes the grease" of the crispy fried shrimps.
Del Taco
With everything the Del Taco menu offers, it's no surprise that shrimp has become a beloved seasonal protein offering. The fast-food taco chain likes to provide different variations on its menu, including the Original Crispy Jumbo Shrimp Taco and the Buttery Garlic Parmesan Stuffed Quesadilla Jumbo Shrimp Taco.
Shrimp isn't always offered, so you have to grab it while you can. YouTuber Peep THIS Out! gave a rave review of the Buttery Garlic Parmesan Jumbo Shrimp Taco though, saying that it felt more like "an Italian taco situation" but that the seasoning "really stood out" indicating the flavor combination was totally worth it.
Long John Silver's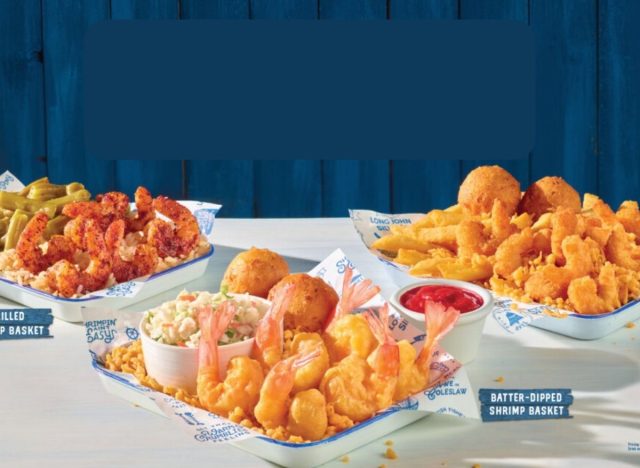 This classic fast-food seafood chain offers both fried and grilled shrimp, along with other tasty seafood items. Their batter-dipped shrimp are coated in a signature batter, creating a satisfying crunch, and customers don't have to choose between fried fish or fried shrimp. The Fish & Shrimp Platter is one of the most popular menu items at Long John Silver's.
On the lighter side, the seasoned grilled shrimp can be added to a rice bowl or used as protein in tacos. Diners can choose from Sweet Chili, Baja, or Southwest flavorings or simply seasoned salt and pepper style. Don't forget to add some Long John Silver's famous hush puppies and tangy tartar sauce, a great compliment to every seafood dish.
A&W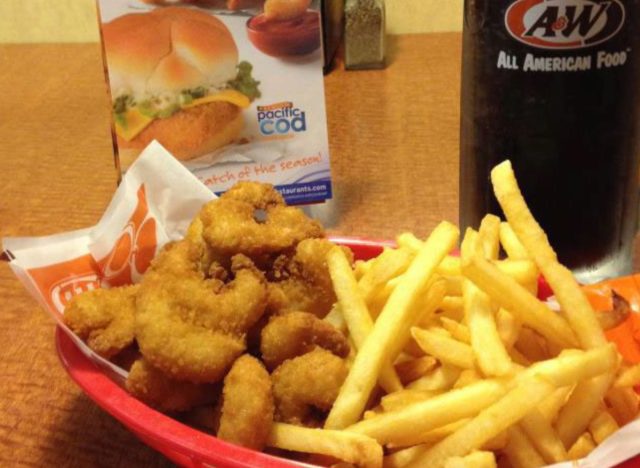 A&W recently added Pub Style Baskets to their menu, and diners who aren't sure about which one they want can even take a quiz to find one that matches their personality. Those who know that they are in the mood for shrimp will be treated to a new larger, crunchier basket of fried shrimp, served with fresh coleslaw and a boatload of hot fries.
Youtubers from The Chico & Poppy Show recently reviewed the Pub Style Shrimp Basket, saying the restaurant "went out of its comfort zone" with the latest addition, and that there isn't a "strong fishy taste" which can sometimes plague fast-food offerings.
Panda Express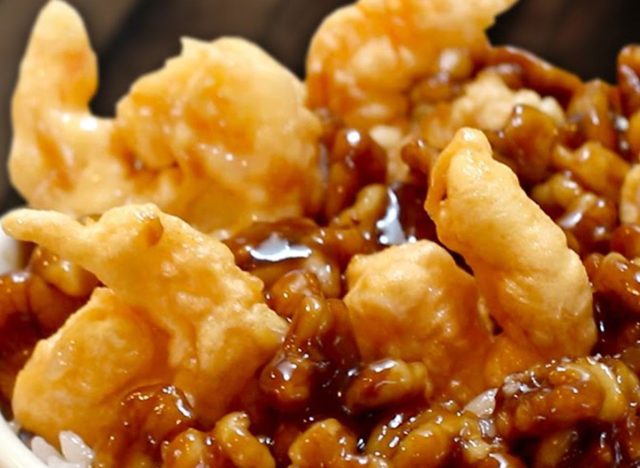 The Honey Walnut Shrimp at Panda Express has long been a fan favorite, with crispy shrimp coated in a sweet, almost creamy honey sauce, complimented by candied walnuts for an extra sweet-savory kick. It's also one of the healthier items on the menu, at 360 calories, 23 grams of fat, and 13 grams of protein, while also being relatively low in sodium.
The Asian-inspired chain has also recently added Sizzling Shrimp to its menu, with garlic, ginger, and vegetables like baby broccoli, onions, and red peppers. A tangy sauce rounds out the dish, which Paul White, author of Spicy Food Reviews, really enjoyed. "There is a slight sweetness to the sauce as well which acts as a good balance to the other flavors," he adds in his review of the dish.
Katka Lapelosova
Kat is a born and raised New Yorker exploring the world as she writes, eats, and everything in between.
Read more about Katka