How To Roast Chestnuts in the Oven for a Classic Winter Treat
You may not be able to roast chestnuts on an open fire, but you sure can do it in the oven with this easy recipe!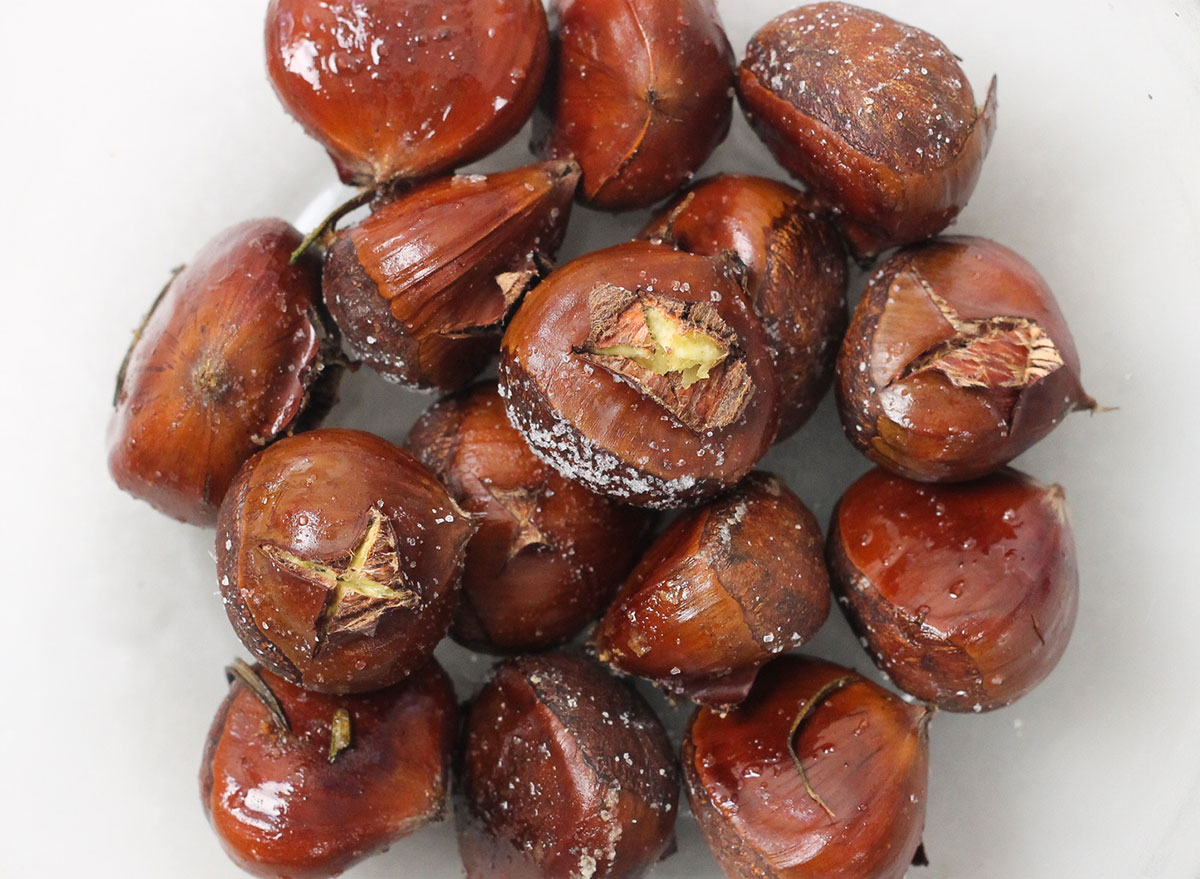 Chestnuts roasting on an open fire! It's a song I'm sure you're familiar with—those soothing melodic tones certainly spread holiday cheer. But what exactly does it take to roast chestnuts on an open fire? Better yet, how in the world do you roast chestnuts?
If you've ever been curious about how to roast chestnuts, never fear, we're here to show you! Roasting chestnuts in the oven is actually easy to do.
Buy dry chestnuts
This may seem obvious, but for this recipe, you'll need dry chestnuts! You can actually buy wet chestnuts in the store that have already been roasted and shelled. These types of chestnuts usually come in a jar, which are not the type you want. The type of chestnuts you want to buy typically pop up in the produce section of a grocery store around the holiday season.
Here's a step-by-step guide on roasting chestnuts.
Roasted Chestnuts Recipe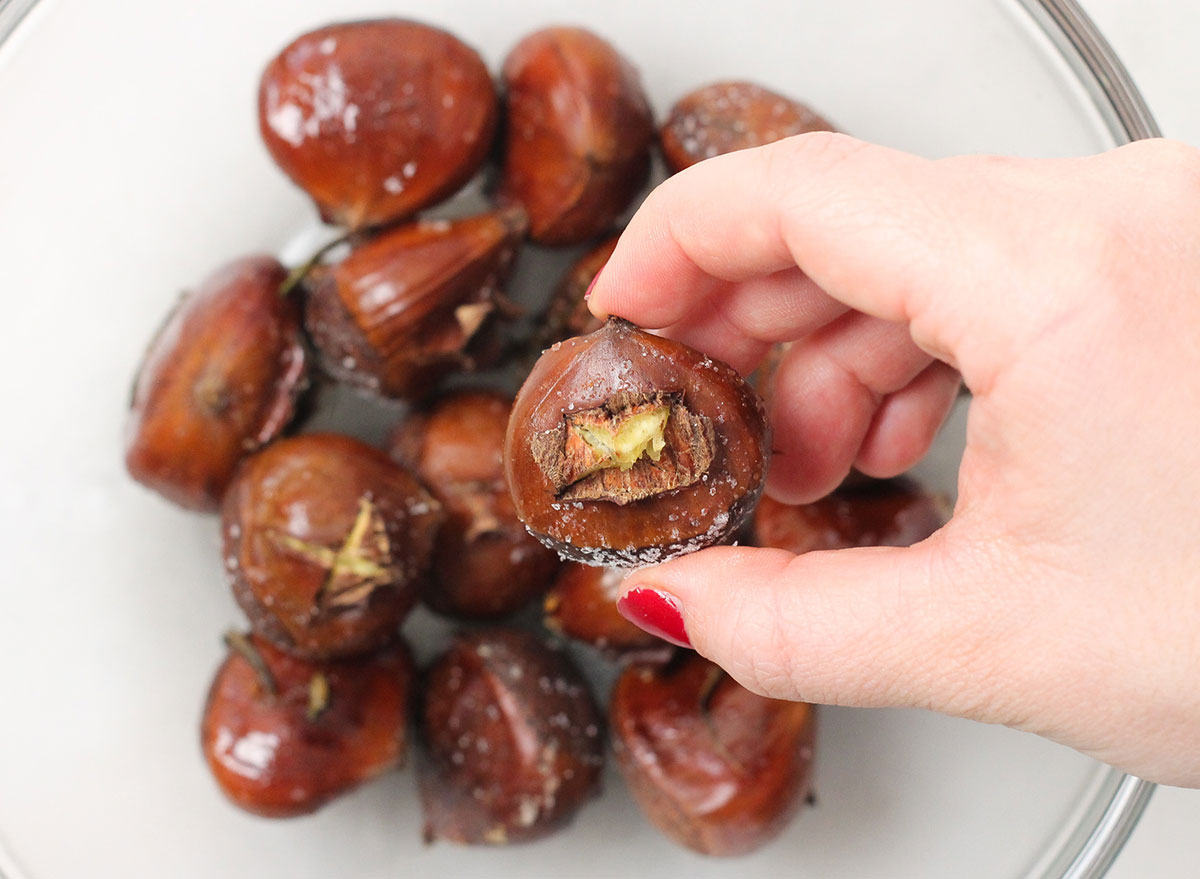 Makes 20-30 chestnuts
Ingredients
1 lb. chestnuts
1 tbsp butter, melted
1 tsp salt
1 sprig rosemary
How to Make It
Cut an 'X' into the round side of the chestnut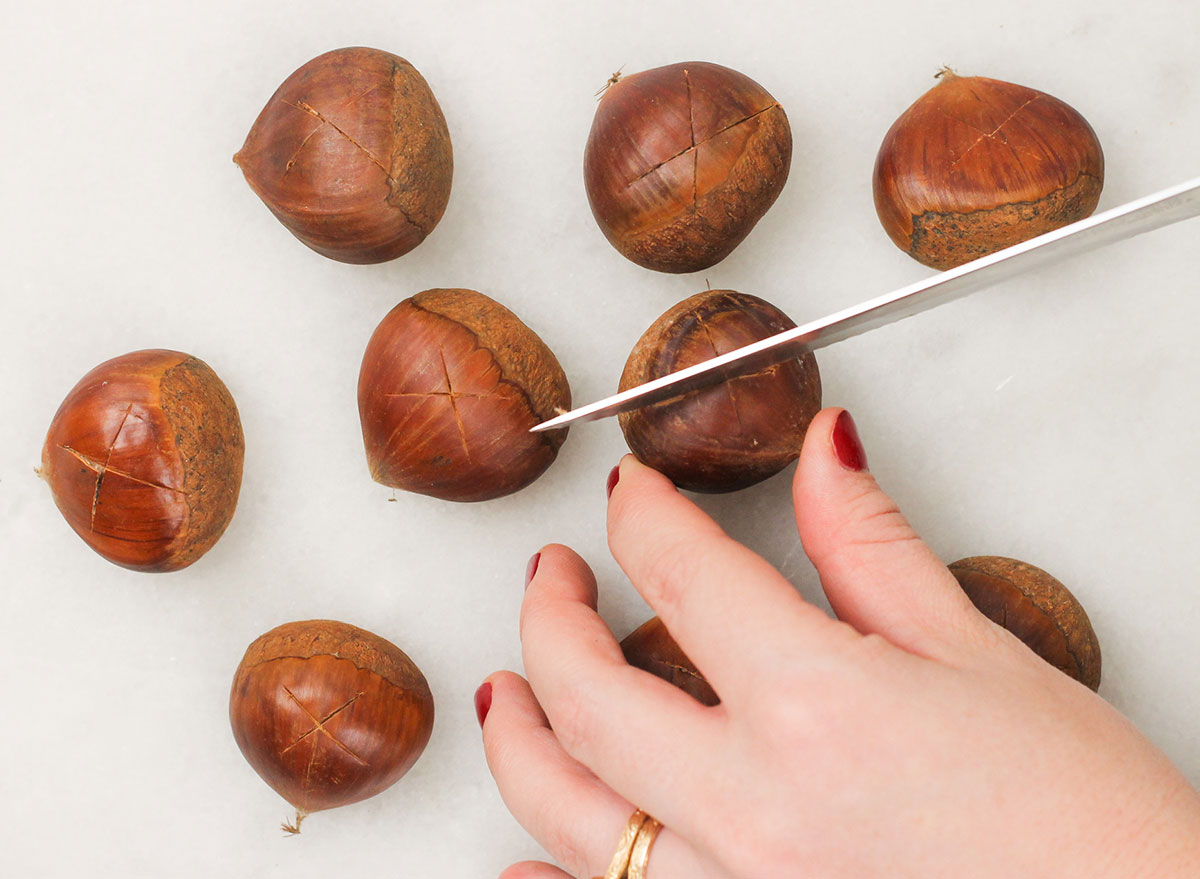 Typically chestnuts have a round side and a flat side, so for this step, lay each chestnut down on the table on their flat side. Using a serrated knife, carefully cut an 'X' into the chestnut. You'll want to cut in pretty deep to make sure you cut through both skins of the chestnut (the outer shell and the inner skin), or it will be impossible to peel them later.
Soak the chestnuts in hot water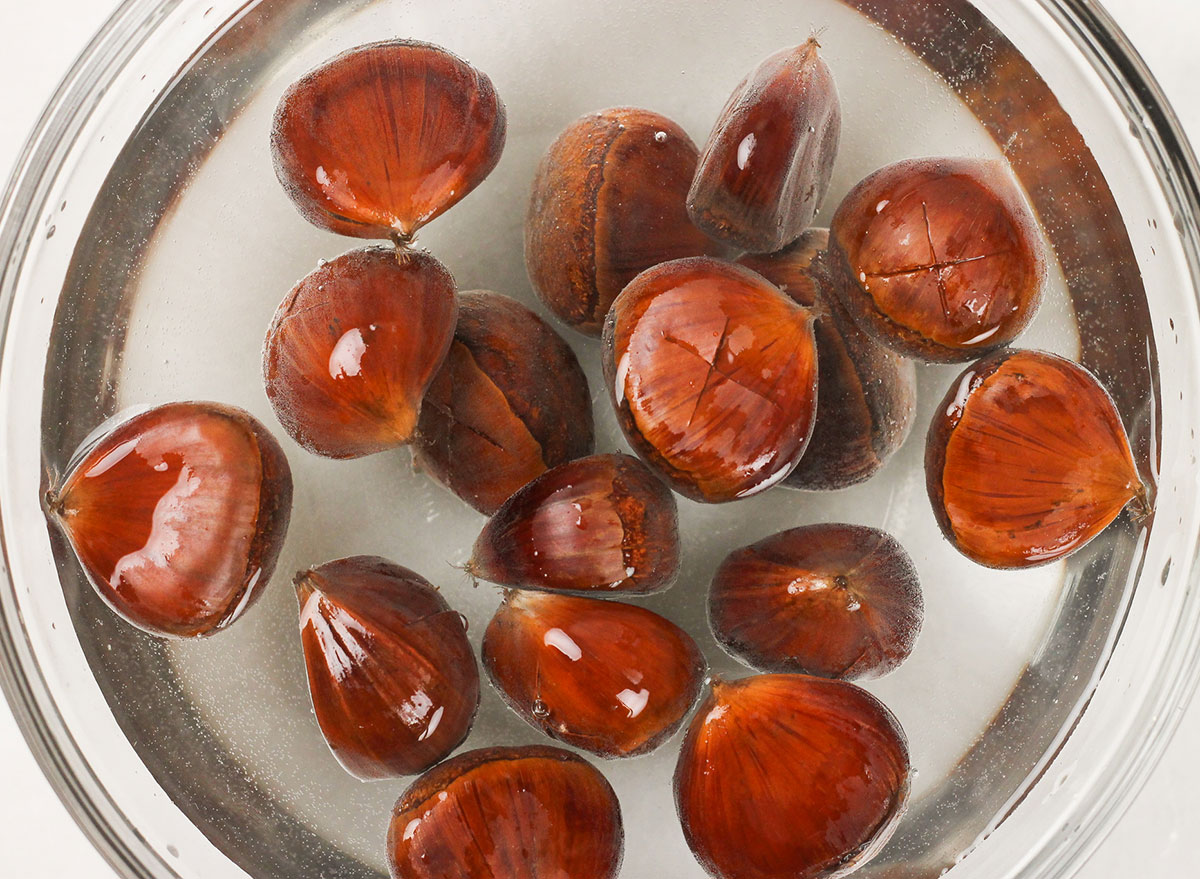 Heat up some water on a kettle, or in a microwavable bowl, until the water is very hot. Soak the chestnuts in hot water for 3 minutes.
Pat them dry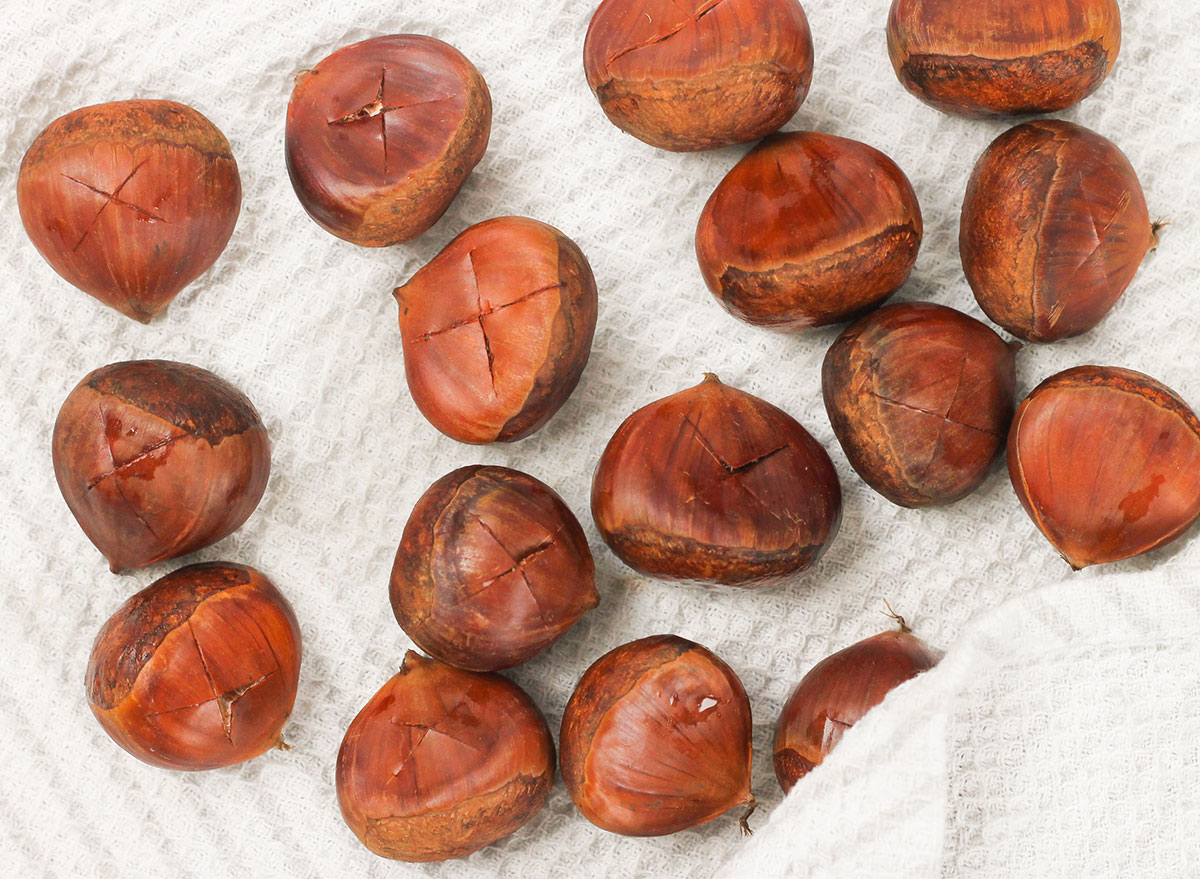 Move the soaked chestnuts to a towel and pat them dry.
Mix with melted butter, salt, and rosemary
In another bowl, mix together the chestnuts with the melted butter, salt, and rosemary.6254a4d1642c605c54bf1cab17d50f1e
Spread the chestnuts on sheet pan
Make sure the 'X' cut side of the chestnut is facing up before placing them in the oven.
Roast in the oven for 15-20 minutes
Bake at 425 degrees Fahrenheit in the oven for 15 to 20 minutes. The easiest way to know if the chestnuts are done is if you see they are starting to peel. If they peel on their own a bit, it makes it easier to peel them with your hands later. But watch out! If you leave them in too long, they may actually explode. So keep an eye on them!
"Steam" them in a bowl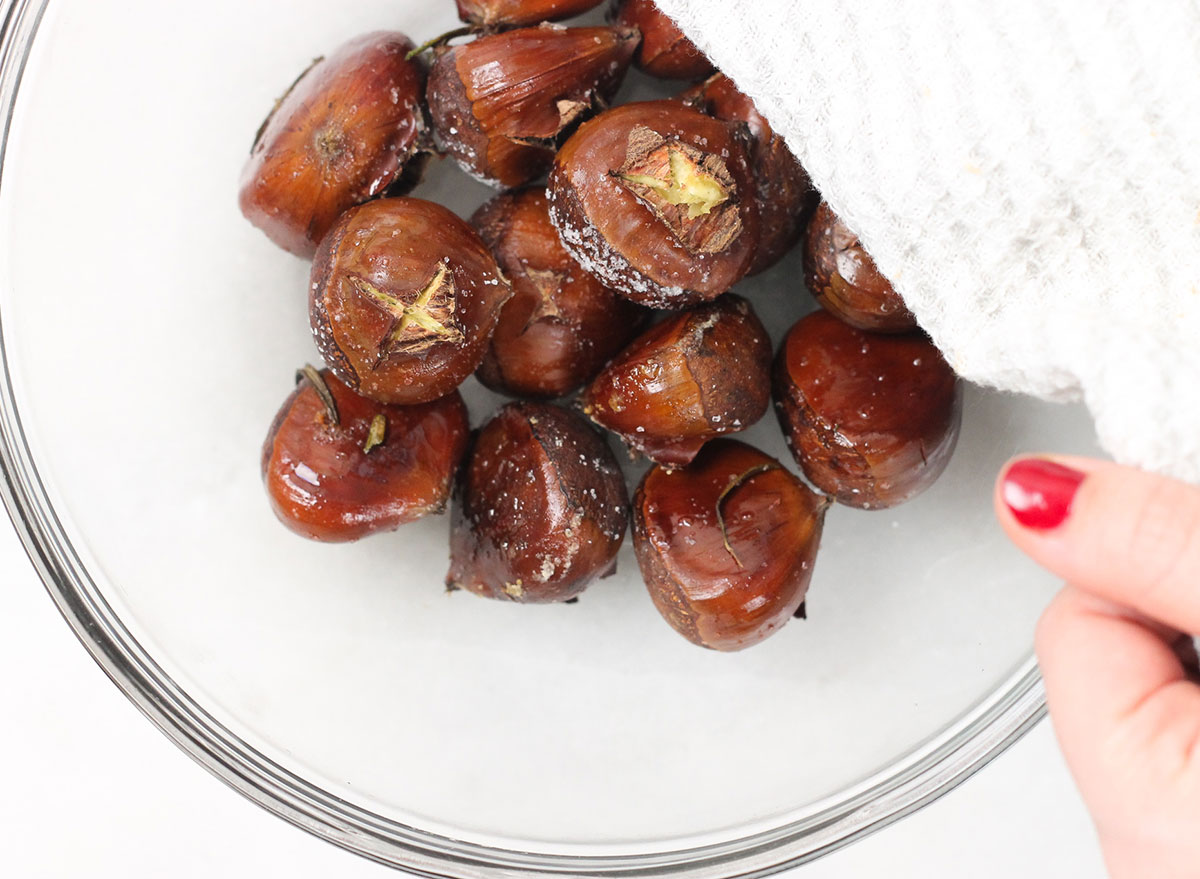 As soon as they are done, immediately transfer the chestnuts to a bowl and cover them in a towel to "steam" them. This will make them easier to peel. Leave them in the bowl with the towel for at least 5 minutes.
Peel while warm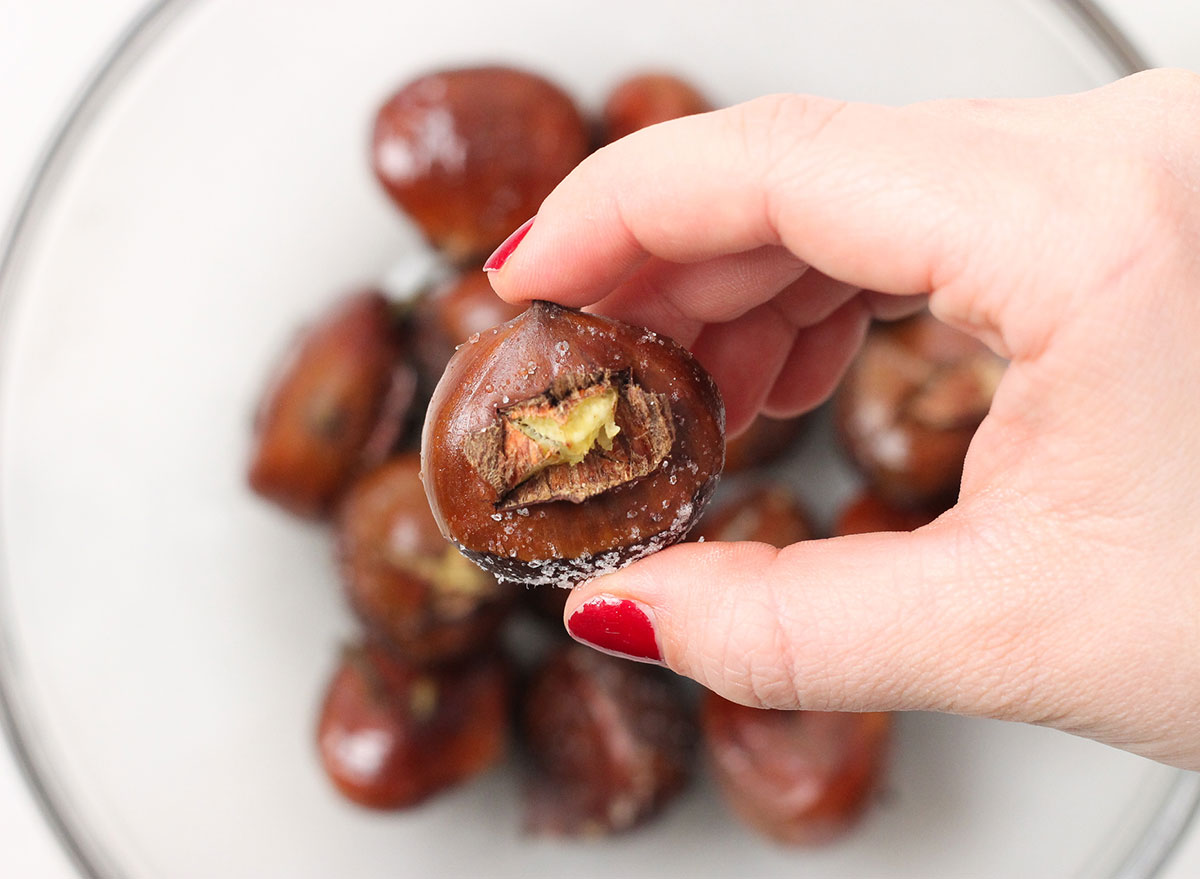 The chestnuts will still be pretty warm after the steam, but peeling them warm is much easier than peeling them cold! Some of the nuts may not come out as easily as others, but if you're simply opening them up for a fun winter snack, the shape shouldn't matter as much.
Full Chestnut Recipe
Preheat the oven to 425 degrees.
Cut slits in the top part of the chestnut with a serrated knife.
Soak the chestnuts in a bowl of hot water for at least three minutes.
Cover in butter, salt, and the rosemary from one sprig.
Spread on a baking sheet.
Roast in the oven for 15 to 20 minutes, or when the shells peel back.
Immediately place the roasted chestnuts in a bowl and cover with a towel to "steam" them for five minutes.
Peel them while they are still warm.