Sam's Club Is Planning 30 New Locations Across the U.S.—Here's Where the Retailer Is Headed Next
The warehouse club chain is back on the path to growth.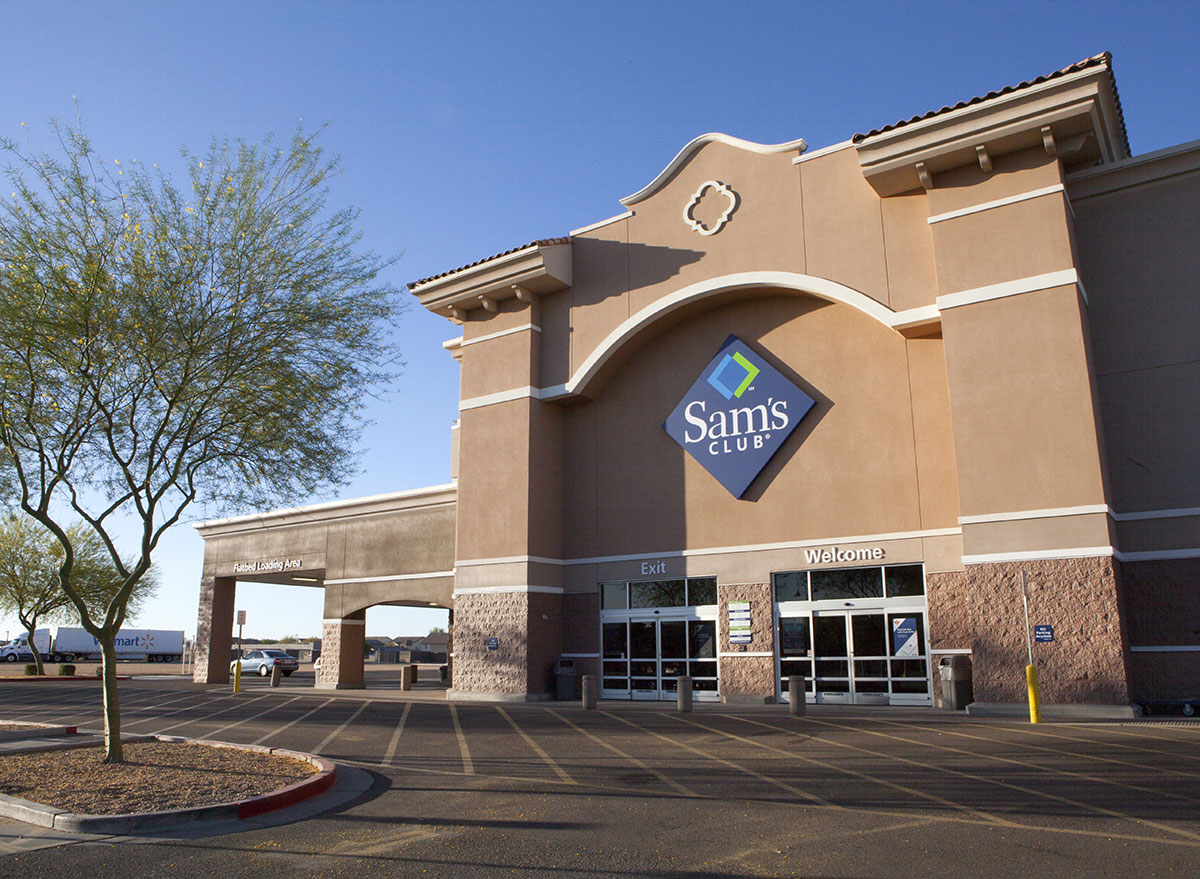 As discount-loaded warehouse clubs continue to gain more members amid record inflation, Walmart-owned Sam's Club is kicking off an ambitious expansion plan.
On Thursday, the members-only retailer revealed that it plans to open more than 30 clubs across the United States, citing "historic comparable sales growth, and a record rise in membership over the last two years" as the impetus behind this move. The first new location is set to debut in Florida in 2024. Before this, Sam's Club will be unveiling five new supply chain fulfillment and distribution centers in 2023, with the first one slated to open in Georgia during the third quarter of the year.
According to CNBC, Sam's Club CEO Kathryn McLay said the new stores will open in "high-growth suburban areas where Sam's Club has few stores or no stores," but she declined to specify the locations for "competitive reasons."
The upcoming warehouse clubs will be approximately 160,000 square feet—about 20,000 square feet larger than most Sam's Clubs stores. The locations will feature a seafood/sushi "island," a full-service floral department, a large healthcare space with hearing and optical centers, as well as walk-in dairy and fresh food coolers. Additionally, most of the new Sam's Club locations will have larger spaces designated to curbside pickup, home delivery, and ship-from-club orders.
"We've seen remarkable growth over the past few years with a record number of members, and we're excited to bring the experience of Sam's Club to even more markets as we expand our footprint," McLay said in a press release. "And as we open new clubs in new locations, we'll continue to innovate so that our members shop and save whether in person or online."
Sam's Club, which currently has around 600 stores in the U.S., hasn't opened a new location since 2017 and shuttered 63 stores in 2018.
News of the expansion strategy comes just a few months after the retailer raised its membership prices for the first time in nine years. The standard "Club" membership fee increased from $45 to $50, while the "Plus" membership fee increased from $100 to $110.
Sam's Club isn't the only warehouse club chain with growth on the horizon. In December, Costco announced that it will be opening 15 new locations this fiscal year, with 11 of those planned for 2023. The newest store opened its doors on Jan. 26 in Queen Creek, Ariz.
Brianna Ruback
Brianna is a staff writer at Eat This, Not That! She attended Ithaca College, where she graduated with a degree in Journalism and a minor in Communication Studies.
Read more about Brianna