7 Weight Loss Desserts That Actually Satisfy, Recommended By Dietitians
Got a sweet tooth? These healthy indulgences will satisfy it!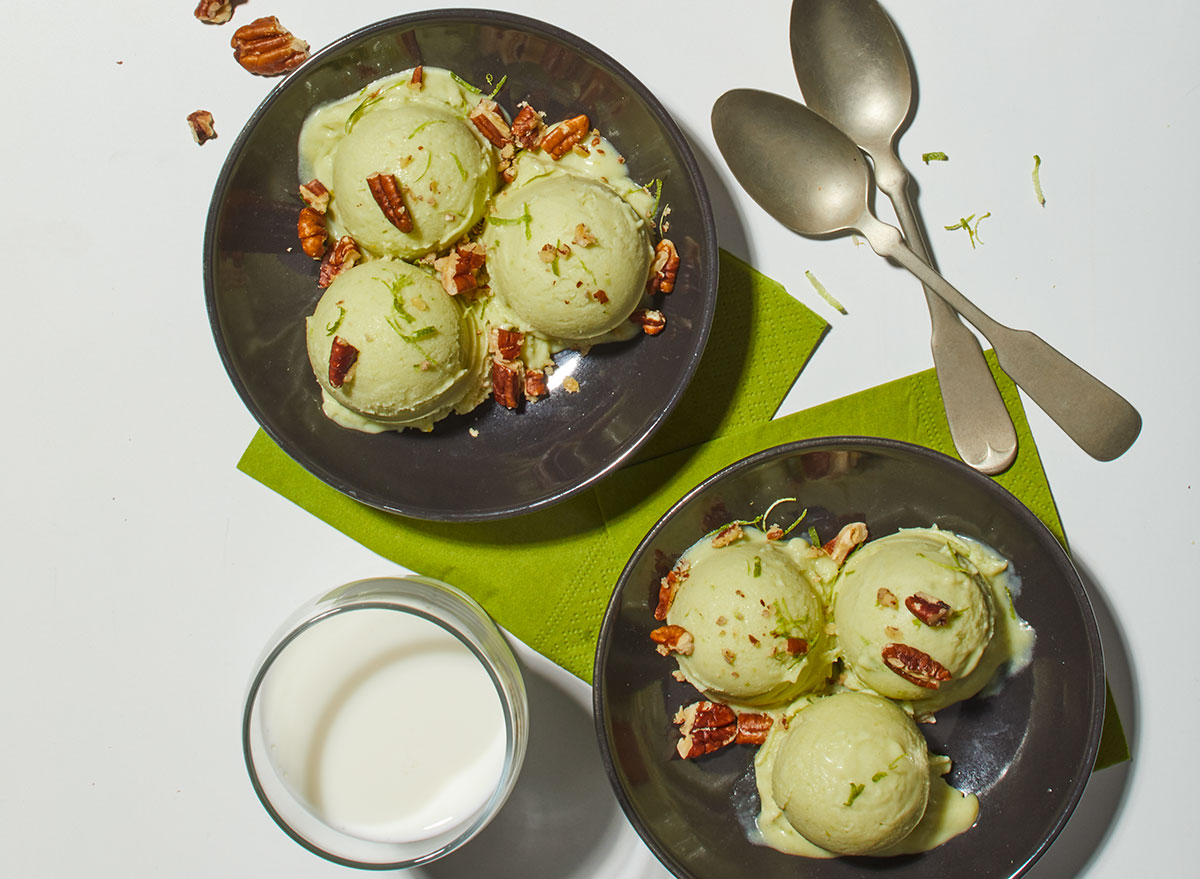 Dessert and healthy eating? Seems like an oxymoron, right? Dessert is always associated with "unhealthy" eating habits, but in actuality, that notion isn't always true. In fact, there are numerous different types of desserts to enjoy out there that can satisfy your sweet tooth while still making good on your health goals. It's all about looking for weight loss desserts that will satisfy you and make you feel full so you don't overdo it on your sweet treat.
"As a dietitian, I want people to know that if you are trying to eat healthfully but have a serious sweet tooth, you don't have to say goodbye to desserts," says Cheryl Mussatto MS, RD, LD, Clinical Dietitian and blogger at Eat Well to Be Well. "With a few tricks and healthy additions, your sweet tooth will be pleasantly surprised how many nutritious foods offer quite a bit of satisfaction to a sweet treat at the end of a meal or even as a snack."
So if you're looking for something sweet to enjoy while trying to eat healthier and lose a few pounds, this list is something to keep in your back pocket. Here are a few weight loss desserts dietitians recommend making at home, and if you're looking for even more healthy recipe ideas, here are the 100 Easiest Recipes You Can Make.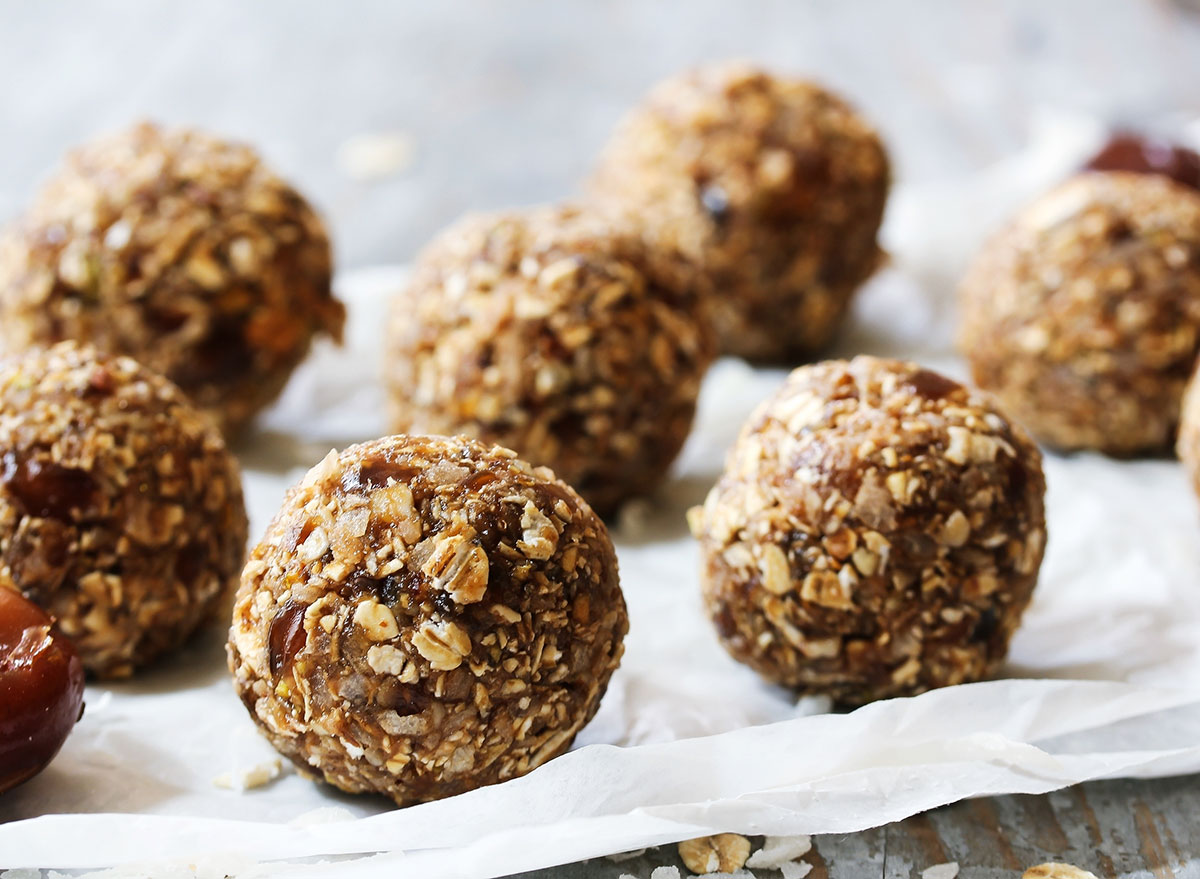 "I like to make energy bites when craving a sweet treat," says Mussatto. "I'll pack these decadent-tasting indulgences with various satiating add-ins like heart-healthy cocoa, magnesium-rich peanut butter, whole grain oats, fiber-filled nuts, and highly nutritious chopped dried apricots or dates. You really can't go wrong with any of these delightfully pleasing foods."
Or try one of these 25 Recipes for Energy Balls That Live Up to the Hype.
High fiber cookies or ice cream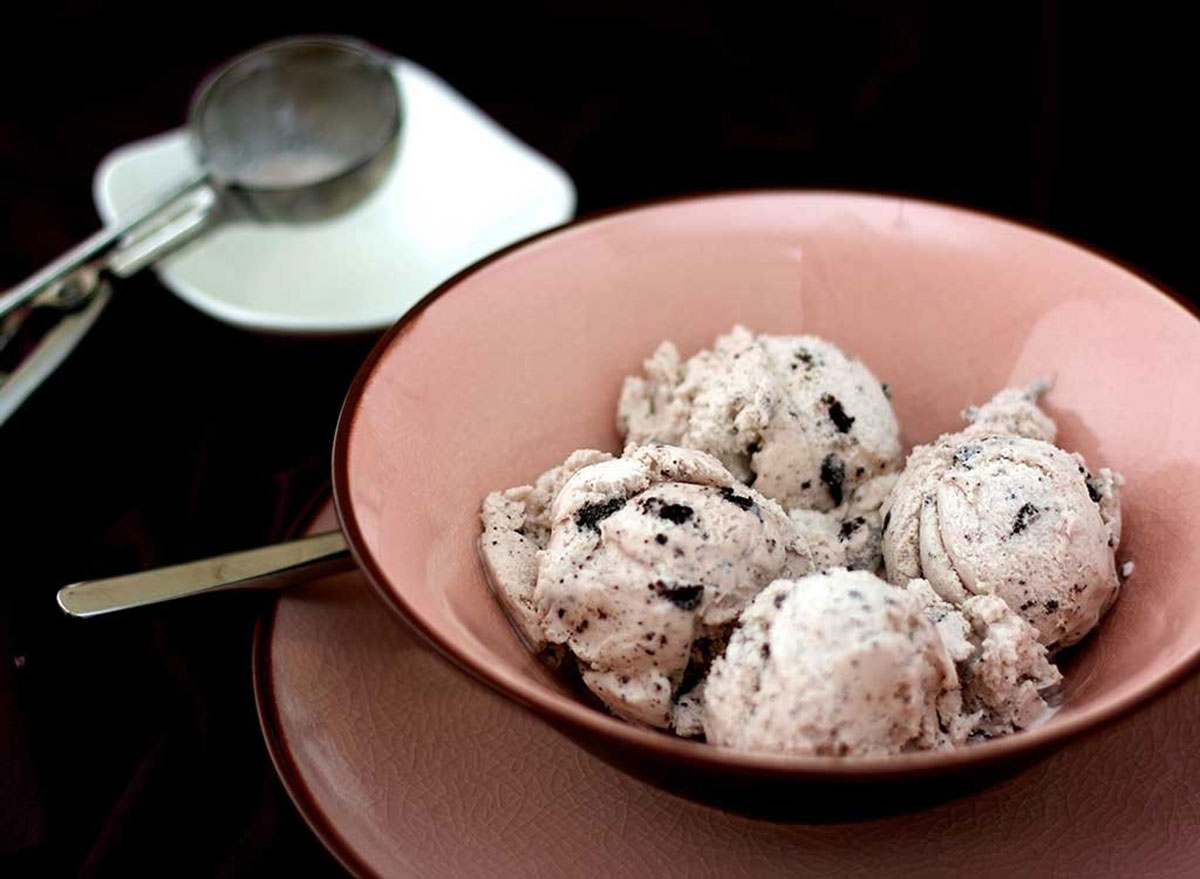 "High fiber desserts are a great way to satisfy your sweet craving whilst also curbing your appetite," says Kara Landau- RD and founder at Uplift Food. "Fiber helps stimulate fullness hormones that speak to your brain to let you know you have eaten which mentally helps you register that you don't need to keep eating. High fiber desserts can include an array of options, such as any higher fiber ice creams, yogurt with berries, high fiber cookies, or even high fiber puffs."
Related: Get even more healthy tips straight to your inbox by signing up for our newsletter!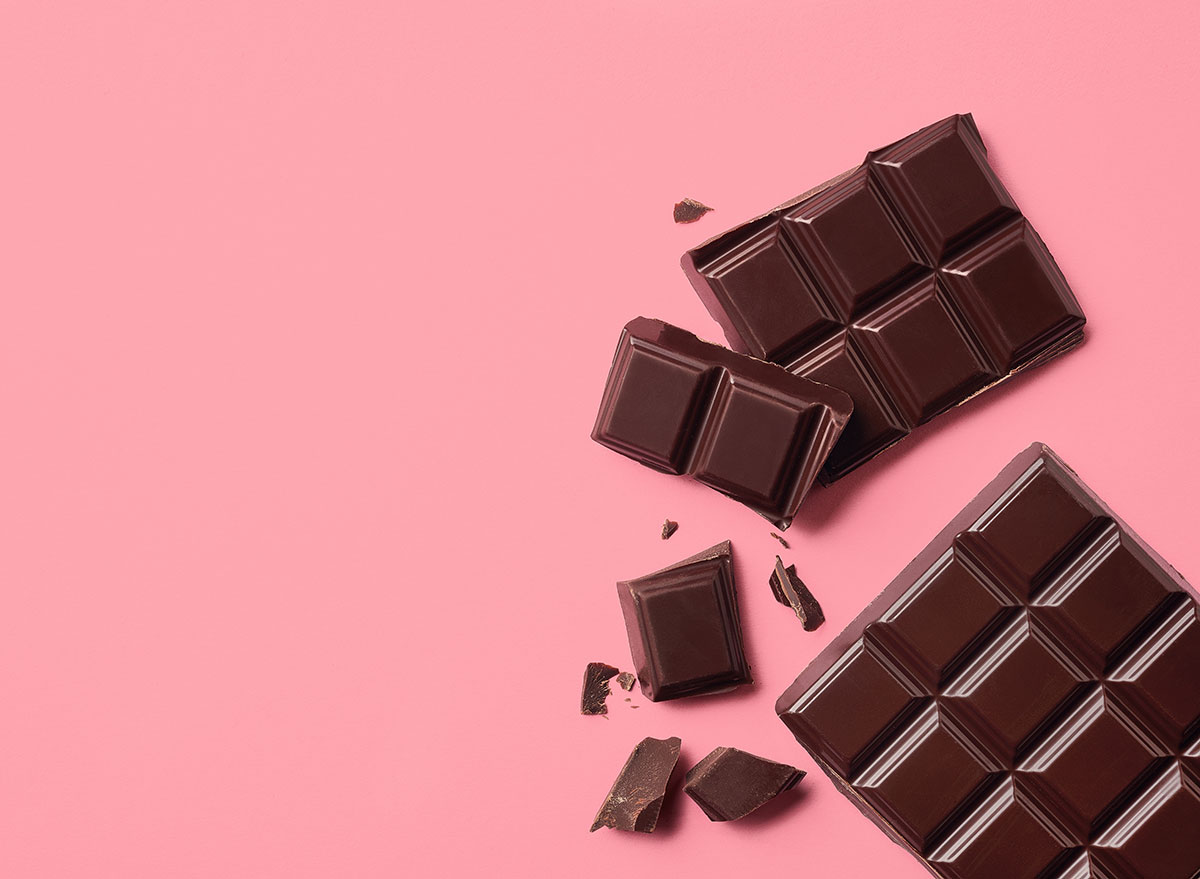 "Dark chocolate is rich in fiber and healthy fats–two nutrients which help fill us up and keep hunger at bay," says Mackenzie Burgess, RDN, registered dietitian nutritionist and recipe developer at Cheerful Choices. "The higher the cocoa percentage the better, because this means it will have less added sugar and more fiber content. Try pairing a few squares of your favorite dark chocolate bar with a handful of almonds or frozen yogurt for extra protein."
Here's What Happens to Your Body When You Eat Dark Chocolate.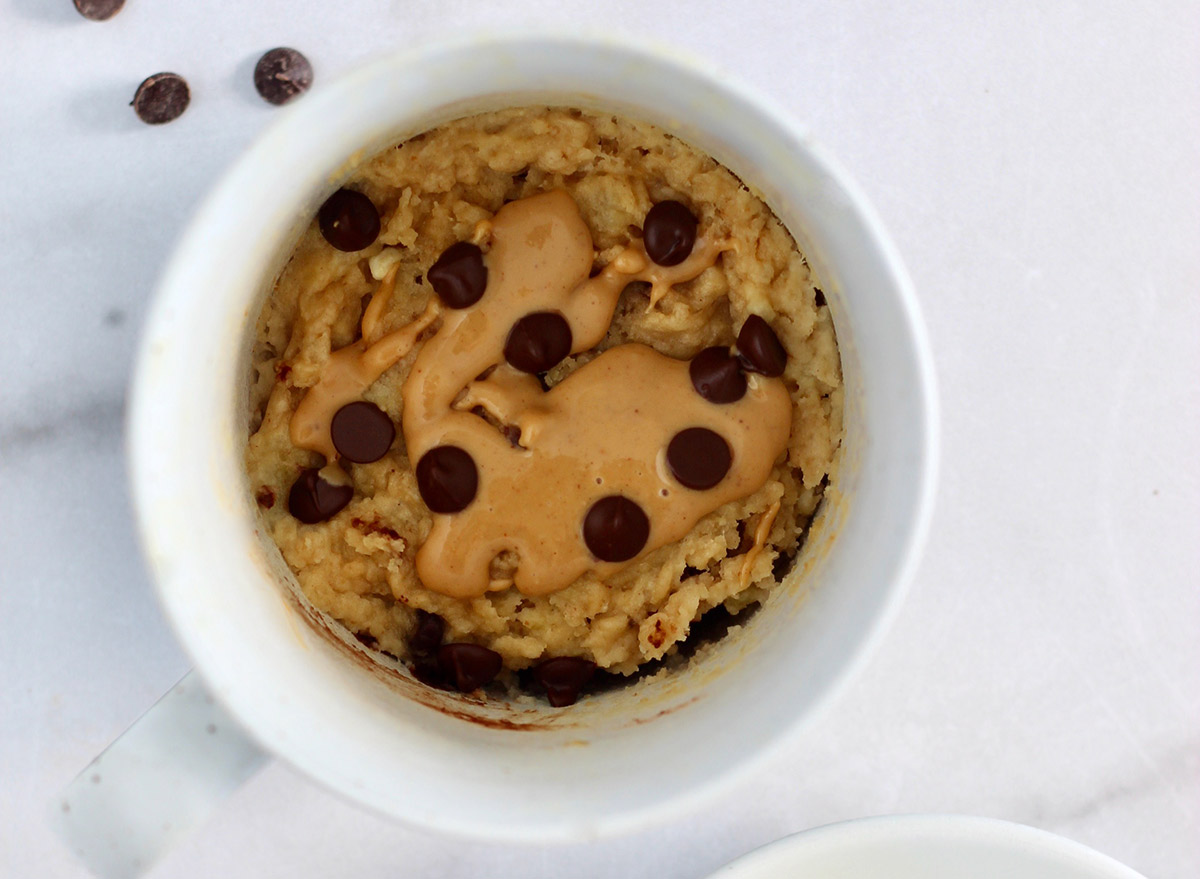 "For this protein mug cake recipe, you'll mix together a few simple ingredients like peanut butter, chocolate chips, and mashed banana in a mug and microwave to reveal a cake-like sweet treat," says Burgess. "I like to add a scoop of protein powder into the mix to create a fluffy texture and boost the satiety effect. My favorite to use is Designer Protein powders because they have options for different dietary preferences and come in tons of delicious flavors like french vanilla, vanilla coconut, and double chocolate."6254a4d1642c605c54bf1cab17d50f1e
Fruit with whipped cream or yogurt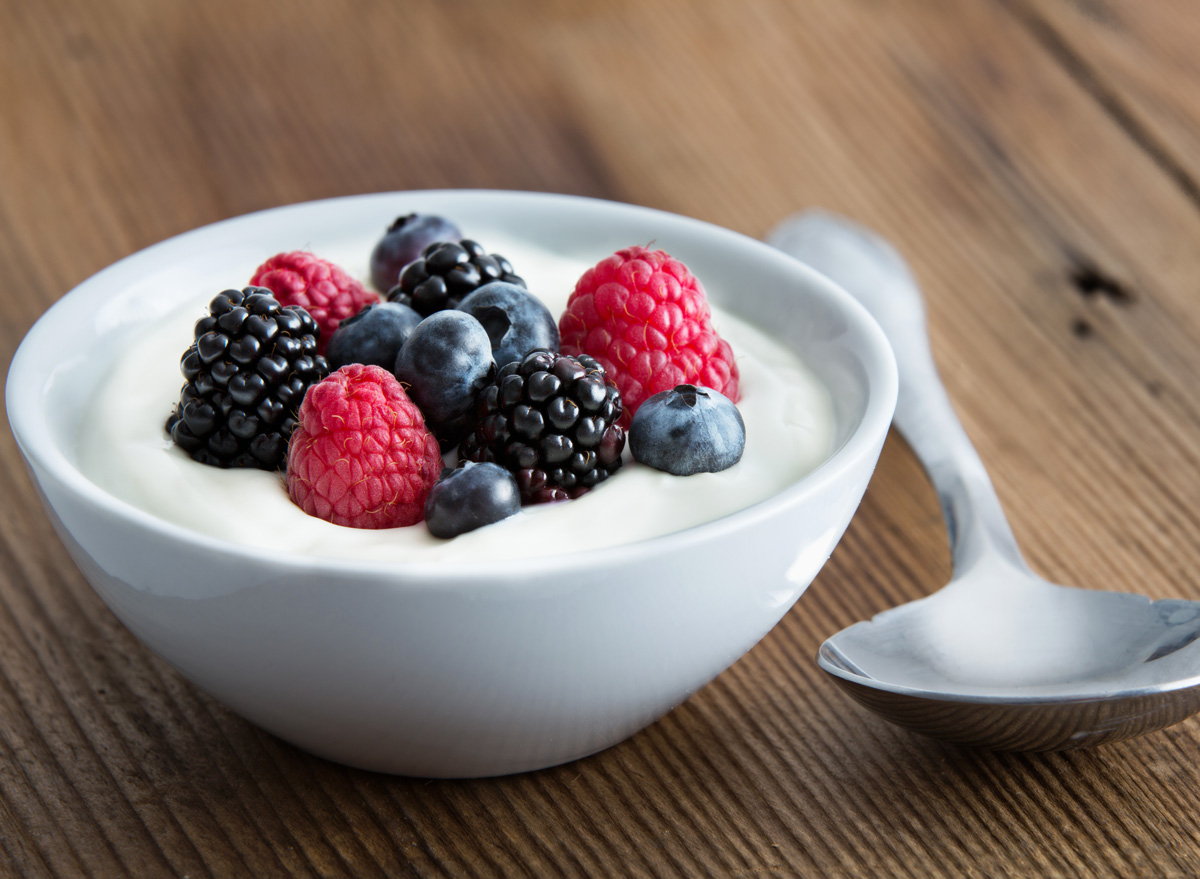 "Some desserts that can actually satisfy you are frozen fruit (such as grapes) with a low calorie whipped cream and some nuts, a small serving of dark chocolate with some almonds, or fresh fruit with Greek yogurt with a bit of honey can all be satiating," says Ricci-Lee Hotz, MS, RDN at a Taste of Health and Expert at Testing.com. "These options all combine carbohydrates, protein, and a little bit of fat to allow for satiation as well as good flavor!"
Not sure which fruit to go for? Talia Segal Fidler, MS, HHC, AADP, and holistic nutritionist from The Lodge at Woodloch, recommends reaching for berries if you're having a hard time deciding.
"Berries are also a great ingredient for desserts," says Segal Fidler. "They are vibrant, beautiful, and brimming with flavor. Berries are antioxidants and anti-inflammatory and they are known to help improve blood sugar and insulin response. Of course it helps that they are filled with fiber which helps you to feel satisfied and feel full longer."
"Avocados are always a good idea. They help create a rich and creamy dessert that helps to satisfy while also being rich in nutrients like vitamins K & C, folate, potassium and magnesium—among others," says Segal Fidler.
Surprisingly, avocados make for a great weight loss desserts! You can turn it into a mousse or ice cream, or even use it in a pie like this Raw Lemon-Lime Pie recommended by Segal Fidler from The Lodge at Woodloch.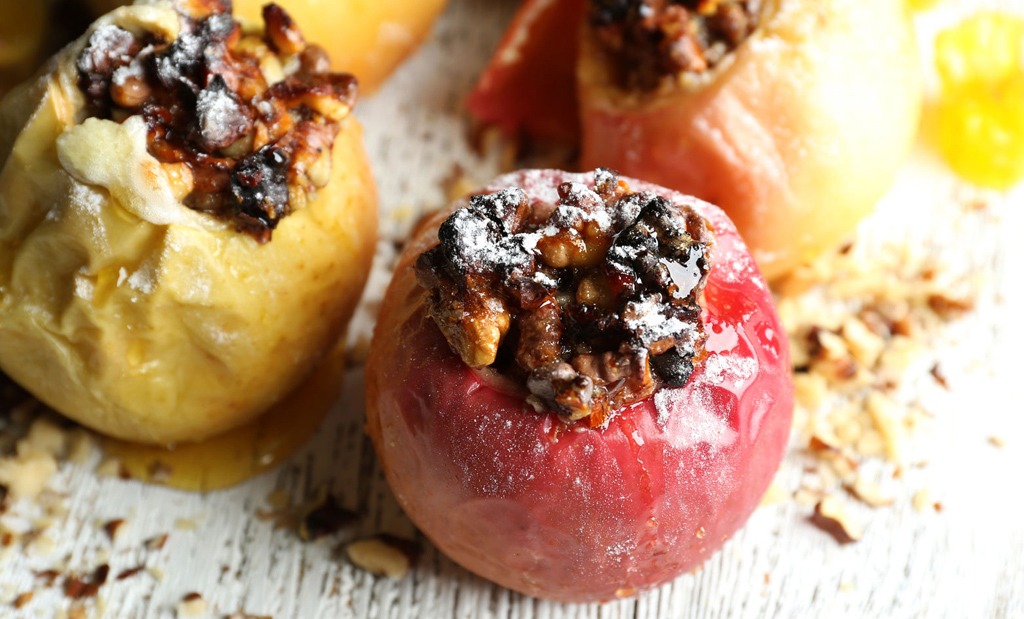 "I'm a fan of enjoying foods from at least two food groups for a more satisfying snack," says Lisa Young, PhD, RDN is the author of Finally Full, Finally Slim, and adjunct professor of nutrition at NYU. "Create the perfect pair, as they say. A baked apple topped with walnuts. The apple contains fiber and the fat from nuts contain healthy fats. Strawberries drizzled with peanut butter and dark chocolate—again fat and fiber! And delicious. And some chocolate for sweetness."
Need more healthy dessert inspiration? Check out our list of 76 Best Dessert Recipes for Weight Loss!