9 Secrets Krispy Kreme Doesn't Want You to Know
This legendary donut shop has not had it easy.
By now, everyone has heard of Krispy Kreme and knows about the legendary red light that pops on when fresh donuts are available to eat. If you've partaken in these hot, fresh, yeast-raised donuts, you know what the fuss is about. What you probably don't know is that Krispy Kreme is one of the oldest donut chains in the country. It was founded in 1937, but if you aren't from the South, you probably didn't know about it until it started spreading all over the globe in the '90s. You may also have never heard about these scandalous moments in Krispy Kreme history. Here are eight secrets the fabled donut franchise doesn't want you to know.
It was sued for using sub-par ingredients.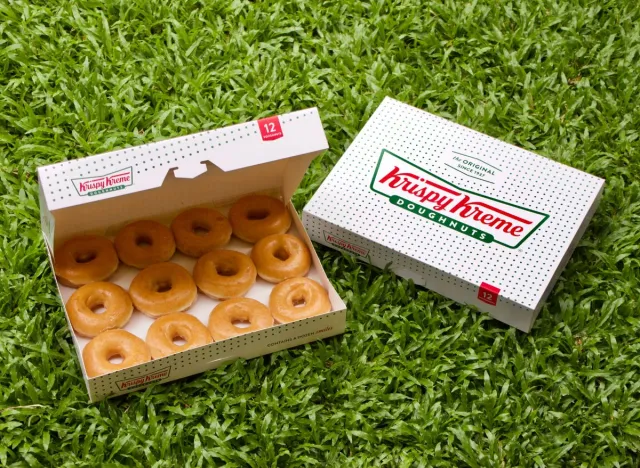 While no one in their right mind would consider donuts a health food, a disgruntled Krispy Kreme customer filed a lawsuit claiming that the donut shop mislead him. According to the suit, the donuts did not contain "real" ingredients and thus made him think he was eating healthier than he actually was. The lawsuit claimed that there was "no real maple syrup, raspberries, or blueberries in their glazed raspberry filled, glazed blueberry cake, and maple iced glazed donuts."
In 2019, a judge denied the company's request to dismiss the suit. In terms of the blueberry donut, Krispy Kreme now has at the top of the nutrition info, "Artificially Flavored. Does not contain real Blueberries."
A British store created a racist promotion.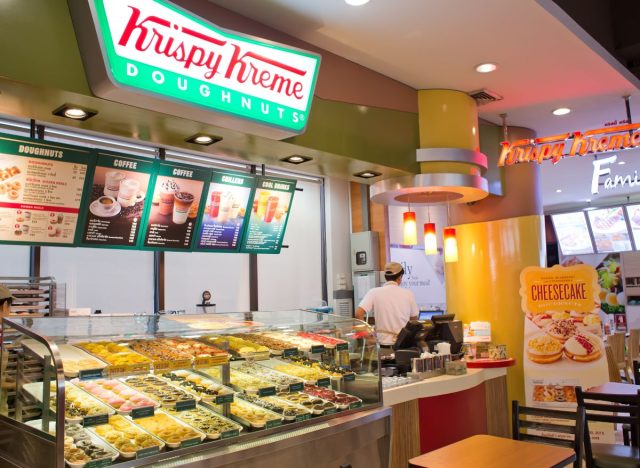 In 2015, a UK branch of Krispy Kreme planned a special promotion called the Krispy Kreme Klub, and referred to the event by its initials, calling the event the KKK Wednesday promotion. How the truly offensive name made it onto promotional material is a mystery, but Snopes.com confirmed that this really happened.
Krispy Kreme issued a few apologies on social media, including this one, "Krispy Kreme apologises [sic] unreservedly for the inappropriate name of a customer promotion at one of our stores. We are truly sorry for any offense this completely unintentional oversight may have caused. All material, both online and in the store, has been withdrawn and steps are being taken to ensure that greater precautions are taken with publicity materials in the future."
The chain was recently fined after metal was found in a doughnut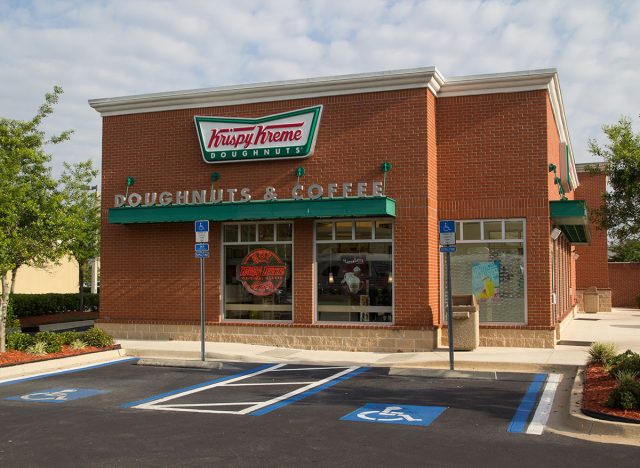 A customer found metal in their donut in the UK, according to Food Safety News. Krispy Kreme UK allegedly told the person that it was a piece of foil from the packaging. The customer persisted and Krispy Kreme later admitted that the metal was from a damaged piece of equipment and that it had received two other similar complaints. The company was fined about $234,000 USD. "We apologize unreservedly for this incident and for any upset caused to the affected customer," said a company statement.6254a4d1642c605c54bf1cab17d50f1e
The secret recipe isn't Southern.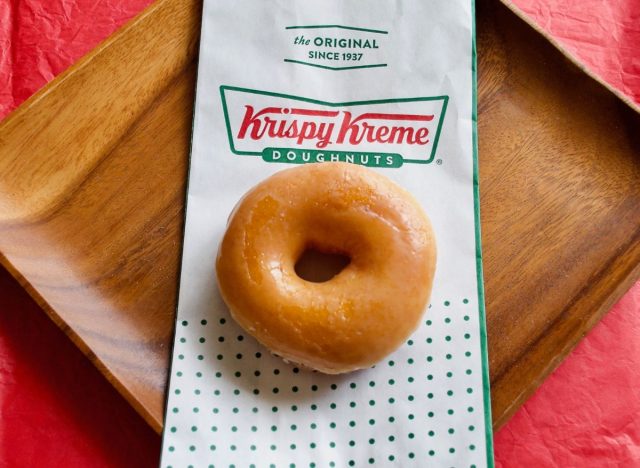 While the company was founded in the South, founder Vernon Rudolph bought the secret yeasted dough recipe from a chef in New Orleans.
The original secret ingredient might have been….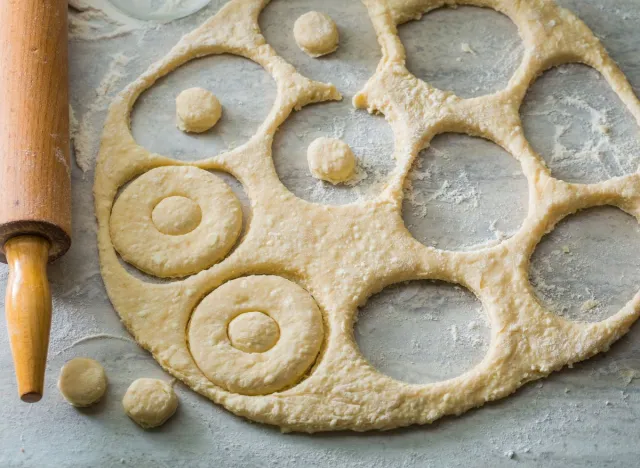 Mashed potatoes! When Rudolph's son attempted to track down the original recipe for the fabled donut he found out it might have contained "fluffed egg whites, mashed potatoes, sugar, shortening, and skim milk that was chilled, mixed with flour and covered in glaze," according to Mashed. His son also suspects that this was changed in order to make donuts quicker and more efficiently. At any rate, the current recipe for the original glazed donut does not contain any potatoes.
Unbridled expansion hurt Krispy Kreme.
Before the '90s, Krispy Kreme wasn't well-known outside of the South. In 1996, the first store opened in New York City. In the early 2000s, the company went public and opened its first international store in Canada. Some financial analysts believe that this unbridled expansion hurt the company. "They became ubiquitous," Jonathan Waite, an analyst for KeyBanc Capital Markets in Los Angeles said to CFO. "Not just in sheer numbers of restaurant units, but also roughly half of their sales started going to grocery stores, gas stations, kiosks. Anywhere that consumers could be found, you could find a Krispy Kreme." The article argues that the expansion destroyed the Krispy Kreme "mystique." They called it, "a case study of how not to grow a franchise."
In addition, the corporate office charged franchisees too much for the machines and products, essentially profiting off of them and setting them up for failure. This led to unstable stock prices that triggered an SEC investigation.
The company was poorly managed and nearly went out of business..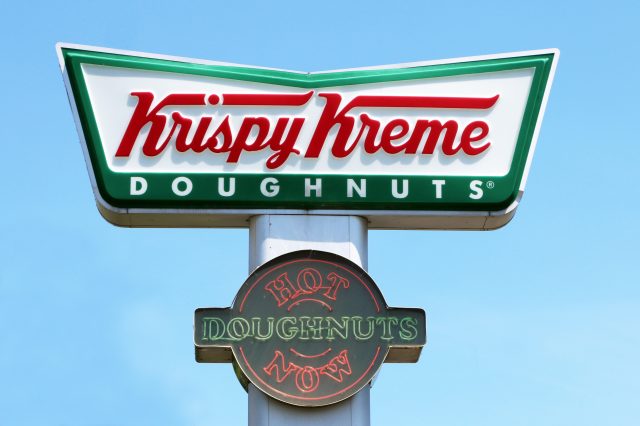 Throughout this trying time of expansion, the company had three different CFOs in just over four years. Critics say that the company was just "looking for a CFO who was going to tell them good news," and "the CFOs simply may not have been up to the task of guiding a high-growth franchise through the public markets"
While Krispy Kreme is, of course, still around today, it has only 363 locations in the U.S. as opposed to Dunkin's 8,500! According to Mashed, this is the result of the SEC investigation into questionable accounting practices that ultimately prohibited the company from expanding in the U.S., but it was allowed to expand abroad. In the end, a new CEO, capital from international expansion, and an overhaul of business practices allowed the company to survive.
An attempt to increase COVID vaccination rates led to backlash on social media.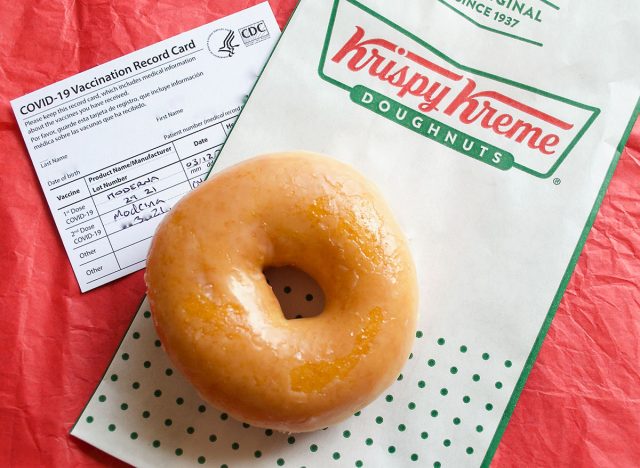 In a truly well-intentioned plan to increase vaccination rates by offering free donuts, Krispy Kreme met with pushback on social media, reported Business Insider. Doctors and other health professionals came out with some truly outrageous comments condemning the promotion of offering free, sugary food. "Krispy Kreme offering free doughnuts for getting vaccinated is like Marlboro offering free cigarettes for getting a flu shot," commented one physician.  "Great…so now after protecting folks from Covid we will get an exacerbated diabetes & obesity pandemic on top of the viral one…" said another.
A man was once arrested for driving under the influence of Krispy Kreme.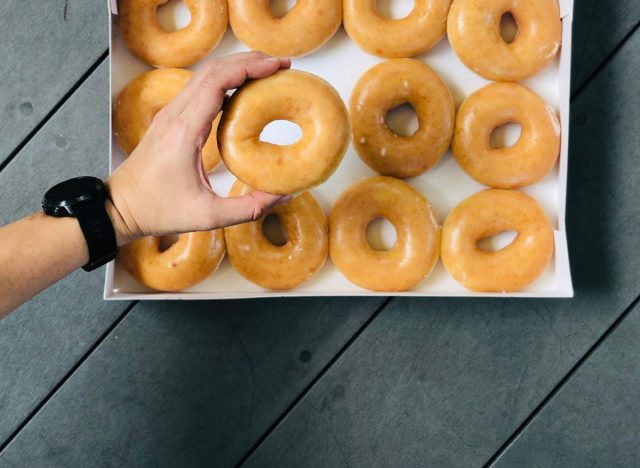 According to NPR, a man was pulled over and the cop noticed a suspicious white crusty substance on his floor that, when tested, came back positive for methamphetamines. The man was booked and sent to jail, despite claiming that there was no way the substance was meth and that it was, in fact, from a Krispy Kreme glazed donut. Turns out, the man was in the right and won a $37,500 settlement when it was proven to be harmless donut crumbs.
A previous version of this article was originally published on Jun 13, 2022.