50 Best Vintage Southern Recipes
Whether or not you're from the South, you'll love these recipes.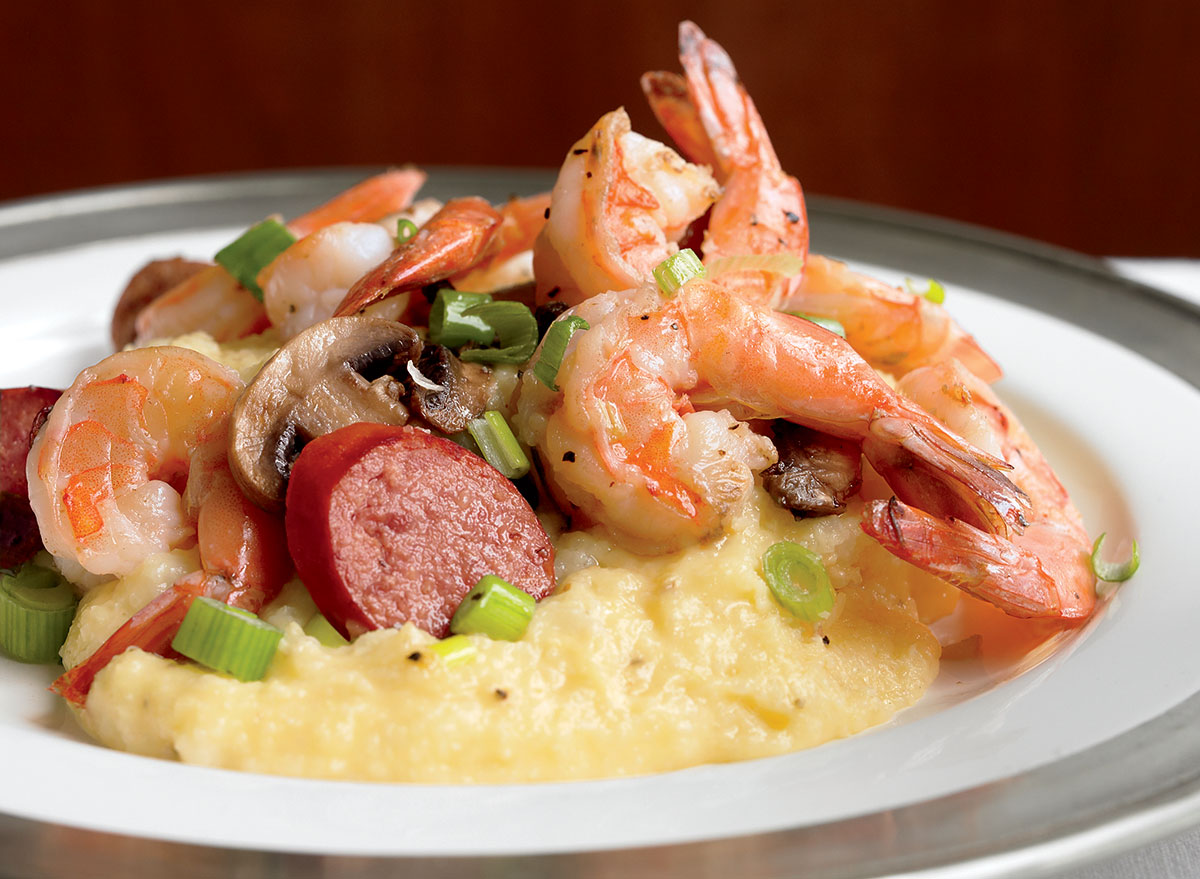 Like all regional cuisines, Southern food is the product of the people who've lived in the region throughout history. For example, Carolina hash originated with enslaved people, while crab cakes reportedly date back to Native American cooking. Taking inventory of a region's vintage dishes is like taking part in a living history lesson, while also inspiring creativity at the moment. We hope as you enjoy this tour of 50 of the South's most iconic recipes, you feel a connection with Southern history. And if you're inspired to bring some of that history into the present day in the form of cooking, that's even better.
And for more, don't miss these 22 Meals to Melt Belly Fat in 2022.
Despite the fact biscuits are ubiquitous on Southern dining tables, some fear that honest-to-goodness handmade biscuits are in danger of disappearing amid the many choices now available for ready-made refrigerated biscuit dough. And that, we think, is a crying shame, especially when rolling out biscuits from scratch requires a mere five ingredients, most of which you probably have on hand anyway. We're talking flour, butter, baking soda, baking powder, and buttermilk. So in the name of tradition and good taste, please give these pillow-light babies a chance.
Get our recipe for Flaky Southern Biscuits.
Buttermilk is a staple in many a Southern refrigerator, but if you don't happen to have any on hand, we have an easy fix, provided you do have milk, lemon juice, and 10 minutes to spare. Use your quick homemade buttermilk in our recipes for flaky Southern biscuits, a protein-packed version of the classic buttermilk pancake, and the good ole fashioned Southern fried chicken you've been thinking about since you started reading this story.
Get our recipe for Homemade Buttermilk.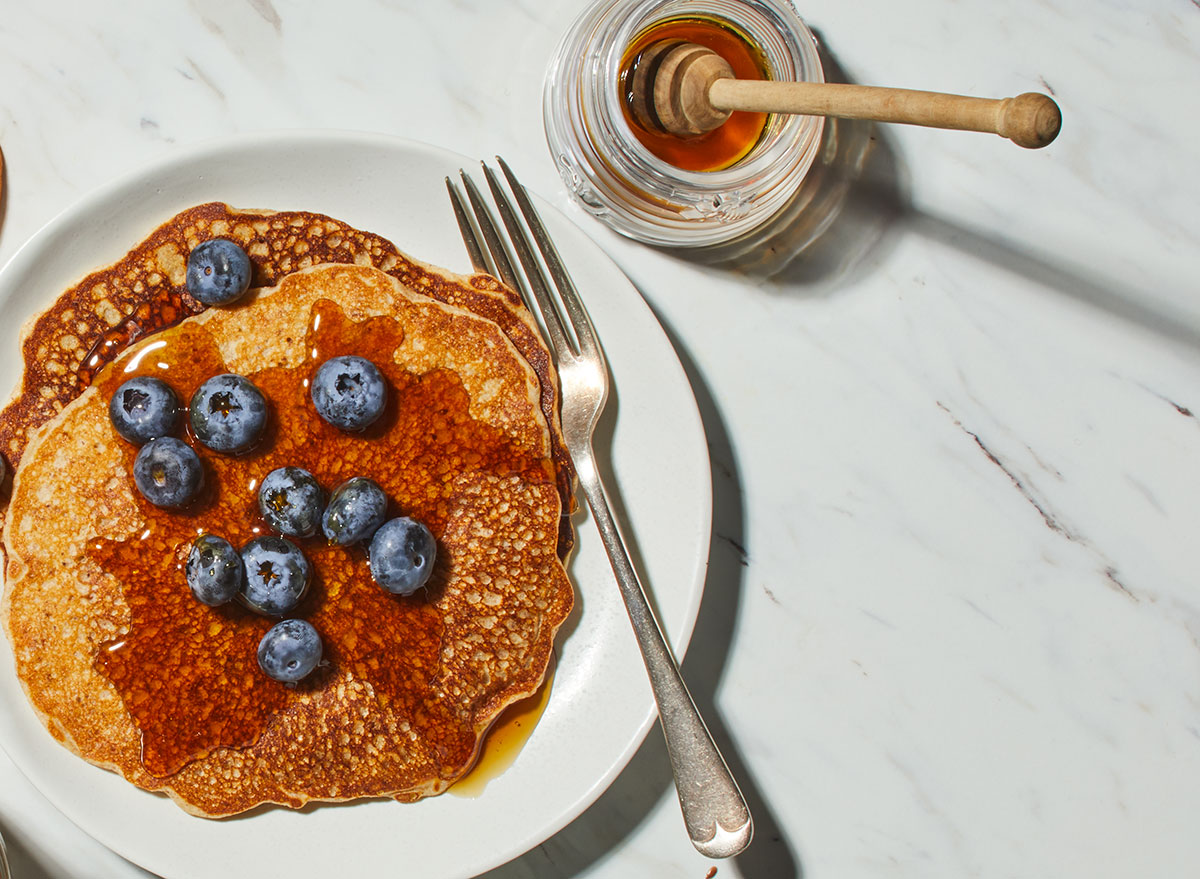 A Southern breakfast-table classic, buttermilk pancakes are melt-in-your-mouth yummy, and guess what? They don't have to be a carb bomb, at least not when your recipe balances the carbs with flaxseeds and Greek yogurt, which amps up the protein power.
Get our recipe for Protein-Packed Flaxseed Buttermilk Pancakes.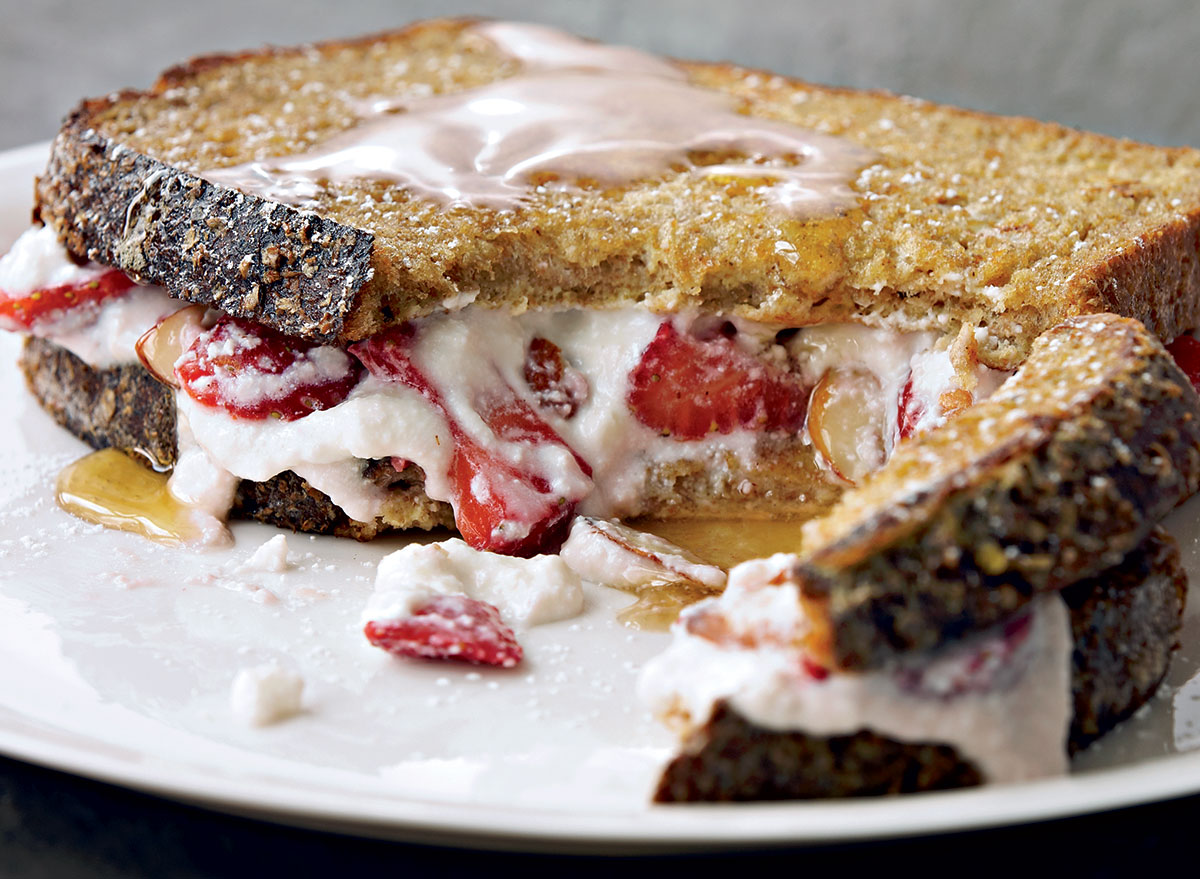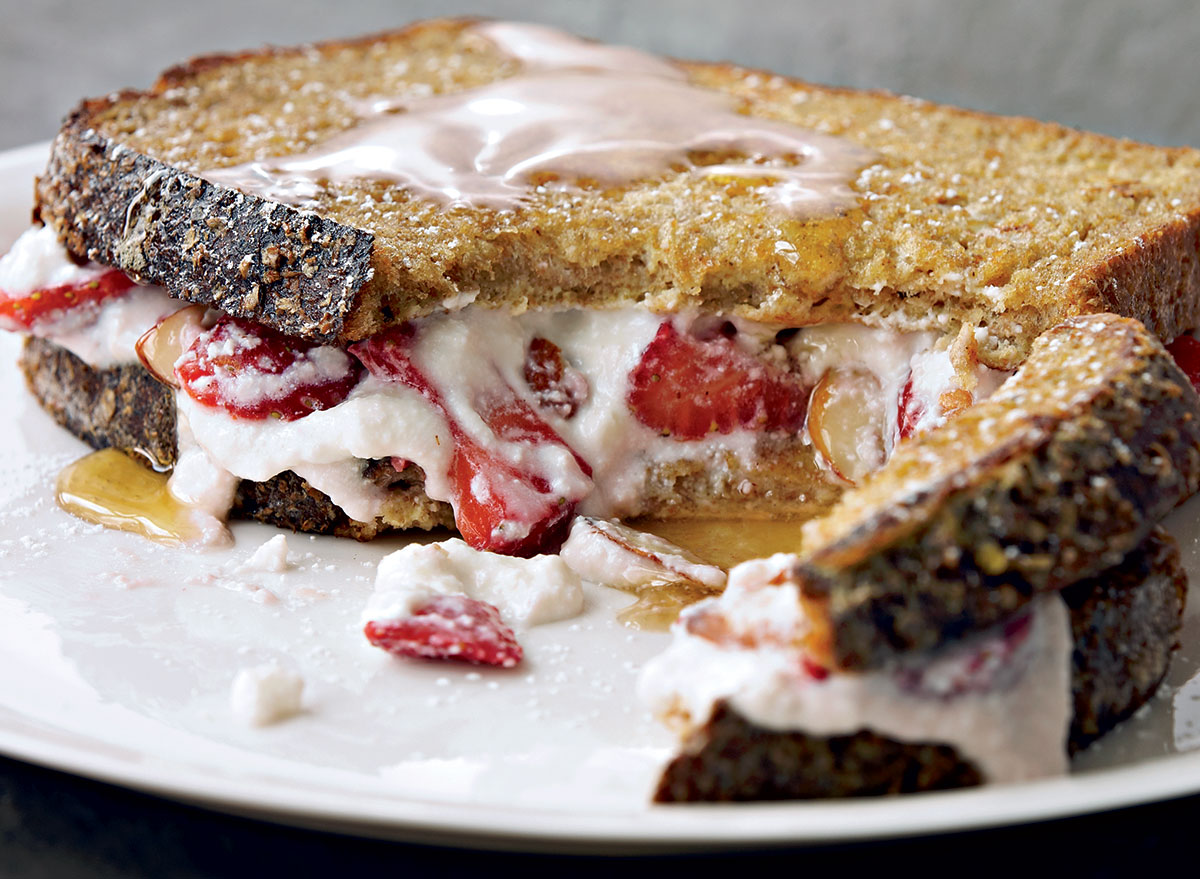 Some say pancakes are the hero of the breakfast table, but there are a lot of French toast fans out there who would disagree, especially when that French toast is stuffed with strawberries, which grow easily in the South. In this case, the cream is actually your choice of ricotta or cottage cheese, which is why you can feel like you're having a decadent morning meal while actually loading up on the protein.
Get our recipe for Strawberry Stuffed French Toast.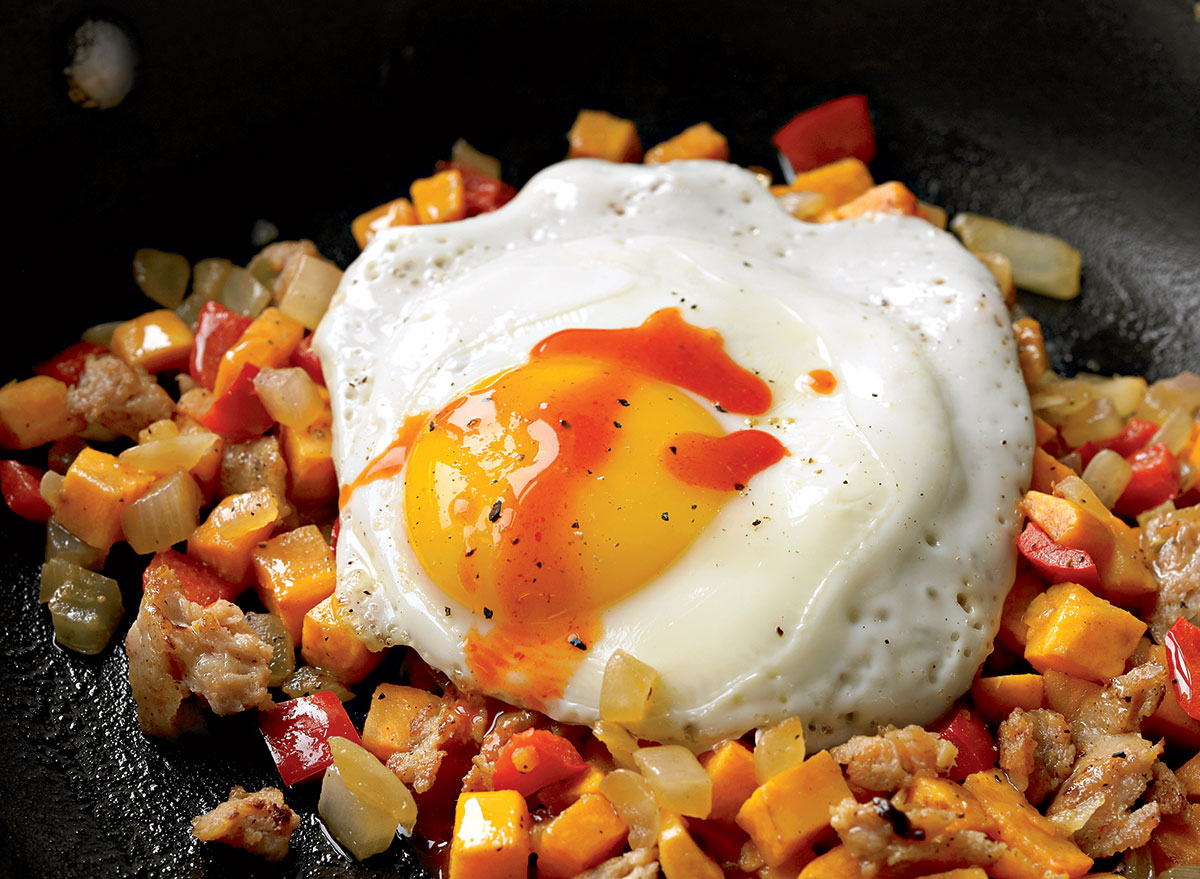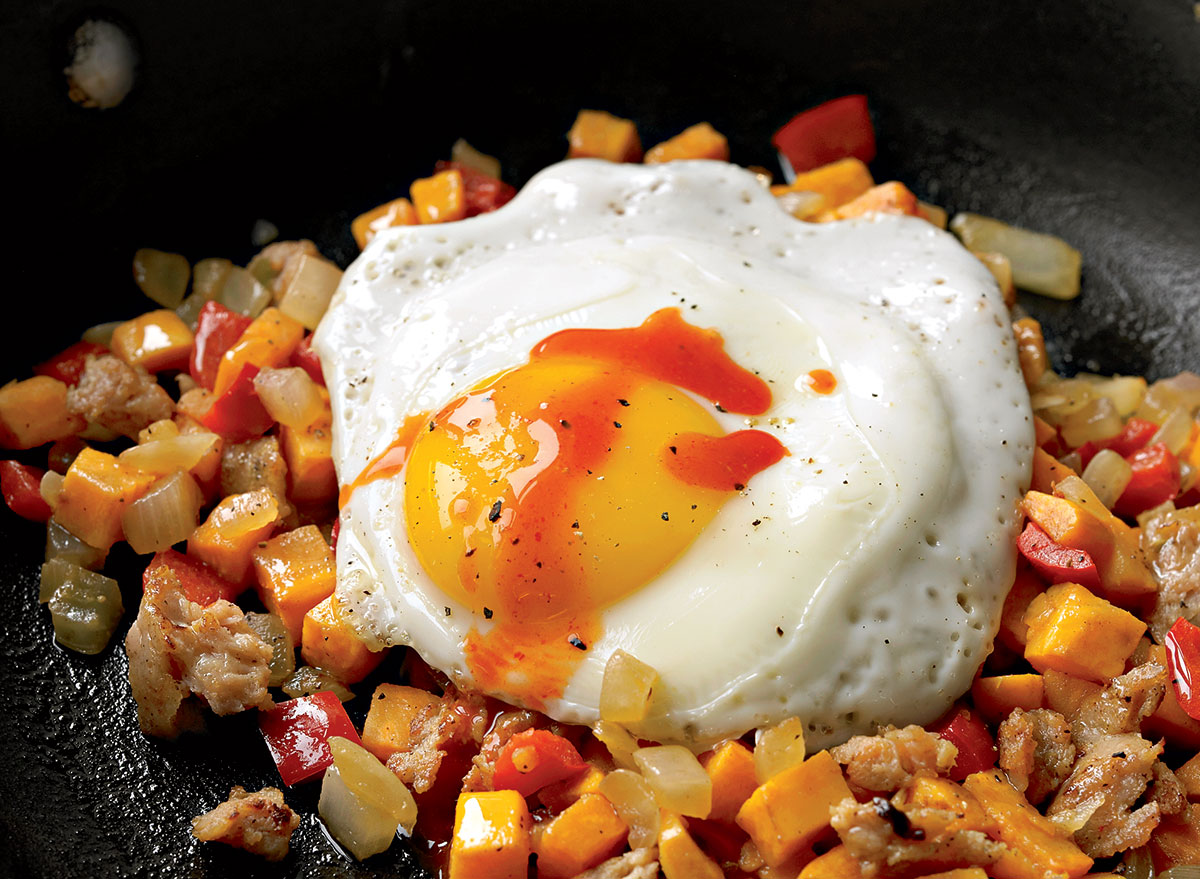 The word "hash" comes from the French, "hacher," which means "to chop." It makes sense considering hash is a one-pan fry consisting of chopped, leftover meat, potatoes, and onions. Traditional Southern hash may have, at one time, been one way to use up all the parts of a pig, but nowadays, you should feel free to use whatever meat you have on hand. Our Southern breakfast hash uses chicken sausage in place of pork, sweet potatoes in place of ordinary spuds, and a shake or two of Tabasco sauce for a quick bolt of heat.
Get our recipe for Southern Breakfast Hash.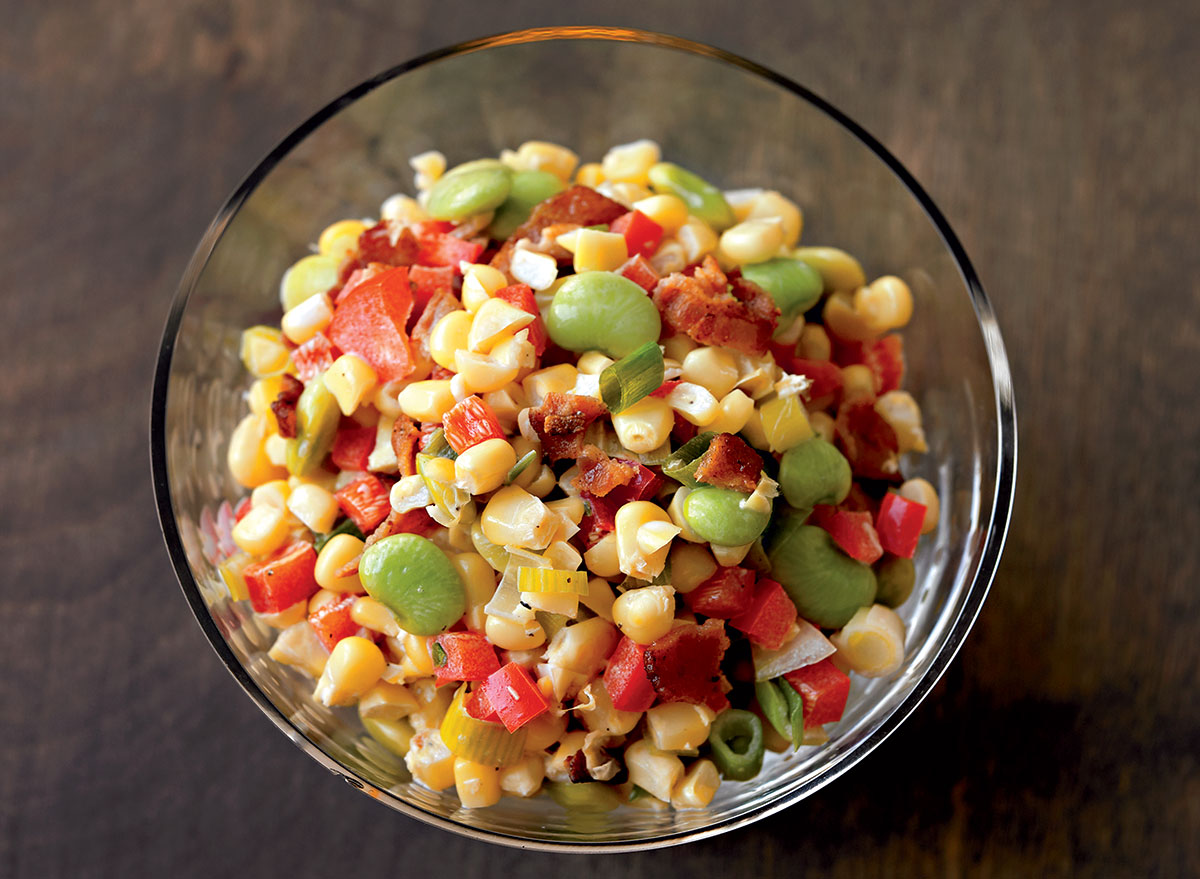 This Southern favorite that's built on a foundation of lima beans and corn (which work in synch to create a complete protein) has an origin story in just about every state where the colonists crossed paths with Native Americans, including Massachusetts, which likes to claim succotash as its own because it was supposedly served at the first Thanksgiving at Plymouth Plantation in 1621. But once you dress it up with smoky bacon and a splash of half-and-half, as we do in our version, you're talking Southern pedigree all the way.
Get our recipe for Smokey Southern Succotash.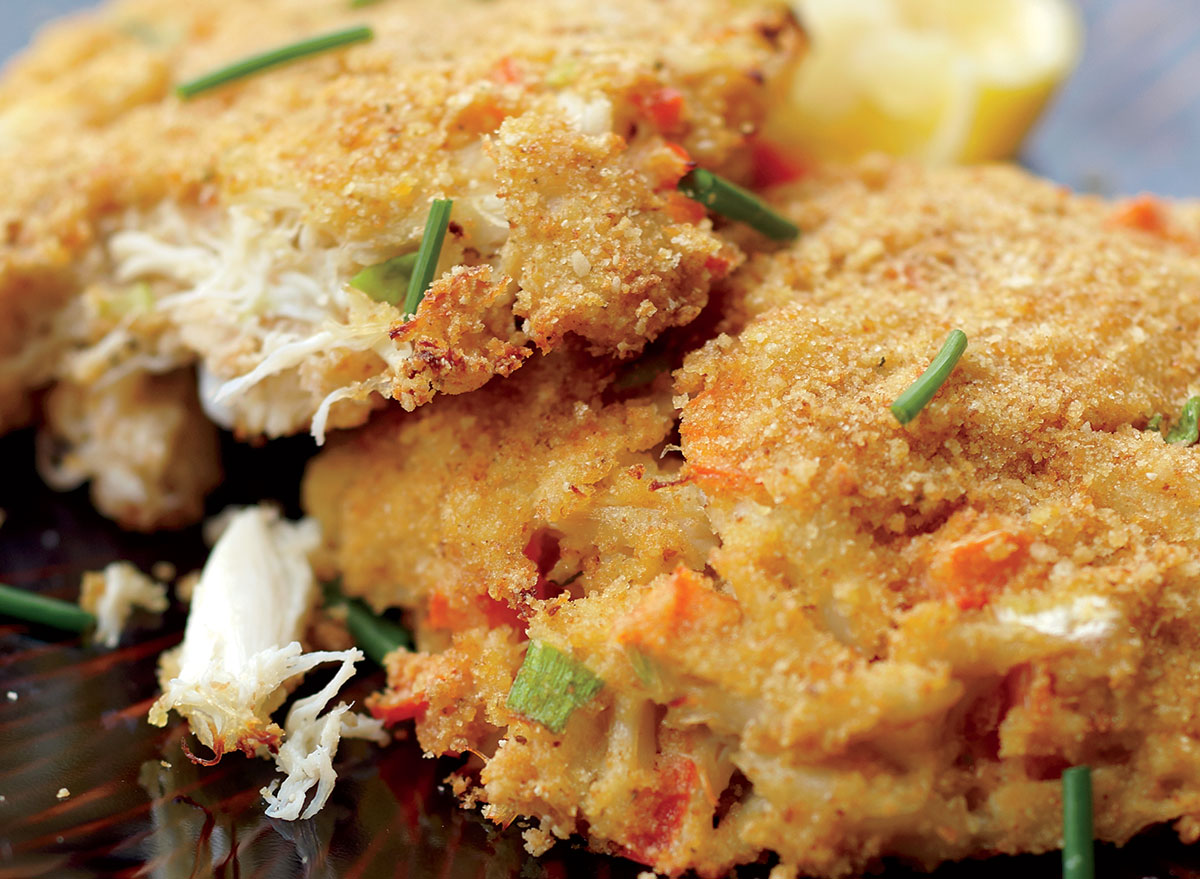 Because crabs and other crustaceans were available in abundance along the Atlantic coast when the first European settlers arrived on our shores, crabs have long been on the menu throughout the entire East Coast, but nowhere more so than in Maryland, which has become synonymous with crab in all its glorious forms. Savory cakes made from minced crab meat, bread crumbs, and spices, which go back just as far, may have been adopted from English minced meat recipes as a way to make the eating of crab easier or as a way to use every last shred of meat you can scrape from the shell. But it wasn't until 1930 that the term "crab cake" first appears in print, at which time the term was "Baltimore crab cakes."
Get our recipe for Maryland Crab Cakes with Fruity Salsa.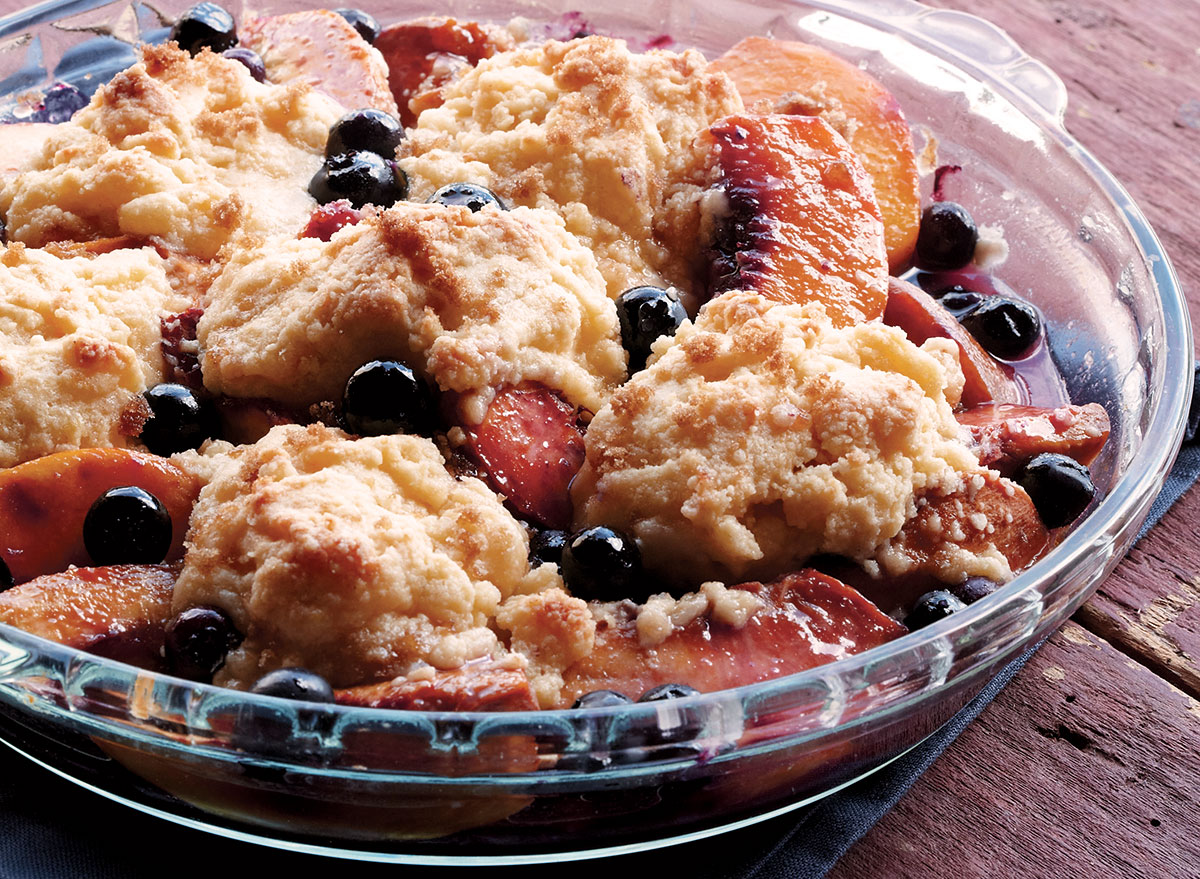 Peaches are as iconic to Georgia as crab is to Maryland. As we mention in 35 Southern Dishes Your Grandparents Used to Make, eating a Georgia peach is a multi-sensory experience of sight, smell, and taste. But the next best thing would have to be digging into a freshly-baked peach cobbler, which is basically a crustless peach pie topped with flaky Southern biscuits. Wanna take things up a level? Throw in fresh blueberries.
Get our recipe for Blueberry Peach Cobbler.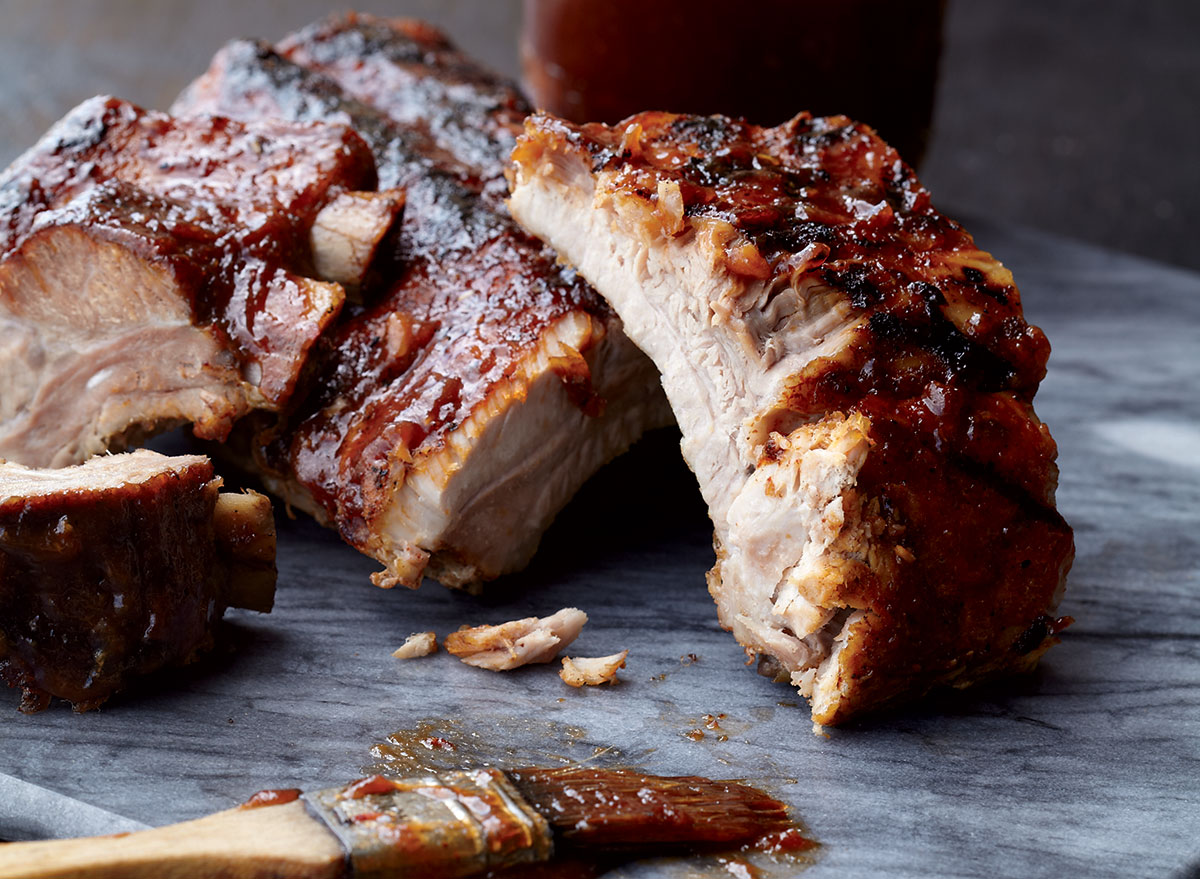 While we're on the topic of peaches, it would be remiss not to mention this smoky ribs recipe, which amps up the sweet smokiness of its barbecue glaze with a genius combination of peaches and bourbon. Slow roasted in the oven and then blasted with hickory smoke on the grill, this BBQ classic covers all the Southern bases: ribs, peaches, hickory smoke, and BBQ.
Get our recipe for Smoky Ribs with Peach BBQ Sauce.
Because you can never really run out of ways to use peaches in a Southern kitchen, we would also be remiss not to mention this quintessentially Southern glazed ham, which is accented with peach chutney and features a smoky bourbon glaze. Apart from the classic Southern taste, what's remarkable about our glazed ham recipe is how low in calories it actually is. Dig in!
Get our recipe for Bourbon Glazed Ham with Peach Chutney.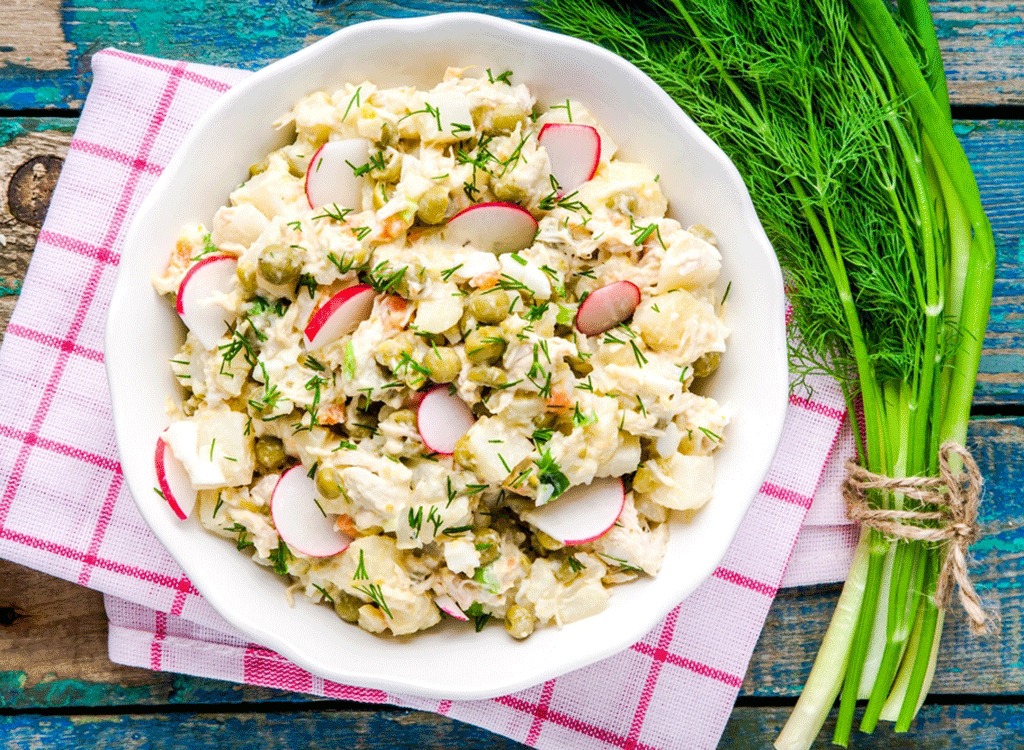 Anywhere you go in the South, you're probably no more than a stone's throw away from a dish of homemade potato salad. Southerners tend to agree there's virtually no better way to eat potatoes, and many have their own recipe, passed down from one generation to another. But if you're looking for a version that's both delicious and healthy, try this one, which works just as easily with protein-packed Greek yogurt swapped in for the mayo.
Get our recipe for Potato Salad.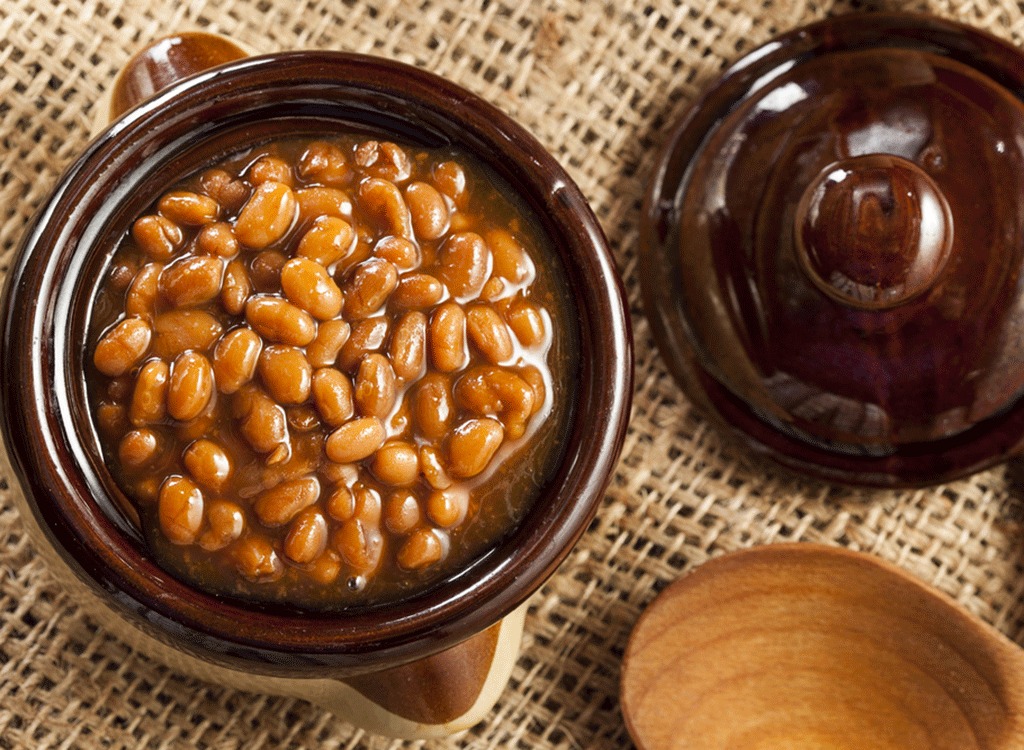 Like succotash, baked beans have been around for so long no one is quite sure where or when they first crossed over from Native culture into American Colonial cooking. Also like succotash, baked beans can be found pretty much everywhere south of the Mason-Dixon Line–and especially in the context of BBQ cuisine. Our go-to recipe happens to be on the healthier side because it shuns excess sugar, relying instead on bacon and beer as flavor powerhouses.
Get our recipe for Smoky Baked Beans.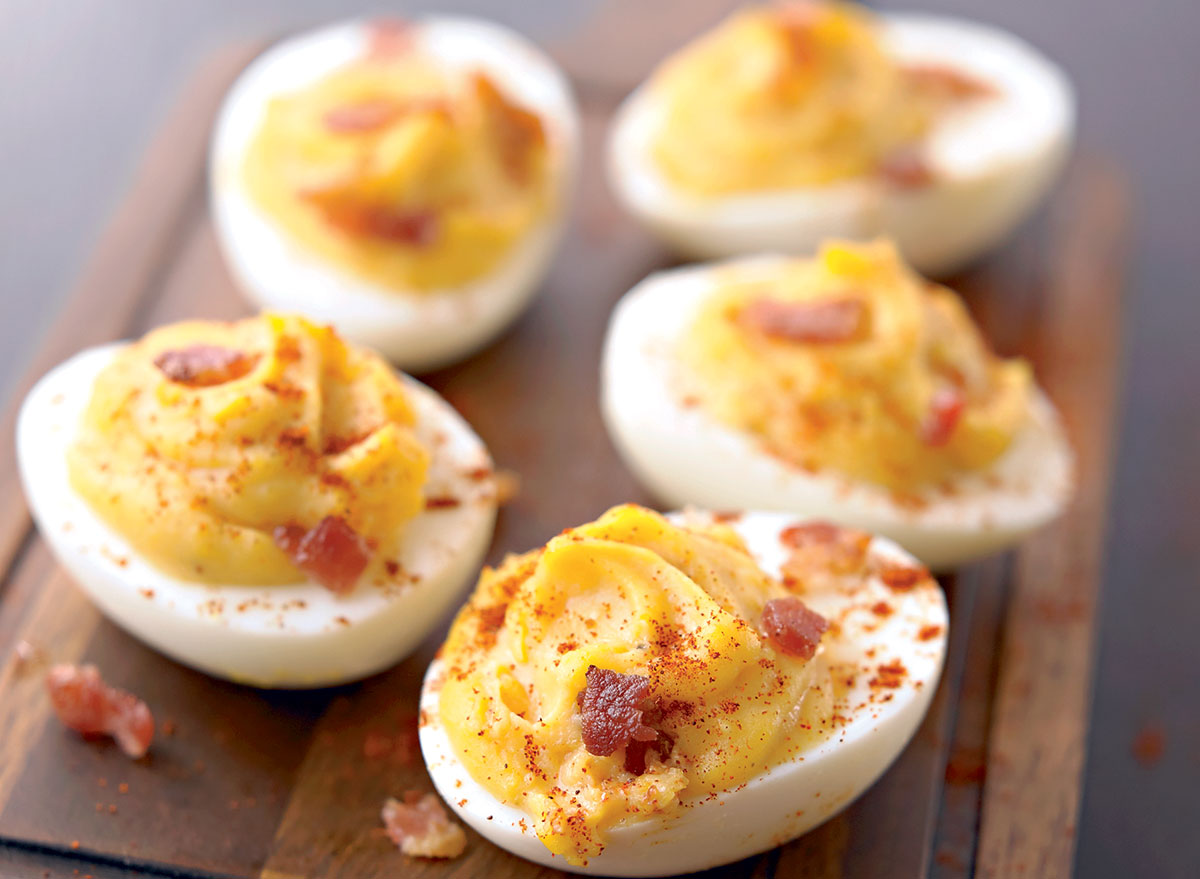 The roots of stuffed eggs go all the way back to ancient Rome, but they didn't take on the devilish moniker until they made their way to the American colonies by way of Britain, along with the addition of spicy seasoning. Southern cooks have their own version of deviled eggs, and perhaps not surprisingly, it involves smoky bacon and sweet pickle relish, which is its own Southern tradition (read about Southern sweet pickle relish, aka "chow chow," in our roundup of the 50 foods you can only find in the South).
Get our recipe for Deviled Eggs with Bacon.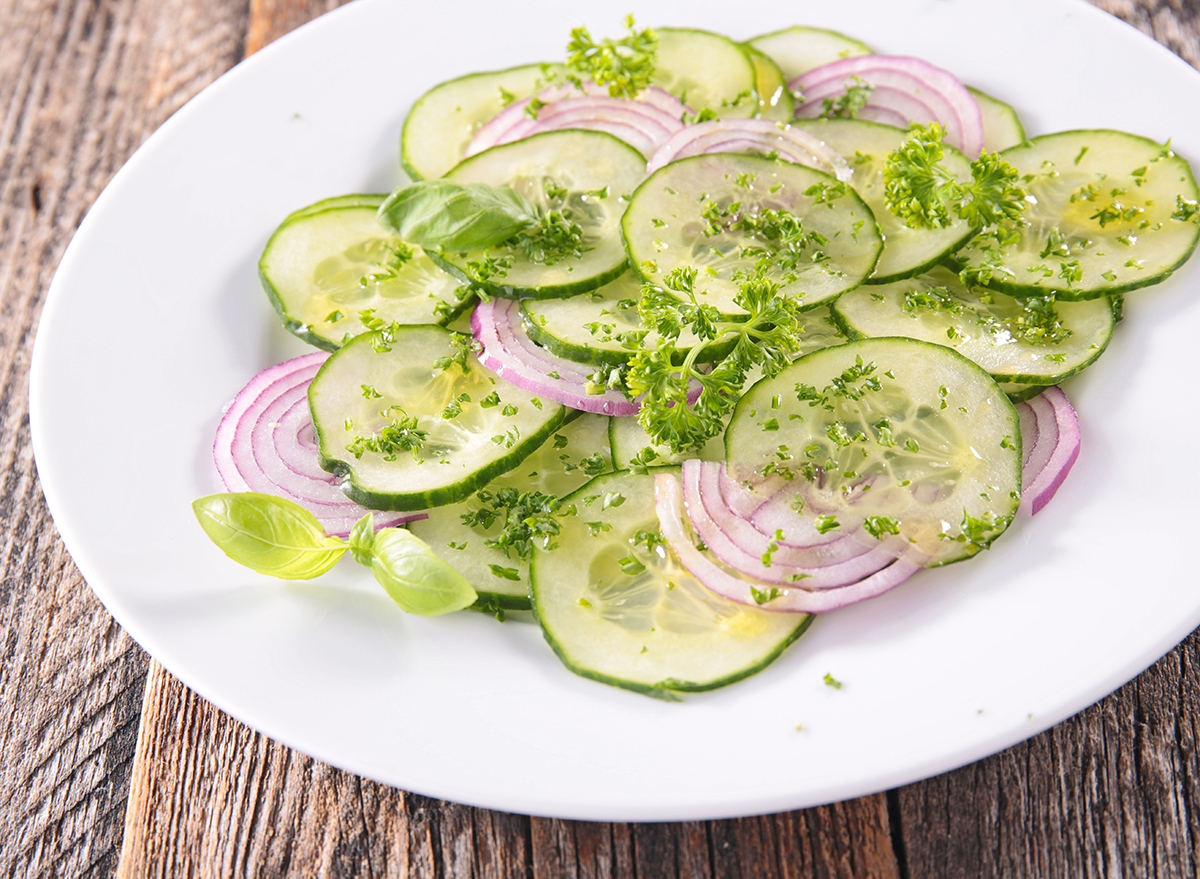 Because "putting up" vegetables preserves the flavor and freshness of veggies long after their growing season ends, pickled vegetables have long had a special place on Southern tables. When it comes to deciding which vegetables to pickle, the rule is basically "anything goes," but cucumbers are always a favorite.
Get our recipe for Pickled Cucumbers.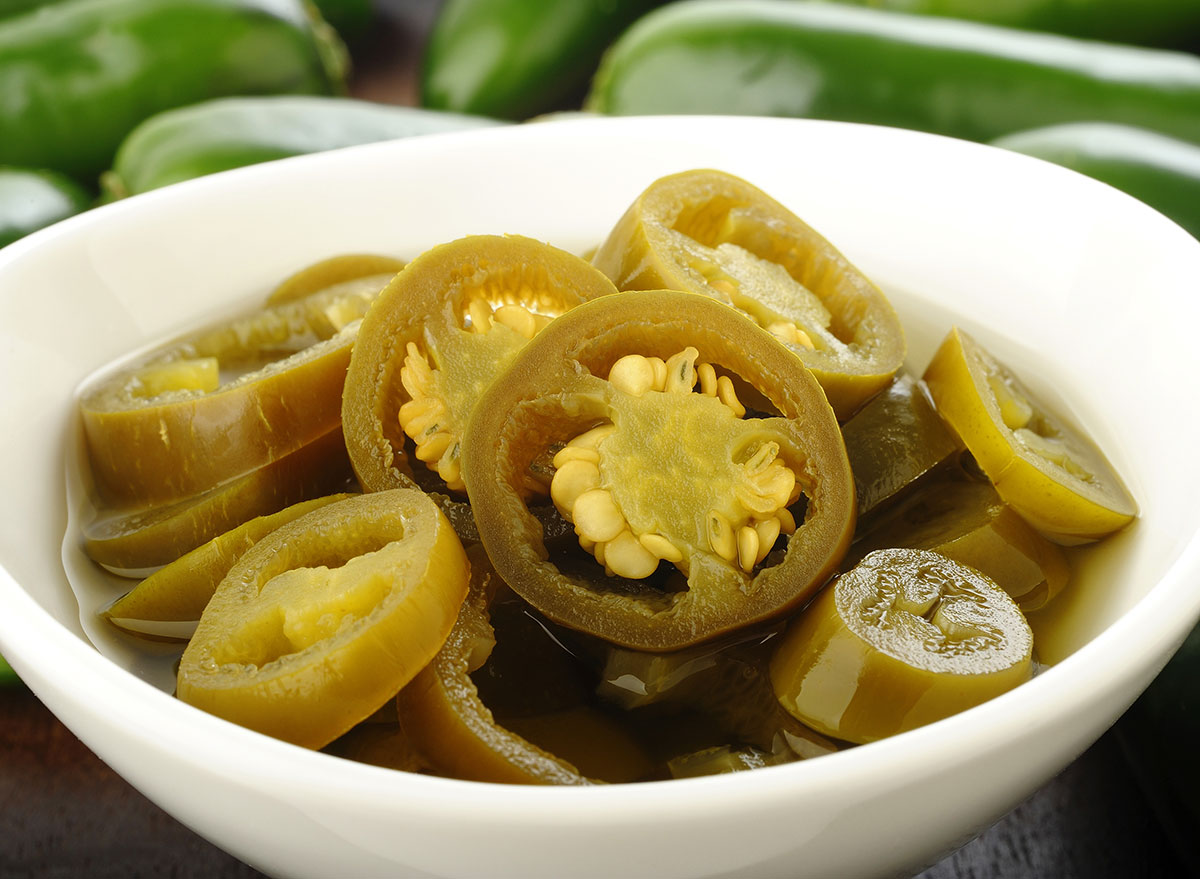 There's a rule in Southern kitchens that when your jalapeño harvest lasts longer than your summer season, it's time to take out the Mason jars and get pickling. Pickled jalapeños lend an obvious boost to Tex-Mex dishes, but don't limit yourself. Try adding their sweet heat to just about any sandwich, burger, or stir-fry.
Get our recipe for Pickled Jalapenos.
Onions are also perfect for pickling. Whereas raw onions can be harsh, the vinegar brine takes the edge off, leaving you with a sweet and spicy bite. Try these on sandwiches, burgers, shrimp tacos, or nachos, or swap in some red onions and try them with our Brussels sprouts salad.
Get our recipe for Pickled Onions.
Brussels Sprouts Salad with Pickled Red Onions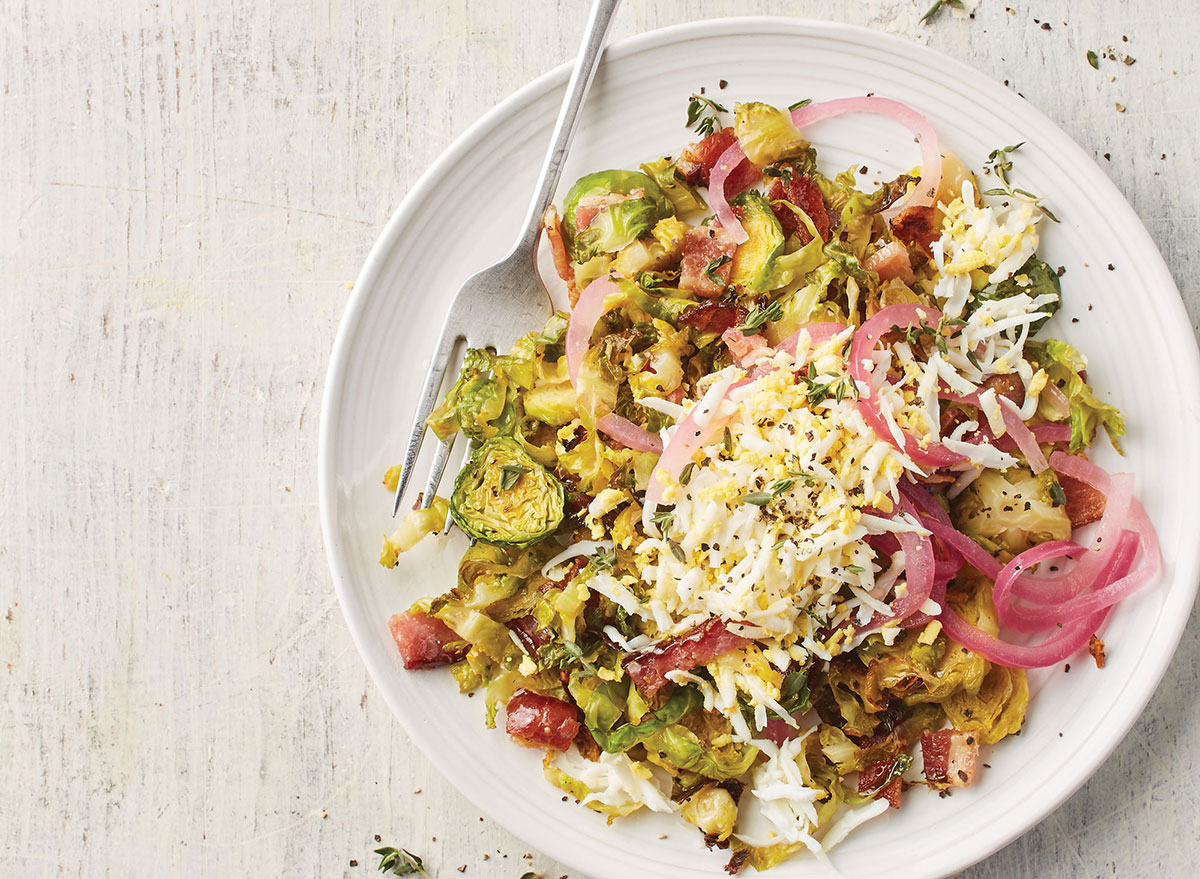 Brussels sprouts aren't necessarily the first vegetable you might think of when you think of Southern cuisine, but they combine so beautifully with pickled onions, it seems wrong not to mention this warm brussels sprouts salad here in this vintage Southern roundup.
Get our recipe for Brussels Sprouts Salad with Pickled Red Onions.
Shrimp Tacos with Pickled Onions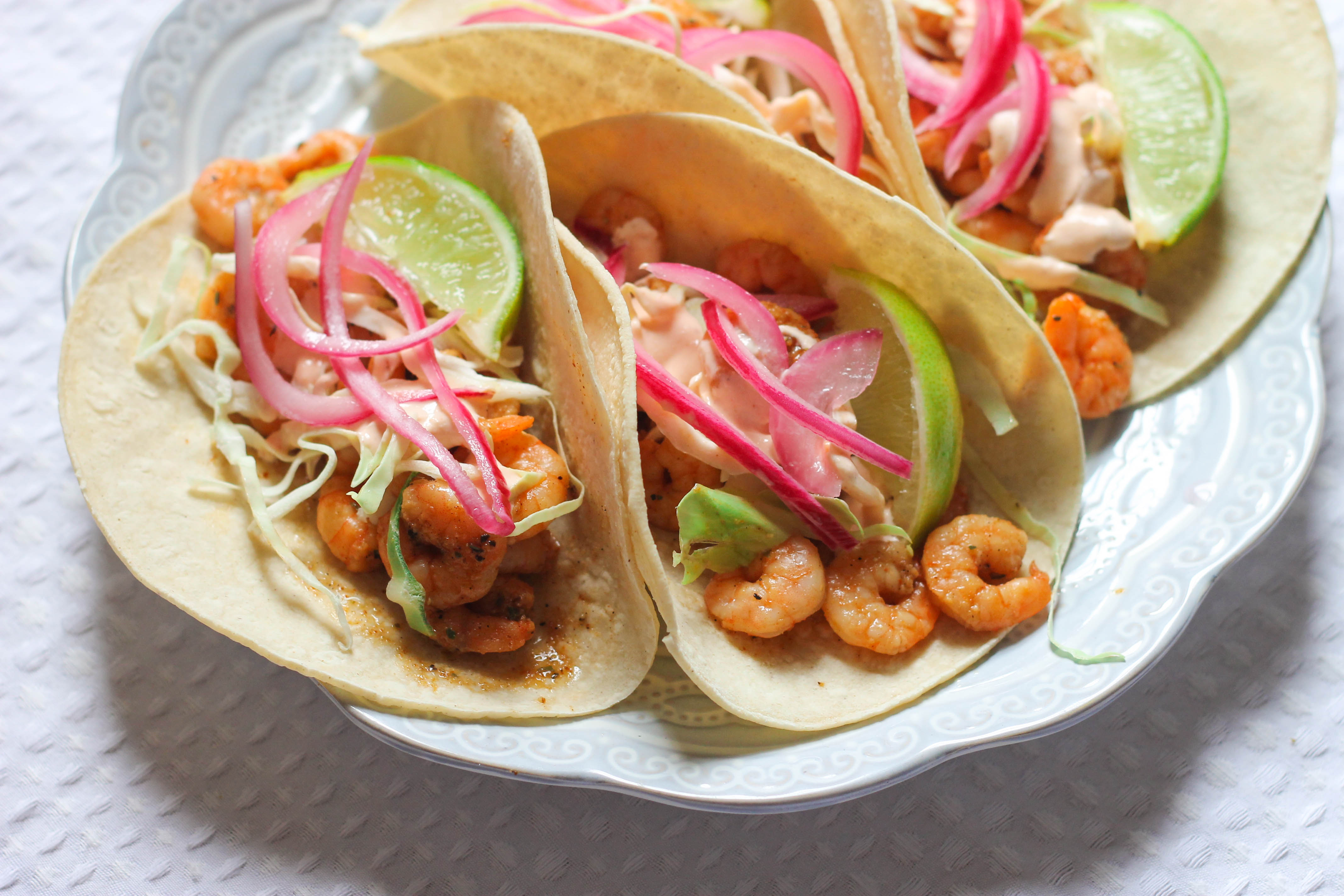 Even though you'll never run out of ideas for how to use pickled onions, we feel compelled to share this recipe for shrimp tacos because they practically beg for pickled onions. And tacos, are, of course, a Tex-Mex favorite.
Get our recipe for Shrimp Tacos with Pickled Onions.
Chicken tacos are no less a Southern favorite than shrimp tacos, especially when they're paired with roasted red bell peppers, which are a staple of warm-weather cuisine.
Get our recipe for Chicken Taco with Roasted Peppers.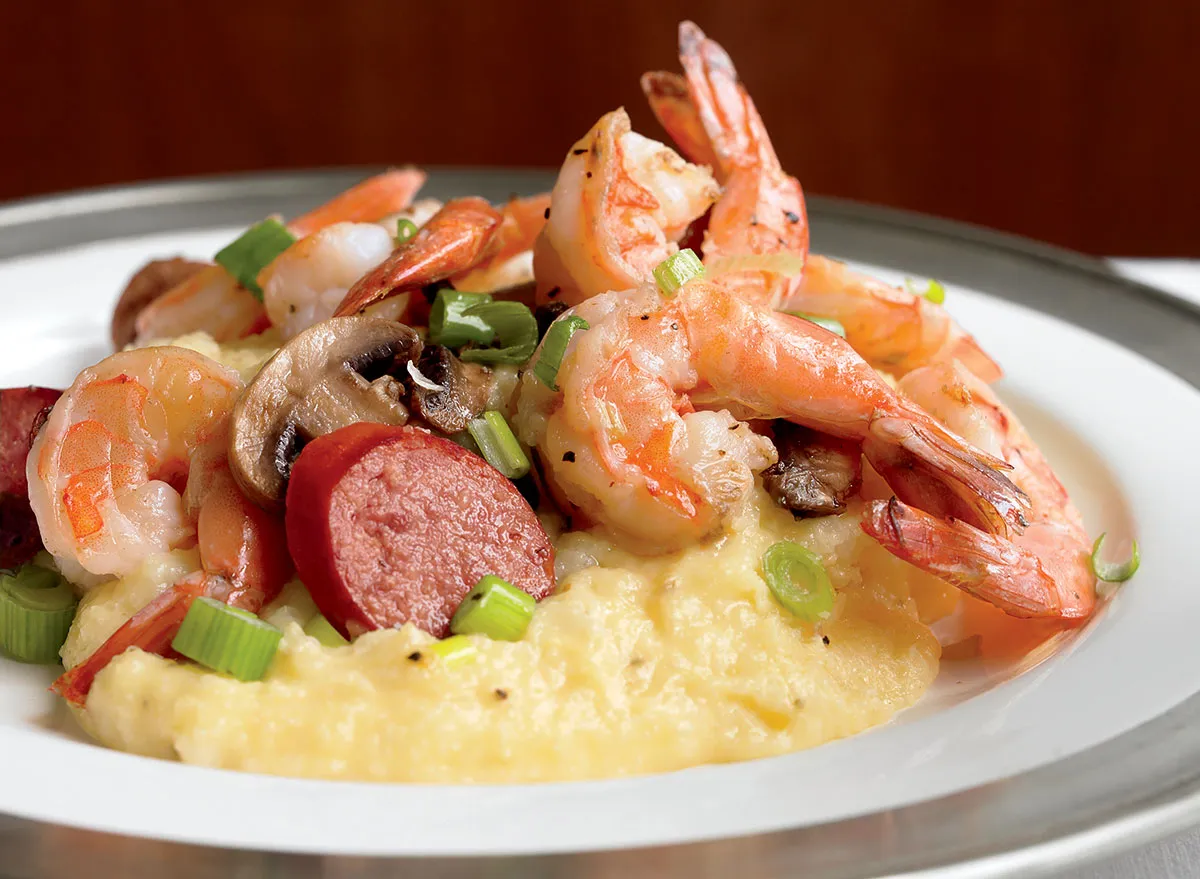 Of course, when it comes to shrimp, there is no dish more unique to the South than shrimp and grits!
Get our recipe for Shrimp and Grits.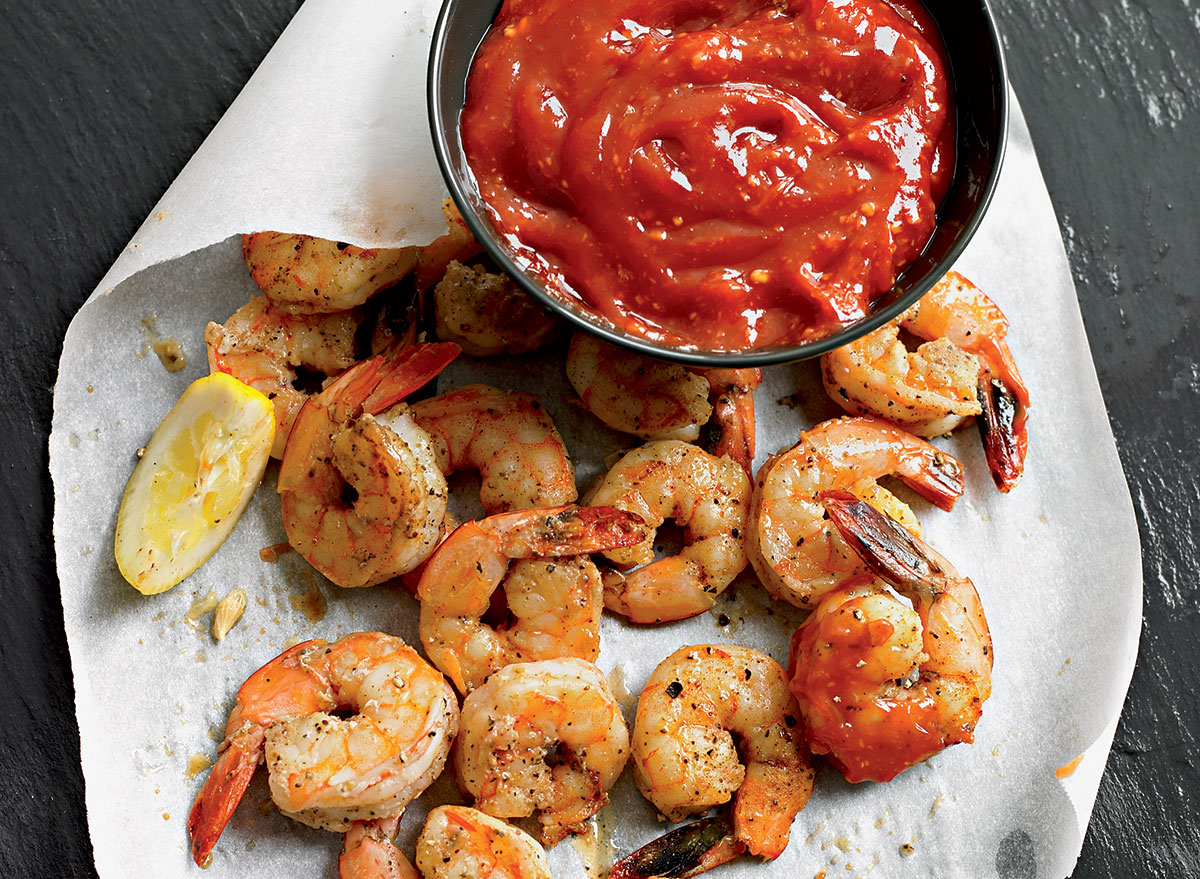 While the ubiquitous boiled-shrimp shrimp cocktail doesn't necessarily "belong" to the South, it's a whole different story when you're talking about roasted shrimp cocktail. Even more so when you Southern-up your roasting game with a couple of spoonfuls of Old Bay seasoning, a classic blend of celery salt, paprika, black pepper, cayenne pepper, cinnamon, ginger, and other spices. Old Bay originated in Baltimore, Maryland.
Get our recipe for Roasted Shrimp Cocktail.
Chipotle Shrimp Quesadilla
Another way to enjoy Southern-style shrimp is by sauteing the little crustaceans with bell peppers and chipotle peppers, then layering the mixture between two tortillas—with queso, of course—to make quesadillas, also known as the perfect Tex-Mex sandwich.
Get our recipe for Chipotle Shrimp Quesadilla.
Ah, shrimp that's been deep-fried in beer batter and studded with sweet shredded coconut. This dish is mouthwatering and so very Southern. If only this classic weren't so…deep fried. Well, here's a bit of good news: We've got a recipe for coconut shrimp that actually crisps up in the oven. The panko-based crust is so yummy, we bet you won't notice the difference.
Get our recipe for Coconut Shrimp.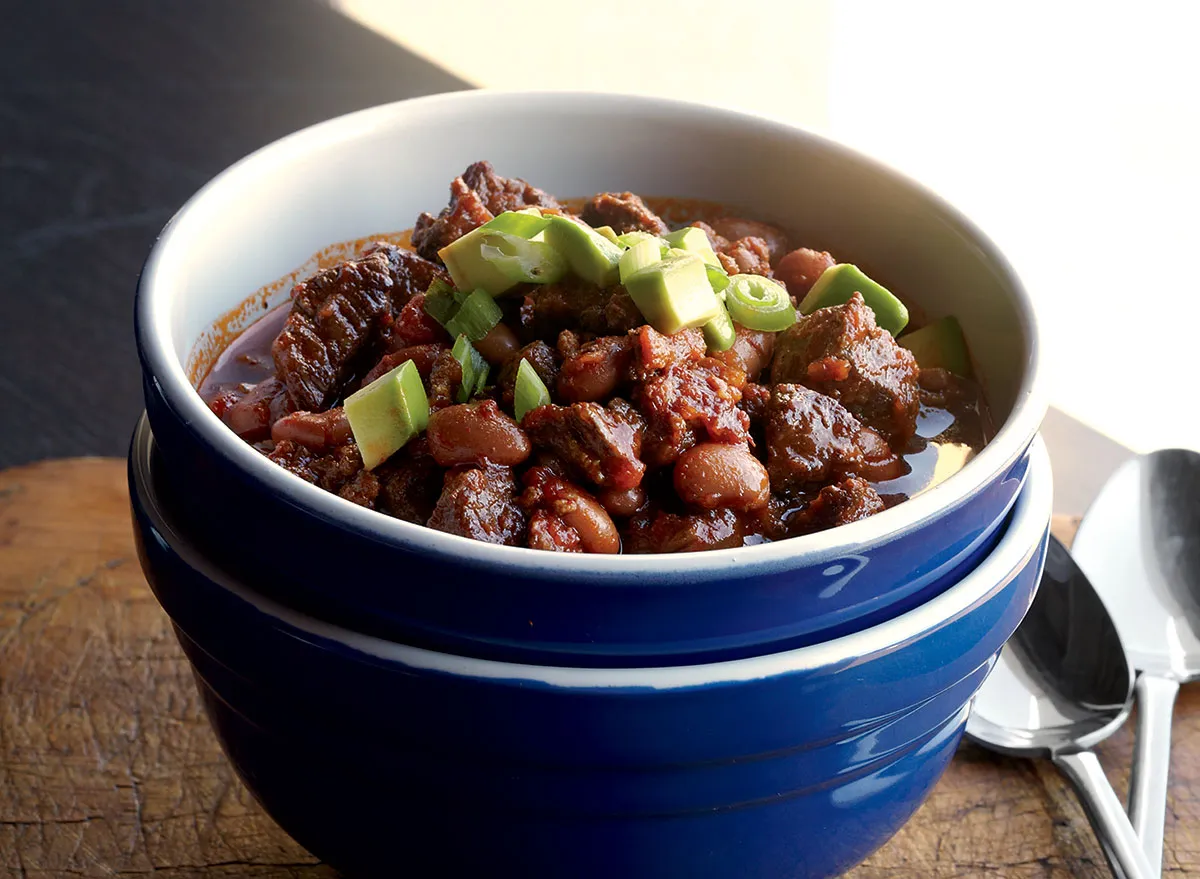 Is chili con carne a Mexican food that made its way to America via Texas? Or is it an American dish with no connection to Mexico whatsoever? That's the question posed by the National Chili Day website, which goes on to acknowledge there's a possibility chili con carne has its roots in Spain and arrived in the New World in the 1600s by way of a nun who came here to preach Christianity. Whatever are its true origins, this hearty, rustic dish made from beef and beans and tomatoes has long been a Southern classic.
Get our recipe for Smoky Steak and Bean Chili.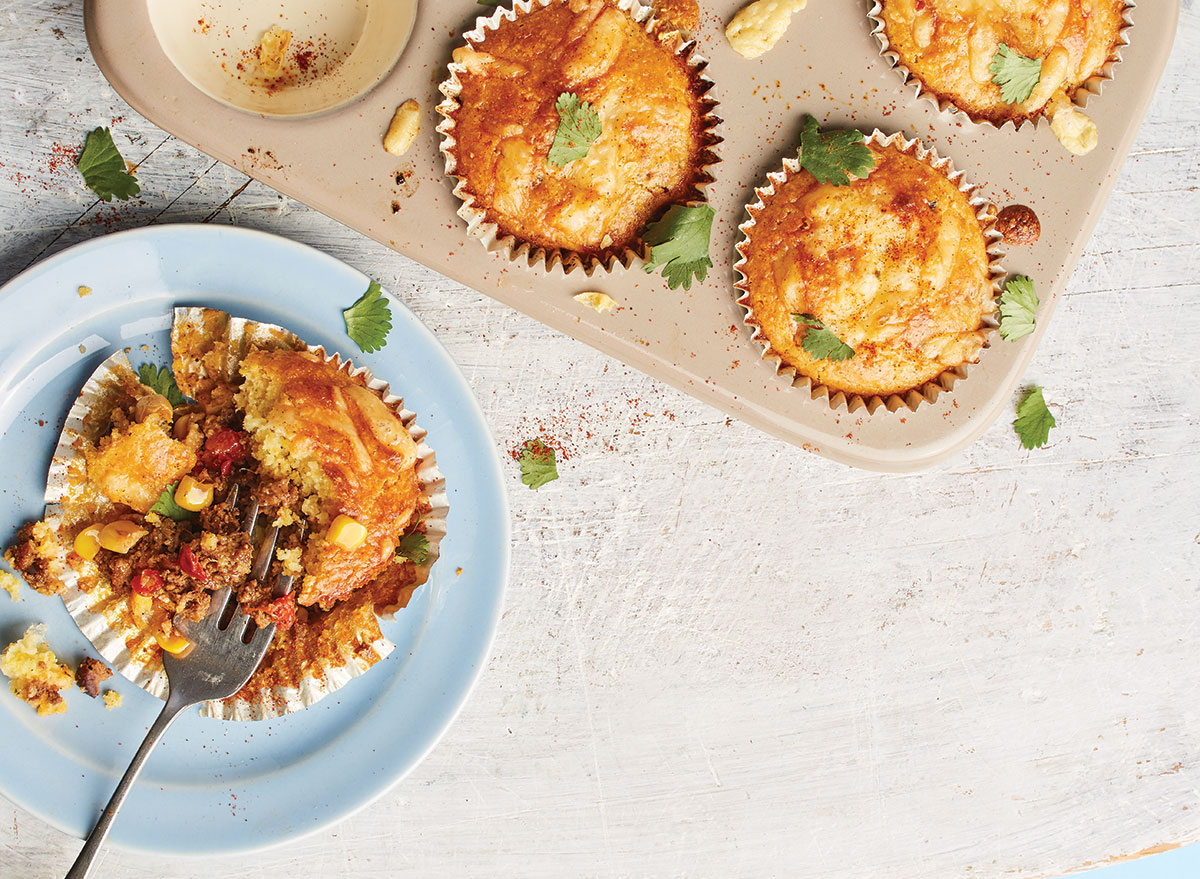 You might think of tamales as Tex-Mex or Southwestern, but they're also associated with the Mississippi Delta, aka "the most Southern place on Earth." Some historians say tamales made their way from Mexico in the early 20th century, while others say the journey began one hundred years earlier during the U.S.-Mexican War. Either way, we're absolutely obsessed with tamales now that we know how to make this diet-friendly version, chock full of lean ground beef and corn and bean salsa.
Get our recipe for Mini Tamale Pies.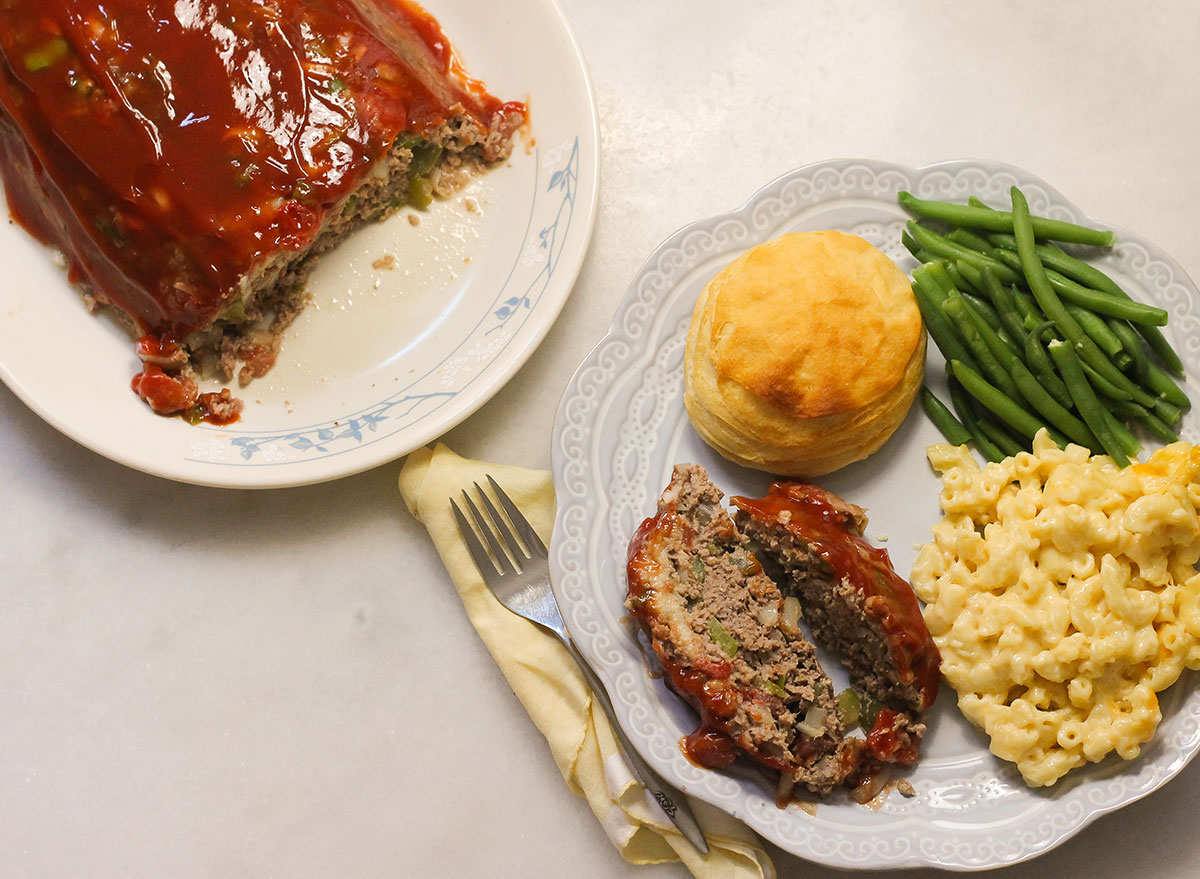 While meatloaf's origins don't go quite as far back as some of our other Southern classics it's safe to say it's "vintage" since its first recorded American recipe dates back to the 1870s. Back then, meatloaf was actually considered a breakfast food, which suggests, perhaps, its roots go back to that other Southern chopped-meat classic, hash. In any event, meatloaf is a mainstay at that good ole' Southern mainstay, Cracker Barrel.
Get our recipe for Meatloaf.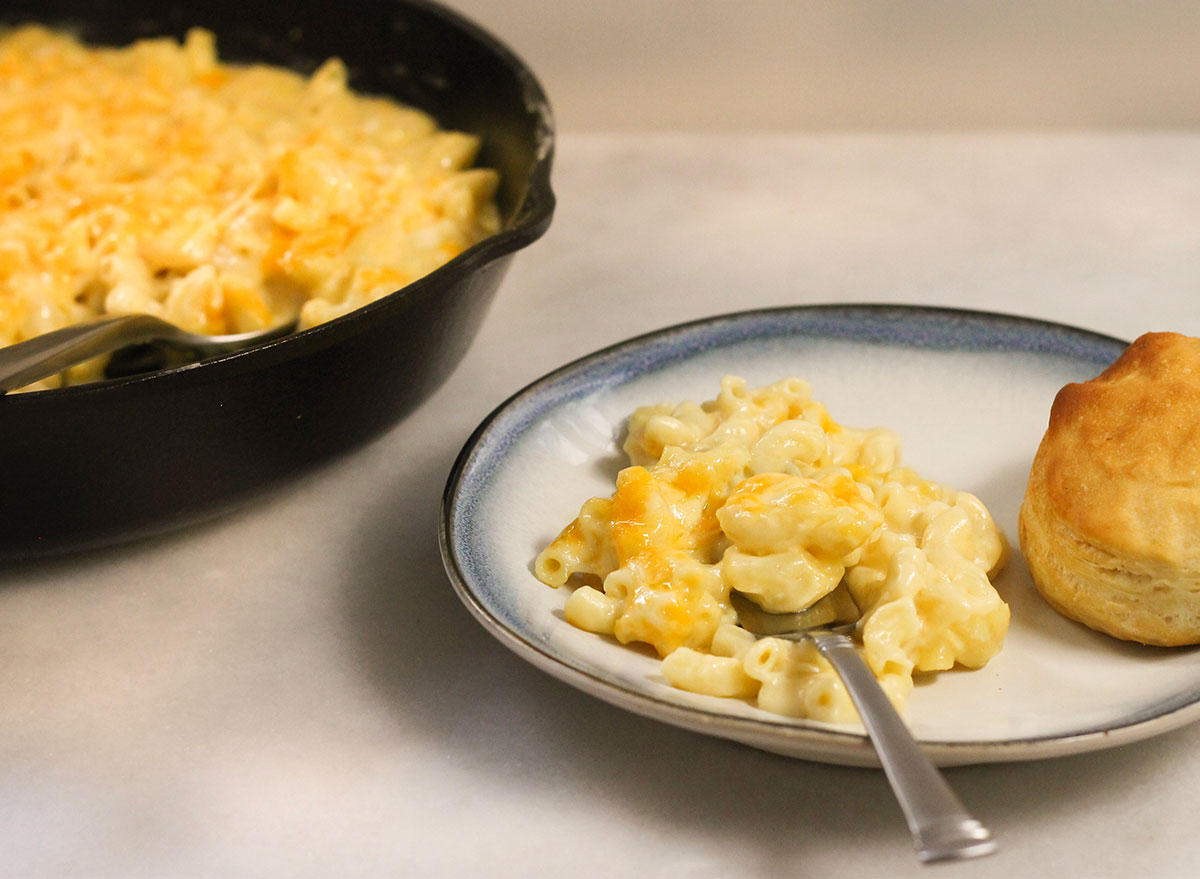 While we're talking about Cracker Barrel, another of their classics is their mac and cheese, which also happens to be a classic side dish for Southern BBQ cuisine. As a side dish for barbecued ribs, mac and cheese can pack a hefty caloric punch. But how about trying it as a main dish, with, say, a side of stuffed jalapeños or healthy stuffed tomatoes?
Get our recipe for Mac and Cheese.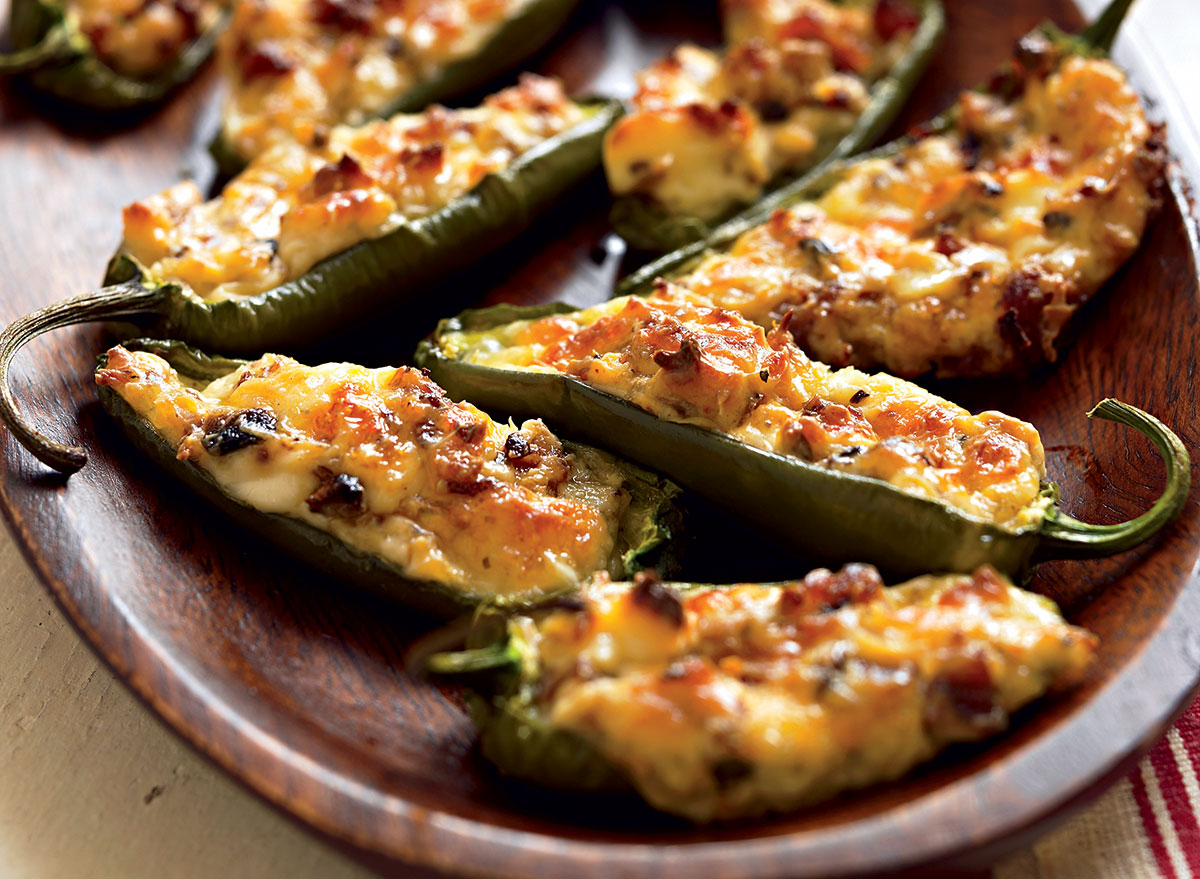 When Matt Goulding, who wrote the original Eat This Not That column in Men's Health magazine, was just 14, he worked in a restaurant in North Carolina, stuffing jalapeños. It wasn't exactly a healthy dish, as Matt recalls it, but it certainly was hearty, loaded as it was with grease and cheese. Luckily, we now have this healthier version, which brilliantly captures the heat and spice of the pepper and creamy goodness of the cheese without setting you back an entire day's worth of calories.
Get our recipe for Stuffed Jalapeños.
Technically a fruit but generally consumed as a vegetable, the tomato serves as both the official fruit and the official vegetable of the State of Arkansas, in part because tomatoes hold such a significant role in Arkansas agriculture. First developed in Mexico by the Aztecs and Incas in the eighth century, tomatoes have made their way–sliced, diced, and sauced–into quite a lot of Southern cuisine. But there's really no better way to celebrate the tomato than by serving it whole and stuffed with garlicky cheese and breadcrumbs, as we do in this vegetarian-friendly recipe.
Get our recipe for Vegetarian Stuffed Tomatoes.
Chicken and dumplings is such a long-standing Southern tradition, if you're from the South, we're guessing there's a pretty good chance you've got some fond childhood memory in which chicken and dumplings played a starring role. But whether or not you're from the South, homemade chicken and dumplings is the quintessential comfort food, and if you've never tried it, here's an easy recipe to get you started.
Get our recipe for Easy Chicken and Dumplings.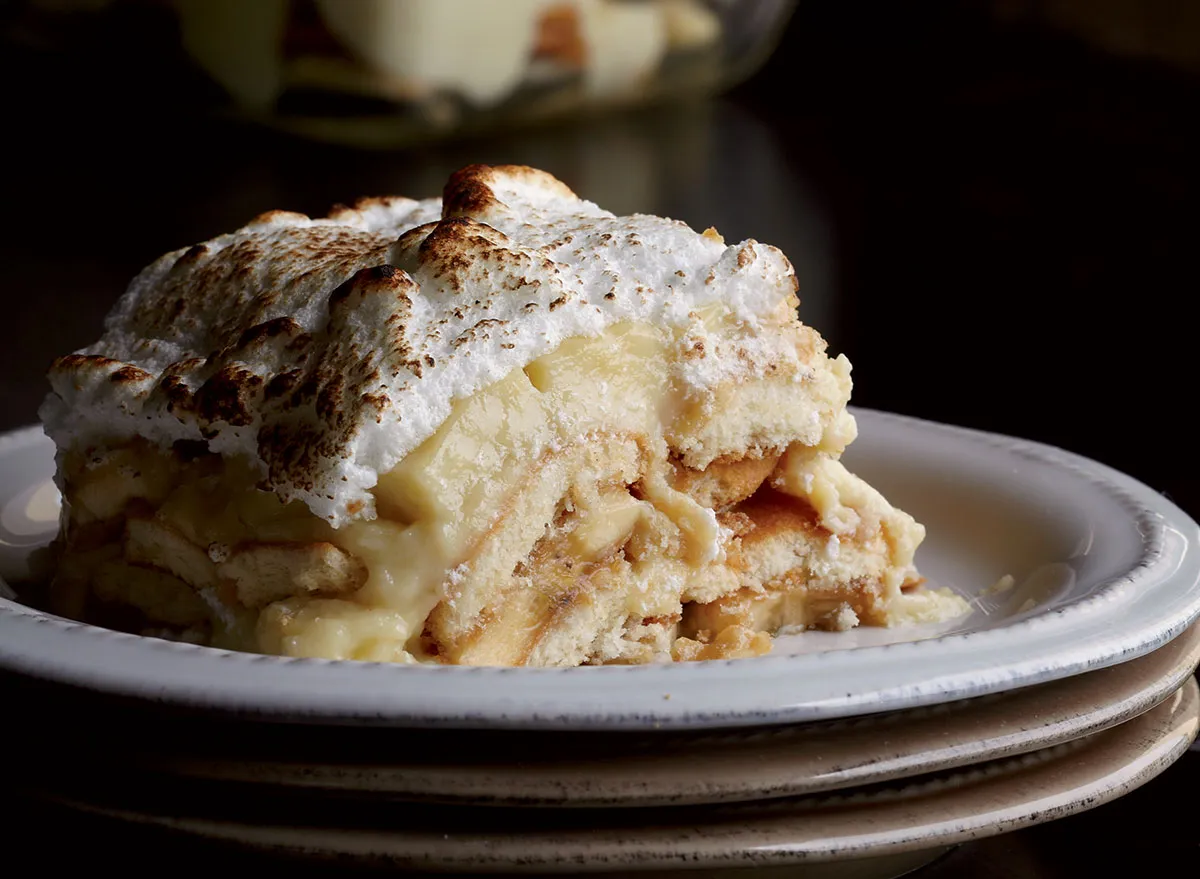 Speaking of classic Southern comfort food, let's not leave out banana pudding, which is so much more than mere pudding with bananas. A true Southern banana pudding starts alternating layers of sliced bananas and vanilla wafers as a foundation for a layer of cool custard topped with whipped meringue. The wafers absorb moisture from the bananas and custard so that they transform into a cake-like consistency, so naturally, this dish is even better as leftovers.
Get our recipe for Southern Style Banana Pudding with Vanilla Wafers.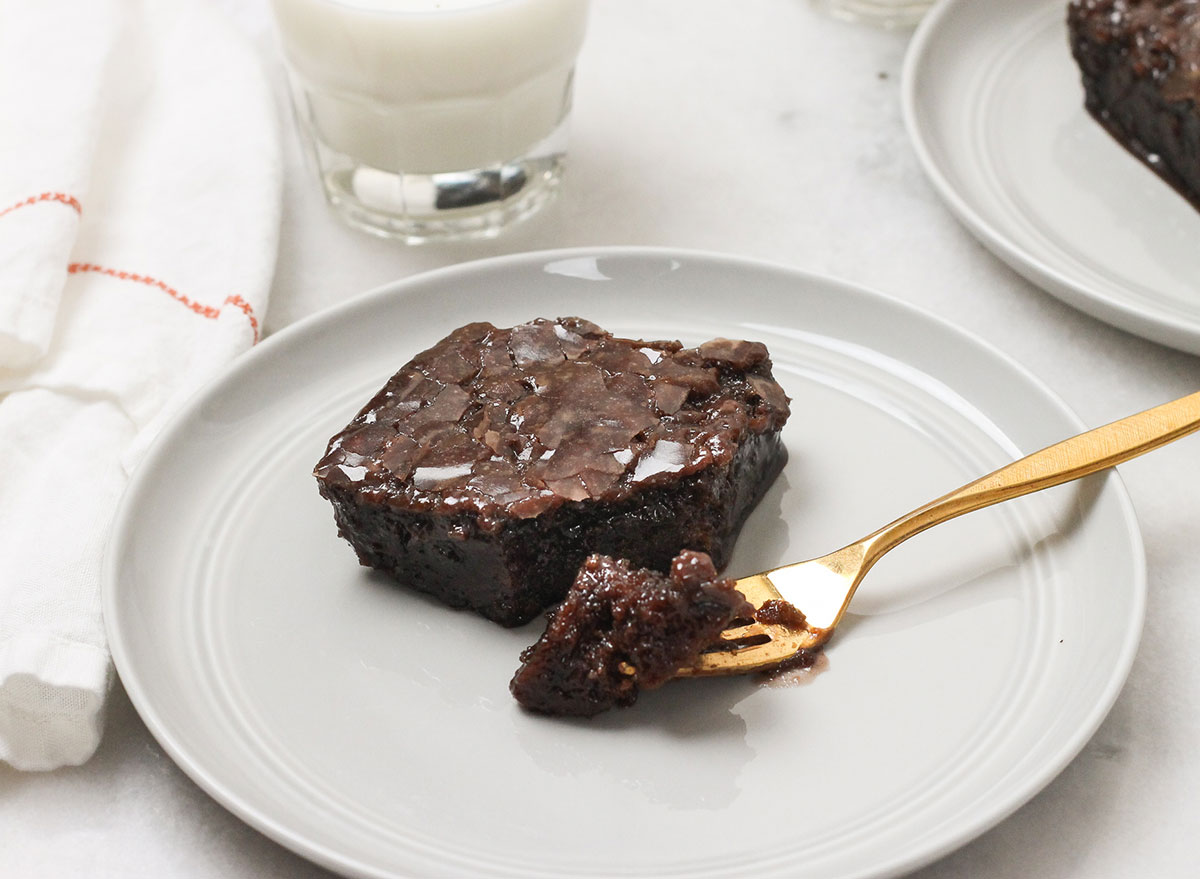 Nothing says "Southern" like cakes made with bubbly soft drinks, including Dr. Pepper, 7Up, Nehi, Cheerwine, and, of course, Coca-Cola. It makes sense when you think about what soda pop is made of. There are sugar (for sweetness and moistness) and bubbles (for leavening), and it works like a charm. Don't we all deserve the occasional gooey, sweet, chocolate treat?
Get our recipe for Coca-Cola Cake.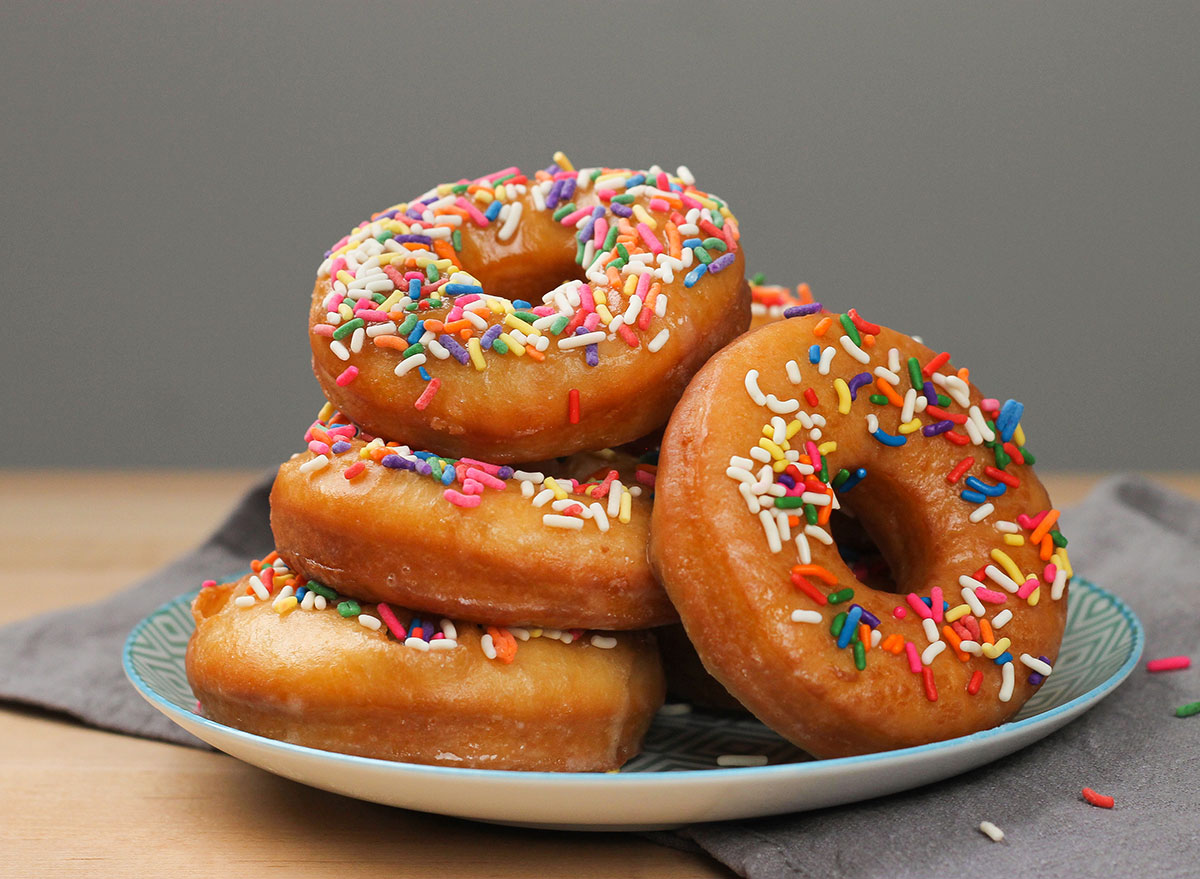 Donuts made their way to the U.S. via New York and were dubbed the "food hit of the Century of Progress" at the 1934 World's Fair in Chicago, but it wasn't until a guy from New Orleans made his way up to Kentucky and sold his secret recipe to Vernon Rudolph, who started making them by the batch in Winston-Salem, North Carolina, that these ring-shaped pastries truly took off. Rudolph called them "Krispy Kremes," and the rest is Southern history. But if you think you can't make them yourself at home, you obviously haven't tried following our simple, step-by-step guide.
Get our recipe for Old Fashioned Donuts.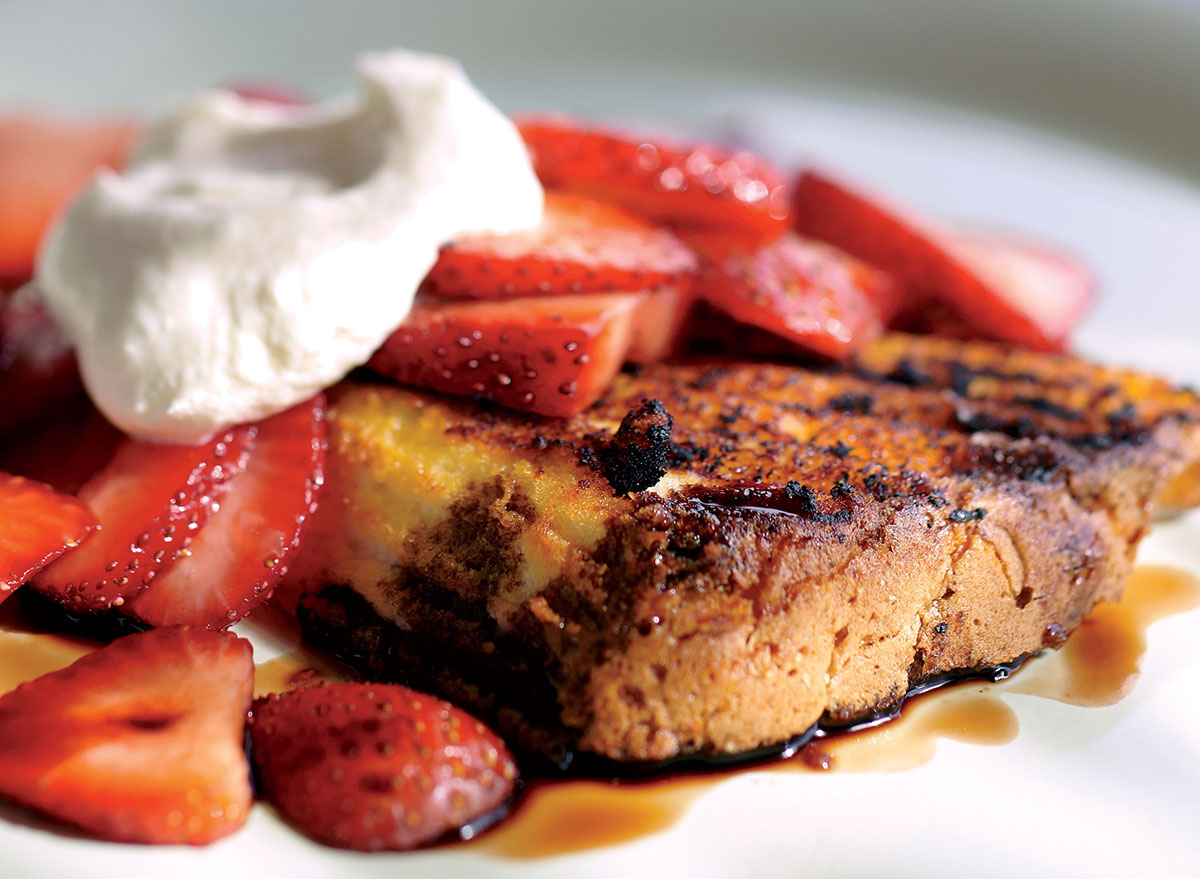 "Strawberry shortcake" is a bit of misnomer. It's not "short," which would mean that it crisped up from butter as shortbread cookies do. Nor is it a "cake" so much as a delivery system for fat, juicy strawberries and whipped cream. Up North, that delivery system is, paradoxically, a sweet version of a Southern biscuit. Down South, traditional strawberry shortcake does, in fact, begin, with a foundational layer of sweet, mild cake. We like using angel-food cake, which allows the strawberries and cream to take center stage.
Get our recipe for Grilled Strawberry Shortcake with Balsamic Glaze.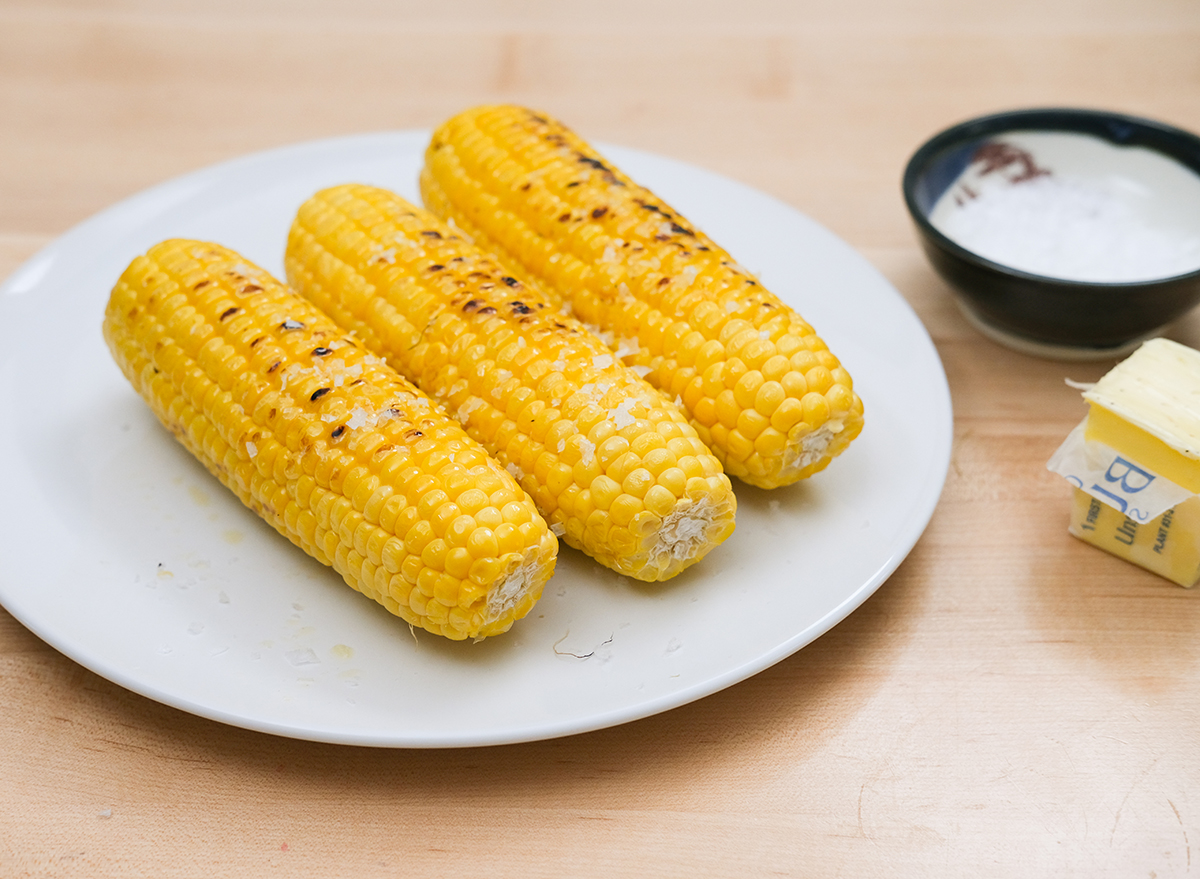 To paraphrase an age-old existential question, if a barbecue takes place, and there's no corn on the cob, was there really a barbecue? If you get what we mean, then you just might be from the South, where corn, in its various forms, whether on-the-cob or off-the-cob-and-creamed or ground into grits or cornbread, is practically an obsession. There are many schools of thought on how to properly prepare corn on the cob, but as far as we're concerned, if you're going to go to the trouble of grilling out, then there's only one way to go with the corn.
Get our recipe for Grilled Corn on the Cob.
When you think of pulled pork, do you conjure up images of tangy, saucy shredded meat piled high on a bun, with a pile of napkins nearby? If so, then you're probably not from North Carolina, where the pulled pork is nothing but shredded pork shoulder accented with a bit of cider vinegar—in other words, perfection. In our version, we "don't try to fix what ain't broke," but we do add coleslaw for crunch and a bit of brightness.
Get our recipe for Pulled Pork Sandwich.
True Southern coleslaw is made with buttermilk, and when you layer it onto your sweet and spicy pulled pork sandwich, you'll be grateful for that bright tang of sourness. Our recipe for coleslaw swaps out Greek yogurt for buttermilk, which helps it achieve that same unmistakable tang while amping up the protein content.
Get our recipe for the Healthiest Coleslaw.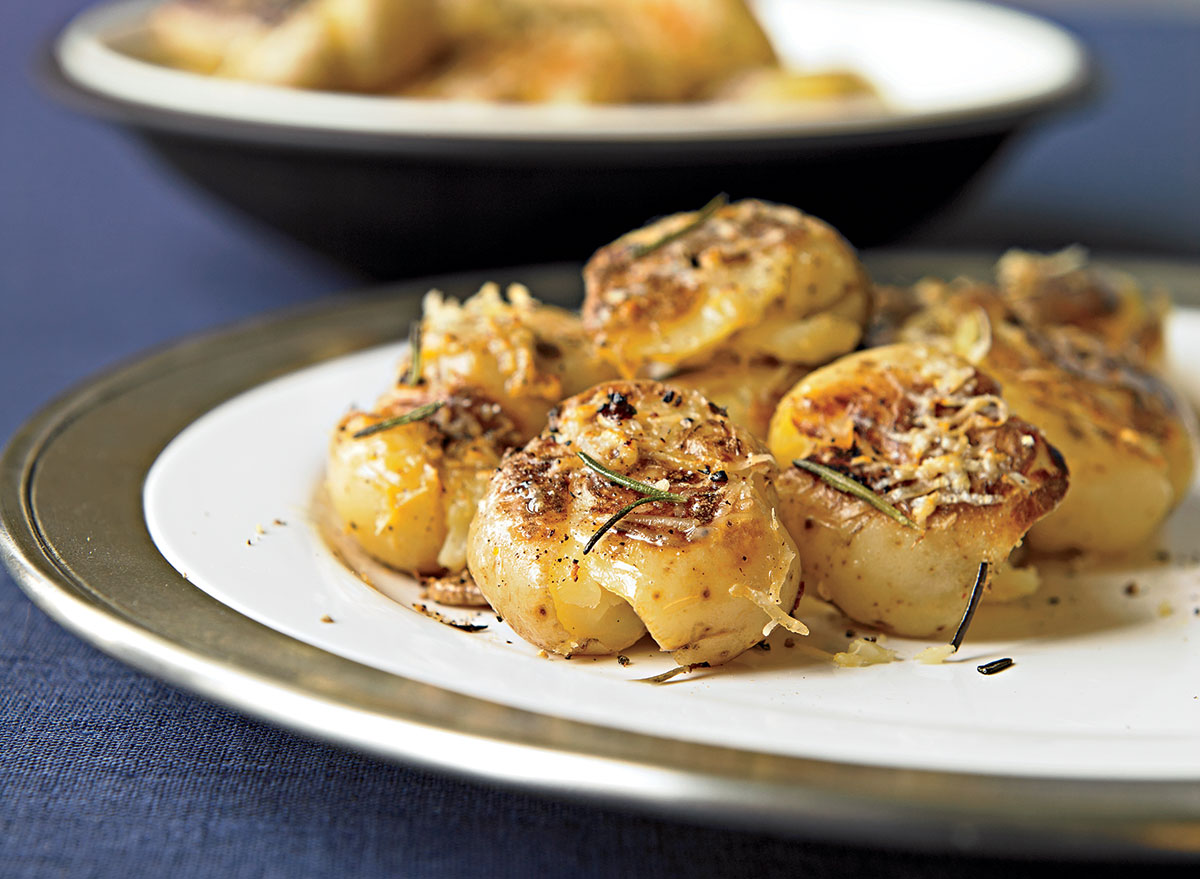 How serious are Southerners about their mashed potatoes? Some go so far as to say no holiday meal is complete without a bowl of homemade smashed spuds. Some take it even further and suggest that a bowl doesn't count as Southern unless those spuds have been mashed with a generous helping of cream cheese to ensure a super-smooth consistency. But there's a downside to all that cream cheese, and that's the fact that you're adding quite a lot of fat and calories but not so much in terms of flavor. Our version takes the opposite route by using Parmesan cheese to maximize flavor while minimizing caloric cost.
Get our recipe for Vegan Smashed Potatoes.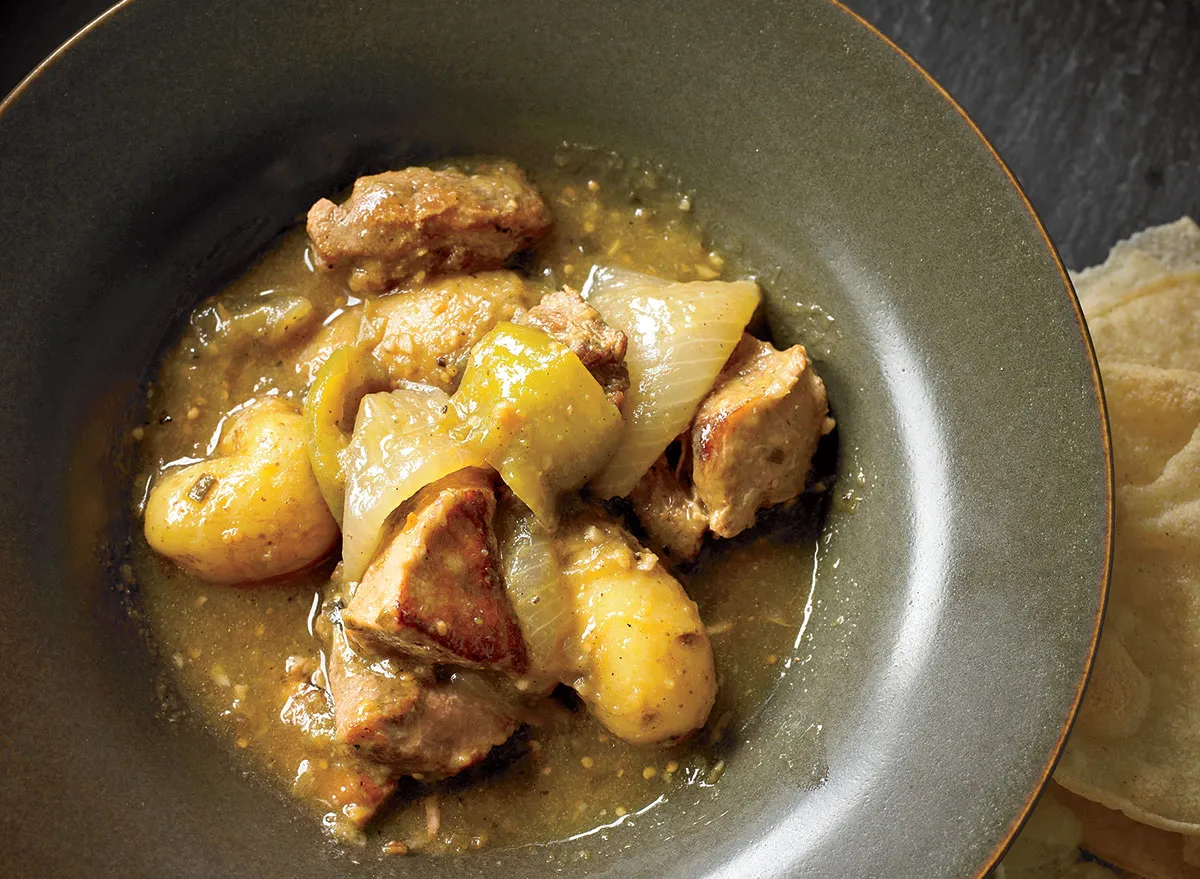 If you're not from the South, you may not know what pork chile verde is. Or maybe you know it's pork stewed in green sauce, but you're not quite sure why that sauce is green. We're here to tell you pork chile verde, which made its way up from Mexico, is made with tomatillos, which are husked, green tomato-like fruits. Fortunately, our version of pork chile verde does not require a working knowledge of how to husk, cut, and prepare tomatillos. Rather, it starts with "salsa verde," which is a mild sauce made with tomatillos and onions, and build the flavor from there.
Get our recipe for Pork Chili Verde.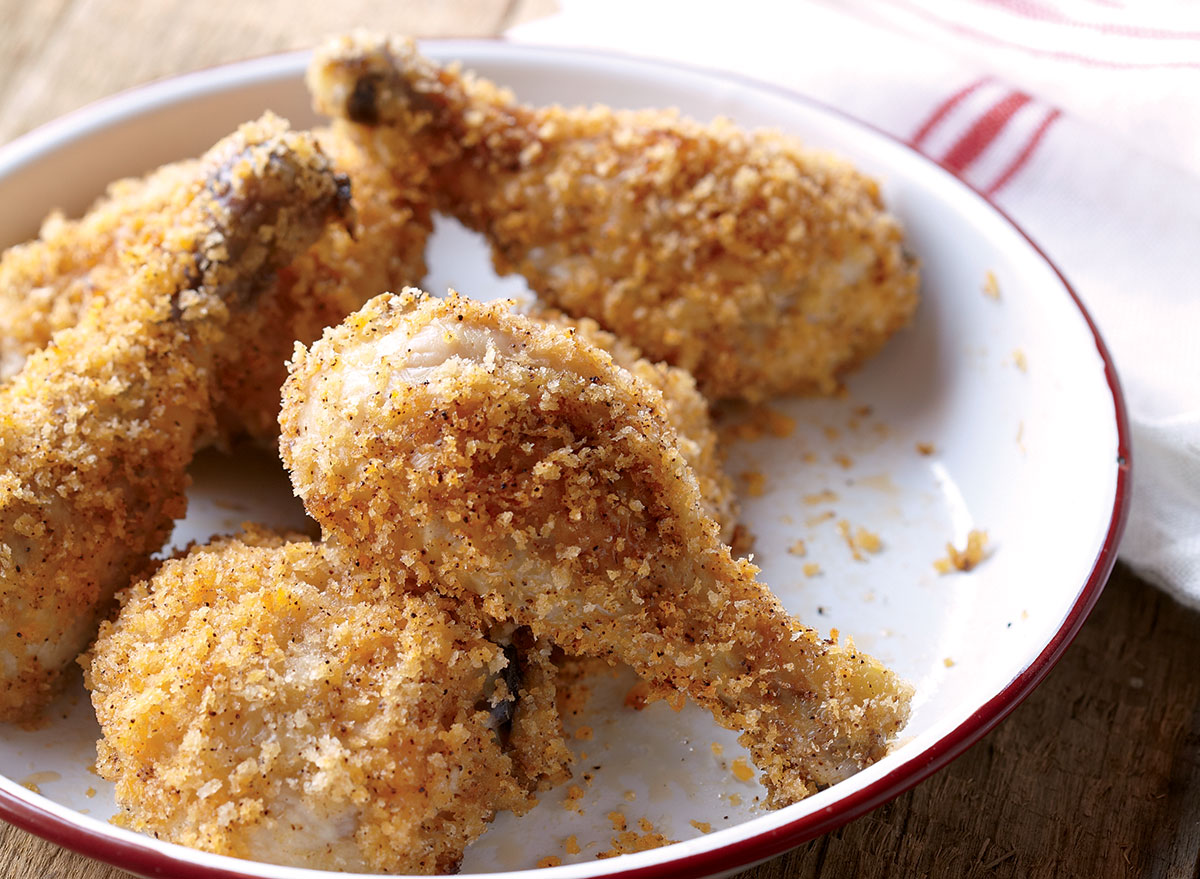 Just how iconic is Southern fried chicken to the Southern cuisine canon? Well, the name should give it away. And that's true whether you serve it with waffles or honey or gravy, and whether or not you deep-fry it. Spoiler alert: We don't. What makes our oven-fried chicken "Southern" is that it's crusty on the outside and juicy on the inside thanks to a nice, long dip in a pool of lightly seasoned buttermilk.
Get our recipe for Oven-Fried Chicken.
Cornmeal Catfish with Corn Salsa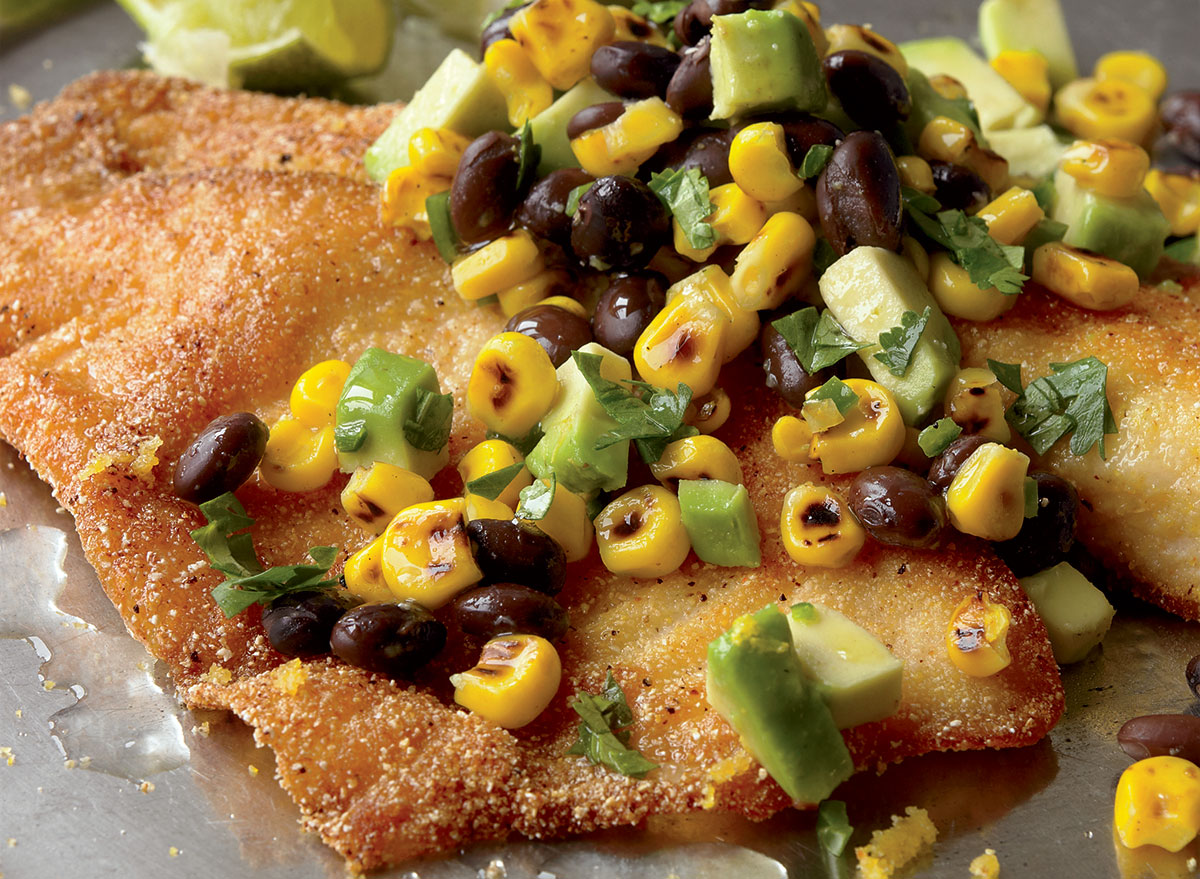 Like Southern fried chicken, Southern fried catfish doesn't actually need to be fried to be Southern. What it needs is a thorough dredging in cornmeal and a few minutes on a scalding hot griddle, preferably cast-iron (here's how to season yours so that it lasts a lifetime). Topped with fresh corn salsa, this dish will make you forget all about the batter and the grease.
Get our recipe for Cornmeal Catfish with Corn.
Cornmeal Catfish with Tomato Gravy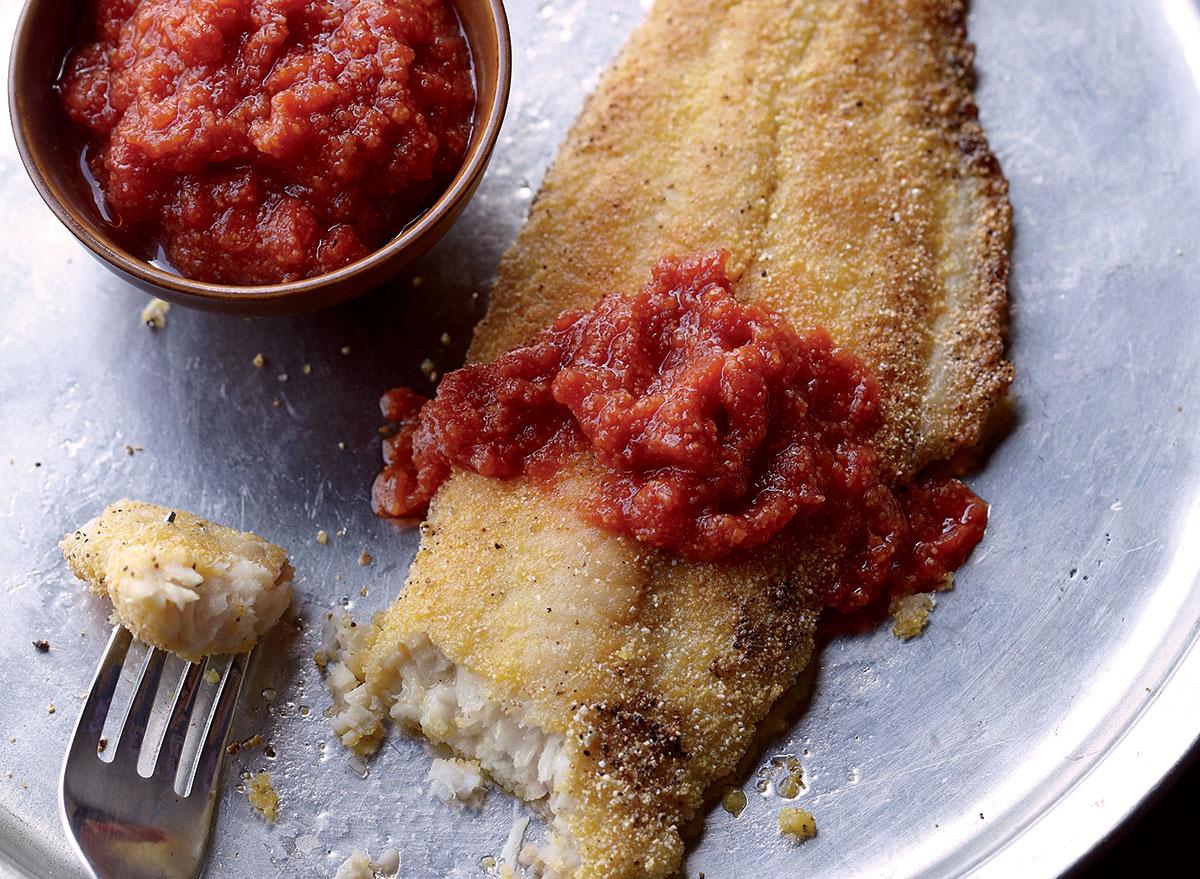 Just because you don't want to deep fry your Southern fried catfish doesn't mean you have to give up all your indulgences. In this version, the tomato gravy starts with a couple of tablespoons of rendered bacon fat. Go on, live a little.
Get our recipe for Cornmeal Catfish with Tomato Gravy.
There's more than one way to cook a catfish, they say. And they're right. Blackened catfish has been a staple of Southern cuisine ever since the late, great chef Paul Prudhomme invented the technique of "blackening" in 1980 and introduced it at K-Paul's, the now-closed Cajun restaurant in New Orleans. The technique is blissfully simple: a quick dredge in a special combination of spices and a very hot cast-iron skillet (which you should clean immediately after using our foolproof method).
Get our recipe for Blackened Catfish Sandwich.
To bestow that perfect blackened effect on your catfish (or really any meat or fish you may want to serve blackened), you'll want to use this perfectly calibrated recipe for blackening spice.
Get our recipe for Blackening Spice.6254a4d1642c605c54bf1cab17d50f1e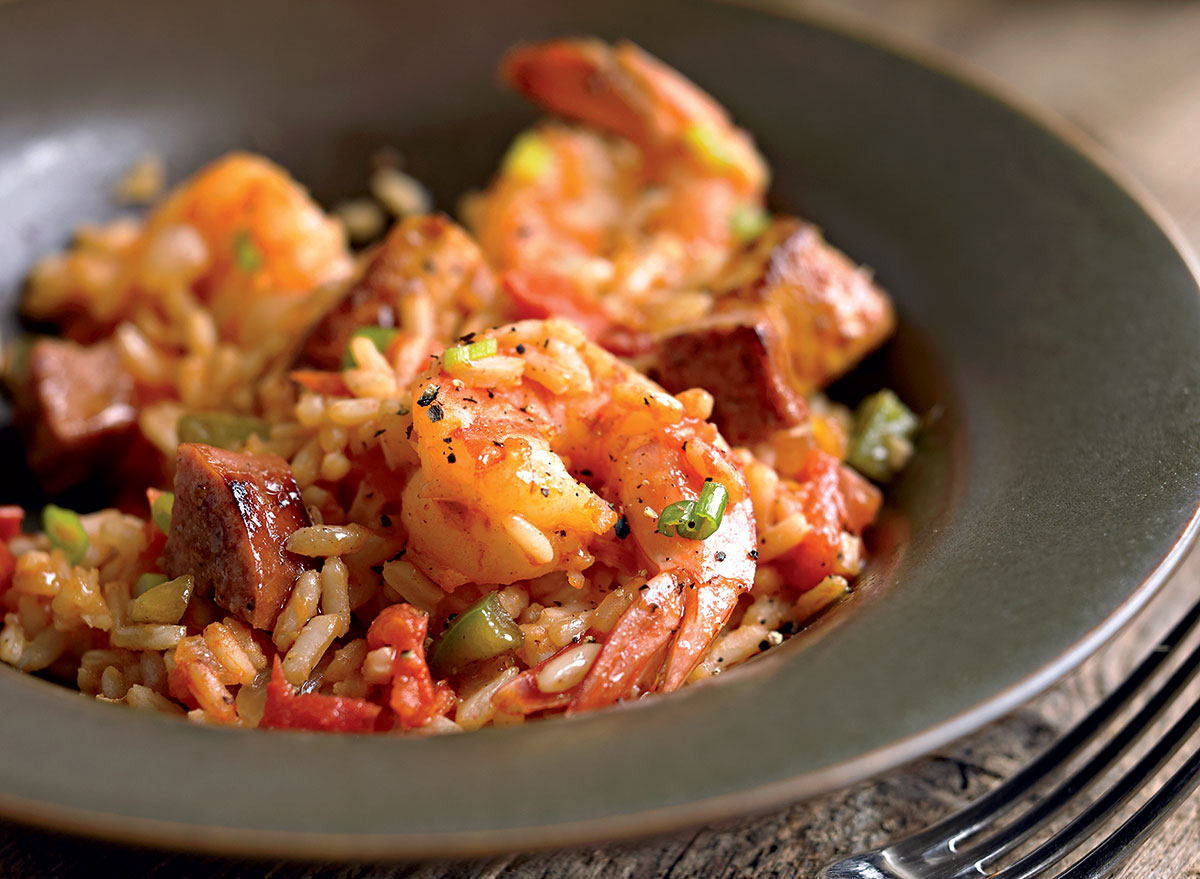 Another staple of Southern cuisine that comes from Louisiana is jambalaya. Jambalaya is essentially rice, protein, veggies, and spices, and there are countless variations. Our version uses turkey kielbasa and chicken breast for the protein, increases the ratio of protein and produce to rice, and even makes room for the possibility of swapping out quinoa for the rice altogether, all without making any compromises on flavor.
Get our recipe for Jambalaya.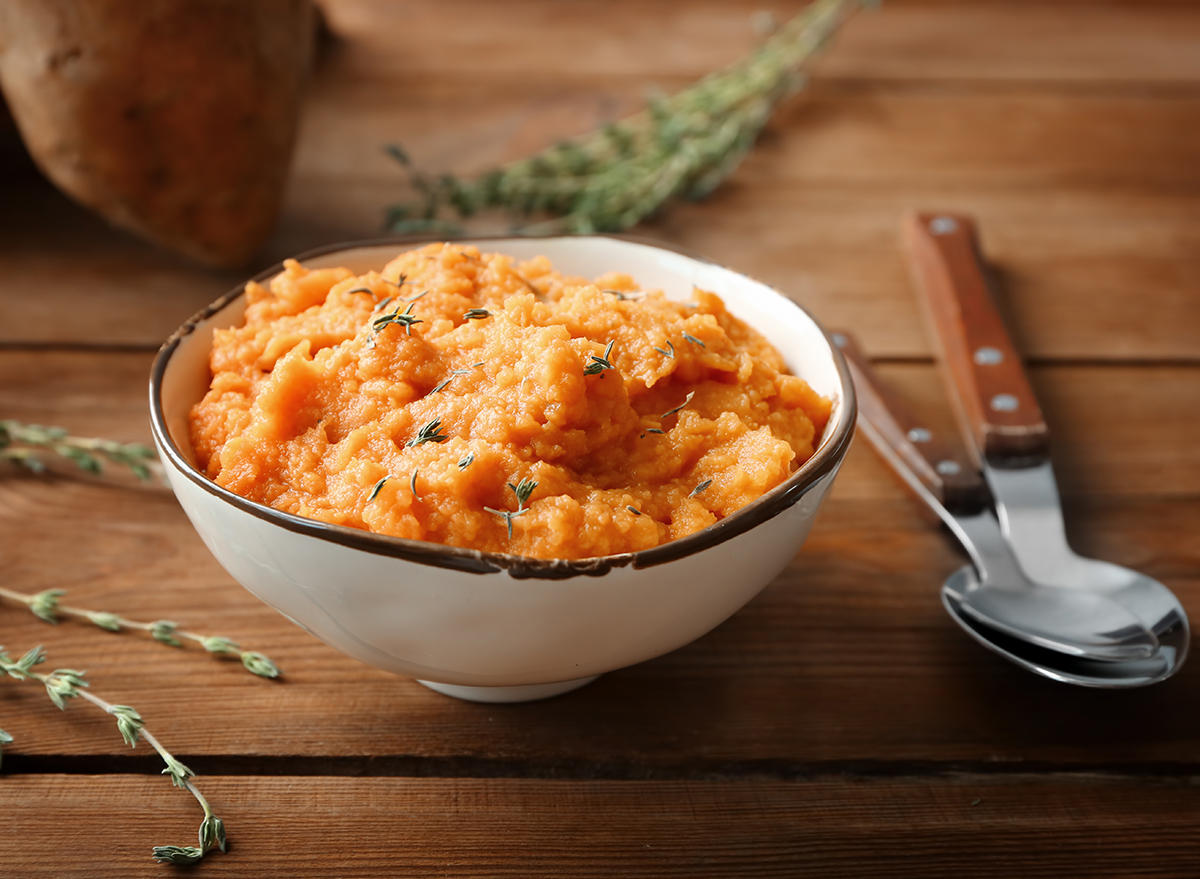 When you talk about vintage Southern recipes, you can't leave out sweet potato pie. But when you're trying to keep things healthy, you can certainly consider skipping the crust and the sugar. Adding a pinch of minced chipotle peppers, and you've got a spicy-sweet mash that works as a side dish or a dessert.
Get our recipe for Spicy Smashed Sweet Potatoes.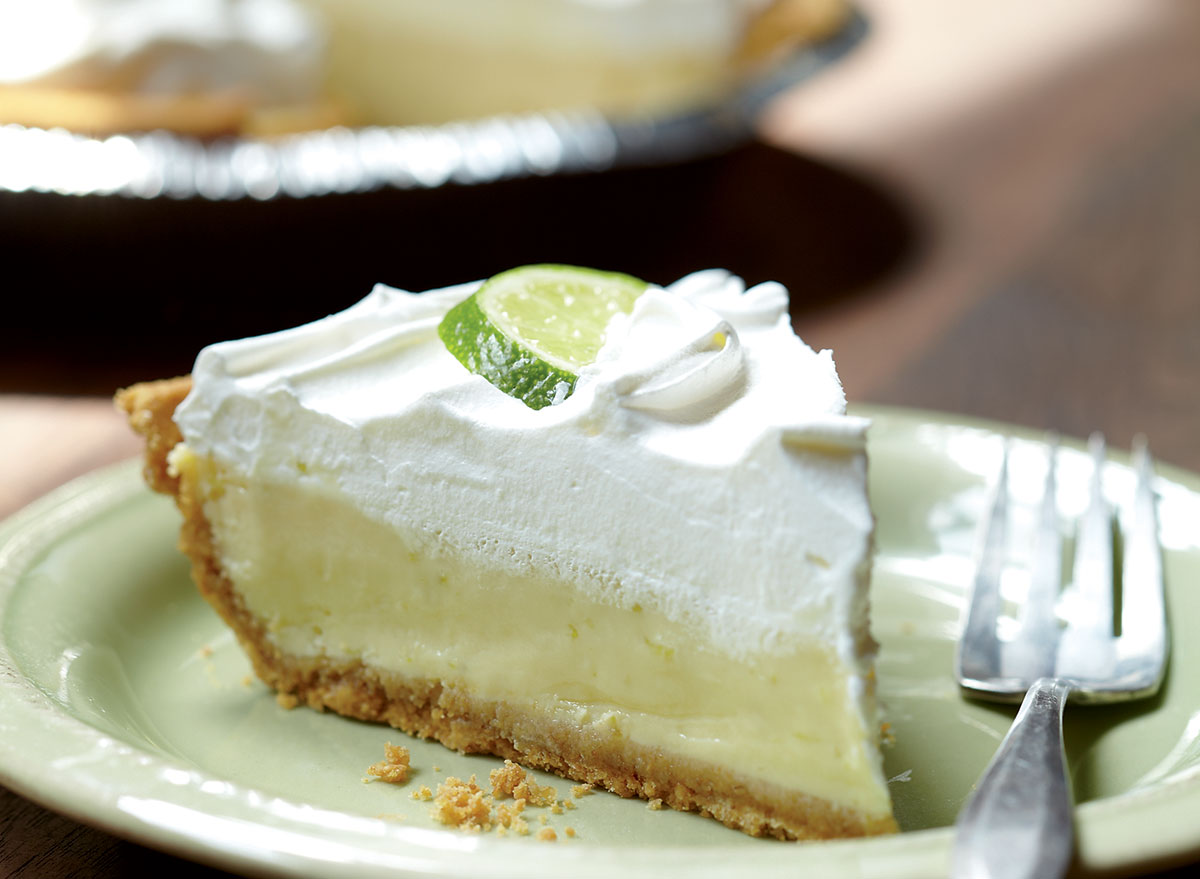 It's pretty much common knowledge that key lime pie was invented in the Florida Keys (specifically Key West), where "key limes," which are more intense than regular limes, are indigenous. Sure, there are those who argue that key lime pie was invented by the makers of sweetened condensed milk, which is a prominent ingredient in any key lime pie. But we're content to remind ourselves this classic that dates to the early 20th century wouldn't exist but for the wonderfully tart fruit and the Floridians who kept baking with them.
Get our recipe for Key Lime Pie.
If apple pie isn't the first thing you thought of when you decided to sit down and read through these Southern recipes, it's not because apple pie isn't a Southern thing—it is, and it has been for centuries. In fact, a recipe for lemon- and clove-infused apple pie appears in the 1911 cookbook written by Rufus Estes, the first Black American chef to publish a cookbook, who came of age as a cook in the deep South.
Get our recipe for Crumb-Topped Apple Pie.
Coconut cream pie is "Southern to its core" according to the James Beard Foundation, not that anyone had to tell us. If you haven't noticed, coconut figures prominently into the Southern cuisine canon, making ambrosia taste distinctly like "paradise" and helping fresh coconut cake attain its full potential.
Get our recipe for Healthier Triple Coconut Cream Pie.
If you think about it, there is almost no dessert on the face of the earth that satisfies more Southern cravings than the grilled banana split. Its foundation, the banana, grows in abundance in Florida. The bananas get to take a turn on the grill before they're topped with cold creamy ice cream, chocolate sauce, and peanuts (roasted, not boiled).
Get our recipe for a Low-Calorie Grilled Banana Split.
Let this list of vintage southern recipes guide your meal planning for the week. Step back in time—and out of your comfort zone—and bring back these tried-and-true favorites. They are classics for a reason!
Lauren Cahn
Lauren Cahn is a food, health, and culture writer whose work has appeared online and in print for Reader's Digest as well as Health Digest, Huffington Post, Taste of Home, and others.
Read more about Lauren