The Best Donut in Every State
See if your favorite hometown bakery made the list.
We all know the classic donut chains that satisfy sweet cravings daily and by the dozen (we're looking at you, Krispy Kreme). But for those looking for a more deluxe sweet treat, we've got you covered. From stuffed to slathered, from fried to baked, we'll bet you won't be able to resist making the road trip to your state's nearest donut delicatessen after reading our list. And who knows? It could be just around the corner.
We've partnered with Yelp to find the best donut in every state. To create this list, Yelp scoured the "donut" category and selected the best donut-maker in each state. In this case, "best" is defined by both Yelp's star ratings and by how many reviews each business has. Using Yelp's list of the best donut shops, we combed through the reviews to find the donuts that stood out at each establishment. Ready to see which donut tops the charts in your state? Read on to find out.
And if you're craving a burger, be sure to skip these 8 Worst Fast-Food Burgers to Stay Away From Right Now.
ALABAMA: Strawberry Glazed Donut at Donut King in Eufaula
This hole-in-the-wall donut joint "puts Krispy Kreme to shame," says one Yelp reviewer. Check out their selection of classic glazed donuts to see why basic really is better.
ALASKA: S'mores Donut at Jason's Donuts in Fairbanks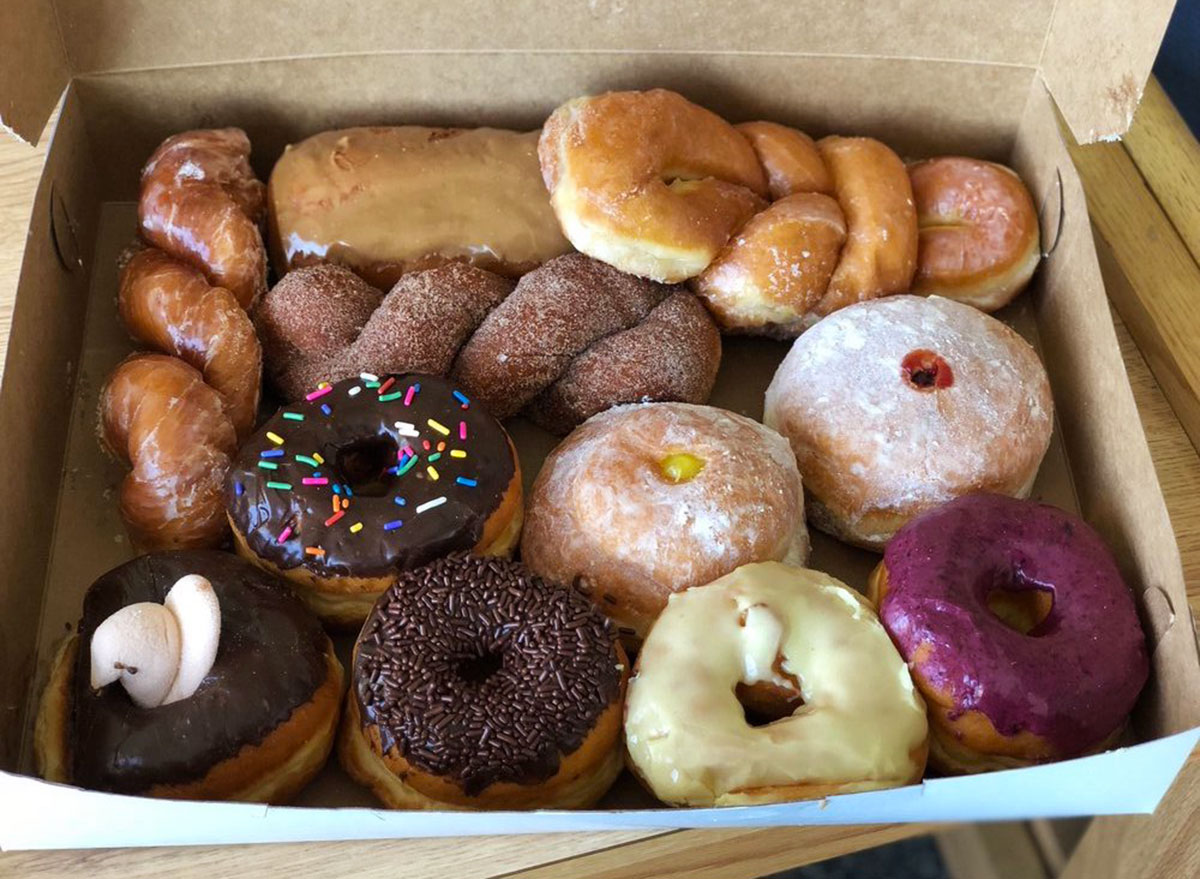 Known as the "hidden gem" of Fairbanks, Jason's Donuts serves up a variety of colorful pastries daily. This s'mores donut, with dark chocolate icing and a smoky marshmallow center, is enough to curb any craving.
ARIZONA: Apple Fritter at Best Donuts in Phoenix
For Best Donuts, the name speaks for itself. Whether you're coming in for a classic apple fritter or a decadent buttermilk bar, you'll want to keep coming back for more. With competitive pricing and fresh, fun flavors, this shop has customers driving across the state for a bite.
ARKANSAS: Red Velvet Donut at Howard's DO Nuts in West Memphis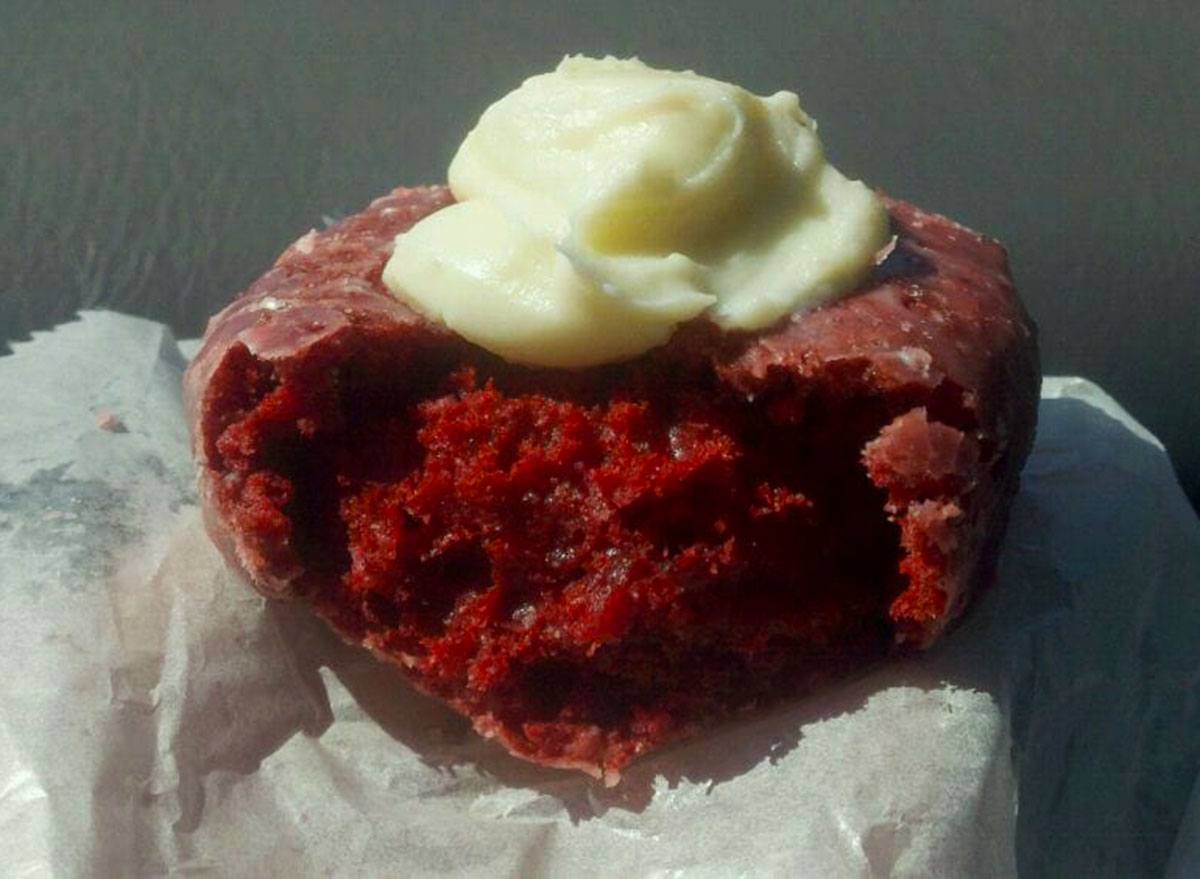 "Heaven. Best donuts in the entire world," says one reviewer. If that review doesn't pique your interest in Howard's DO Nuts, then nothing will. Crowd favorites like the red velvet with cream cheese icing and the Hawaiian Delight will be sure to turn you into a lifelong fan.
CALIFORNIA: Pecan Sticky Bun at BJ Cinnamon in Folsom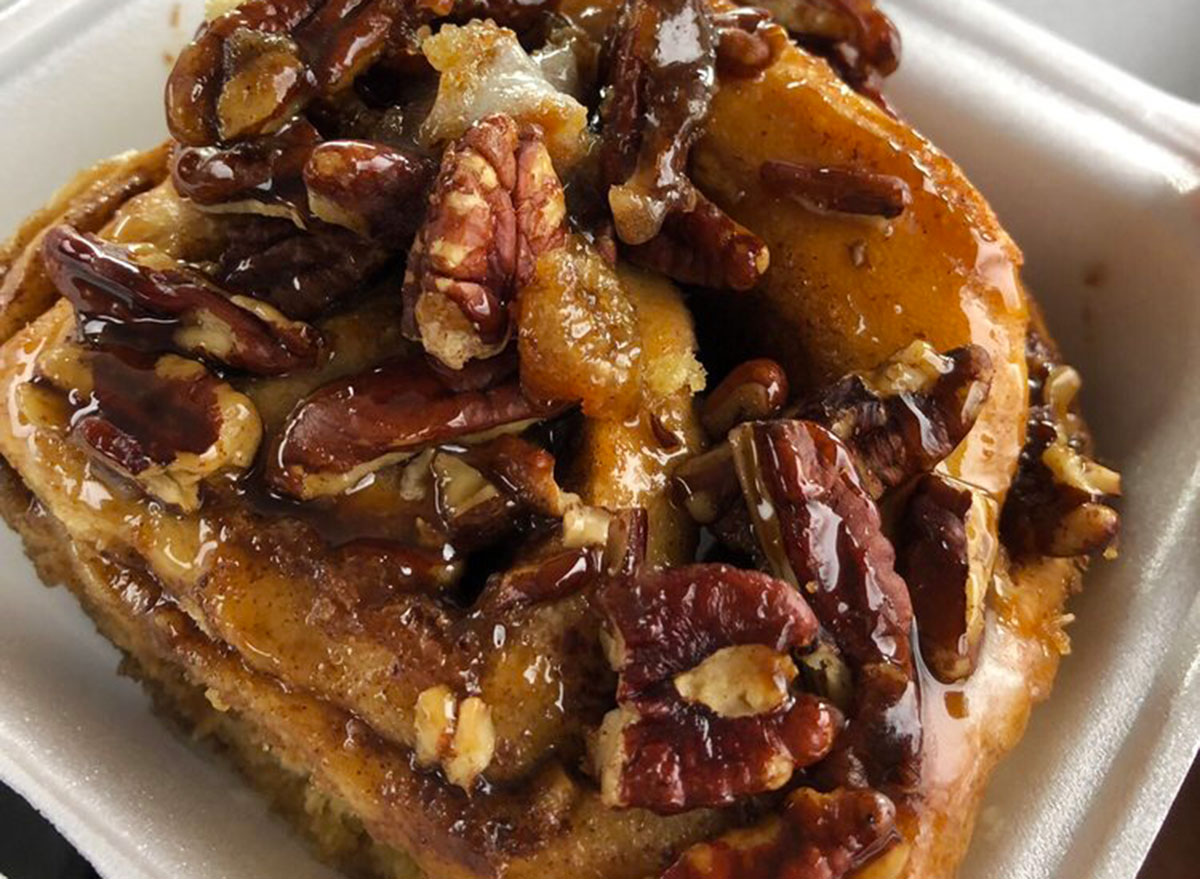 BJ Cinnamon made the Money.com "10 Best Donut Shops in America" list in 2018—and for good reason. One Yelp reviewer says that "something about the dough is majestic. Maybe even magical." Menu items like the pecan sticky bun and maple bars have lines stretching out the door at this mom-and-pop shop.
COLORADO: RADiculously Awesome Doughnut at Sweet Coloradough in Glenwood Springs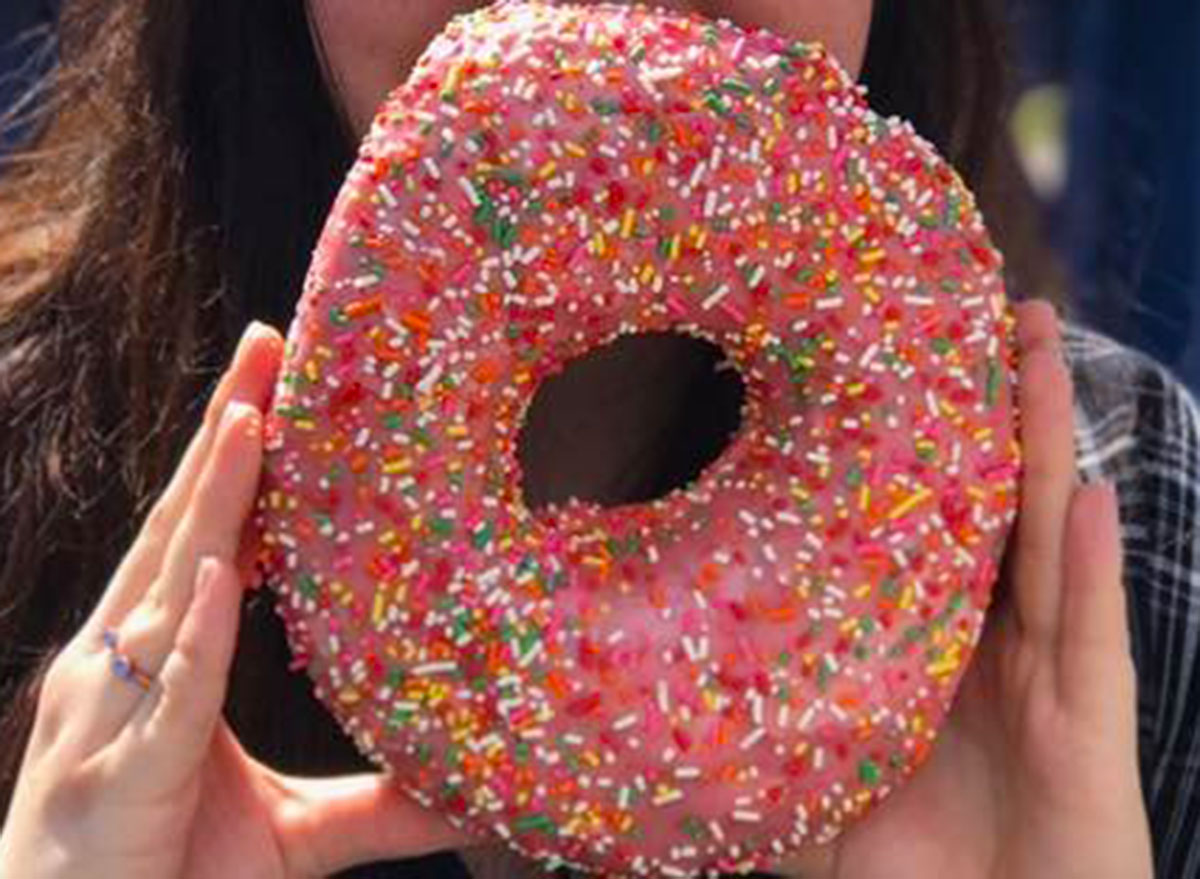 If you're looking for a one-of-a-kind donut, this is the place to go. Sweet Coloradough makes donuts the size of your head (literally!), tie-dye glazed creations, and even treats with the Colorado state flag frosted on top. If you're not in the mood for pastries, the shop also offers an array of savory sandwiches to choose from.
CONNECTICUT: Jelly Doughnut at Brooklyn Baking in Waterbury
Brooklyn Baking offers a variety of baked goods including cookies, cannolis, and (of course) donuts. The jelly donut seems to take the cake, with raving Yelp reviews like, "easily the BEST donut I have ever had, bar none. And I eat a LOT of donuts." How could you not want a taste after reading that?
DELAWARE: Fractured Prune in Rehoboth Beach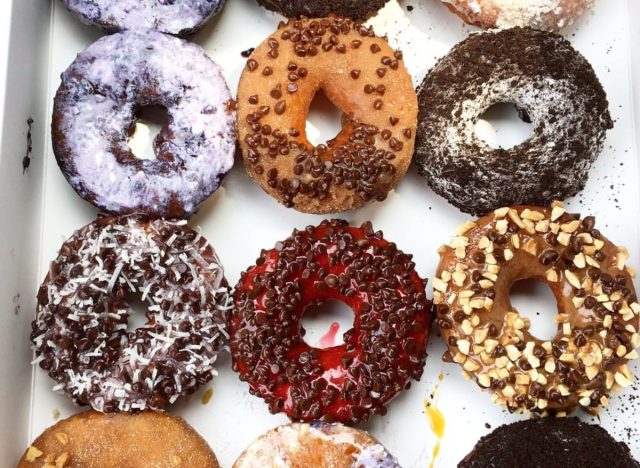 Donut-lovers rave about these cake donuts in Rehoboth Beach. Flavors range from French Toast to Creamsicle, but you really cannot go wrong. "Everything is amazing," gushed one Yelp review. Fractured Prune is a seasonal spot that opens after Memorial Day.
FLORIDA: Fruity Pebbles Donut at Donnie's Donuts in Ormond Beach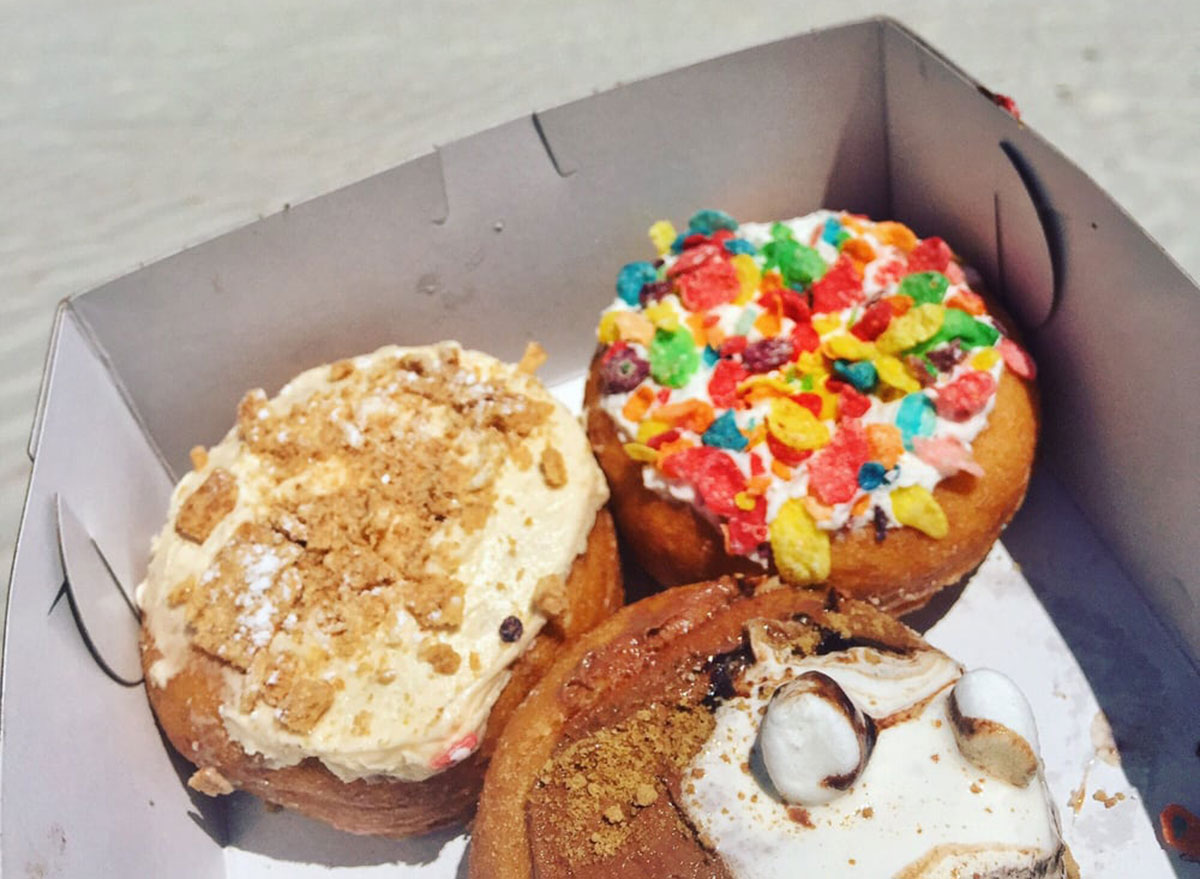 While all of the donuts at Donnie's received glowing reviews, the Fruity Pebbles Donut seems to take the cake. After the first bite, one customer says, "I almost turned my car around to grab another one because it was that good."
GEORGIA: Apple Fritter at Ray's Donuts in Lawrenceville
You won't find a less-than-stellar review on Ray's Yelp page. Located just north of the Atlanta perimeter, this unassuming joint churns out all the classics, including the popular apple fritter and specialty donuts like the cream cheese-filled strawberry.
HAWAII: Ubae Donut at PURVÉ Donut Shop in Honolulu
Plain isn't in the vocabulary of PURVÉ Donut Shop. The delicatessen whips up fresh creations daily, and assigns odd names like "Hulk Smash" and "Alohamac" to the colorful treats. If you're lucky enough to make it to the island of Oahu, head to Honolulu to snag a purple "Ubae" donut. You won't be sorry!
IDAHO: Pacman Donut at Sweet Sensation Donuts in Meridian
Customers rave about the excellent variety, fresh flavors, and fun specialty treats—like the Pacman Donut—at this fun bakery.
ILLINOIS: Cinnamon Buns at Country Donuts in Crystal Lake
You won't have to wait to try out this donut staple. Open 24/7, this shop serves up all the classics, with the addition of seasonal specialties like Christmas Cinnamon Buns and Cider and Spice Cake Donuts.
INDIANA: Donut Ice Cream Sandwich at Teejay's Sweet Tooth in Indianapolis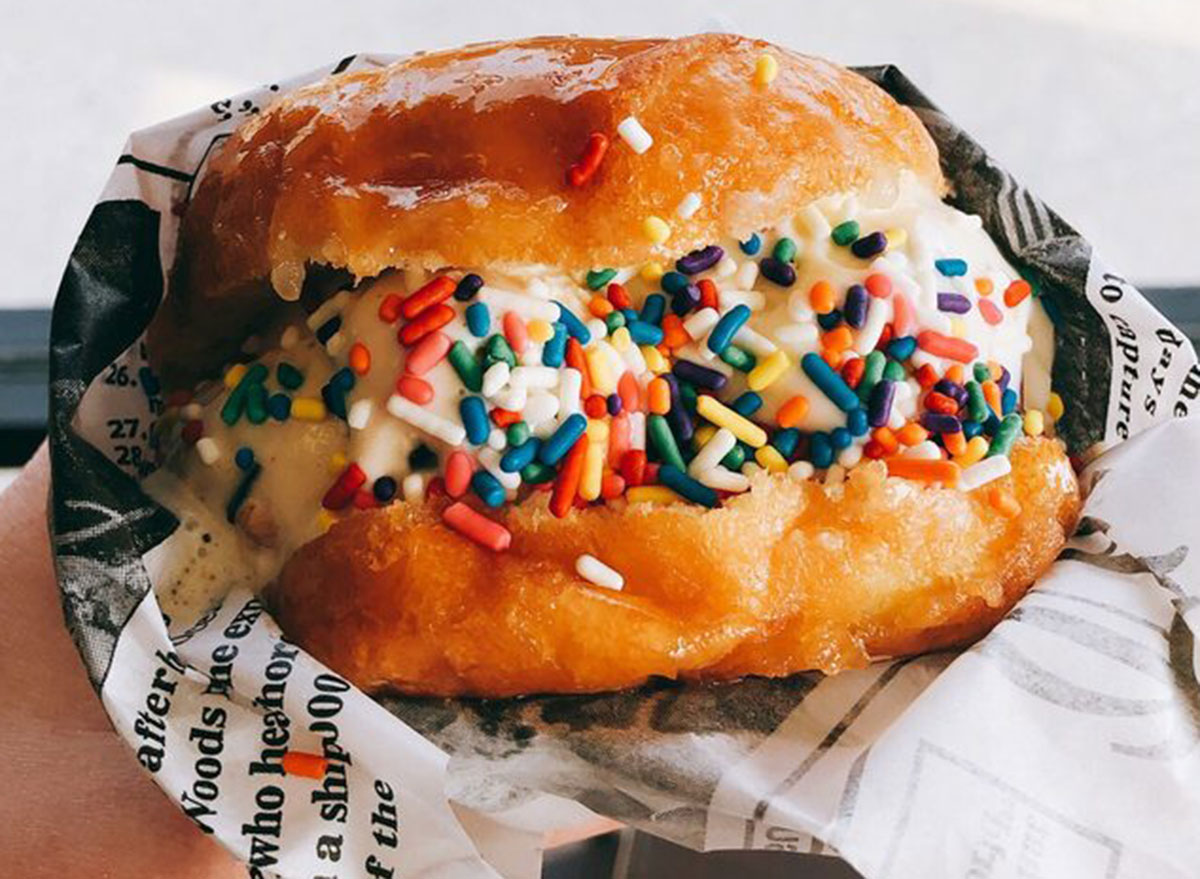 Ice cream combined with donuts? Now that's a dessert lover's dream. In addition to the infamous donut ice cream sandwiches, Teejay's offers ice cream cookie sandwiches, milkshakes, and sundaes. One Yelp reviewer put it best, saying, "In one word? Superb!"
IOWA: Apple Tiki Donut at Mahalo's Coffee in West Des Moines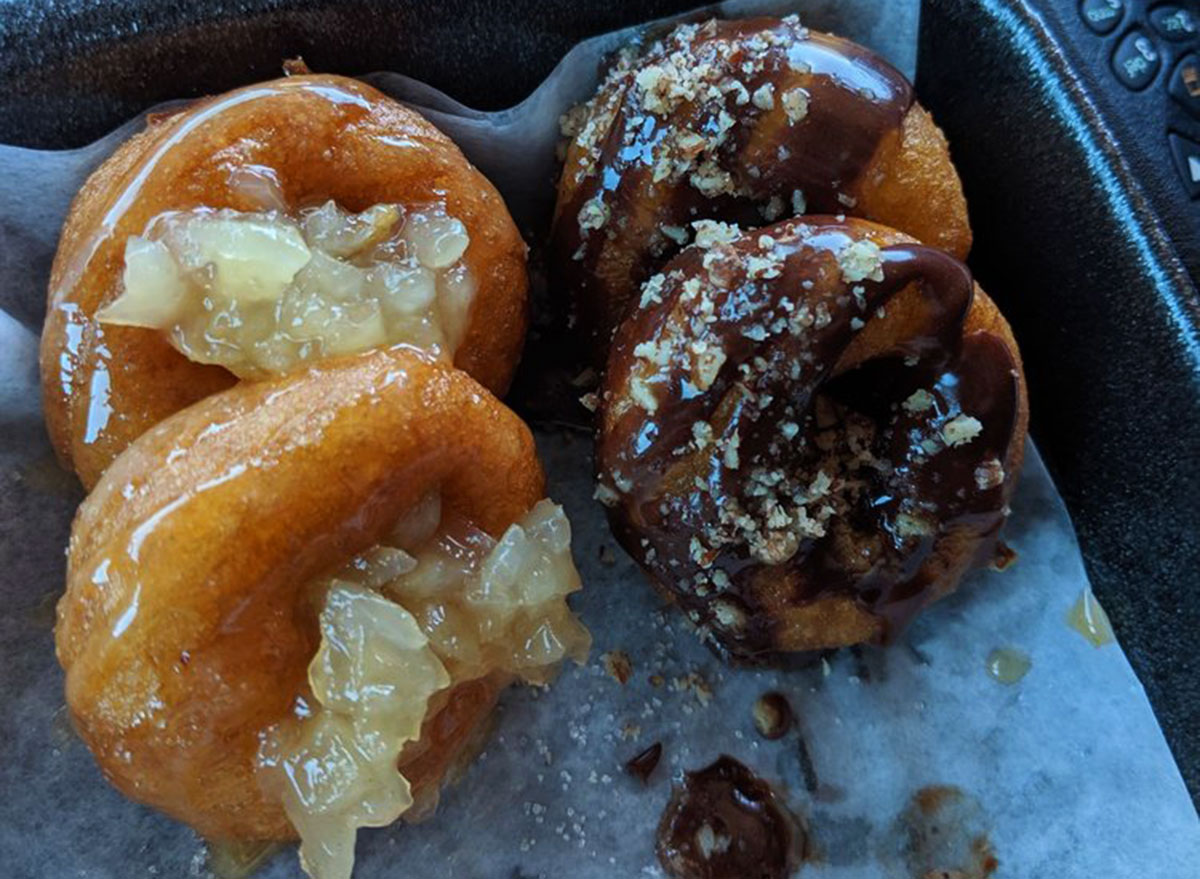 This shop brings a taste of Hawaii to central Iowa. Flavors like Apple Tiki and Coconut Cove will send you to donut heaven.
KANSAS: Blueberry Donut at Hana's Donuts in Kansas City
Tucked away off the highway, this sweet shop is "worth the detour" according to loyal customers on Yelp. The huge selection of flavors, shapes, and sizes will make it nearly impossible to pick just one—you may have to try one of each!
KENTUCKY: Maple Bacon Donut at Nord's Bakery in Louisville
No trip to Derby City is complete without a stop at Nord's Bakery. Customers rave about the Maple Bacon Donut, complete with a full strip of bacon on the top. The shop's website says, "We're firm believers that there is no better breakfast than a warm donut." We agree!
LOUISIANA: Mardi Gras Donut at Bakers Dozen Donuts in New Orleans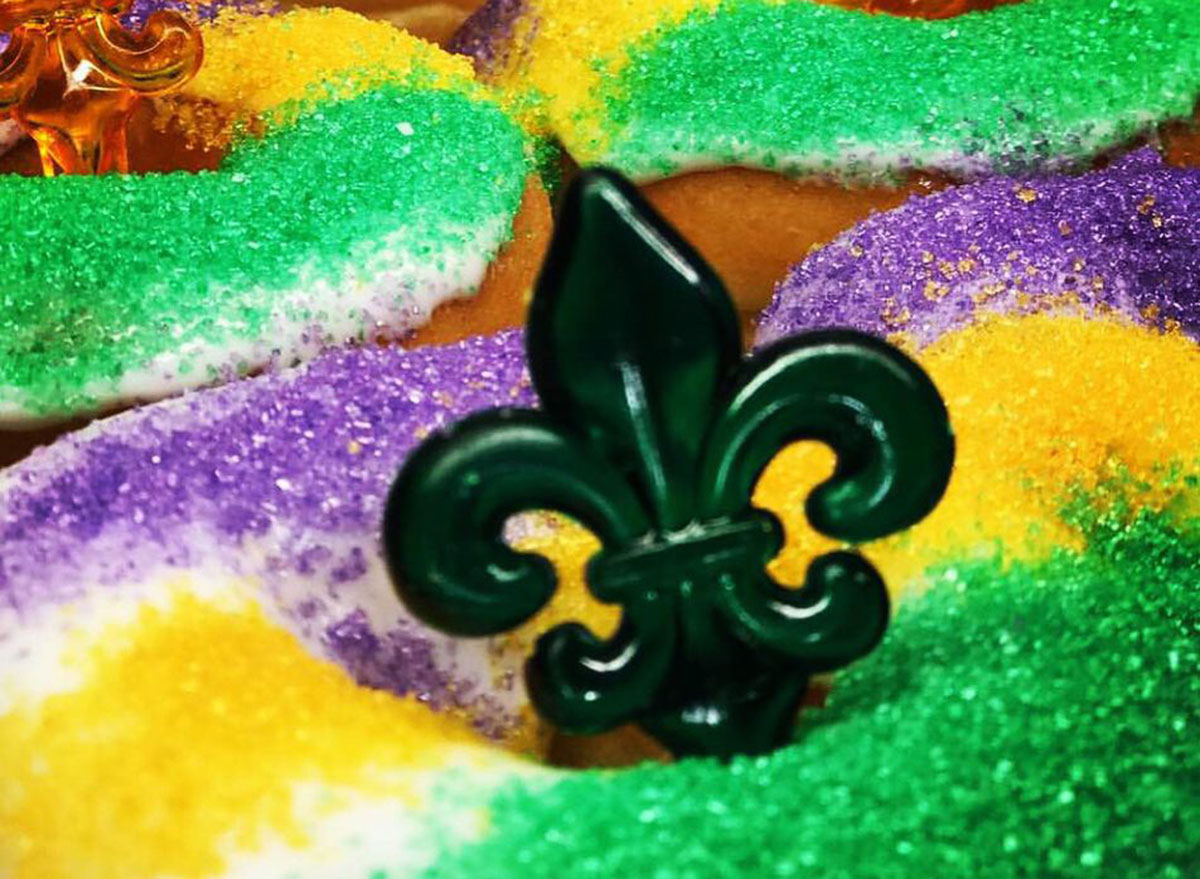 Open since 1993, this New Orleans staple has become so popular for good reason. Along with other classic flavors, the Mardi Gras donut, topped with vanilla icing and yellow, purple, and green sprinkles, is a crowd favorite.
MAINE: Allen's Coffee Brandy Donut at Holy Donut in Portland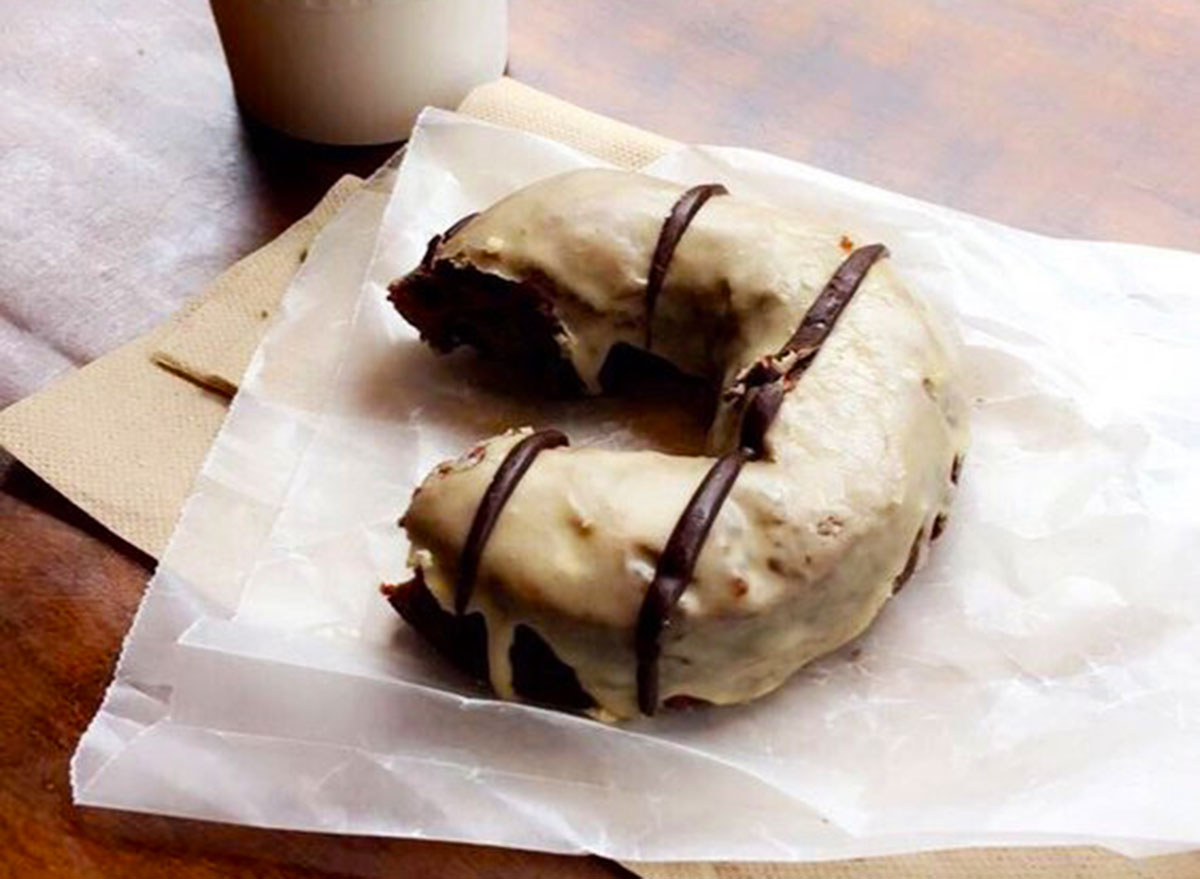 This Portland icon made its name with its unique potato donuts. With one-of-a-kind flavors like pomegranate and Allen's Coffee Brandy, Holy Donut has become a staple destination for tourists. One Yelp review gave this telling testimonial: "There was a line nearly out the door when I came in the middle of a snowstorm on a Monday morning, so you know this place is legit."
MARYLAND: Chocolate Cruller at Carlson's Donuts in Severn
This hole-in-the-wall shop serves up freshly made, hand-cut, fried donuts daily. When it comes to basics, Carlson's Donuts does it best. Grab your favorite classic flavors or the popular chocolate-dipped crullers. Note: Carlson's doesn't take debit and credit cards, so make sure to stop by an ATM on the way!
MASSACHUSETTS: Boston Cream Donut at Donut Shack in Lowell
In true Massachusetts fashion, The Donut Shack's Boston Cream donut is a favorite among customers. One Yelp customer says, "Donut Shack's Boston cream is, without a doubt, the best doughnut I have ever had in my life." With a rich layer of chocolate frosting and a thick custard filling, what's not to love?
MICHIGAN: Strawberry Glaze Donut at Avon Donuts Inc in Pontiac
Lemon Drop, Mint Patty, Maple Bacon, oh my! If any of these flavors sound appealing to you, then Avon Donuts is the place for you. And if you're more of a classic fan? Snag a strawberry glazed donut with fresh strawberries to top it off.
MINNESOTA: Maple Long John at Heights Bakery in Columbia Heights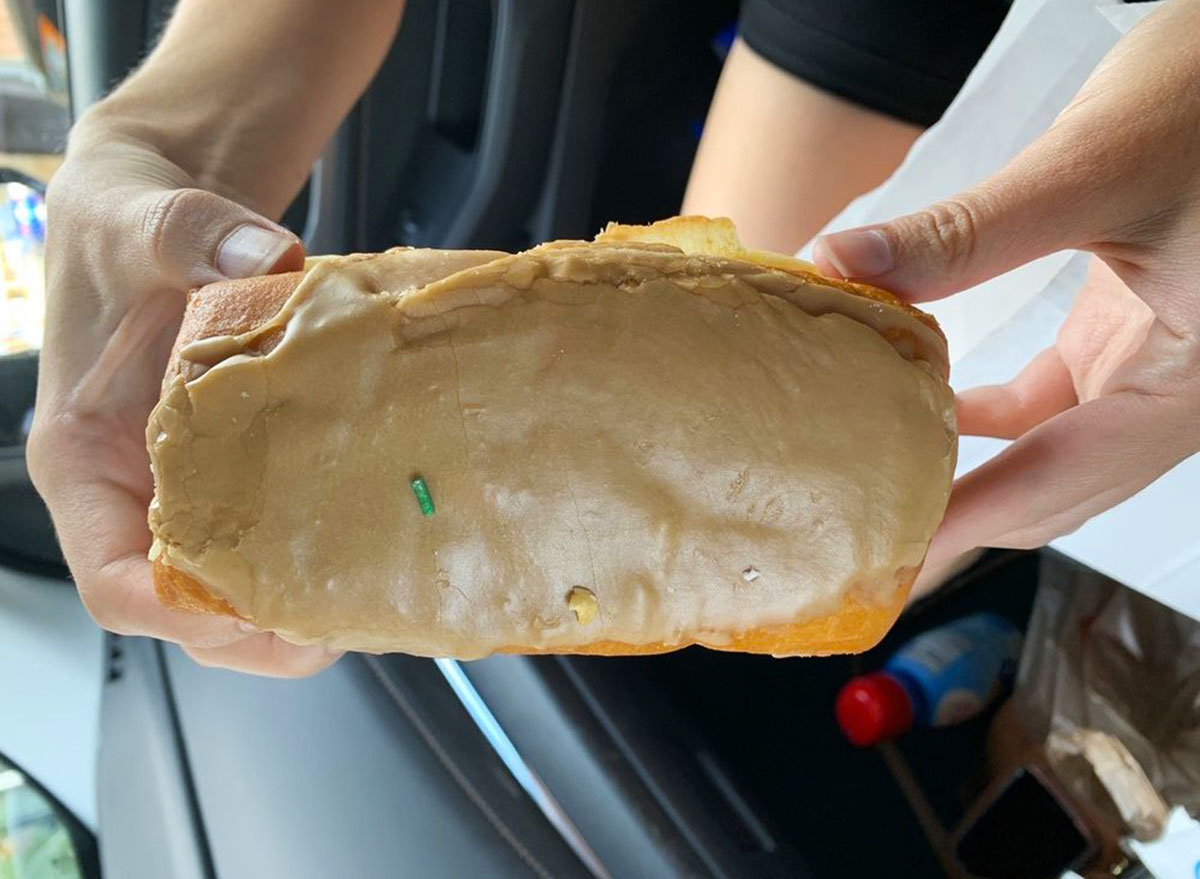 Reach new heights at Heights Bakery in Columbia Heights. From cookies to cake to donuts, Heights does it all and does it well. The no-frills old-school bakery has a long list of loyal regulars and newcomers alike that rave about the Maple Long Johns and blueberry cake donuts.
MISSISSIPPI: Cinnamon Bun at Fantasy Donuts in Biloxi
Fantasy Donuts in Biloxi is exactly what it sounds like: a dream. This sugar spot has perfected the art of the old-fashioned donut, and the list of loyal customers speaks for itself. Try a cinnamon bun or a savory kolache if you get the chance to visit.
MISSOURI: Cheesecake Stuffed Cake Donut at Pharaoh's Donuts in Saint Louis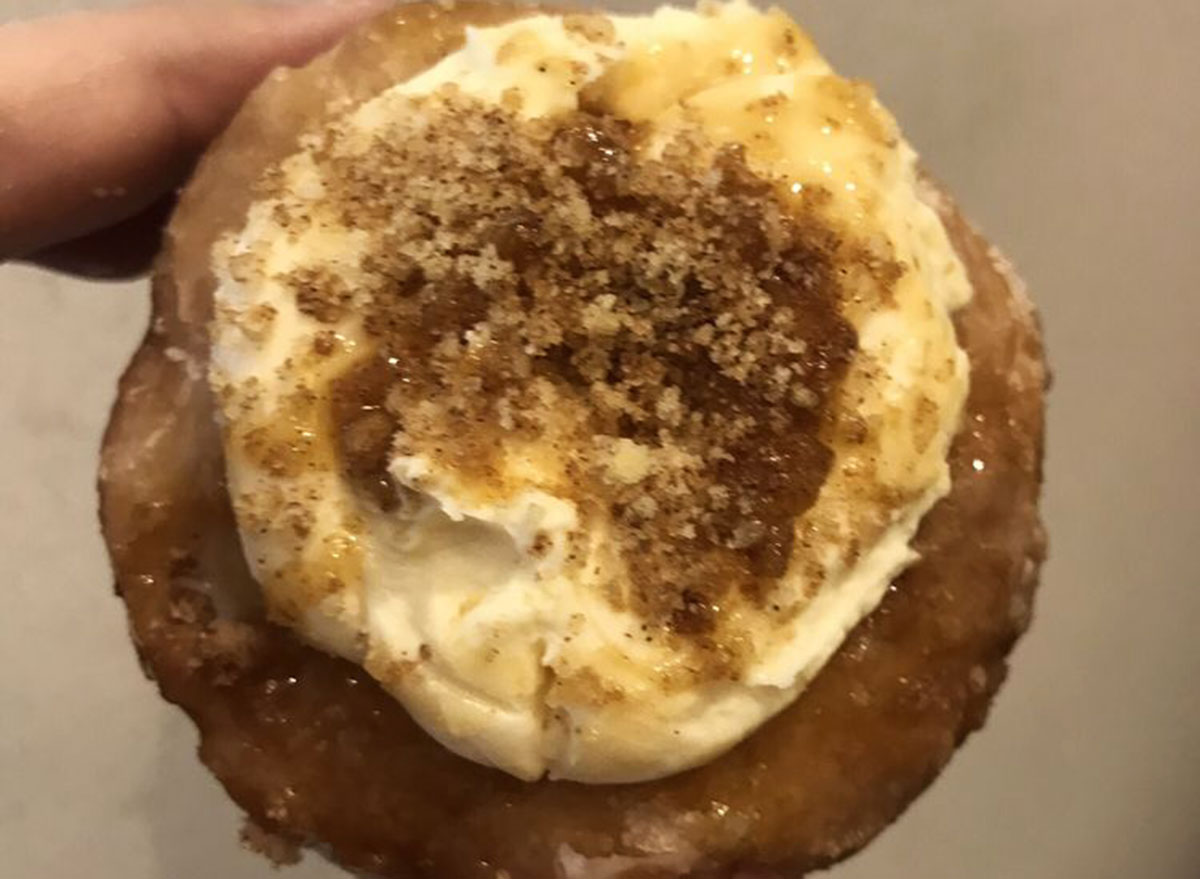 With hard-to-beat price points and classic flavors good enough to woo any donut aficionado, it's no wonder Pharaoh's is the top-rated donut shop in the state of Missouri. And did we mention the cheesecake-stuffed cake donut with caramel drizzle and cinnamon streusel? Drool.
MONTANA: Orange Cream Donut at Granny's Gourmet Donuts in Bozeman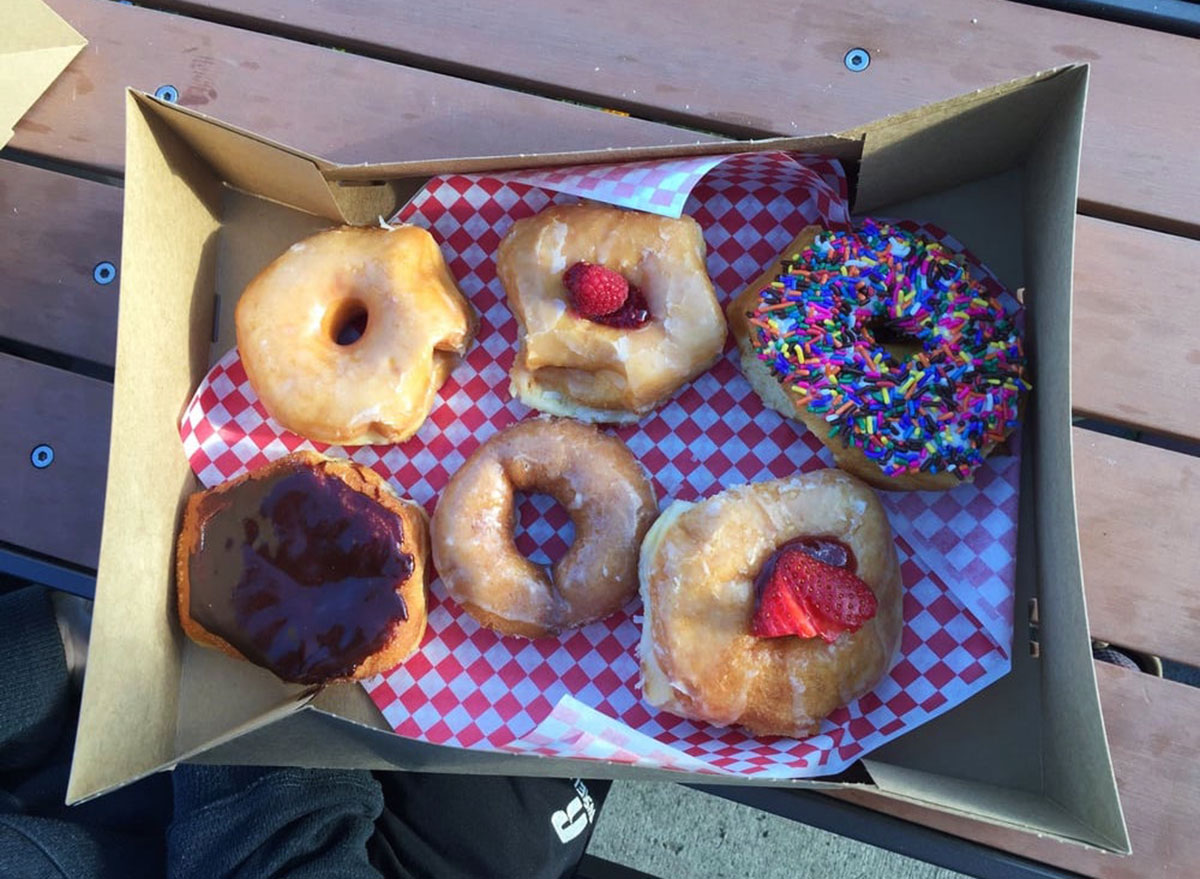 "ABSOLUTELY ONE OF THE BEST DONUT SHOPS IN NORTH AMERICA," says one subtle Yelp reviewer. They do the classics well, but if you're looking for a flavor you've never tried before, go for the orange cream, filled with bavarian cream and topped with orange glaze at Granny's Gourmet Donuts.
NEBRASKA: Chocolate Coconut Cake Donut at Olsen Bake Shop in Omaha
This no-fuss donut joint is short and to the point—come in for the delicious donuts, not the atmosphere. For only $5, you can get a half dozen quality treats. One Yelp customer recommending the chocolate coconut cake donut says, "They're divine. This is the only place I get them from. The donut itself is perfectly crispy outside and so soft inside!"6254a4d1642c605c54bf1cab17d50f1e
NEVADA: Vegan Apple Burrito at Ronald's Donuts in Las Vegas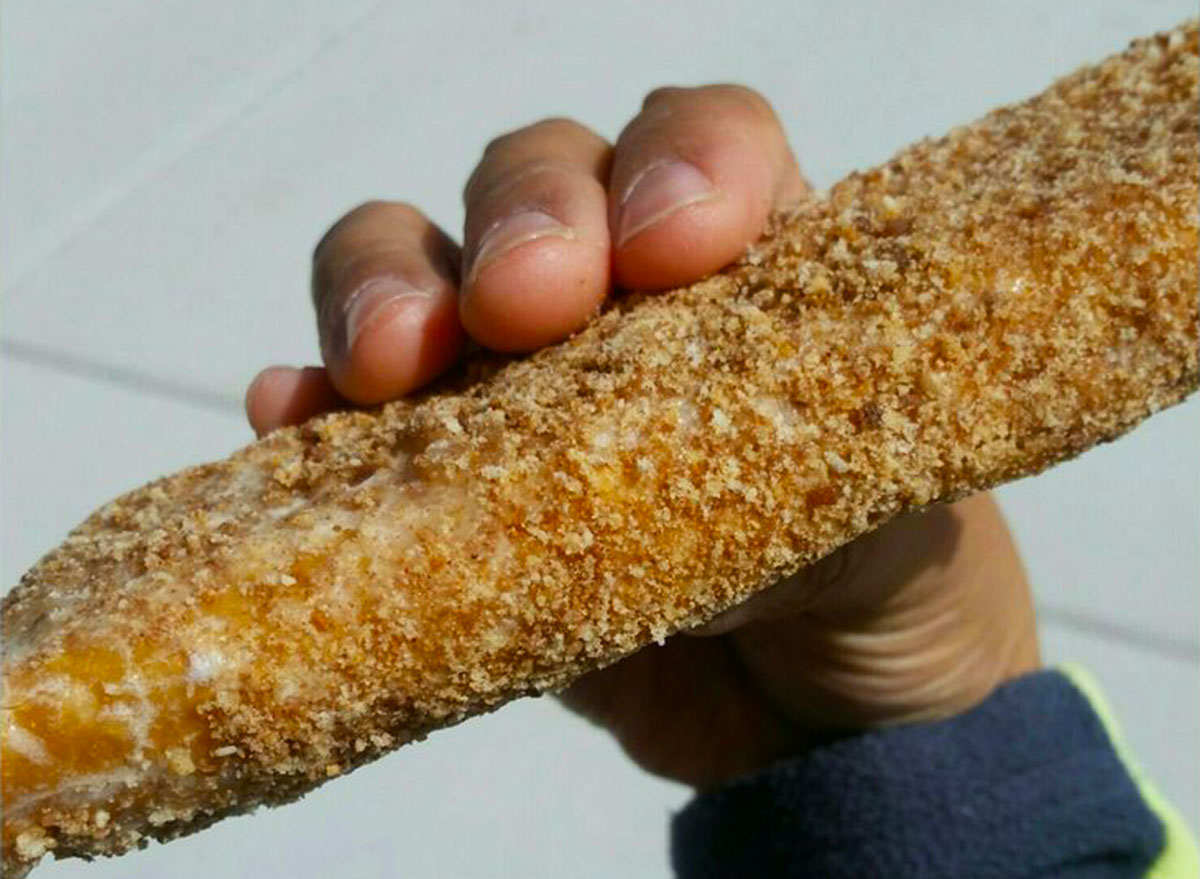 When in Vegas, go big or go home. Ronald's offers an array of decadent doughy treats and even a selection of vegan options, like the apple burrito and cinnamon twists.
NEW HAMPSHIRE: Chocolate Toasted Coconut Donut at Donut Love in North Hampton
Customers at Donut Love can't get enough of these "ring-toss delights." Made from potato dough, these stretched-out sweet treats are wider than traditional donuts. Popular flavors include apple, chocolate glazed, maple, and chocolate toasted coconut.
NEW JERSEY: French Toast Donut at Uncle Dood's Donuts in Toms River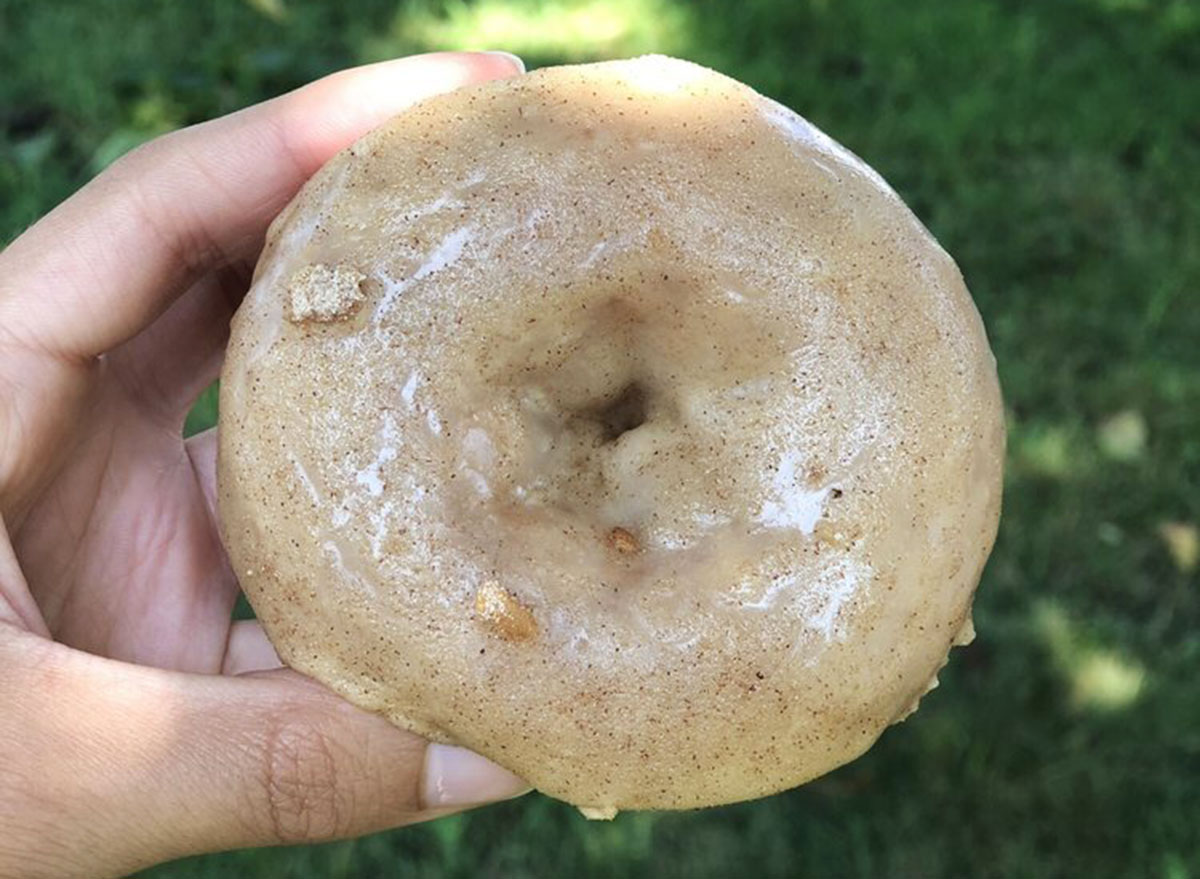 We don't know who "Uncle Dood" is, but we do know that he has the best-rated donuts in New Jersey. This shop serves up decadent, gourmet flavors like raspberry crumb cake and French toast, with maple icing and cinnamon sugar.
NEW MEXICO: Apple Fritter at Rise+Roast in Albuquerque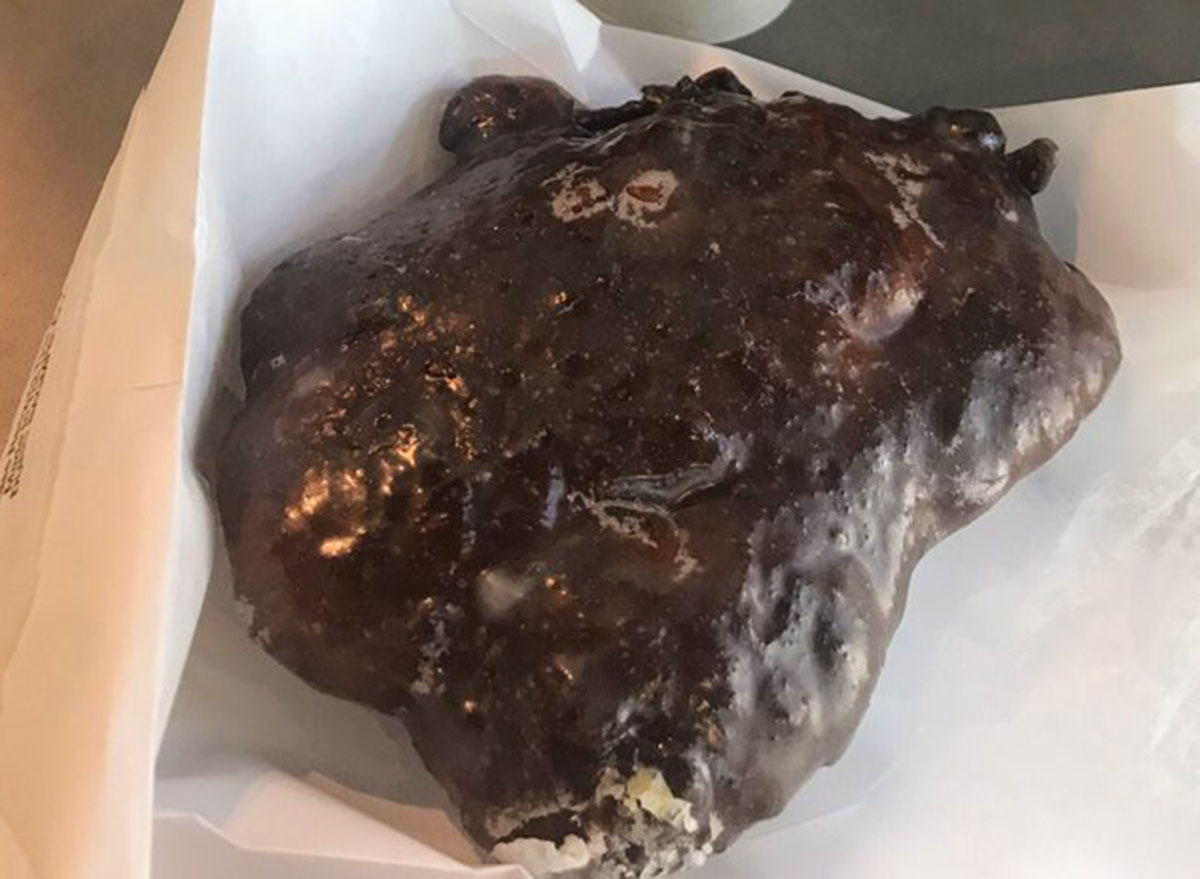 Get your coffee fix and a treat to go at this popular donut shop. This fairly new coffee and donut joint has become a hit with the locals. If the fun atmosphere and friendly service aren't enough to draw you in, the donuts will have you coming back daily. According to a Yelp reviewer, their apple fritter is "ridiiiiiiiiiculous." Count us in.
NEW YORK: Apple Cider Donut at Lumber Jack's Coffee and Snacks in Hoosick
This unique drive-thru snack shack offers only one kind of donut—the signature apple cider donut, made hot and fresh daily. Located in picturesque upstate New York, it's the perfect location to stop by for a bag to warm up your day and your taste buds.
NORTH CAROLINA: Peanut Butter Donut at Superior Bakery in Fayetteville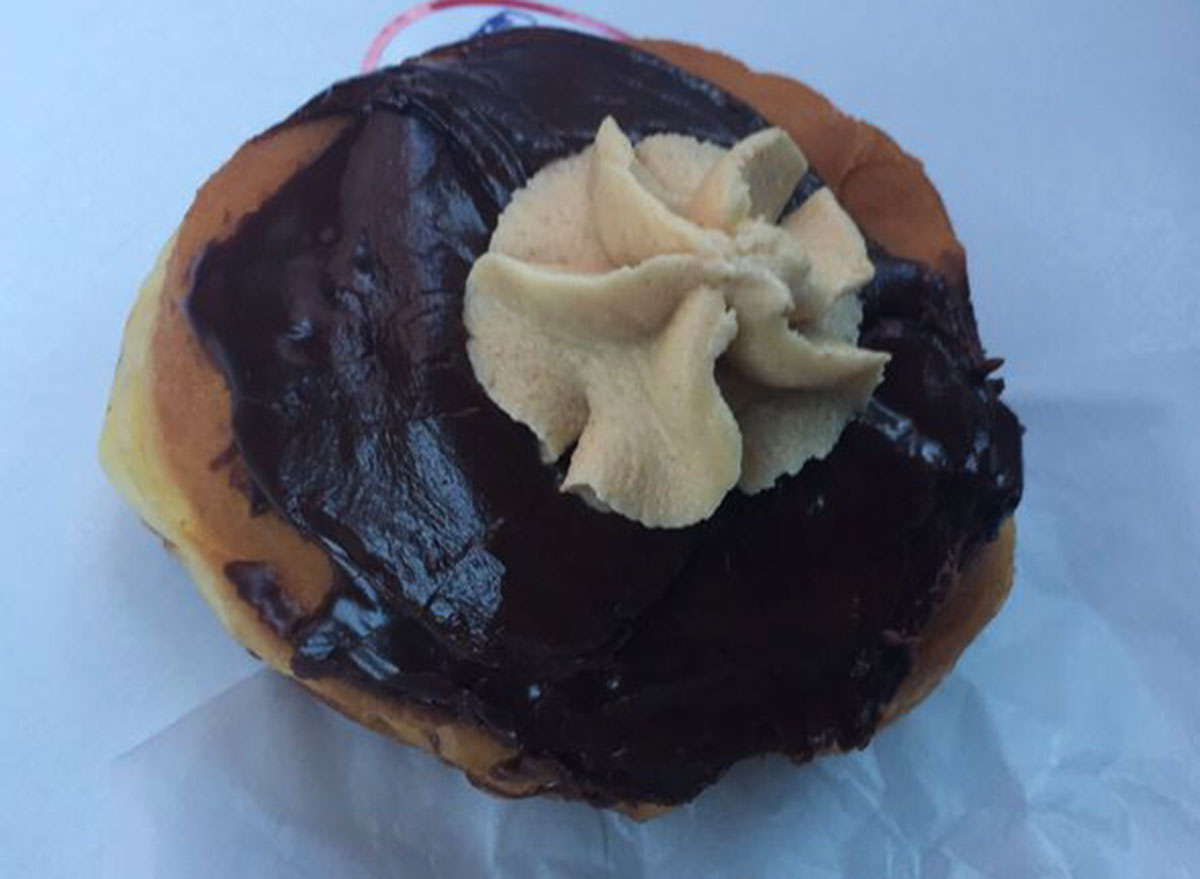 For Superior Bakery, the name says it all. You'll be hard-pressed to find a review under five stars on the donut shop's Yelp page and for good reason. The family-operated bakery has been in business since 1956 and fans rave about the friendly service (and the peanut butter donuts).
NORTH DAKOTA: Oscar the Grouch Donut at Sandy's Donuts and Coffee Shop in West Fargo
With more than 80 different varieties offered each day, the menu at Sandy's Donuts will never get old. In addition to the classics, the shop offers fun character donuts inspired by figures like Oscar the Grouch and Nemo.
OHIO: Gluten-free Strawberry Donut at Cherbourg Bakery in Bexley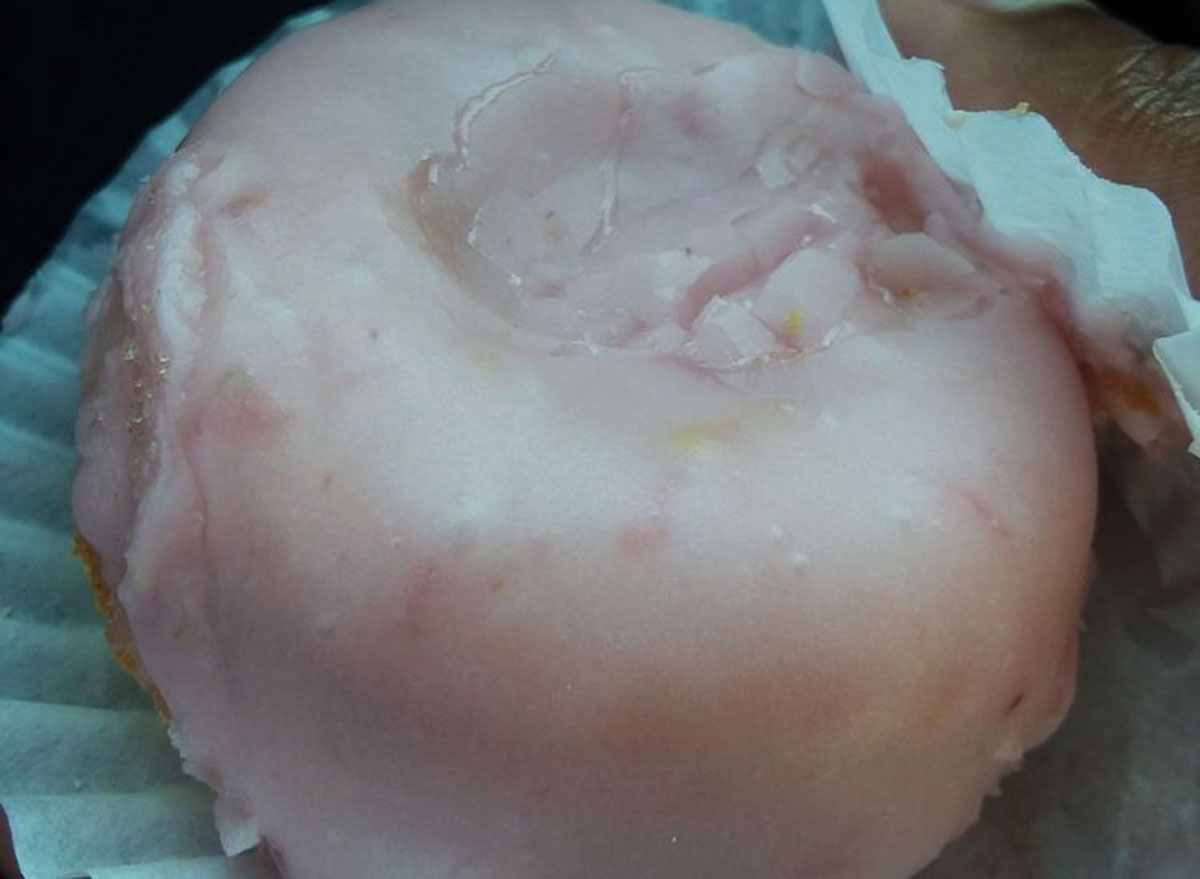 For those living the gluten-free lifestyle, Cherbourg is your new go-to donut stop. The gluten and nut-free bakery offers tasty treats for anyone to enjoy. According to loyal fans of the shop, the strawberry donuts are "simply excellent!"
OKLAHOMA: Camel Toe Donut at Polar Donuts in Oklahoma City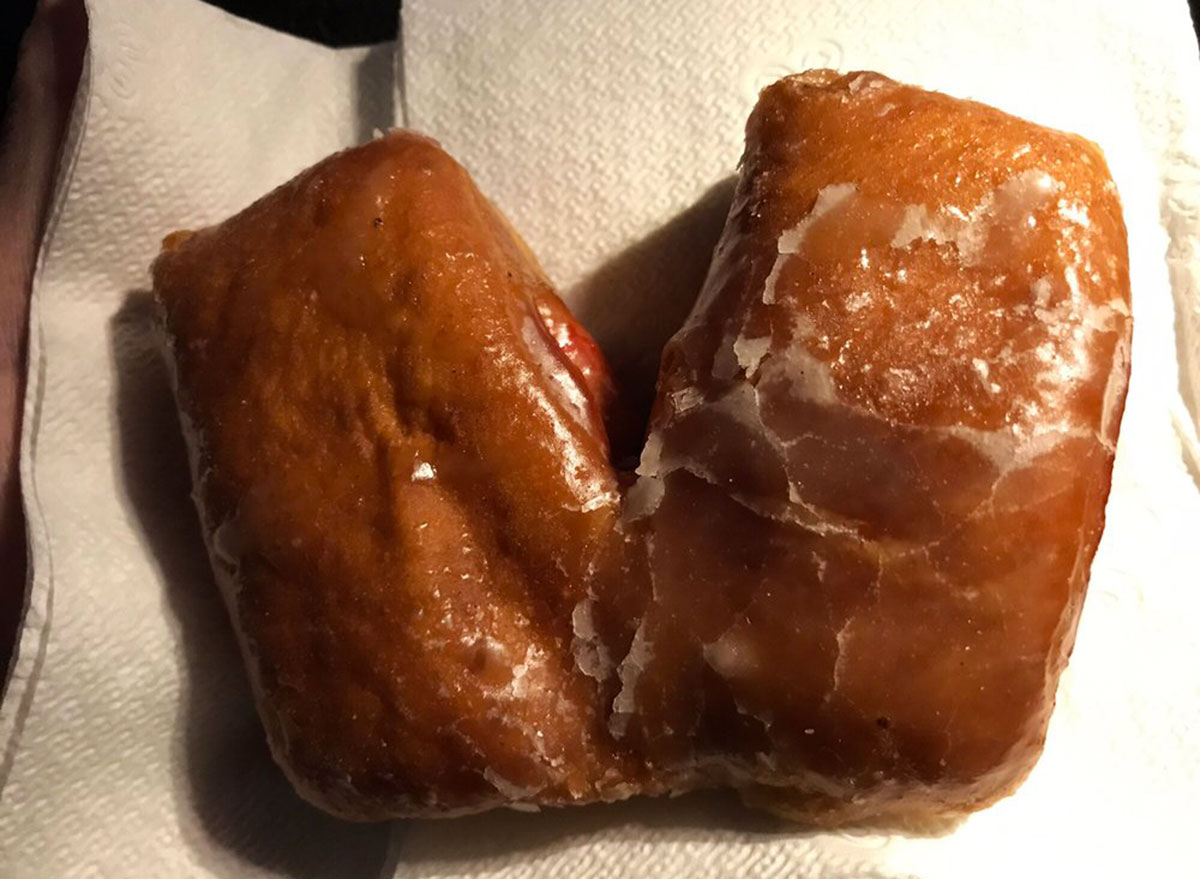 This quirky family-owned donut shop has made its name in Oklahoma as the most popular sugar shack in the state. Known for the unique donut names, Polar Donuts keeps customers laughing and hungry for more.
OREGON: Mini Doughnuts at Pip's Original Doughnuts and Chai in Portland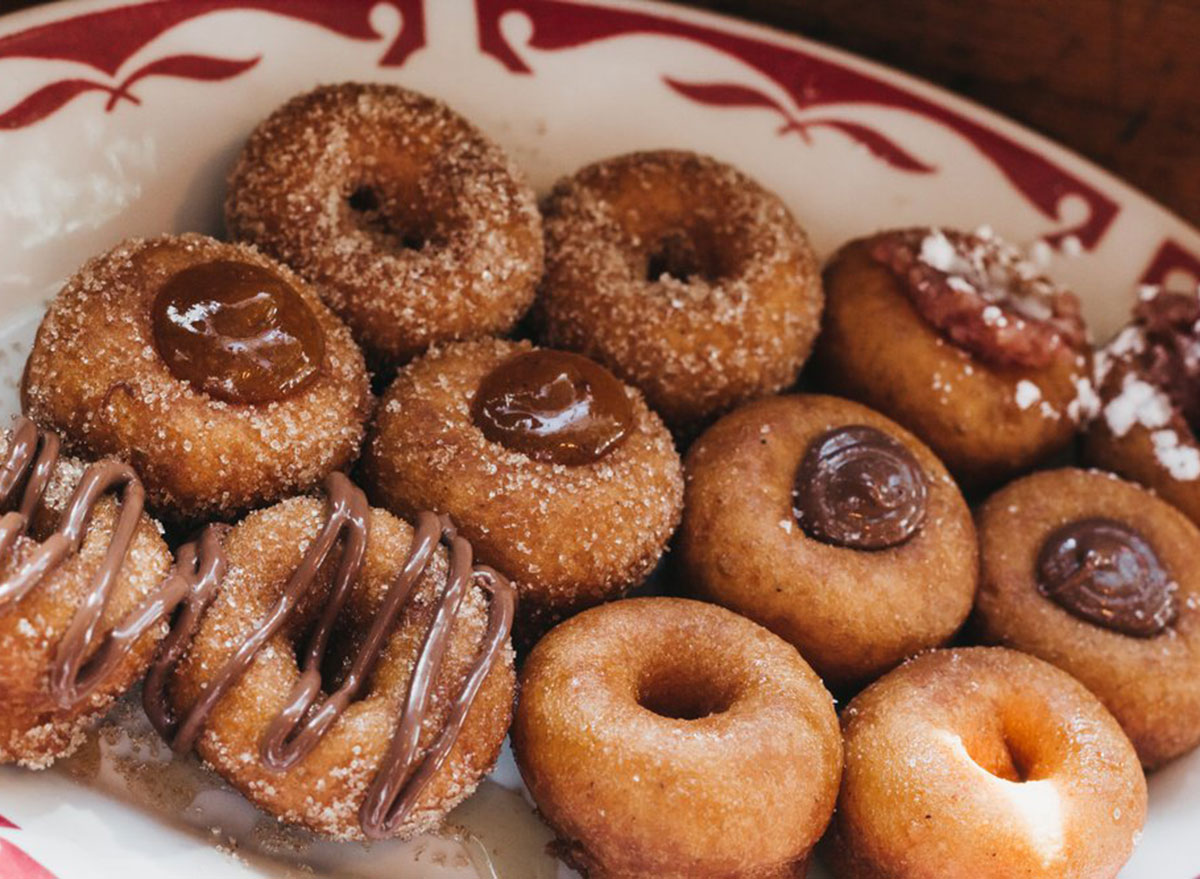 The best things don't always come in big sizes! Pip's is known for its made-as-you-watch mini donuts and house-crafted chai tea lattes. Flavors like Nutella and sea salt, cinnamon sugar, and spiced peach butter will make it impossible to eat just one.
PENNSYLVANIA: Maple Nut Cream Donut at Beiler's Bakery in Philadelphia
This Philadelphia legend, located in Reading Terminal Market, has lines stretching out the door daily. According to Yelp reviewers, these donuts are worth the hype (and the wait). Customers recommend the Boston creme, maple nut cream, mocha-filled, and apple-filled as just a few of the must-try items.
RHODE ISLAND: Chocolate Chip Cookie Donut at Knead Doughnuts in Providence
If you ever visit the quaint town of Providence, you need to try this donut shop. Made from locally sourced ingredients, customers rave about the minimal but gourmet take on simple classics. Reviewers suggest the vegan vanilla or chocolate chip cookie old-fashioned donut.
SOUTH CAROLINA: Coconut Covered Glaze at Sunny's Doughnuts in Gaffney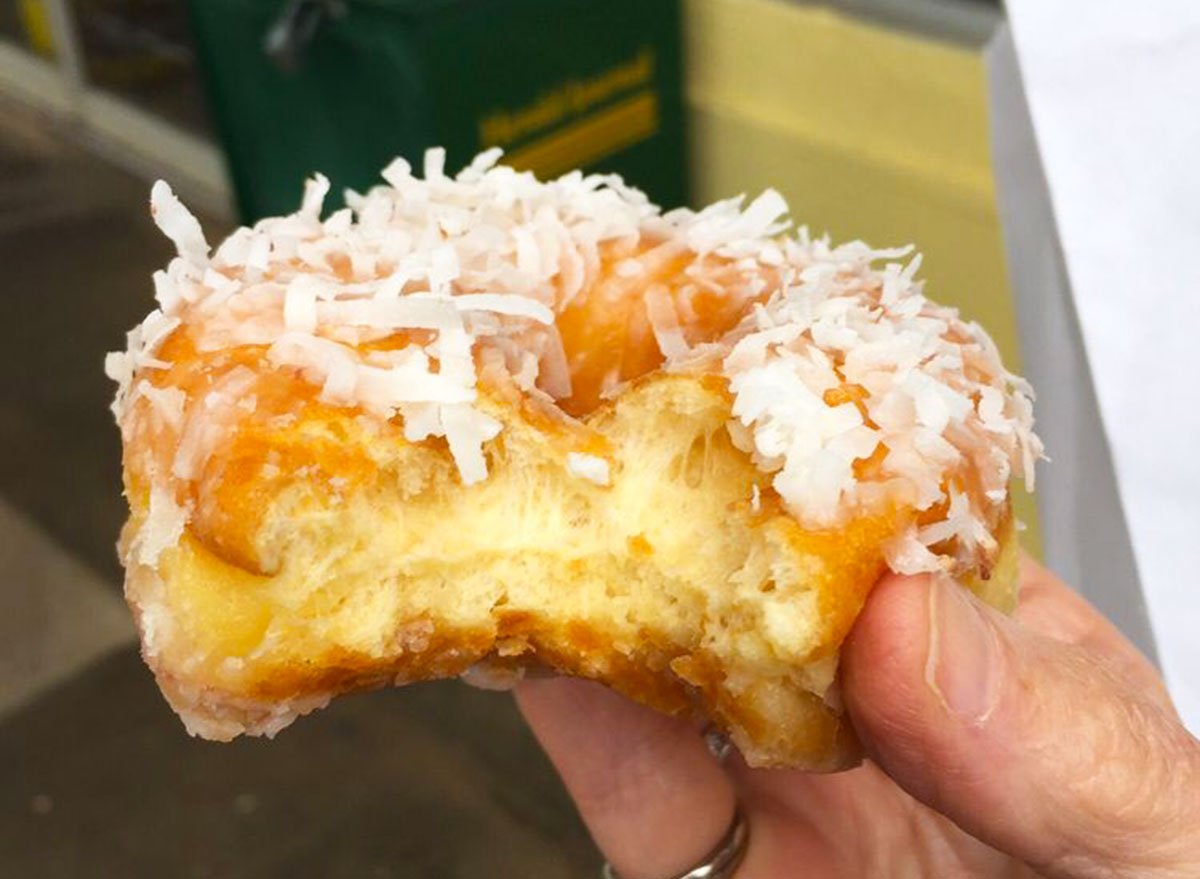 For those that love customizable treats, Sunny's is for you. Choose a ready-made donut like the popular coconut-covered glaze, or have a crew member freshly fill your donut with a flavored cream on request. Visitors warn not to let the weathered exterior fool you—the shop is a diamond in the rough.
SOUTH DAKOTA: Pumpkin Fritter at Jerry's Cakes and Donuts in Rapid City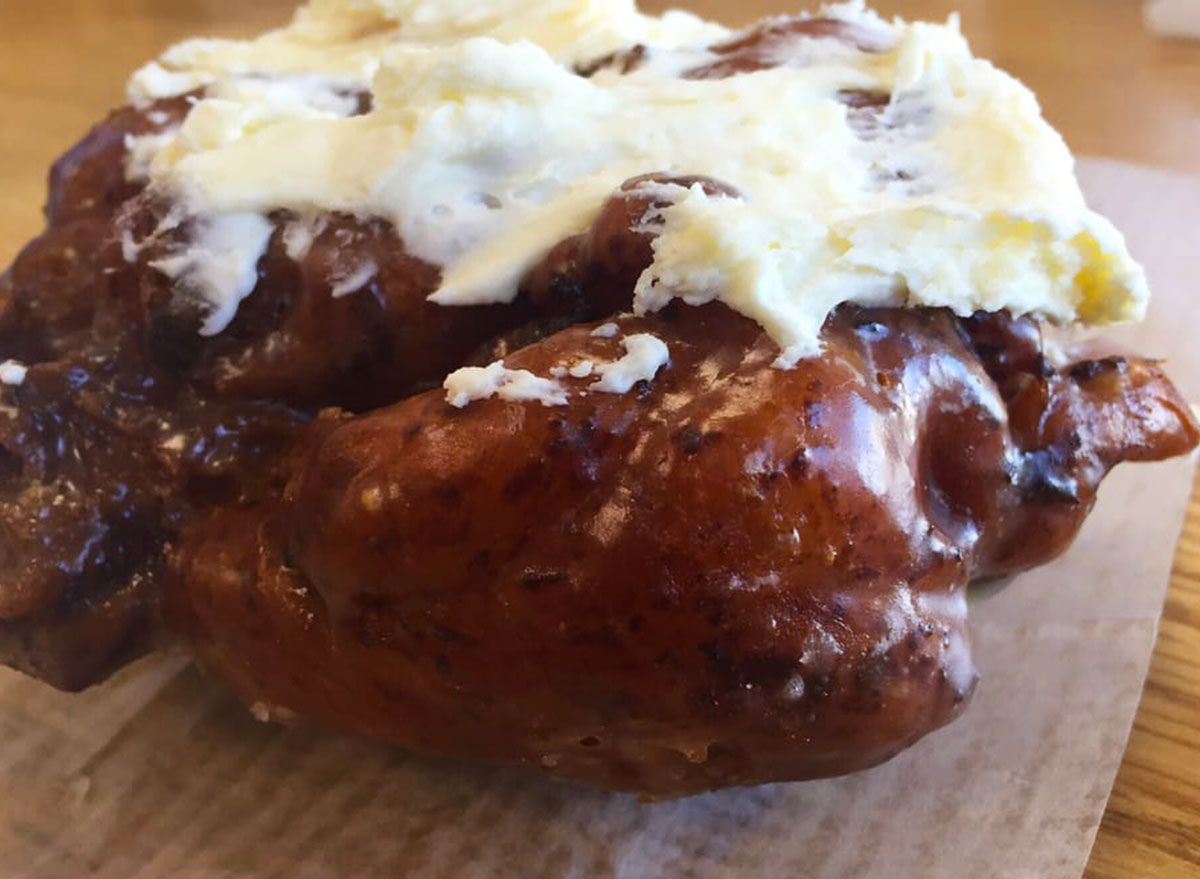 Sweeten up your day with this decadent frosted pumpkin fritter at Jerry's.
TENNESSEE: Apple Fritter at Ralph's Donut Shop in Cookeville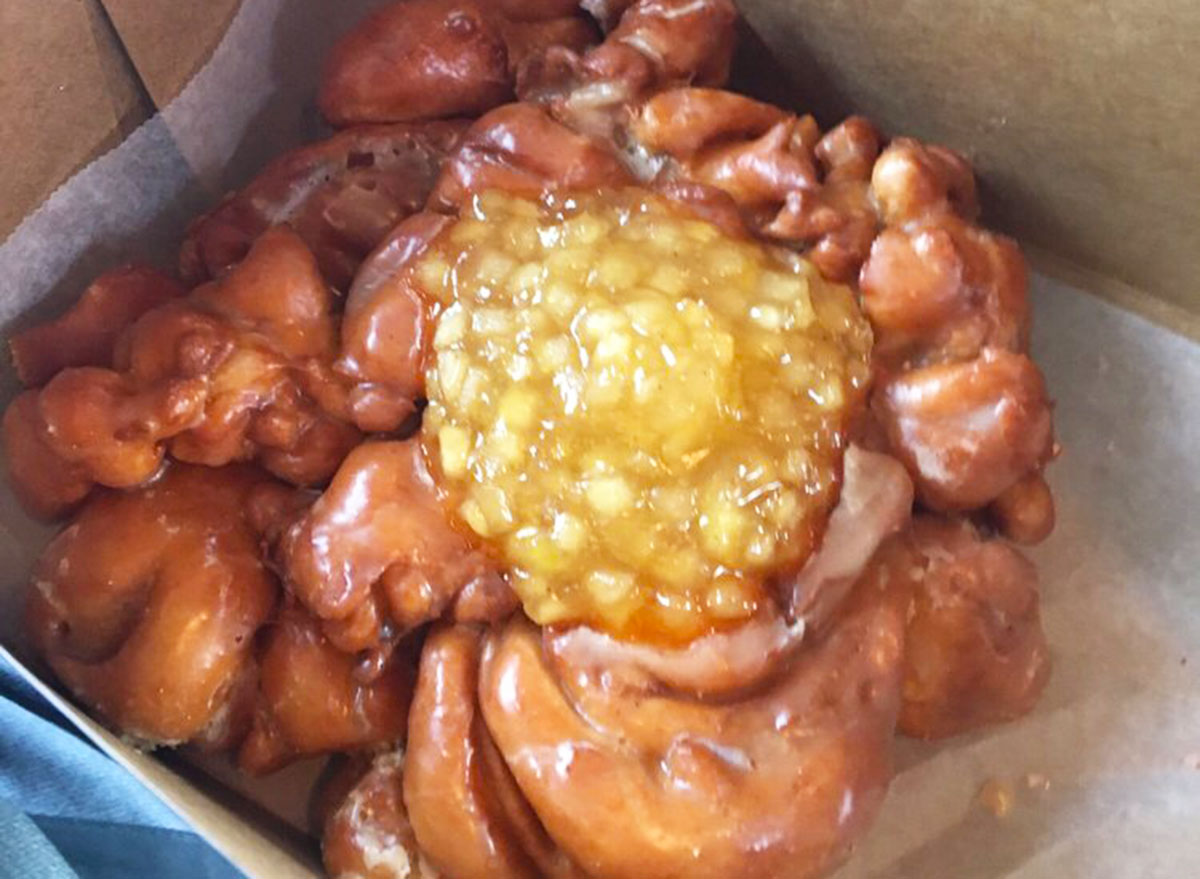 The huge sweets selection at Ralph's is any donut lover's dream. Regulars stand by the "massive" apple fritter, with apple puree on top. If you're having trouble deciding, do what this Yelp reviewer did: "Pick randomly and you'll love all of them regardless."
TEXAS: Galaxy Donuts at Robin's Snowflake Donuts and Cafe in Spring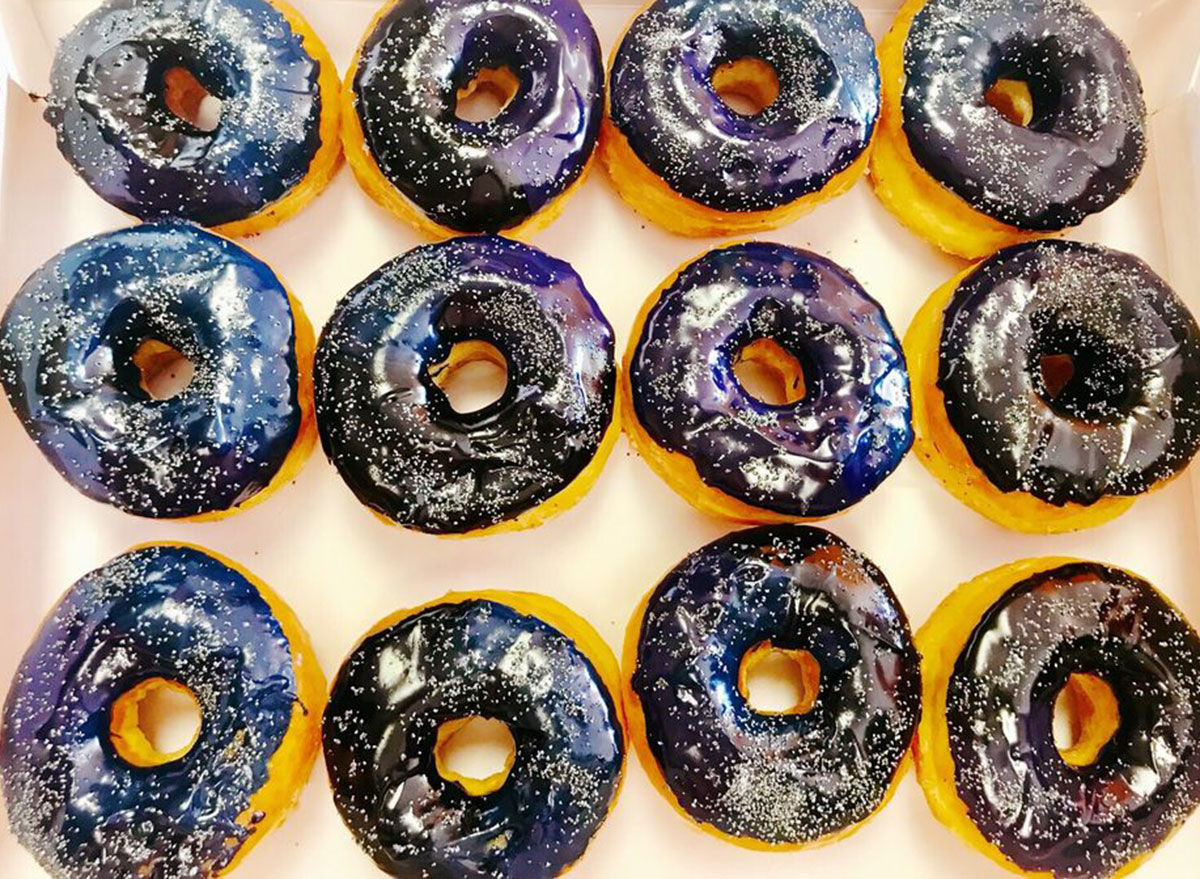 Come to Robin's Snowflake Donuts & Cafe for the savory cafe food and stay for the colorful and irresistible treats. These galaxy donuts are equal parts mesmerizing and delicious.
UTAH: Apple Pie Donut at Donut Boy in Salt Lake City
"These donuts are evil good and worth the drive!" says one Yelp reviewer. We'd like to tell you to try each and every one of these incredibly crafted indulgences at Donut Boy, but instead, we'll recommend the caramel-drizzled apple pie donut. You can thank us later.
VERMONT: Apple Cider Donut at Cold Hollow Cider Mill in Waterbury Center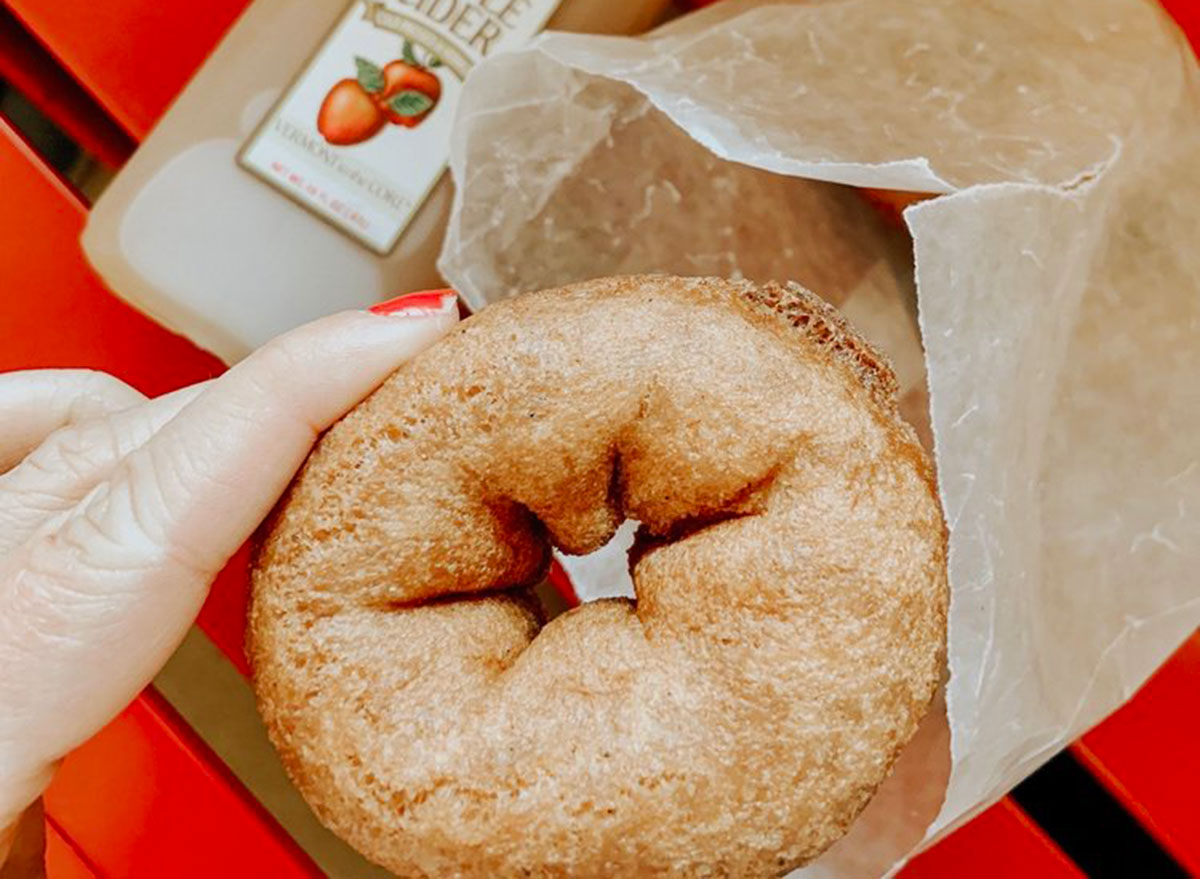 If you're looking for an authentic Vermont experience, check out Cold Hollow Cider Mill for piping hot apple cider donuts to keep you warm.
VIRGINIA: Toasted Coconut Donut at Carol Lee Donuts in Blacksburg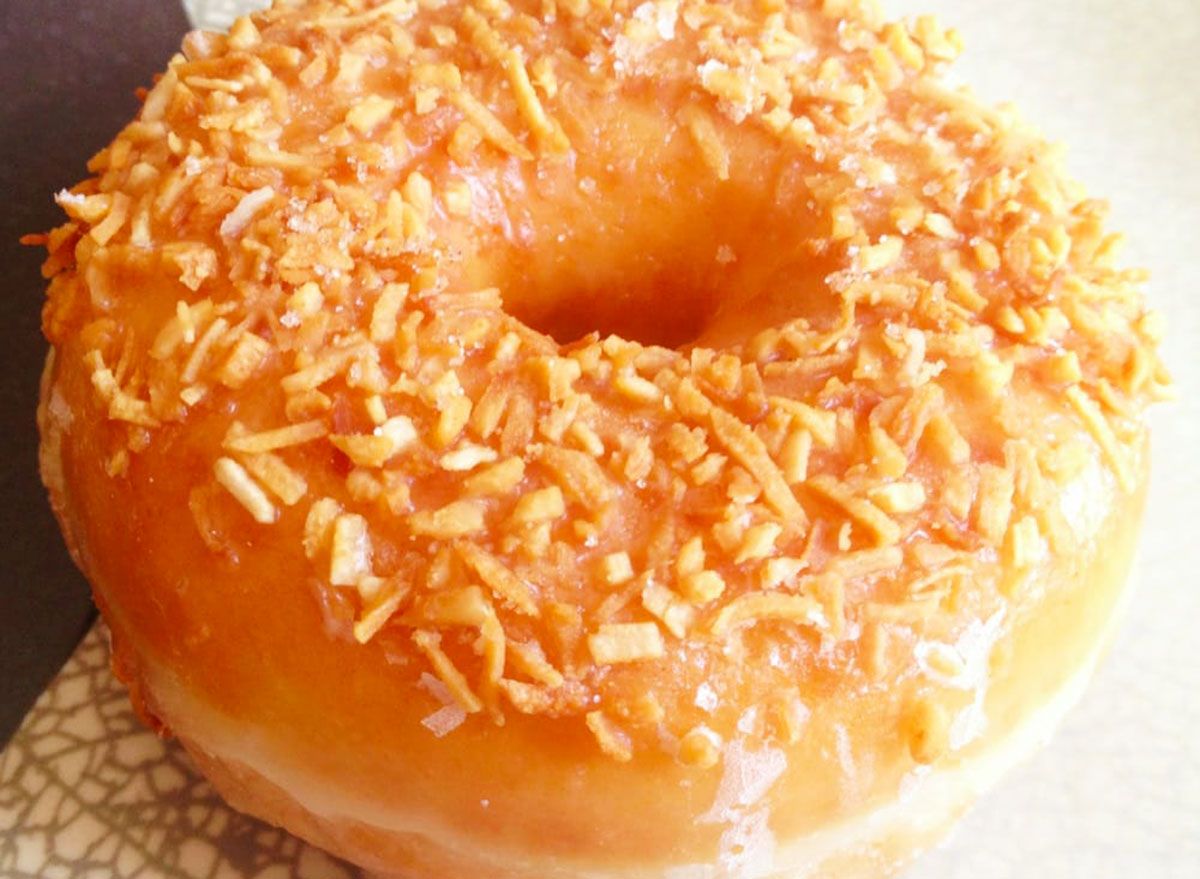 In business since 1968, this old-fashioned donut shop is just the place to curb your craving. With only about a dozen flavors, Carol Lee's proves that people want quality over quantity. The toasted coconut alone will make you drool.
WASHINGTON: Maple Chocolate Swirl Donut at Happy Donuts in Puyallup
Maple and chocolate are a surprising flavor pairing that just works at Happy Donuts.
WEST VIRGINIA: Hotdog Donut at Spring Hill Pastry Shop in Charleston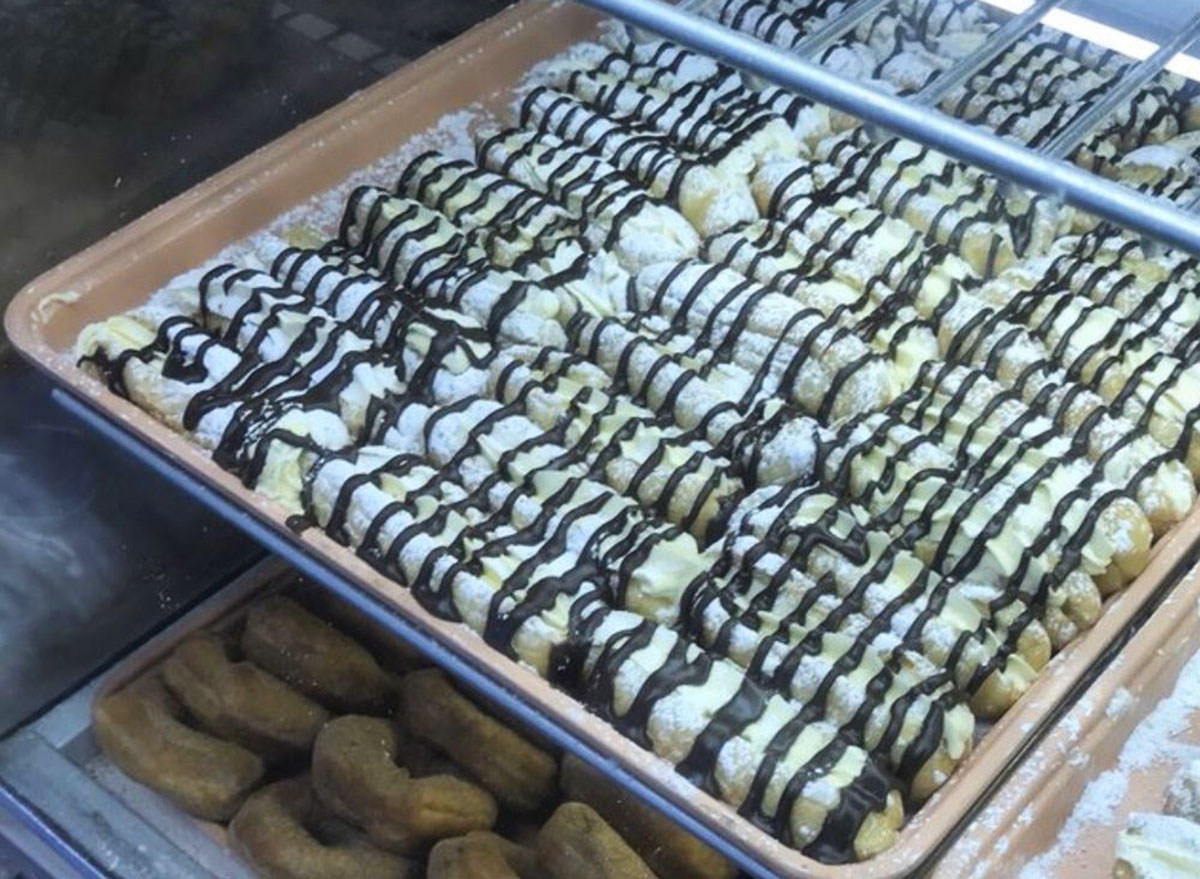 Dubbed the "backbone of this community" by one Yelp reviewer, this bakery is known for its pastry "hot dogs", long donuts sliced open down the middle, filled with cream, sprinkled with powdered sugar, and topped with chocolate sauce.
WISCONSIN: Blueberry Fritter at Greenbush Bakery in Madison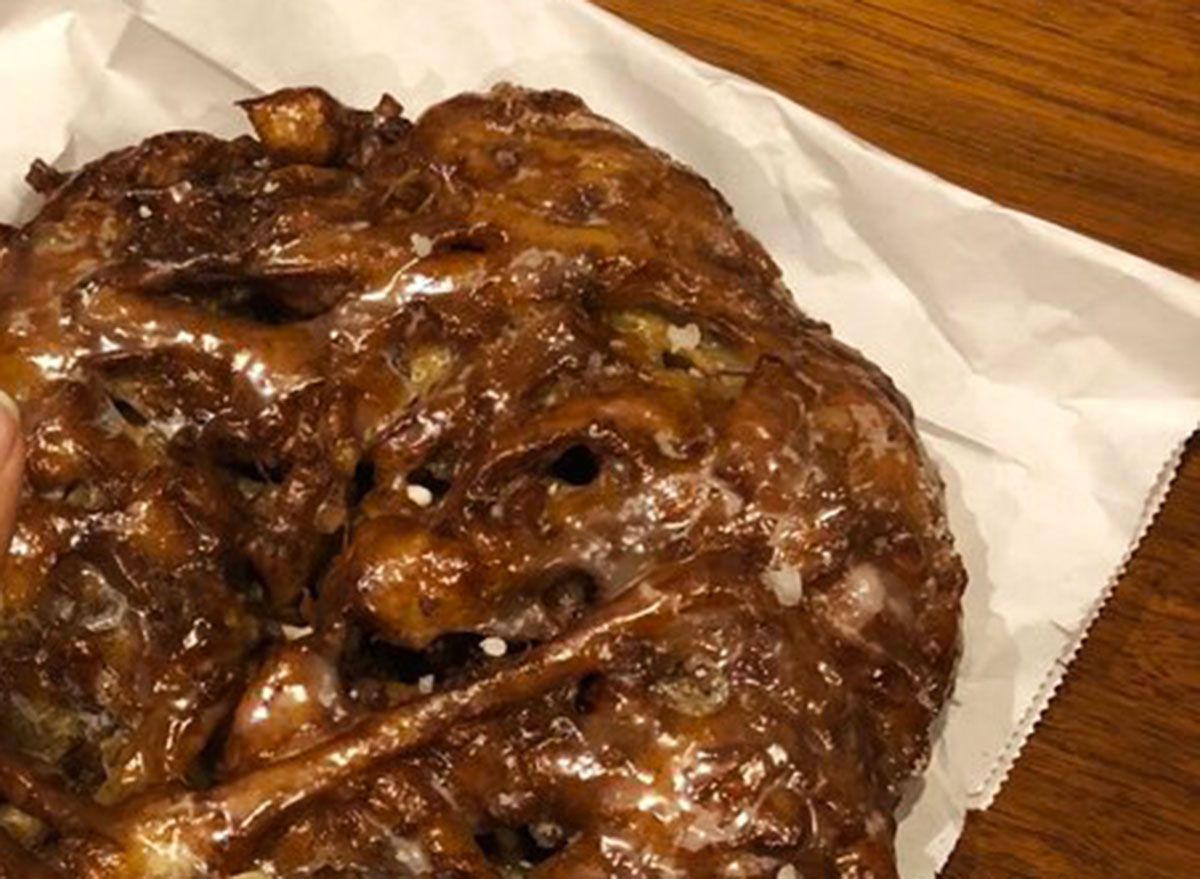 This college town donut shop specializes in kosher donuts and keeping customers satisfied with the latest and greatest pastry creations. If you want to be impressed, order the blueberry fritter—it's the size of your head!
WYOMING: Glazed Donut with Sprinkles at Cowboy Donuts in Rock Springs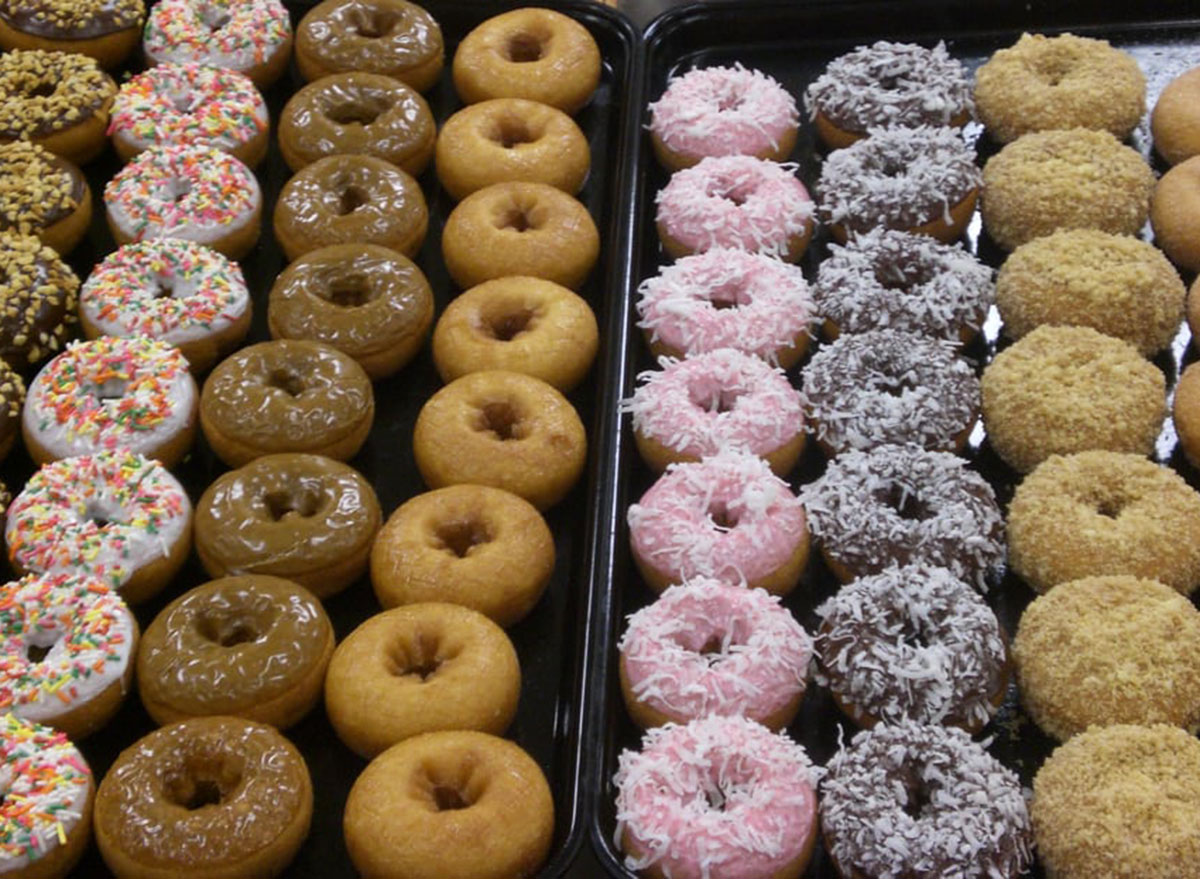 Last but not least, Cowboy Donuts tops the list for best donuts in the great state of Wyoming. Snag an old-fashioned glazed donut with sprinkles to remind you just how good the childhood classic really is. Be warned: the donuts go fast, so get there early to snag the best flavors!
Plus, don't miss The Best Croissant In Every State.