A Healthy Shrimp and Spinach Salad With Warm Bacon Recipe
With all these tasty fixings, it's hard to believe how low-calorie this dish is.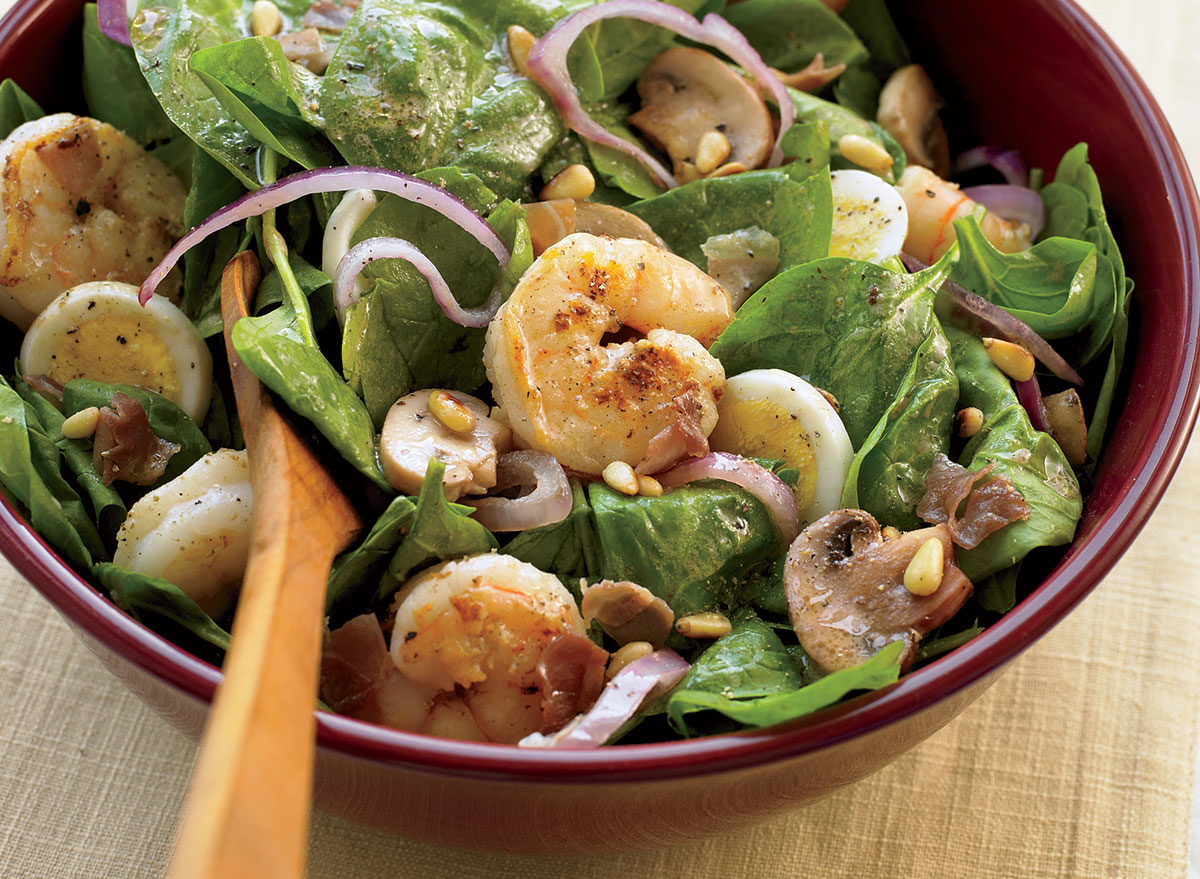 The word "spinach" creates a health halo for cooks and diners alike. People think that because the base of a salad is made with a superfood, the rest of the salad can be filled with whatever troubling toppings they like. That's how we end up with dozens of 1,000-calorie spinach salads at chain restaurants. This rendition of the shrimp and spinach salad with warm bacon smashes the halo to pieces to give you a seriously healthy salad.6254a4d1642c605c54bf1cab17d50f1e
Nutrition: 220 calories, 11 g fat (3 g saturated), 560 mg sodium
Serves 4
You'll Need
6 strips bacon, cut into small pieces
1⁄2 red onion, sliced
1 cup sliced mushrooms
8 oz shrimp, peeled and deveined (Shrimp is one of nature's greatest sources of selenium, a micromineral that helps reduce joint inflammation and fight off cancer-causing free radicals.)
Salt and black pepper to taste
2 Tbsp pine nuts
1 Tbsp Dijon mustard
3 Tbsp red wine vinegar
Olive oil (optional)
1 bag (6 oz) baby spinach
2 hard-boiled eggs, sliced
How to Make It
Heat a large skillet or sauté pan over medium heat. Cook the bacon until crispy, 5 to 7 minutes. Use a slotted spoon to transfer to a paper towel on a plate and reserve.
Add the onion and mushrooms to the hot pan and cook until the onions begin to brown, about 3 minutes. Season the shrimp with salt and pepper and add to the hot pan, along with the pine nuts.
Cook until the shrimp are pink and firm, no more than 4 minutes (shrimp cook more quickly than nearly any other protein and no one likes overcooked shrimp).
Stir the mustard and vinegar into the pan; season with salt and pepper. If the pan looks dry, add a splash of olive oil.
Divide the spinach and eggs among 4 plates and top with the hot shrimp mixture and some of the liquid in the pan. Sprinkle with the bacon.
Eat This Tip
So the idea of a warm bacon vinaigrette doesn't get you as excited as it gets us, huh? No worries. Replace the bacon in the recipe with a tablespoon of olive oil to begin with (for sautéing the vegetables, shrimp, and pine nuts) and another two on the back end, when you stir in the mustard and vinegar. You'll save about 75 calories per plate, plus you'll boost the meal with a solid dose of healthy monounsaturated fat.
Love this recipe? Subscribe to our Eat This, Not That! magazine for even more at-home cooking and healthy eating ideas.