Siggi's Debuts New No-Added-Sugar Flavored Yogurts
Low-sugar diet devotees rejoice!
Icelandic yogurt brand, siggi's is certainly living up to its tagline: "simple ingredients, not a lot of sugar."
With an average of 8 to 11 grams of sugar per serving of their flavored yogurts, siggi's cartons contain at least 25 percent less sugar than leading flavored yogurts.
And that percentage is about to get much bigger with the introduction of their new line of no-added-sugar, fruit-flavored, whole-milk yogurts.
This first-of-its-kind new product line cuts the sugar content of your favorite breakfast to a mere 5 grams! The only other yogurts who can come close to boasting the same nutritional statistics are sweetened with zero-calorie sweeteners such as stevia or nasty artificial sweeteners, like the sucralose and acesulfame potassium used in Yoplait Light and Dannon's Activia Light. Despite containing "zero calories," artificial sweeteners (like sucralose) have recently been found to increase the quantity of calories consumed when dieters follow a low carb diet, according to a Cell Metabolism study.
Debuting in two new flavors, Peach & Mango and Banana & Cinnamon, this line of no-added-sugar yogurts is sweetened only with fruit whereas other siggi's fruit flavors are sweetened with fruit and a touch of either cane sugar or agave.
The new line debuts in a smaller carton than what you may be used to; like all of siggi's whole-milk (4% milkfat) products, the no-added-sugar flavors are packaged in a 4.4-ounce container rather than the 5.3-ounce container the 0% and 2% milkfat yogurts come in.
Because this is Eat This, Not That! after all, we have to dive into the nutritionals of these products. Below, we've listed the nutritional information and ingredients for the two new flavors.
siggi's No Added Sugar Peach & Mango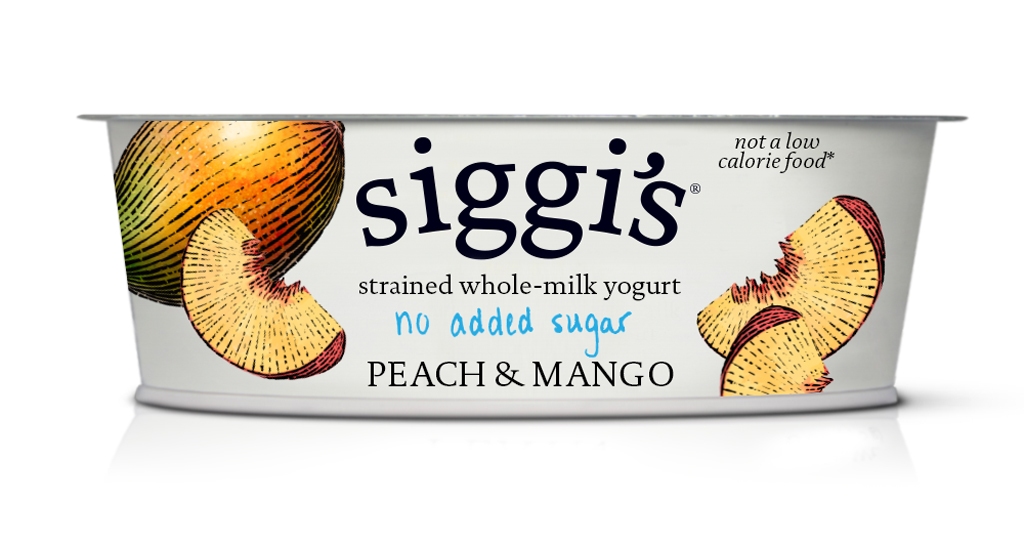 6254a4d1642c605c54bf1cab17d50f1e
4.4 oz container
: 110 calories, 4 g fat (2.5 g saturated fat), 45 mg sodium, 8 g carbs (1 g fiber, 5 g sugar), 10 g protein
The base of this tropical yogurt carton is made with a combination of pasteurized whole milk and cream to bring the dairy product up to 4% milkfat. It's then flavored with peaches, mangos, fruit pectin, lemon juice, and the good probiotic stuff: live active cultures.
siggi's No Added Sugar Banana & Cinnamon
4.4 oz container
: 120 calories, 4 g fat (2.5 g saturated fat), 45 mg sodium, 11 g carbs (1 g fiber, 5 g sugar), 10 g protein
This new interesting flavor has the same 4% milkfat base and is flavored with bananas, fruit pectin, cinnamon, lemon juice, and—of course—live active cultures.
To show you just how impressive the sugar content of this new line of yogurts is compared to other brands in the market, we did a little side-by-side comparison below.
Nutritional Comparison of Peach Yogurts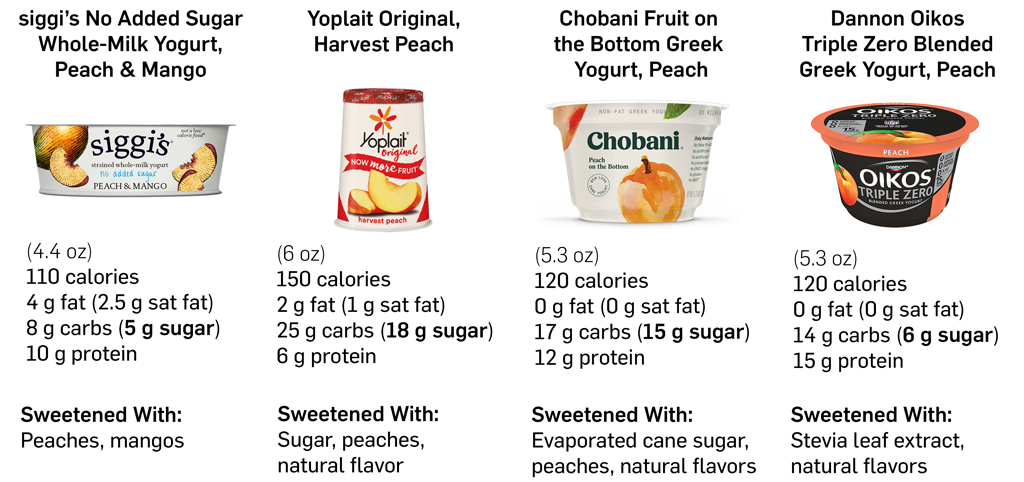 The only other brand to come close to 5 grams of sugar is Dannon Oikos Triple Zero, which gets that 5 grams from the naturally-occurring sugars in milk and adds an extra boost of sweetness from zero-calorie sweetener stevia leaf extract.
Coming in at a whopping 18 grams of sugar per serving, Yoplait doesn't even take the cake for the highest-sugar carton. That honor goes to Dannon's Fruit on the Bottom Peach, which contains a staggering 22 grams of sugar per 5.3-ounce serving.
In regards to protein, siggi's new flavors are on the low side due to their smaller serving size. Brands such as Chobani and Dannon Oikos climb up to 15 grams of the muscle-building, belly-filling nutrient, but the 10 grams of protein in the no-added-sugar line is nothing to turn your nose up at. Plus, you're getting a solid 4 grams of healthy, satiating fats to go with it. (And, of course, much less sugar.)
As for the taste, you ask?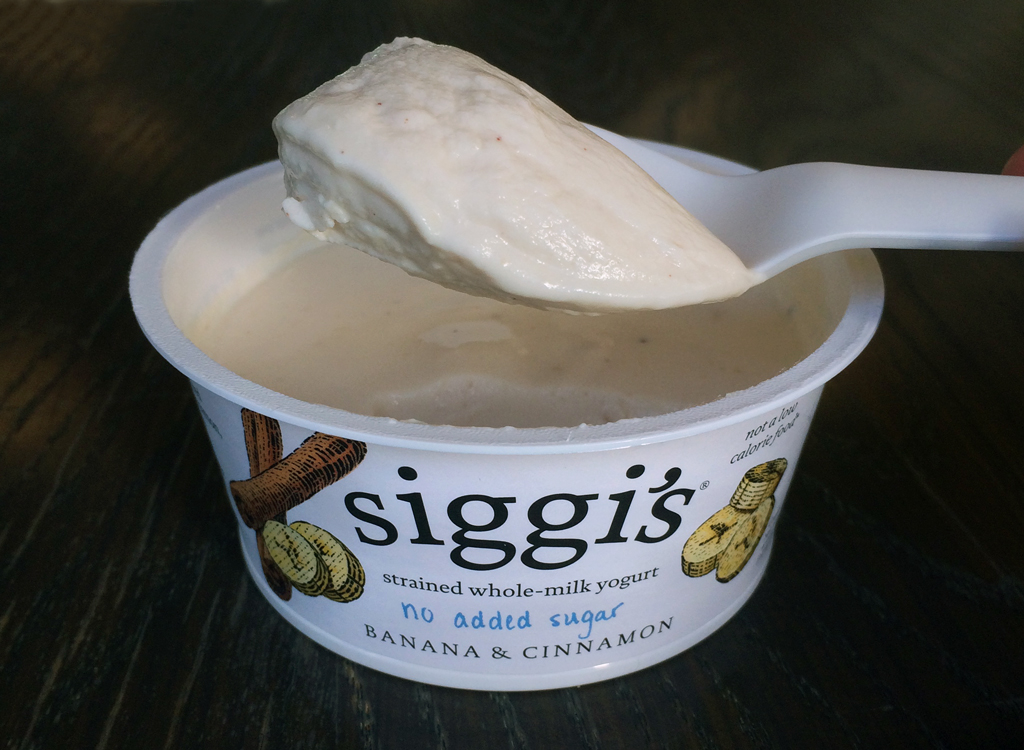 We got our hands on the Banana & Cinnamon flavor at our local Whole Foods. (The Peach & Mango was nowhere to be found.)
If you're already living the low- to no-sugar lifestyle, this yogurt hits all the right notes. Its subtle flavors and almost nonexistent sweetness make this the perfect snack for those who are looking for a flavored yogurt without drowning in sugar.
Those who are used to the super-sugary containers on most dairy shelves might be disappointed as this yogurt doesn't really punch you in the face with any bold flavors.
As for us? We'll be adding these no-sugar-added flavors to our shopping cart and keeping our fingers crossed that siggi's adds even more flavors to what is sure to be an industry-shaking new product line. While sugar is on your mind, be sure to see where your favorite flavor stacks up in our exclusive report: every vanilla flavor from 17 yogurt brands—ranked!
Olivia Tarantino
Olivia Tarantino is the Managing Editor of Eat This, Not That!, specializing in nutrition, health, and food product coverage.
Read more about Olivia