10 Signs You're at a Top-Quality Pizzeria, According to Chefs
Pro tip: make sure there's great ingredients and passion behind of counter.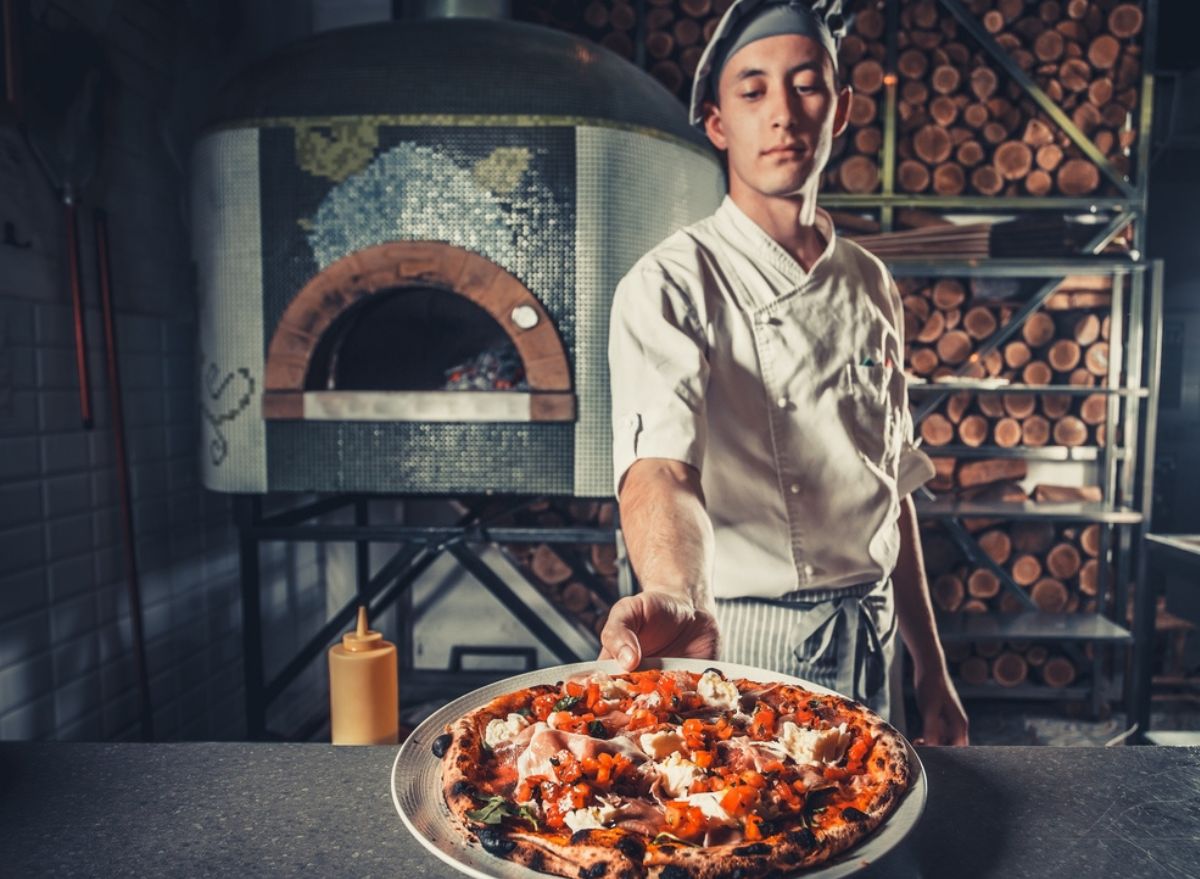 When you're looking for the best pizzeria in your city, town, or neighborhood, you might start with a local reviews site, or just hop on Google and start searching. While this is a great start, it also helps to understand the many different styles of pizza that are popular in the U.S.
Many fine-dining and casual pizzerias serve Neapolitan-style pizza, which is smaller has a pillowy crust, and is made with fresh mozzarella and specific tomatoes. Another popular style is New York-style pizza, which has a thinner, less chewy crust, created by the coal-style ovens that were popular in the early days of pizza making in the city. There's also Greek style, New England bar pies, Detroit style, and Sicilian. The list goes on beyond that, but a little research will set you up to pick the style of pizza that best suits your tastes. 
After looking into pizza types and styles, it's important to listen to the masters, so we reached out to pizza makers and chefs to find out what they look for when they're picking the perfect pizzeria. Their answers were varied, but primarily focused on great ingredients and passion. Read on to find out the rules for a perfect pizza. 
Look for the Association Verace Pizza Napoletana insignia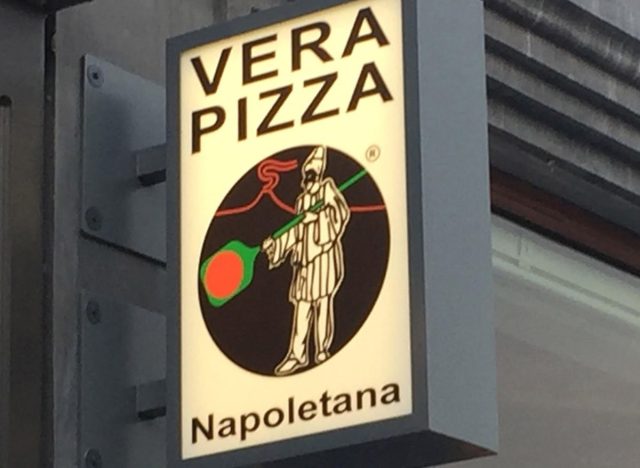 If you're getting Neapolitan-style pizza, this insignia (VPN) means the pizza adheres to very high standards, says pizza chef and restaurateur Joe Farruggio, owner of A Modo Mio, Il Canale, and 90 Second Pizza and the author of the newly released book My Name Is Joe And I Am A Pizza Man.
"Verace Pizza Napoletana has very strict regulations. If a pizza restaurant displays their logo, it means they've passed the test and the quality is ensured," explains Farruggio.
The designation assures that the pizzeria that exhibits it creates a product that complies with the international AVPN specification for the production of this great excellence of the Neapolitan gastronomic tradition.
Awards from the Italian government
Another easy way to look for quality pizza, says Farruggio, is to check for culinary honors from Italy. These are usually displayed on-site, and often on a restaurant's website.
"Italians have very strict culinary standards. If a restaurant has earned distinguished status by the Italian government, it truly is a cut above," says Farruggio. "My Il Canale restaurant is the only restaurant in D.C. to receive the top culinary honor from the Italy-America Chamber of Commerce and the National Institute of Tourism."
Look for a real pizza oven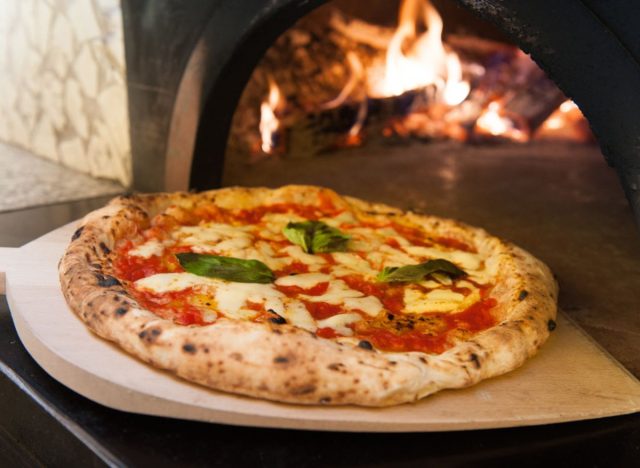 While you can make a decent pizza in your oven at home, when you go out for a pizza, if you want the taste of dough fired at a high temp, you'll want it cooked in a proper oven, says Farruggio. Fortunately, they're hard to miss. 
"If a restaurant is serious about pizza ovens, they will have special ovens, such as brick, artisan crafted ovens that reach super high temperatures," the pizzaiolo explained. "An authentic Neapolitan pizza should cook in only 90 seconds, hence the name of my 90 Second Pizza restaurant chain. If a pizza restaurant is using regular ovens that only reach up to 500 degrees, they can't make traditional pizza."
Grant Kneble, chef and owner of Freddy J's Bar and Kitchen in New Jersey agrees, saying "Traditional brick ovens or wood-fired ovens are the real deal in pizza baking. These beauties give the pizza an irresistible smoky, charred flavor and a delightfully crispy and tender crust. And here's a pro tip: a clean, well-maintained oven is a sign that the pizzeria truly cares about quality and consistency."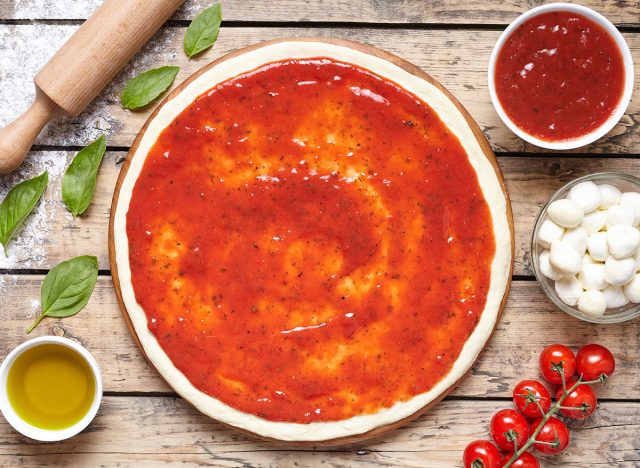 Michael Davis, chef and co-owner of Kid Brother Pizza Bar in NYC, notes that if a pizza shop is spending on quality products, it elevates every bite. 
Look for, "Real extra virgin olive oil and good vinegar (if owners are willing to spend money on the tomatoes and oil and vinegar, they will spend on other quality ingredients), DOP tomatoes and fresh pulled mozzarella," says Davis, who was chef de cuisine at Del Posto, and spent time in the kitchens at Daniel, Bouley, Lespinasse, and more. 
Whatever the style of pizza the restaurant is creating, chefs look for pizza that's authentic to that style says Marco's Pizza and Chef Satchel owner, Chef Firoz Thanawalla.
"Chefs appreciate a pizza restaurant that is authentic and true to its roots," says Thanawalla. "Whether it's a Neapolitan-style pizzeria or a New York-style pizza joint, chefs want to see a restaurant that honors the traditions of pizza-making and brings a true sense of authenticity to the table through pizzas."6254a4d1642c605c54bf1cab17d50f1e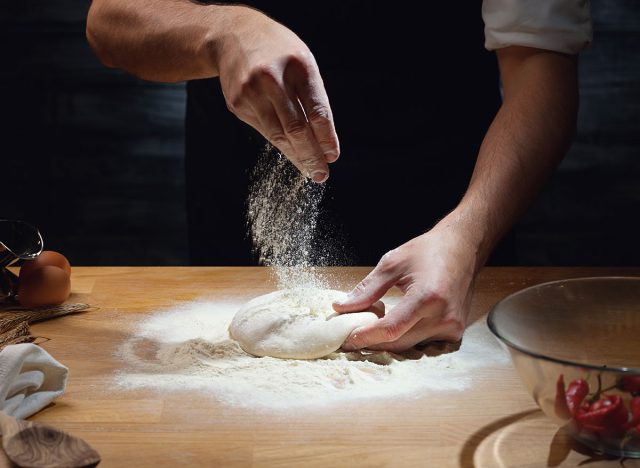 If a pizzeria is getting its dough delivered, don't expect high quality, says Chef Norah Clark, of YummyTasteFood. "First and foremost, I pay attention to the dough-making process. It strongly indicates quality if the dough is made in-house and fermented properly."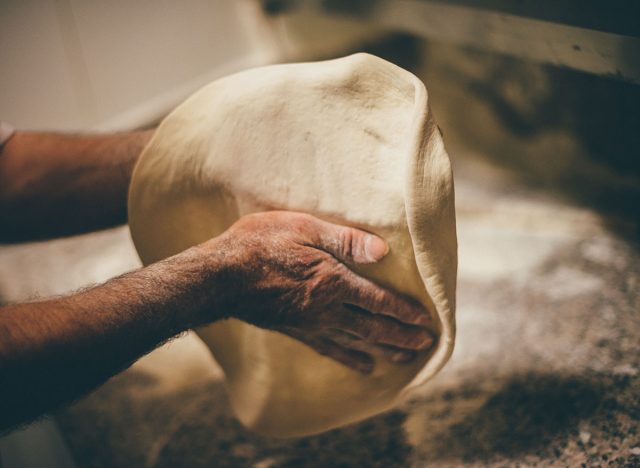 You should never see a rolling pin in a pizzeria, says Kneble, who explains, "True pizza artisans have a deft touch when stretching the dough by hand (no rolling pins here!) and evenly distributing the sauce and toppings. Their passion and craftsmanship shine through in every pizza they create."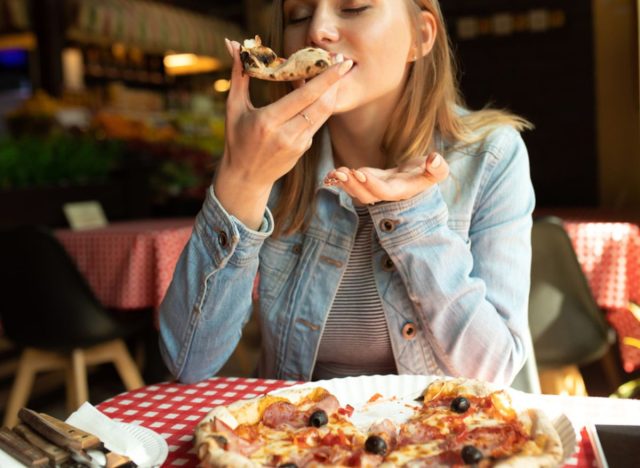 You want to be able to smell the delicious spices and aroma of the sauce bubbling in a pot on the stove, and nothing unpleasant. 
"You can always tell you're in a good (or not so good place) by the smell. Not only of the food—oregano, basil, but other underlying aromas, like a grease trap that needs to be cleaned," says Chef Karen Moran of Lulu's Cocktail Company. "That's a foul smell like rotten eggs. And if they haven't cleaned the grease trap recently, it's a telltale sign there or other sanitary issues. Sorry but even a dive is clean." 
On a lighter note, Davis also says seeing "The owner pissed off in the corner," is another good sign, which lines up with our experience getting great pizza. Note: Your experience may vary.
Tanya Edwards
Tanya Edwards is a seasoned food and health journalist, who has held roles at Yahoo Health as Managing Editor and at Food Network as Programming Director.
Read more about Tanya