10 Iconic Pizza Restaurants That Still Serve Old-Fashioned Pies
The best spots to get a taste of the most authentic old-school pizza recipes in the U.S.
There is some debate as to when the first pizza was made. Most believe that it appeared in Naples sometime in the 1500s, with the first documented pizzeria popping up in the same region a few hundred years later. Since then, pizzerias have become as iconic as the pizza itself, unique eateries with brick ovens, oversized pizza peels, and generations of cooks recreating the same authentic recipe for hungry customers.
Over the centuries pizza has continued to evolve, with new recipes and toppings redefining what the dish could look and taste like. Eventually, pizza found its way to the United States, and certain pockets of the country became hot spots for pizzerias. But it wouldn't be until after World War II that the pies were truly popularized, with pizza shops spreading outside the cities and into local neighborhoods.
Today, you are likely closer to an authentic pizzeria than you realize, with old-school methods and ingredients still being used in cities across America. Let's go coast-to-coast and highlight some of the best old-fashioned pizza pies you can still order today, just as these businesses did on the first day of operation—with some going back nearly 100 years.
Frank Pepe Pizzeria Napoletana – New Haven, Conn.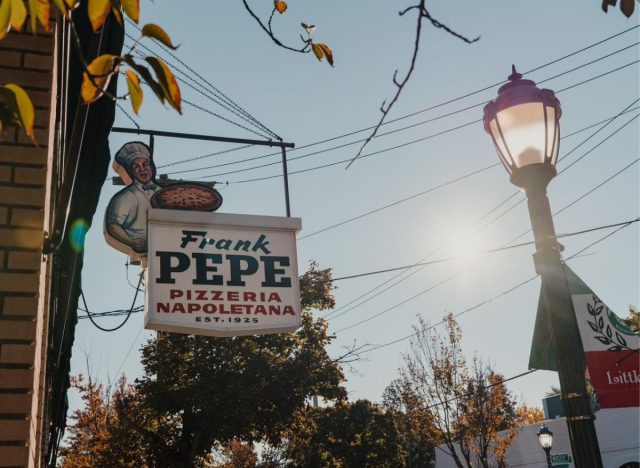 Depending on who you ask, there may be little debate that New Haven is the pizza capital of the United States, more so than New York City. There are several must-see culinary destinations in the city if you are a pizza connoisseur, chief among them being Frank Pepe Pizzeria Napoletana, or as the regulars simply call it, Pepe's. The famous Wooster Street pizzeria has been "passionate about pizza since 1925," after Frank Pepe himself immigrated to the United States.
From its dough to its fresh tomatoes to the coal-fired brick ovens it uses, Pepe's has changed very little in how it operates over the past century. These days, you can find Pepe's locations across Connecticut, as well as several other restaurants up and down the east coast.
Di Fara Pizza – New York, N.Y.
You simply cannot have a list of iconic pizza restaurants without mentioning New York City. Characterized by its thin crust, pizza, and New York go together like peanut butter and jelly. With a city virtually bursting at the seams when it comes to great pizzerias, it can be hard to pinpoint just one spot to highlight. But when it comes to old-school pies, you cannot go wrong with Di Fara Pizza.6254a4d1642c605c54bf1cab17d50f1e
Domenico "Dom" De Marco opened Di Fara Pizza in 1965 on Avenue J in Brooklyn, where it still exists to this day. With ingredients straight from Italy, the pizzeria has a recipe it claims "can't be replicated," all prepared in a retro-style oven. Each of the pies was hand-crafted by Dom until he passed away last year at the age of 85. The family carries on his tradition.
Patsy's Pizzeria – New York, N.Y.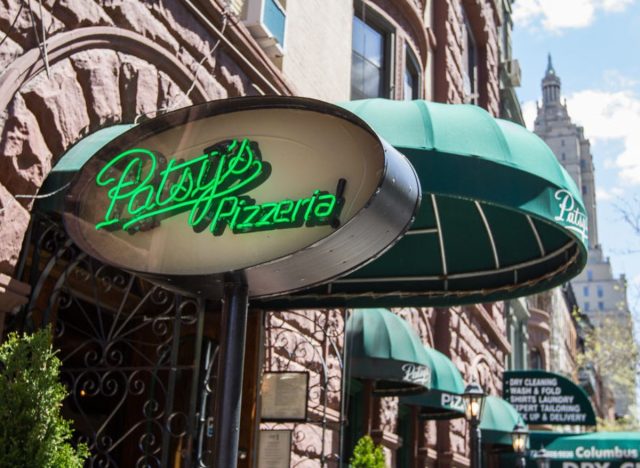 The New York City pizza scene is simply too large to not include a second entry. You can easily fill an entire visit to New York eating only pizza and never repeat the same restaurant twice. But when it comes to old-school pies, Patsy's Pizzeria in East Harlem is tough to beat. It has been in the business of making authentic "Sicilian coal oven-pizza" since 1933 when East Harlem was a predominantly Italian neighborhood. Founder Pasquale "Patsy" Lanceri is even thought to be the one to come up with the concept of selling pizza by the slice, a New York City pastime in today's age.
These days, Patsy's likes to "keep the tradition alive" with its authentic pizzas, poking at the idea that they have inspired "scores of imitators" in the near century that it has been in business.
Lou Malnati's – Chicago, Ill.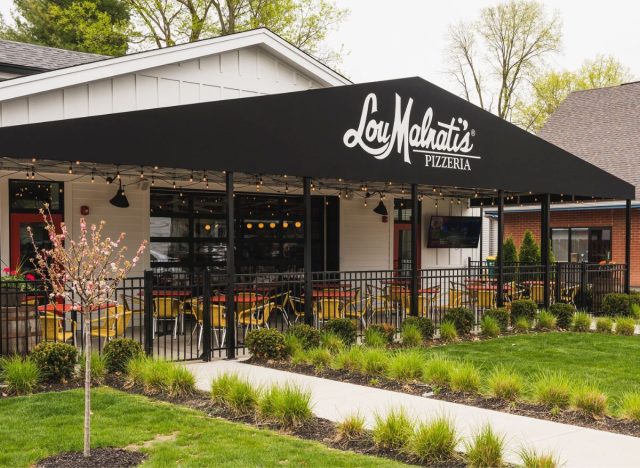 There are few cities with a specific style of pizza as instantly recognizable as Chicago. The pie crust more closely resembles a casserole than a pizza, and many restaurants warn their customers of the longer time it takes to bake the ultra-thick crust. In more recent years, Chicago has also adopted its own thin-crust style pizza as well. Whether you like your pizza crust thick or thin, you can enjoy an iconic Chicago pie at Lou Malnati's.
As the story goes, Grandpa Malnati played a big role in creating the original deep-dish pizza in Chicago back in 1943. Since then, Lou Malnati's "have stayed true" to that formula, using only the freshest ingredients. In fact, the cheese used in Lou Malnati's pizzas has come from the same Wisconsin dairy farm for the past 40 years.
Feeling hungry? Lou Malnati's actually ships both their deep-dish and thin-crust pizzas nationwide.
Buddy's Pizza – Detroit, Mich.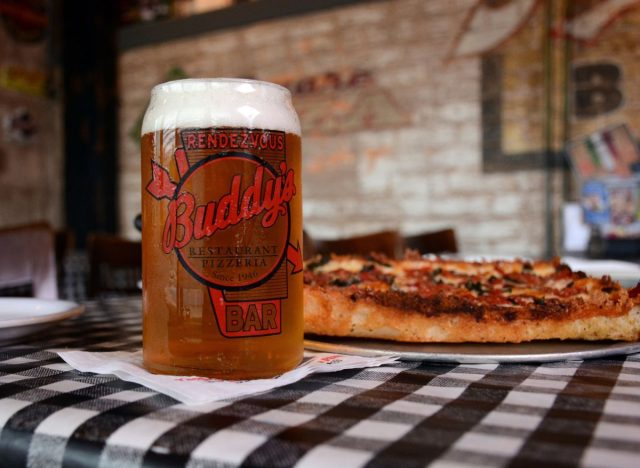 New York and Chicago like to talk big about their iconic styles of pizza, but have you ever heard of Detroit-style pizza? This particular pie is perhaps most recognizable from its rectangular shape, though locals will also say it also has to do with everything else that goes into making a delicious pizza. If you find yourself in The Motor City and are looking for an authentic Detroit pizza, Buddy's Pizza is where you will want to add to your itinerary.
Buddy's Pizza proudly touts itself as "The Birthplace of Detroit-Style Pizza," serving up rectangular pies since it opened in 1946. Since then, Buddy's asserts that its standard of excellence has not changed, with each pizza pie "built by hand with recipes perfected over 5 generations." The dough is made in-house daily, double-stretched, and baked in specially-forged rectangular pans for a truly authentic Detroit pizza experience.
Zaffiro's – Milwaukee, Wis.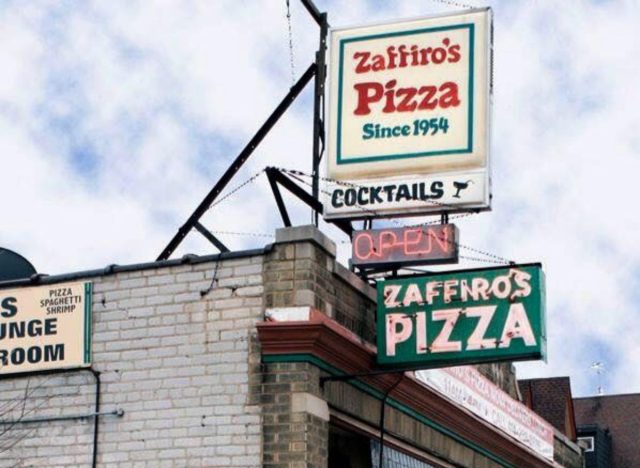 Wisconsin sure knows its cheese. And when you know your cheese, you probably know a thing or two about pizza. That makes Milwaukee a great destination for pizza lovers. And when one is in Milwaukee, it is advised that one goes to Zaffiro's, named by Thrillist as one of the best pizzas in town.
In addition to serving a great pizza, Zaffiro's has been true to its heritage by serving its famous thin-crust pizza since founder Liborio "Bobby" Zaffiro first opened Rock-a-Bye Tap in 1951. Zaffiro's would open just a few years later, and it has been run by the family ever since.
Pizza A-Go-Go – St. Louis, Miss.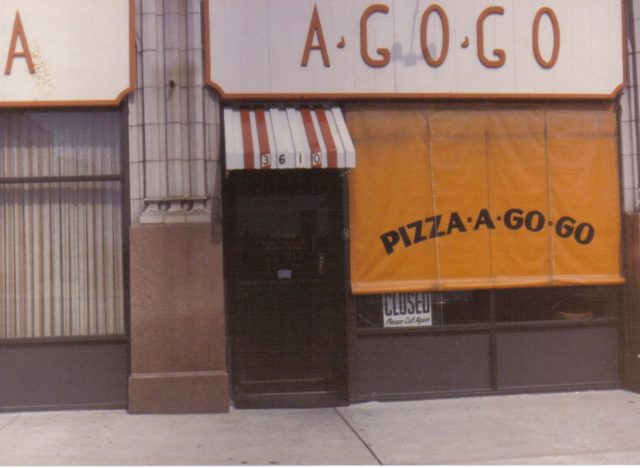 You may not realize it when you cross over the city limits of St. Louis, Missouri, but you are actually entering one of the pizza capitals of the United States. The city is filled with pizzerias that have been in operation for generations, like Pizza A-Go-Go. The restaurant first opened in 1967, after founder Frank LaFata had been making pizzas at another location for a few years prior.
Not only does Pizza A-Go-Go continue to make its pies the same way since 1967, but the business continues to operate the same hours as always. LaFata kept the restaurant open on Sundays and Mondays, days that were commonly dark for most businesses, to keep up with the competition. But since "He had to go grocery shopping at some point during the week," Pizza A-Go-Go has always been famously closed on Wednesdays.
Imo's Pizza – St. Louis, Miss.
As the self-proclaimed "Original St. Louis Style Pizza," Imo's Pizza has been in the business since 1964 when founders Ed and Margie Imo opened their pizzeria. But what sets Imo's apart from other St. Louis pizza restaurants is the cheese. Rather than using mozzarella, Imo's uses Provel cheese in all of its pizzas, a practice that has put the business on the map.
Imo's Pizza has boomed into quite a large business with 100 locations around the midwest. But you do not have to be in Missouri, Illinois, or Kansas to enjoy an authentic Imo's Pizza. It currently ships its pies across the United States.
Vito's Pizza – Los Angeles, Calif.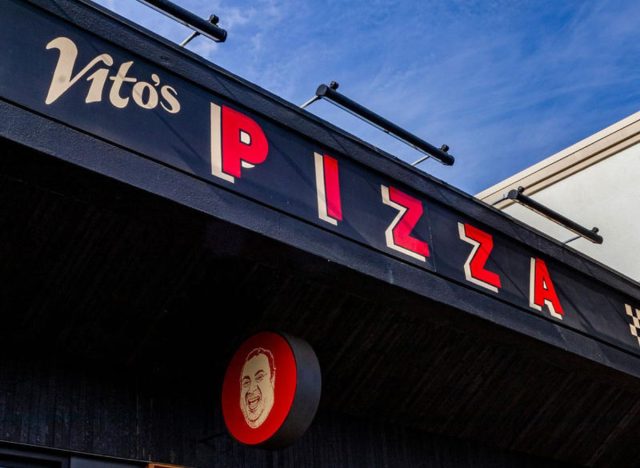 California might not be the first place you think of when you are looking for the best pizza in America, but Los Angeles has safely secured itself as a sought-out destination with tasty pies. There are pizzerias of all kinds in L.A., serving everything from authentic old-school pizzas to newer, more modern takes on the classic dish. For those seeking a more traditional New York-style pizza, they can check out Vito's Pizza.
Located in West Hollywood, the pizza dough and sauce recipes are top secret, per L.A. Magazine. Though as legend would have it, the starter yeast for the dough originated in New Jersey, where founder Vito Di Donato is originally from (via 10Best). These days, Vito's is the pizzeria of choice for the biggest stars in Hollywood.
Old Town Pizza – Portland, Ore.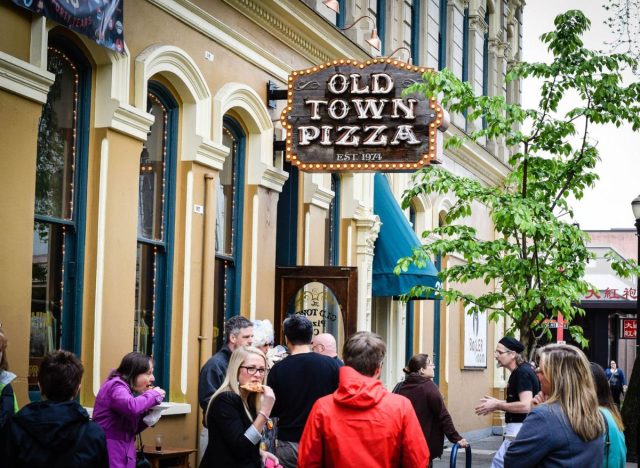 Portland, Oregon is known by many for shaking things up and offering something perhaps a little against the grain. You might not associate pizzerias with haunted ghost tours, but that is exactly what Old Town Pizza offers, in addition to a tasty pizza that it has made the same way since 1974.
In fact, even when a second location opened up in 2008, it was built using "reclaimed materials that circa'd the 1800-1900s," keeping that commitment to "Northwest authenticity and sustainability." Oh, and the haunted tour? The pizzeria is built on top of Portland's famous Shanghai Tunnels, named one of the most haunted spots in the country.
Carly Neil
Carly Neil is a freelance writer specializing in all things food, travel, Disney, and theme parks.
Read more about Carly