15 Iconic Regional Pizza Styles, Explained
From deep dish to jumbo slice, here's a list of the most popular regional pizza styles in the U.S.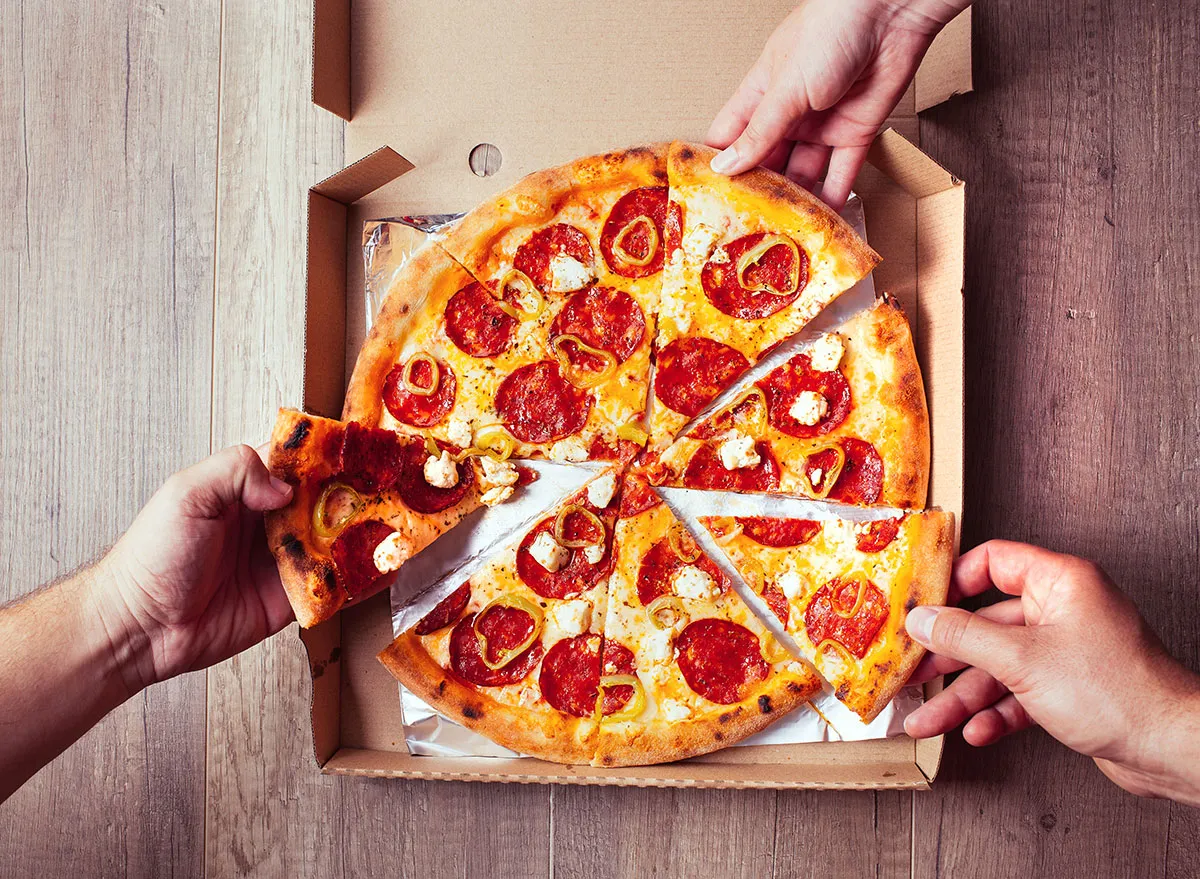 Sure, you've heard of street slices and stuffed crust, but how about Sicilian or strips? Or St. Louis topped with Provel? And no, we're not referring to provolone! There are many styles of pizza to enjoy, but what makes each of these pizza types different from each other?
Pizza is certainly a beloved food in America. According to a United States Department of Agriculture (USDA) report, about one in every eight Americans will eat a slice of pizza on any given day. So why not mix things up with pies inspired by styles across this great globe of ours? We spoke to a man who wrote the literal book on pizza, Steve Dolinsky, food reporter for ABC 7 in Chicago, and the author of Pizza City USA: 101 Reasons Why Chicago is America's Greatest Pizza Town, to break down regional pizza varieties that showcase the diversity of this beloved creation.
No matter the style of pizza, it's important to note what any good pie must have. Dolinsky calls this the "optimal bite ratio."
"It is so important, especially with pizza. You want a nice mix of crust, sauce, and cheese in each bite," he says.
But while every pizza must have that optimal bite ratio, that doesn't mean every style of pizza must be similar.
Here's how all the beloved styles of pizza differ from each other—from deep dish and jumbo slice, to Detroit squares and beyond.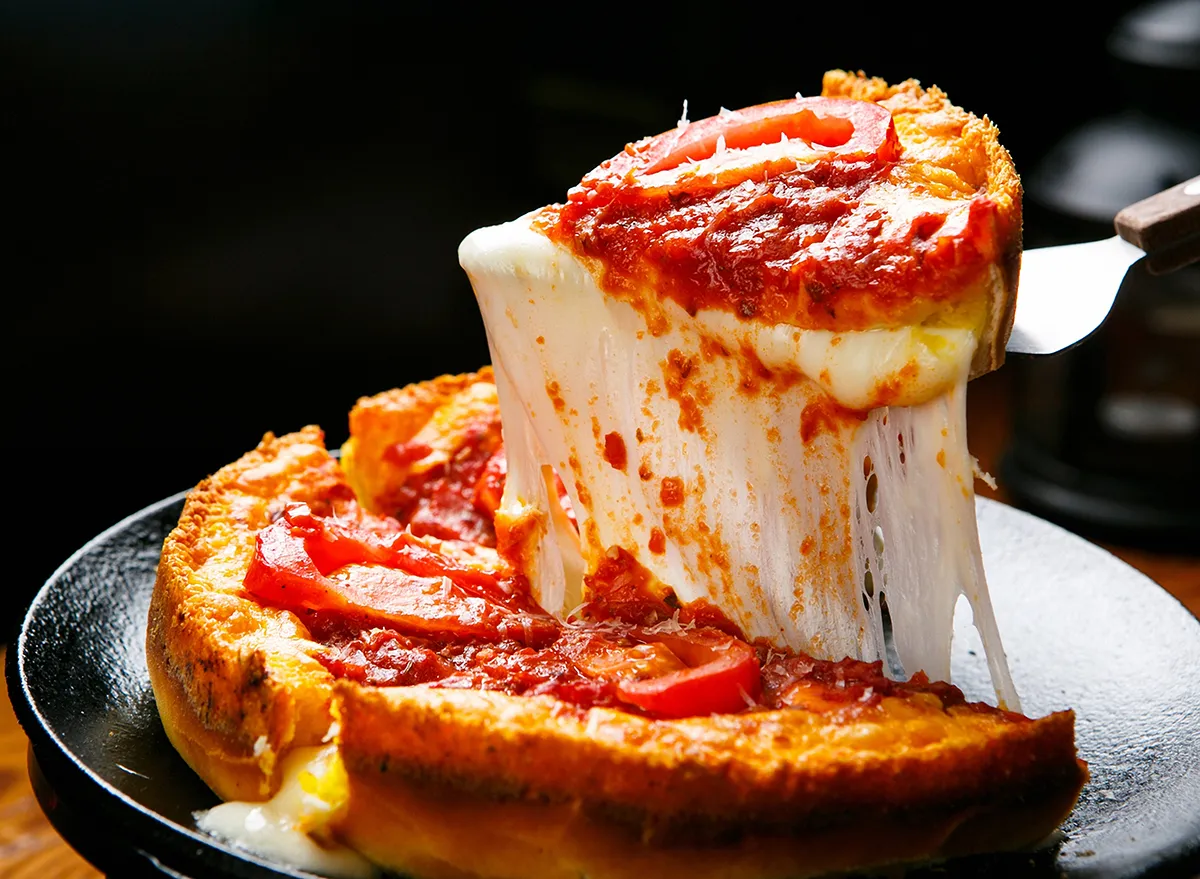 Chicago is renowned—and sometimes teased—for its sky-high stuffed pizza style, which comes with a bottom and top crust (the latter of which is crowned with sauce) and is occasionally compared to a casserole or pot pie.
"Many people incorrectly think there's just one style: stuffed. But Chicago has three styles," Dolinsky says. "Deep dish started in 1943. Stuffed started in 1974. And Tavern-style, which is what most people in Chicago truly eat, started around Prohibition era. It's thin crust and square cut. Deep and stuffed are not interchangeable. Stuffed has a crust on top, while deep dish can be similar to pan."
The goal of deep dish and stuffed is to transform a slice or two into supper, unlike thinner styles that you can snack on throughout the evening. Tavern slices were created with the opposite goal. The super-thin, square pieces are designed to be a breeze to hold in one hand while you hold a beer in the other, and are there to fuel you through an evening of sipping and celebrating. It's a pub stable in several Midwest locales beyond Chicago.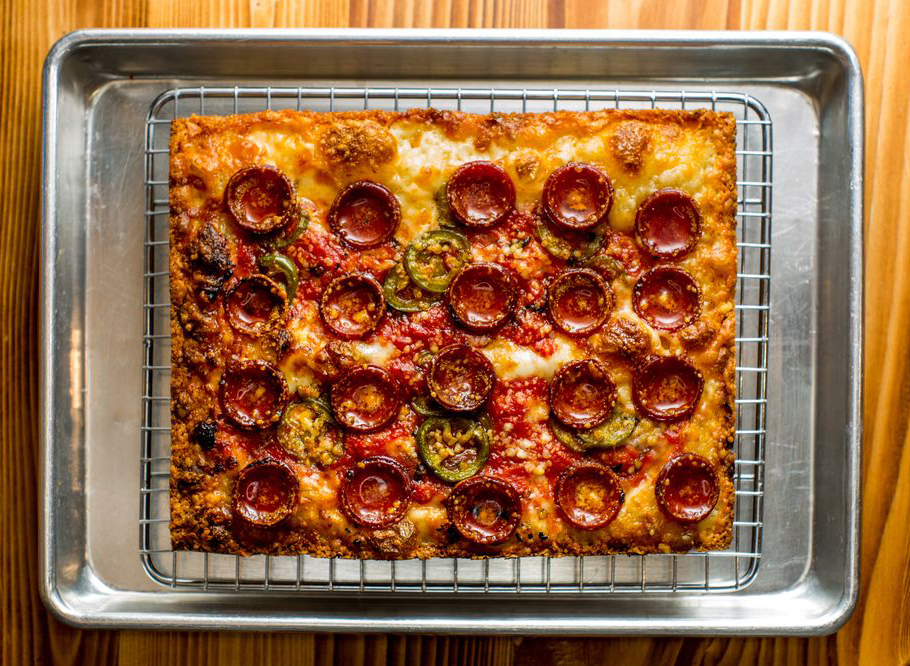 The auto industry continues to have a ripple effect on life in Detroit, and surprisingly enough, it also has an effect on Detroit's famous pizza pie. Detroit-style pizza, which dates back to the mid-1940s, was originally cooked in rectangle-shaped steel auto parts pans.
Classic Detroit pies come with a fluffy, fairly thick crust and are topped with pepperoni, an edge-to-edge layer of brick cheese, and then finished with sauce. After baking, the crust scores a crunchy, buttery, and caramelized exterior due to the melted cheese and the cast-iron-like qualities of the pan. Although Emmy Squared is located in Brooklyn, New York, it's their Detroit-style pizza (pictured above) the restaurant is famously known for.
Far from the upper Midwest? Dolinsky points out you can sample something similar in upstate New York. Buffalo, New York, sells a similar style of pizza compared to Detroit.
Also known as "sfincione," Sicilian-style pizza is an ancestor to Detroit slices. It has a fluffy yet crunchy crust, too, (imagine something similar to focaccia bread) and is sliced into squares or rectangles. Often, the cheese—if included at all—is positioned between the crust and the sauce to prevent sogginess atop the crust. The pizza shown here is from Sicily's Best Pizzeria in Brooklyn, New York, and it's a great example of that sfincione goodness.
While it had been bubbling up in the Italian immigrant population in America since the late 1800s, Sicilian pies really began to make their mark in the States after troops returned from serving in World War II.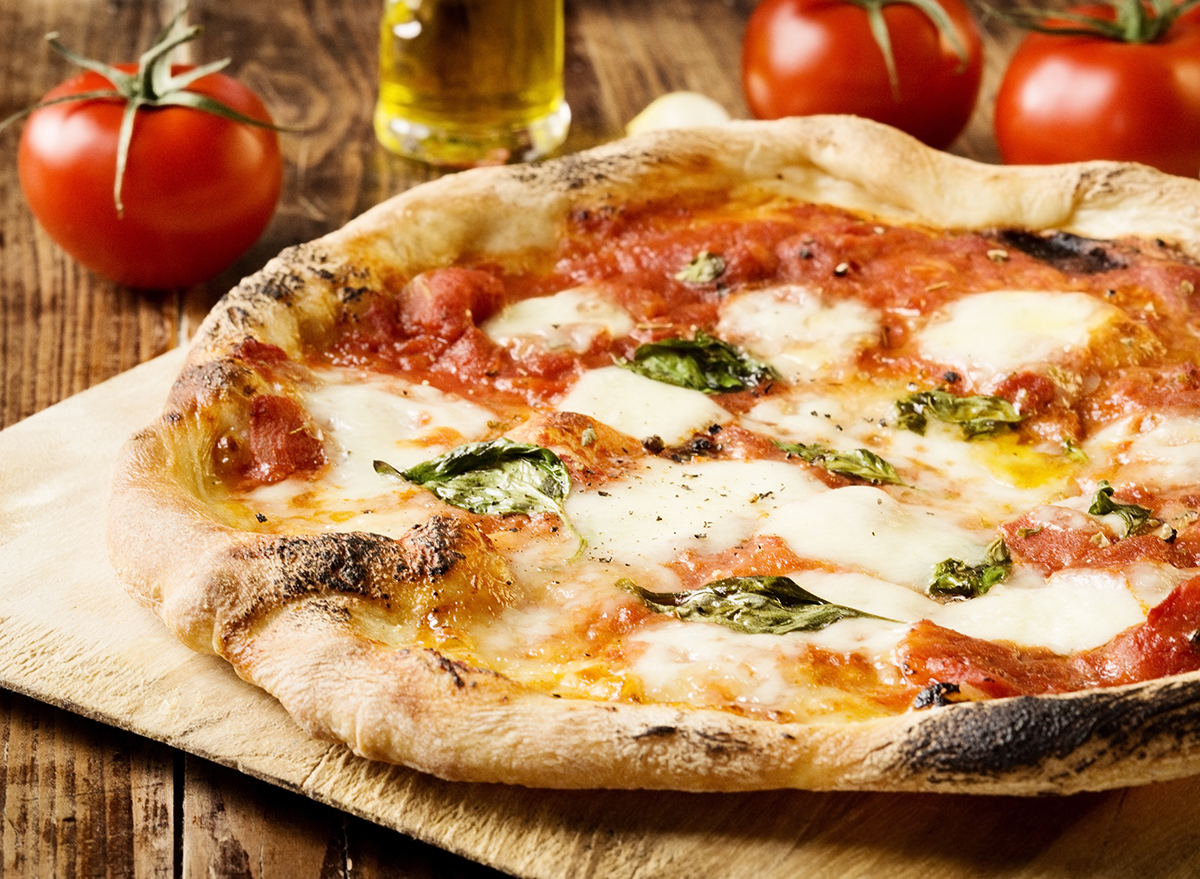 Fermentation is more than a trend in Naples. In fact, it's a must to achieve the Neapolitan pizza's soft, air pocket-filled crust. This pizza style, which first popped up in Italian cafes hundreds of years ago, began as a wood-fired flatbread. It grew into the full-fledged pizza we know today when tomatoes made their way to the country.
The crust is thin and bubbly, and often so delicate in the center, it requires a fork and knife to savor. The toppings are fresh and herbaceous and distributed sparingly. A thin smear of oregano-seasoned sauce, a few slices of fresh mozzarella or sprinkling of shredded cheese, some evenly-placed basil leaves, and a swirl of olive oil are all you need for Neapolitan pizza perfection.
Neapolitans take their pies seriously. To be a true Neapolitan pizza, a parlor must follow the Associazione Verace Pizza Napoletana (AVPN)'s rules, including hand-stretched dough that has proofed for eight or more hours. Buffalo mozzarella slices or fior di latte strips, hand-crushed or sliced tomatoes, fresh basil, and extra virgin olive oils are a must as toppings on this precious pie.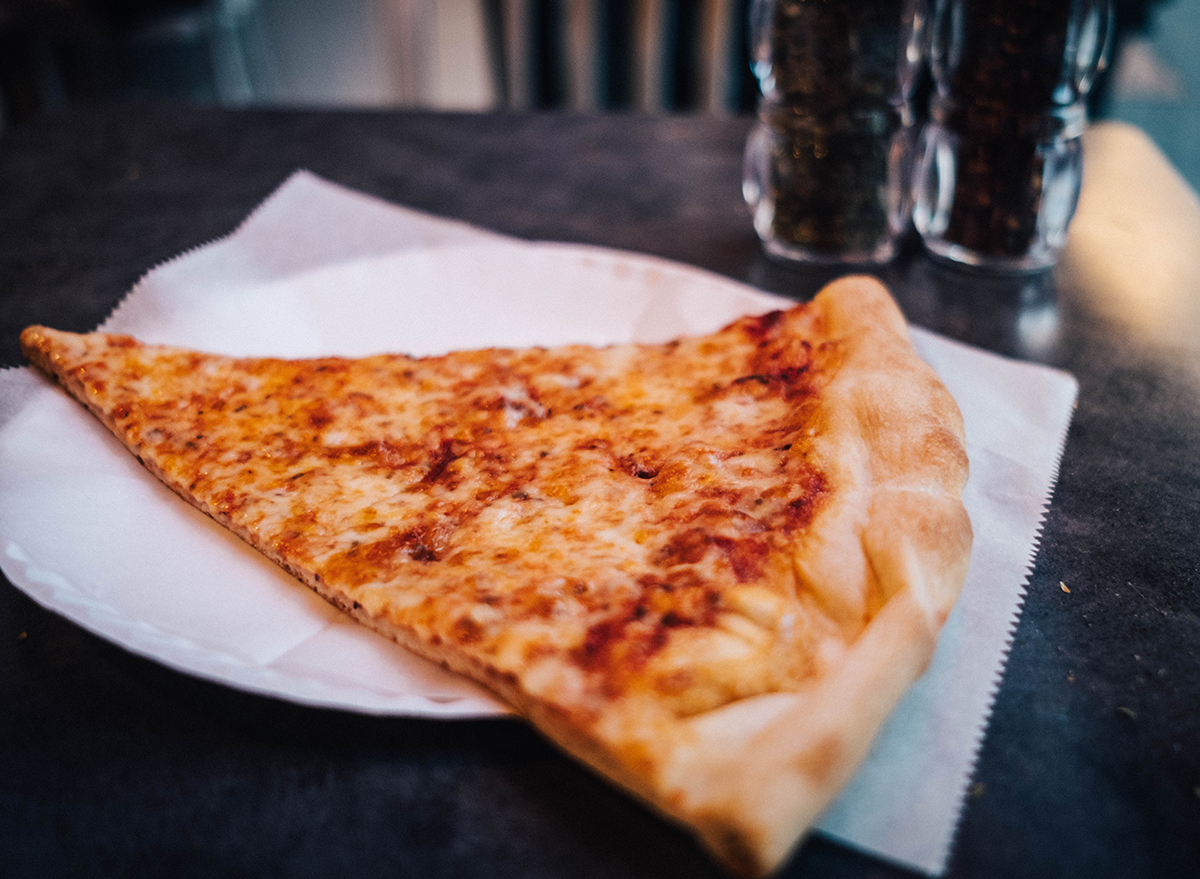 "1905 was widely thought to be the first time that pizza was offered in the United States, at Lombardi's in New York City," says Dolinsky. "But digging into history a bit more, it looks like it was the late 1880s and 1890s, when coal-fired oven pizza was first sold by Italian immigrants in New York. That grew into a whole pizza belt along the eastern seaboard."
A twist on Neapolitan pie, New York slices can now be purchased on pretty much every corner. They're distinct due to their large, triangular size that's often easy to fold-and-eat on the go. The big round crust is hand-tossed, well-seasoned sauce is lightly spooned on, and mozzarella cheese is generously sprinkled. From there, New York pizzas are generally baked in coal ovens.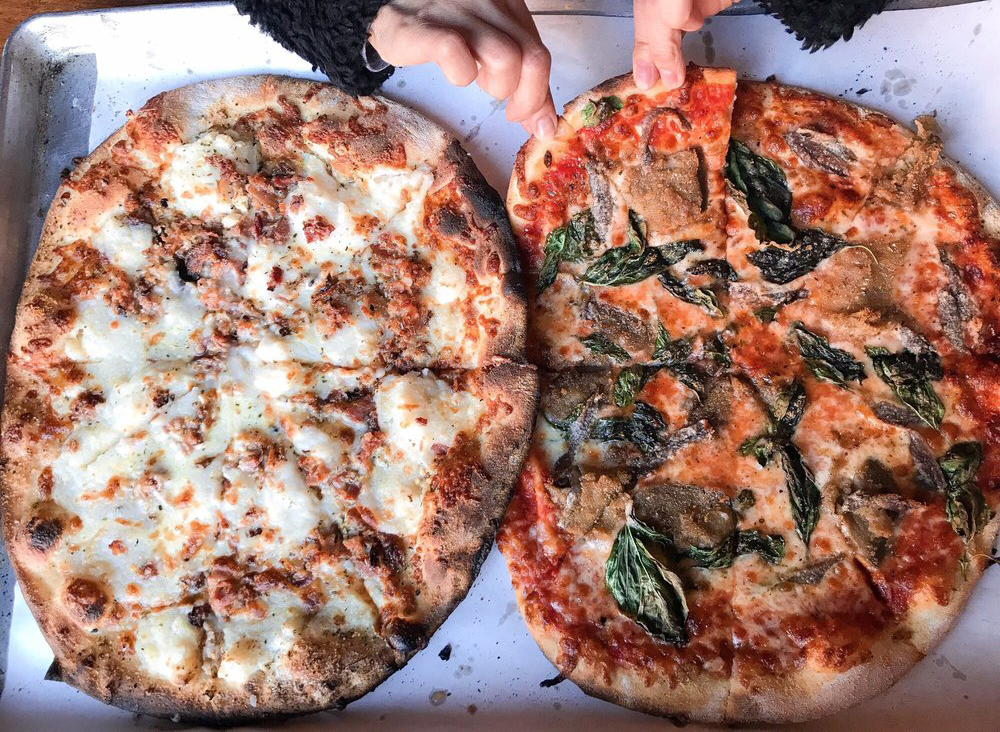 Apizza, or "ah-beets," is the charming name for the New Haven, Connecticut-style pizza. It has a charred, not-perfectly-round fermented crust that achieves its similar-to-grilled texture via an oil or coal oven that reaches 600 degrees Fahrenheit—or more.
"New Haven is known for its clam pie," Dolinsky says, which is served with white sauce. Other lesser-lauded New Haven pies are garnished with a light assortment of tomatoes, meat, and cheese. These two pizzas from BAR in New Haven, Connecticut, above show the apizza in all of its glory.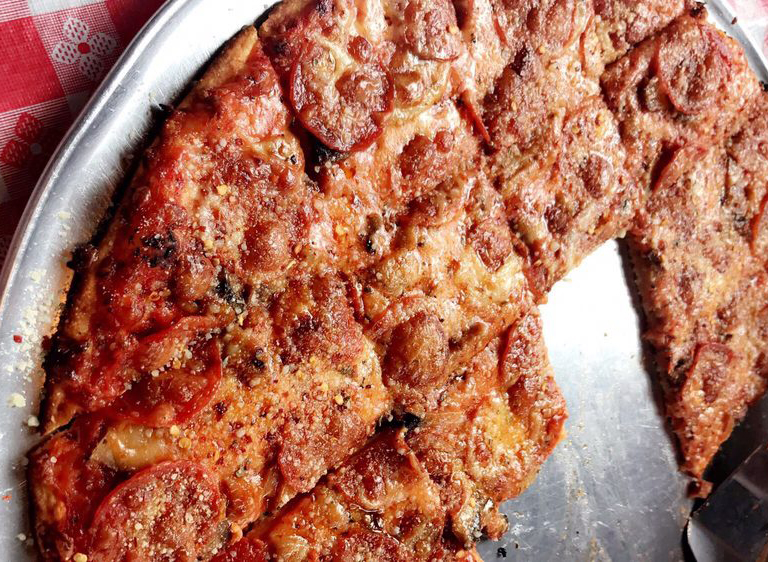 St. Louis has slim competition on the thin crust front. This regional pizza style uses an unleavened, cracker-like, and crisp crust that is unparalleled to any other thin crust out there. That crunch, plus the "party cut" rectangular slices of about three or four inches, distinguish St. Louis slices from others. As does the ample amount of oregano in the sauce. Oh, and we can't forget the cheese: To be true to St. Louis, it must be Provel—a processed cheese that blends cheddar, Swiss, and provolone into one shreddable-package. This pizza from Bono's Pizzeria in St. Louis, Missouri, looks the part!
California Pizza Kitchen at Westwood/Yelp6254a4d1642c605c54bf1cab17d50f1e
One of the newest pizza styles to swim onto the scene, California pies are touted for their fresh, innovative toppings. When California Pizza Kitchen introduced a pie that featured barbecue sauce, grilled chicken, smoked gouda, red onion, and fresh cilantro, some shook their heads. Others stood in line. And since, over-the-top toppings have become a trademark of these gourmet wood-fired pizzas. They're often similar to Neapolitan in crust style and size, but break all the rules when it comes to what's layered on top. Try the iconic BBQ Chicken pizza at California Pizza Kitchen (the one above is from the Westwood location in Los Angeles).
Speaking of crazy toppings, these are the most popular pizza toppings in every state!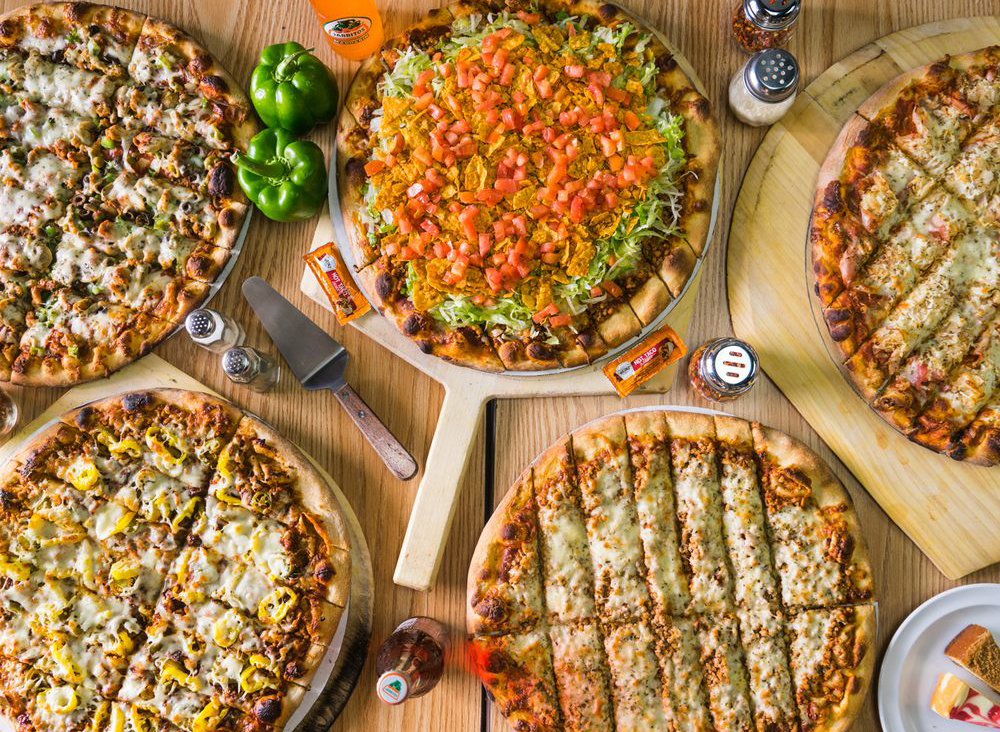 Spanning the Mississippi River between Iowa and Illinois, the Quad Cities gave birth to a hearty, strip-sliced pizza style. A scoop of brewer's malt lends a nutty flavor and darker hue to the medium-thick crust, and the cheese is laid on thick. Sausage is often the star topping, although Canadian bacon, pepperoni, taco toppings, and vegetables may make an appearance on parlor menus as well.
While east coast sausage is cut from a link and more mild (a la breakfast sausage), Dolinsky explains, Quad Cities and other Midwestern pies tend to feature fennel-seasoned bulk pork sausage that's pinched off and distributed thickly above the sauce. Pictured above is QC Pizza in Mahtomedi, Minnesota, which sells those famous pizza strips, and the even more famous taco-style pizza.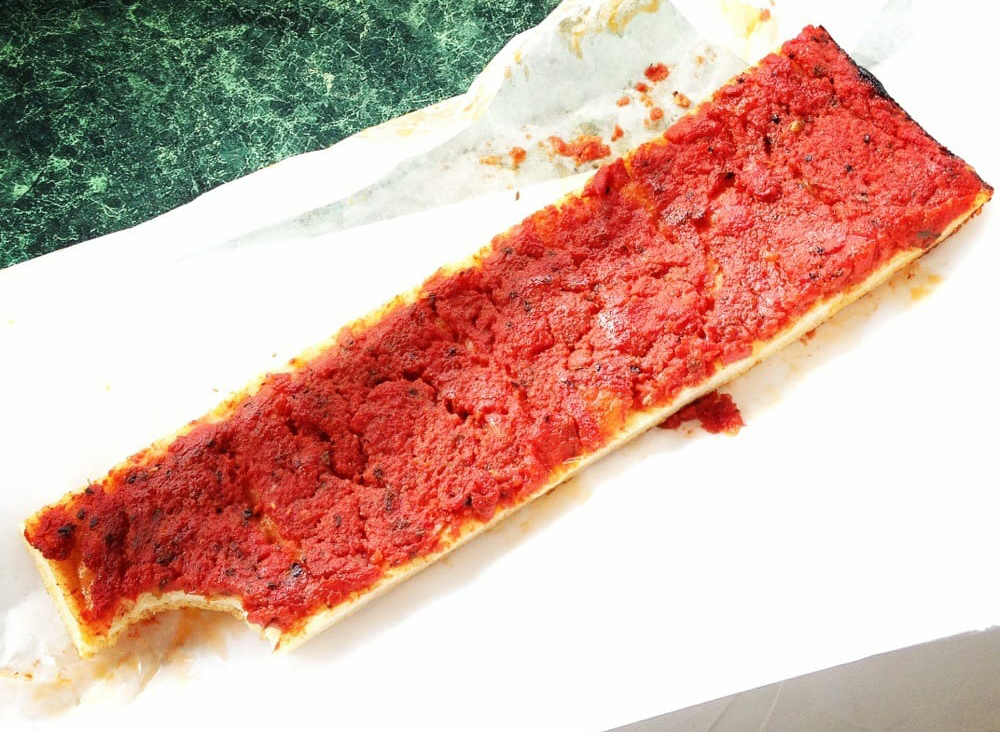 Strips are the style in Rhode Island since the early 1900s, and surprisingly enough, they are served without cheese! Also known as bakery pizza, this regional pizza style is essentially focaccia bread with spicy, thick tomato sauce cooked in a large sheet pan or tray. Again, no cheese, and often not served piping hot. That's because many home cooks and bakers made Rhode Island strips to leave out for days on end for snacking. Today, the tradition continues at Italian bakeries around the state—and beyond.
Some even sell more traditional pizza, but bakery pizza is the constant. While every place does it slightly differently, the first thing that sets it apart from all other kinds of pizza we've tried is how it is almost always served just as you find it–at room temperature. You can find these classic strips at places like The Bread Boss, located outside of Providence, Rhode Island, pictured above.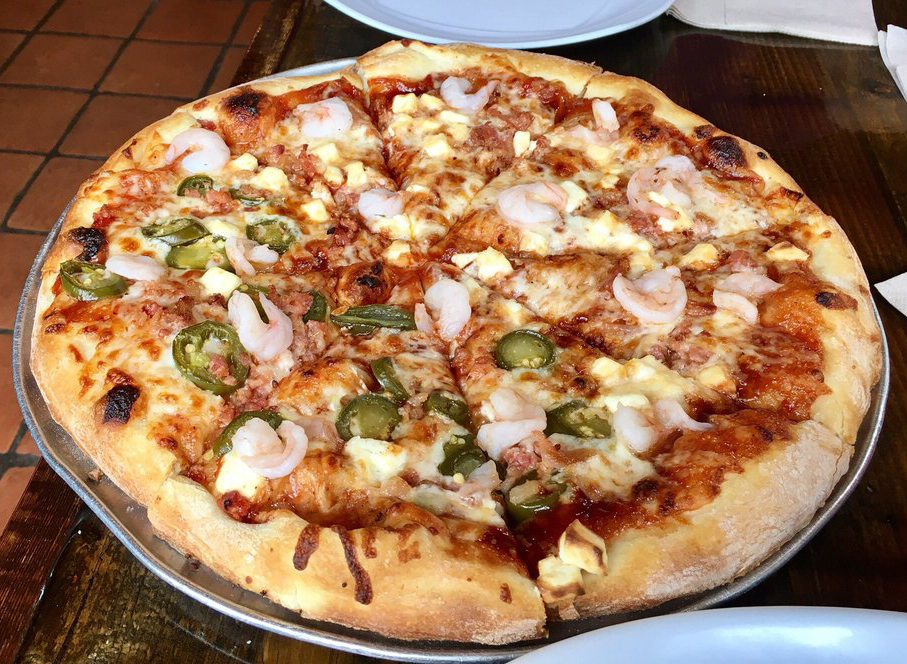 Fitting for its home state, Colorado Mountain is a pizza style that will set a solid fuel foundation to tackle one of those tall peaks. First launched in 1973, the thick hand-rolled crust is the star of these pies that are so massive. They come sold by the pound—generally ranging from one to five. Most Colorado Mountain pizza purveyors serve their pizzas with a side of honey to dip the crust so you can cure your cravings for sweet and savory all at once. Snag one of these at High Mountain Pies, located in Leadville, Colorado, pictured above.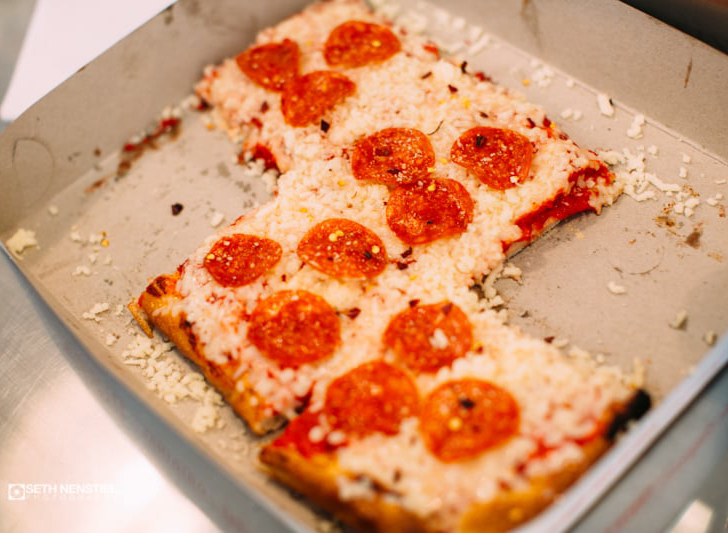 Calling all indecisive orderers! Ohio Valley pizzas earn you a bit more time to choose your toppings. Instead of layering them on before cooking, the toppings are put into place after the rest of the pizza is cooked. From there, the heat of the pie in the box is said to warm up the toppings to steamy perfection by the time you take your first bite. Word on the street is that some Ohio Valley shops bake the crust alone and add the tomatoes, cheese, and toppings after the oven time.
Ohio Valley pies are square, as are the pieces it's cut into, and the crust is right between thin and deep dish. They're not into the sauce here—stewed tomatoes are used instead—and cheese comes in small doses rather than big piles. Ohio Valley spans to many other states besides Ohio, which is why you can find an Ohio Valley pizza at places like DiCarlo's Pizza in York, Pennsylvania, shown here.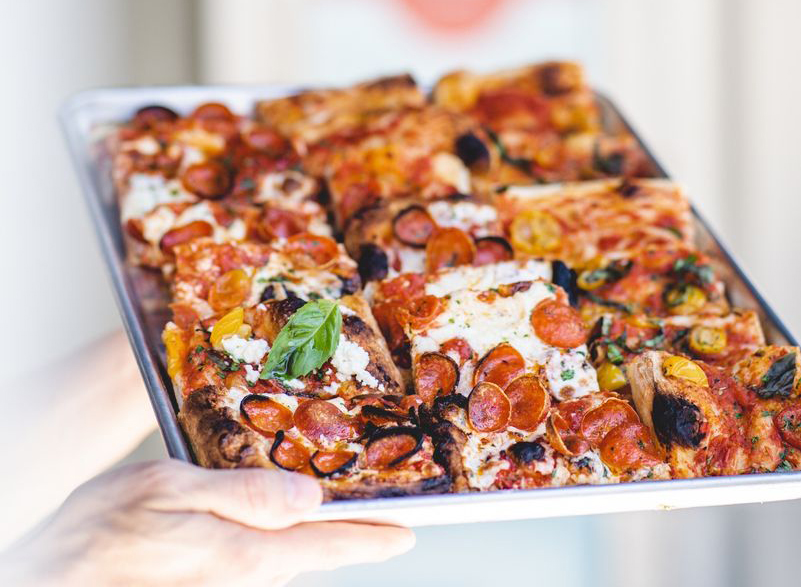 Around 1960, rectangular Roman pizza al taglio entered the pie party. Unlike its Neapolitan neighbors, this Italian pizza variety is baked in pans, resulting in a softer crust. Is your appetite as big as Pantheon? Consider this: Roman pizza style is generally three feet long and is cut to order with scissors so you can select the size of your slice. Price is based on weight or your severed slice. Get your own at Forbici Modern Italian in Tampa, Florida (pictured above).
Go Greek right here in the U.S. with a Greek-style pizza from New England. Yes, you read that correctly, the New England pizza takes ode to the Immigrants from the Mediterranean country. Its thick, soft crust is spread with oregano-scented tomato sauce and a blend of cheeses, which often includes cheddar and mozzarella. Lastly, everything is doused in plenty of olive oil, naturally. You can try the ginormous New England pizza seen here at Pizza Pizzazz in Pepperell, Massachusetts.
D.C. is known for big political battles—and big slices. One of the newest regional pizza styles on this list, jumbo D.C. slices arrived on the pizza ballot in the late 1990s. Typical jumbo pies are 30 inches or larger. Once sliced, each piece is over a foot long, requiring two plates to even serve. Just like political preferences, toppings vary, so you can vote for your favorite. Try the one shown here yourself at Jumbo Slice Pizza in Washington D.C.
Karla Walsh
Karla Walsh is a freelance writer, editor and restaurant brand manager based in Des Moines, Iowa, where she reports on fitness trends, wellness research, psychology, and healthy recipes.
Read more about Karla