Skyline Chili: What to Know About the Iconic Midwestern Chain
Coneys, chili, spaghetti and more!
It's hard to find a staple Ohio meal quite like cheese hot dogs and chili (with spaghetti noodles!) from Skyline Chili. Over 150 locations scatter Ohio, Indiana, Kentucky and even Florida, where there are six dine-in and drive-thru restaurants.
In case you're a local or happen to just be in the area and want to find out for yourself why this chain has been around for over 70 years, we've got you covered. Unfortunately, we couldn't find out the super-secret chili recipe, but here's what we know about this family-friendly eatery.
History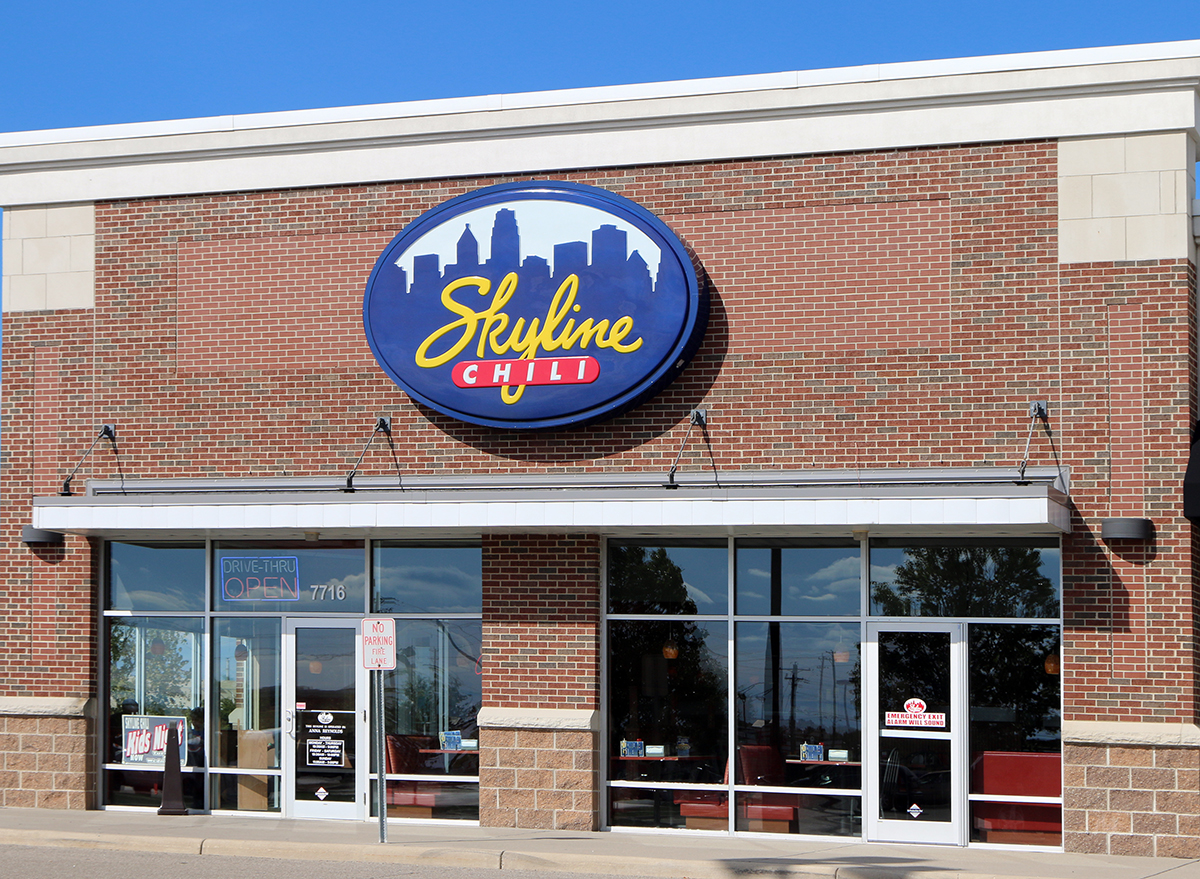 Although locations are family owned nowadays, the first restaurant was opened in 1949 by Nicholas Lambrinides on the westside of hilly Cincinnati, Ohio. The view the store had of downtown inspired the name, and Lambrinides' greek heritage inspired the menu. Now locations are family owned and operated.
What's on the Skyline Chili menu?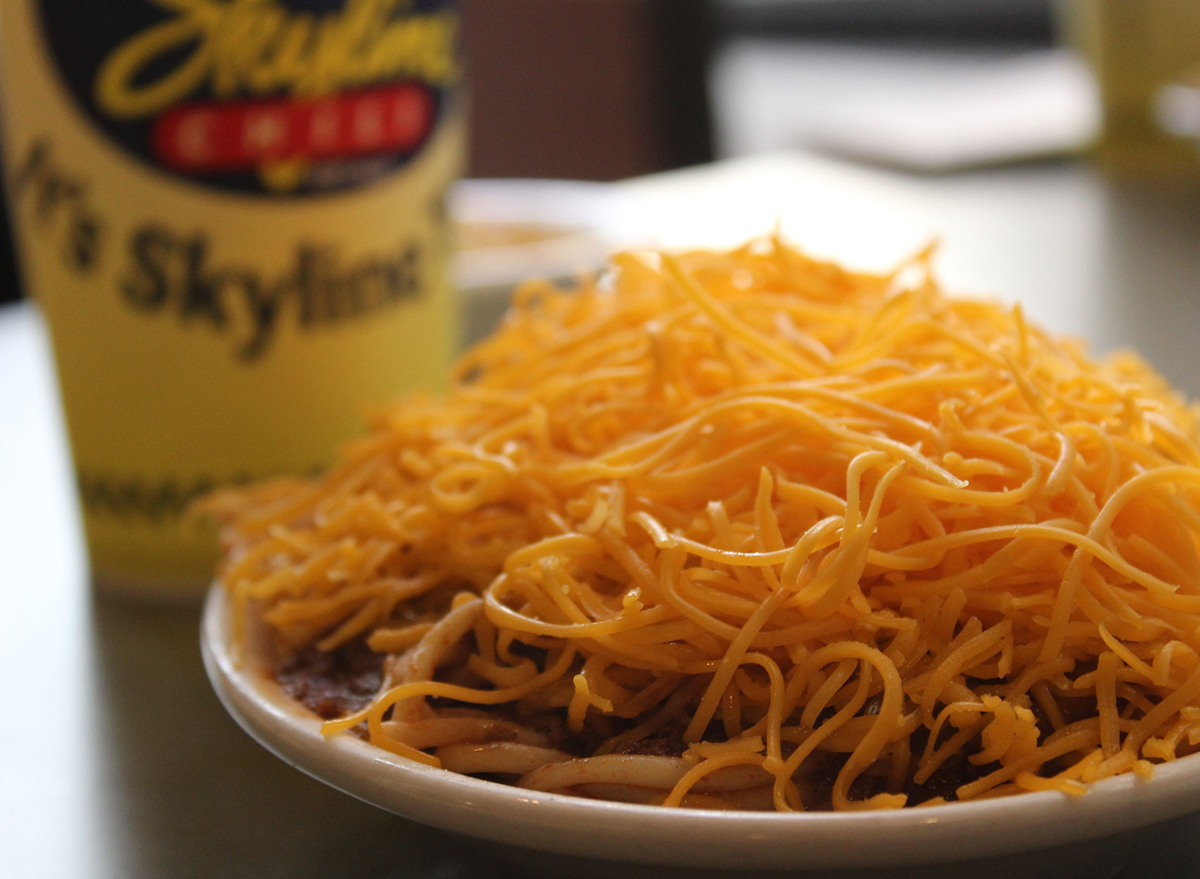 Menu options at Skyline are unlike any you've ever seen. Goodbye normal chili—hello spaghetti chili! Often called "Cincinnati Chili" the combination is one many other chili recipes, like southwestern chili or Texas chili. don't follow. The 3-Way is one of the most-ordered dishes and combines the noodles with the famous chili, plus a mountain of freshly grated and melty cheddar cheese. Onions or beans can be added to make it a 4-Way, or get both and make it a 5-Way!
Another popular dish is the Cheese Coney—a hot dog layered with chili, mustard, onions and, of course, tons of cheddar. The Chili Cheese Sandwich rounds out the top three and includes chili, onions, mustard, and cheese in between two buns.
Looking to lighten up your meal? One Chili Cheese Sandwich is only 290 calories, one Cheese Coney is 350 calories, and a small 3-Way is 400 calories. Reduce that amount even more by ordering half the amount of cheese.
More options include salads, wraps, burritos and bowls, and each item is customizable depending on your preferences. Vegetarian options include black beans and rice bowl, burrito and 3-Way. Kids have similar options, but get a York Peppermint Patty for dessert!
Why is it so popular?
Although the menu is unique, it's not the only draw Skyline has. With over 140 locations in three states alone, it's safe to say it's well-known within local communities.6254a4d1642c605c54bf1cab17d50f1e
"My husband and I worked for corporate for many years," says Tabatha Minton, who started working as a server in 2001. "Between the two of us, we've probably worked at every location in Columbus."
Minton is now the General Manager of the Olentangy, Ohio location on Ohio State University's campus that opened about four years ago. After working with the company for so long, she knew the perfect way to connect with the local community.
"I knew before we opened I wanted to start an [Instagram] account for our location," she says. "I wanted to start it as a fun way to communicate with our guests and Skyline fans everywhere." They now have over 1,000 followers and repost tagged photos from customers.
Even if you're not near a Skyline, some grocery stores like Kroger, Walmart, Harris Teeter, Meijer, Publix, Jewel Osco, and Wegmans carry Skyline products so you can enjoy them at home. Just don't forget the freshly grated cheddar cheese!
Amanda McDonald
Amanda has a master's degree in journalism from Northwestern University and a bachelor's degree in digital journalism from Loyola University Chicago.
Read more about Amanda