12 Smoothies That Beat Bloating
Soothe your belly and lose inches with these calming concoctions.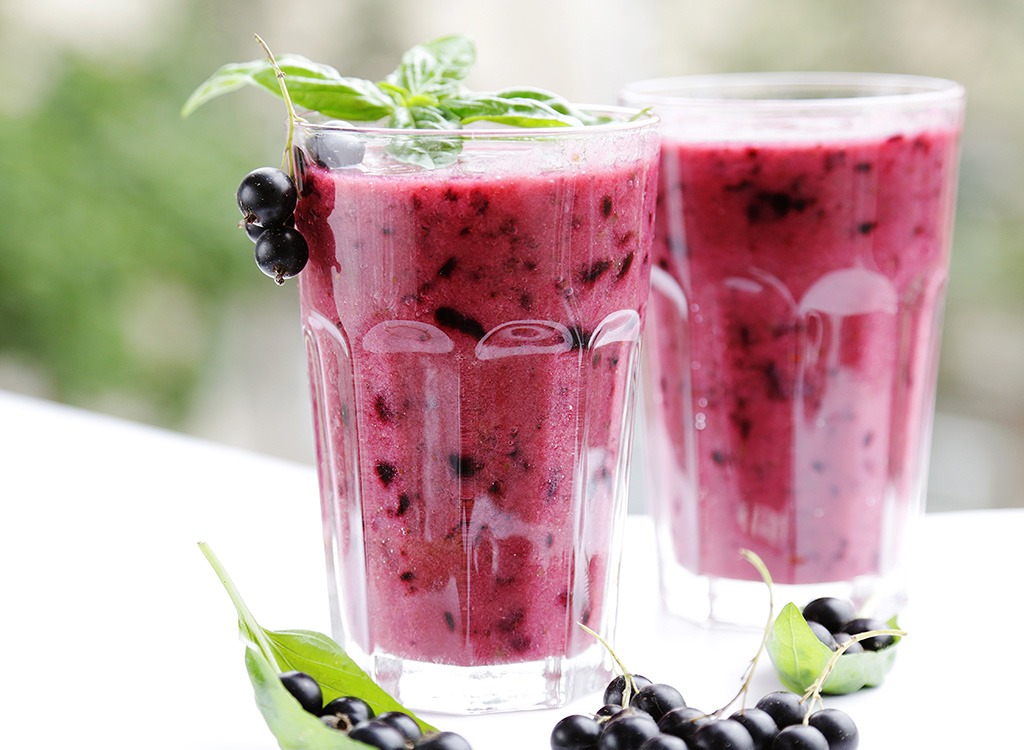 The smoothie is the stealth bomber of weight loss. You can pack them full of fiber-rich veggies, fat-burning fruits and blend them into an icy concoction that seems to good to be good for you. But aside from being stellar snacks and meal replacements, smoothies can be serious bloat busters. With the right tummy-soothing, good-gut-bacteria-promoting ingredients — ideally free of dairy and gluten — that can help de-puff your waist, help you lose inches and feel great doing it. Here are some of our favorite recipes.
Purple Pecan Power Smoothie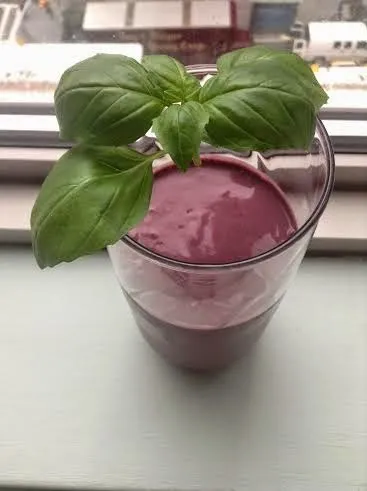 This rich and creamy smoothie has hunger-crushing mint and other belly slimmers like blackberries, kale and anti-inflammatory chia seeds. Vegan and gluten-free, bananas reduce bloat while the almond butter provides a dose of healthy fats and satiating protein.
Ingredients:
1 cup unsweetened almond milk (like So Delicious)
1/2 cup frozen unsweetened blackberries (like Earthbound Farm Organic)
1/4 cup chopped pecan pieces
1 banana
Handful frozen kale
handful fresh mint
1 tablespoon almond butter (okay, maybe 2)
1 tablespoon chia seeds
shake or two of cinnamon
a few drops of pure vanilla extract
basil sprigs for garnish
3 ice cubes
Blend until smooth.
Recipe and photo by Vegan When Sober
Pineapple Mint Protein Smoothie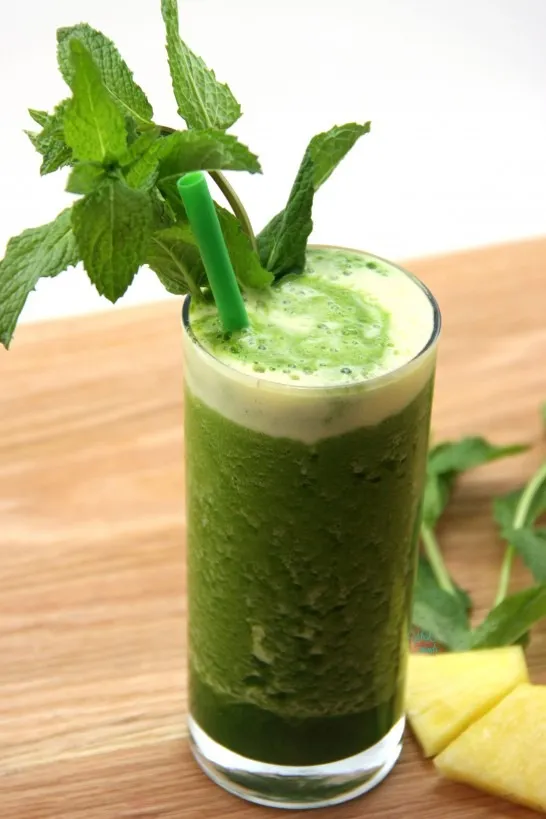 Appetite-suppressing mint and anti-inflammatory pineapple work to banish bloat and keep you slim in this tantalizing smoothie your taste buds will love, too. Feel free to use your favorite non-dairy milk of choice, or use refreshing coconut water. Detoxifying and fully vegan thanks to its use of plant-based protein powders, you'll want to make this delectable sipper a staple in your weight-loss routine.
Ingredients:
1 cup water or non-dairy milk of choice
1-1 1/2 cups pineapple chunks, fresh or frozen
Fresh mint leaves, from 2-4 sprigs of mint
Handful of baby spinach
1 scoop plain protein powder (like Vega One Natural)
1/2-1 cup ice
In a Vitamix, or high-speed blender, blend 1/2 cup of water, mint leaves, spinach, protein until smooth, and ice until smooth. Pour into glass. Rinse blender and blend together remaining water and pineapple until smooth, pour over green layer. Optionally you can blend everything together at once instead of layering.
Recipe and photo by Two Whisks and a Wand
Bloat-banishing detox water, meet your smoothie match: Apples, lime, cucumbers, avocado, pineapple and spirulina meld seamlessly in this vibrant green smoothie designed to help get your digestion back on track. To boost its anti-bloating prowess, try slipping in a bit of peeled ginger. Researchers say the knobby root works as a muscle relaxant and also an anti-inflammatory superstar.
Ingredients:
2 apples, peel left on
2 cups of pineapple
½ of a cucumber, peel left on
¼ of a lime, peel removed
1 avocado
1 teaspoon of spirulina powder
Prepare ingredients as described above, chopping everything into sizes that can be processed by your juicer. Juice apple, pineapple, cucumber, and lime. Add the juice to a blender with avocado and spiraling and blend until smooth. For maximum enjoyment, add a couple of ice cubes or chill before drinking.
Recipe and photo by The Fitchen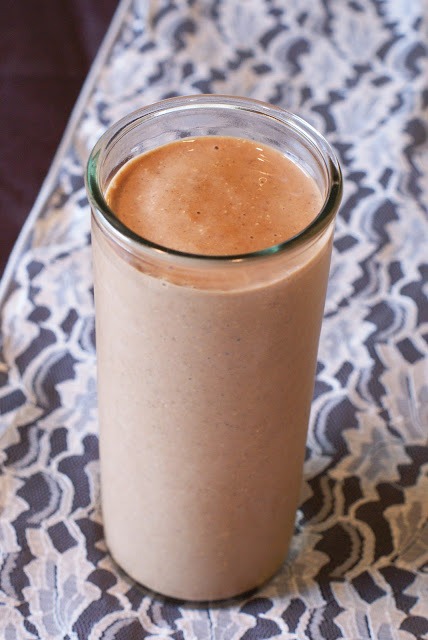 Chocolate coconut milk? Sign us up. Jumpstart your day with coffee blended with banana, So Delicious Dairy Free chocolate coconut milk, maple syrup, gluten-free oats and chia seeds. Chia seeds (see 7 more Superfoods That Help You Lose Weight and Burn Fat), are low-fat, and chock full of healthy fats, fiber and protein. For a flavor enhancer, try adding some peppermint oil for mint-mocha vibes and bloat fighting.
Serves 2
Ingredients:
6-8 ice cubes
1 frozen banana
1/2 cup strong brewed coffee, chilled
3/4 cup So Delicious Chocolate Coconut Milk
1/4 cup gluten free oats
1 tablespoon chia seeds
1 tablespoon pure maple syrup or honey
Add all ingredients to your blender. Blend on high until everything is smooth and blended well, 1-2 minutes. Make sure the oats are finely ground. Add additional coconut milk if needed. Serve or chill in refrigerator to enjoy later.
Recipe and photo by Sarah Bakes G Free
Orange Berry Spinach Smoothie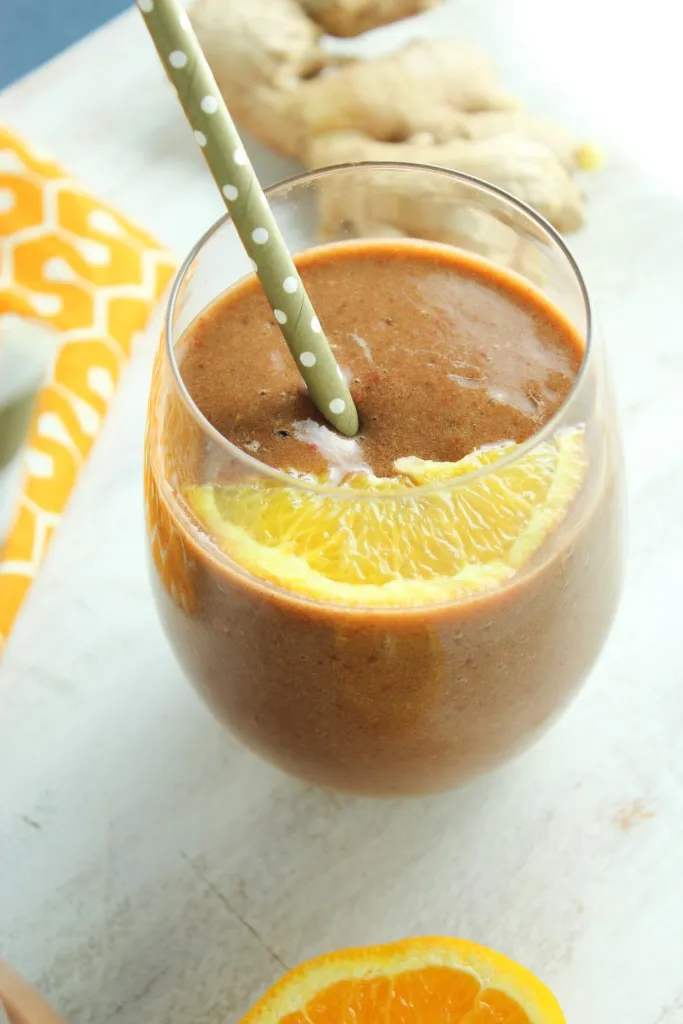 Oranges are often overlooked in blenderland, but they're just as good in smoothies as they are in detox waters. Ginger stops bloat while hydrating coconut water provides a mellow flavor. As for the spinach, you'll be too dazzled by the bright notes from the raspberries and strawberries to notice how much of the good-for-you green sneaked in.
Ingredients:
1 cup spinach
1 cup frozen banana
1½ cups frozen raspberries
1½ cups fresh strawberries
1 orange, peel removed
1" chunk of ginger
8 oz. coconut water
Blend until smooth.
Recipe and photo by The Fitchen
Mighty Green Hulk Smoothie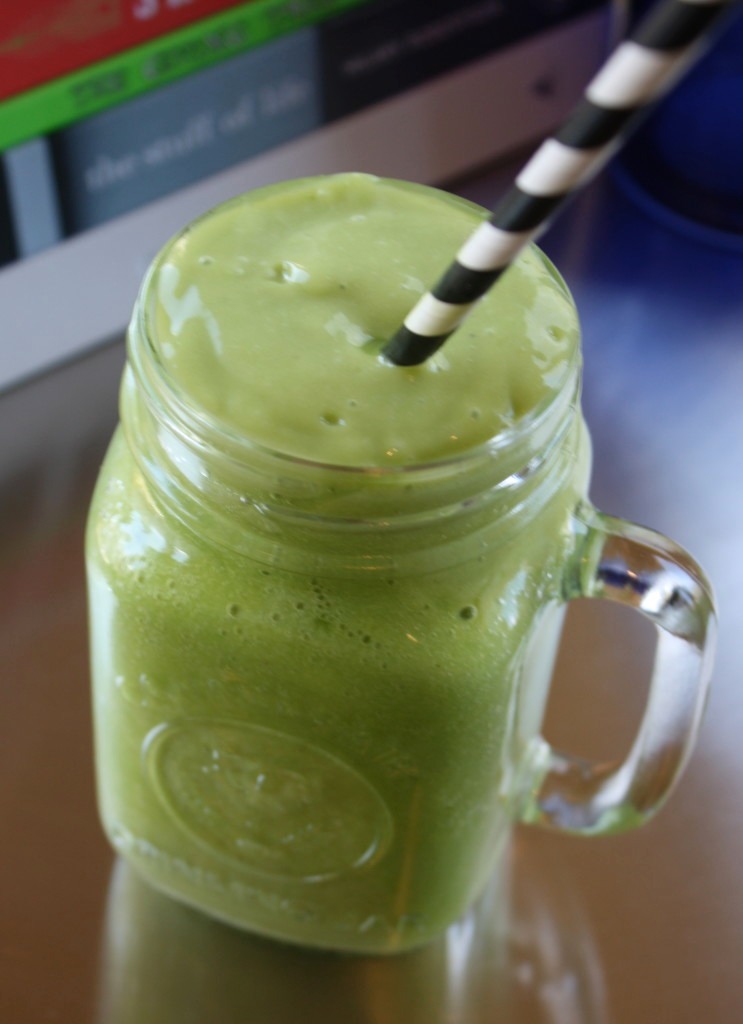 Green superstars like spinach (or your favorite leafy greens), avocados and green apples come together in this swell smoothie. Give it an added boost with slimming superfoods like chia, flax or hemp seeds, or a chocolatey flavor with fat-burning cacao powder (Check out our list of 8 More Superfoods You Can Add to Almost Any Meal).
Serves 2-3
1 cup spinach or any leafy green
2 cups unsweetened coconut milk
2 cups frozen or fresh mango (pineapple works as well)
1 banana
1/2 green apple
1/2 avocado
1/2 cup ice
Superfood optional add ins:
1 tablespoon chia seeds
1 tablespoon ground flaxseeds
1 tablespoon raw cacao powder – this will give it a chocolate flavor
1 tablespoon hemp seeds
In a high-speed blender, blend your spinach and water until smooth, leaving you with a green liquid and no chunks. Add your remaining ingredients—mango, banana, green apple, avocado and ice (and any superfood you would like to add). Blend until smooth.
Recipe and photo by Run on Veg
6254a4d1642c605c54bf1cab17d50f1e
Grapefruit is the slimming superstar in this inventive smoothie bowl which combines the fat-frying fruit with strawberries, banana, oats, cashews and mint. The smoothie gets natural sweetness from the fruits, so feel free to leave out the maple syrup. Save the other half of the grapefruit for a weight-loss friendly fruit snack later in the day. You might want to double this recipe and save a second bowl for dessert.
Makes 1 bowl
Ingredients:
½ grapefruit
1 banana
8 strawberries
¼ cup old fashioned oats
3 tbsp organic maple syrup
4 ice cubes
¼ cup cashews
2 mint leaves
¼ cup Bai5 Gimbi Pink Grapefruit
Blend until smooth and pour into bowl.
Recipe and photo by The Almond Eater
Cashew Butter Green Smoothie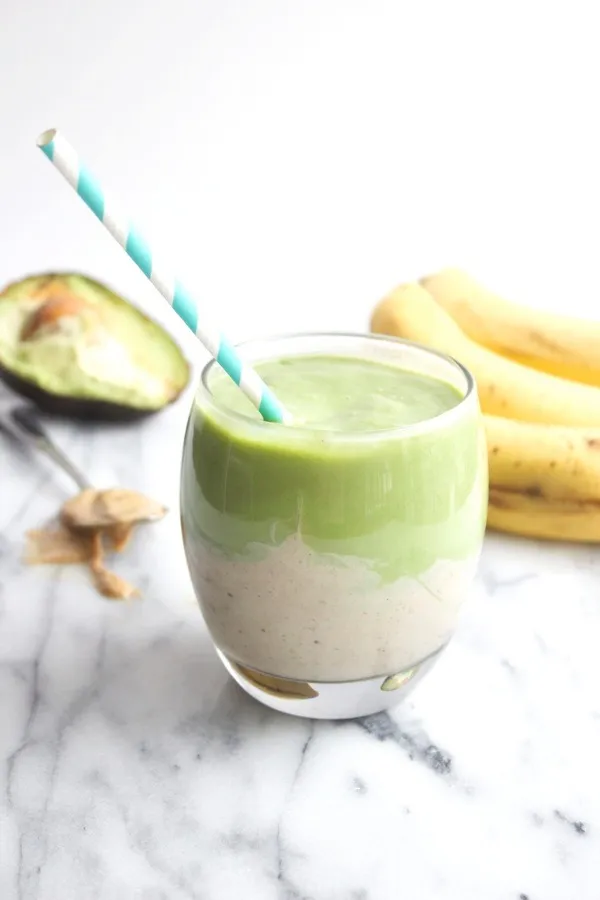 Almond butter, cashew spread's more common cousin, might get all the buzz, but consider swapping it out. Cashew butter doles out heart-healthy fats and helps mix things up a bit. This smoothie also spotlights chia seeds, which offer fiber and omega-3s as well as an energy lift. Think a vegan smoothie can't be creamy? Thanks to bananas, avocados and dairy-free plain yogurt, this plant-based shake boasts a velvety texture.
Makes 1 smoothie
Ingredients:
Cashew layer:
1 banana
¼ cup cashew butter
1 tbsp chia seeds
¼ cup unsweetened almond milk
Green layer:
½ banana
½ avocado
½ cup dairy-free plain yogurt (So Delicious)
¼ cup unsweetened almond milk
Instructions:
Mix the cashew ingredients together in a blender (banana, cashew butter, chia seeds, milk) and blend until smooth. Pour into a glass. Rinse out the blender, but don't wash it completely (you can if you want, but it's not necessary). Place the green ingredients together into the blender (banana, avocado, yogurt, milk) and blend until smooth. Slowly pour the green mixture overtop the cashew butter layer.
Recipe and photo by The Almond Eater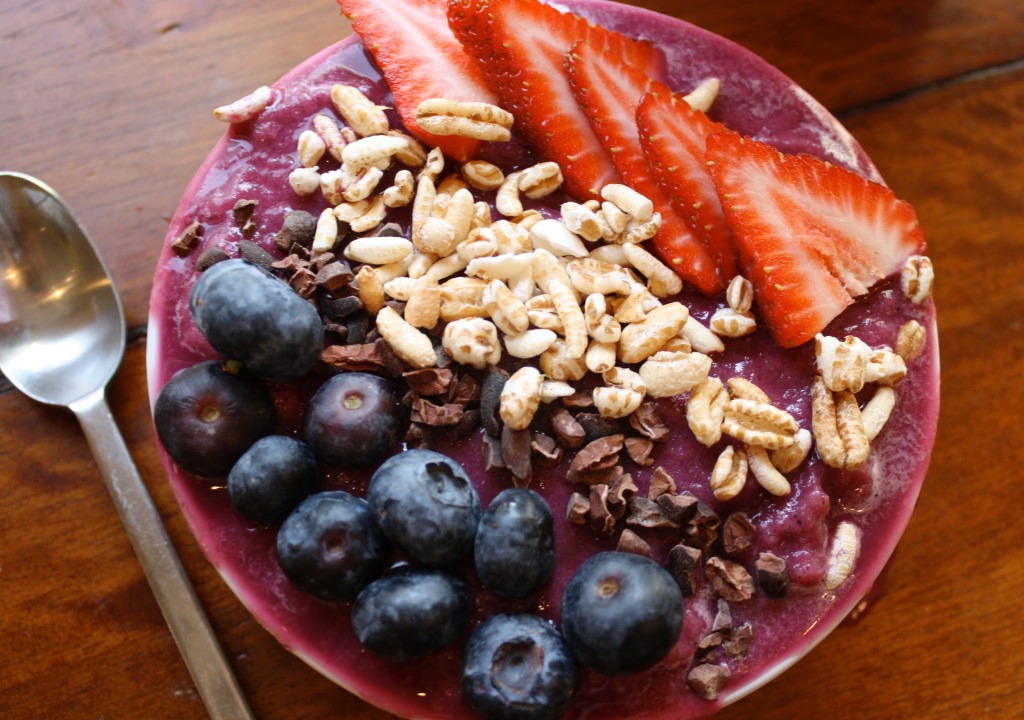 This enticing and waistline-friendly smoothie bowl will make you spring out of bed in the A.M. Loaded with fruits that work great in bloat-fighting detox waters, this shake is also packed with greens. But even picky eaters will enjoy its fruity taste. Top with walnuts or cashews for an added protein boost.
Ingredients:
1 packet pitaya plus
1/2 cup frozen berries
1/4 cup frozen mangos/pineapple
2-3 cups of leafy greens
2 celery stalks
1 cucumber
1 scoop Vega Vanilla Performance Protein
1 cup cashew milk
1 cup ice
Blend in a high speed blender till smooth and creamy. Top with your favorite toppings.
Recipe and photo by Run on Veg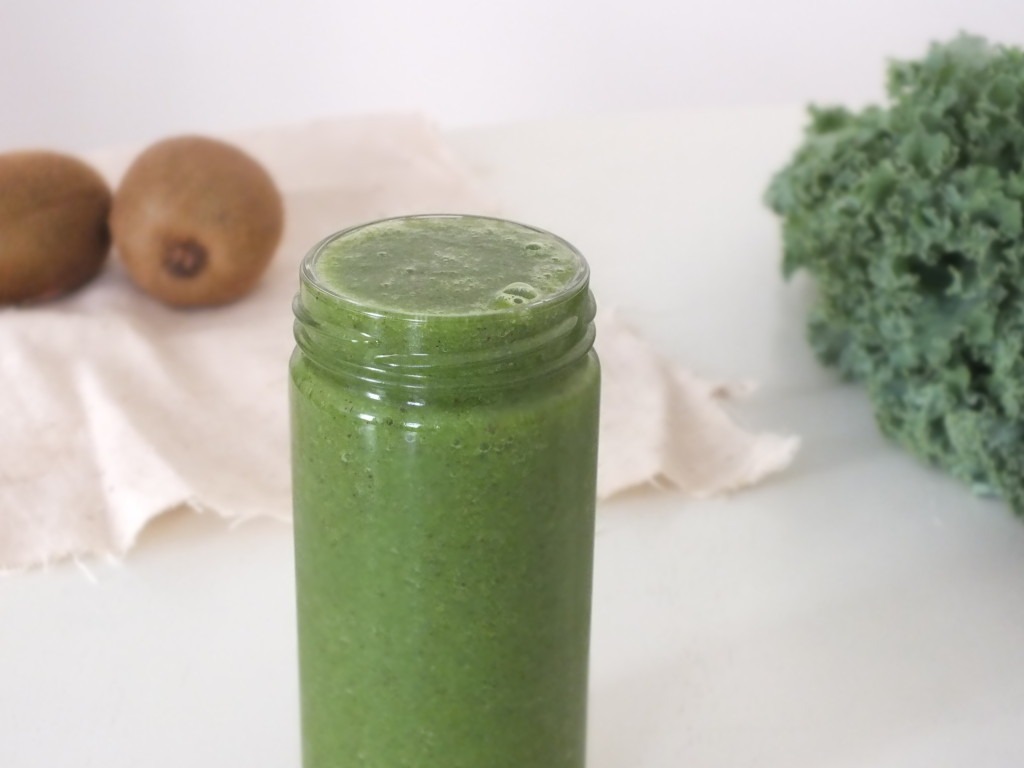 All hail the mighty bloat-busting kiwi! Just one has more than 100% of your daily recommended value of Vitamin C and is high in fiber. A simple combo of kale and kiwi, this smoothie is as simple as adding coconut water and ice to the mix and raising your glass in a toast to your health.
Ingredients:
2 kiwis [peel removed]
2 kale leaves [remove leaves from stem]
1 c. coconut water
~1/3 c. ice
Blend until smooth.
Recipe and photo by The Fitchen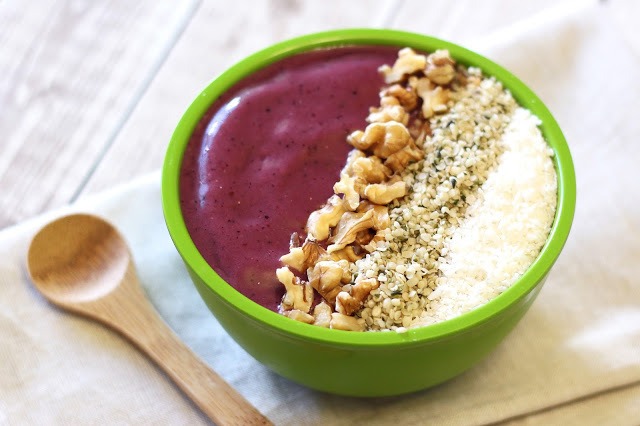 Hemp hearts, a plant-based source of protein, are a substantial topper for a satisfying smoothie bowl loaded with fat-fighting fruits (that we love in our detox water, too!) like mixed berries and banana. Acai juice brims with antioxidants, while toppings like shredded coconut and walnuts give this bowl some crunch and chew. Once you try it, you'll totally get why Instagram is crazy for smoothie bowls.
Serves 1
Ingredients:
1 frozen banana
1 cup frozen mixed berries
1/2 cup acai berry juice
1/2 cup So Delicious unsweetened coconut or almond milk
2 tablespoons chopped walnuts
1 tablespoon hemp hearts
1 tablespoon unsweetened shredded coconut
Directions:
Add banana, berries, acai juice and coconut milk to high-powered blender. Blend on high until smooth and creamy, 1-2 minutes (will be thick). Add an additional 1-2 tablespoons acai juice if needed. Pour smoothie into bowl. Top with walnuts, hemp hearts and coconut.
Recipe and photo by Sarah Bakes G Free.
It's hard to argue with carrot cake. So we won't. Here, the classic dessert gets a whole-food spin with nutritious ingredients like carrots, almond butter and vegan protein powder. Carrots keep you satisfied thanks to their high water content, antioxidants and vitamins, while keeping the calorie count reasonable. The recipe calls for a dash of nutmeg and some cinnamon, but try adding calming turmeric, which can aid with indigestion. (Turmeric is one of our picks for the Healthiest Spices on the Planet!)
Ingredients:
1 cup carrots (two medium carrots)
1 cup molokai coconut bai5
2 teaspoons organic raisins
1 teaspoon almond butter
1 scoop of vegan protein powder
1/8 teaspoon cinnamon
dash of nutmeg
1 1/2 cups of ice
Blend until smooth. Garnish with organic raisins and organic coconut flakes.
Recipe and photo by Run on Veg.