The Best Snacks To Prevent Holiday Weight Gain
Have these on hand for when the winter food cravings arise.
The holiday season, starting from the last week of November to the first or second week of January, is a time that many people experience significant weight gain. And with so many holiday favorites at our fingertips, including classic eggnog, festive peppermint treats, and cute little gingerbread men, it is no wonder why so many people gain weight during "the most wonderful time of the year."
But for people who are focused on trying to avoid the holiday weight gain, the simple act of snacking on certain foods may help people accomplish this goal. In fact, data shows that eating snacks between meals can both promote satiety and limit overconsumption at the subsequent meal, ultimately helping avoid weight gain, especially when that snack contains protein, fiber, whole grains, or complex carbohydrates.
So, what are the best snacks to enjoy over the holidays to avoid that pesky holiday weight gain? Keep reading to know what to have on-hand when the hunger pangs start, to potentially help you manage your weight during the chilly months in a natural way.
Eggs
Eggs may be top of mind when it comes to breakfast time. But these nutritional powerhouses can be enjoyed in a variety of ways at any time of day. Plus, eggs fill the tank without breaking the calorie bank, helping with satiety and combating holiday weight gain.
One large egg has 6 grams of high-quality protein and 5 grams of fat (most of which is unsaturated). Both protein and fat help promote satiety, which may help reduce energy intake in the long run, and thus, help prevent weight gain.
You can also feel good about including eggs in your snack routine, since a recent science advisory from the American Heart Association (AHA) indicates that "healthy individuals can include up to a whole egg or equivalent daily" as part of a heart-healthy dietary pattern.
Enjoying a hard-boiled egg before a holiday party or noshing on avocado toast topped with a freshly cooked egg can fuel your body with important macros to help you feel satisfied and potentially avoid overeating.
Pistachios
Cracking open some pistachios can be a satisfying way to support your weight management goals, according to some data. One clinical trial evaluated women who consumed 44 grams (250 calories) of American pistachios as a morning snack for 12 weeks versus those who did not eat pistachios (which were the control group).6254a4d1642c605c54bf1cab17d50f1e
Results showed that regular consumption of pistachios for 12 weeks did not cause any increase in body weight or any changes in body composition. Plus, there was a greater satiety and a feeling of fullness, as well as a lower sensation of hunger for 2 hours after eating the pistachio snack.
Another study showed the effect of eating an afternoon pistachio snack. Participants included 60 healthy, sedentary French women between the ages of 18-50. The experimental group received 56 grams of California-grown pistachios a day, and the control Group received 56 grams of a cheese aperitif biscuit. Results showed that adding these daily snacks had no negative impact on body weight and composition. There was a trend towards a reduction in waist size for those eating pistachios.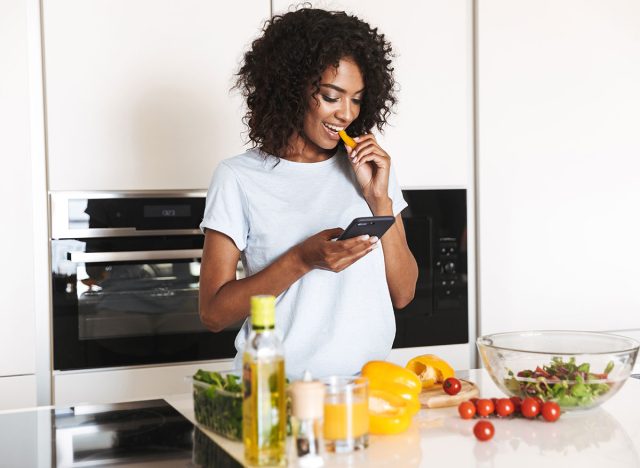 Prunes
Prunes are a gut health-supporting food that are naturally chock-full of bone health-supporting nutrients. A study found that people who snacked on prunes felt less hungry and ate fewer calories overall versus the people who ate other foods that were equal in calories. Prunes are a low glycemic index fruit that naturally contains fiber, which are two factors that may help promote satiety during snack time.
Pomegranates
The deep red color of pomegranate can make this fruit an already festive choice. And as Liz Shaw MS RDN CPT, nutrient expert & author explains, "pomegranate arils make a convenient, grab-and-go snack to keep you filled and fueled during the busy holiday season."
She highlights that "Each 1/2 cup serving provides 4 grams of dietary fiber in every half cup. Plus, each pomegranate contains a variety of polyphenol antioxidants, which may help keep your immune health strong during the busy season."
Greek yogurt
Snacking on Greek yogurt may be one step to help keep the holiday weight off. "The key to avoiding holiday weight gain is to make sure you are consuming protein and fiber-rich meals and snacks most of the time to manage hunger," says Lauren Harris-Pincus, MS, RDN, founder of Nutrition Starring YOU and author of The Everything Easy Pre-diabetes Cookbook.
She suggests snacking on plain Greek yogurt with fruit and nuts for a protein and fiber-packed treat. "Make it festive with holiday-themed varieties like pomegranate arils with walnuts or dried cranberries and pistachios for a lovely balance of blood sugar-stabilizing protein, fiber, and heart-healthy fats," she says.
Edamame
Edamame is a snack that naturally contains plant-based protein, fiber, and healthy fats. In fact, one cup provides a whopping 18 grams of protein and 8 grams of fiber, highlighting how this food is a satiating powerhouse. Edamame can be enjoyed either steamed or roasted during snacktime to help curb an appetite and support holiday weight management goals.
Roasted Chickpeas
Chickpeas, as well as other pulses like lentils, have slowly digestible carbohydrates, high fiber and protein contents, and moderate energy density, which are all key factors to help promote weight loss.
Some data shows a link between eating pulses, like chickpeas, and weight loss. Snacking on chickpeas is simple when you lean on roasted varieties, either from pre-made options or by roasting them yourself with a little olive oil and sea salt.
Popcorn
Eating whole grain foods, like popcorn, is linked to a slew of positive health outcomes, including weight loss. As long as the popcorn isn't enjoyed with large quantities of added butter, sugar, or salt, it can be a nice option for a midday snack during the holiday season. Try sprinkling some cinnamon on top of your popped kernels for a cozy and festive treat that is sure to satisfy.
Next time you're at the grocery store, make sure to stock up on a few of these snacks. That way, you can feel more satiated throughout the day and prevent the common overindulging associated with the holidays.
Lauren Manaker MS, RDN, LD, CLEC
Lauren Manaker is an award-winning registered dietitian, book author, and recipe developer who has been in practice for almost 20 years.
Read more about Lauren