8 Healthiest Dishes To Order at Olive Garden
In the mood for Italian but want something nutritious? Try one of these healthy Olive Garden menu items.
Unlimited salad and breadsticks; creamy shrimp Alfredo pasta; and a handful of Andes mints as you head home—these are the staples of the Olive Garden experience. From its beginnings in Orlando, Florida, in 1982 to 884 locations in 2022, the Italian chain restaurant has continued to serve up comforting food at a decently affordable price. Even though much of their menu is full of creamy, calorie-dense pastas and decadent desserts, there are also some healthier Olive Garden menu options to choose from.
Like most chain restaurants, even the "healthy" options on the menu are still going to be higher in calories, sodium, and fat than what you might make for yourself at home. And while home-cooked meals will almost always be superior to restaurant food when it comes to nutritional value because of your ability to control and monitor your ingredients, there are nights when you just want to forget about cooking and treat yourself to a comfort meal that someone else prepares.
For nights when you're itching to eat out but still want to have the option of not totally derailing your health goals, we talked with two registered dietitians and members of our Medical Expert Board, Amy Goodson, MS, RD, CSSD, LD, author of The Sports Nutrition Playbook, and Lauren Manaker, MS, RDN, author of The First Time Mom's Pregnancy Cookbook and Fueling Male Fertility, about healthy dishes to choose next time you head to the famous Italian-style restaurant. 
Here's a list of some healthier dishes they chose off of the Olive Garden menu. Then, for more tips on how to choose healthier options when eating out, try one of these 6 Healthiest McDonald's Breakfast Items. 
Herb-Grilled Salmon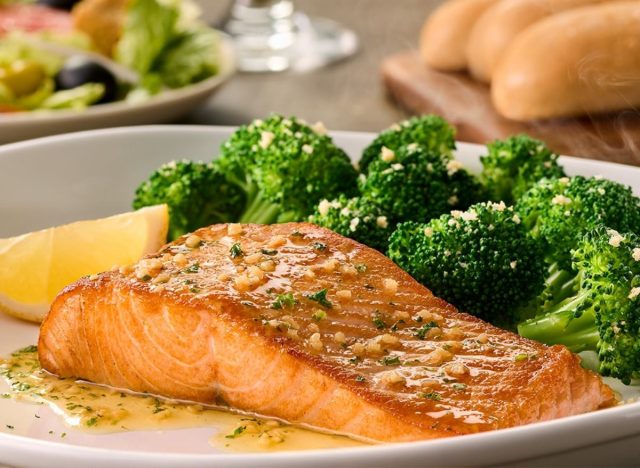 Per meal
: 490 calories, 33 g fat (10 g saturated fat), 1,170 mg sodium, 8 g carbs (5 g fiber, 3 g sugar), 45 g protein
At first glance, the fat content of this dish isn't ideal, but when you take into consideration where the fat is coming from, it changes the nutritional value entirely.
"While it is higher in fat than other dishes on the list, it is high in omega-3's, an essential fatty acid we can only obtain from our diet that supports brain and overall health," says Goodson. In fact, omega-3s—which are a type of polyunsaturated fat—have been found to also aid in heart health, inflammation, and even reducing the risk of certain cancers.
Like most dishes on the Olive Garden menu, this one is quite high in sodium, so we recommend monitoring your salt intake the rest of the day.
Grilled Chicken Margherita
Per meal
: 540 calories, 27 g fat (10 g saturated fat), 1,930 mg sodium, 14 g carbs (6 g fiber, 5 g sugar), 65 g protein
"This dish is a fantastic light option featuring grilled chicken and a side of broccoli with no additional carbohydrates, for those looking to cut back," says Goodson. "It's also high in protein, which will help you stay full longer after eating this meal."
One thing to watch for when eating at Olive Garden (as well as many other chain restaurants) is the amount of saturated fat in each meal. The American Heart Association recommends no more than 13 grams of saturated fat per day, which means you won't have much wiggle room after eating this meal. However, this meal is still lower than many options on their menu, and you'll get a boost of nutrients from the chicken, tomatoes, and broccoli.
Create Your Own Pasta: Angel Hair With Marinara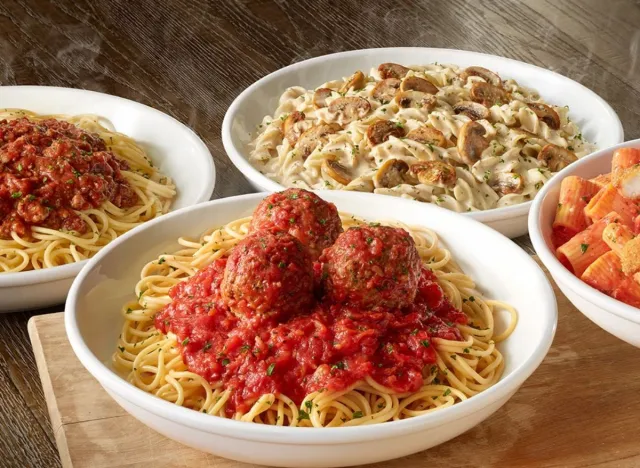 Angel Hair Pasta
: 350 calories, 2.5 g fat (0 g saturated fat), 10 mg sodium, 67 g carbs (3 g fiber, 2 g sugar), 12 g protein
Marina Sauce
: 150 calories, 9 g fat (0.5 g saturated fat), 1,280 mg sodium, 17 g carbs (4 g fiber, 10 g sugar), 4 g protein
Olive Garden has a "Create Your Own Pasta" option on the menu, which works well for people with specific dietary restrictions or health goals. If this appeals to you, Manaker suggests going for the Angel Hair Pasta With Marina Sauce.
"Pasta is a unique carbohydrate because it is made with only two ingredients, and when made, it creates a lower glycemic matrix that provides protein, energizing carbs, and other nutrients. So as long as you are keeping your portion size under control, pasta with marinara sauce is a-OK," says Manaker.
"The marinara sauce is packed with lycopene, thanks to the cooked tomato it is made with, and lycopene is a plant compound that is linked to a slew of health benefits," she adds. Lycopene has strong antioxidant properties that have been known to help your body fight free radicals. It has been found to help heart health and lower cholesterol as well.
Cheese Ravioli With Marinara Sauce
per meal
: 750 calories, 38 g fat (19 g saturated fat), 2,370 mg sodium, 63 g carbs (5 g fiber, 8 g sugar), 41 g protein
Although this dish is loaded with sodium and should maybe be avoided if you're someone watching your salt intake, there is a lot of protein to help keep you full longer.
"If you want another pasta option with more protein, the cheese ravioli is your dish, although it does have a higher calorie and fat content than the other dishes," says Goodson. "I recommend adding a side of broccoli to make this a more balanced meal."
Shrimp Scampi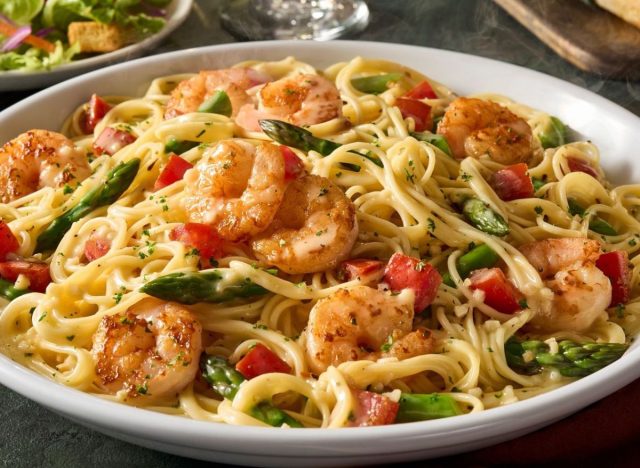 per meal
: 510 calories, 20 g fat (7 g saturated fat), 960 mg sodium, 54 g carbs (4 g fiber, 5 g sugar), 29 g protein
Opting for a healthier choice at this Italian kitchen doesn't mean you have to steer clear of pasta. For a healthier yet still hearty and comforting pasta meal, try the Shrimp Scampi.
"This dish does have a higher carbohydrate value compared to menu items like the salmon and chicken Margherita dish, but it provides a balance of vegetables, protein, and carbs—which we like to see," says Goodson. "However, it could include a better ratio of vegetables to carbohydrates—but if you exercise a lot, the higher-carb count can be a helpful option for you."
Salad With Signature Italian Dressing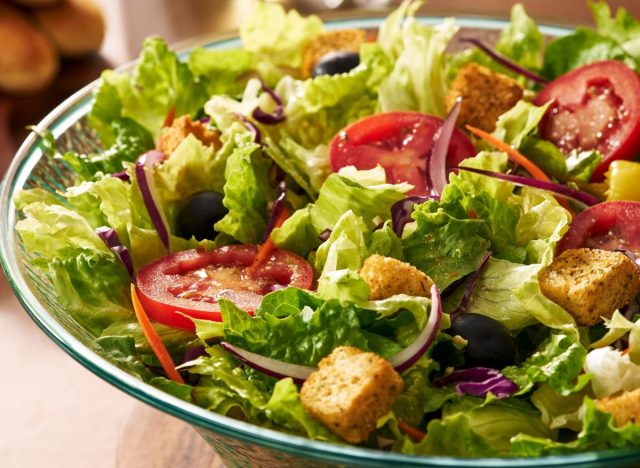 per meal
: 150 calories, 10 g fat (1.5 g saturated fat), 770 mg sodium, 13 g carbs (2 g fiber, 4 g sugar), 3 g protein
It's almost impossible to think about Olive Garden without picturing their Signature Salad next to a warm plate of breadsticks. Thankfully, Manaker says this salad option is a great choice because "it is on the lower side when it comes to saturated fat, and is packed with refreshing vegetables that help people meet their fiber needs." However, this salad likely won't be filling enough on its own, so you might want to consider ordering a side of the grilled chicken.6254a4d1642c605c54bf1cab17d50f1e
Spaghetti With Marinara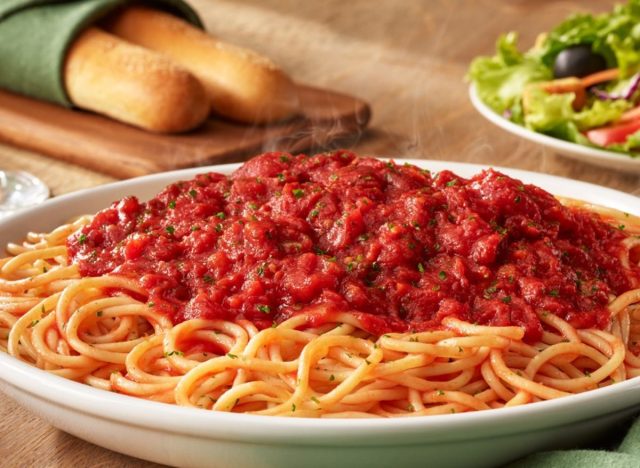 per meal
: 490 calories, 12 g fat (1 g saturated fat), 1,290 mg sodium, 83 g carbs (6 g fiber, 13 g sugar), 15 g protein
According to Goodson, a classic bowl of Spaghetti With Marina is one of the healthiest pasta options you can get at Olive Garden.
"It may be lower in calories and fat than some of the above options, but there is very little protein or vegetables," says Goodson. "So, if you are craving pasta, I recommend this dish and a side of grilled chicken."
Minestrone Soup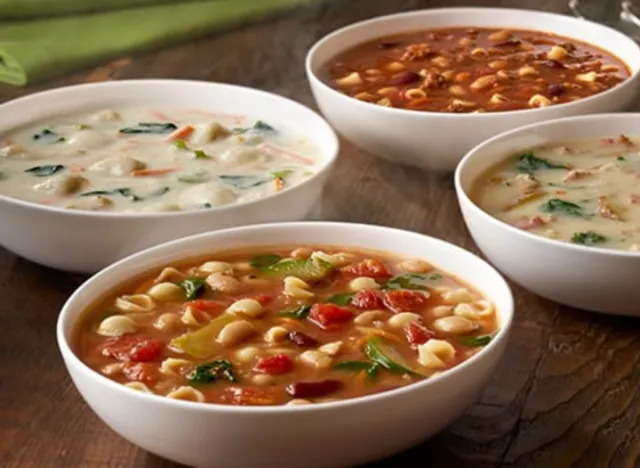 per meal
: 110 calories, 10 g fat (1 g saturated fat), 810 mg sodium, 17 g carbs (4 g fiber, 4 g sugar), 5 g protein
Another signature item at Olive Garden is a bowl of their soup. You can choose from options like Zuppa Toscana, Chicken and Gnocchi, and Pasta Fagioli, but Manaker suggests the Minestrone if you're wanting something on the healthier side.
"This soup is higher on the sodium side, but it is low in fat, contains fiber, and is chock-full of vegetables," says Manaker. "Bonus? Soups can be quite hydrating, thanks to the liquid used to make them."
Round out your meal with a salad and some grilled chicken for more nutrients and protein. Craving some of their breadsticks to go with your hot bowl of soup? Certainly don't deprive yourself, just be aware that they are about 140 calories each.
Sources referenced in this article