I Tried Starbucks' New Fall Menu & One Drink Blew Me Away
The coffee chain's signature Pumpkin Spice Latte isn't the only autumnal beverage worth sipping on this season.
The product recommendations in this post are recommendations by the writer and/or expert(s) interviewed and do not contain affiliate links. Meaning: If you use these links to buy something, we will not earn a commission.
Every year, autumn announces its arrival with a few unmistakable signs: leaves changing colors, birds flying south, and of course, Starbucks launching its hotly anticipated seasonal fall menu.
That's right, the iconic Starbucks Pumpkin Spice Latte—or, PSL, as its known among the espresso-fueled faithful—is back again, and with it comes an array of other fall-themed drinks and related treats, all available for a limited time at the popular coffee chain. The latest lineup notably includes two entirely new drink flavors, both served over ice, in addition to several returning fan favorites.
As soon as the new menu dropped last week, I grabbed two fellow taste-testers and headed to my local Starbucks to see if the chain's now 20-year-old signature drink still holds up and whether the other new and returning menu items are worth your time and money.
Read on for all the details about Starbucks new fall-inspired menu items and my impressions of each.
New Fall Drinks
Iced Apple Crisp Oat Shaken Espresso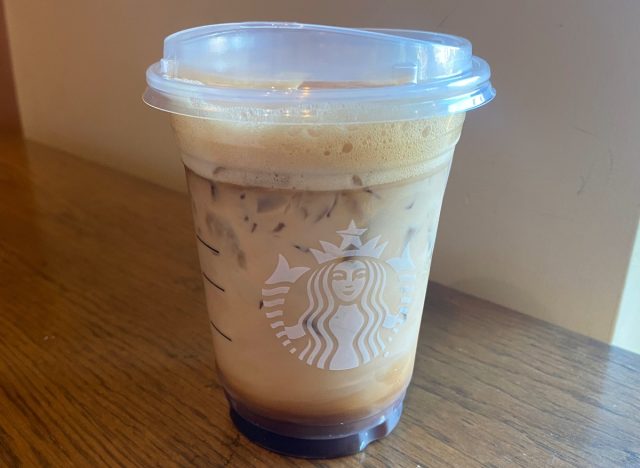 Per Serving (Grande)
: 180 calories, 4.5 g fat (0.5 g saturated fat), 190 mg sodium, 34 g carbs (0 g fiber, 21 g sugar), 2 g protein, 255 mg caffeine
The worst drink of the entire bunch, easily. The presentation was lackluster, with the espresso sitting heavily on the bottom of the cup and the shaken foam sadly shrinking away as the minutes passed. It smelled a lot like baked apple pie, but the actual flavor was mostly non-existent. And, when we could pick it up, it tasted outright artificial. This drink was not smooth at all; it lacked both viscosity and mouthfeel. And while there's a slight apple aftertaste, it's completely overpowered by the espresso. It's like the apple and coffee got in a fight and the coffee won. If you love the Iced Brown Sugar Oatmilk Shaken Espresso, this is not that. It's watery, melty, and the apple brown sugar flavor is no match to the coffee. I'd pass on this.
Iced Pumpkin Cream Chai Tea Latte
Per Serving (Grande)
: 460 calories, 17 g fat (11 g saturated fat), 160 mg sodium, 68 g carbs (0 g fiber, 66 g sugar), 10 g protein, 95 mg caffeine
Taking note of a popular customer and barista customization, Starbucks decided to plop its delectable pumpkin cream cold foam atop an iced chai tea latte. The results are insanely delicious. Featuring spiced chai and pumpkin spice dusting, this is a 10/10 if you have a sweet tooth. The presentation was really nice—it looked just like the ad—and the light orange-hued  float stayed in place the whole time we were drinking it. Starbucks is definitely onto something with that pumpkin cream foam; it complements the chai really well. Of the two new drinks we tried, this one is the star of the show. We drank the whole thing.
However, this will be excessively sweet (perhaps sickeningly so) for some drinkers. It's more like a caffeinated dessert with a whopping 66 grams of sugar! Starbucks describes it as a drink for the "iced indulger," and that feels apt. And while we tasted more chai than pumpkin, my fellow tasters and I didn't mind at all. The velvety smooth mouthfeel was next level. If you can ignore the high sugar content, and you prefer tea over coffee, it's worth trying.
Returning Fall Drinks
Apple Crisp Oat Macchiato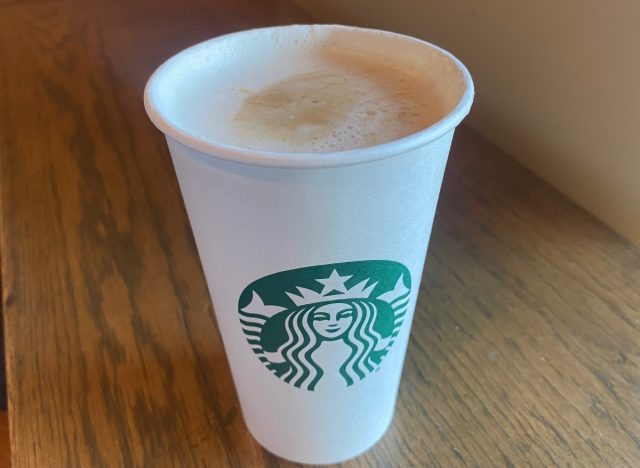 Per Serving (Grande)
: 320 calories, 9 g fat (0.5 g saturated fat), 260 mg sodium, 53 g carbs (3 g fiber, 32 g sugar), 5 g protein, 170 mg caffeine
This apple-inspired macchiato is back on the fall menu for its third year, but I hadn't tried it until now. Right away, it smells like a delicious baked apple pie. Visually, it was lacking—the spiced apple drizzle quickly sunk to the bottom. We liked that it was lighter than the PSL, probably due to the oat milk. I didn't expect to like it as much as I did; it had a pleasant apple flavor and it was not overly sweet. The heated oat milk was a better conduit for the apple brown sugar syrup, compared to the shaken iced espresso. This macchiato is proof that Starbucks apple syrup should only be served hot. Overall, we deemed it an underdog that punches above its weight and has potential to be the next go-to fall beverage that sparks copycats from competitors.
Per Serving (Grande)
: 250 calories, 12 g fat (8 g saturated fat), 55 mg sodium, 31 g carbs (0 g fiber, 31 g sugar), 3 g protein, 185 mg caffeine
We deemed this cold brew the most accessible to those unfamiliar with Starbucks' fall offerings. It's a perfect iced drink to transition into a more festive, seasonal beverage, due to the tasty pumpkin cream foam. Noticeably, the cold brew at the bottom was too light in color, more milky than the deep brown advertised on the menu. And while the cold brew slightly overpowers the pumpkin flavor, it's still mostly balanced. It's not as sweet as the new chai latte with pumpkin cream, and the coffee flavor came through. All around, this was a crowd pleaser. If you showed up to a friend's house with this as a surprise treat, I don't think they would turn it down. Compared to the watery Apple Crisp Oat Shaken Espresso, this one goes down smooth and easy.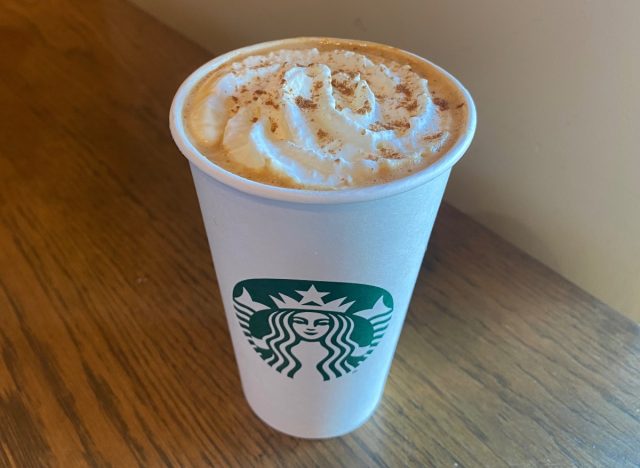 Per Serving (Grande)
: 390 calories, 14 g fat (9 g saturated fat), 230 mg sodium, 52 g carbs (0 g fiber, 50 g sugar), 14 g protein, 150 mg caffeine
The drink that started it all is back on the fall menu for its 20th year. Since its launch in 2003, the PSL has been Starbucks' most popular seasonal beverage and has a cult following. Taste-wise, there's not much to say—the drink still hits after two decades. It's very sweet (thanks to the whip cream on top) and extremely indulgent (it packs 50 grams of sugar!). The presentation was solid and it smelled great. It brings to mind cooler autumn days ahead. It's a solid performer of the group. Of all the drinks, my friend picked this one to take to work after the taste test, and we ranked it near the top.
Fall Food Items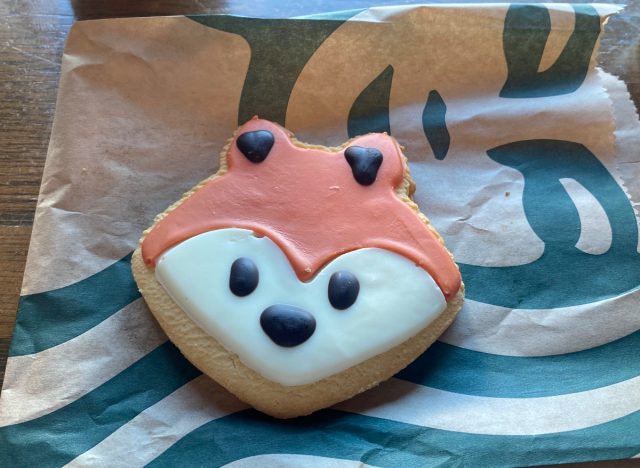 Per Serving (1 piece)
: 320 calories, 18 g fat (11 g saturated fat), 25 mg cholesterol, 115 mg sodium, 36 g carbs (0 g fiber, 18 g sugar), 3 g protein
I'm not a big baked goods fan—or sugar cookie fan, for that matter—but this cookie was simply not good. It was desert-dry, and as I bit into the adorable fox face, it flaked off and crumbled into my mouth in an unpleasant way. And as for flavor, there was none, other than simply "sweet." Starbucks describes it as "a rich, buttery sugar cookie," but we had other ideas. One taste-tester likened it to Elmer's glue. Another said it was like a drier version of those sugar cookies cased in plastic containers and sold at the grocery store. If I must say one good thing about it, the white chocolate icing was sweet and tasty, but nothing special.6254a4d1642c605c54bf1cab17d50f1e
Per Serving (1 Piece)
: 380 calories, 15 g fat (2.5 g saturated fat), 60 mg cholesterol, 500 mg sodium, 58 g carbs (2 g fiber, 34 g sugar), 6 g protein
If you like Starbucks' lemon loaf, the Pumpkin & Pepita Loaf is like its grown-up, more sophisticated relative. You might be able to get away with eating this one for breakfast, because it tastes only semi-sweet in comparison, but the sodium count is staggering. The loaf came warmed, and I enjoyed the crunch of pepitas on top, though the presentation was not great. The crust was falling away from the pumpkin bread when I opened the bag. And it was dry. Only the very middle of the loaf was moist. Mostly a skip.
Pumpkin Cream Cheese Muffin
Per Serving (1 PIECE)
: 350 calories, 14 g fat (4 g saturated fat), 55 mg cholesterol, 430 mg sodium, 53 g carbs (1 g fiber, 34 g sugar), 5 g protein
This muffin is miles more moist than the pumpkin loaf, mostly due to the cream cheese icing, which is quite tasty. Though the texture lives a bit to be desired—it sort of mushes together in a pasty way—at least it's not dry. This could be a good option for someone who isn't crazy about pumpkin flavored treats, as the pumpkin flavor was quite mild and not overpowering. Make sure to get a touch of the cream cheese icing in every bite because it's essential for your enjoyment. Otherwise, what's the point?