A Hearty Steak and Eggs With Chimichurri Recipe
Loaded with protein, healthy fat, and even a bit of fiber, you can't go wrong with this dish.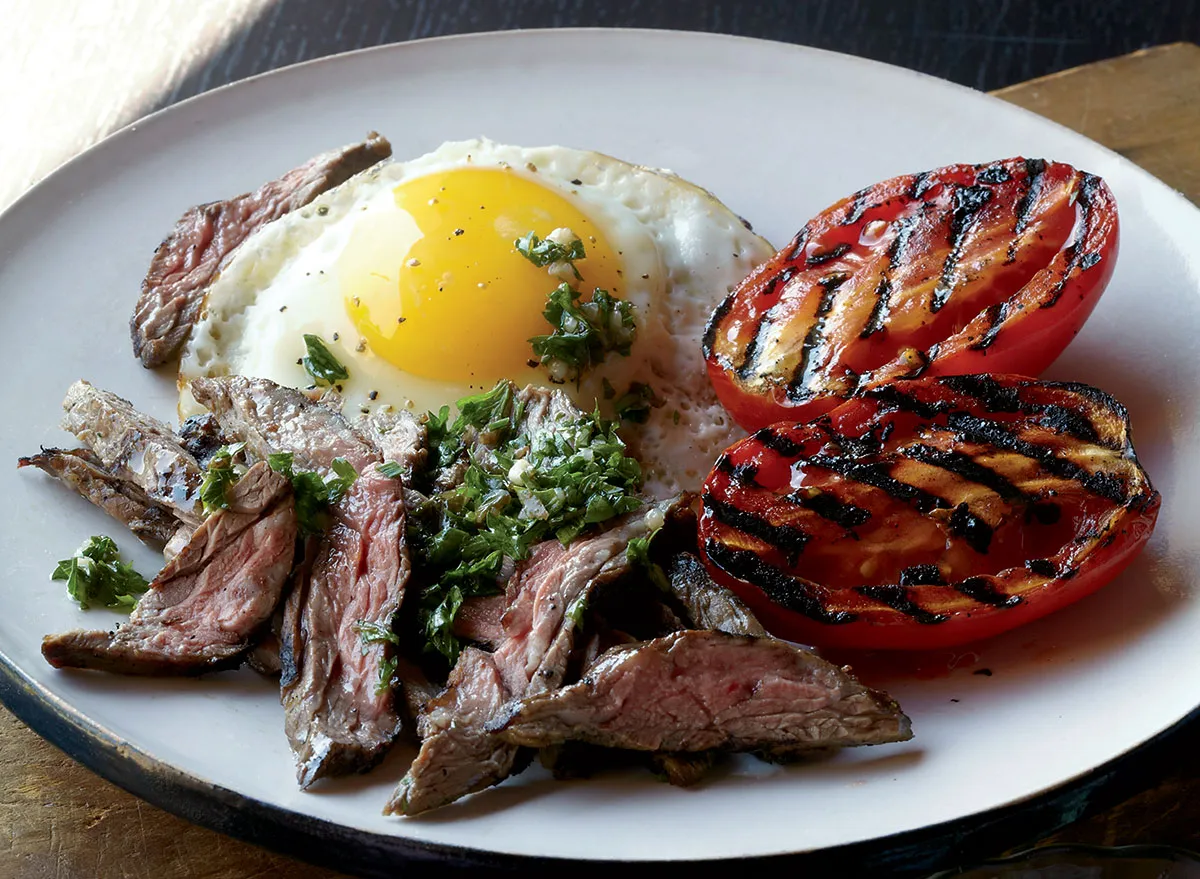 There's nothing subtle about the commingling of seared steak and egg yolk in the morning. You know you're in for something serious even before it hits the table. Amazingly enough, though, this is a near-perfect nutritional start to your day, loaded with protein, healthy fat, and even a bit of fiber. This steak and eggs meal works as well at 11:30 a.m., as a cure for a hangover or post-workout hunger pangs, as it does at 8 p.m., as a remedy for a long day at work.
Nutrition: 400 calories, 23 g fat (5 g saturated), 660 mg sodium
Serves 4
You'll Need
1 Tbsp olive oil
1 lb flank or skirt steak
Salt and black pepper to taste
4 Roma tomatoes, halved lengthwise
4 eggs
Chimichurri6254a4d1642c605c54bf1cab17d50f1e
How to Make It
Heat 1⁄2 tablespoon of the olive oil in a grill pan or cast-iron skillet over high heat.
Season the steak all over with salt and pepper.
Cook, turning the steak every minute or so, for 7 to 8 minutes total, until fully browned on the outside and firm but fully yielding to the touch.
Remove to a cutting board and rest for 5 minutes before slicing.
While the steak rests, place the tomatoes cut-side down in the same pan and cook for about 2 minutes, until the bottoms are lightly blackened.
Heat the remaining 1⁄2 tablespoon olive oil in a large nonstick pan.
Working in batches, crack the eggs into the pan and fry until sunny-side up, the whites just set and the yolks still loose. Season with salt and black pepper.
Slice the steak against the natural grain of the meat.
Divide among 4 warm plates with the eggs and tomatoes. Spoon chimichurri liberally over the steak and eggs.
Eat This Tip
Chimichurri
This bright green garlic and parsley sauce is Argentina's most ubiquitous condiment for a reason: It has that unique power to make almost everything taste better. Grilled steak and chimi is the classic combo, but it makes even more sense when you add eggs to the picture. Beyond beef, try chimichurri as a sandwich spread, as a topping for roast chicken or grilled fish, or as a dipping sauce for grilled asparagus or crispy roasted potatoes. It keeps for a week in the fridge and gets better with time, so make up a big batch and go to town.
Love this recipe? Subscribe to our Eat This, Not That! magazine for even more at-home cooking and healthy eating ideas.