The Worst Juices to Buy at Costco Right Now, Say Dietitians
Just stick with 100% juice and you'll be fine.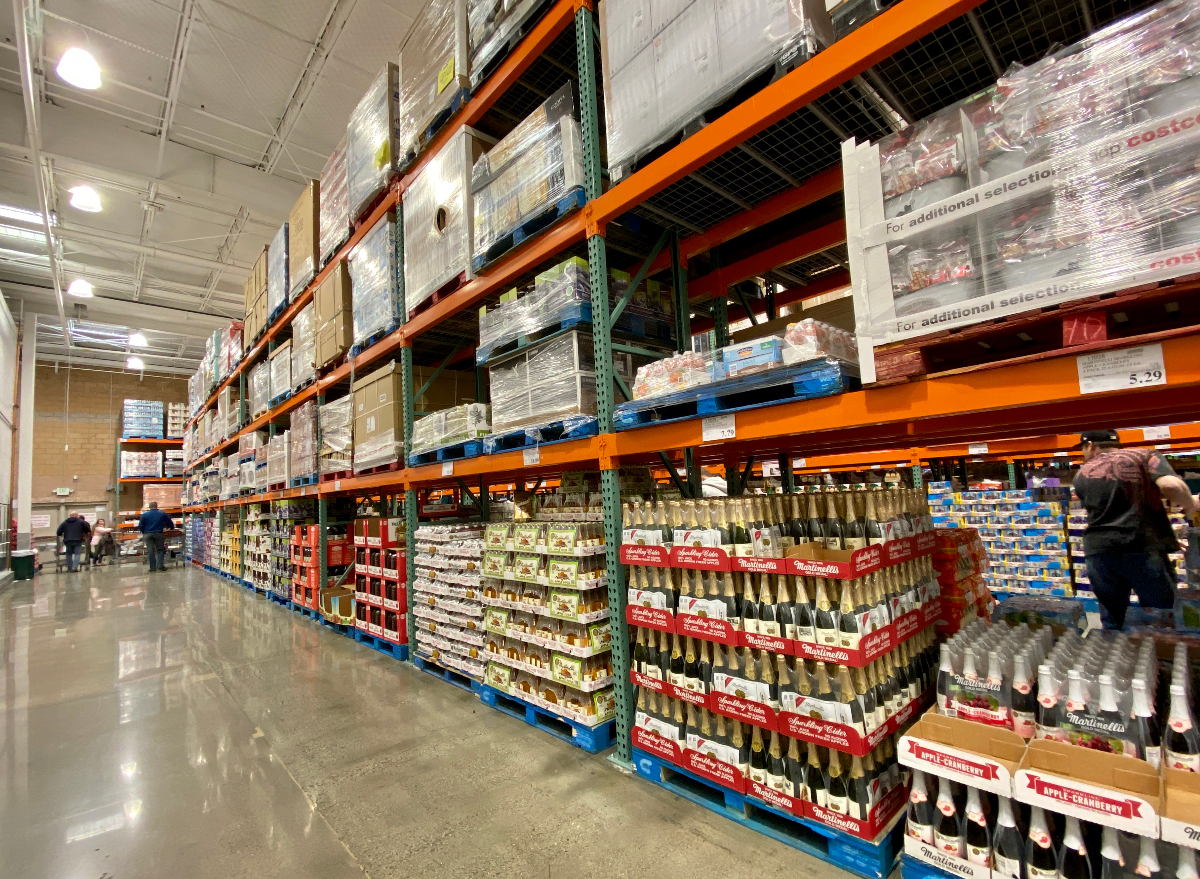 Not all juices are created equal. In fact, a lot of them are made with a ton of added sugar that doesn't come naturally. Costco's juice selection is, of course, pretty hefty, but several of the options are ones you should leave behind on the shelves so as to not have the bulk-sized option in your fridge.
Before we get into what you shouldn't drink, here's what you should: 100% juice. Before bringing juice home from Costco (or any grocery store), check out the nutrition label. You're looking for juices that are primarily made with actual produce, not sugar or high fructose corn syrup. The added sugar content on the label will also tell you if you're picking up something that's way too loaded with the sweet stuff. If it's labeled 100% juice on the front, check the label on the back, but most likely, this will be your best option!               
Now let's get into the ones you want to avoid, according to food nutrition experts.
Related: 6 Things You'll See at Costco This Year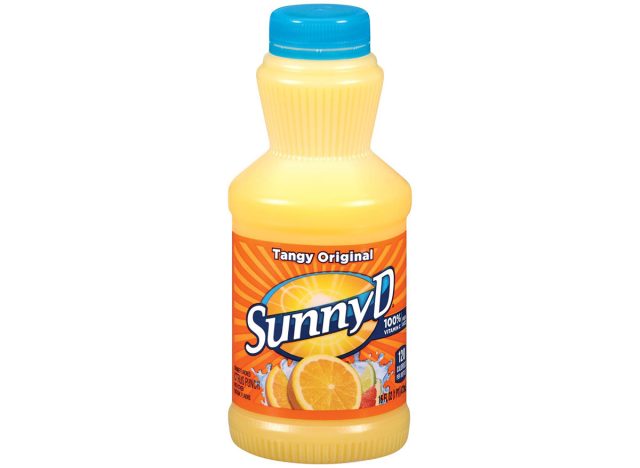 6254a4d1642c605c54bf1cab17d50f1e
Though delicious, Sunny D is a sad excuse for orange juice. It's loaded with sugar and may actually make you more thirsty after you drink it.
"Made with 12 grams of added sugars and with high fructose corn syrup as the first ingredient, this drink is hardly the same as drinking 100% orange juice, which does not contain any added sugar or artificial ingredients," says Charleston-based registered dietitian Lauren Manaker, MS, RDN, LD.
Instead of this, you should reach for pure orange juice so you can get some important vitamins and minerals.
"If you're interested in the vitamin C, you can also get that from 100% orange juice like this one," adds Kacie Barnes, MCN, RDN, of Mama Knows Nutrition.
Juice cleanses like this one can be tempting, especially after a holiday or a vacation where you might have eaten or drunk more than you planned. Cleanses, however, aren't really a good idea, though, Barnes says, and should be avoided.
"You don't need to drink juice to 'cleanse' your body, your liver does that," she says. "This three-day program will leave you with a headache, starving, and probably will lead to binging once you finish — if you can make it all the way through. I do not recommend."
Instead of doing a cleanse, focus on eating well-balanced meals throughout the day and drinking plenty of water to jump back into a healthy eating plan.
Kirkland Signature Lemonade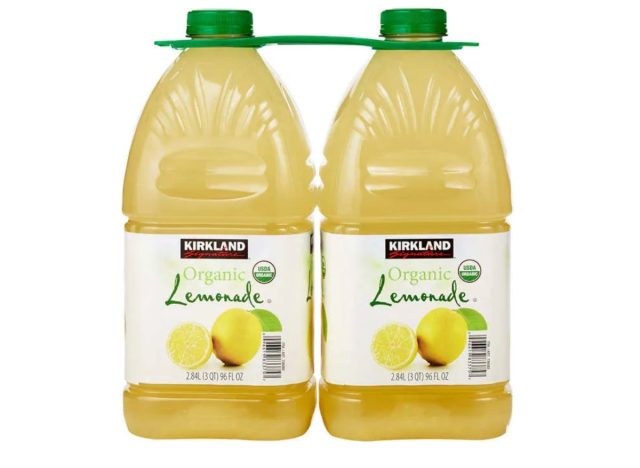 Another delicious juice that'll do nothing for you is Kirkland's lemonade. It makes sense that it would need to be pretty sweet to taste good — it is lemonade, after all — but it is very, very sweet.
"With 29 grams of added sugars and very little in the nutrition department, this lemonade is a sugar bomb that is essentially empty calories," Manaker says.
You're better off squeezing some fresh lemon into a glass of water for that hint of taste without the added sugar.
V8's drinks are ones that make you think you're drinking something healthy because it's advertised as having fruits and vegetables in it. And some of them aren't too bad! V8 Splash, though, is not one of the better options from the collection, despite looking like it's chock-full of fruit.
"V8 splash has added high fructose corn syrup, you're going to get better nutrition from any of the 100% juice options that Costco sells," Barnes says.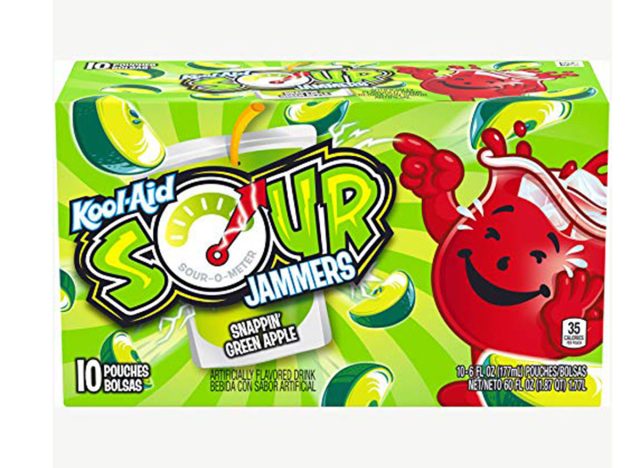 We love a kids' drink as much as kids do, but that doesn't mean it's healthy. Then again, you probably already knew Kool-Aid Jammers wasn't a great option because of how sugary they are. You'd be correct in assuming so.
"With the second ingredient being high fructose corn syrup, and made with artificial colorings, this drink is not equivalent to the nutrition provided by 100% fruit juice — despite it being fruit flavored and colored," Manaker says.
Though you could drink this juice sparingly as a treat, it's not one you should have in regular rotation.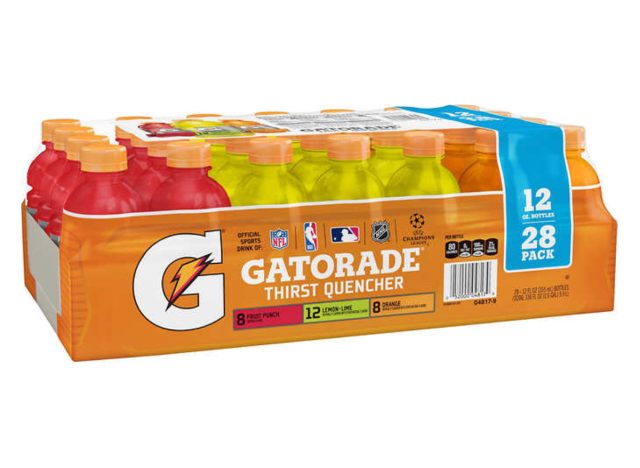 The popular sports drink is probably not something you're going to have with your breakfast, but it is still juice.
"It's quite high in added sugar and I only recommend it for endurance athletes," Barnes says.
It can give you a bit of a boost if you're working out intensely, but otherwise, sticking with water is a better bet.
Hedy Phillips
Hedy is a freelance writer with years of experience covering buzzy food trends, wellness, and weight loss.
Read more about Hedy