Sydney Sweeney's Exact Breakfast, Lunch, and Dinner
See how this Euphoria star keeps her figure.
Strutting the 2022 Oscars red carpet in style– Miu Miu custom style to be exact– Sydney Sweeney showed off her slim frame and toned legs. But we already knew that the Euphoria star had an amazing body; after all, Season 2 of the hit HBO Max series had her character Cassie rock some pretty glamorous outfits.
So how does the actress stay in such good shape? Well, her mixed martial arts (MMA) training certainly helps. That's right, as seen in her recent Instagram post, Sydney gets her full-body workouts in with MMA. "I started when I was 14 and did my first competition at 18," she told Marie Claire. "It was a grappling competition against all guys a weight category above me, and I got first place." Female power at its finest.
But the star thinks about what she puts into her body too– she's even been trying new foods lately. "I used to be a really picky eater, and for whatever reason my palette has changed and I'm really into food now," she told Story + Rain. While Sydney strives for balanced meals, she's also not afraid to treat herself. Between her roles in Euphoria, The Handmaid's Tale, and The White Lotus, her active lifestyle certainly allows it.
Read on to find out exactly what Sydney Sweeney eats for breakfast, lunch, and dinner, and next, check out 9 Celebs Who Don't Drink Coffee.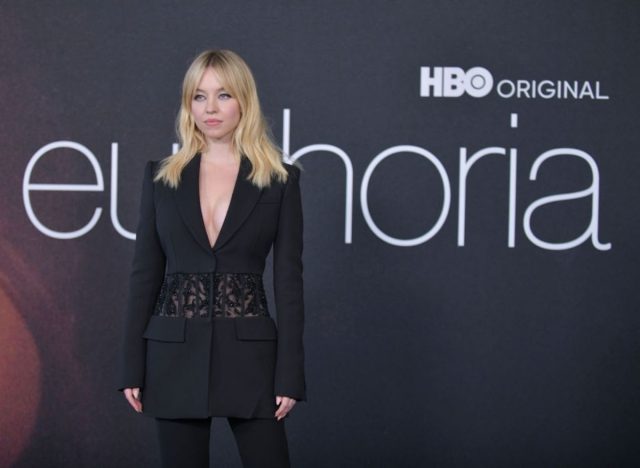 Berries are a must for Sydney's morning meal. She'll typically pair her fruit with a pastry or toast: "I like to start the day with berries. Right now, I'm really into this croissant toast that I eat with cinnamon sugar and honey butter," she told Bustle in a 2021 interview. Sydney also stays hydrated with plenty of water in the morning and throughout her day. "I only drink water," she said. No coffee for this Euphoria star.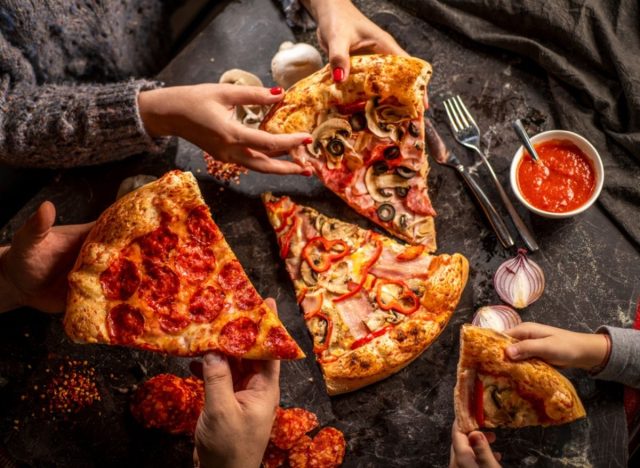 It's pretty obvious from Sydney's Instagram that she loves pizza, but she can't eat pizza every day for lunch and look that good. Instead, she'll often opt for an assorted cheese and meat board. "It started with my favorite restaurant in California, Wally's. They have this amazing meat and cheese platter," she told Story + Train. Sydney really seems to enjoy cheese, whether it be mozzarella on a margarita pie or aged cheddar on a fancy platter.
And she gets her greens in too– sometimes she'll whip up a side salad with her meats and cheeses, or, if she's treating herself to pizza, she'll have the salad on top of the pie! She posted an Instagram photo with the caption: "busted eating 3 pizzas 🤤🤭", and it looks like there's leafy greens and cherry tomatoes on her pizza plate. Who can resist a salad pizza?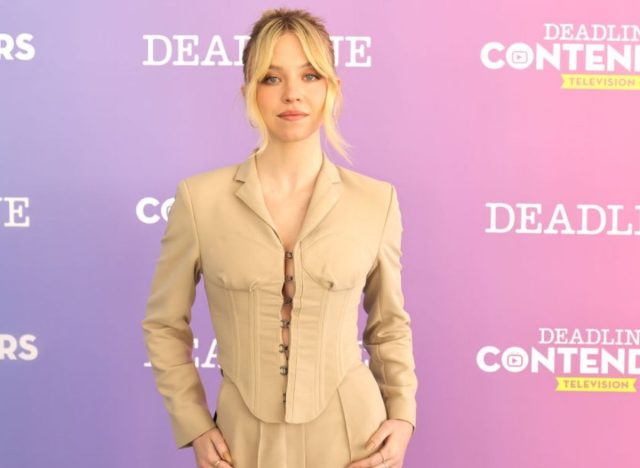 Anything truffle is Sydney's rule. Recently, the star was introduced to truffles, and she's never looked back. "I'm really into truffles," she said in her Story + Train interview, "I went to Oak Tuscan Truffle Lounge here in New York and I had a truffle burger, truffle spaghetti, truffle roasted potatoes, and a truffle dessert…it was the most amazing meal." A typical dinner for the Euphoria actress will include either fish or chicken, veggies, and a grain– likely with one of them cooked in truffle oil.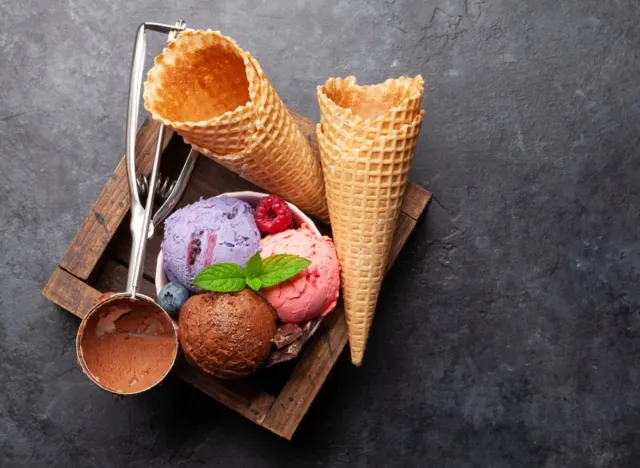 Popcorn is a typical snack for The White Lotus star: she even posted an entire photoshoot with a bucket of popcorn on Twitter. But we all have our cheat snacks, and Sydney craves a few sweet ones. "I'll have some Swedish Fish or anything gummy if I'm tired," she told Bustle. Besides Swedish fish, she also treats herself to ice cream and cookies every now and then. She posted a photo eating an ice cream cone on Instagram with the caption: "icecream is the way to my ❤️ (& cookies)." But when you're burning a ton of calories with MMA workouts, you can certainly squeeze these desserts into your weekly diet.6254a4d1642c605c54bf1cab17d50f1e
Want to read more about celeb diets? Check out 5 Eating Habits Daphne Oz Lives By.
Mia Salas
Mia is a freelance writer for several publications and a soon-to-be graduate from Princeton University with a degree in English.
Read more about Mia