5 Healthy Eating Habits Daphne Oz Lives By
From meal prepping to snacking, the TV host shares exactly how she leads a healthy lifestyle with Eat This, Not That!.
It's no secret that the kitchen is Daphne Oz's happy place. As an Emmy award-winning TV host, New York Times bestselling author, and trained natural foods chef, Oz has made it her mission to share her love of food with the world while helping people develop confidence in their own kitchen.
Now, the cooking star is sharing her culinary insights with the next generation of chefs as the newest judge on the eighth season of MasterChef Junior, which premieres on FOX on March 17. "[The MasterChef Junior contestants] showed up with, first of all, incredible skill sets," Oz tells Eat This, Not That! in an exclusive interview. "I was genuinely blown away by eight-year-olds who can roll their own pasta and 10-year-olds who have a favorite ceviche recipe—things that just don't dawn on you as child's play. And yet, their passion is so alive and their willingness to learn is so present."
When it comes to Oz's personal approach to food, she aims to create meals that are realistic and balanced, yet celebratory. From publishing The Dorm Room Diet at age 20 to help college students develop healthy lifestyles to whipping up recipes as one of the current hosts of The Good Dish, Oz has adopted several eating habits that keep her health and happiness at the center. Read on to discover Oz's go-to healthy eating tips, and for more, check out 16 Celebs Share How They Make Oatmeal.
Oz never compromises flavor for nutrition.
Eating healthy can sometimes feel daunting because of the myth that healthy food is often bland and uncraveable. Oz strives to challenge this mindset.
"I can never eat something with the sole purpose of having it be healthy," she says. "…I'm of the opinion that taking good care of yourself should always be delicious."
For Oz, this means leaning into a lot of vegetables, using high-quality protein, and embracing flavorful spices. One of her favorite dishes that includes these elements is her chicken paillard topped with a Greek-style salad with dill, feta cheese, and an olive oil and lemon vinaigrette.
Another way Oz ensures flavor isn't compromised at the expense of nutrition is by "lightening up" comfort food. She does this by incorporating more vegetables into a recipe and using leaner meats. For instance, when making meatloaf—which often calls for a combination of ground beef, turkey, and pork—Oz will solely use ground turkey and pork and add grated vegetables to keep the dish on the lighter side.
She sets rules for herself when seeking a health reset.
Although Oz doesn't typically eat by a rigid set of restrictions, after having her third child, Nika, she started experimenting with specific guidelines to bring her mind, body, and energy back on track. Now, whenever the mother-of-four is seeking a health reset, which could be when she is stressed or feeling like her healthy habits have slipped, she follows four rules: no gluten, no refined sugar, and limit dairy for five days of the week, and then take the weekend off.6254a4d1642c605c54bf1cab17d50f1e
"I just wanted healthy eating to not feel like a job. I wanted to be able to do it in a way that was intuitive, and the best way that I knew how to do that was to keep the rules really simple," she says. "It's not about having to count calories or count grams of fat or remembering what list of foods is on the 'no-go' list or anything like that."
For Oz, cutting out gluten and sugar, which she says are her weight triggers, has allowed her to focus on consuming more nutrient-dense foods like vegetables, fruits, healthy fats, and legumes. A major component of her set of rules is not feeling like she's "on a plan."
"They're just delicious foods that happen to be good for you while letting those work their wonders to help me reestablish good, healthy habits and feel strong in my skin again," The Good Dish host says.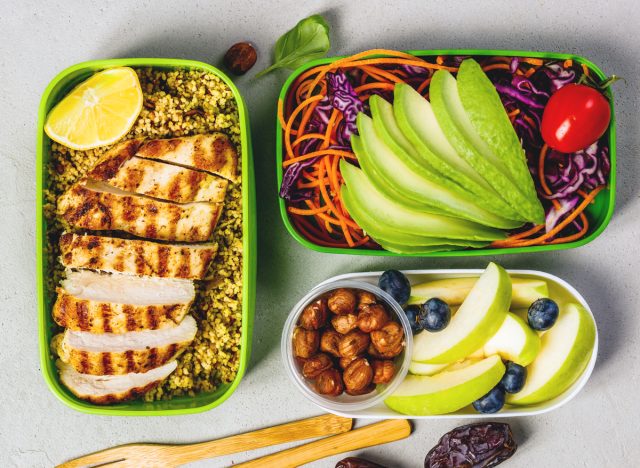 Whether she's cooking dinner for her family or packing a snack for herself, Oz ensures that there is intention behind her food choices.
"I think that's part of the battle for people. When they feel like cooking healthily, they haven't planned ahead for it, and they're making those decisions when they're already hungry," she says. "It's way harder to stick with than just grabbing something quick out of the box or chucking something in the microwave that doesn't feel as nourishing."
Oz plans her meals and snacks ahead of time by ensuring her pantry is stocked with ingredients that she can build dishes around, such as grains, beans, lentils, and flavorful condiments. When it comes to snacking, Oz will frequently opt for nuts, fruit, carrots and hummus, popcorn, or her current favorite: Persian cucumbers drizzled with Sriracha.
She prioritizes hydration.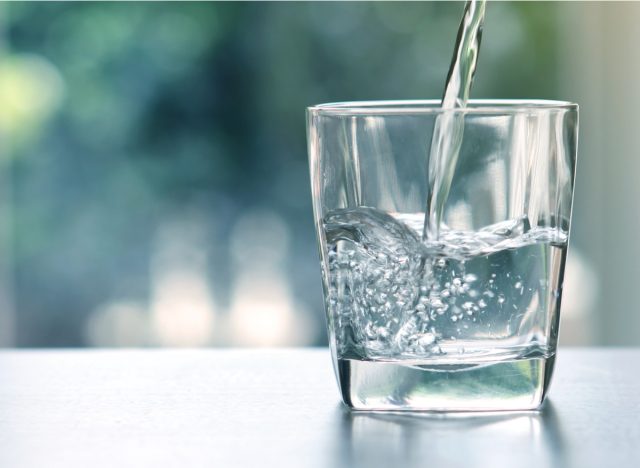 People often mistake thirst for hunger, which can lead to unnecessary snacking. To combat this, Oz recommends a popular rule of thumb: drink half your body weight in ounces of water.
"See how much more alert and awake you feel, clearheaded—your skin is clearer," she says. "All these things that you care about are just from keeping your body well-hydrated, not to mention the fact that you can better recognize when you're actually hungry at that point."
She's not afraid to take risks in the kitchen.
Reflecting on her experience as a judge on MasterChef Junior, Oz recognizes the overwhelming nature of being new to something—especially as an adult. But she believes the confidence gained once mastering a skill—like cooking a delicious recipe—will feed you in several ways.
"The kitchen is an incredible place to stamp your passport without ever leaving home, adventure on a daily basis, and feel sexy and glamorous and accomplished and confident…" she says.
For more celeb food news, check out Jennifer Lopez's Exact Breakfast, Lunch, and Dinner.
Brianna Ruback
Brianna is a staff writer at Eat This, Not That! She attended Ithaca College, where she graduated with a degree in Journalism and a minor in Communication Studies.
Read more about Brianna