I Tried the Signature Burritos at Taco Bell, Chipotle, & Qdoba—and Only One is Both Flavorful & Filling
See how America's top burrito contenders stack up side by side.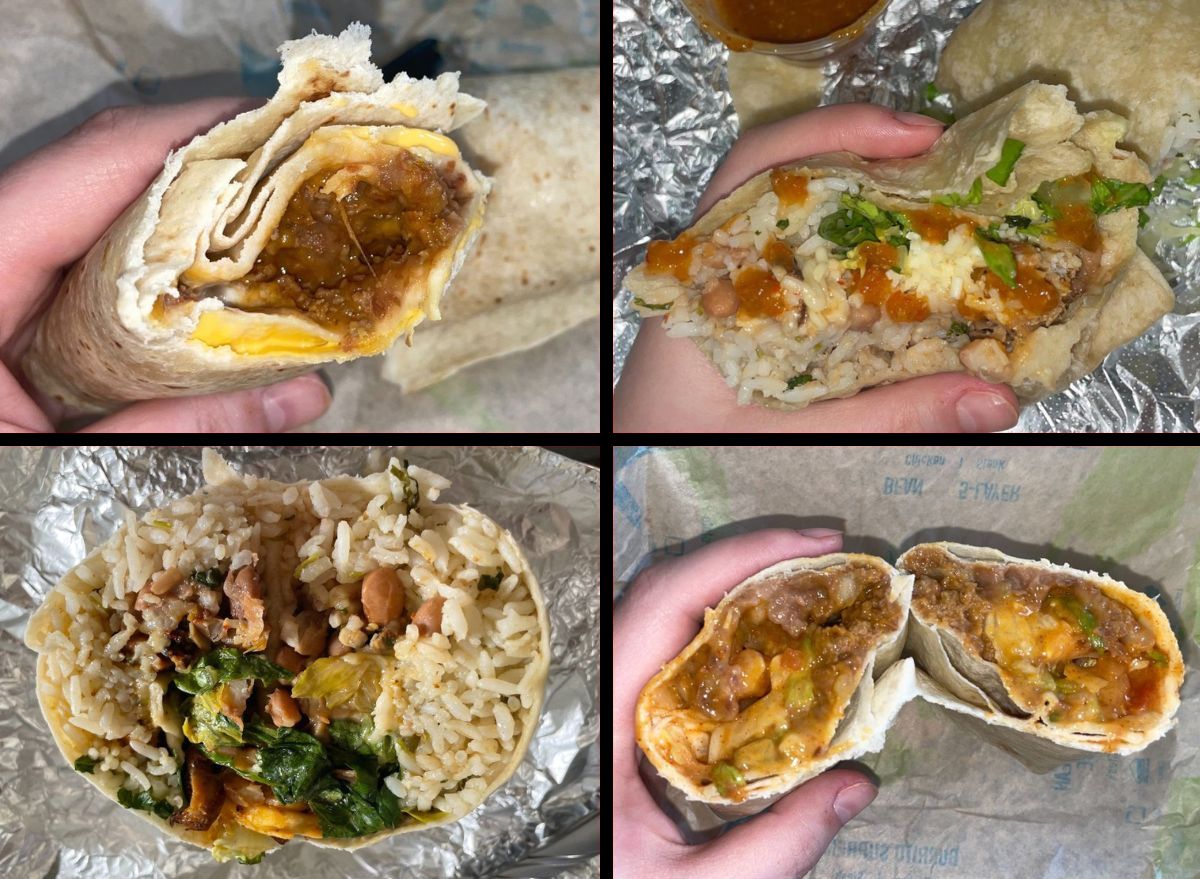 Anyone who loves a good burrito knows it's not just about size or how much meat it holds. A top-notch burrito has to have a flavorful base, quality protein, fresh vegetables, and tasty toppings all wrapped up in a tortilla in consistent proportions. 
Plus, while it's no secret that there's a big market for burrito lovers, the demand for burritos is escalating and is expected to increase by $1.44 billion from 2020 to 2025, according to Technavio. This major growth in burrito sales is largely thanks to the increasing popularity of Latin American cuisine in general.
Due to this increasing demand, the biggest Tex-Mex and Mexican-inspired chains are constantly going head to head to win over customers. In order to determine if one truly comes out above the rest, we pitted signature burritos from the three top brands, Taco Bell, Chipotle, and QDOBA, to see which spot makes the king of burritos.
I tried four different burritos from these three chains and the winner hit all the right notes and filled me up.
Taco Bell's Burrito Supreme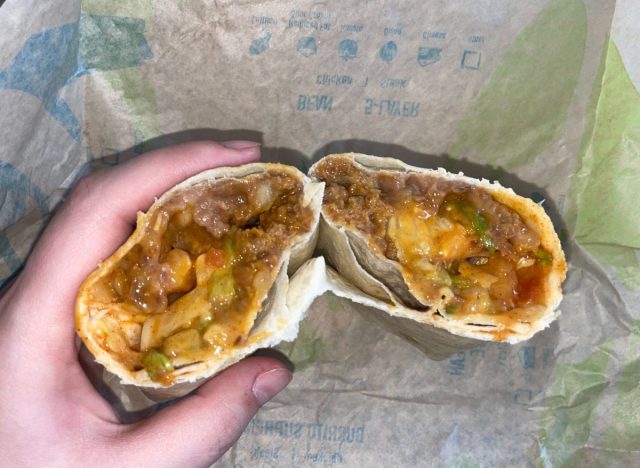 The Burrito Supreme is a Taco Bell exclusive menu item, well-known for being the chain's signature burrito. The Burrito Supreme features a warm flour tortilla loaded with seasoned beef, refried beans, red sauce, lettuce, real cheddar cheese, diced onions, tomatoes, and reduced-fat sour cream.
The look: This burrito was noticeably smaller in overall size compared to its competitors. Also, from the looks of things, there wasn't a whole lot of meat inside. On the plus side, the burrito did look inviting with all the ingredients under the sun stuffed inside.
The taste: This burrito had a better variety of crunch and texture than I was expecting, thanks to the mix of fresh lettuce, tomatoes, and onions. It was nice to get a dose of Taco Bell's signature red sauce—as it's one of my personal favorites—but I think it could've used a little more. The only thing this burrito was missing was more cheese! It's listed as an ingredient, but I could not taste it through the other ingredients. 6254a4d1642c605c54bf1cab17d50f1e
While this wasn't the worst burrito I've ever tried, and I'd definitely get it again, it just wasn't the best in this test.
Taco Bell's 5-Layer Beefy Burrito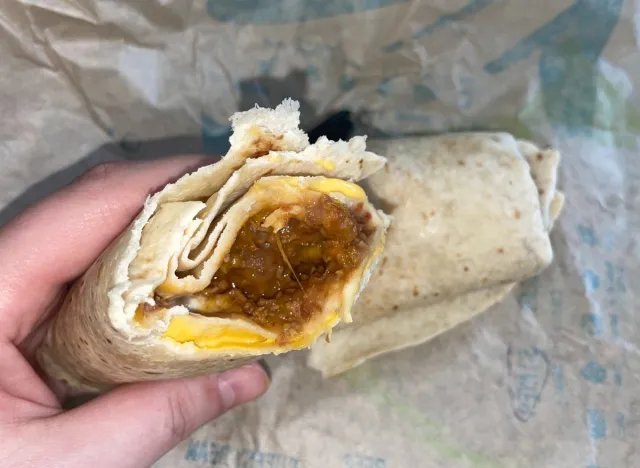 The 5-Layer Beefy Burrito is another Taco Bell classic and cult favorite. This layered burrito comes with seasoned beef, refried beans, reduced-fat sour cream, and a blend of shredded cheese, wrapped in a tortilla which is then coated with nacho cheese and wrapped in a larger warm flour tortilla. 
The look: I thought the Burrito Supreme was tiny, that was until I opened the wrapper of this one. The 5-Layer Beefy Burrito, despite its big name, was a tiny delectable-looking little wrap. However, after cutting into it, I was a little disappointed that the fillings didn't look proportionate to the semi-large tortilla on the outside.
The taste: If you love cheese, this burrito will serve you up a whole lot—the nacho cheese and melty, shredded cheese definitely take over most of the flavor. Beyond that, the beans and seasoned beef get lost in the mess of cheese and sour cream. 
I did really enjoy adding a packet or two of Taco Bell's mild sauce, but I think next time I order this item I'll have to ask for double meat or substitute the seasoned beef for chicken to add some oomph. When you hear 5-layer burrito, you're not thinking of something so tiny and lacking in the beans or meat department.
QDOBA Chicken Burrito (with the classics)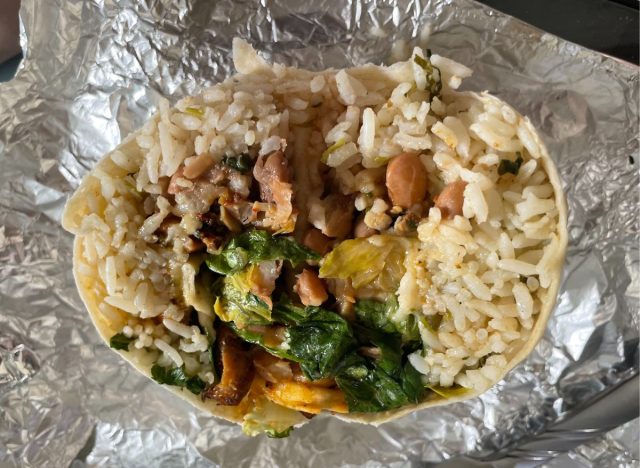 QDOBA, like Chipotle, offers customers freshly-made, Mexican-inspired food which can be altered or customized to their preferences. One of the signature ingredients of the chain is Grilled Adobo Chicken, so that's what I ordered in the burrito for this taste test, alongside the classic add-ons available: white cilantro lime rice, beans, shredded cheese, salsa verde (another crowd favorite), and romaine lettuce.
The look: After carefully slicing this burrito in half, I noticed each layer of ingredients stacked perfectly on top of each other but rice and beans definitely played the biggest role. While QDOBA serves each burrito component off of an assembly line—frequently swapped in and out—not everything looked quite as fresh as I would have expected. The lettuce was limp, the beans looked dried out, and the cheese was not the best looking either. 
The taste: Looks aside, I was immediately impressed with the taste of this burrito after one bite. The unique and delicious flavor of the chain's signature ingredients shone through. The chicken was tender and seasoned with a really nice rub. The flour tortilla was soft and thin, allowing the other ingredients to shine. 
If I were to order this burrito again, I would definitely get extra salsa because it had a nice spice without being super spicy. While this was a shockingly good contender in this test, it was still just a few flavors away from the number one burrito. 
Chipotle
 Chicken Burrito (with the classics)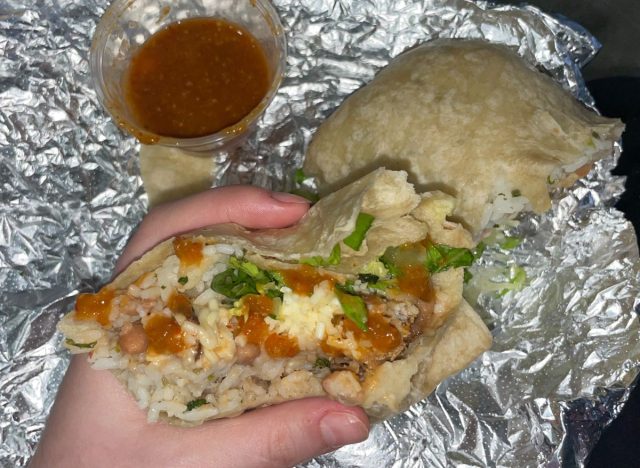 For over a decade now, Chipotle has been dominating the Tex-Mex, burrito game. In this burrito, I ordered white cilantro lime rice, beans, chicken, red-chili salsa, shredded Monterey Jack cheese, and lettuce, to closely match the Qdoba burrito.
The look: A fully packed Chipotle burrito always ends up the size of my whole head, and this one was no different—this was a hefty burrito. Everything looked well mixed, which was appealing because I enjoy a burrito where I can taste every ingredient in each bite. Also, all of the classic additions—rice, beans, lettuce, and cheese—looked and smelled freshly prepared. 
The taste: Whether you're a fan of Chipotle or not, no one can deny the chain's signature flavors can't be matched or imitated. The balanced melody that each of the different ingredients brings was spot on in this burrito. Chipotle makes one spicy salsa and if you sprinkle a little bit at a time, it adds spices that blend really well with the chicken, rice, and beans.
The only thing this burrito was missing is a meltier cheese, like Taco Bell's, but that's what the liquid queso could add (too bad it costs extra!). Also, it's wonderful that Chipotle uses a gigantic tortilla to wrap its masterpieces, but it tends to be a little too thick sometimes and overwhelms the toppings. However, I still give this burrito a 9 out of 10 due to its delicious Mexican-inspired taste and ability to fill me up. 
Jordan Summers-Marcouillier
Jordan Summers-Marcouillier was born and raised in San Jose, California and now works as a writer in New York, NY.
Read more about Jordan