How to Throw The Best Tea Party Ever
A tea party is the new cocktail party.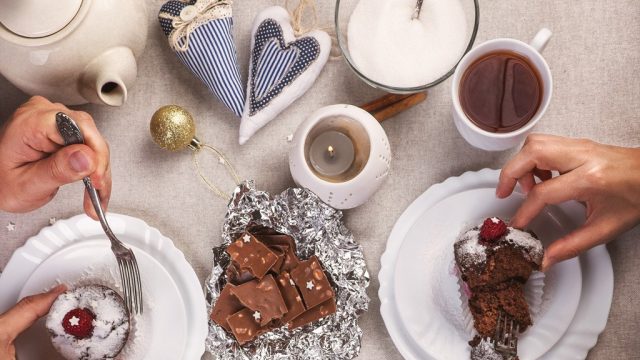 If Pinterest and Instagram are any indication, tea parties are no longer stuffy affairs for ladies who lunch; they're the trendiest new way to toast new brides, moms-to-be, birthday girls and to catch up with friends. Better yet, they're low-cost but totally elegant—so it's easy to understand the appeal.
"I love that tea parties are becoming more popular," says Kelly Choi, the author of The 7-Day Flat-Belly Tea Cleanse. "I encourage party-givers to make them as friendly and approachable as possible. Unless you're going for the traditional English afternoon tea kind of vibe, then there's no need to get caught up in pretense-filled anxiety. And people seem to be moving away from that anyway. Instead, they just want to flex their creative muscles and have fun with their friends—and tea parties are perfect for that!"
Already brewed up your guest list, fired off your invites, and picked out your party dress? Great! Now the real fun can begin! We've picked Choi's brain and scoured the web for the very best tea party ideas. You'll love these food, drink and decor ideas—all of which will ensure your chillaxed tea party is a stress-free gathering not soon to be forgotten. Read on to get inspired!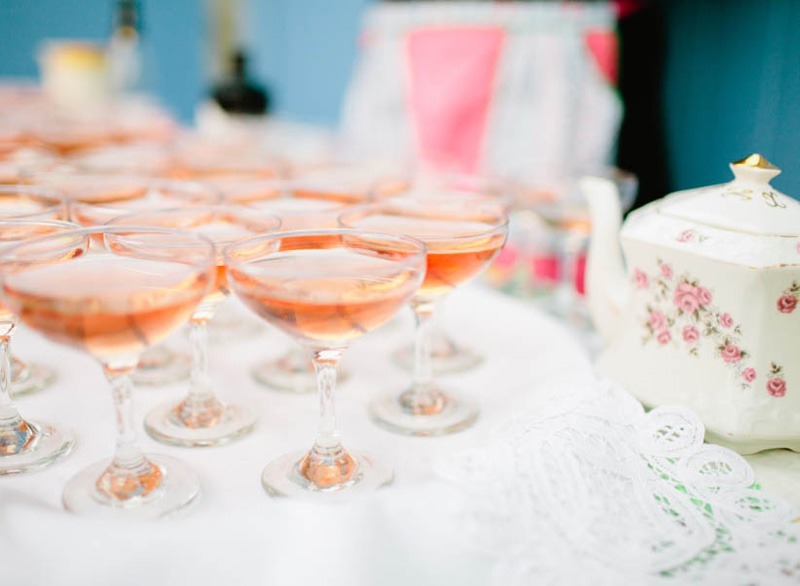 Even though you're throwing a tea party, modern-day etiquette expert and blogger Eunice Leong says serving other beverages like coffee and hot chocolate is fair game. It's not like you wouldn't let someone have water or other options at a regular cocktail party, right? Oh, and no tea party is complete without a boozy tea-infused cocktail. Adding an unexpected menu item to the mix—that's still on theme—is an easy way to ensure your bash is memorable.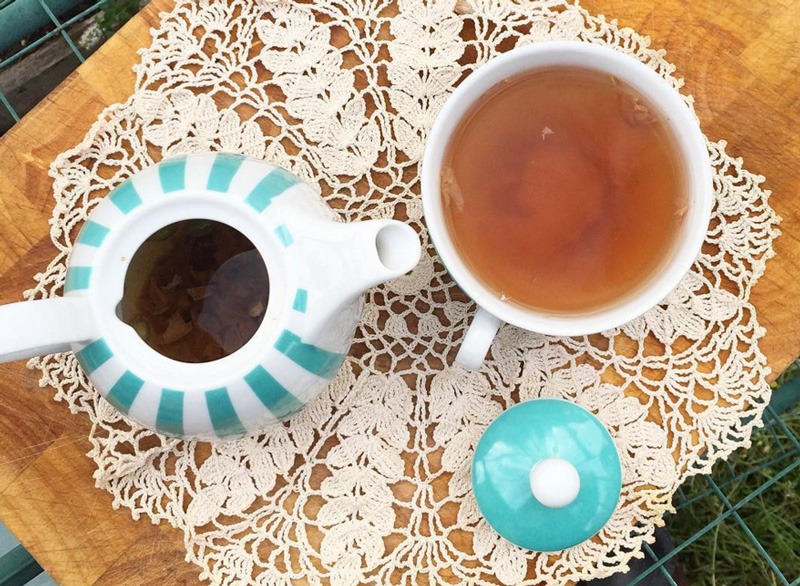 Set out a hot water dispenser or a kettle of hot water over a warming flame, along with an assortment of loose leaf teas and tea bags. We're partial to chai, rooibos, mint, and green tea. You'll also want to supply sugar, honey, and lemons so each guest can prepare their beverage to their personal preference.
SET UP A BREW-YOUR-OWN TEA STATION
If you're going for a more creative, modern vibe, set up a D.I.Y. tea station. Display a variety of fresh herbs, petals, and sprigs in china or mason jars, along with some spoons, and guests can select their favorites. (Be sure to label each one to keep confusion to a minimum!) Keep a kettle of hot water and some infusers (or tea papers for easy clean-up) nearby so your guests can infuse their picks.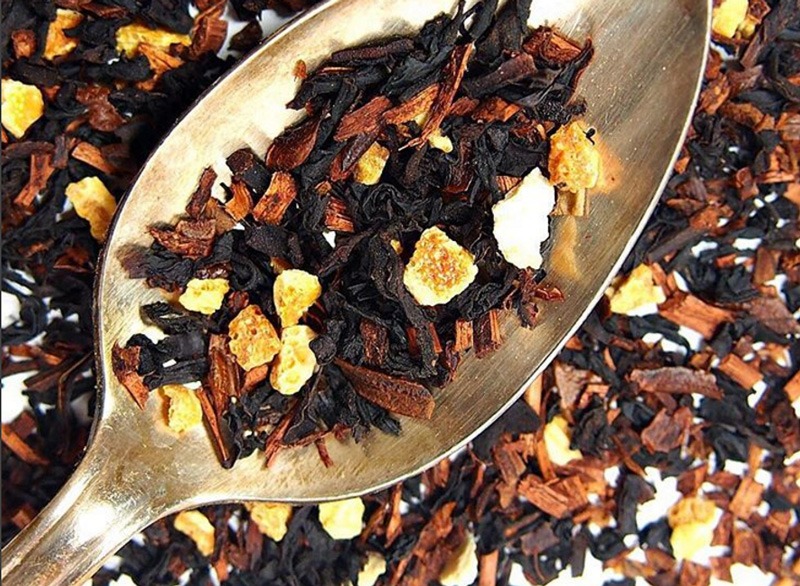 If you're feeling extra fancy, you can set out a "house special" tea blend. If your tea party has a guest of honor, you could even name it after them! One of my personal favorites is a vanilla rooibos mix. To make a cup of the blend, combine 8 tablespoons of red tea with 4 tablespoons of roasted cacao nibs, 2 teaspoons of fresh vanilla beans (from the pod), and a pinch saffron threads. Don't want to spring for pricey saffron? Sub in turmeric, which has a similar flavor and is one of the 5 Healthiest Spices on the Planet.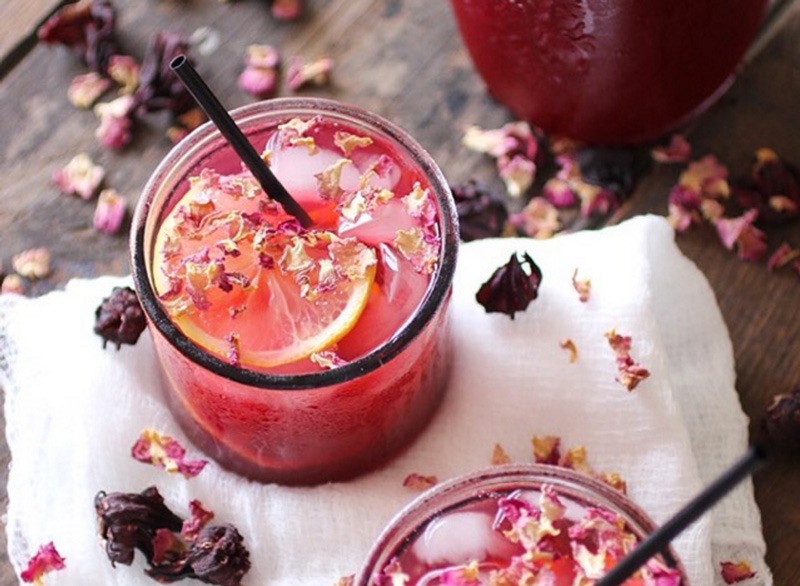 A pitcher or glass dispenser of chilled tea is a must for every outdoor and summertime tea party. Because let's be real—no one wants to sip stifling hot tea when they're already dripping with sweat. Amiright? Love and Lemons' matcha mint tea recipe is always a crowd-pleaser, as is Matter's of the Belly'shibiscus and rose iced tea.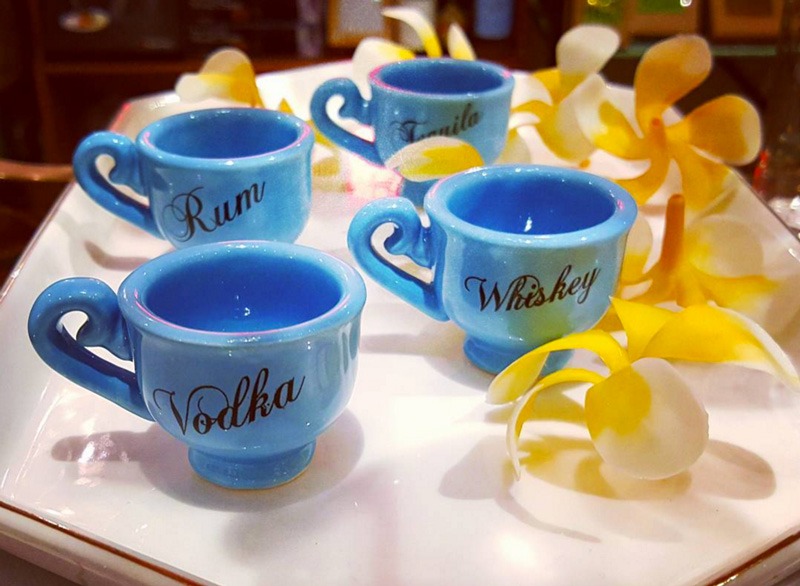 Tea parties are no longer just a stuffy British thing. Go ahead and pull out the tequila and bubbly, if that's what you think will take your tea fiesta to the next level. Sure, you could use those dainty little tea cups to shoot back shots, but it's far more fun and eloquent (read: afternoon-appropriate) to make a cocktail that fits in with the cup and saucer theme. A simple bellini with peach nectar and prosecco isn't a bad addition, but wouldn't you enjoy a cup of tea and catch a buzz simultaneously? That's what we thought! And lucky for you, matcha mint juleps and chamomile honey bourbon cocktails allow you to do just that! There's no better way to turn up tea time.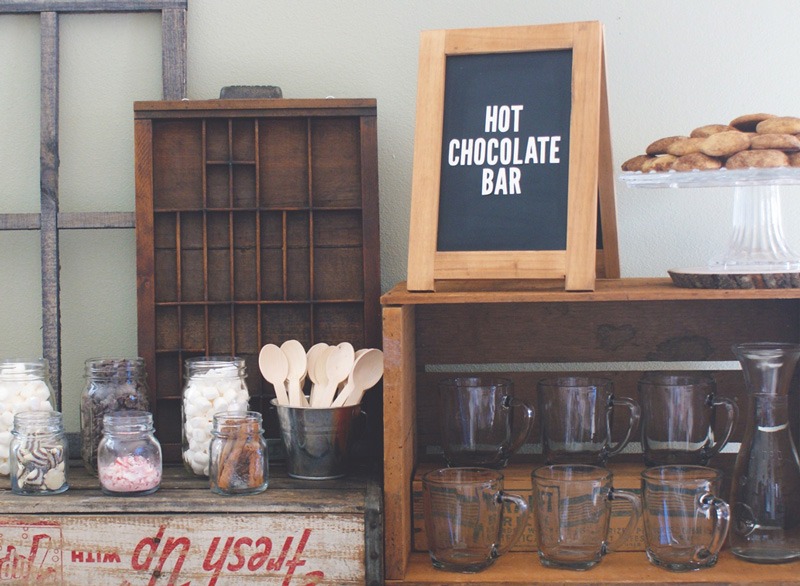 In the colder months, serving hot cocoa is a must! Make a batch before your guests arrive and set it out in a party-sized thermos next to some cute mugs. To make the drink station more Instagram-worthy, add some "Hot Chocolate Bar" signage and use mason jars or bowls to hold delicious hot cocoa toppers like peppermint sticks, marshmallows, chocolate chips, or a blend of cayenne and cinnamon (for Mexican hot chocolate). If you want to get super fancy, switch out the pre-made hot cocoa in the thermos for hot water. Then, lay out different flavors of dry hot cocoa (milk chocolate, dark chocolate, salted caramel, etc.) and let your guests mix and match their powder and toppings of choice.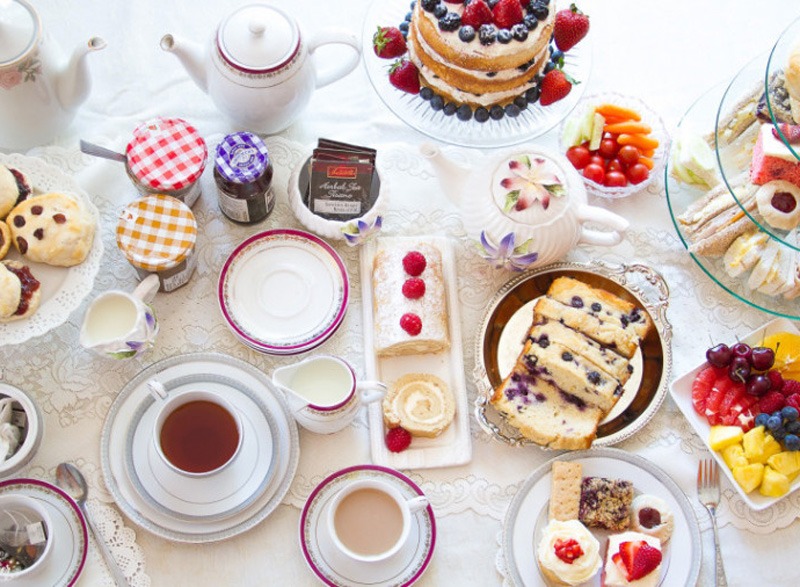 British afternoon tea, or "low tea," was traditionally a meal of tea, small finger sandwiches, scones with jam, and a variety of other desserts. That said, in 2016, there aren't any rules when it comes to the food, and anything you think your guests will enjoy is fair game. Here are some of our go-to goodies!
The great buttery, flaky taste that makes a scone so appealing comes from gobs of butter, flour, and sugar. With up to 500 calories a pop, this pastry is one that's better not to serve. But let's get real; this is a tea party and people will be looking for the scones! That's why we suggest thinking small and making mini scones instead. Iowa Girl Eats mini vanilla bean scones are a prime example of the pastry done right.
According to Emily Post, a famous etiquette expert, classic tea sandwiches are a tea party must-have. And considering they're one of the few tea party dishes that can provide some protein, fiber, and lasting substances, we'd have to agree. The good news is that making little sandwiches only requires a little bit of time and effort. Though anything can get sandwiched between two slices of bread and goat cheese, a spinach and roasted pepper combo is one that's rich in flavor and will appease vegetarian and meat-eating guests alike. To make your sammies extra dainty, cut off the crusts or use cookie cutters to make cute shapes like stars, circles, and hearts. (Aww!)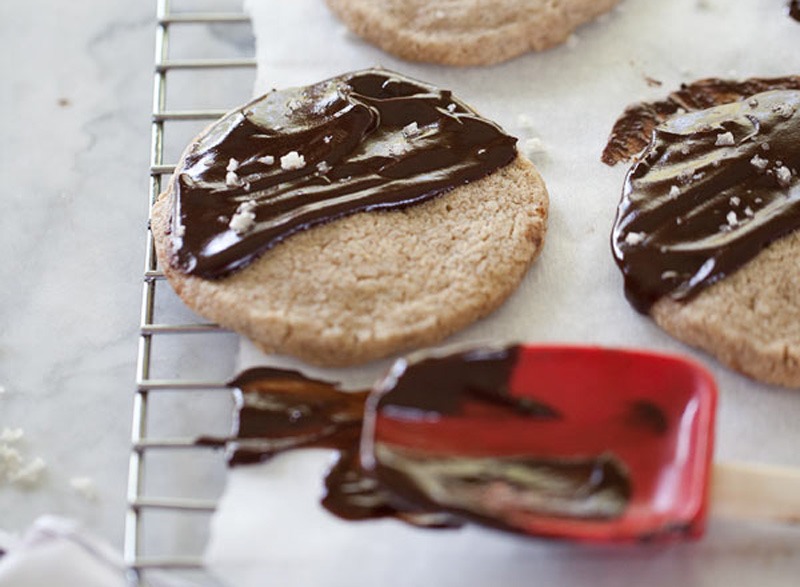 Nothing goes better with a cup of tea or coffee than a homemade cookie—except a tea-infused cookie! These chai shortbread cookies with sea salt, created by blogger Foodie Crush, hit the nail on the head. To make them a bit "skinnier," opt for whole wheat flour, use a blend of stevia and sugar, and cut back a bit on the butter. Why use brown flour? Whole wheat products contain three parts of the grain, all nutrient rich and fiber-rich. Plus, these cookies are dipped in chocolate and sprinkled with sea salt, so you'll still make your taste buds totally happy.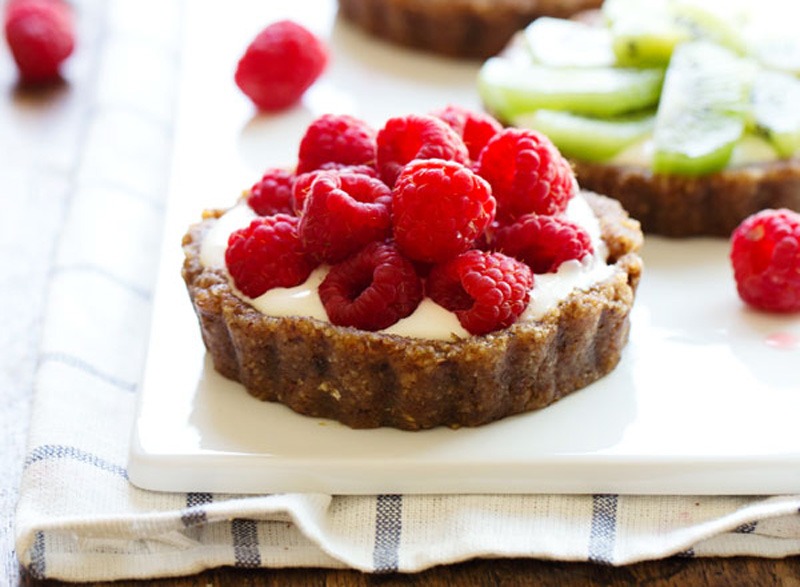 Nothing looks more beautiful on a three-tiered serving plate than a gaggle of colorful fruit tarts. We're fans of Pinch Of Yum's No Bake Mini Fruit Pizzas because they're deceptively healthy; seriously, your guests will never know they're eating a low-cal sweet. These tiny, no-bake treats are also super easy to make, too. The crust is made with just four raw ingredients: dates, almond butter, vanilla, and pecans. Simple recipes = a happy, relaxed host. Gotta love that!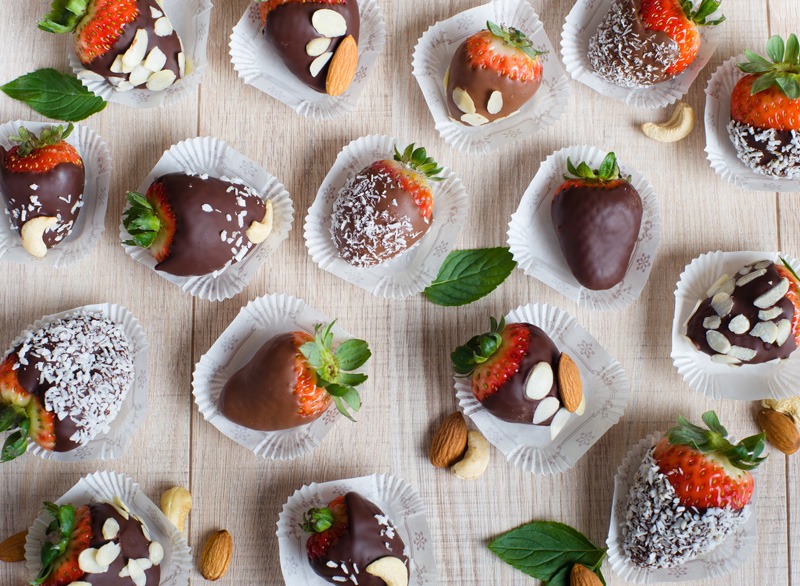 It's always a nice idea to set out a plate of fruit for your more health-conscious guests. A mix of grapes, pineapple, and strawberries is always a winner. To dress up your platter a bit, dip some of the berries in melted chocolate and sprinkle them with nuts. After they've hardened in the fridge, the resulting bite is one that's both sweet and crunchy; something everyone is sure to love.
AN UNEXPECTED SAVORY DISH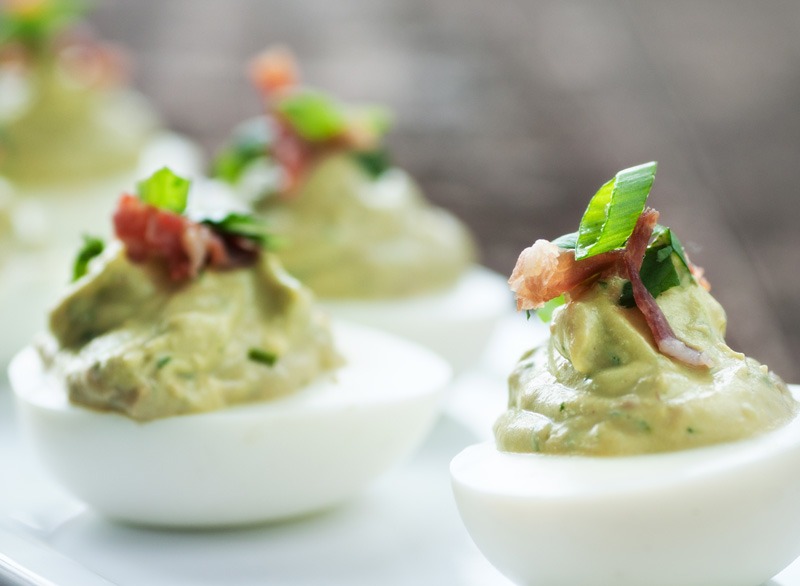 "Throwing an unexpected, savory finger food into the tea party mix is a creative move I love," says Choi. "After they've eaten their share of treats, your guests will welcome a reprieve from all the sweets!" Choi suggests serving avocado-green tea deviled eggs. To make a batch, boil eggs, let them cool, slice them in half, and scoop the yolks out into a bowl. Mix the yolks with chunky, chopped avocado and some Himalayan pink salt to taste. Then, stuff the egg halves with your filling and top with a sprinkle of Genmaicha (the Japanese name for green tea combined with roasted brown rice) for some added crunch and antioxidants.
SERVEWARE, DECOR & TABLESCAPE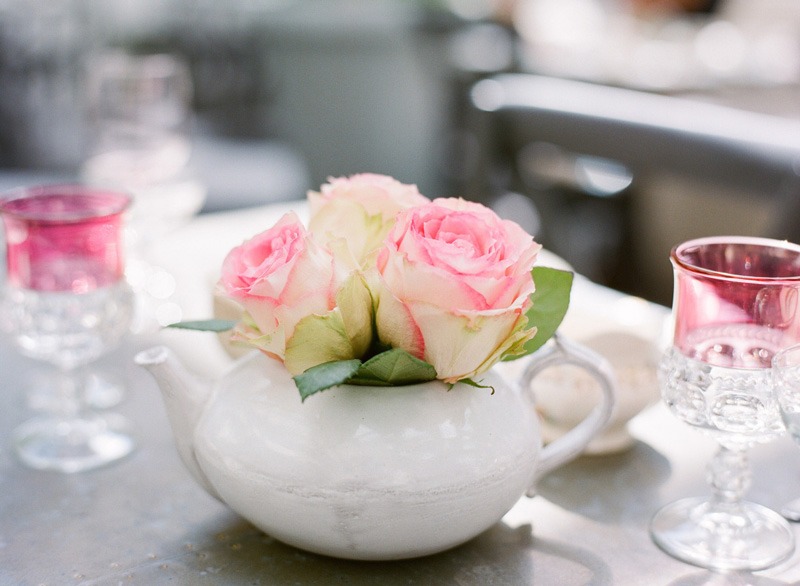 Tea parties are all about the decor and serveware. Think about it: Have you ever been to a tea party without eye-catching china and colorful centerpieces? Even if you're going for a less traditional, unbuttoned feel, there are a number of things every tea-sipping occasion must have! Consider the below the essentials—everything else you've seen on Pinterest is probably just "fluff" you can do without.
If you don't have a china tea set, head to a local antique shop and pick up a mix of teapots, teacups, and saucers on the cheap. And don't worry if the patterns are mismatched—eclectic tableware is trending right now. Plus, being too matchy-matchy isn't as interesting. In terms of how you want to set your table, you can go one of two ways: 1.) Place a setting at each chair or 2.) keep things casual and set out stacks of cups and plates so guests can help themselves buffet-style.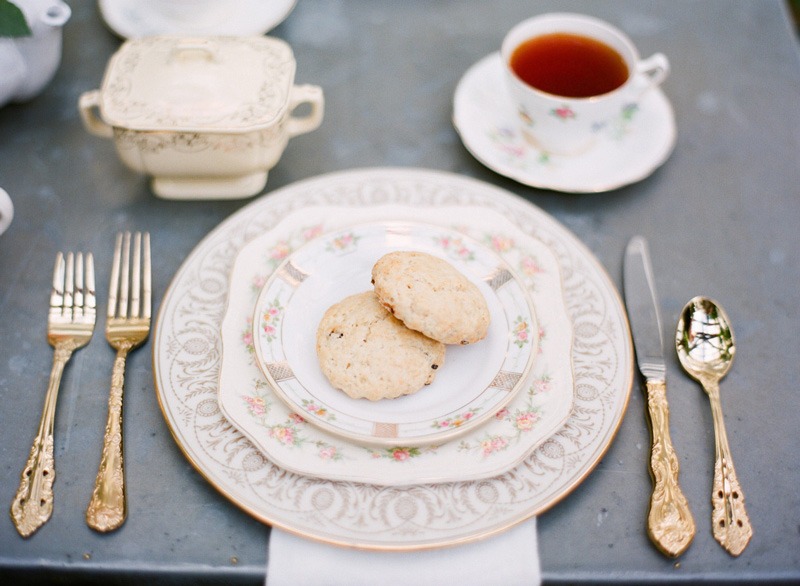 According to Post, who authored the famous book, Etiquette, if you're serving soft or sticky cakes, "small forks must be laid on the tea-table." And if jam or butter is to accompany your scones or toast, "there must be little butter knives to spread it with." Both practical and polite; we like it. Oh, and don't forget about stirring spoons, cake cutters, and other serving utensils. Those will come in handy, too.
TABLECLOTH & CENTERPIECES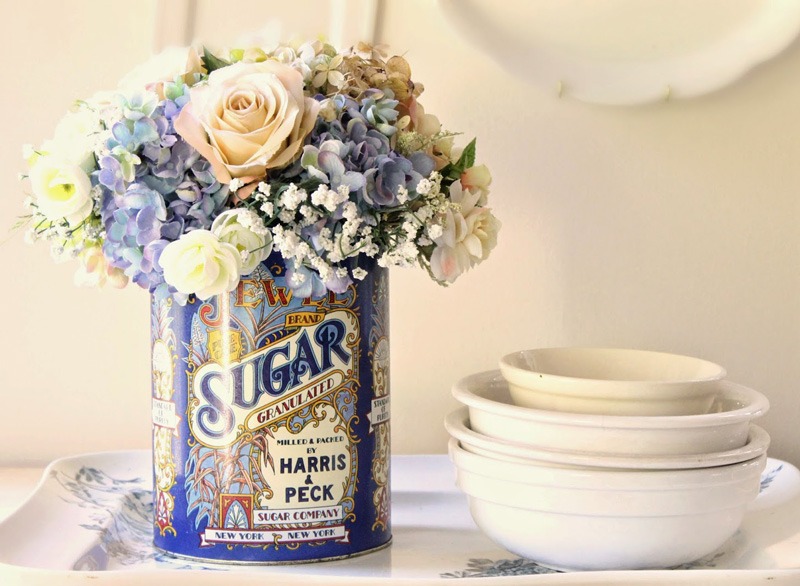 Depending on the look you are going for, you can either set your table with a nice tablecloth or runner or keep things casual with a "naked" table (that's a saying, right?). The latter looks especially nice if you have a rustic wood table or something weathered with a bit of charm. For low-cost centerpieces, fill antique-style teapots, mason jars (which can be used to make overnight oats for years to come) or large biscuit or tea tins with flowers. (Hint: Make sure the tins are watertight before setting them on your table!) For a more minimalist look, plant some small succulents in teacups and scatter them around the table. If you want each plant to double as a parting gift for your guests, you might consider placing a plant in front of each seat, and using twine to tie a gift tag around the handle, printed with each person's name.
Add some pizazz to your party with these fun, festive ideas!
No matter the theme of your affair, a guest book is always a nice momento. Plus, it makes your guests feel like you're truly excited and honored to be entertaining them in your home.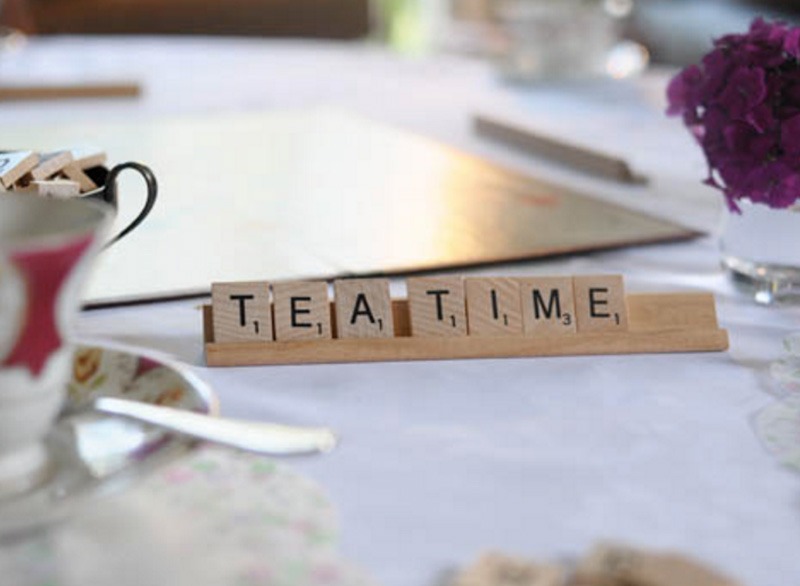 Set up tables with games like checkers, Scrabble, or a puzzle so guests can indulge their playful part of their brain while sipping their tea and catching up on the latest gossip, too.
"For any party, I always think it's important to leave a lasting impression," Choi tells us. "That's why I always give some type of parting gift that will remind my guests of the event. Small individual tins of tea, a take-home tea cup, or a small sweet dessert (check out these easy dessert recipes for some inspo), are all perfect for a tea party."
Images courtesy of: @kahwinkhronicles, @tea-soul_chai, @plumdeluxe, @gryphontea, @jasonchimera, @toranthonsen, @theanastasiaco, @lifemadesweeter, @kate482010, @thesarahjohnson, @acozykitchen, @aliserealtor, Andrea Lee Photography via Bridal Musings, Justin Demutiis
Dana has written for Women's Health, Prevention, Reader's Digest, and countless other publications.
Read more