One Scratch on a Nonstick Pan Can Release 9,100 Plastic Particles, New Study Finds
It may be time to throw out your pots and pans.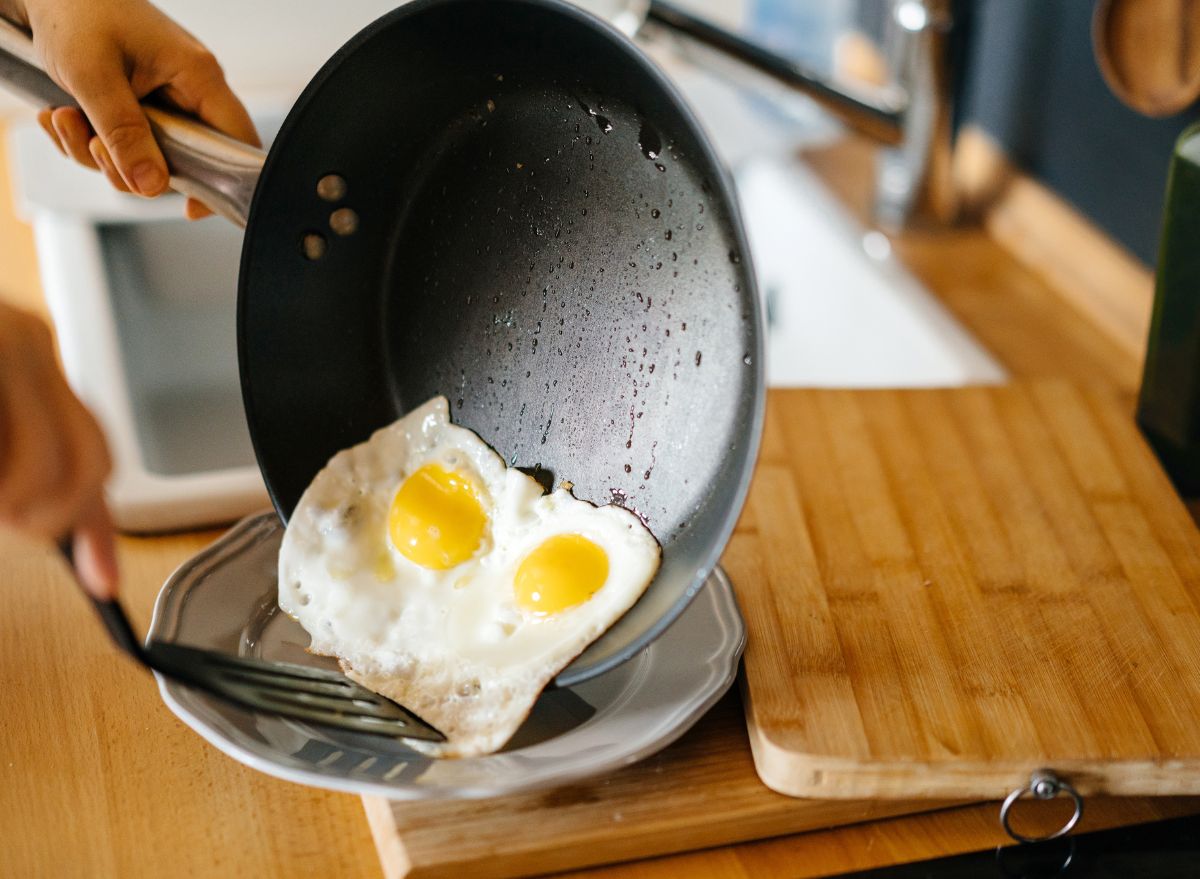 It's no surprise to anyone who cooks at home that your pots and pans will wear down with use over time. If you're using a Teflon nonstick pan, this may happen by consistently using utensils that scratch the surface or putting it through the wash one too many times. While this is a normal part of using Teflon, new research has just revealed that a damaged nonstick surface may be more harmful than you think.
A new study recently published in Science of The Total Environment found that your scratched or used Teflon nonstick pan may be releasing thousands of plastic particles with every surface scratch or crack. Although more research needs to be done on the health outcome of exposure to these plastic particles, these findings are crucial in understanding what you could potentially be exposed to when you're simply trying to cook at home with your favorite pan.
What the study discovered about your Teflon pan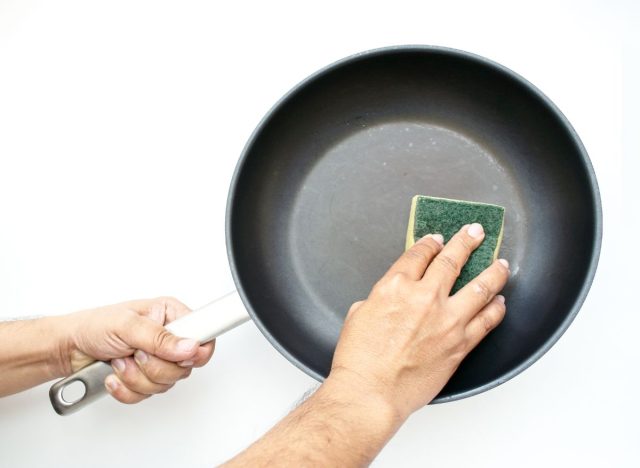 Anyone who cooks with a Teflon nonstick pot or pan has experienced the wear and tear from their tools. Teflon is great for cooking in that it helps you avoid the frustration of your food sticking to the pan, but the surface can be easily compromised. This is the reason researchers at Newcastle University and Finders University wanted to learn more about the potential dangers of using Teflon when there's a scratch or any trace of torn coating.6254a4d1642c605c54bf1cab17d50f1e
The researchers identified that Teflon plastic particles and microplastics are harder to trace than other types of plastics. So, they used what is called Raman imaging—which produces highly detailed images—to scan multiple Teflon surfaces that had been scratched or broken in some capacity. With the Raman imaging, they found that even just one scratch or area of damaged surfacing on a Teflon pan can release over 9,000 plastic particles.
According to the researchers involved in this study, these findings may be concerning because Teflon is considered to be in the per- and polyfluorinated substances (PFAS) family, which is a group of chemicals that have the potential to be harmful when ingested.
"Given the fact PFAS is a big concern, these Teflon microparticles in our food might be a health concern so needs investigating because we don't know much about these emerging contaminants," Dr. Cheng Fang, one of the study's head researchers from Newcastle University, said in a recent news article from Finders University.
Potential dangers of PFAS
According to the CDC, PFAS are used to form coatings that will resist things like heat, water, and grease. This is why they are found in common household items like pots and pans, clothing, furniture, and some food packaging. Unfortunately, when something like a Teflon pan is scratched, you're being exposed to these chemicals.
The CDC emphasizes that not enough conclusive research has been done on the exact risk or harm related to exposure of PFAS. However, different studies have found that there is a potential risk of things like increased blood pressure in those who are pregnant, increased cholesterol, changes in your liver, and maybe even reduced vaccine response in children.
Again, there simply isn't enough information out there at the moment to draw a clear conclusion on how something like scratched Teflon can impact your health. However, studies like the one done by Finders University and Newcastle University raise plenty of concern regarding the chemicals we may be exposed to on a daily basis.
For now, if you have the means, it may be helpful to replace your scratched or damaged Teflon pans, or switch to using something like cast iron.