I Tried All the Appetizers at Texas Roadhouse & This Is the Absolute Best One
Here's what to order for the table.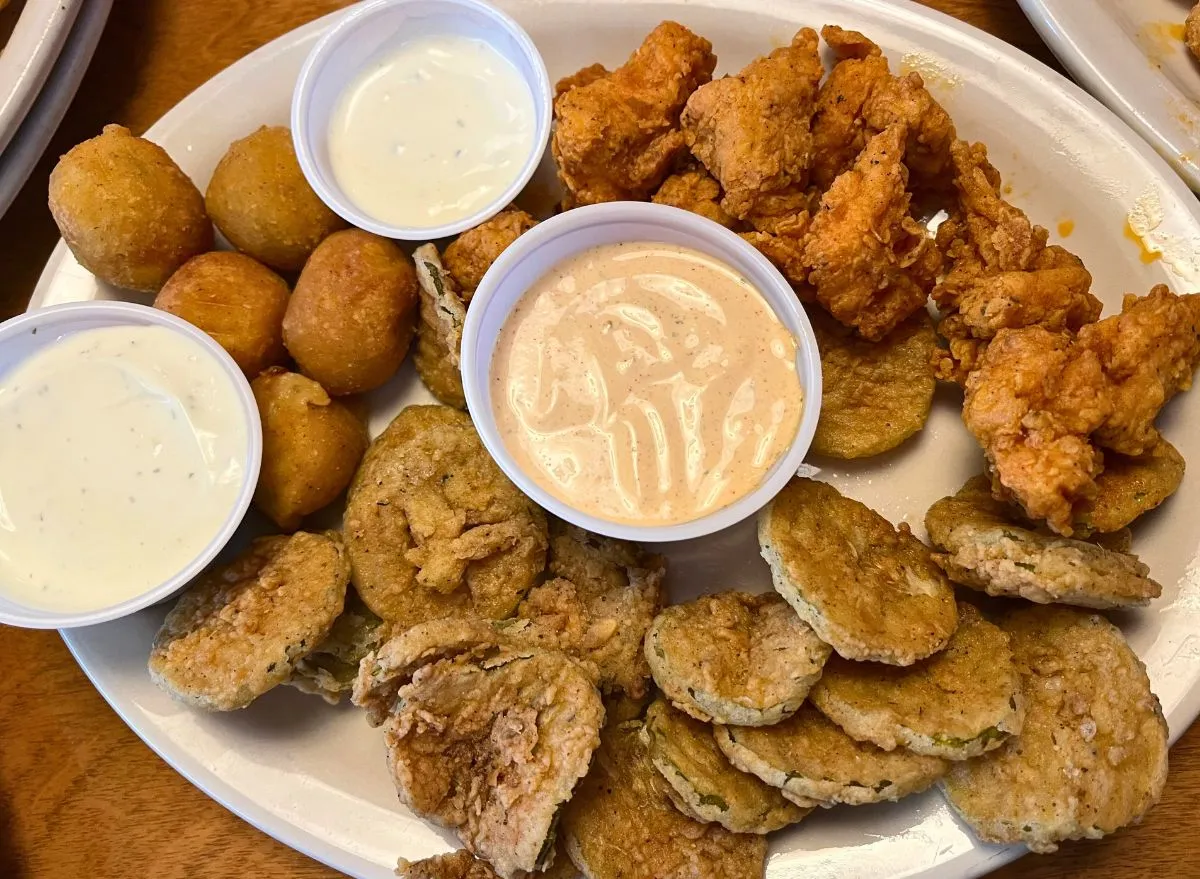 Texas Roadhouse is the spot for perfectly cooked tender steak, loaded baked potatoes, and—of course—fresh-baked rolls with cinnamon honey butter. Steaming hot rolls aside, the chain's selection of appetizers is your next tempting task. On it, you'll find everything from signature creations to familiar flavors.
If you're a seasoned Texas Roadhouse diner, you probably know exactly what you want, but if you're new to the scene, there's a lot to choose from on the menu. You could opt for fried pickles or get a Cactus Blossom for the table. The chain's signature Rattlesnake Bites, which are little balls of jalapeño-spiked cheddar cheese—are also an option. Then there are some classics like potato skins packed with cheddar and bacon, boneless buffalo wings, or loaded cheese fries. You can even get a small portion of the chain's "killer" BBQ ribs to sample.
In order to judge this plethora of options, I set out to eat my way through the entire appetizer menu, one finger-licking option at a time. Here are Texas Roadhouse appetizers, ranked from my least favorite to the absolute best.
Grilled Shrimp Appetizer
Per item
: 350 calories, 19 g fat (6 g saturated fat, 0 g trans fat), 1,530 mg sodium, 29 g carbs (1 g fiber, 4 g sugar), 18 g protein
This simple dish is probably the healthiest of the Texas Roadhouse appetizers. It's basically grilled shrimp on a split roll, and a side of garlic lemon pepper butter sauce, for pouring or dipping.
The look: Everyone loves shrimp, right? That might be the case, but this appetizer is very lackluster. Five drab-looking shrimp sat on top of a semi-toasted roll with the tiniest hint of garlic. On the side, there is a dirty-looking cup of what might be melted butter.
The taste: Perhaps it was the appetizer's delicate nature next to the other fried items, but this just didn't deliver. It completely lacked flavor and the butter didn't have any noticeable garlic or lemon flavor. It was almost watery. The image on the website has a sprinkle of parsley which would have potentially livened this one up. The shrimp were perfectly cooked but this wasn't worth the price.
Cheese Fries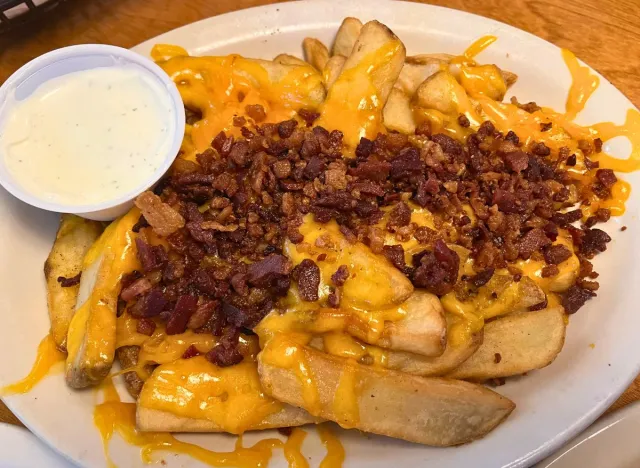 Per item
: 1,240 calories, 65 g fat (25 g saturated fat, 2 g trans fat), 5,400 mg sodium, 126 g carbs (14 g fiber, 2 g sugar), 38 g protein
For this appetizer, Texas Roadhouse's famous steak fries are blanketed in cheddar cheese and topped with lots of crispy bacon.
The look: This looked heavy! It was completely covered in cheese, which had congealed a bit, and had an unreal amount of bacon on it. The bacon also looked overdone.
The taste: I never thought I would say a dish had too much bacon, but this really had way too much bacon. Plus, the bacon was too crispy. The fries were also very soggy underneath the weight of all that cheese. And, if the limp fries don't turn you off, a look at the calorie count and sodium content will. At 1,240 calories and an eye-watering 5,400 milligrams of sodium, this dish is a danger to just about everyone. If you're craving spuds and cheese, the next appetizer will satisfy that craving.
Tater skins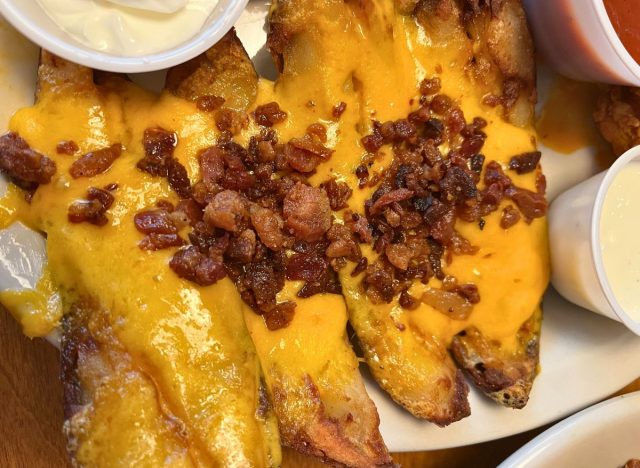 Per item
: 1,320 calories, 88 g fat 496 g saturated fat, 2 g trans fat), 2,470 mg sodium, 63 g carbs (7 g fiber, 5 g sugar), 63 g protein
Lots of cheese and crispy bacon top good-size wedges of potato for this appetizer. You can have a smaller portion of these with two other options as part of the chain's sampler platter, but note that these are very high in calories and fat so stick to just one or two skins.
The look: The potato skins were well-browned and completely covered in cheese. The bacon was judiciously sprinkled over the potato skins as compared to the fries.
The taste: If you're looking for a cheddar cheese and bacon hit, this will deliver, but remember, you can get a loaded baked potato with your meal so you might end up with too much of a good (starchy) thing. While these were on the greasy side, the crunchy bacon worked when it wasn't all dumped on top as with the Cheese Fries.
Boneless Buffalo Wings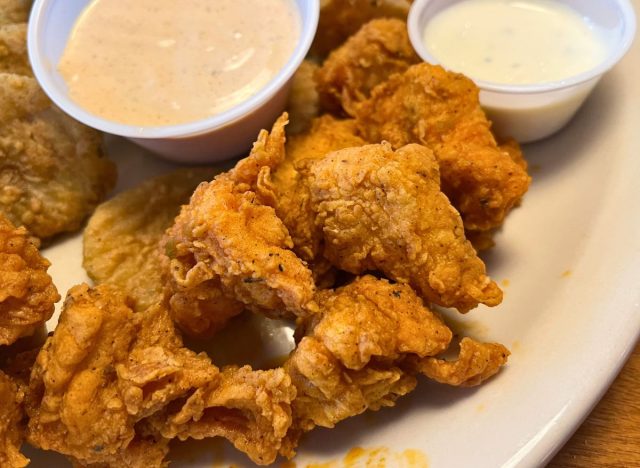 Per item with dressing
: 1,050 calories, 72 g fat (16 g saturated fat, 0 g trans fat), 2,530 mg sodium, 41 g carbs (12 g fiber, 2 g sugar), 62 g protein
These little crunchy bites of chicken can be served with hot or mild sauce and blue cheese or ranch. They are available as a whole appetizer or as part of the sample platter.
The look: These little crunchy chicken bites were smaller than I expected—larger than popcorn chicken but not even close to the size of a standard wing.
The taste: While the chicken bites looked heavy, they were actually surprisingly light and crispy. The breading was a little spicy, just heating up the back of my throat. Overall, they were pleasant bites of chicken, but I wouldn't trade this appetizer for some of the other items on this list.
Mozzarella Twists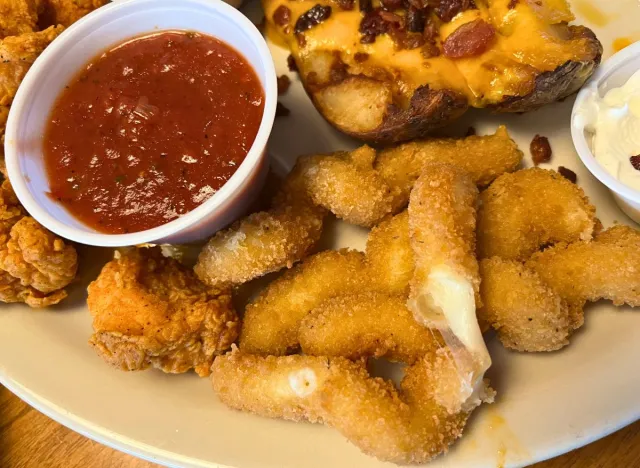 Per item
: 710 calories, 39 g fat (15 g saturated fat, 0 g trans fat), 2,610 mg sodium, 64 g carbs (4 g fiber, 6 g sugar), 27 g protein
The Mozzarella Twists, which are Texas Roadhouse's take on mozzarella sticks, are made with twisted cheese sticks and served with classic warm marinara sauce. These could be included in the sample platter, which will reduce the size and thus the scary sodium level.
The look: Considering that these easily fell apart, I think fried mozzarella probably wasn't supposed to have a twisty shape. But they looked golden brown and delicious and I have never met a mozzarella stick I didn't like. The marinara sauce looked hot and thick.
The taste: It was hard to dip these twisted sticks, but the herby crust was crunchy and the marinara had a touch of sweetness that complimented the smooth cheese inside. If you have little ones in your party this is a great appetizer for them or a substitute for dinner with a veggie on the side.
Cactus Blossom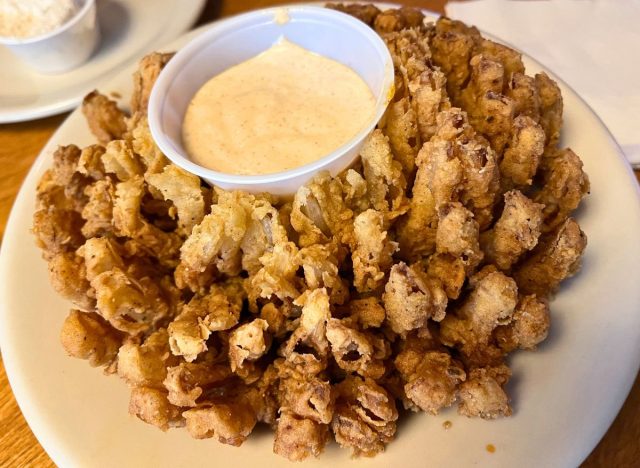 Per item with dressing
: 2,680 calories, 181 g fat (32 g saturated fat, 0 g trans fat), 5,520 mg sodium, 241 g carbs (19 g fiber, 37 g sugar), 25 g protein
If this dish looks familiar it's because it's almost identical to Outback's popular Bloomin' Onion. It consists of a sliced sweet onion dredged in batter, which is deep-fried and served with Cajun sauce or ranch dressing.
The look: This looks like the ultimate sharable dish with its individual little onion springs sticking up waiting to be pulled and dipped.
The taste: This was good! The coated onions are crunchy and sweet, and the Cajun sauce adds just the right amount of spice. If you are sharing this with ten people then it's reasonable to order it, otherwise, this is a scary appetizer from a health perspective. It has more calories than anyone should have a day and a tummy-ache-inducing amount of sodium. So try a bite or two and move on.
Killer Ribs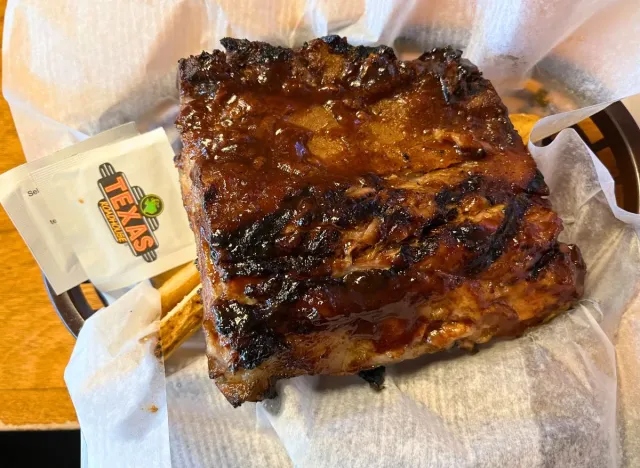 Per item
: 910 calories, 53 g fat 18 g saturated fat, 0 g trans fat), 2,830 mg sodium, 59 g carbs (8 g fiber, 5 g sugar), 49 g protein
If you want to try the chain's fabulous ribs but want to leave room for other things, this little portion with fries is a good idea.6254a4d1642c605c54bf1cab17d50f1e
The look: The glistening barbecued ribs were draped over the top of the fries. They looked meaty and tender with just the right amount of sauce.
The taste: The Texas Roadhouse ribs won our rib taste test, so we already know these are a good option. They taste just as good as they did then—hot and meaty, with just enough of the chain's signature smoky-sweet sauce. They're even good cold, in case you want to save some for later. Share this dish with friends or get this to replace an entree. Word has it you can substitute the fries for another side if you ask.
Fried Pickles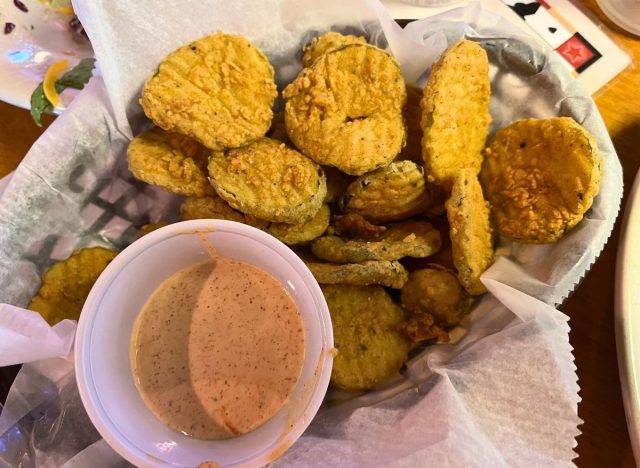 Per item without dressing
: 550 calories, 38 g fat (7 g saturated fat, 0 g trans fat), 2,580 mg sodium, 48 g carbs (5 g fiber, 1 g sugar), 6 g protein
This dish consists of simple crinkle-cut pickles coated in crispy batter served with ranch or Cajun sauce.
The look: This is the ultimate sharable dish as there's plenty for the whole table. The pickles were perfectly browned, and not enough can be said about the chain bringing out its food nice and hot, which truly makes a difference.
The taste: These little medallions hit all the right notes for an appetizer. They were tangy, crunchy, creamy, and slightly spicy. A cold beer or a margarita is all you need on the side. Note the sodium level if you are sensitive because it's sky-high. Also, your choice of sauce adds 200 to 400 more calories to this dish, so skip it or dip lightly.
Rattlesnake Bites
Per item without dressing
: 560 calories, 36 g fat (19 g saturated fat, 0 g trans fat), 1,430 mg sodium, 34 g carbs (3 g fiber, 3 g sugar), 25 g protein
What is a Rattlesnake Bite? It's all the flavors of jalapeno poppers in an easy-to-pop ball of fried goodness. If you like creamy cheese and a little spice you need to try them at least once.
The look: These little balls of brown don't look all that appetizing, actually, they look like donuts. But, it's what is inside that counts.
The taste: The cheesy mixture inside these fried orbs is so soft and silky. They melted away in my mouth with the smooth, spicy cheese coating my tongue. Be careful with these because they are so tiny and delicious that you will forget that they are fried cheese. If you skip the dressings and share this appetizer it really isn't the worst in terms of calories. It even has 1,000 fewer milligrams of sodium compared to fried pickles. If you do get the dressing, go with the Cajun because it has fewer calories and more flavor.