8 Restaurant Chains With the Best Bread Baskets
The bread and butter is not an afterthought at these restaurant chains.
The product recommendations in this post are recommendations by the writer and/or expert(s) interviewed and do not contain affiliate links. Meaning: If you use these links to buy something, we will not earn a commission.
When you go out to your local chain restaurant for dinner, few moments are as momentous and joyous as when your server delivers a basket of freshly-baked bread. It is easy to love a good carbo-loading moment before you even place your order, and restaurants that nail a good bread basket are sometimes worth revisiting for that reason alone.
Better yet, most restaurants offer fresh-baked bread at no extra cost, serving as the perfect beginning to a tasty dinner.
You might not realize how much a great bread basket can elevate a restaurant from average to extraordinary until you read over the following chains. Some offer memorable flavors while others have good variety. In terms of Texas Roadhouse, you cannot even mention the name of the restaurant without people waxing poetic about the chain's fresh-baked rolls and honey cinnamon butter.  But it's hardly the only chain with memorable bread.
If you love bread as much as Oprah, then you will want to know about the following chain restaurants and their proclivity for serving delicious baskets of bread before each meal.
Texas Roadhouse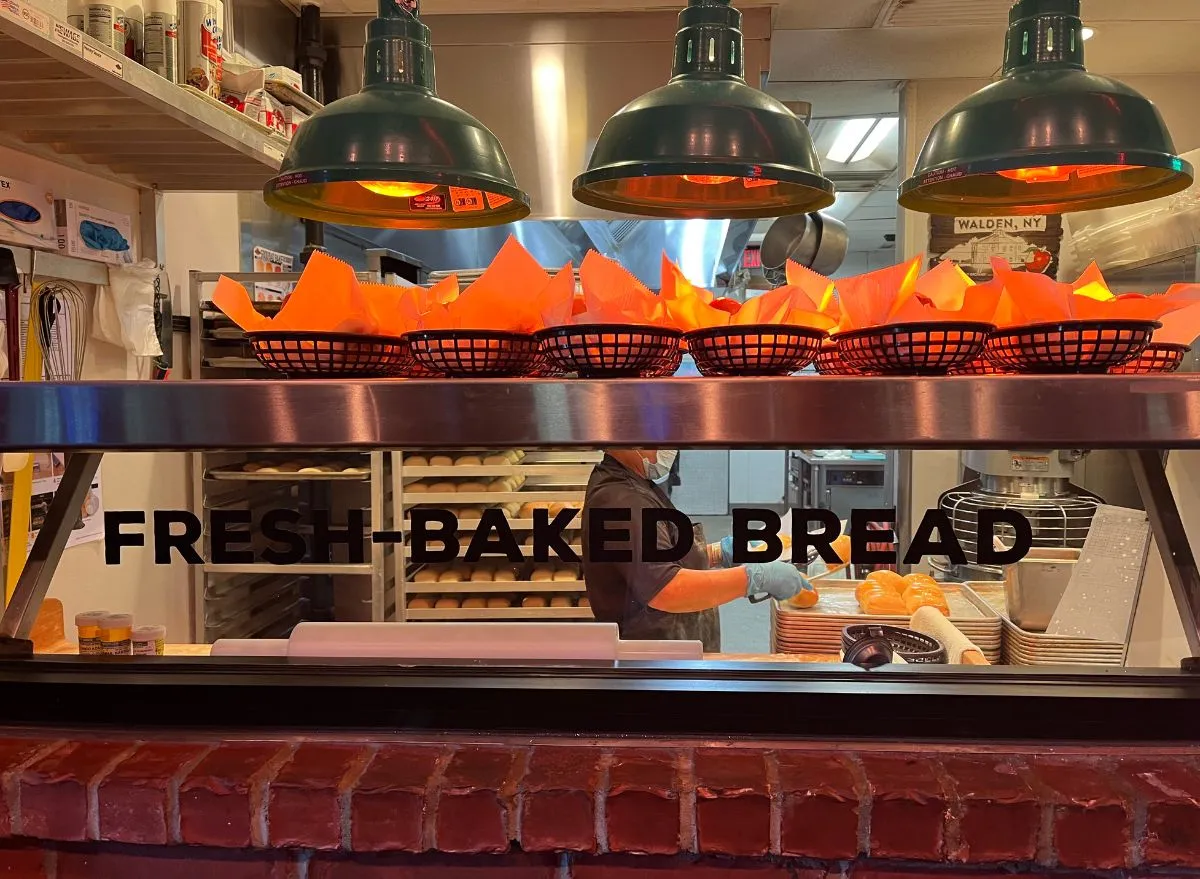 Like many chain restaurants, Texas Roadhouse offers free bread to its customers. But do not assume the bread served there is like any customary basket—fans know that the bread from Texas Roadhouse is exceptional. Texas Roadhouse shares on its website that the rolls are baked from scratch constantly throughout the day, every five minutes to be precise, and that the cinnamon butter that it comes with sets the rolls apart from other restaurant chains.
The freshly-baked rolls are just one of the ways customers leave Texas Roadhouse feeling quite satisfied, as the restaurant chain aims to deliver true value. Admirers have searched high and low for copycat recipes, even taking to Reddit to figure out how to recreate the beloved bread.
The Cheesecake Factory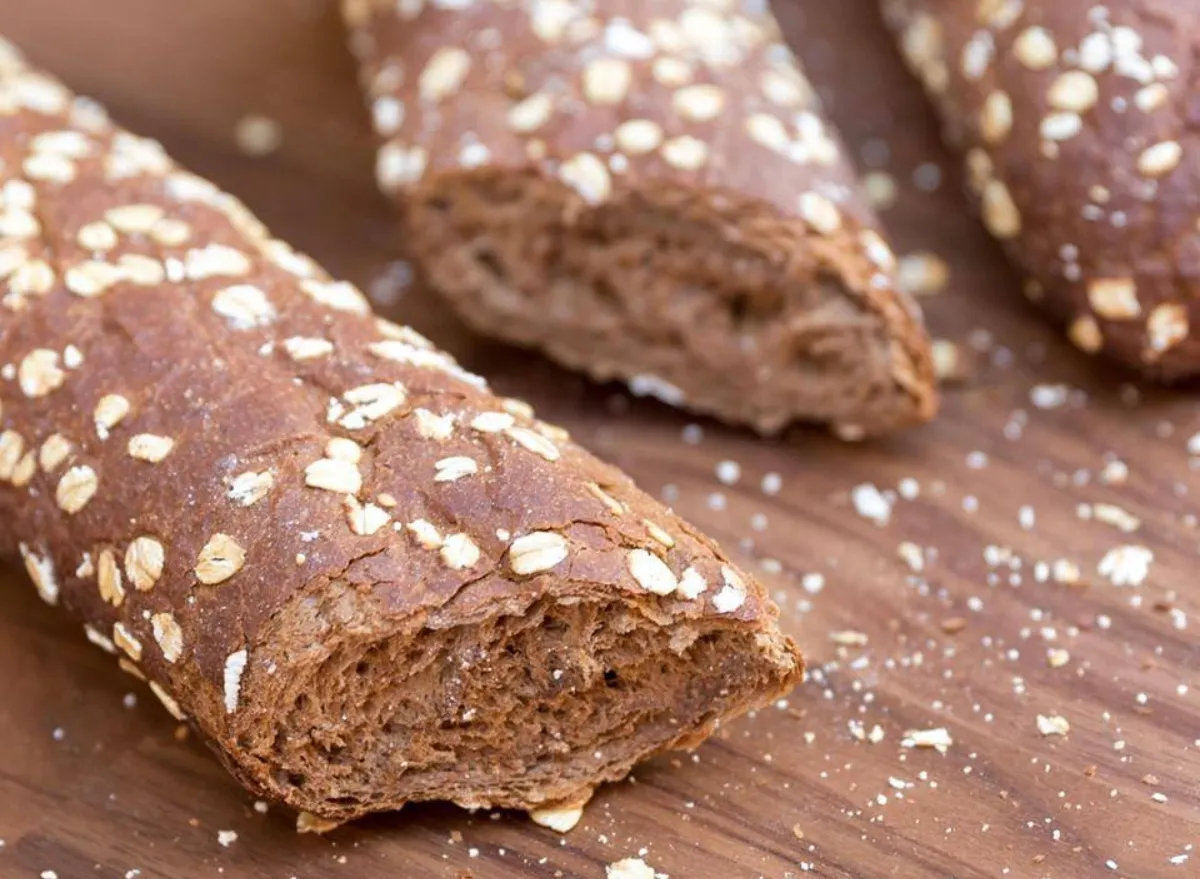 When guests first sit down to dine at The Cheesecake Factory, they are offered a basket with two kinds of bread included: traditional French bread and a loaf of softer honey wheat bread. While both are tasty, it is the latter that has spurred a frenzy of fan support over the years—so much so that you can buy The Cheesecake Factory's brown bread at your local grocery store.
And as The Cheesecake Factory itself will attest, the brown bread is "loved around the world." True brown bread aficionados know that there is even a secret to hacking your way to enjoying even more of the bread, by ordering your sandwich to come on brown bread.
Red Lobster
If ever there was a restaurant chain known far and wide for its complimentary bread, it would be Red Lobster. No matter your opinion on seafood, Red Lobster serves up a tasty basket of Cheddar Bay Biscuits at every table. They are so popular, you can even buy a package at big box stores like Target.
In fact, the fan-favorite Cheddar Bay Biscuits were not even an original part of the Red Lobster dining experience. According to Thrillist, the biscuits were brought on in an attempt to replace the poorly-selling hushpuppies. The move clearly paid off, inspiring copycat recipes so fans could learn how to make their favorite restaurant bread at home.
Cracker Barrel Old Country Store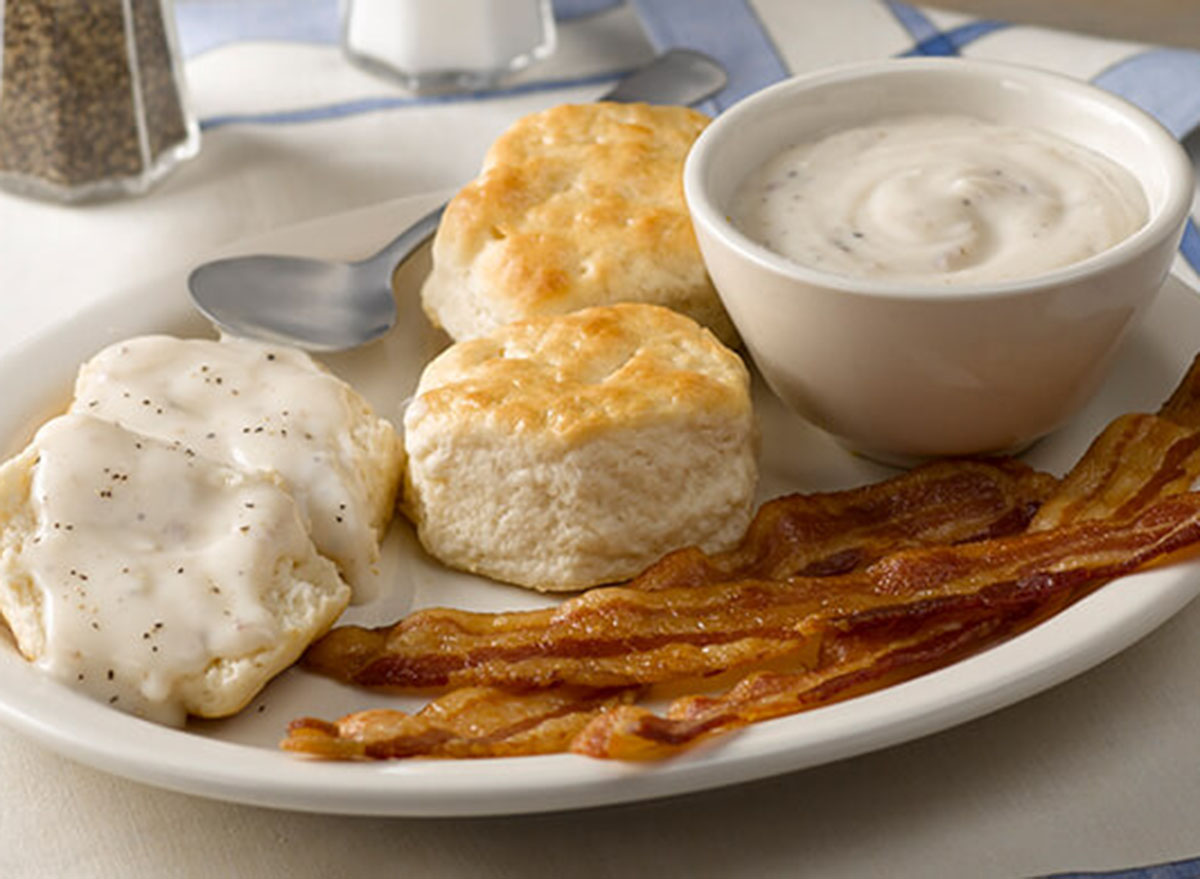 Known for its rocking chairs, fried chicken, and wooden peg game at each table, Cracker Barrel knows a thing or two about Southern hospitality and good old-fashioned comfort food. The hybrid restaurant and shop is known for its affordable menu that serves both breakfast and dinner options to its customers. And when it comes to Southern cuisine, nothing brings people around the table like a basket of freshly-baked biscuits and corn muffins.
At Cracker Barrel, each table receives complimentary biscuits and muffins before every meal, and for the biggest fans, they are even available for catering. While the exact recipe of the biscuits is somewhat of a closely-guarded secret, many copycat recipes exist online if you have the urge to whip them up yourself. No, they are not necessarily the healthiest menu items out there, but that isn't the point when dining at Cracker Barrel, is it?
Olive Garden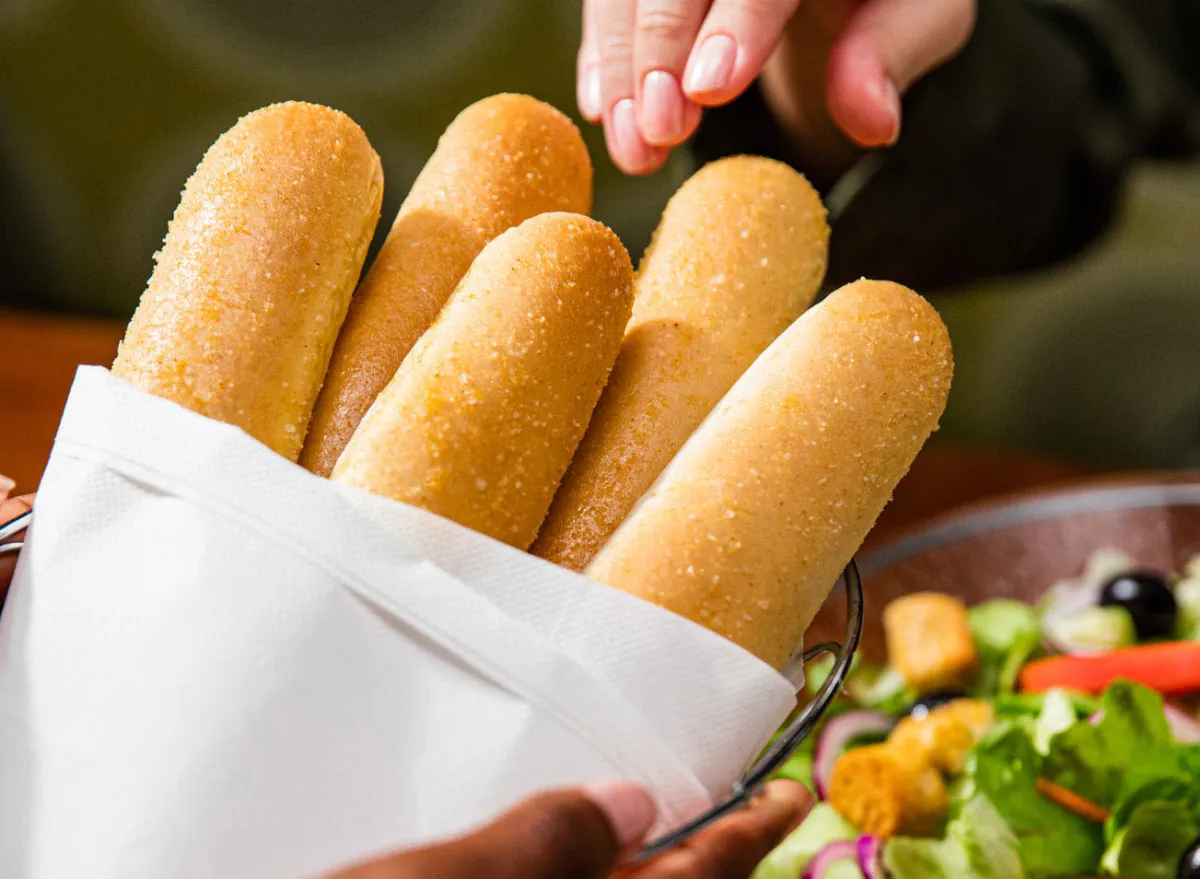 When a restaurant offers unlimited breadsticks as a regular menu item, you know that they must be a fan favorite. That is precisely what Olive Garden offers. No matter what you order, a basket of warm breadsticks is brought to the table, but you can keep the party going with never-ending baskets brought to your table. Like much of Olive Garden's menu, the buttery and garlicky breadsticks are not quite authentic Italian but they are memorable. According to Thrillist, the restaurant chain's relationship with the complimentary bread basket is a core part of its business model, with over 500 million breadsticks served each year.
One breadstick is only 140 calories according to Olive Garden's website, but that can quickly add up if your main goal is to enjoy as many of them as possible in one sitting. The breadsticks at Olive Garden have in many ways become synonymous with the restaurant itself, more than any pasta dish you will find on its menu.
Outback Steakhouse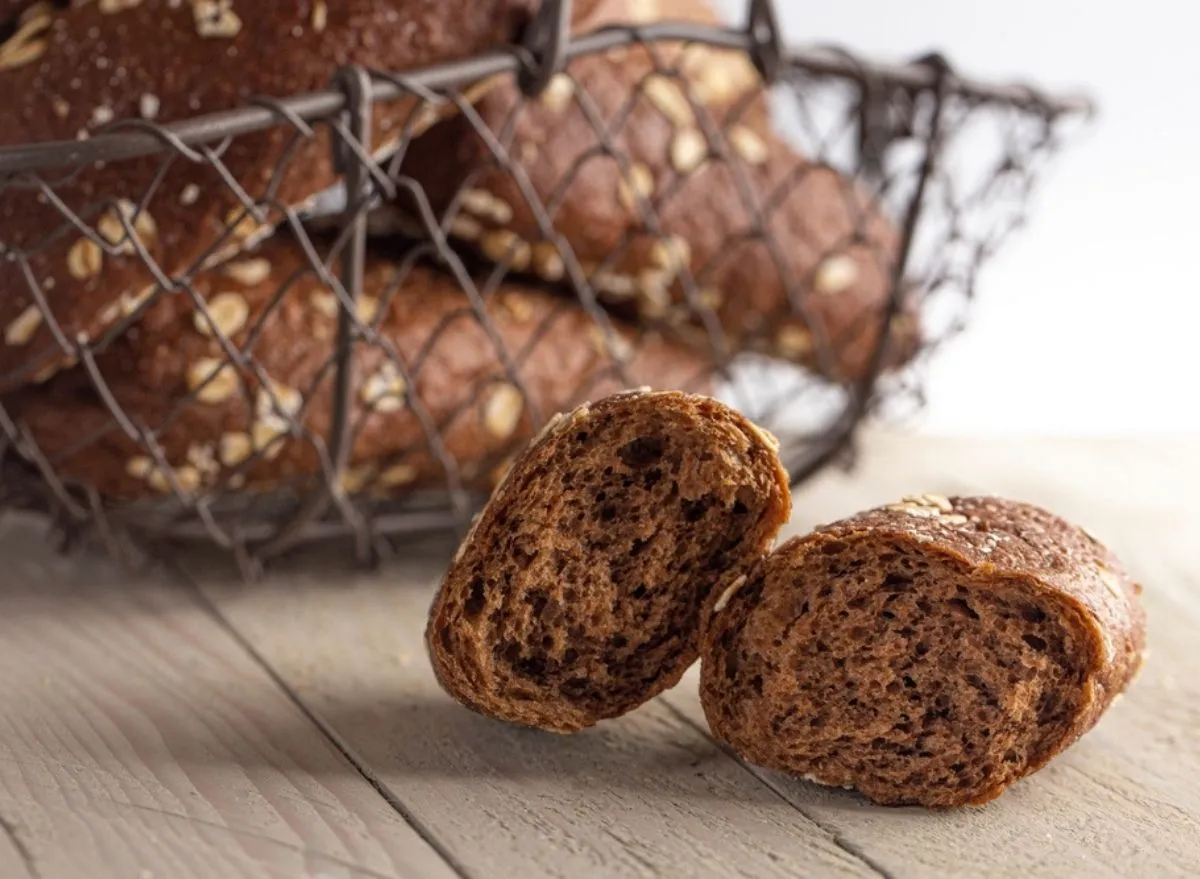 Before a single Bloomin' Onion can reach your table, each party at Outback Steakhouse is given a basket of bread. The unsliced, dark-brown honey wheat bread is served warm and is a highlight of any trip to Outback Steakhouse, and customers know it.6254a4d1642c605c54bf1cab17d50f1e
Copycat recipes of the bread abound on the internet with dozens of results popping up with a quick online search, which is good news if you do not have an Outback super close to where you live. When that much effort has been put into recreating restaurant bread, you know it must be good.
Romano's Macaroni Grill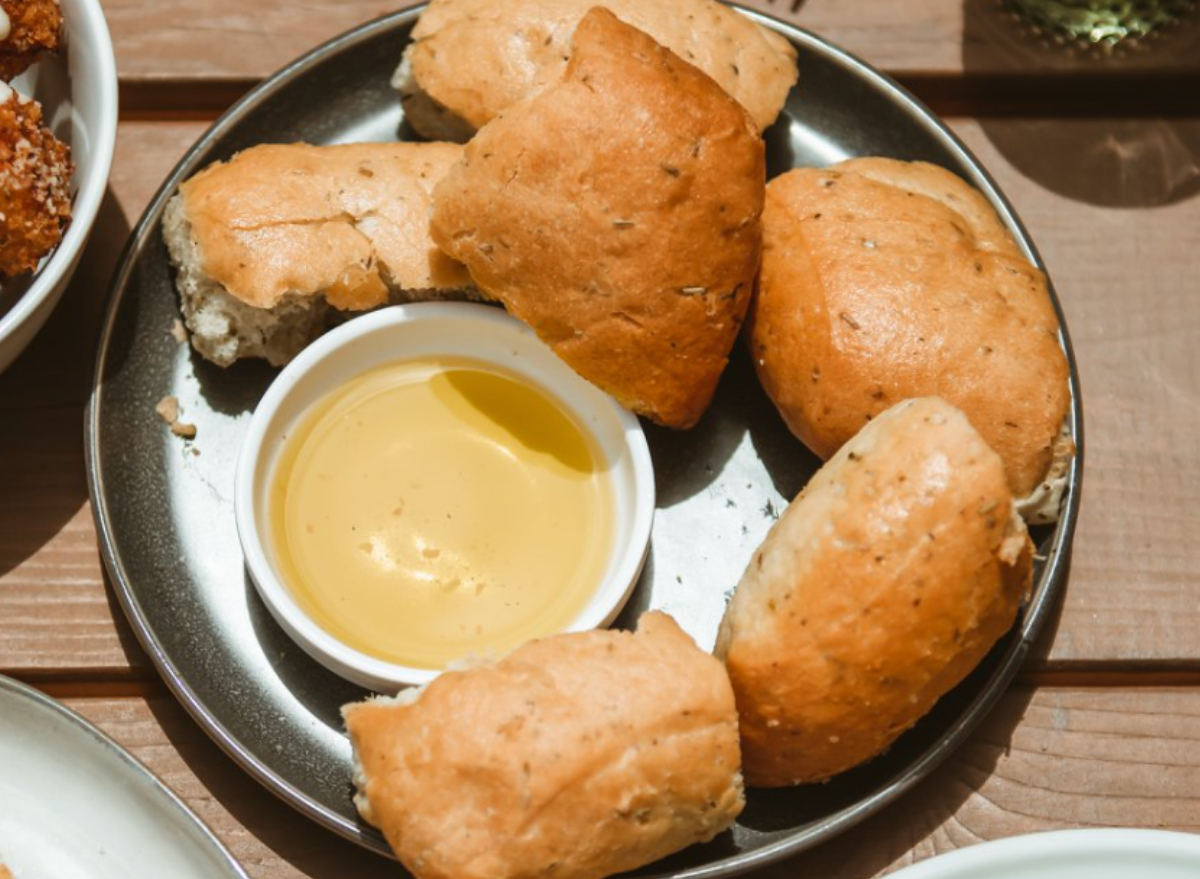 Bread is a standard part of many Italian restaurant experiences, whether you are at a major chain or a small family-owned establishment. Romano's Macaroni Grill offers Rosemary Peasant Bread as a complimentary addition to every table, accompanied by a side of olive oil for dipping. The rosemary provides a savory flavor that you may not find in many other restaurant chains, making Romano's Macaroni Grill a standout for fans of free bread baskets. The full loaves of bread are an excellent start to any meal.
LongHorn Steakhouse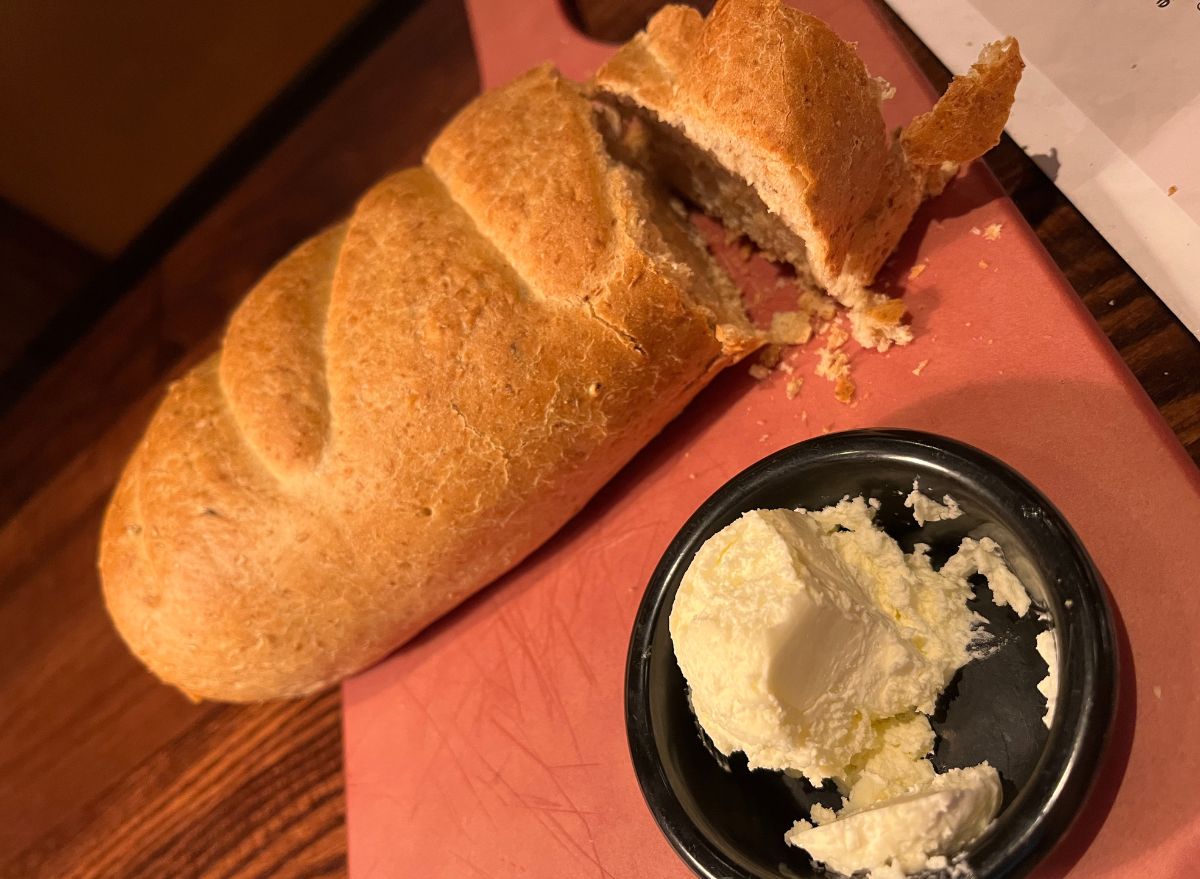 If a hearty basket of bread is what you are looking for, all you need is to head to your local LongHorn Steakhouse. The thought of a savory steak dinner could be made only more enticing with a tasty basket of bread as a precursor. The restaurant chain offers a complimentary loaf of wheat bread to its customers, which is comprised of hearty wheat bread to start off your meal.
While unsliced, the loaf offers guests a chance to get familiar with a steak knife before the main course arrives. But don't worry if you cannot find a LongHorn Steakhouse in your area, because there are plenty of copycat recipes around through a quick online search.
Carly Neil
Carly Neil is a freelance writer specializing in all things food, travel, Disney, and theme parks.
Read more about Carly