The Best & Worst Menu Items at TGI Friday's
In the land of delicious fried apps, what's considered the best and worst items on the TGI Friday's menu might just surprise you.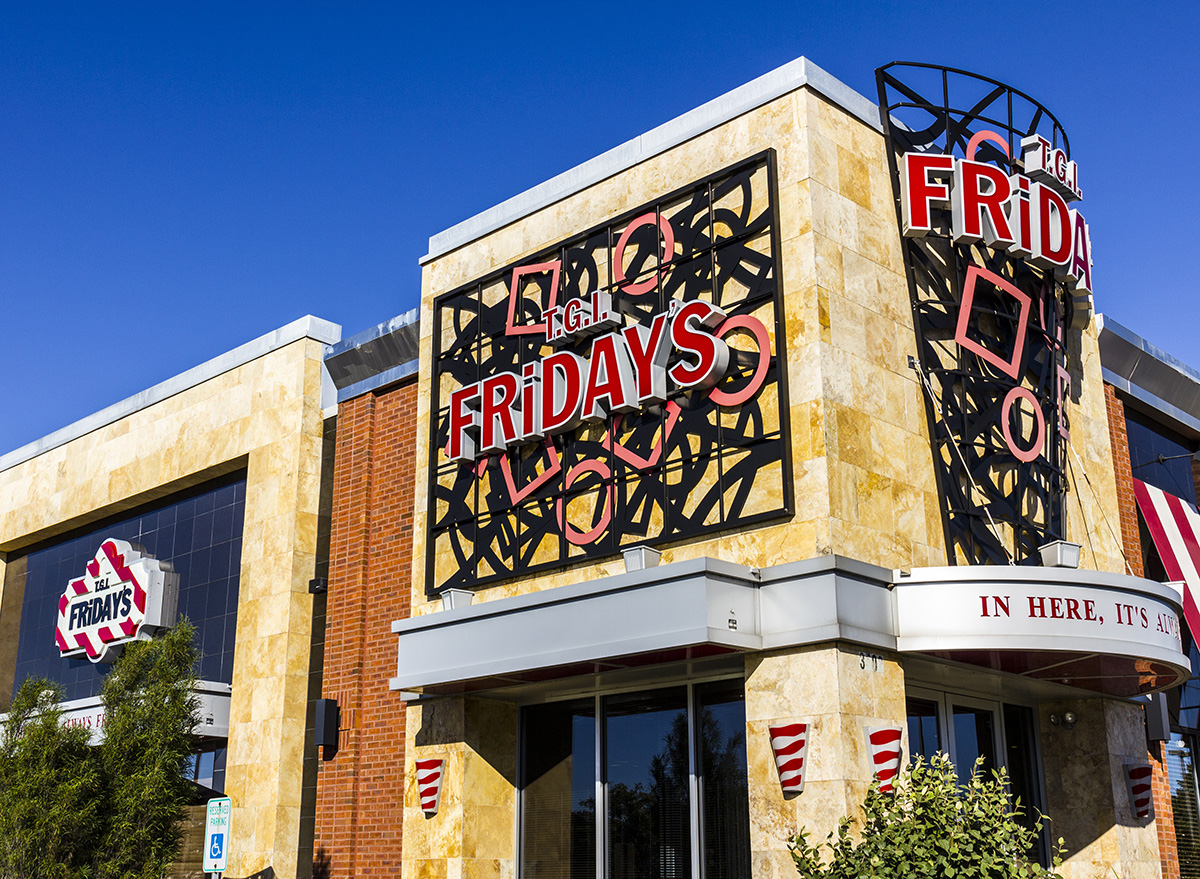 When you think of TGI Friday's, chances are, you think of appetizers: Fried foods that melt in your mouth and satisfy both salty and sugary cravings. We don't blame you—that's what we crave when we go there, too. Whether you're itching for wings, chicken, sandwiches, or pasta dishes, the TGI Friday's menu has it all. But does "having it all" necessarily mean it's healthy?
TGI Friday's was founded in New York in 1965 on the principles of standard American cuisine, bar food, and of course, alcohol. Actually, founder Alan Stillman created TGIF's to more easily meet women. Yep, Stillman wanted to create a cocktail-party atmosphere where younger people could naturally meet, without it feeling like a boys' club. While it may no longer be our go-to to suss out dating prospects, TGI Friday's has certainly retained popularity for its many fried dishes, burgers, appetizers, and pasta dishes.
We consulted nutrition expert Tracy Lockwood Beckerman, a registered dietitian and author of The Better Period Food Solution, who helped us determine the best and worst options on the TGI Friday's menu.
Classics
Best: Spinach and Artichoke Dip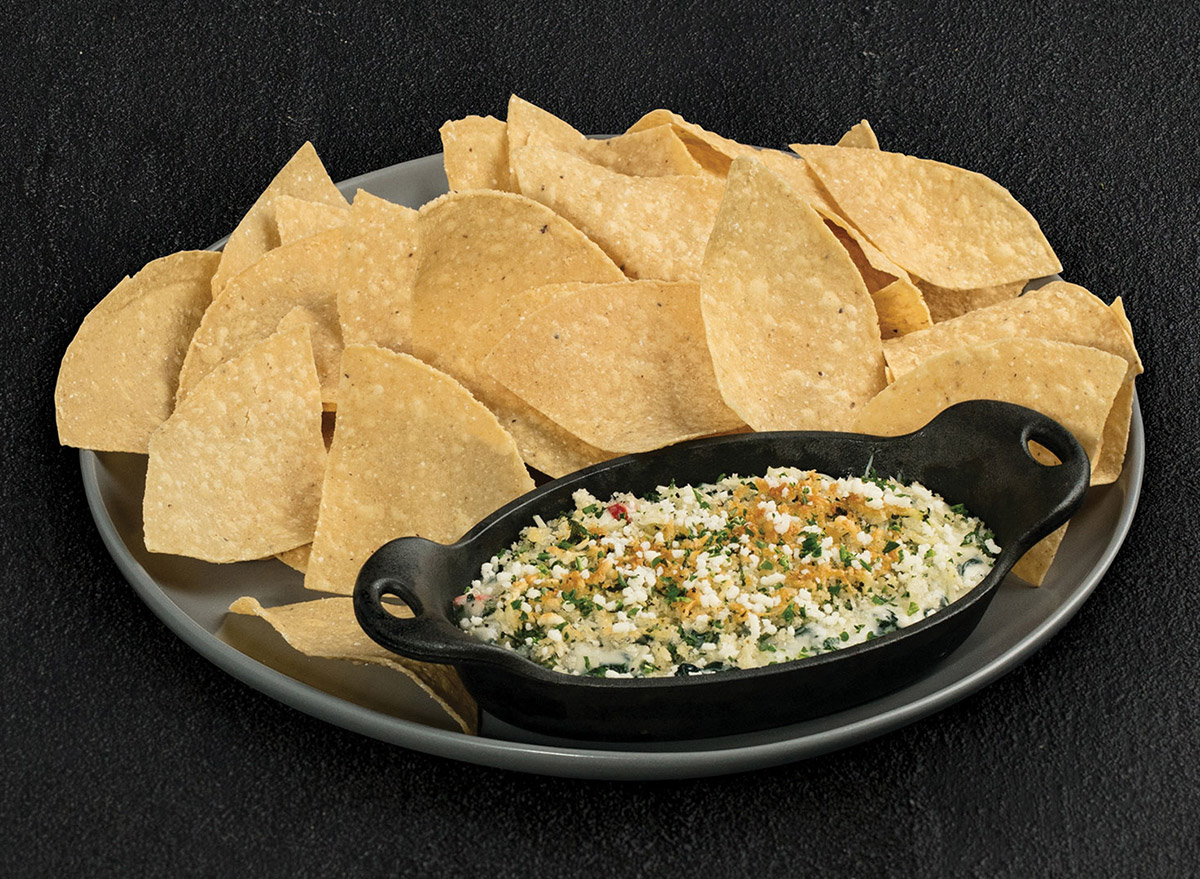 720 calories (50 g fat, 20 saturated fat, 0.5 g trans fat), 2,250 mg sodium, 63g carbs (6 g fiber, 4 g sugar), 21 g protein
While most of the items on TGI Friday's Classics category are generally over 1,000 calories each, there is a silver lining within the category's Spinach and Artichoke Dip. It's certainly not perfect, but it may be the lesser of two evils on this menu.
"Although this choice is still quite high in calories and fat, it may be the most nutrient-dense option on the appetizer menu," says Beckerman. "That's because spinach and artichokes are two vegetables that are very beneficial to the body. Spinach is an excellent source of several vitamins and minerals, including carotenoids, and can help improve eye health, prevent cancer, and moderate blood pressure levels."
It's the one-two punch of spinach and artichoke that takes the app a more health-conscious route.
"Artichokes, also packed with several vitamins and minerals, are low in calories, have a decent amount of protein, and are packed full with fiber," Beckerman adds. "I recommend sharing this app with a few friends and choosing scoops with extra spinach and artichoke."
Worst: Wings Roulette Platter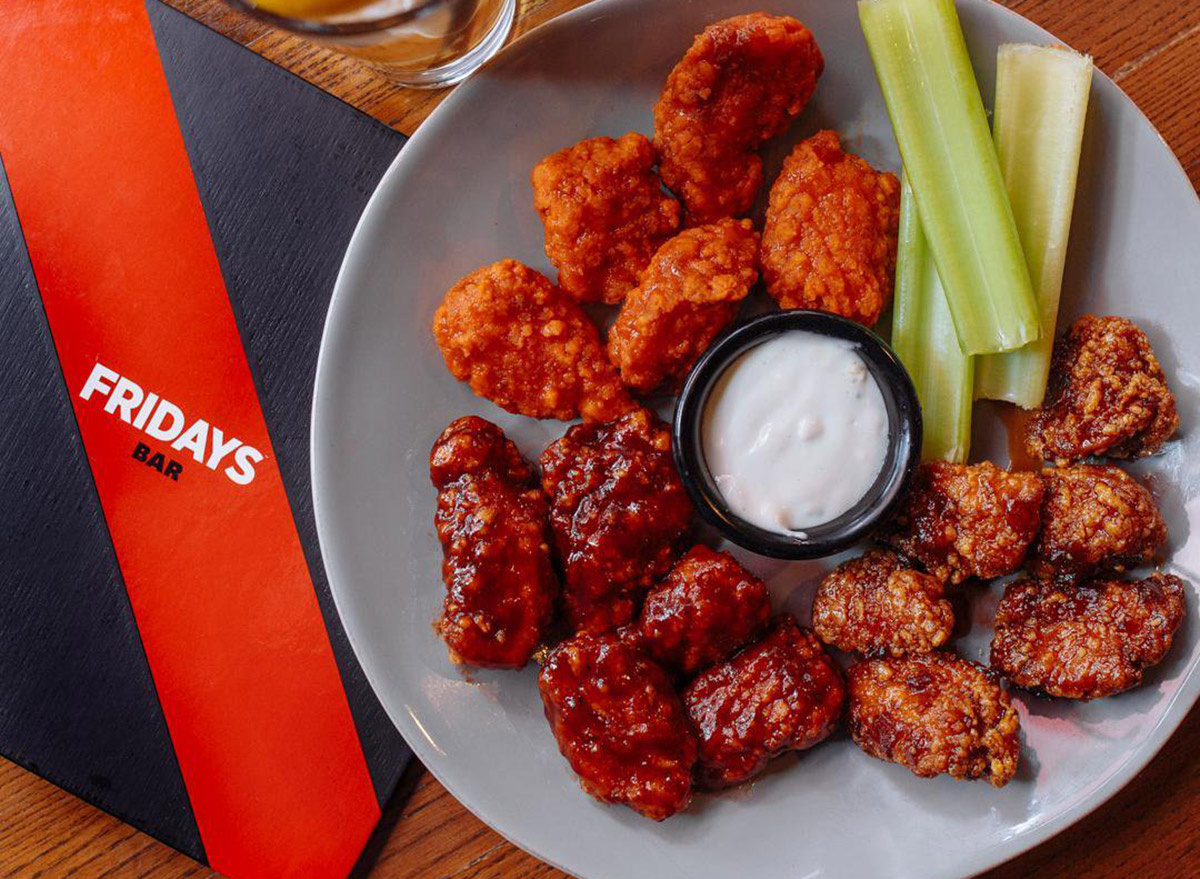 2,170 calories (120 g fat, 27 g saturated fat, 0.5 g trans fat), 6,280 mg sodium, 148 g carbs (5 g fiber, 72 g sugar), 129 g protein
How bad is a roulette platter of wings, you ask? Well, it's certainly the worst item on TGI Friday's Classics menu. Despite high levels of both cholesterol and calories from fat, the 6,280 milligrams of sodium is really the thing that does this dish in.
"The sodium content in this dish is alarmingly high," says Beckerman. "The daily recommended sodium intake for a U.S. adult is around 2,300 mg/day, which means this dish alone has nearly three times the amount of sodium recommended for your entire day! Even if you share this plate with five friends, it will still account for nearly half of your required daily sodium intake."
Burgers
Best: Beyond Meat Cheeseburger, Green Style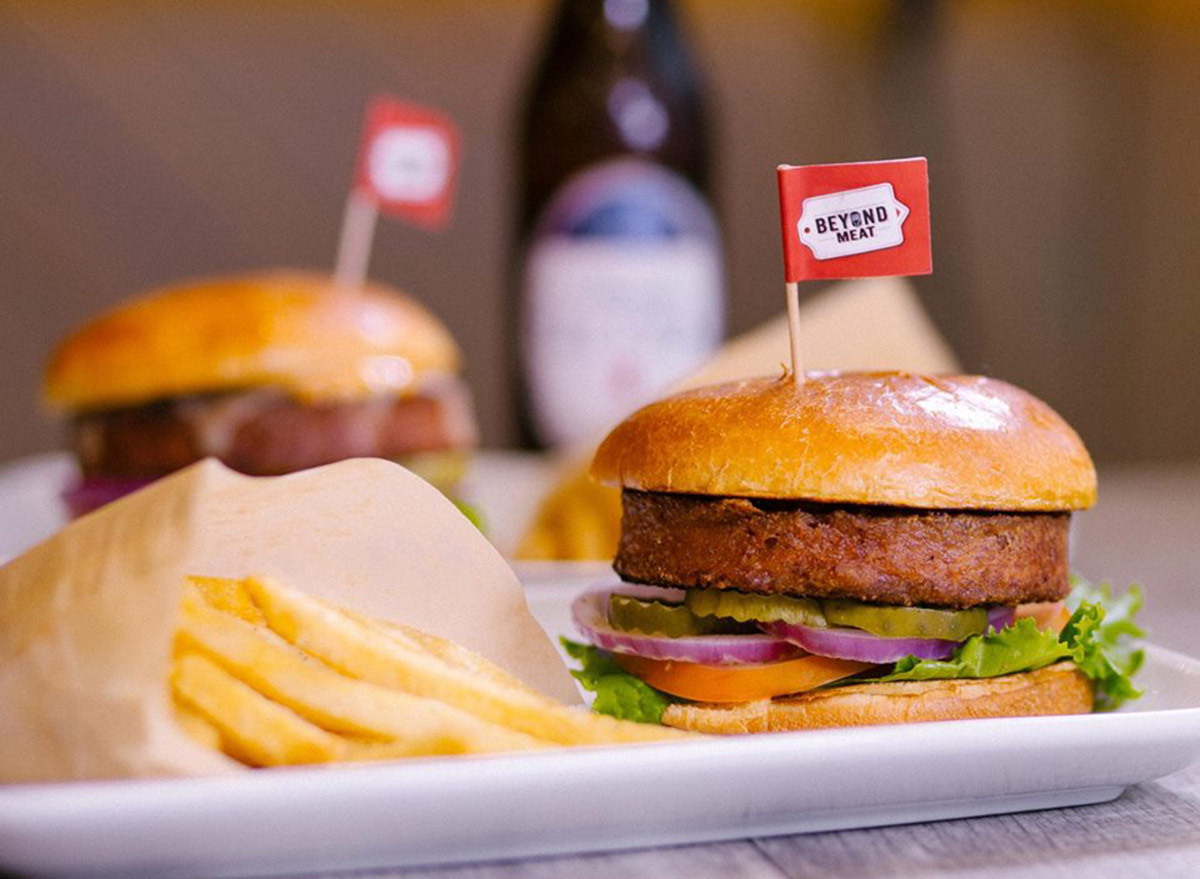 6254a4d1642c605c54bf1cab17d50f1e
630 calories (46 g fat, 18 g saturated fat, 0 g trans fat), 2,940 mg sodium, 19 g carbs (7 g fiber, 6 g sugar), 38 g protein
"The beyond meat burger is plant-based, which means that it provides more fiber than the meat option," Beckerman explains. "Plus there are proven benefits to eating more plant-based meals, including improved cardiovascular health, lower diabetes risk, and of course, helps the environment, too!"
But if the Beyond Meat Cheeseburger just wrapped in a lettuce bun won't satisfy your hankering for a burger, the regular cheeseburger is also a plausible option.
"The regular cheeseburger, as well as the Beyond Meat Cheeseburger are both good options if you're craving a burger at TGIF," Beckerman says. "However, if you're craving the real thing, the cheeseburger would be a good choice as its nutritional profile is fairly similar to that of the Beyond Meat Burger — with the exception of lower fiber — and it contains fewer ingredients than the plant-based alternative."
Worst: Cheddar Bacon Omelet Burger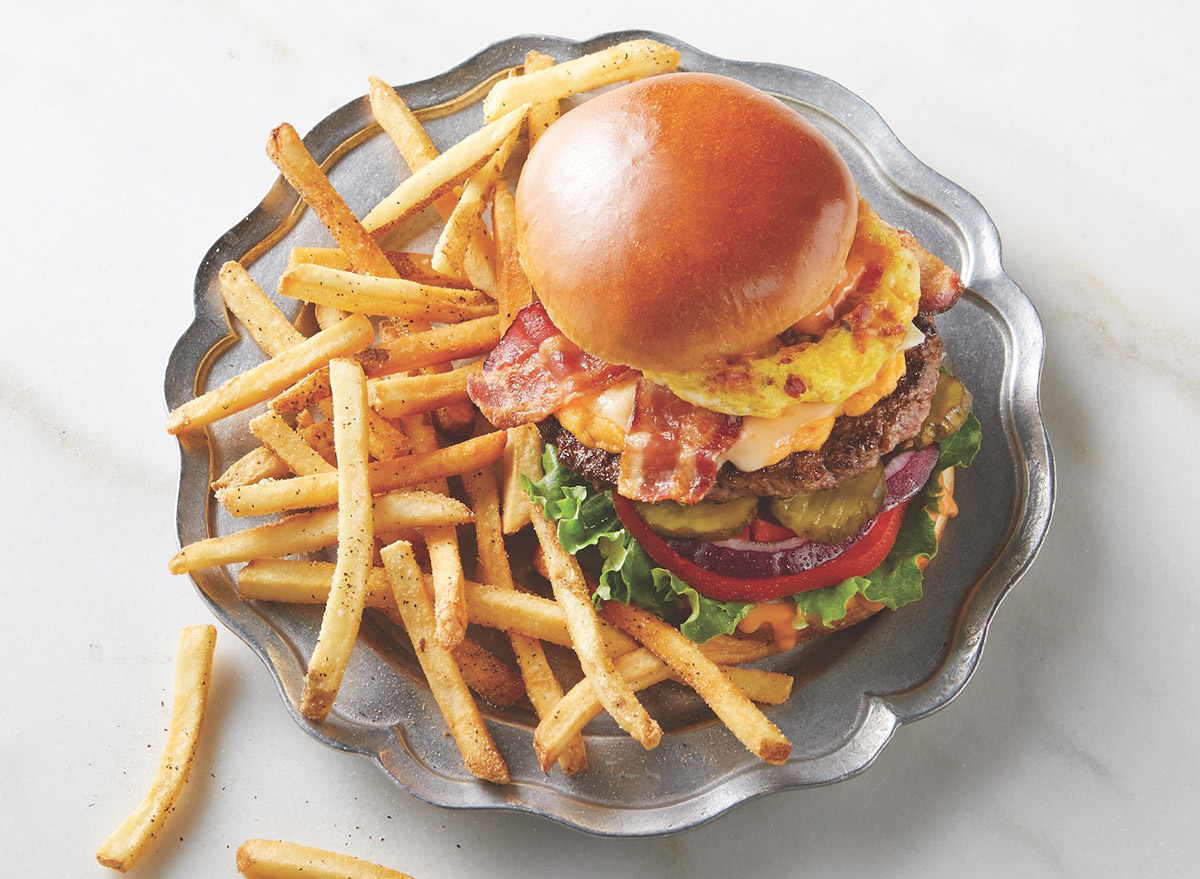 1,330 calories (97 g fat, 37 g saturated fat), 4,110 mg sodium, 54 g carbs (19 g sugar), 65 g protein
There's not much info on the cheddar bacon omelet burger, as it is a new item on TGI Friday's. However, we know it's 1,330 calories total and according to Beckerman, saddled with unnecessary saturated fats.
"The bacon coupled with the red meat contains a significant amount of saturated fats," Beckerman says. "Saturated fats, commonly found in butter, cheese, and red meat, can raise your 'bad' cholesterol or LDL and can put you at a higher risk for heart disease. While red meat isn't particularly the devil on this plate, when you pair it with bacon and cheese, this dish is certainly not heart healthy."
Salads
Best: Caesar Salad with Grilled Chicken—Lunch Portion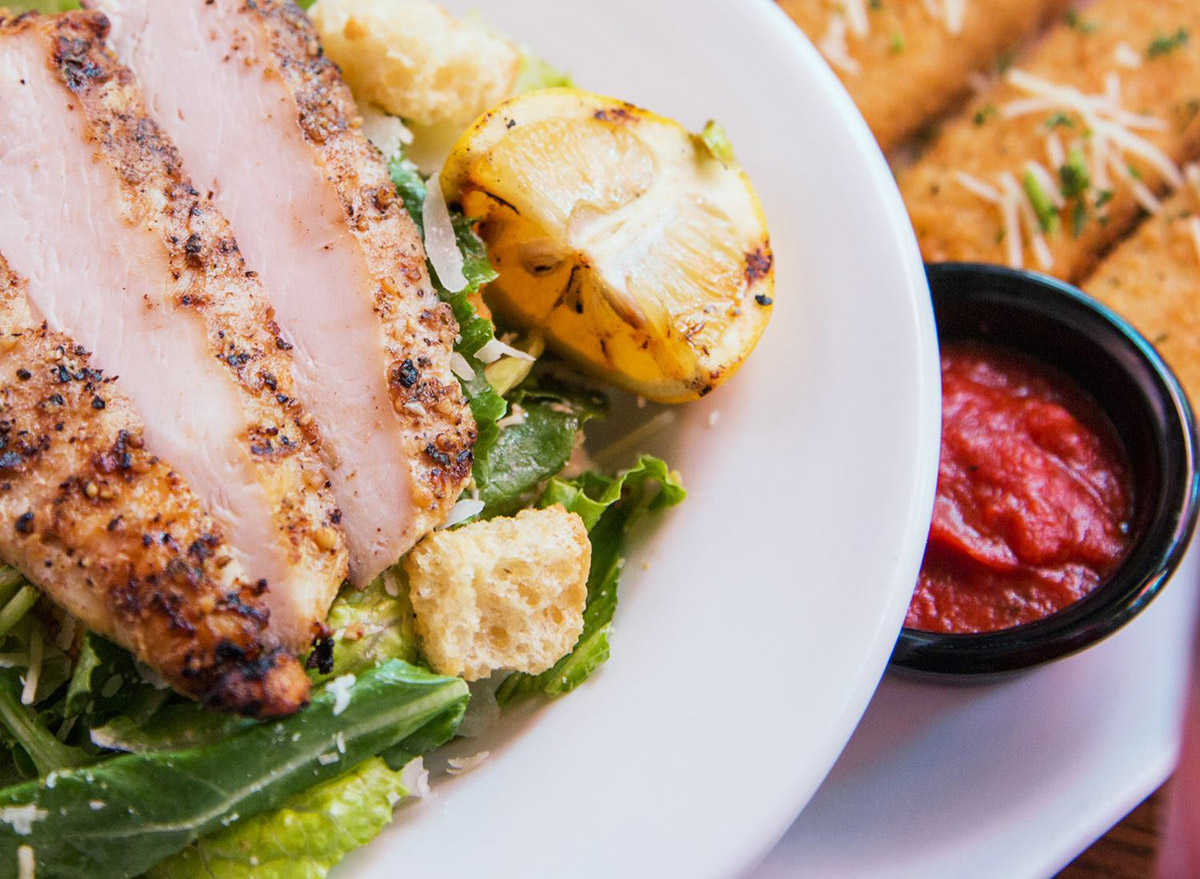 400 calories (29 g fat, 6 saturated fat, 0 g trans fat), 940 mg sodium, 10 g carbs (3 g fiber, 2 g sugar), 24 g protein
We guess the lesson here is, "When in doubt, order the salad," especially when you have a smaller size option. Grilled chicken in this salad gives you a hefty serving of protein with very little calories in contrast to the other salads. But note: portion size is what makes this salad the best option. If you were to order the larger portion, the payoff might not be as great.
"This dish is a great option because of the portion size of the salad. Portion size is just as important as eating the right foods," Beckerman says. "Being mindful of our portion sizes helps to ensure that we don't overeat, regardless of what the food is. This salad is a great option because it contains a heavy base of lettuce and is topped with only three items: grilled chicken, croutons, and Parmesan cheese."
And that grilled chicken? Well worth the protein! "The grilled chicken eliminates sugary marinades found in other options, while the large croutons are more satisfying than other toppings such as fried tortilla strips or crispy wontons," Beckerman says. "Lastly, the sprinkle of Parmesan cheese is much lighter than the shreds of cheese included in other salads."
Worst: Chinese Chicken Salad
1,180 calories (78 g fat, 15 saturated fat, 0 g trans fat), 2,960 mg sodium, 91 g carbs (9 g fiber, 39 g sugar), 38 g protein
This might be the only salad that comes with a cookie on the side. That's right, along with the Chinese Chicken Salad, you'll get a fortune cookie, but that's the only upside here.
"While salad is a great meal choice because they contain significantly greater quantities of antioxidant-rich vegetables than most other menu options, it's unfortunately not the best salad to choose," Beckerman says. "Chinese salads typically contain crispy noodle toppings, which are fried, in addition to very sweet dressings to balance out the salty flavor of the marinade."
When ordering a salad, it's also important to look at the nutritional value of the dressing it comes with as well as many dressings contain added sugar.
"Many dressings have a large amount of added sugars and most restaurants use much more than a standard serving of dressing," Beckerman adds. "Added sugar can spike blood sugar, make you hungrier later and can also add some width to your waistline."
But the Chinese Chicken Salad isn't the only one on Beckerman's no-go list.
"In the case of the BBQ Chicken Salad with BBQ ranch dressing, there is extra sugar in both the BBQ marinade and the ranch dressing," she adds. "This salad also contains onion rings as a topping, which are deep-fried in oil, in addition to tortilla strips and bacon, which all contain high levels of saturated fat."
Sandwiches
Best: Bacon Ranch Chicken Sandwich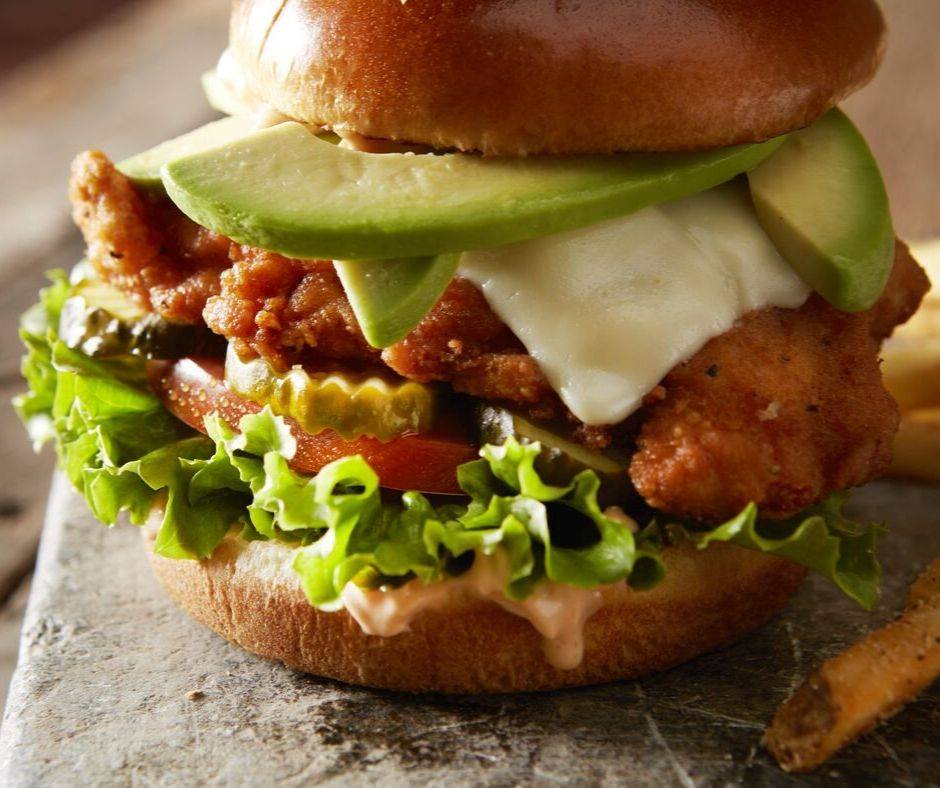 690 calories (31 total fat, 11 saturated fat, 0g trans fat), 2,260 mg sodium, 42 g carbs (7 g fiber, 5 g sugar), 53 g protein
You may read "Bacon Ranch Chicken" and think, "that can't be good," but believe it or not, the Bacon Ranch Chicken Sandwich is the healthiest item of its kind on this menu. With a high amount of protein, you may feel full quicker and don't have to worry about the eventual sugar high that other sandwiches with added sugar may have.
"This dish is great for a number of reasons. The high protein content from the grilled chicken will ensure fullness long after the meal is over, and the lower sugar content will give you more energy throughout the day and reduce inflammation," Beckerman says. "In comparison to red meat, chicken breast contains less saturated fat and more protein, which means it will keep you full longer and is better for cardiovascular health."
Worst: Bacon and Egg Club Sandwich
1,530 calories (111 g fat, 38 g saturated fat, 0.5 g trans fat), 3,530 mg sodium, 74 g carbs (5 g fiber, 9 g sugar), 59 g protein
Since the Bacon and Egg Club Sandwich has been newly added to TGI Friday's menu, the only nutritional value information available is the calories, which come in at 1,530. Though we don't have all the stats, it's safe to say that with a main ingredient like bacon, it's no wonder this club sandwich comes out on top for worst menu item.
"Smoked bacon, which is perhaps the star of this dish, is considered a processed meat. Smoked foods are not great for [our] health because smoked foods contain polycyclic aromatic hydrocarbons (PAH), which is a class of carcinogens," Beckerman says.
If you don't know what carcinogens are, they are substances known to cause cancer.
"Being that the brioche bun is a simple carb, and thus lower in fiber causing swings in blood sugar, the bun paired with smoked bacon does not make for a healthy meal," Beckerman continues. "Brioche buns are also typically glazed with butter, which adds to the saturated fat content of this sandwich!"
According to Beckerman, it's also likely that this sandwich has high sodium levels. After all, smoked bacon typically is higher in sodium than regular bacon.
Pastas
Best: Cajun Shrimp and Chicken—Half Portion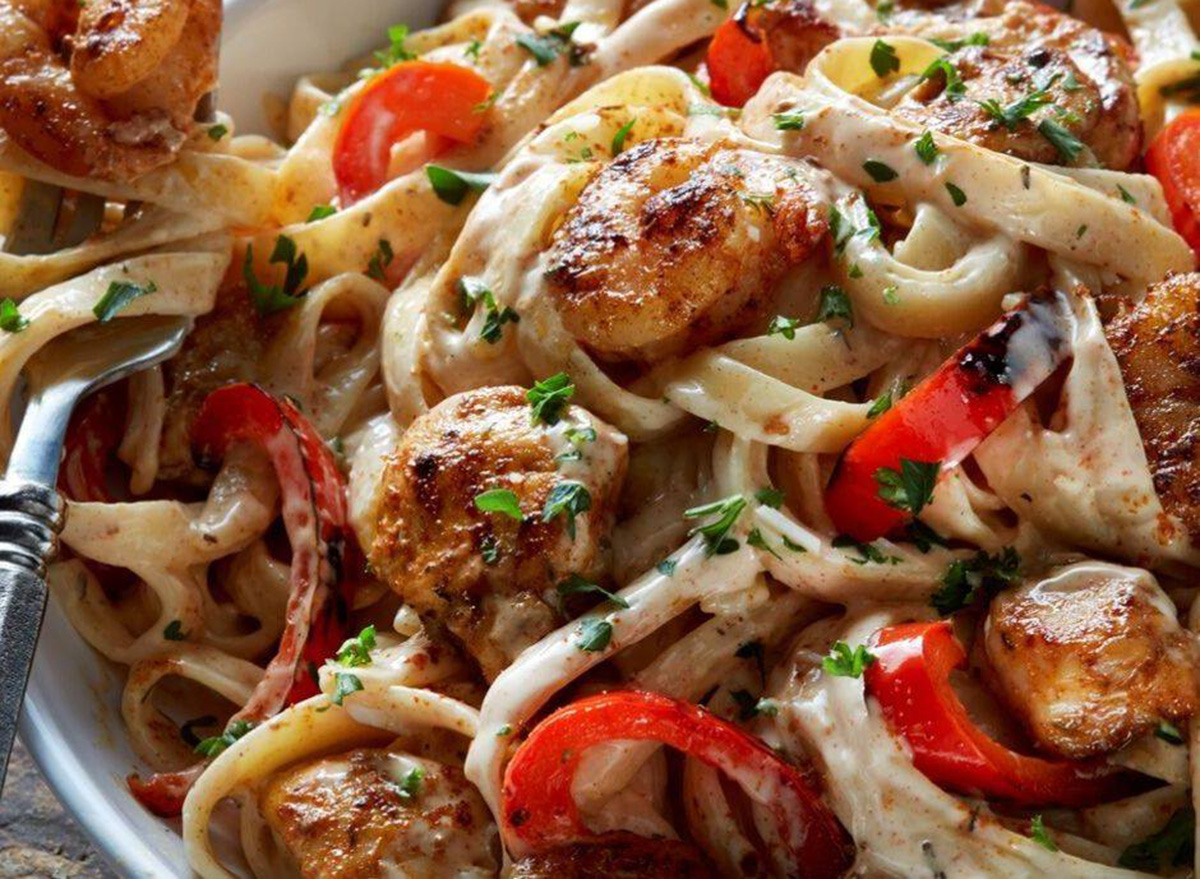 820 calories, (38 total fat, 18 g saturated fat, 0.5 g trans fat), 1,710 mg sodium, 79 g carbs (4 g fiber, 8 g sugar), 39 g protein
Proving portions is so, so crucial to our health is the Cajun Shrimp and Chicken dish in the Half Portion at TGI Friday's.
"The fact that this dish is half portion will help regulate blood sugar levels, manage weight, and improve digestion," says Beckerman. "The shrimp in the dish also provides healthy omega-3 fatty acids, immune-boosting zinc, and provides a rich source of protein."
As far as pasta dishes, Cajun Shrimp and Chicken is the way to go.
Worst: Chicken Parmesan Pasta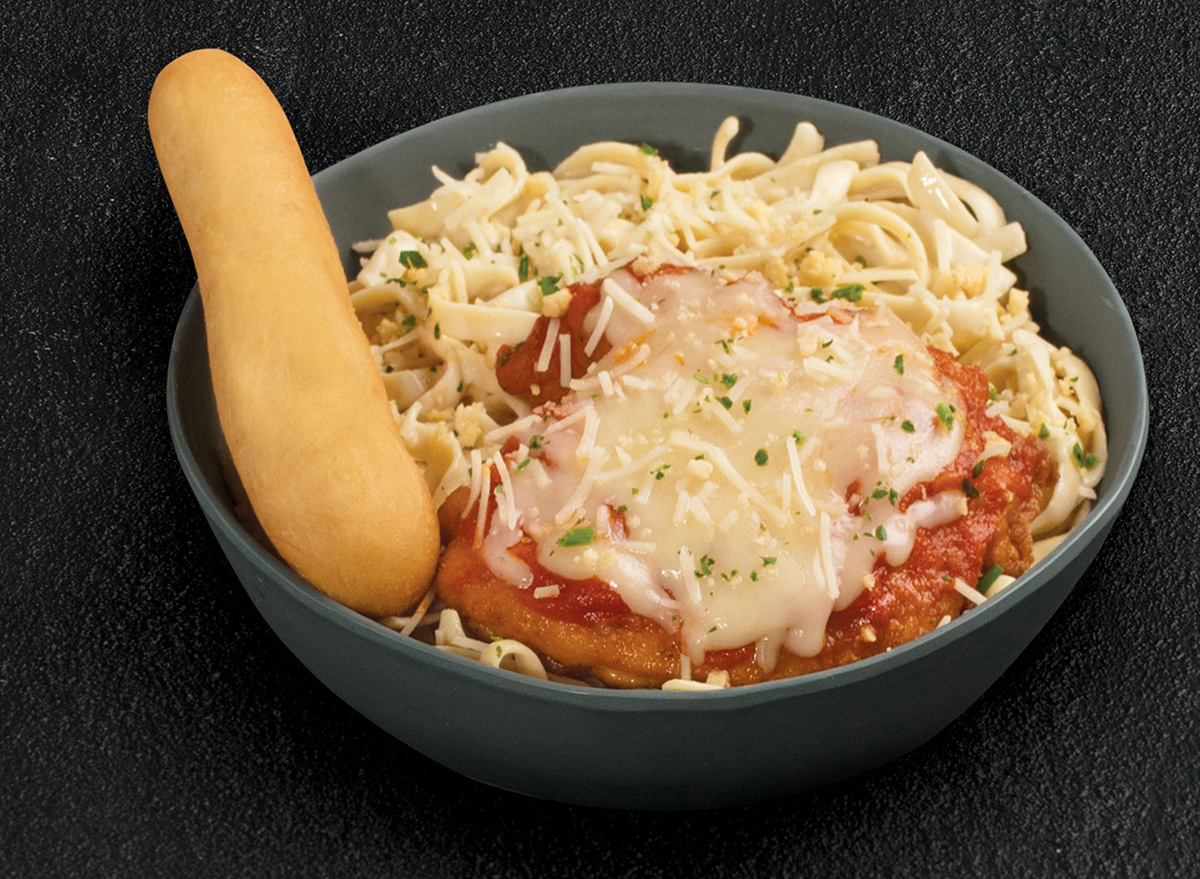 1,890 calories (107 g fat, 43 saturated fat, 1.5 g trans fat), 255 cholesterol, 4,130 sodium, 154 g carbs (9 g fiber, 22 g sugar), 74 g protein
Beware pasta dishes in general, as Beckerman points out that pasta dishes in restaurants have a bad reputation for being served in massive portions.
"This is no exception," says Beckerman. "This dish, intended for one person, contains more calories and nearly twice as much sodium than most people need in a whole day!"
Of course, if TGI Friday's perhaps offered a more reasonably-sized portion, it may not be as much of an issue.
"The insane amount of calories coupled with the extremely high levels of sodium make this dish an unhealthy option," she says. "The average daily recommended calories is typically around 2,000 calories, which is almost equivalent to the calories in this single pasta dish."
Beckerman adds, "In addition to the carbohydrates from pasta, the chicken is breaded and fried, which adds a considerable amount of calories and carbs."
In short, steer clear of the Chicken Parm Pasta.
Sizzling
Best: Sizzling Chicken and Cheese with Peppers and Mashed Potatoes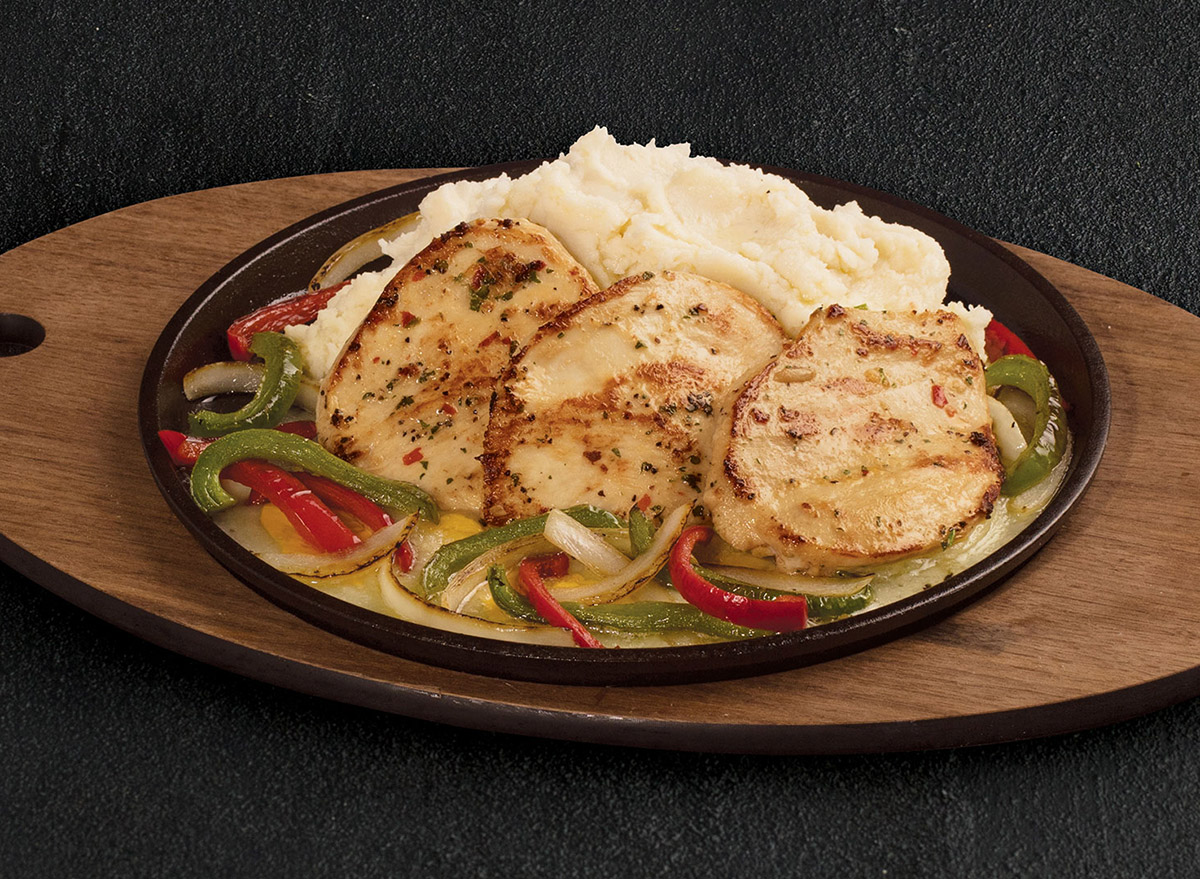 1,180 calories (76 g fat, 30 g saturated fat, 0.5g trans fat) 2,580 mg sodium, 52 g carbs (7 g fiber, 7 g sugar), 63 g protein
Not only are you getting a whole lot of protein from this Sizzling dish, but the peppers really take the dish to the next level, as there are so many health benefits of eating peppers.
"Peppers are great for your eye health as well as anemia prevention," says Beckerman. "The benefits of peppers coupled with a lower-carb dish can help increase the volume of food on the plate without sacrificing nutrition or calories!"
Worst: Sizzling Chicken and Shrimp Alfredo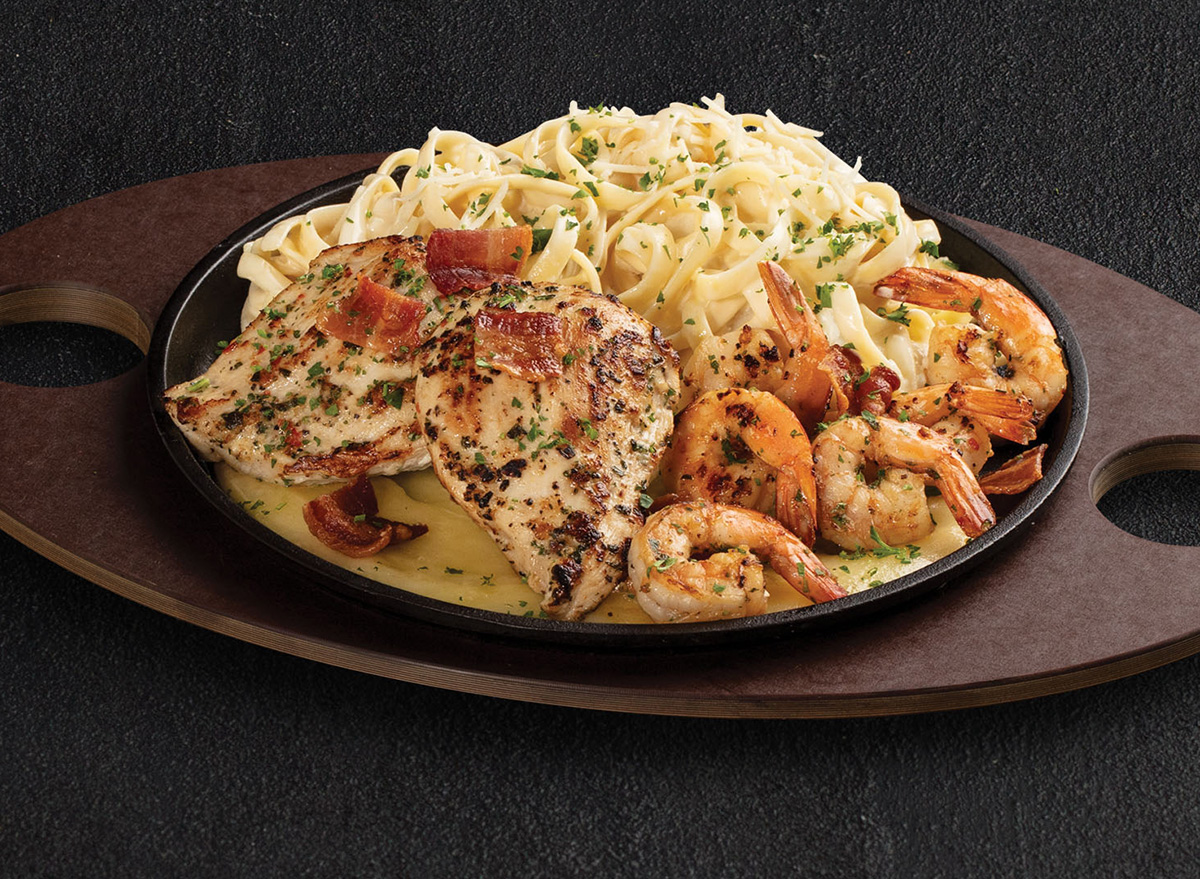 1,720 calories (100 g fat, 48 g saturated fat, 2 g trans fat) 2,480 mg sodium, 104 g carbs (5 g fiber, 7 g sugar), 93 g protein
Garlic-marinated chicken breasts and shrimp served with fettuccine tossed in Alfredo sauce and Parmesan-Romano? What's not to love? Well, the calories, for one! It may be full of delicious proteins, but the Alfredo sauce in this dish is mostly to blame for its spot on the worst list.
"The high amounts of sodium and fat in the alfredo sauce of this dish makes it a questionable choice," Beckerman explains. "Consuming high levels of sodium and fat can burden the heart and cause blockages."
The Grill
Best: Center Cut Sirloin With Mashed Potatoes and Lemon Butter Broccoli Topped With Parmesan Butter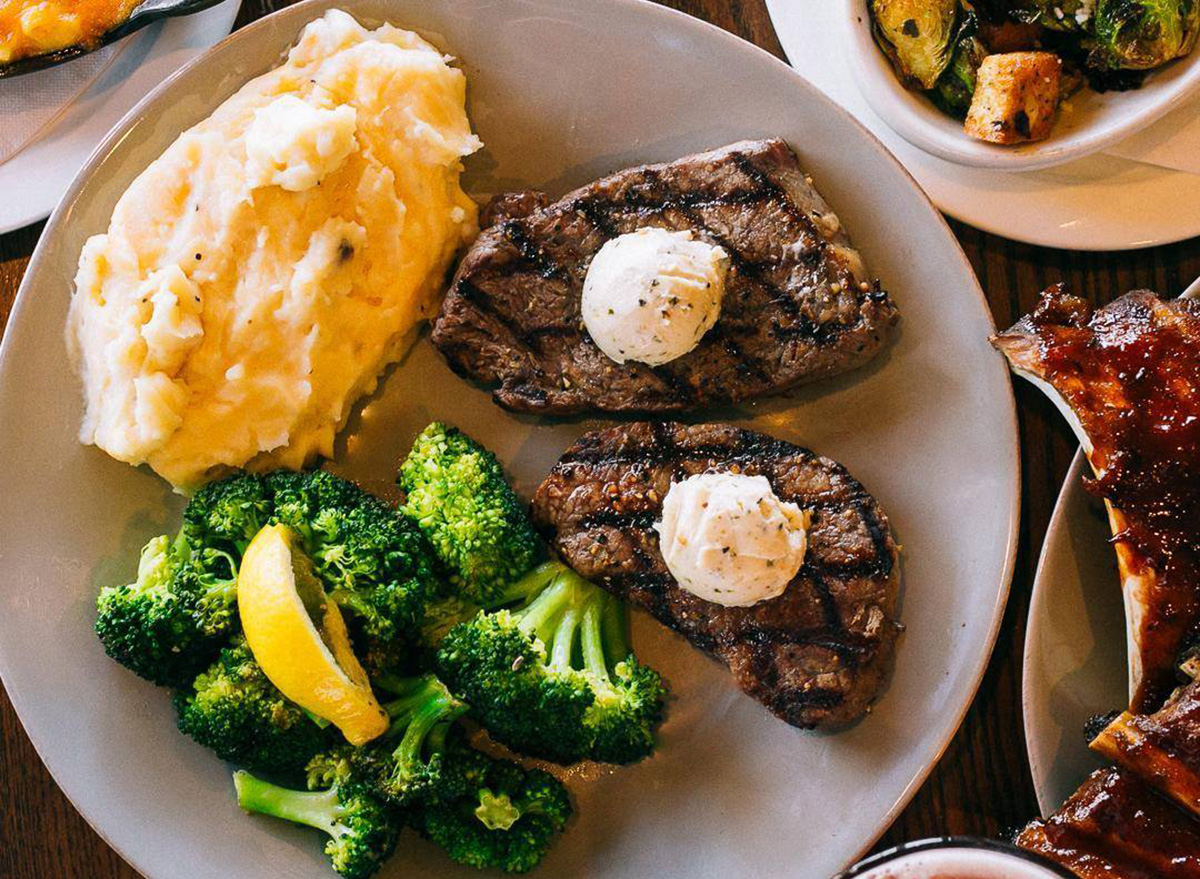 640 calories (41 g fat, 16 g saturated fat, 0 g trans fat), 2,280 mg sodium, 34 g carbs (8 g fiber, 4 g sugar), 34 g protein
The Center-Cut Sirloin is the better, healthier option on TGI Friday's Grill menu. Packed with protein, this dish is served with mashed potatoes and lemon butter broccoli topped with parmesan butter. While the sodium levels are higher than we'd like to see, the lean nature of the meat means less fat content, which makes it reconcilable.
"This dish is a healthier option than the tribes because center-cut sirloin is a much leaner cut of meat with less fat content," explains Beckerman. "In addition, the side of broccoli and potatoes provides a good source of health-protective antioxidants and can improve blood sugar control."
Worst: Signature Whiskey-Glazed Ribs, Full-Rack (With Coleslaw & Seasoned Fries)
1,630 calories (75 g fat, 25 g saturated fat, 0 g trans fat), 2,940 mg sodium, 178 g carbs (7 g fiber, 132 g sugar), 69 g protein
Craving a full rack of ribs? The fire-grilled pork ribs at TGI Friday's are slow-cooked and described as "fall-off-the-bone tender" and the worst-for-your-health version is marinated in a Whiskey-Glaze sauce. With the amount of calories, fat, sodium, carbs and sugar, you should stay far away from this meal.
"Not only is the consumption of red meat not-so-great for the environment, it isn't the best for your body either," Beckerman explains. "While red meat is good in moderation, eating too much of it can cause increased risk of heart disease and diabetes."
Wings
Best: Traditional Wings—Red Hot Buffalo Wings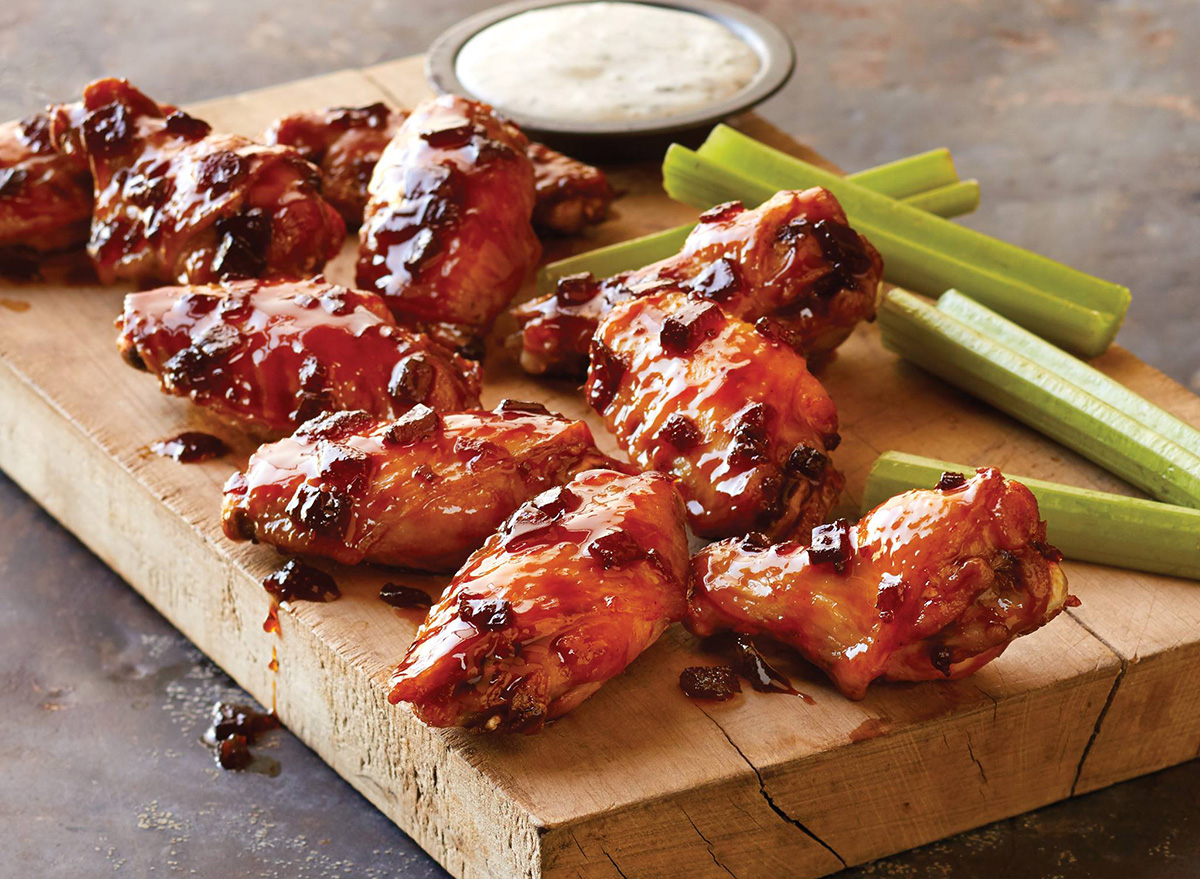 380 calories (24 g fat, 7 g saturated fat, 0 g trans fat), 2,340 mg sodium, 2 g carbs (0 g fiber, 0 g sugar), 43 g protein
If you're stuck on ordering from the Wings section of the TGI Friday's menu, don't worry; there's still some hope. If you spring for the Red Hot Buffalo Wings in the Traditional Style, you could actually be doing your body a favor, particularly if you're suffering from inflammation.
"Spice, the star of this dish, has many benefits including combating inflammation, fighting cancer cells, and killing bacteria," says Beckerman. "The spice, low sugar, and low carbs in this dish adds up to a great option."
1,570 calories (82 g fat, 23 g saturated fat, 0 g trans fat), 3,060 mg sodium, 120 g carbs (6 g fiber, 71 g sugar), 92 g protein
Bucket of Bones? More like Bucket of Cholesterol!
"The high levels of cholesterol (465 grams) in this dish increases levels of LDL or 'bad cholesterol,'" says Beckerman. "In addition, the high sodium and sugar packed into this bucket of wings can contribute to insulin resistance and obesity."
Desserts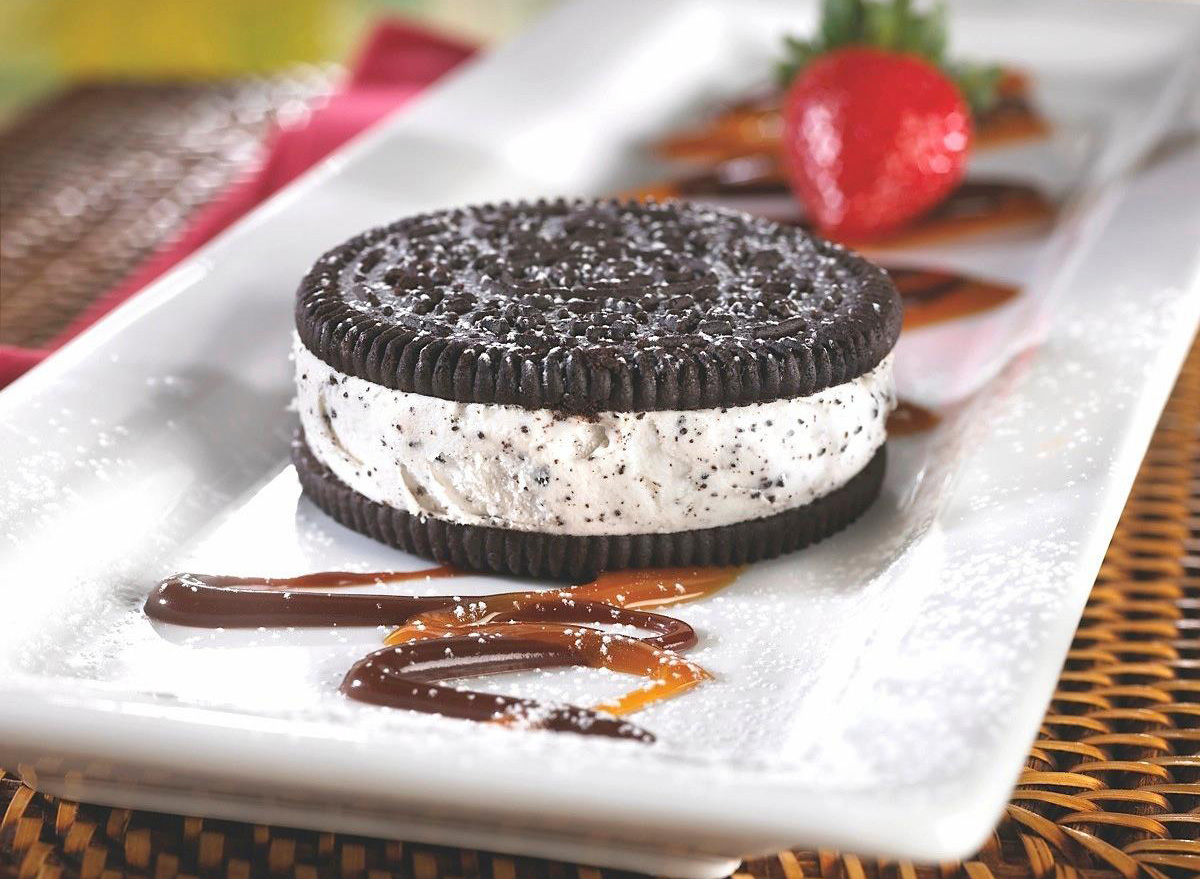 670 calories (29 g fat, 14 g saturated fat, 0.5 g trans fat), 390 mg sodium, 98 g carbs (3 g fiber, 66 g sugar), 8 g protein
Finally—let's get to the nitty-gritty of the TGI Friday's menu: the desserts! The Oreo Madness is certainly considered one of the better-for-you dessert alternatives on the menu, but it's important to keep in mind that all the dessert options are high in sugar.
"Satisfy that sweet tooth with this low cholesterol dessert," Beckerman says. "The lower cholesterol content provides a delicious dish that doesn't do a ton of harm to the waistline."
Dessert is a sometimes treat after all, right?
Worst: Red Velvet Sparkler Cake
1,690 calories (92 g fat, 43 g saturated fat, 1.5 g trans fat), 960 mg sodium, 199 g carbs (1 g fiber, 146 g sugar), 16 g protein
With 1,690 calories and a decent amount of sodium, it's kind of shocking that the Red Velvet Sparkler Cake has as much protein as it does: 16 grams. However, the amount of added sugar in this dessert really outshines whatever protein it has.
"While this dish is meant to be shared, there is an alarming amount of sugar in it," says Beckerman. "The daily recommended value of sugar is no more than 25 grams, but this cake has six times that!"
According to Beckerman, sharing the Sparkler Cake isn't enough. In fact, it's best if this dish is avoided altogether. After all, we already know there are healthier dessert options.
"Even if shared, the sugar in this dish can have damaging health effects," Beckerman says.